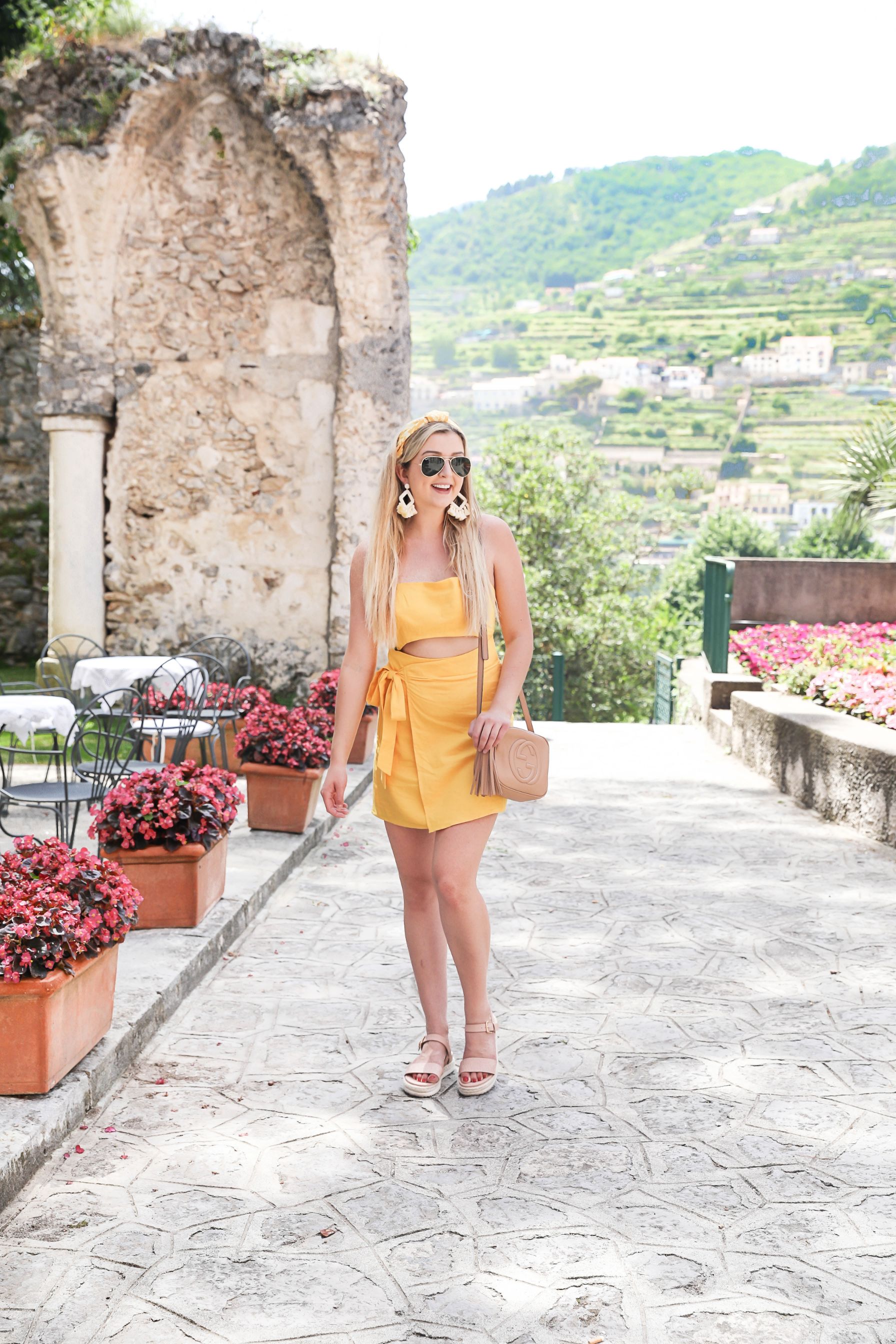 It's Okay to Need a Break…
Hey! Not sure if you remember me, I'm Lauren. It's been awhile (aka a few weeks). I am currently on the plane heading home from the most amazing trip of my life! I am sorry I have been absent, I NEVER take full-on breaks from work. Even if I go through a little blogging hiatus, it usually only lasts a week and I am still planning, editing shooting, answering emails, interacting with followers, posting on Instagram, etc. The last few weeks have been a whirlwind. I was at the lake with my family for a week, then went to Dallas to attend a buying show for my boutique, then I was in Italy and Greece for two weeks. It was insane!
I tried my best to keep up with work at first, but to be honest, it was overwhelming. It's hard to be in the moment when you work for yourself. No one really knows how much time it takes to be a blogger, and opening  a boutique on top of that is very time consuming. It suddenly hit me a few weeks ago that this fall my real adulthood starts. For the last few years I have been a blogger and essentially worked for myself. Sure, I have worked with companies with guidelines and deadlines, but for the most part I am my own boss and can do what I want. This fall I will be managing employees, making huge financial and business decisions, and really focusing on making a living. It's kind of scary!
So after a few days in Italy I decided to just take a break – from EVERYTHING. I didn't answer any emails, I didn't post on my blog, and I only posted one Instagram photo the whole two weeks. Being a blogger on vacation is tough because we know that it's a time to get such quality content that people want to see. I have been on plenty of vacations with my family and even with my boyfriend and his family where I have taken time out of the day to sit down and work. Don't get me wrong, I am proud of my work ethic and I think hustling is important – but sometimes we all need to just unplug. 
My boyfriend had a few moments at the beginning of the trip where he had to deal with some stuff from his work back home. I had said to him, "you're on vacation, they give you vacation days for a reason, stop worrying about it!" It really made me realize that I needed vacation days too! It was amazing to sleep in a little and wake up next to my boyfriend instead of feeling stressed to get up early and sneak away to go work. I liked that most days I just put on a little makeup and didn't do my hair, so I could just get in the ocean because I wasn't worries about taking photos 24/7. I saw hundreds of emails coming in and just shut off notifications on that app so I could just be in the moment and spend time with my family, I am so happy I did!
The only thing I did keep up with was my Instagram stories, because those only took 30 seconds to quickly shoot and upload. If you want to check those out I made highlights on my Instagram account! I also ended up getting A LOT of photos which surprised me!  I got ready about every three days so I was able to shoot some, plus did a lot with natural hair and barely any makeup. I can't wait to share all of the photos and outfits with you guys now that I am heading back! I love you guys so much, thanks for letting me take this little break! I have a ton of exciting content coming up, stay tuned! Also – don't forget to take little breaks to unplug too!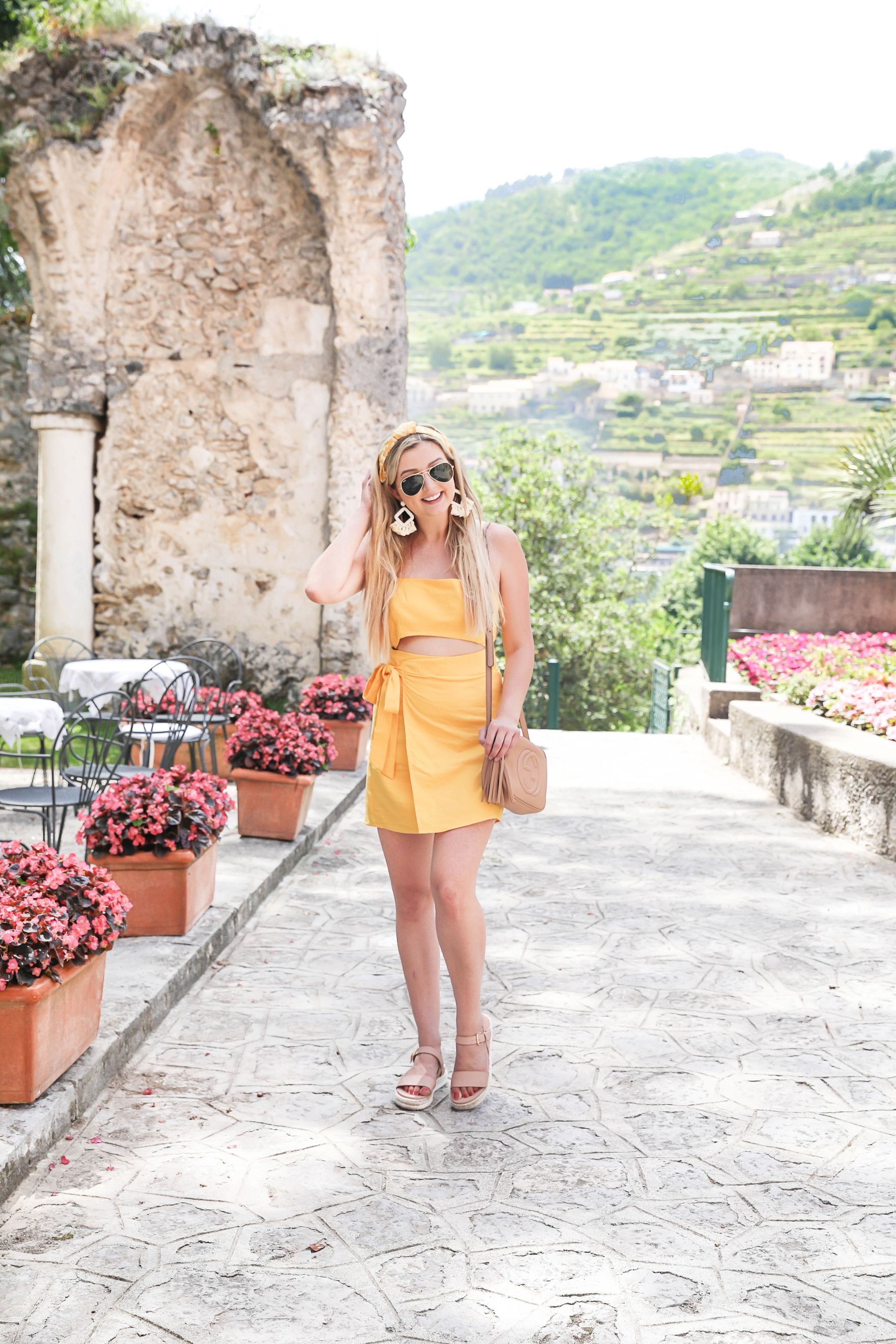 | Wrap Tie Dress ($25 also comes in coral) | Bauble Bar Earrings ($44 comes in tons of colors) | Sunglasses | Yellow Headband (also comes in navy) | Gucci Bag | Sandals ($28 RESTOCKED also comes in white) |
So, funny story about this outfit/day. We were in Ravello, Italy walking around and I got pooped on a bird haha! What's even crazier is two years ago I was in Italy and got pooped on by a bird then too!!! People say it's "lucky" to have a bird poop on you, and I am pretty dang lucky, so I am thinking it's true! My amazing sis got it out of my hair then we ordered a vodka shot to sterilize where the poop was. Only me haha!!
xoxo,
Lauren Emily Lindmark
Copyright © 2019 dailydoseofcharm.com