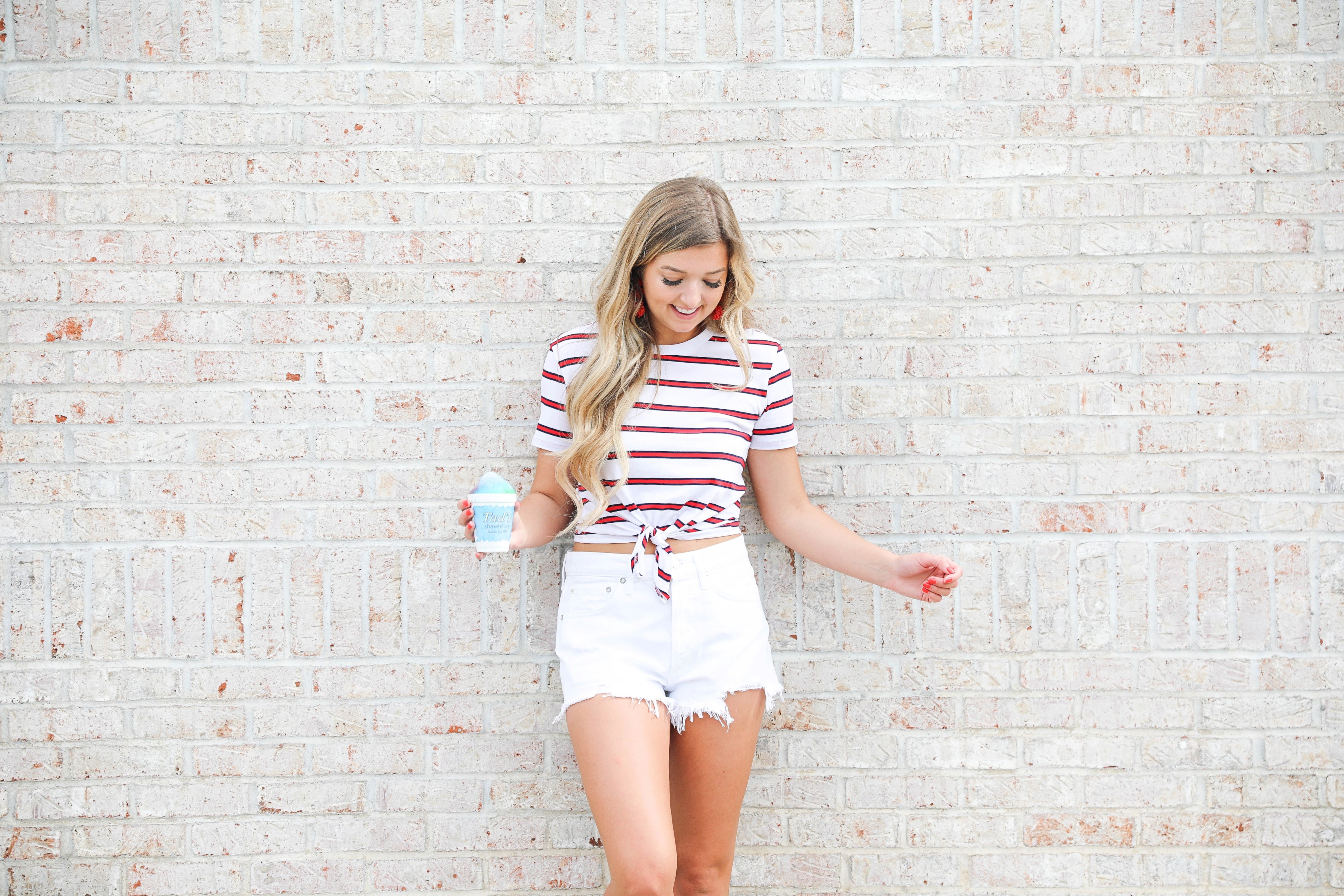 10 Random Thoughts (Life Update) | + Snow Cone Striped Top OOTD
One of my favorite bloggers, Amber Fillerup Clark, does these posts that are called "12 Things" – which are 12 random thoughts at the moment. I love them! They can be about what is going on in life right now or even things as random as "I am craving chicken strips" haha! So, I decided I would make this a little Monday tradition. So here are some random thoughts!
1. I had a bit of an unhealthy weekend and it made me think back to a year ago when I would eat bad ALL THE TIME. I don't know how I did, I must have felt horrible 24/7 and just ignored it. You know that feeling when you eat too much and feel full and sick after? That was me all the time. It makes me sad to think about how I treated my body back then. Cheat days are okay now, but I always feel better when I am eating healthy!
2. My boyfriend introduced me to this show called Night Shift, and I am not usually one to like doctor TV shows (they sort of scare me), but I actually love it! I just started from season one and I have been watching it before bed. So entertaining! It's on Netflix!
3. Speaking of my boyfriend, I feel like I haven't talked about him a ton on here! I feel like I am protecting him/myself because I was so open about my last relationship that ended badly. But you guys, he is amazing! Such a great guy, I feel really lucky!
4. I just started some new medicine for my acne called Spironolactone and I posted about it on my Instagram story to see if anyone else had tried it. 50% of the replies were good, girls talking about how much it helped their skin and it made me happy + excited! The other half, however, were HORROR stories. One girl said she was even hospitalized! It's a diuretic so you have to drink a ton of water with it. I am hoping that if I do that I won't get any bad symptoms. I almost went on Accutane in high school so this stuff seems way safer in comparison. Wish me luck!
5. In my free time I watch a lot of true crime and conspiracy theory videos (& listen to podcasts). I just find them super interesting, but I have realized after having a roommate, and living at home with my family again, that other people think it's strange when they walk in and hear it haha! Am I the only one that loves those videos? Kendall Rae and Danelle Hallan are my favorites!
6. I have been going CRAZY buying red, white, and blue outfits lately. Get ready for an overload on the blog…
7. I just had a reminder the other day of how important it is to listen to your gut. One of my biggest flaws is that I am too forgiving as a person, I will have someone treat me horribly for months before I ever do anything about it. The other day I was with a friend I hadn't hung out with since before my breakup last year, he was asking me about it and it led to him showing me a video he had saved on his snapchat from last year (when my ex and I were still together) of my then-boyfriend making out with some girl at the bar. I hadn't thought about my ex or getting cheated on in a long time, so it sucked for a second. However, it was such a good reminder of why it is important to trust your intuition and keep toxic people out of your life. When people show you their true colors, believe it! I knew for a long time my ex was doing shady things, so although the circumstances sucked, it has made me a better person because I listen to my gut now and know what I deserve. Learn from my mistakes!
8. I have two cookies sitting next to me that my sister brought back from Argentina and OMG they are so good! She had us try them yesterday then gave us each a few, I don't want to eat it yet because it's so good I don't want it to be gone haha! Also, why are so many of these random thoughts about food?
9. I am so excited to spend some time at the lake for the Fourth! There is no better place in the world! I hope we have good weather, but I am also hoping for at least one thunderstorm because they are so relaxing at the lake!
10. I need to be better about not spending money. I have been going out with friends so much lately that you don't realize how fast all the food, drinks, Uber rides, and activities add up! I need to start putting more money into savings so I don't have it to mindlessly spend.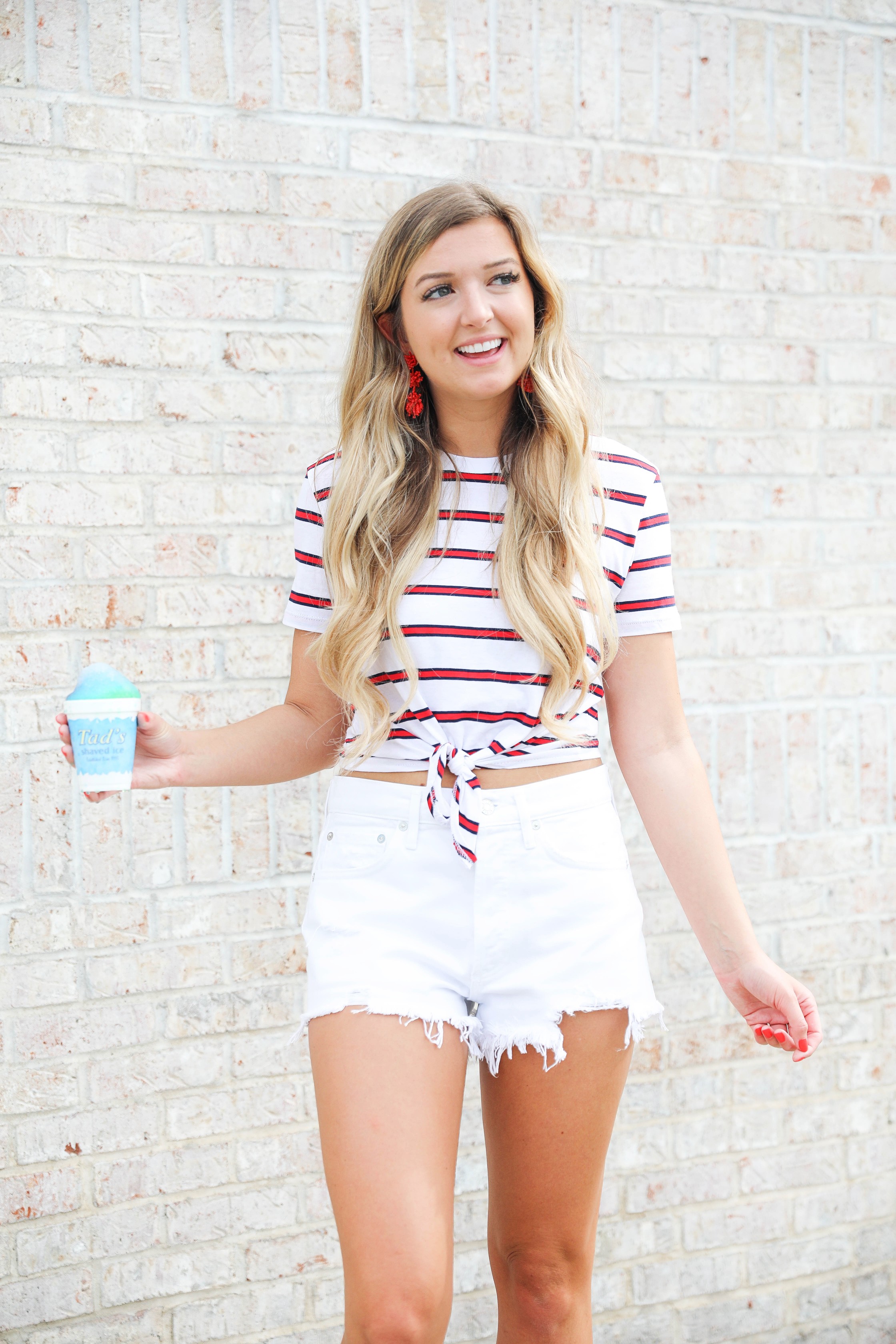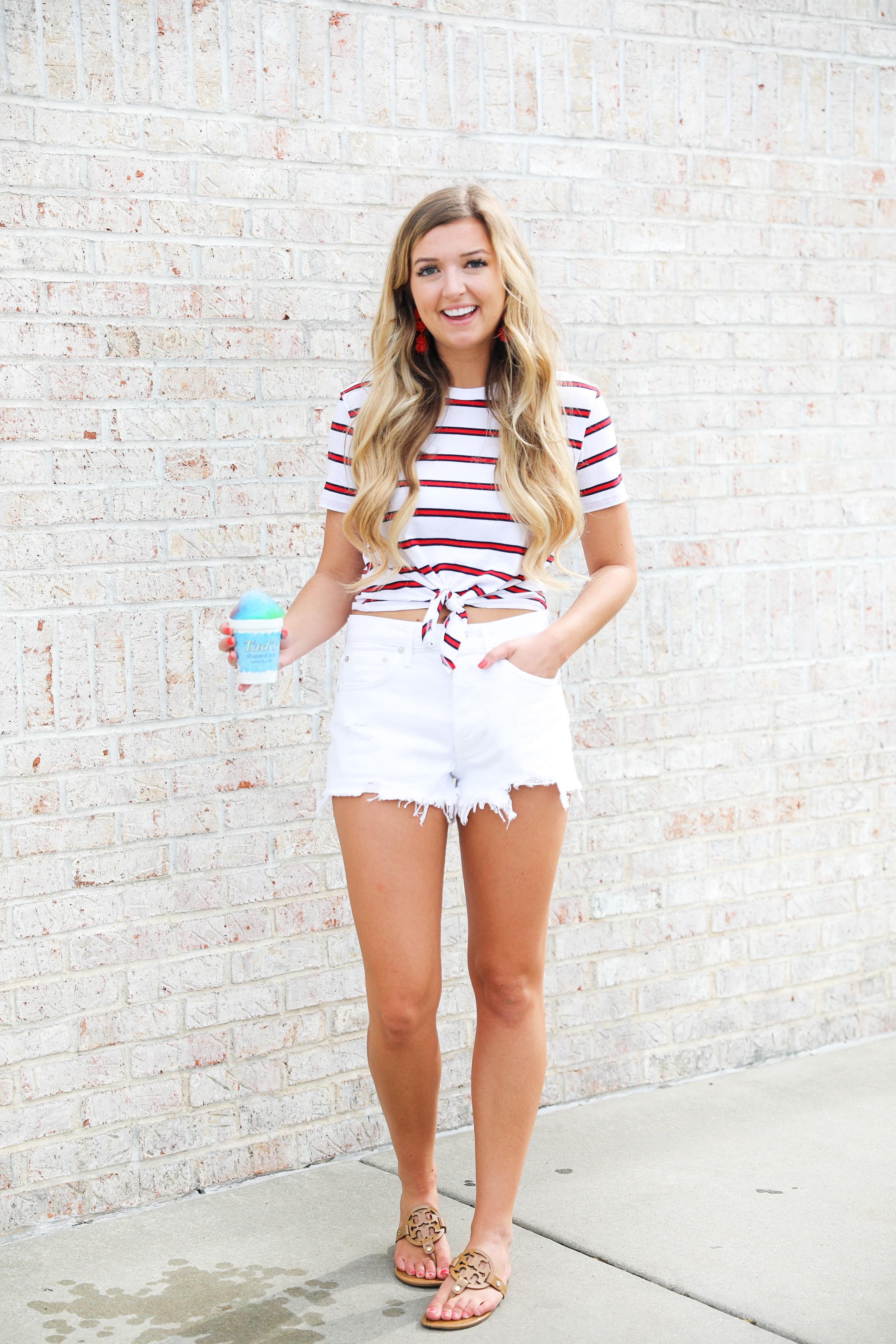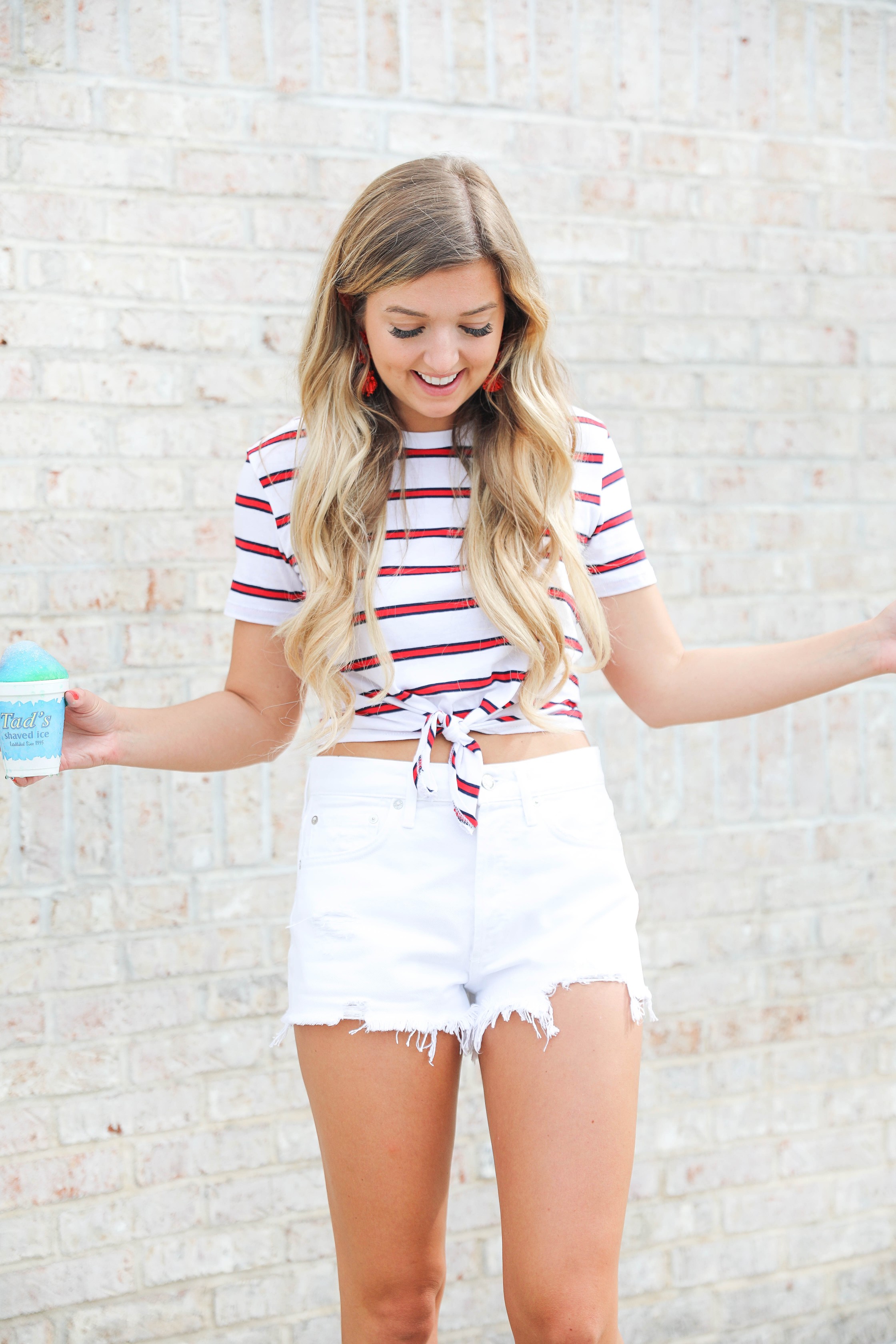 I am so squinty from the sun in these photos haha so sorry my faces look weird!
This is my first Fourth of July inspired look! How cute is this tied tee?! It's only $13 and will look so cute on the Fourth! I have a few dressier Fourth of July outfits I am going to share, but this is what I will most likely be wearing all day (if I ever put anything else on other than a swimsuit, that is). I paired it with my new white jean shorts. A few posts ago I talked about how I had had a hard time this summer trying to find jean shorts I liked. So I finally found this pair and I am OBSESSED with them! So obsessed that I bought them in this white color too!
I am lucky enough to be a partner with Sugarfix by BaubleBar, so they send me earrings every once in awhile! The ones they just sent me are ADORABLE and also perfect for the Fourth! You really can't beat their prices when it comes to statement earrings!
I shot this post with this snow cone and it was melting everywhere haha! You can see the drips on the ground! What a sticky mess… #DoItForThePic
Shop this post+ similar items!

xoxo,
Lauren Emily Lindmark
*c/o stands for "courtesy of," BaubleBar generously sent me these earrings – however- all opinions are my own and I was not required to post about them. Not sponsored.
Copyright © 2018 dailydoseofcharm.com