6 "TMI" Lady Products You Need to Have in Your House if You are a Girl! | Big Sister Talk + Fourth of July OOTD
I am sitting here putting together this post and I am staring at my bottle of cranberry supplements sitting on my desk. I am going to be TMI in this post so get ready… I used to struggle with getting UTI's all the time! It's nothing to be embarrassed about if you get them, but they definitely suck. Last time I was at the doctor I was recommend these tablets and they have been a life saver! I will get more into them in this post below, but this sparked the idea of another "big sister" post I have been wanting to do all about products you need as a lady! I am so glad I have an older sister and mom who have guided me throughout the years and passed down their wisdom. So here it is for you guys!
1. Cranberry Supplements
Ever since high school I have gotten UTIs regularly. If you have never had them then let me tell you, THEY SUCK! It basically feels like you are on fire when you pee and you constantly feel like you have to go. I notice I get mine if I am not drinking enough water (especially if I am drinking a lot of alcohol for days in a row). UTIs are super common among women, so I don't know why they are not talked about more. A few months ago I was talking to my doctor about them and she suggested I start taking cranberry supplements. They have been a lifesaver! Cranberries (and cranberry juice) help support a healthy urinary tract and prevent the growth of bacteria. I take them every day, but you can also take them if you feel like you have symptoms coming on.
2. AZO
Speaking of UTIs, I suggest picking up a packet of AZO to always have on hand. Now I actually don't travel on any trips anywhere without it! UTI symptoms can come on fast, and although your local Walgreens or CVS clinic can give you the prescriptions you need, sometimes you need some faster relief. AZO completely gets rid of your UTI symptoms which is amazing! It relaxes the muscle in your bladder which helps that constant urge to have to go and the medicine in it helps with the burning too.
3. Probiotic
There are a million benefits to probiotics, especially for your stomach! But since we are being TMI here, it also helps your vagina too! Although I am unlucky with UTIs, I am lucky in the fact that I do not suffer from yeast infections very often (I think I have had one in my life), but it is another thing women just have to deal with! Probiotics help aid the growth of healthy bacteria in your system and prevent yeast infections + many other infections!
4. PH Balanced Wash
I have used Summers Eve wash and wipes for years and absolutely love them! They sell them at any drugstore, Target, or Walmart in the tampon section! You use them on the outside of your lady parts (you never want to use a wash or douching inside of your vagina because it messes up your PH system) and it helps me feel fresh and clean! The wipes are great for traveling or using after you go to the restroom!
5. Unscented Tampons
Like I said above, you don't want to put any chemicals inside your vagina – and that includes scented tampons! Scented tampons can actually cause yeast infections because the scented part kills off the good bacteria in your system which causes an over-growth of the bad. I am surprised so many companies still sell scented tampons. I have always been told not to use them, but not many people know!
6. Cotton Undies
I pretty much constantly wear thongs. I don't know why I do… I know a lot of people hate them and find them uncomfortable, but I don't mind them. Plus I think wearing something that makes you feel sexy everyday is good for you 😉 However, the best thing to help your vagina breathe is cotton underwear! I try to switch it up every once in awhile and wear cotton underwear or wear nothing at all to bed!
I hope these tips helped some of you out! Leave your favorite lady products below so we can all help each other out! Outfit links below!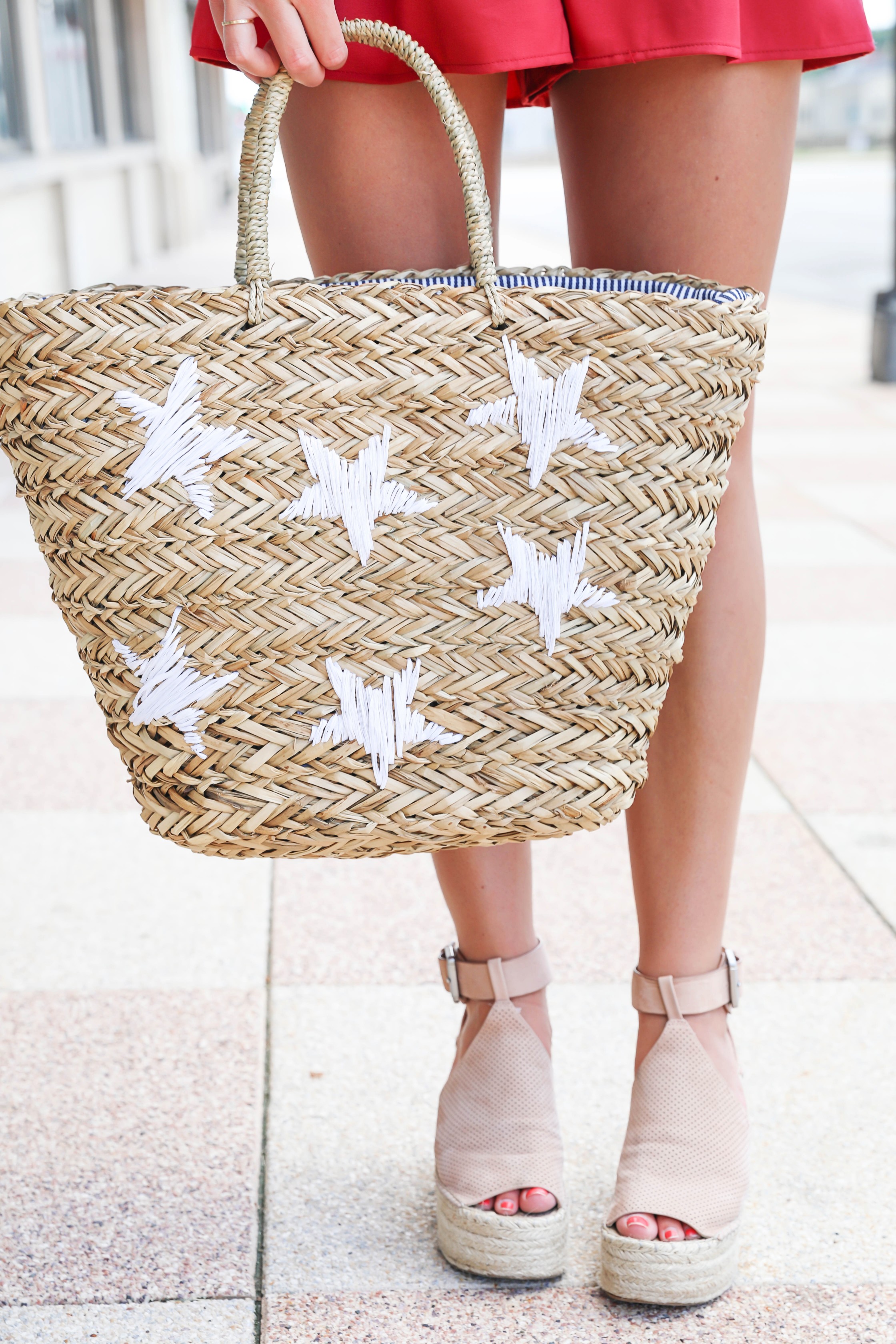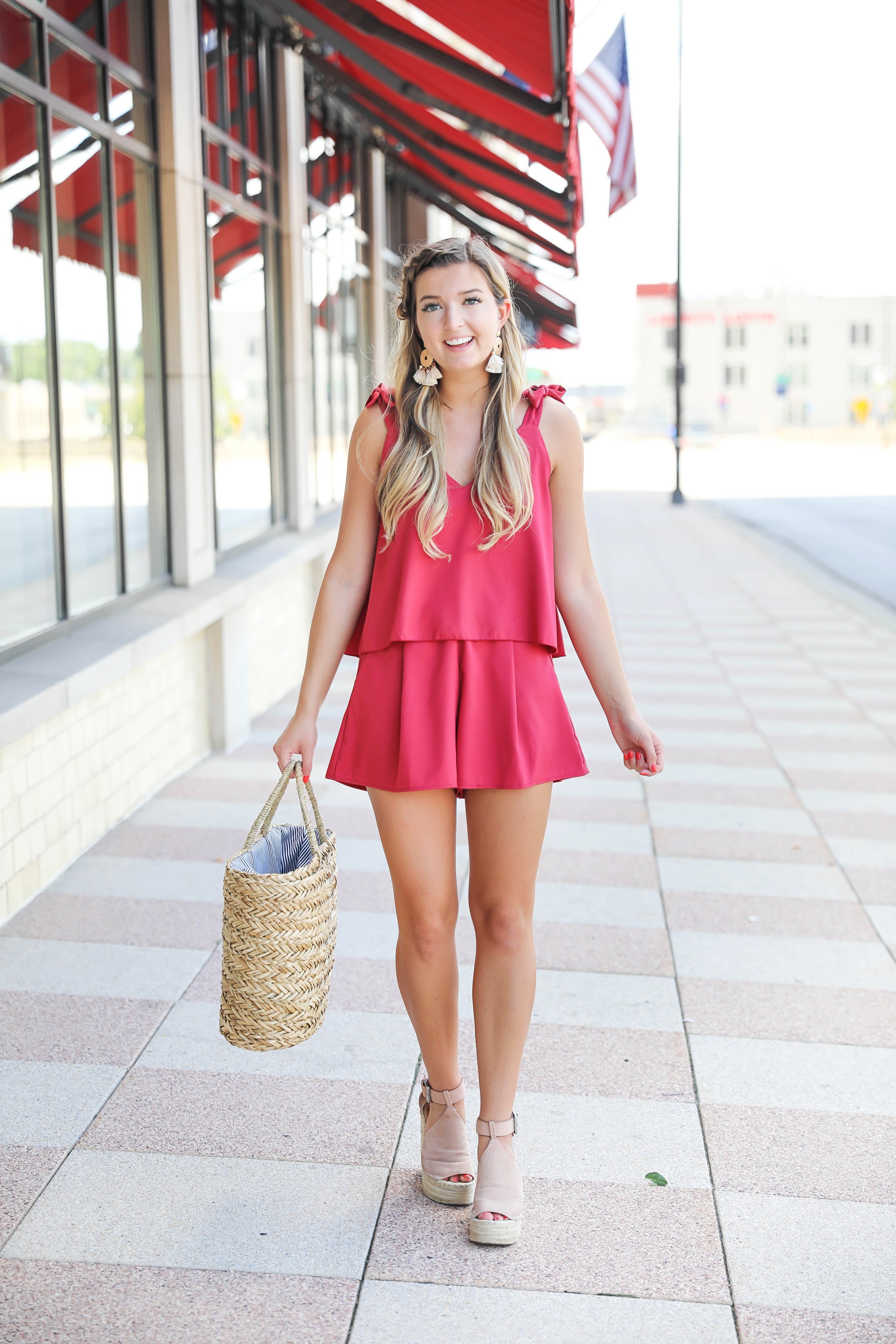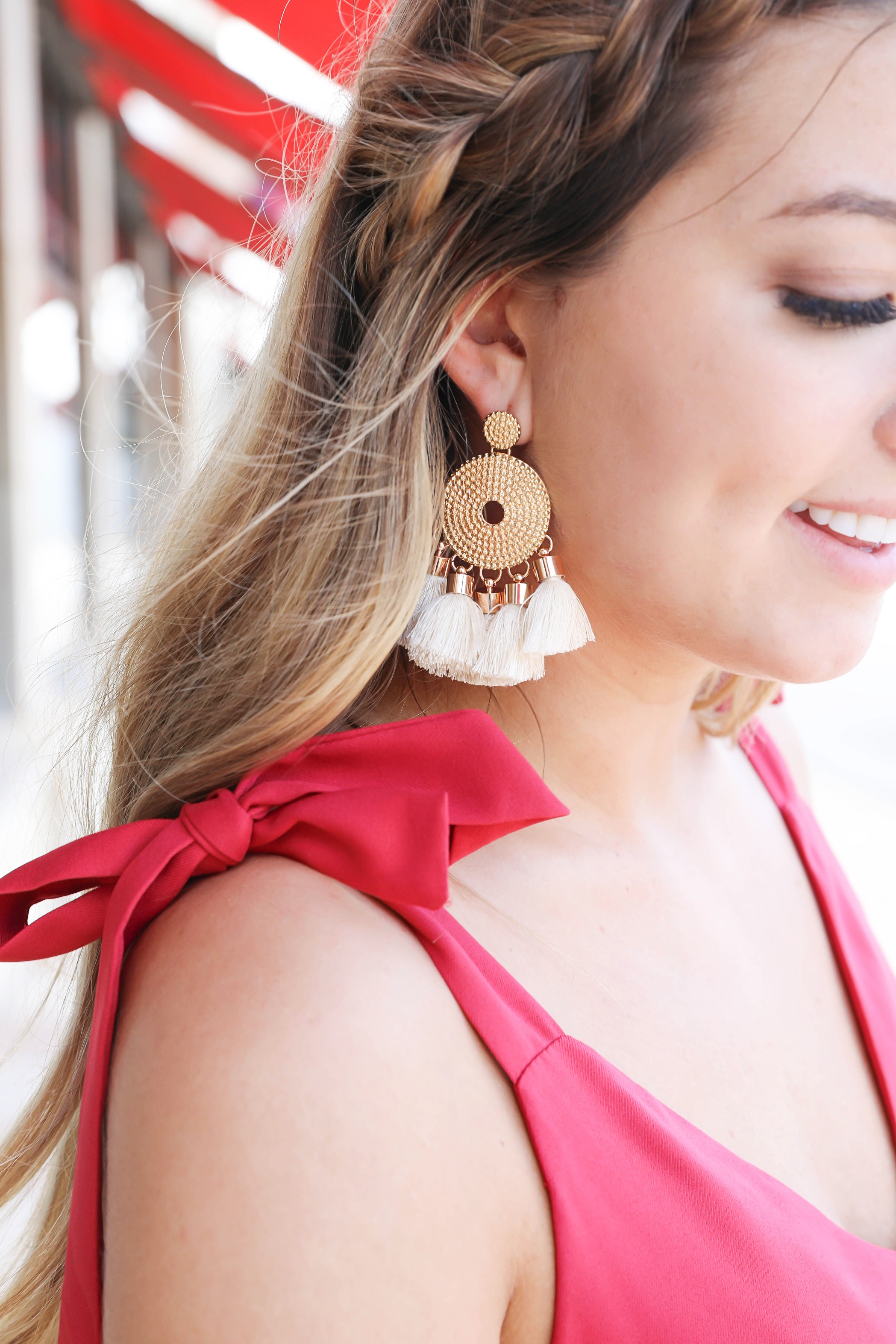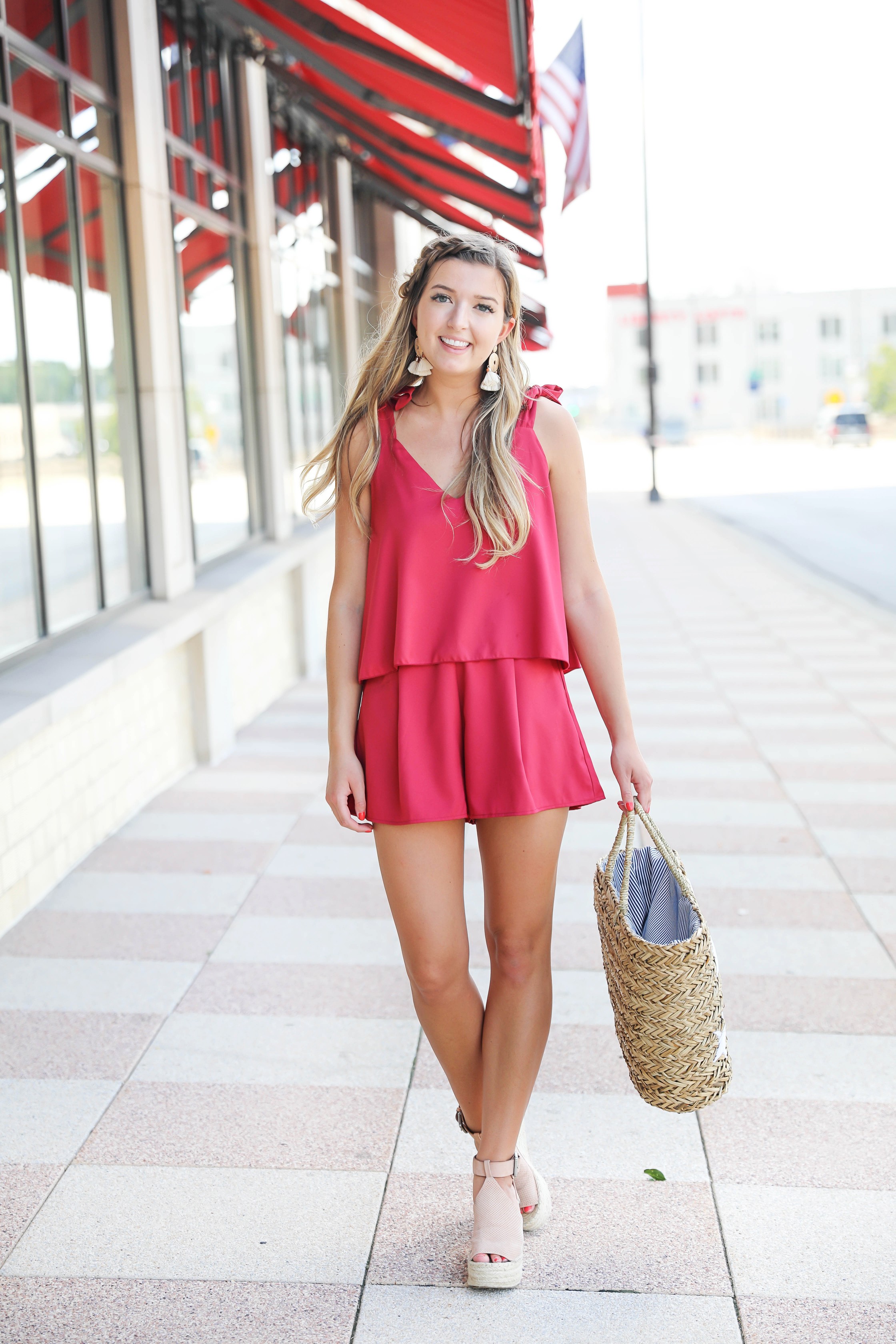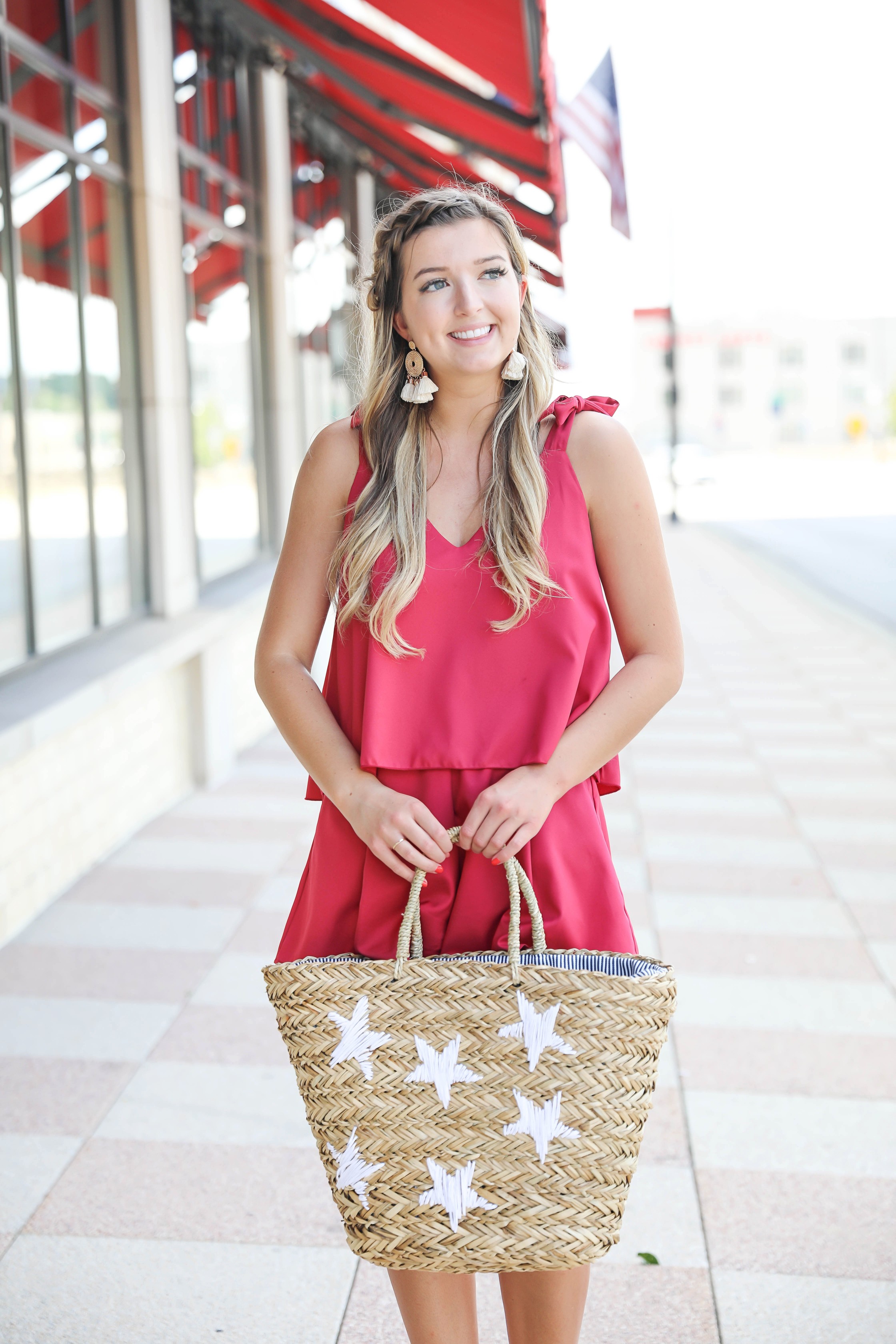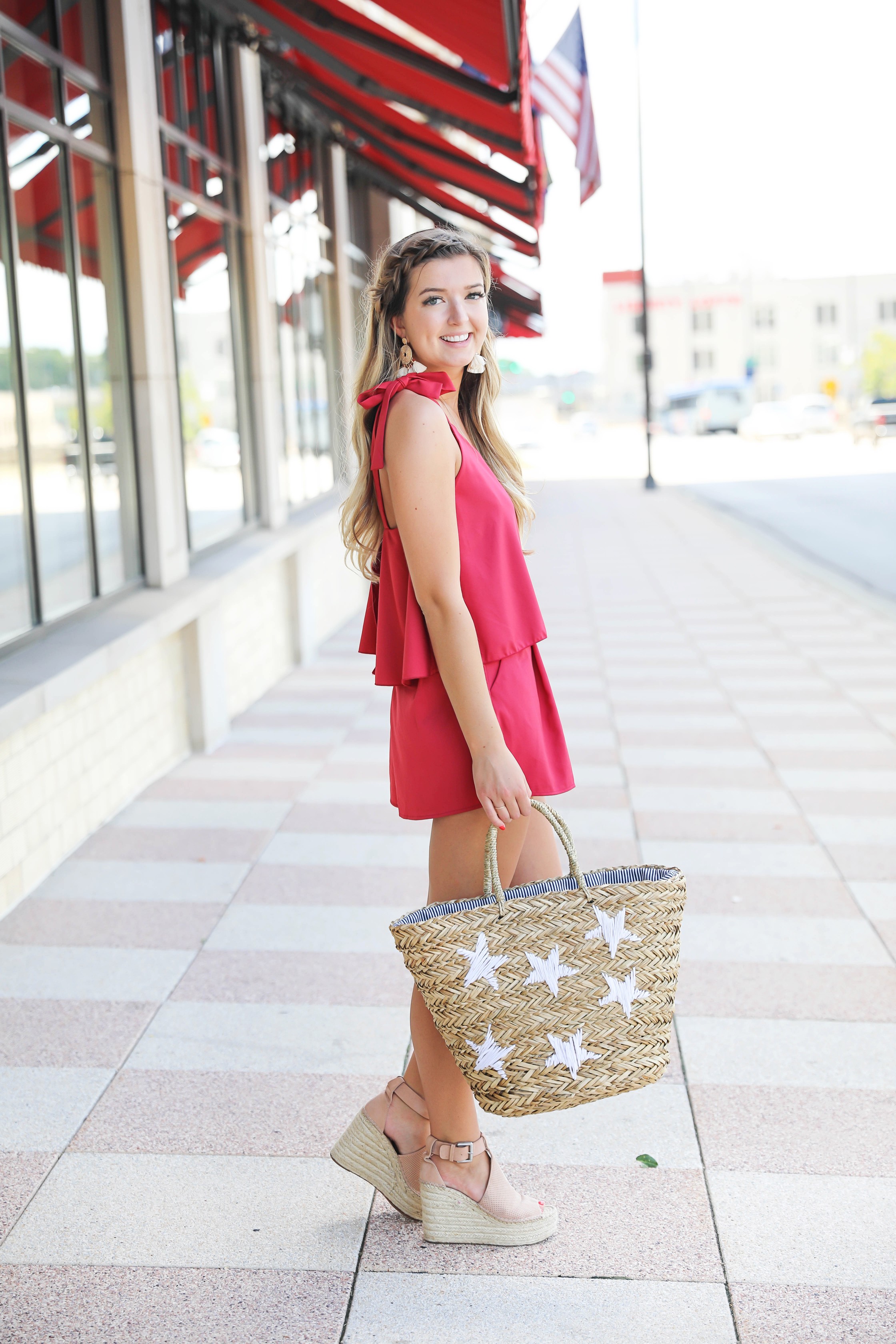 I wore this romper in New York City to a U2 concert at the Apollo Theater and got so many questions and compliments! I have been meaning to finally post it! I am glad I am posting it just in time for Fourth of July though, this will be perfect for the holiday! Something I love about this romper is that it goes up to size 16. I love websites that are inclusive of all sizes! This comes in three colors, and this wine color is still available in all sizes! I paired it with my star beach bag that back in stock!
I hope you guys are having a great week! One week until the Fourth of July!
xoxo,
Lauren Emily Lindmark
Copyright © 2018 dailydoseofcharm.com