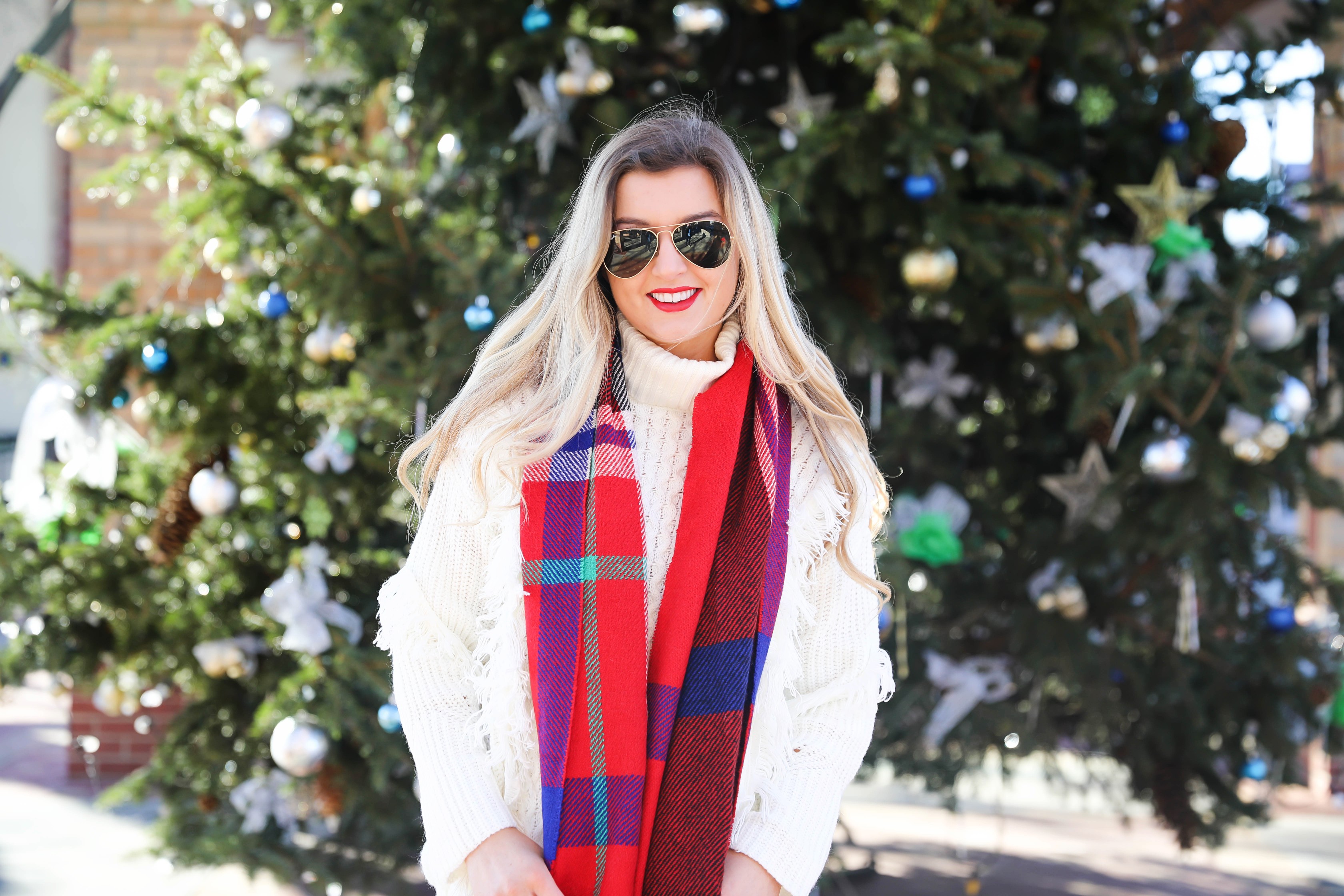 All White Winter Look | OOTD + Getting Personal About Why I am not in School Anymore
So I was hoping that putting on this all white outfit would bring me good luck for snow. I mentioned this on Instagram yesterday, but am I the only one that has been waking up everyday and checking their weather app to see if snow has been put in this week's forecast?! Or am I just weird and love snow too much? Please tell me it's not just me because I need some more good snow vibes from you guys to help me get a white Christmas…
Speaking of all white outfits, the whole "no white after Labor Day" rule is bull shit. I LOVE wearing white, especially in the winter. Although, I prefer to have my fake tan on when I do! I think an all white look like this looks so classy though! I paired it with my favorite J.Crew scarf that I got for Christmas last year. It's back again this year in two new colors and they are just as cute!
Enough about the outfit, I want to get a little personal. It's my goal in this next year to be more personal on my blog. Like I have said time and time again, my blog is my diary and I love spilling my heart on it. As my blog has grown it has just gotten harder because I never know who is reading so I get nervous to get too personal sometimes. However, I want to get back to being personal again with y'all – and I thought no better way to start than to talk about school and what I have been doing this past year. Keep reading below (you can also find outfit details below)!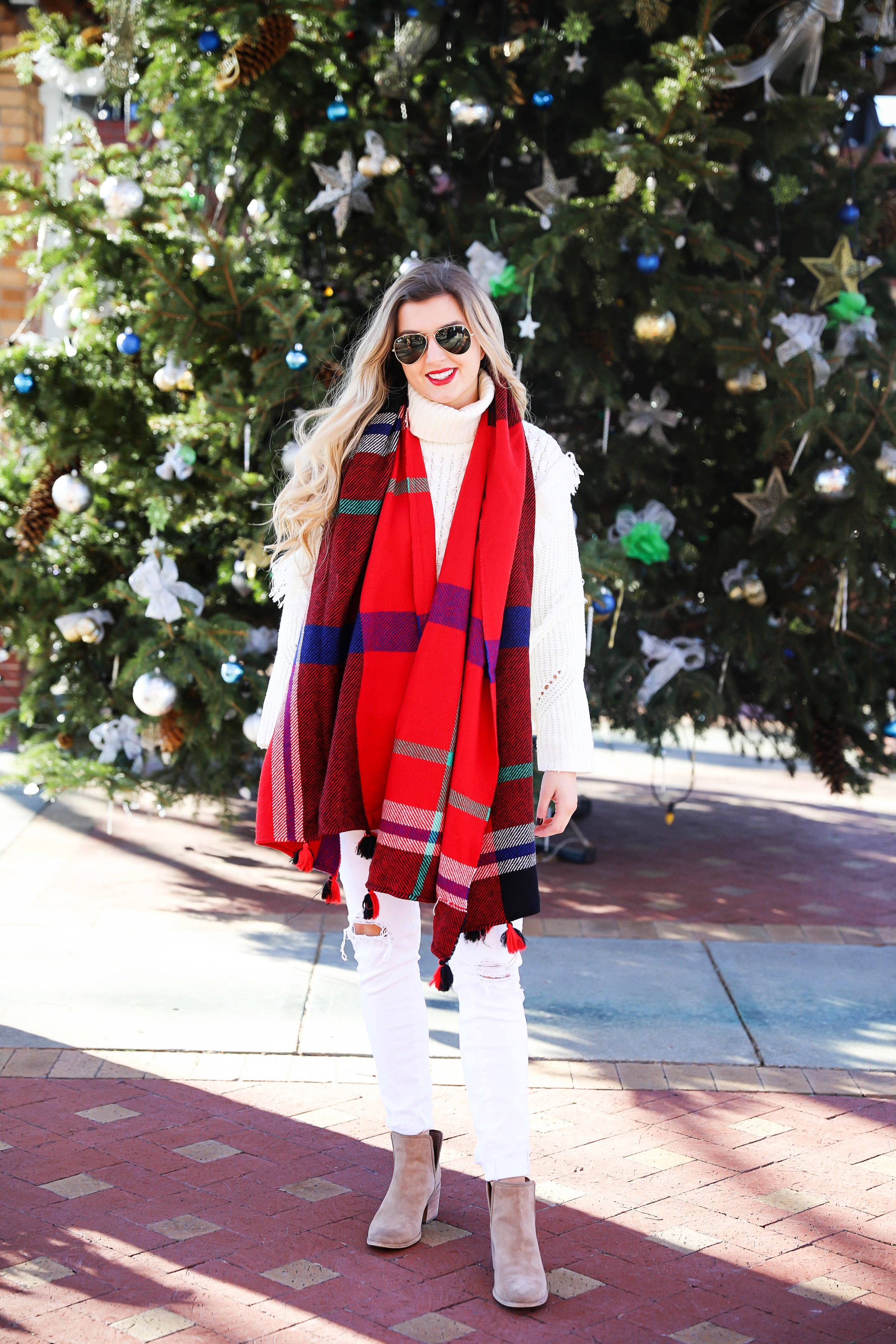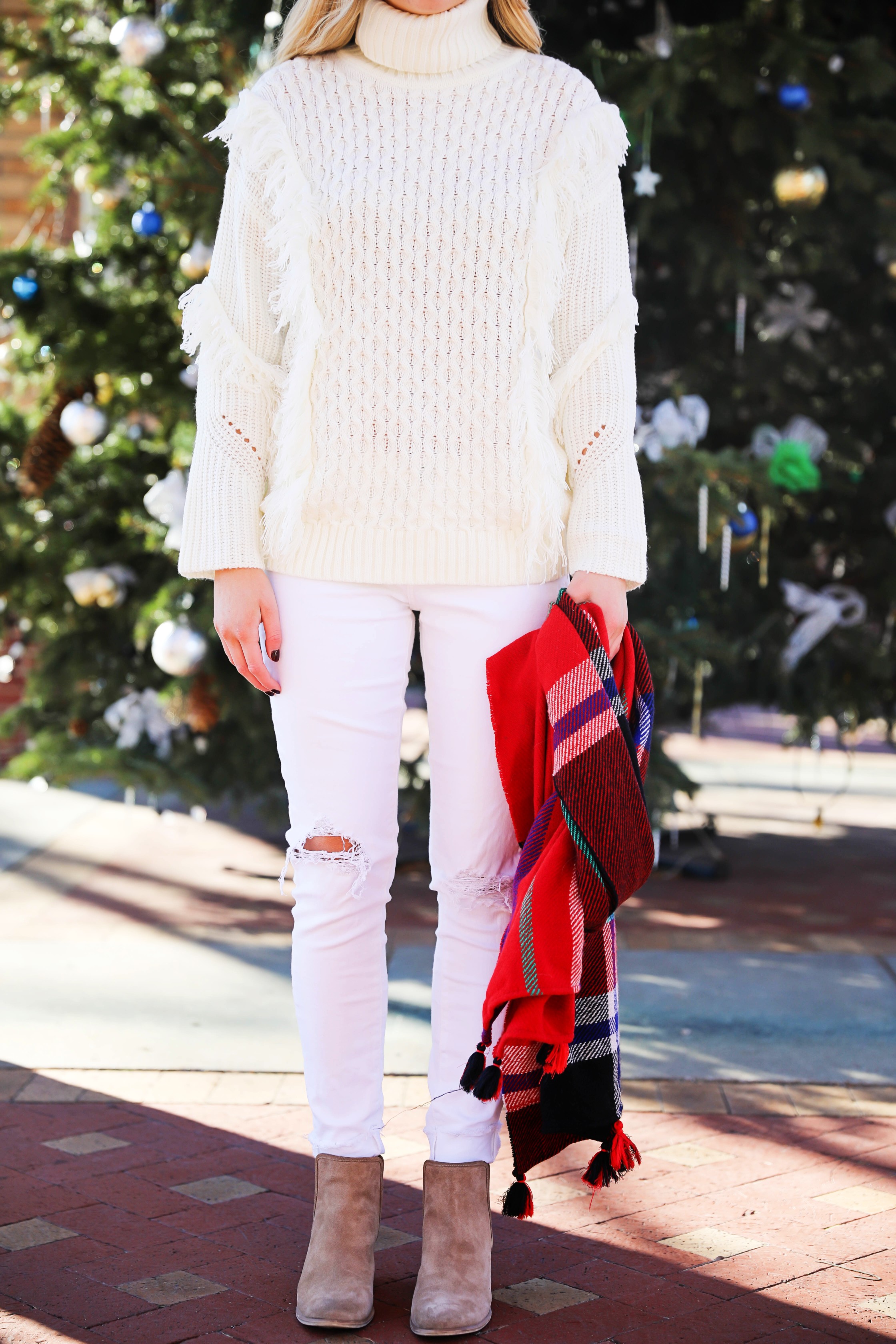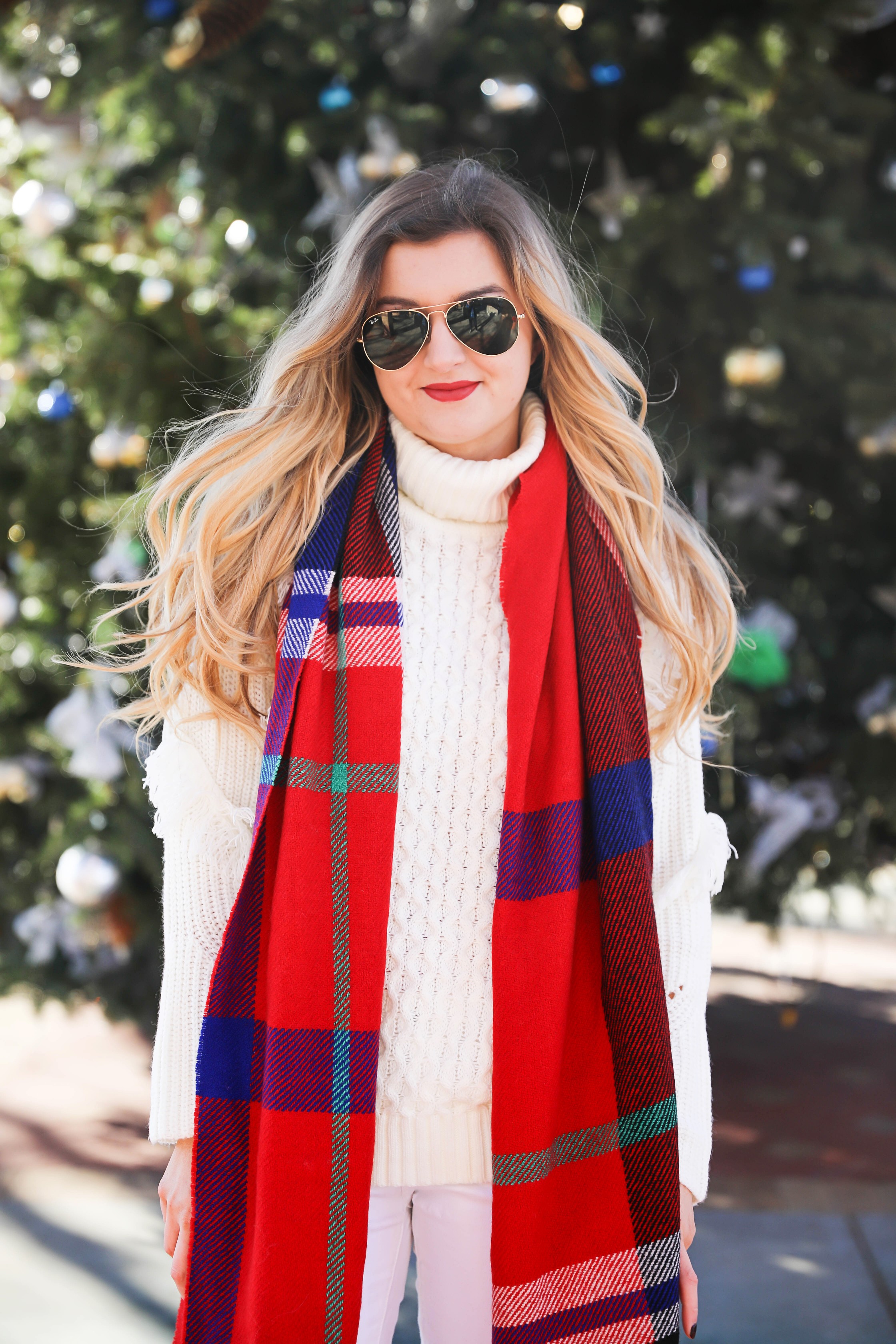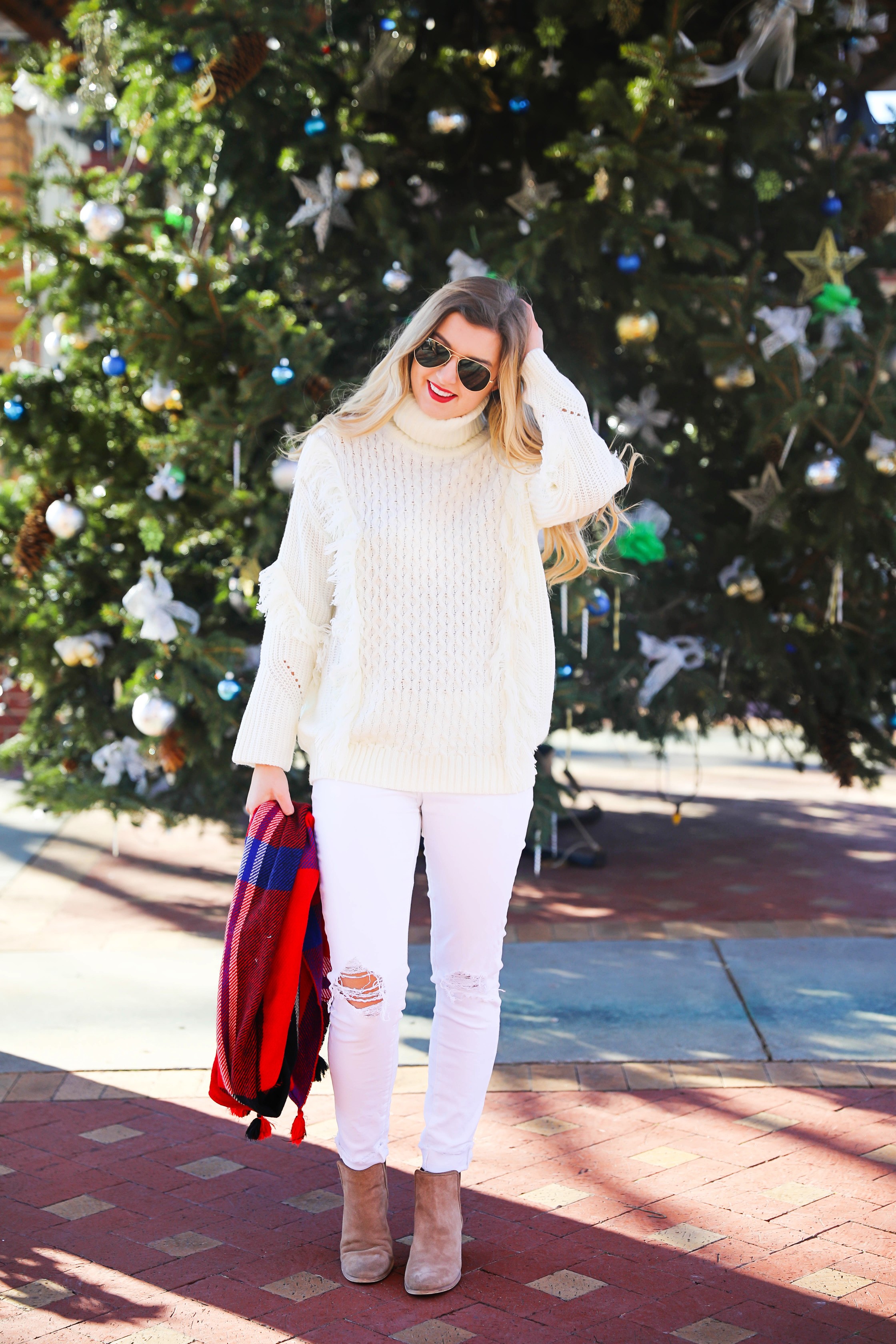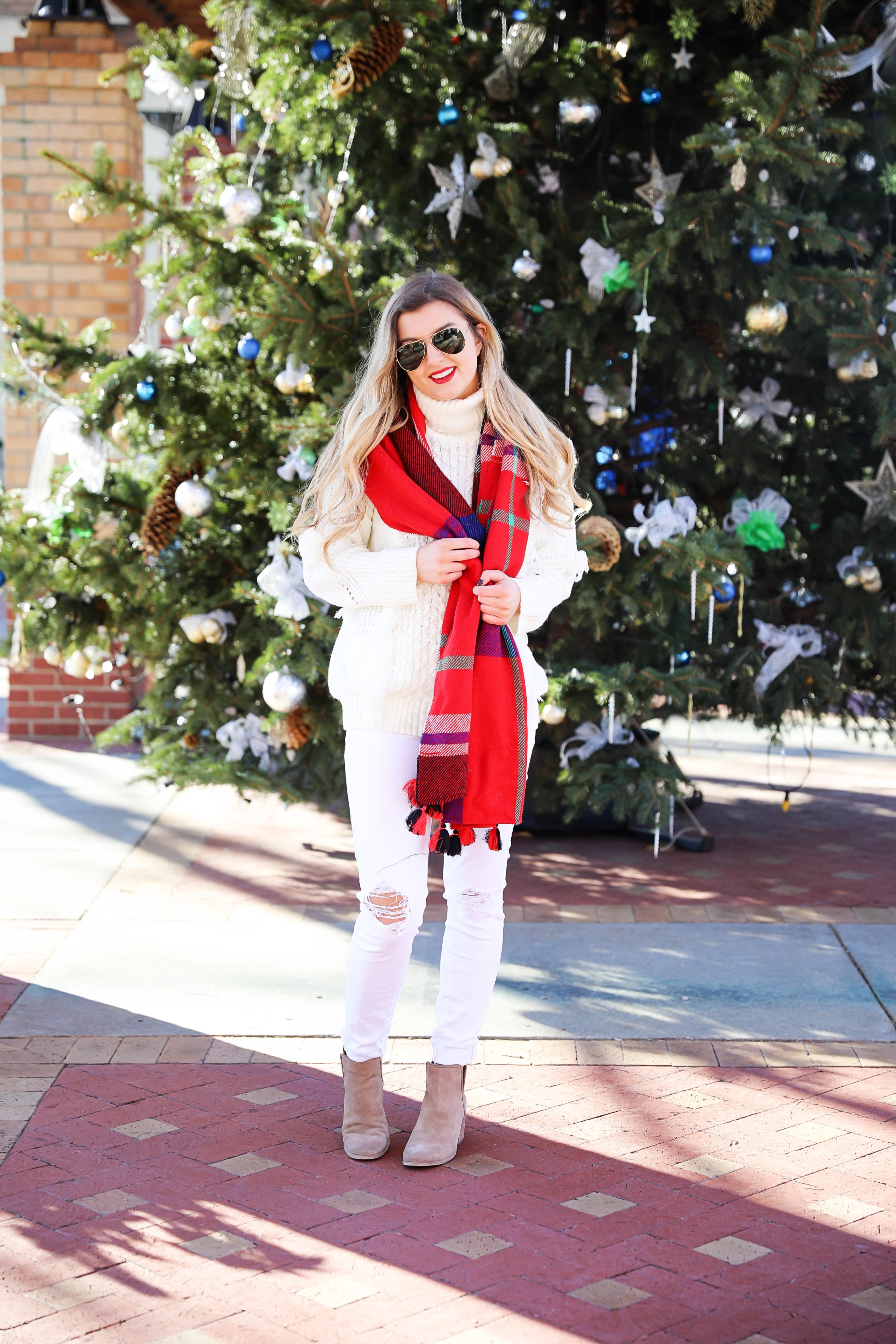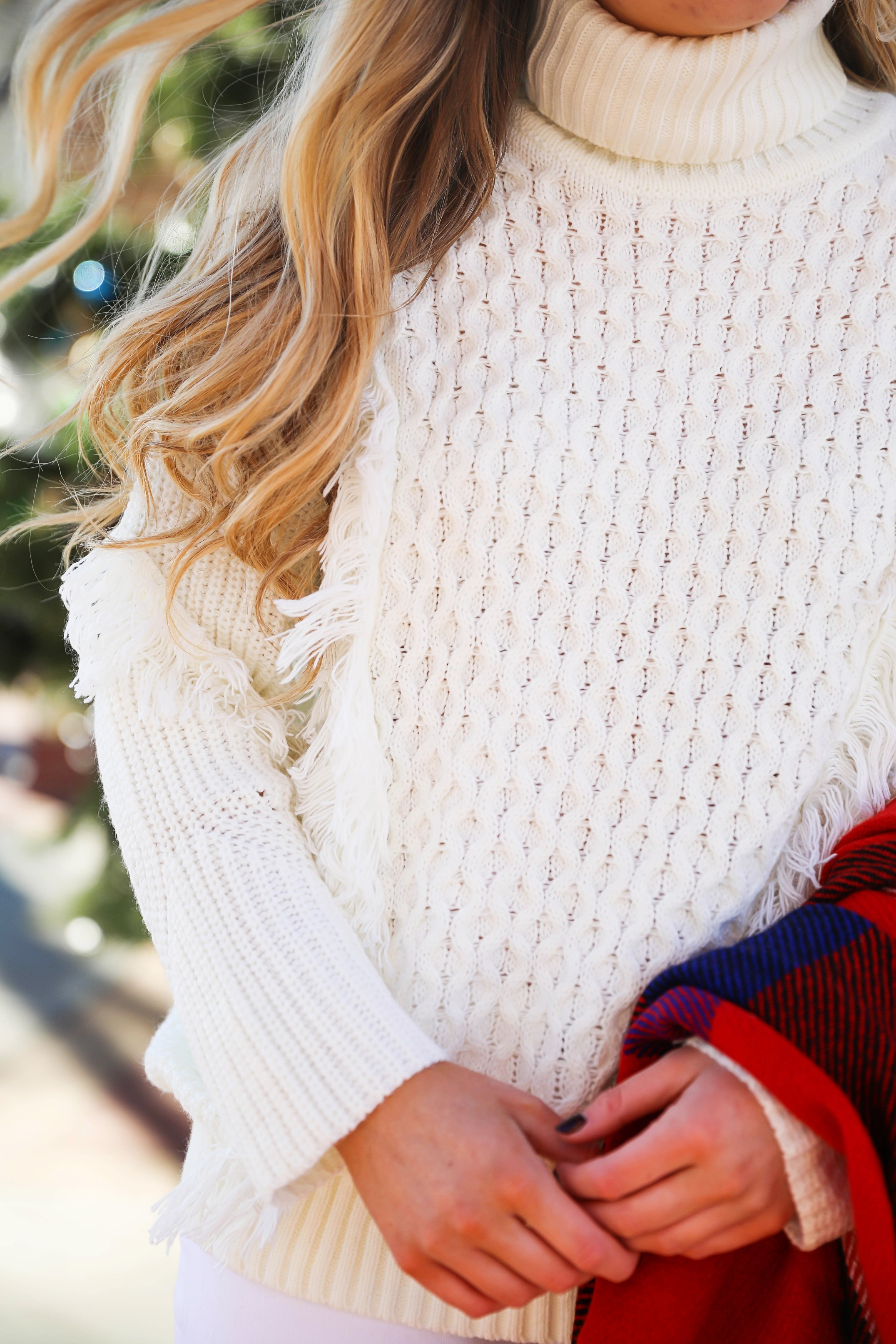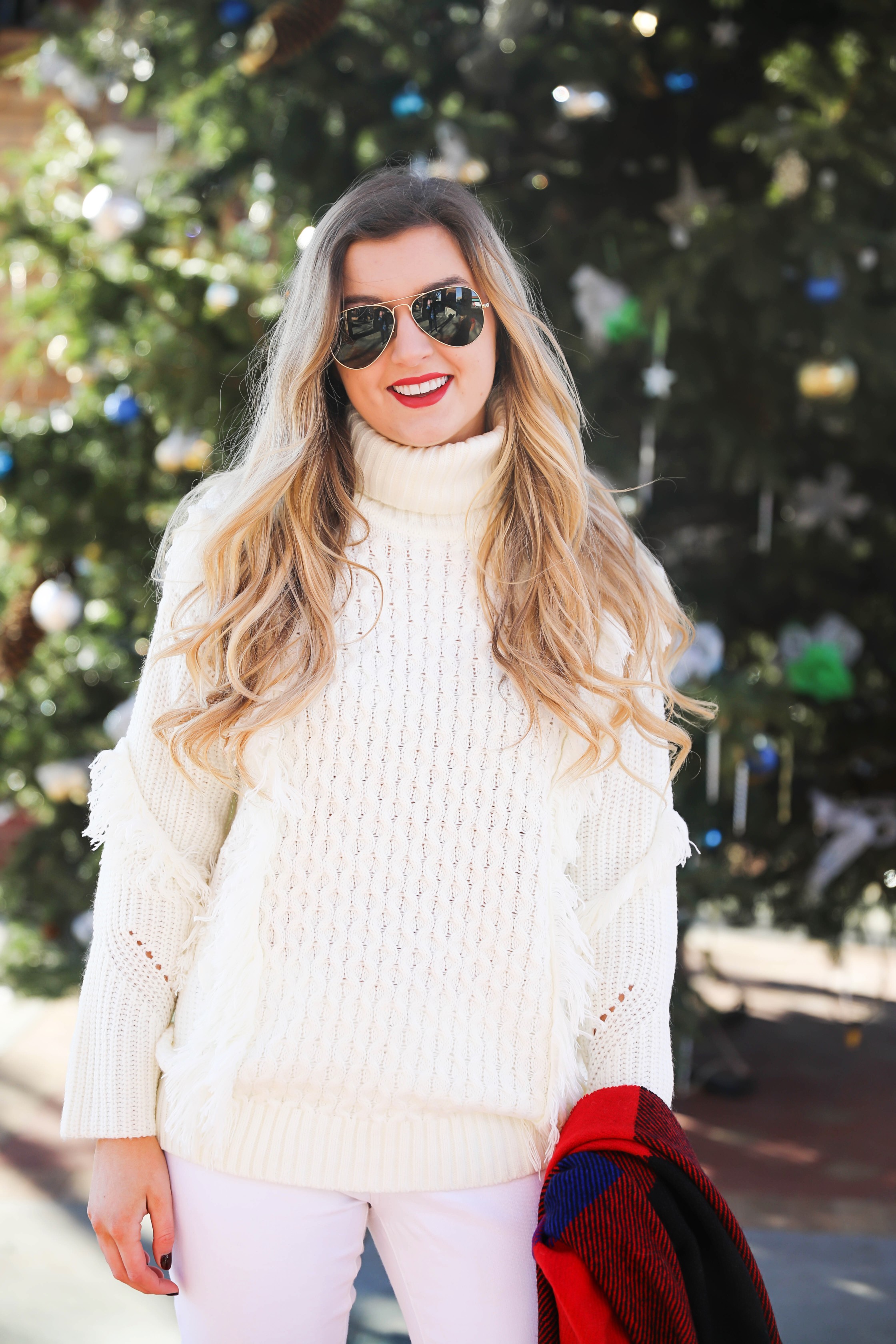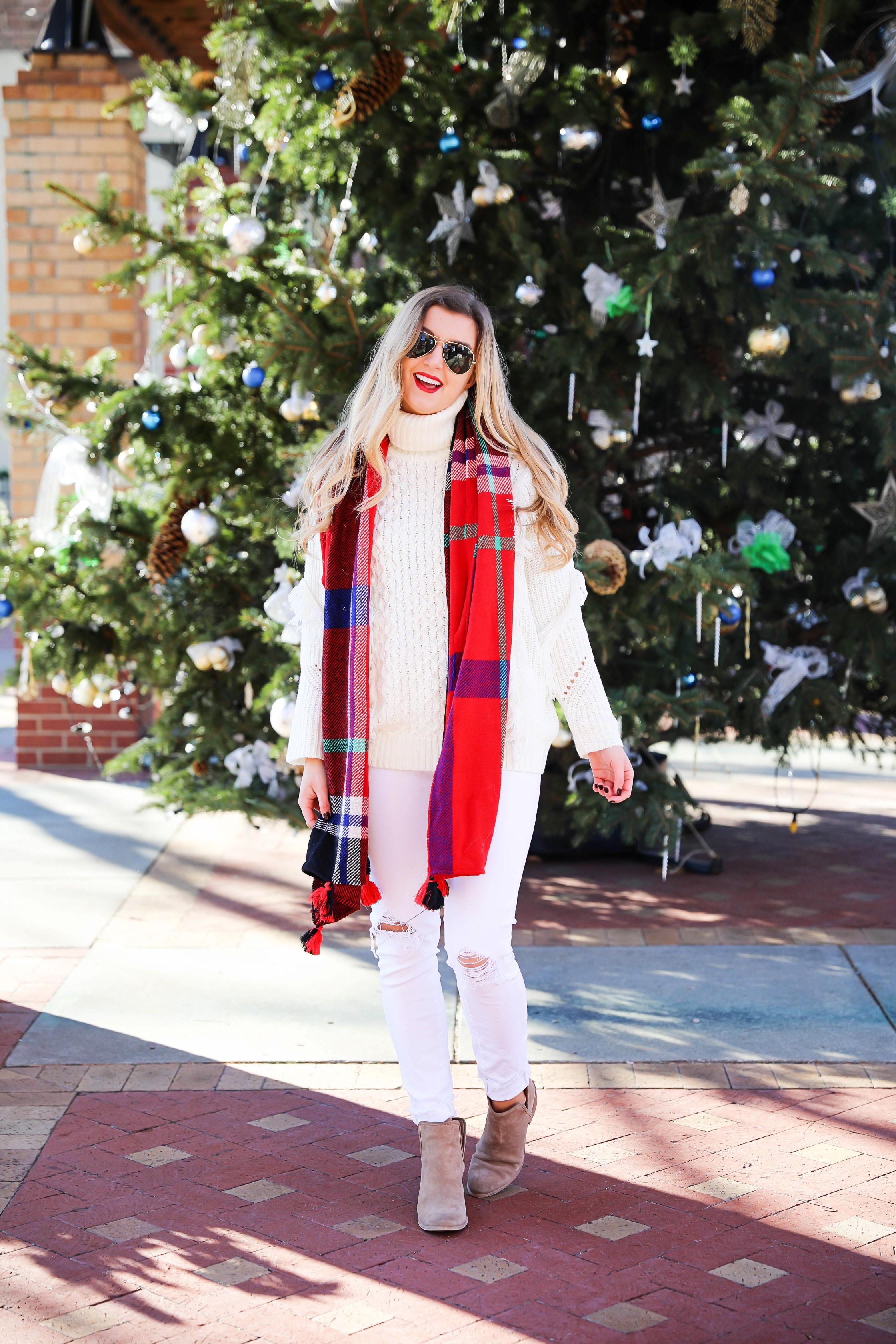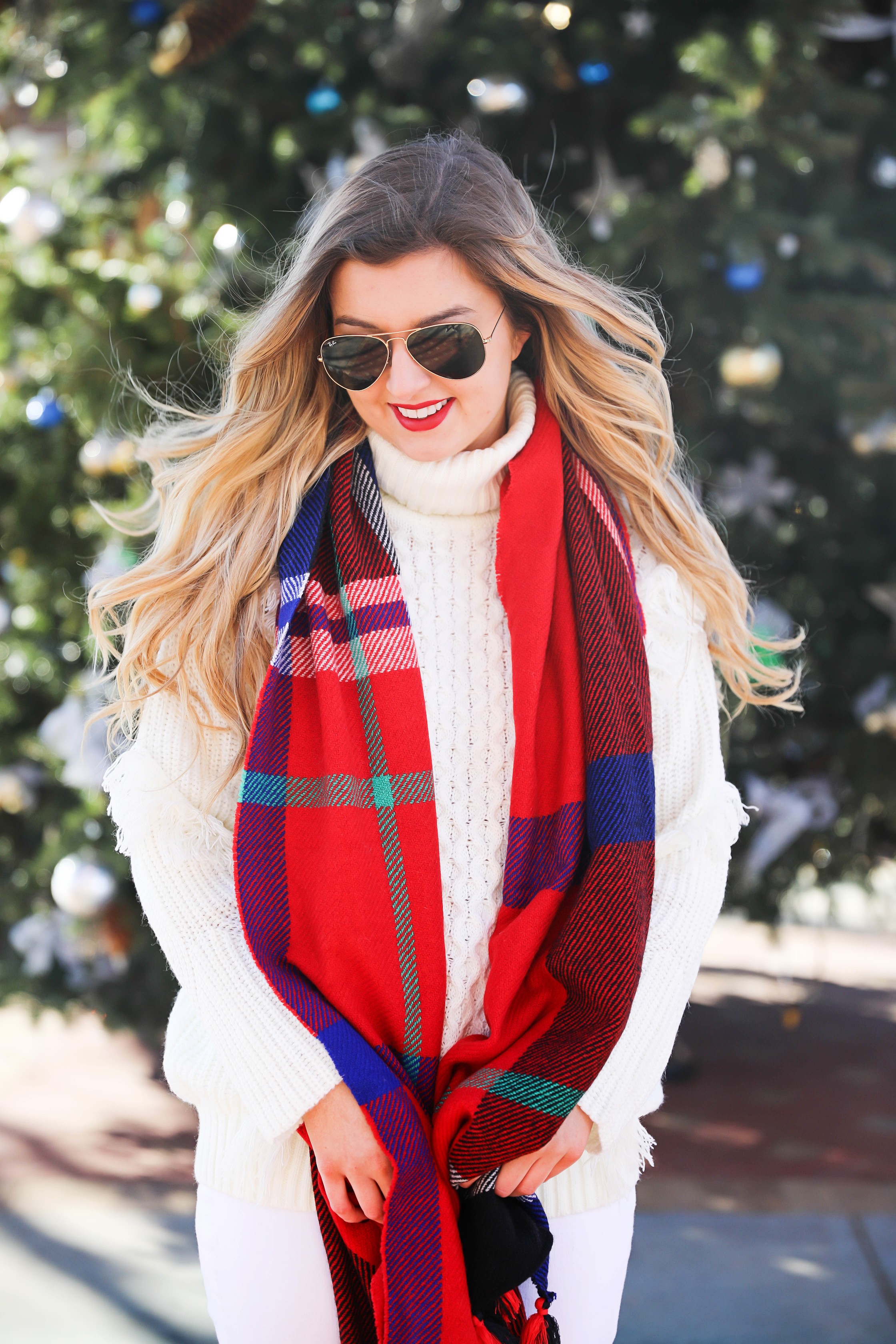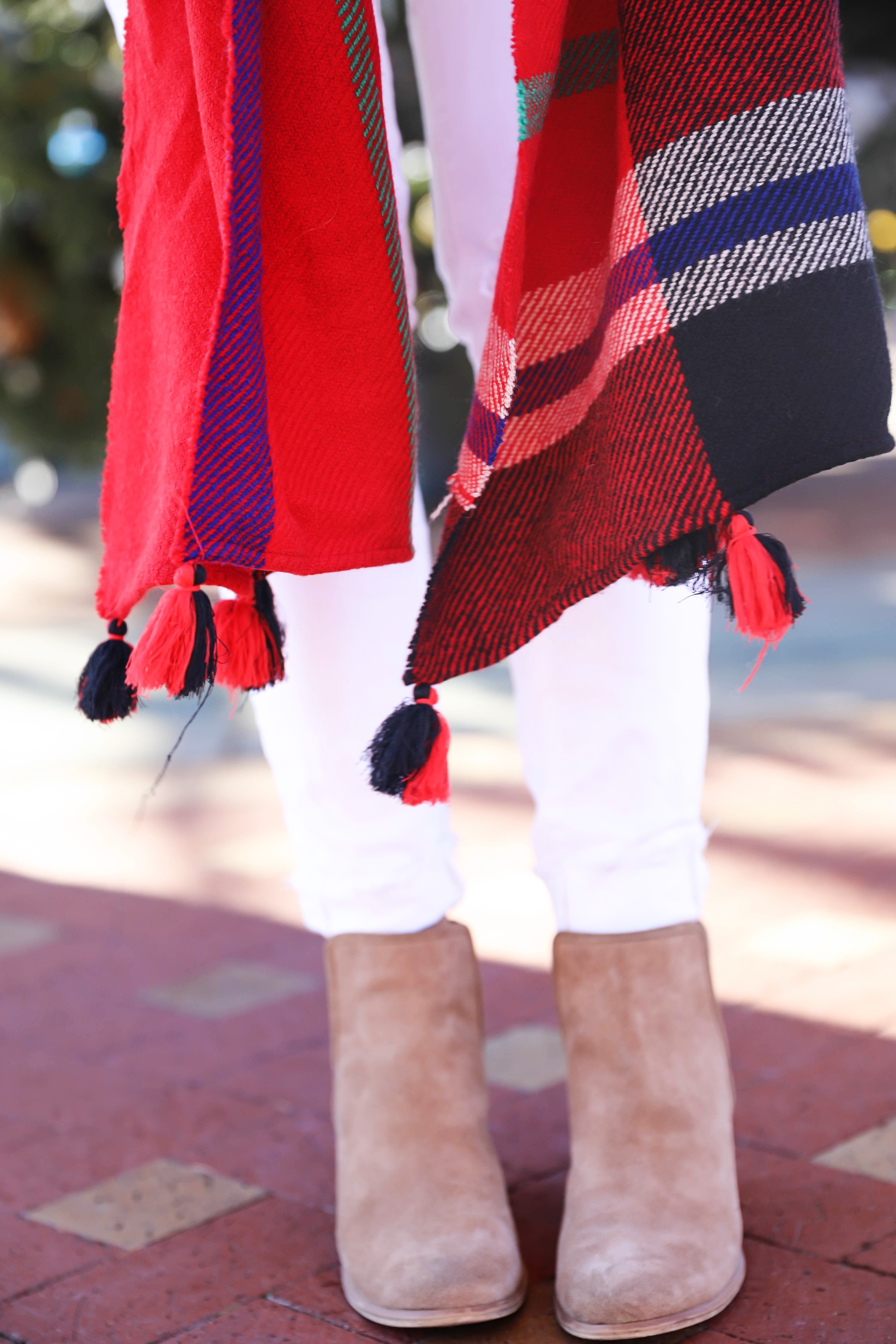 | White Fringe Sweater (I am wearing size US 4) | White Ripped Jeans (original sold out so I linked similar that are 40% off, another similar pair here that has really cute ankles) | Plaid Tassel Scarf (40% OFF mine is last year's version, but they have two new colors this year) | Booties | Sunglasses | Lip Color: Mac Russian Red (love that it has blue undertones because it makes your teeth look whiter) |
want to do a 2017 recap video, because it has been a HELL of a year. I have learned more about myself in this last year than I have in my previous 19. I have had my fair share of hard times, including leaving a foreign country early before my study abroad program ended this summer and breaking up with my longterm boyfriend this fall (let me know if you want videos or posts on those). However, another big event was deciding not to go back to the University of Kansas this fall after spending four semesters there.
Ahhh…how do I describe me and school? In simple terms – I hate it. You're probably thinking, "wow, so you're like every other college student? No one really likes school." Let me tell you though, I am different. From the moment I started going to school I pretty much found any excuse not to be there. My family jokes that I am a preschool dropout because I only went for a few weeks haha! I would cry almost everyday in elementary school and in high school I did an outside of school program for half the day where I went and learned about business, by my senior year I was only going to an hour or two of school at my home high school. So basically – I never liked it.
Everyone would tell me growing up, "just wait until you get to college! You'll love choosing your classes, having a spread out schedule, and learning about things you love." I eagerly awaited getting to that point in my life, and although I had doubts, I packed up my things and went to KU in the fall of 2015. Pretty much from the beginning I felt like things were off. It seemed like I would call my parents once a week for the first semester and tell them "this is not where I am supposed to be. I would get irritable, anxious, and frustrated with school and it leaked into my personal life. I knew something wasn't right and I convinced myself it was a million different things even though the simple answer was right in front of me (okay, well nothing is really "simple," but you'll know what I mean).
Sophomore year of college came around and I remember being in Destin, Florida a week before school started bawling my eyes out to my parents about how I didn't want to go. I pushed through anyways and, again, packed up my things and headed to KU. That year I was supposed to live in my sorority house and I was not really feeling it. Something I developed in the last year (that I sort of have a love/hate relationship with about myself) is if I don't want to be somewhere or do something, I get the hell out. So sure, sometimes I could push myself a little more or give something more of a try – but after spending so much time ignoring certain things I was feeling I have come to just say "screw it – I am done!" when I am really done with something.
I moved into my sorority house and didn't spend a single night there, I ended up moving all of my stuff out the next day and quickly signed a lease at an apartment 10 minutes away from campus. That turned out to be one of the best decisions I had made for myself up until this point, last year was an amazing growing experience living by myself and learning to support myself more (especially emotionally). Although I loved living alone, I still knew something wasn't right. So that brings me to second semester of sophomore year when I decided it would be my last semester at KU. Up until this point I was still thinking that the thing that was wrong was the school I was attending. Although I love Lawrence (the college town) SO much, I dreaded going to classes and hated the thought of going for two more years.
Over this summer I decided to enroll in UMKC (the University of Missouri Kansas City). I started thinking of all these different paths I could take, I thought about moving downtown, meeting new people, and finally being at a school I loved! Surprise, surprise, here we are at the end of the semester aaaand…I hated UMKC. I had decided last minute to take all my classes online, which definitely helped my semester, but my heart really wasn't in them. I want to reiterate, I know how to push myself (hell – I did it for two years while I was miserable at KU) and I know the importance of school. However, I was finding again that this was not the right path me. Which leads me to think this is not the right time for me to continue education.
I feel like I need to explain my issue with school, I hate having to memorize and regurgitate information for a grade. I feel like most of my years in school have been spent "trying to get by" because I dread it so much. I am an amazing learner when I am passionate and want to really learn something on my own, and I am lucky there are so many resources out there where I have been able to learn in a way I love over the past few years. However, it has made some of my time in the classroom feel meaningless when I learn about things I have no interest in. You end up paying thousands of dollars to take a class without really learning what YOU want to learn.
So where am I at right now? I have no clue. I still want to get my degree eventually, but I am not really in any rush. I think going to school is important, but it's more important if you want to be a doctor, accountant, lawyer, teacher, etc. I have quite a few life goals that I know I can work on without getting a degree right now. I am currently learning about web development through a few online courses (not school courses, but online programs you pay for – shout out to my blogger friend Abigail from Living the Gray Life for showing them to me). I would love to eventually be a web designer or go down the PR path, both of which I want to complete business degrees for eventually. I have a few other interests I want to eventually pursue as well – I can talk more about life goals soon if you want me to.
I have a blogpost that I wrote and never published my senior year of high school about how I did not want to go to college, if you ever want me to share it I can. It is just so crazy looking back and realizing I was right, and that it wasn't where I belonged. Don't get me wrong, I am so happy with all the decisions I have made, and I learned a lot in my two years at KU and this last semester at UMKC (education-wise and personally), but leaving was one of the best decisions I have made for myself. I know this is not the "expected" path, and people on the internet tend to get judge if people don't conform to their same beliefs. However, I am so happy with all of my decisions – so bring on the opinions! They won't change mine!. I wouldn't have wanted the last 2 1/2 years to be any different and I look forward to whatever path life takes me on for 2018!
The idea of this whole post came up because I really don't want to finish my final project for one of my classes and study for my others – haha! Do you like personal posts like this? If so, let me know what else you want me to talk about! I can talk about personal beliefs, stories, anything!

With love,
Lauren Emily Lindmark
Copyright © 2017 dailydoseofcharm.com