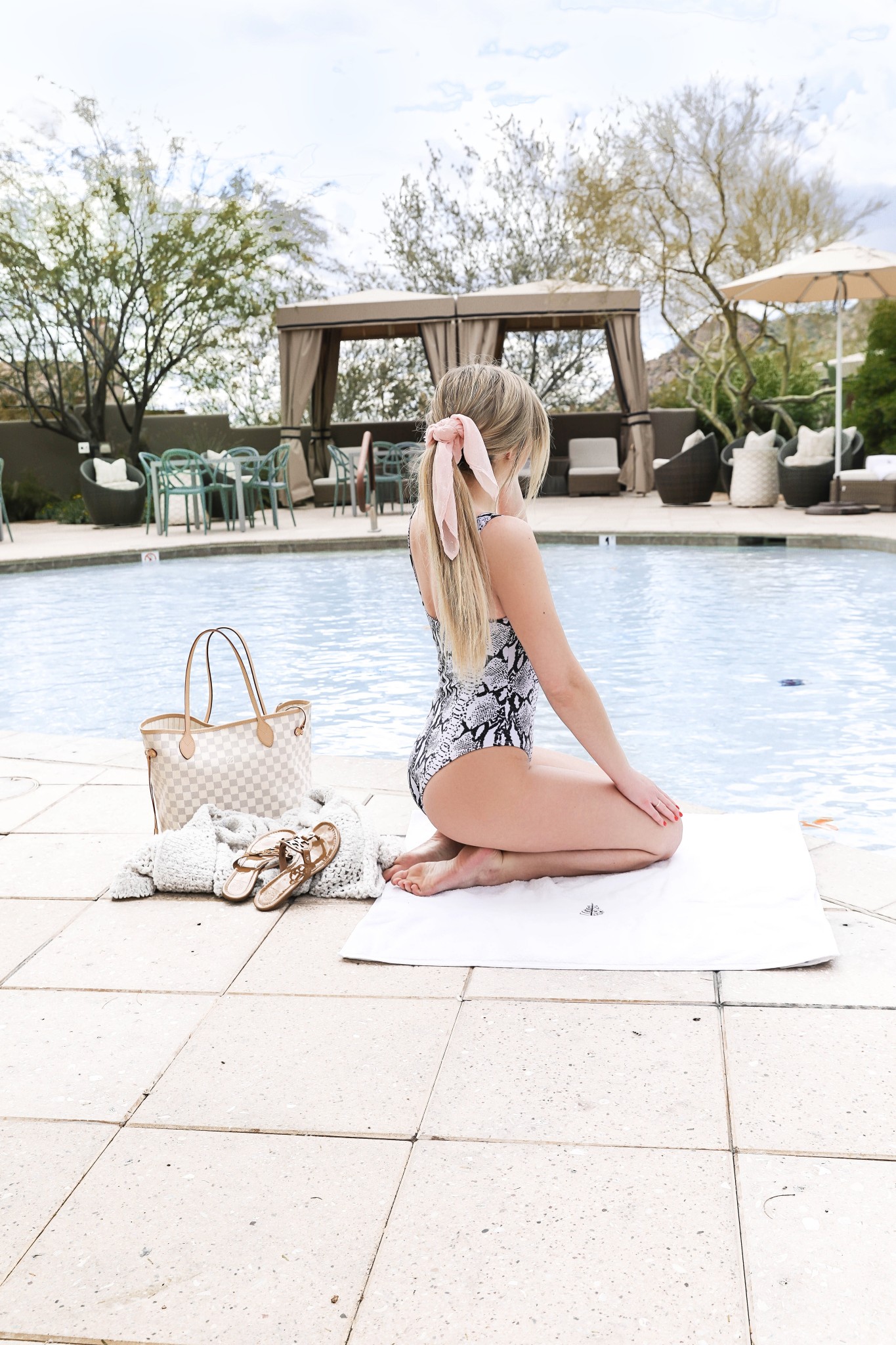 Amazon Swimsuit Roundup + Fake Tanning Routine using St. Tropez Express Tan
Hey friends! In honor of it being the dead of winter, I thought I would post my tanning routine and favorite swimsuits at the moment! Haha! In all seriousness, I know a lot of people have trips coming up, including me! So I wanted to share my fake tanning routine with you all and some cute and affordable suits I am loving.
The photos above was taken in Scottsdale, AZ last year, which is where my next trip is this year! I can't wait! Here is a link to the Snake One-Piece Swimsuit above! Only $21, I always size up in Amazon swimsuits, I am wearing a medium!
Amazon is one of my favorite places to buy swimwear! There are just so many, plus they are all so affordable! The best thing is, if you don't like what you get they have an amazing return policy. So I like to order a lot, try them on (wearing undies of course), and keep my favorite! Here is what I am loving…
*click a swimsuit to shop*

my tanning routine
I would like to say, after many years of embarrassing, splotchy, orange, uneven, tans… I officially have a tanning routine down! I wish my friends would have been honest with me year ago and told me how AWFUL my tans were haha! However, I have learned a lot from all the trial and error – so it's worked out!
I am going to list my tips below, but my biggest tip is DO NOT tan too often. I used to fake tan sometimes up to twice a week, which made me look so orange and awful! If you tan too much, it doesn't give the old tanner enough time to fully wash out of your skin – which means you are just layering and layering orange on yourself! That is what would make me look so blotchy and dark. Now, I have a much more natural approach to tanning, and I only do it once or twice a month!
my tanning routine
1. Eat a meal, drink some water, and brush your teeth.
I know this sounds like a weird first step, but if you are tanning your face this is a must. You don't want to do anything to smudge or wash off the tan around your mouth. If you do, you end up looking like you have a pale ring or beard around your lips haha! So I always make sure to prepare for my tanning sessions
2. Shower & exfoliate time!
I start by washing my whole body, then exfoliating with St. Ives Apricot Scrub and Exfoliating Gloves. I ONLY use these products once or twice a month before a tan, because they are very abrasive. Then I shave everywhere and make sure I am fully rinsed before getting out of the shower!
3. Lotion.
After I am completely dried off, I lotion my hands, ankles, knees, and elbows! Those are the parts of my body where I notice I can get orange. However, putting lotion on the spots totally helps and makes the tan look natural!
4. Tan time!
After the lotion has soaked in for 5 minutes, I tan! I start at my feet and work my way up my body using a tanning mitt! NEVER TAN WITHOUT A MITT! Your tan will not be even and your hands will be completely orange! I like to use circular motions to make sure I really buff everything out!
Now let's talk about what tanning foam I use. I have tried MANY different kinds, and never found one better than St. Tropez! Specifically, their 2-Hour Express Tan! There are a few reasons I like this kind:
– You can shower after 2 hours which means you aren't leaving it on all day or night, so it's very natural looking (plus you won't smell like tan)!
– It goes on even and is super easy to apply!
– You can choose how dark you want it (the longer you wait, the darker you will be)
– It's instant, so you can actually SEE where you've tanned! I can't tell you how many times I watch Netflix while tanning then think "Wait, did I already do this part of my leg?" Having a tanner that goes on instantly dark takes the worry out of having an uneven tan! You know everywhere you have put it and you can buff out any "streaks." I will note, sometimes it can look splotchy after applying – but once you shower I promise it all looks even!
5. Throw on baggie clothing or a long robe for 2-3 hours – NO DEODORANT AND DO NOT WASH YOUR HANDS!
Like I said, this is the two hour tan which is what I like the best! It's best to do it in the morning, such as on the weekends, but you can also do it on an evening after work! I don't particularly like to sleep with it on, I will explain the rest of my steps then you will know why!
6. Rinse off!
After 2-3 hours I will rinse it off using no soap! Only wash your HANDS & FACE with soap!
7. Go about your day – wear makeup, clothing, etc.
I find that after I rinse off I do not smell like tan, and the tan doesn't usually rub off on clothing (if it does just wash them same day). The tan will continue to develop a bit throughout the day.
8. Shower with soap at the end of the day!
At the end of the day I take a regular shower! I find that if I just rinse after two hours, then end of the day WITH soap my tan turns out the best! Not sure why, but it works for me!
NOTE: For some reason if I tan after work, rinse off before bed, then sleep in the tan & shower in the morning I do not feel like it's as even in the next day – just wanted to add that in! I think it's because I sweat in my sleep maybe?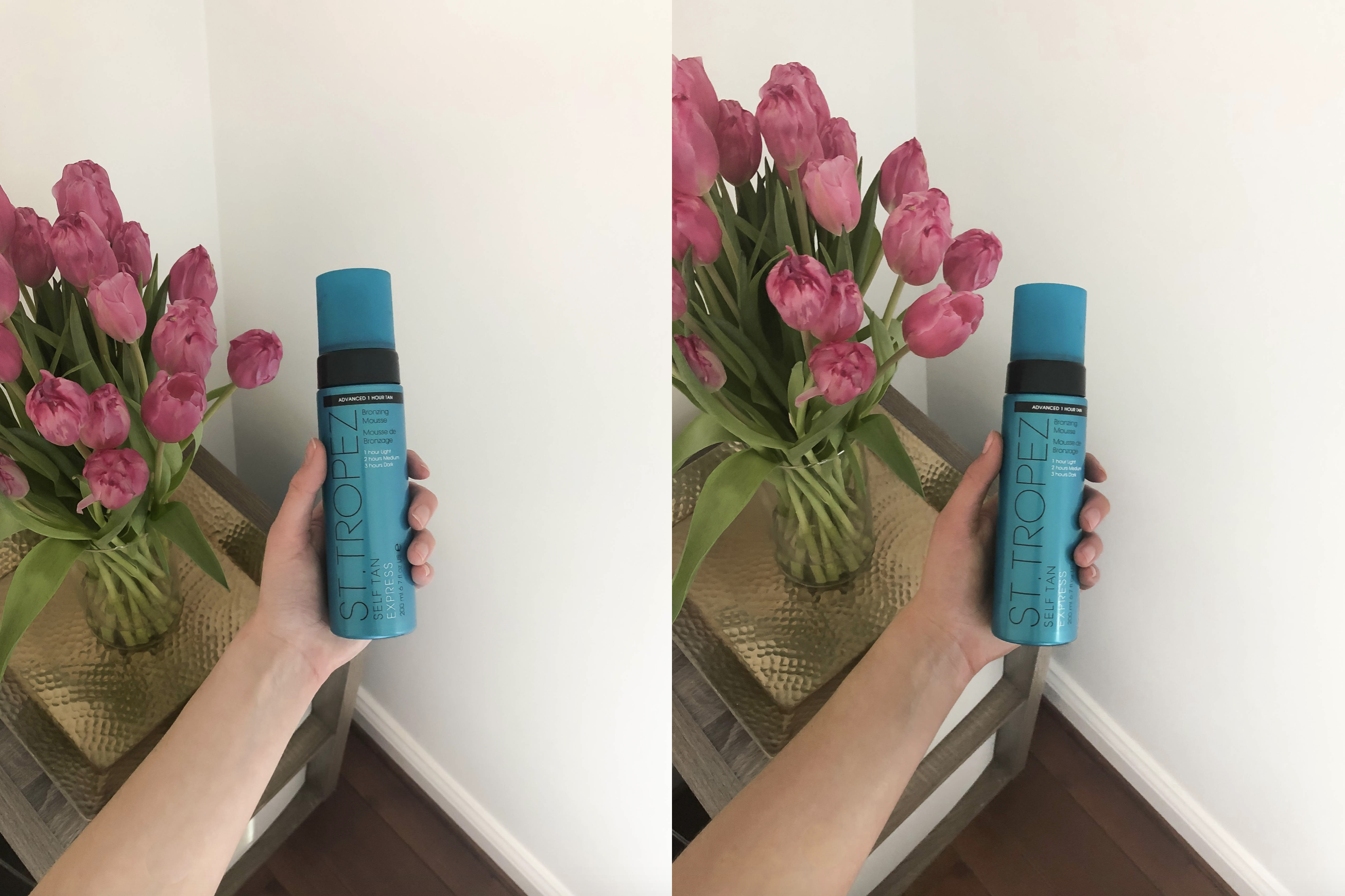 I hope this post was helpful!
xoxo,
Lauren Emily Lindmark
Copyright © 2020 dailydoseofcharm.com