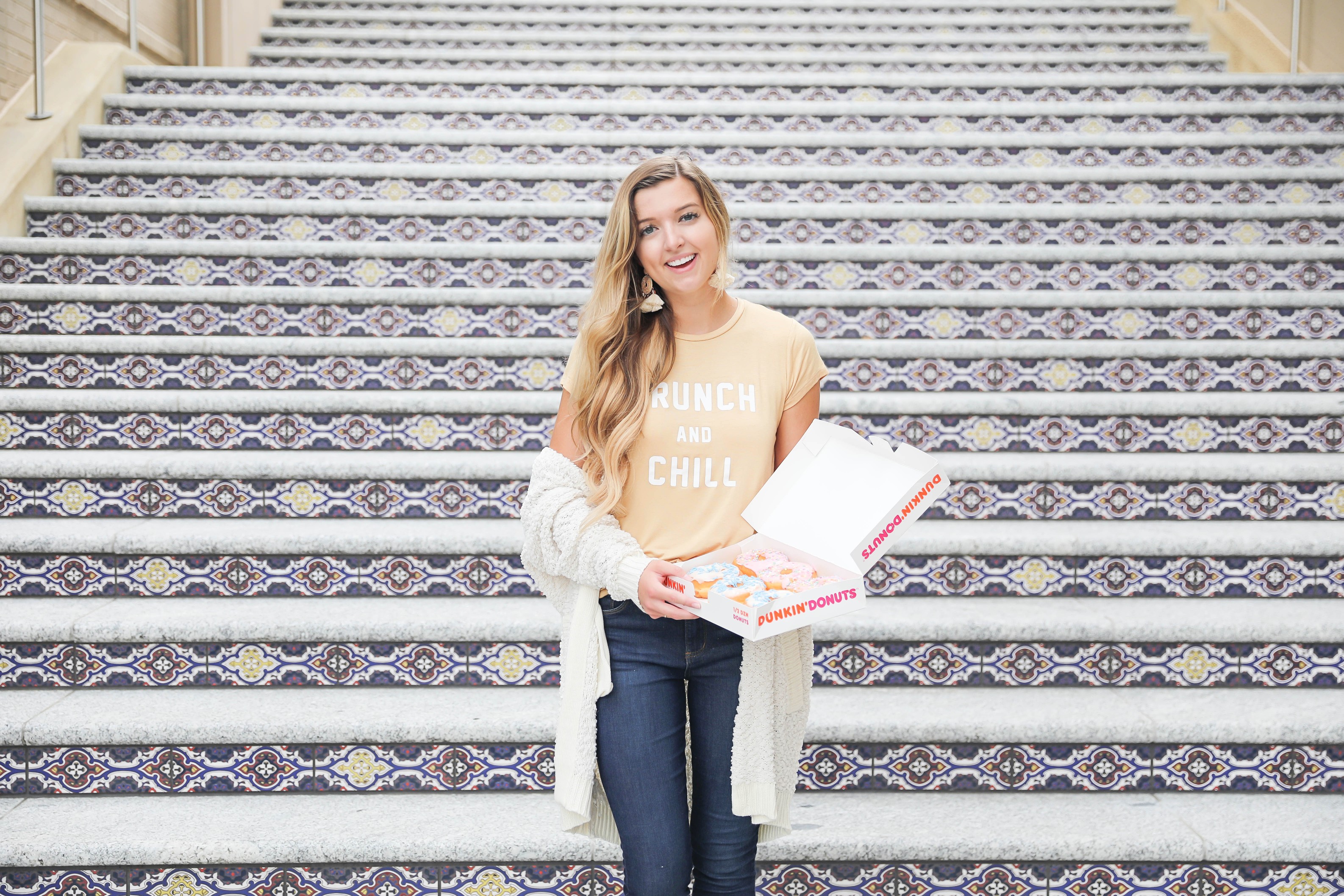 Brunch & Chill Tee | OOTD + Life Chat About My Issues with the Month of August…
Writing this on a Sunday as I am sitting here in my room with a total food coma after a HUGE brunch with my grandparents! We went to Gaslight Grill in Overland Park and I can never control myself at buffets. I just keep going back for more and more food haha! It's okay to indulge every once in awhile though, it's what Sundays are for! However now I just want a nap. I am super close to everyone in my family though so it was nice to see my grandparents.
I've actually had a full weekend of being with some of my favorite people! Thursday night I grabbed dinner with my best friend, Emily, who I have known since 8th grade, plus my cousin and my dad! My cousin just moved to KC so we went to Hot Country Nights (which is a country concert that goes on every Thursday in KC) for a little while and it was super fun! I've only been twice this summer and I can't believe they're almost over! Friday I got dinner with my boyfriend and his friends and we went back to my house and had a chill pool night. Then Saturday I went out with three of my cousins and my boyfriend and his friend again! I just had one of those weekends where I felt really lucky to have the people in my life that I do.
Now that the fun weekend is over, I have a crazy week ahead! Do you ever feel like all of your appointments and important due dates just fall on the same week? Because that is so me this week. I have two long appointments plus I have two finals for my summer classes. I can not believe it is already the end of July! Which brings me to a topic I do not want to talk about… the month of August. For as long as I can remember I have dreaded and hated Augusts. This time rolls around every year and I get more and more anxious by the day. Even when there is nothing to actually be anxious about, I just dread the month.
I know I have talked about this before, but I am NOT a school person. From pre-school to now, I have just always hated it. So I know that is partly why this time of year just gets to me. After years of stressful Augusts I just can't help but feel stressed every year no matter what! Even though I am excited to move in with my best friend and start another year of school at KU – all the changes still get to me. I know I need to change my mindset, but humans are creatures of habit and I don't even consciously mean to think about the month ahead – it just happens.
I am hoping to plan some fun things for August so I can look forward to the good instead of the bad. Does anyone else have a time of year that does this to them? Comment below!

I found this tee while I was shopping online the other day and I thought it was SO cute! I love a good graphic tee. The color of this one was really cute and I didn't have anything like it! I paired it with my favorite cardigan from the Nordstrom Sale and these super cute Steve Madden slides that everyone has been wearing lately. I actually just found a dupe for them for only $15! I ordered them and they are super similar (I got the light nude color though).
I hope you guys have an amazing week ahead!
xoxo,
Lauren Emily Lindmark
Copyright © 2018 dailydoseofcharm.com