The Difference Between Being Busy and Productive & How I am Boosting my Productivity | + Summer OOTD
So… something I have noticed about myself, and everyone in my generation, is we are obsessed with being "busy." I feel like for me it started in college, I started hearing from everyone around you how "busy" they were and how much "stuff they have to do" & so on. Sometimes it almost became a competition for some people. "Oh you have two test? I have two tests, a quiz, and work is kicking my ass." Can any of you relate? I am not hating on people who would do that, the truth is our generation really is SO BUSY and some of us just want some recognition! A lot of you are in school, balancing extra curricular activities, trying to get good grades, have a job, trying to grow your own business, keeping up with responsibilities, fitting in time for hobbies you enjoy, all while trying to fit in time for a social life. We are all pretty much running around like chickens with our heads cut off.
So I have been reevaluating my schedule lately. Something you may know about me if you have followed me for awhile is I am CRAZY about planning my day out. I will do it in as little as 15 minute increments and I like to have full days! However, I noticed sometimes I am too focused on having a busy/full day and not a productive day. Let me give you some examples…
When it came to school I used to do things such as spend hours putting colored sticky notes in my textbooks or color coordinating notecards for tests. Sure, this might've worked for some people's study skills… but as I was doing it I knew it wasn't actually useful. Before anyone asks, no I am not OCD. I didn't NEED color coordinated notes and I can manage perfectly fine with me messy textbooks. However this was something I did as almost a "procrastination" strategy. It tricked my brain and made me feel productive, but really I was just filling my time being "busy."
I talked about this example on my Instagram story, but when it came to the blogging world I found myself filling my time with unnecessary tasks that didn't really further me in my blogging career. For example, I used to get an idea for a blogpost and I would pull up a word document and add text/graphics/photos to it and use it as a little inspiration board. It was fun, but a total waste of time when I could have just written down a few notes in my phone and been done. At that time I was making a 5 minute task into something that took me an hour or more. Now my lack of productivity comes from tasks that just aren't helping me grow like they used to. Times change and we get stuck in doing things one certain way…even if that way isn't working as great as it used to.
My Tips
So here are a few things I have been trying to do and stay mindful about when it comes it productivity.
1. Look at What is Working.
This is something you should be doing in every area of your life. Look at the tasks you're doing and really question if it's furthering you and your goals. Whether it's your career, school, or even a hobby, you should be filling your time with things that promote growth and not just fill time. If you have found that you're plateauing it's time to reevaluate how you're spending your time.
2. Don't Multitask.
This is something that is really hard for me, because I LOVE having podcasts or TV shows going while I work. Sure, some of it actually stimulates my brain and I enjoy it, but it really does cut back on productivity. I have made myself stop listening to shows or podcasts while I work UNLESS I am editing photos or doing social media work. Even them, I know if I cut back even more I could probably be a little faster and efficient.
3. Don't Give Yourself Undeserving Rewards.
This is more something I do when I am doing a task I do not enjoy…aka school. We have all joked before that we will study for 15 minutes and reward ourselves with an hour of Netflix. It's something we can all admit to! I try to only reward myself now if I have been working for a LONG TIME and the work has to be PRODUCTIVE. For example, if I have been mindlessly filling out notecards for an hour I do not deserve a break to watch part of a TV show (or whatever you use as a reward). However, if I have been doing practice questions for awhile and need a brain break – that is when I will take a quick break! Plus when you actually do reward yourself, you will feel deserving and not guilty.
I put all of this on my Instagram story the other day and my boyfriend messaged me the quote "work smarter not harder." It couldn't be more true! We only have so many hours in a day, let's all stop being frustrated about the lack of work we get done and really focus on WHY the work isn't getting done. I have found on the days that I don't get all my tasks done, but I was at least PRODUCTIVE, are the days I feel accomplished. Put your all into everything you do!
Also, I had some messages after posting about this on Instagram from some of you who talked about feeling guilty when you take "me time" – a lot of you used Netflix as an example. I want to remind you that having time for yourself to unwind IS IMPORTANT! Our generation does not have to be doing something productive 12+ hours of the day 7 weeks a week. It's important to set "work hours" for yourself and "non-work hours." Sure, the more you work the more of a chance you have to get to your goals, but you are only human! Set a time at the end of the day you make yourself stop being busy or just scheduled more breaks in between. I hope that following these productivity tips will help you feel less guilty about your "you time."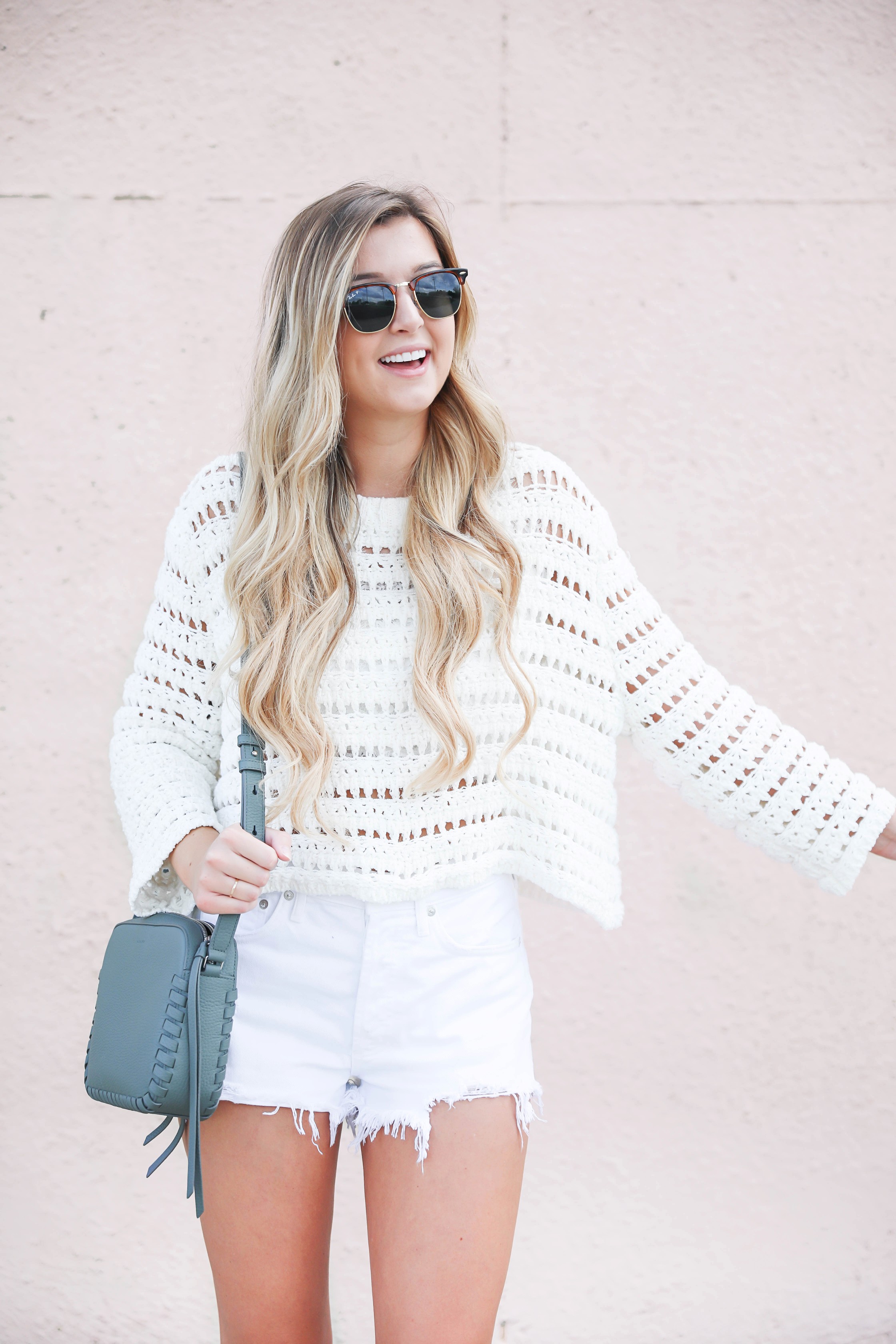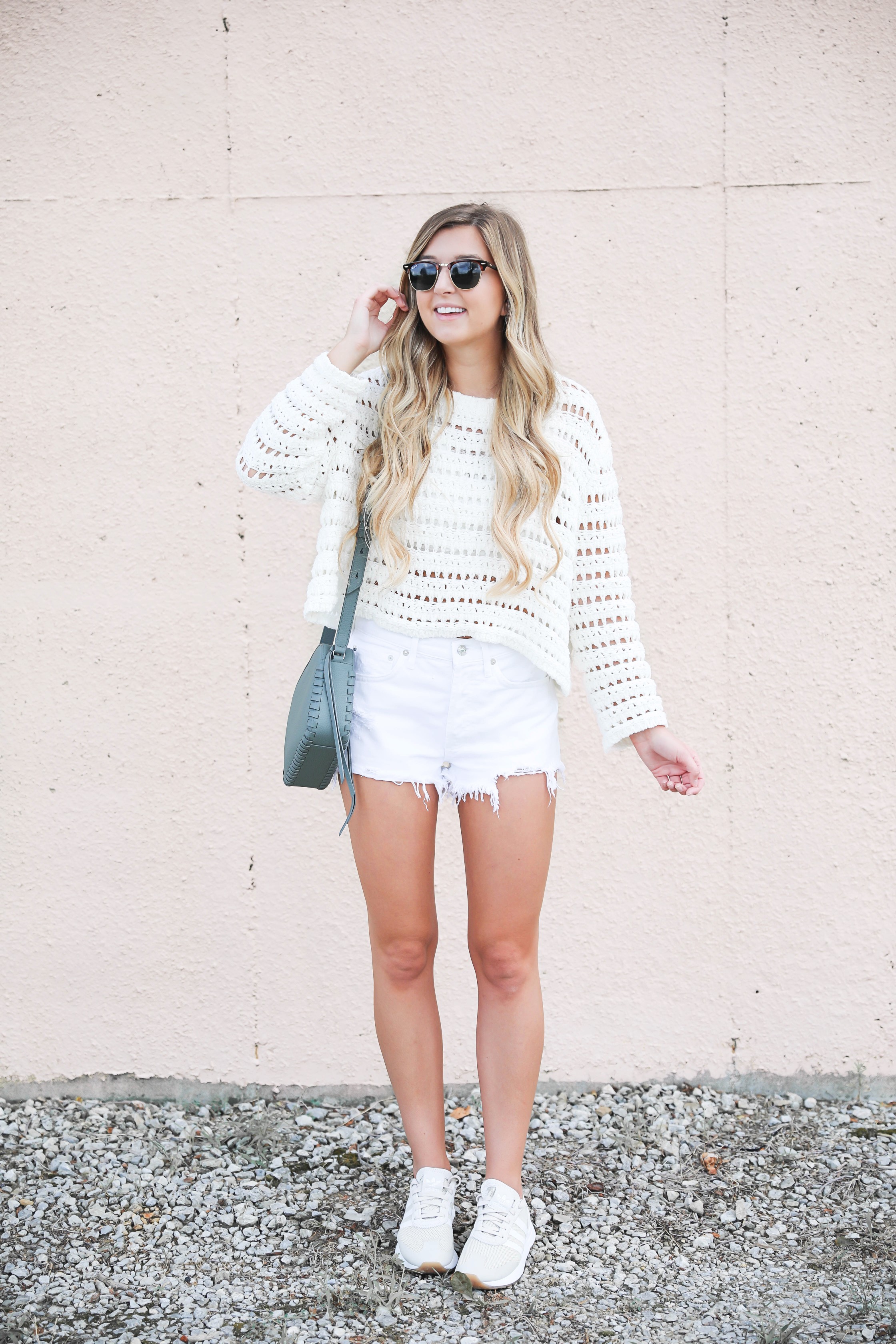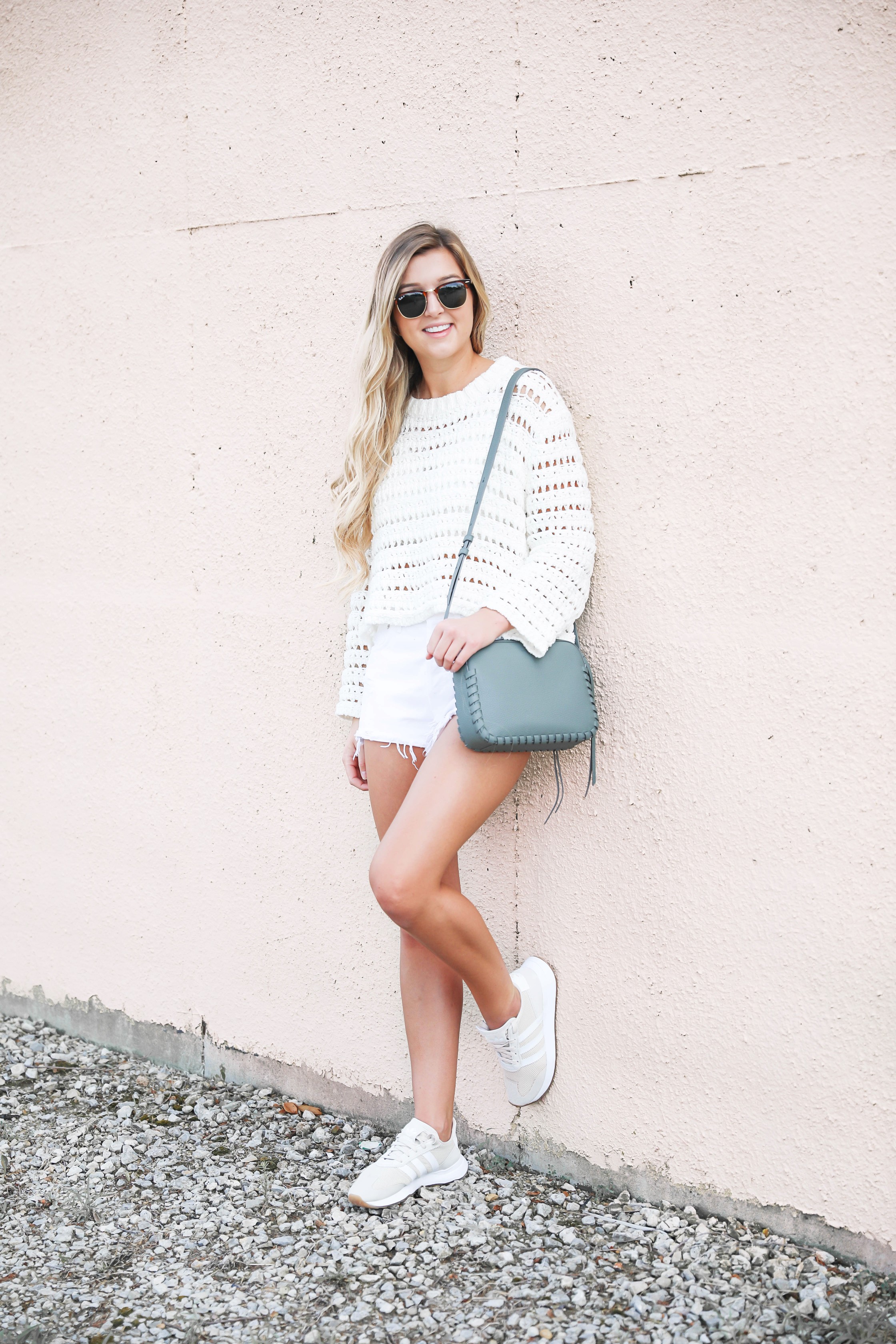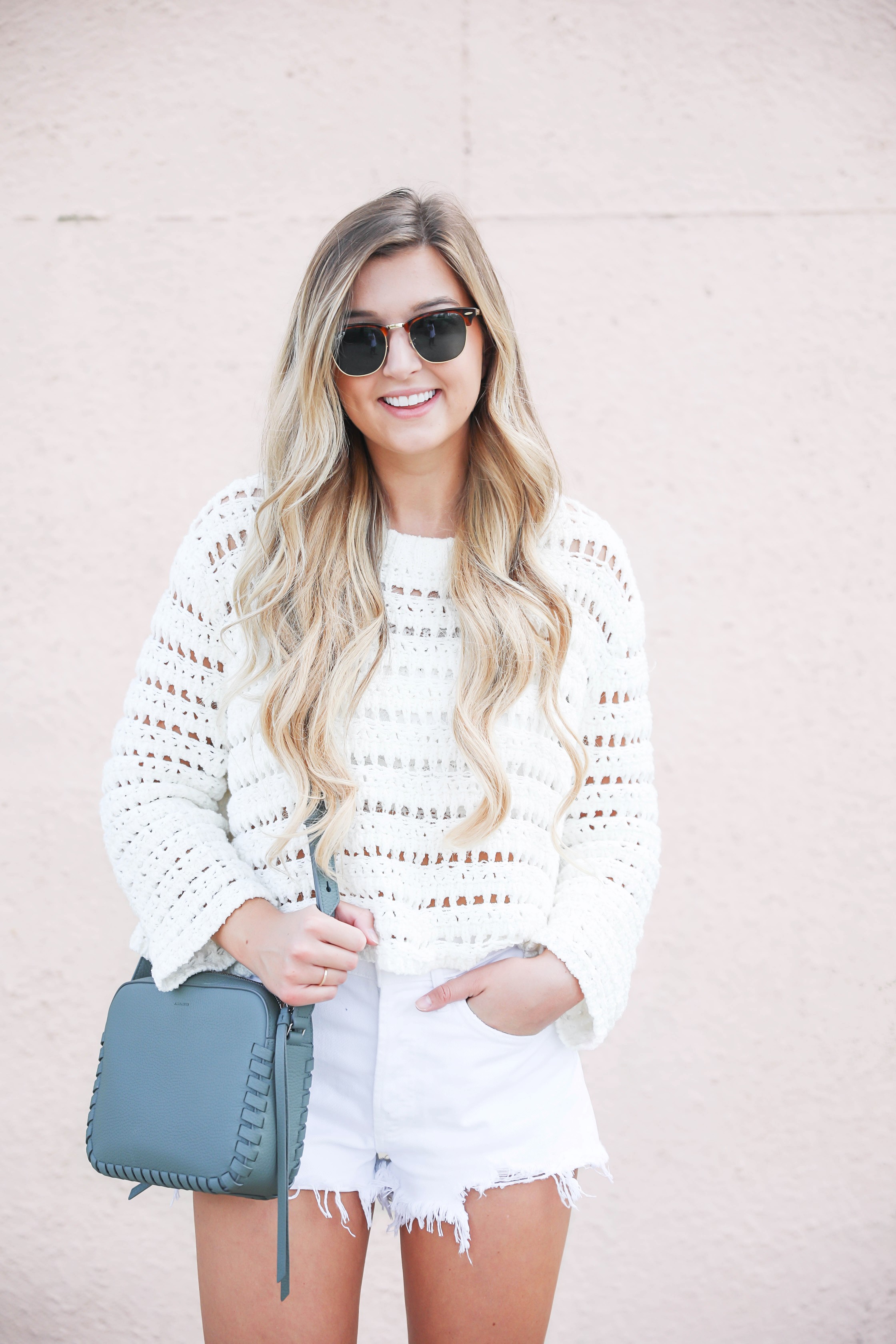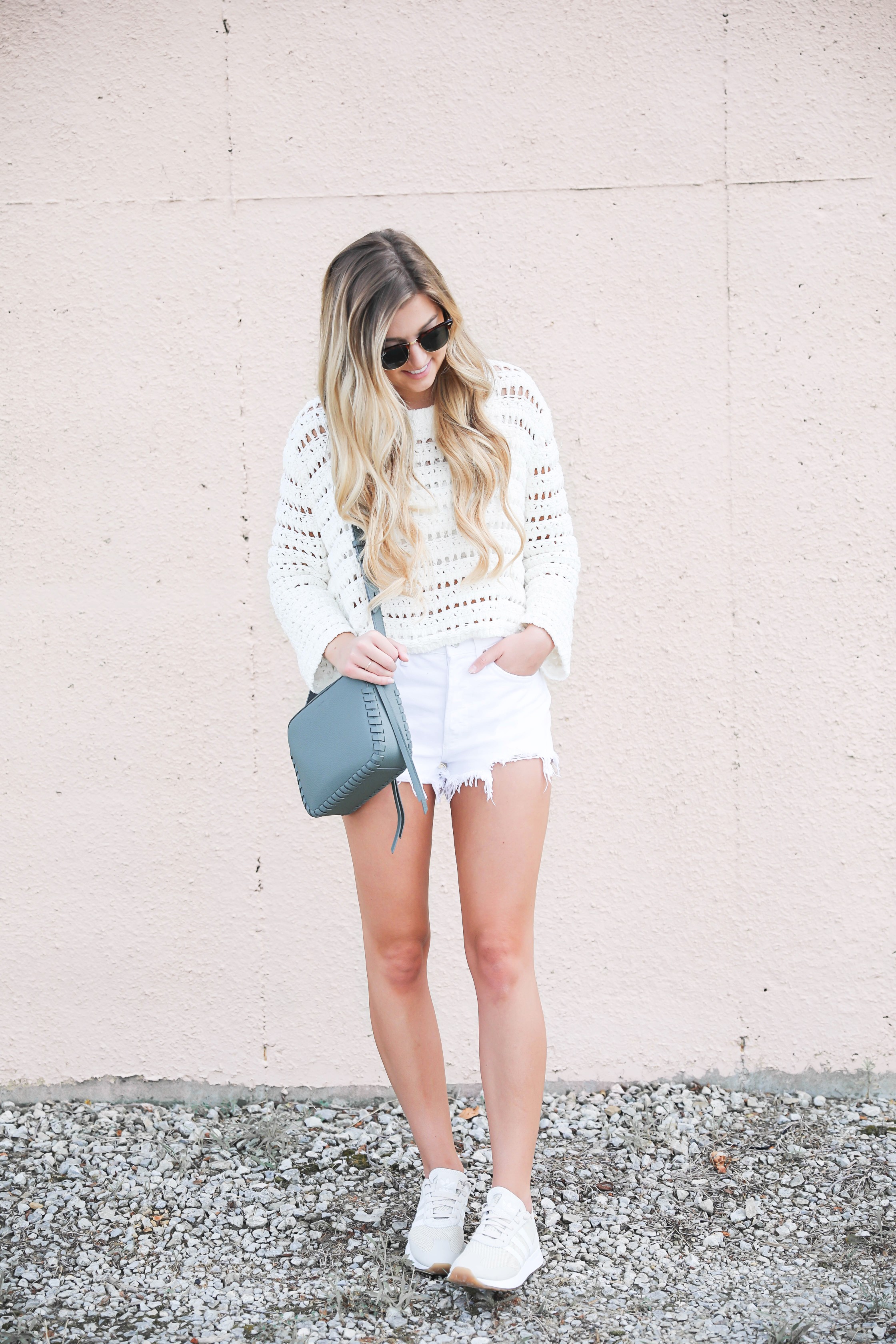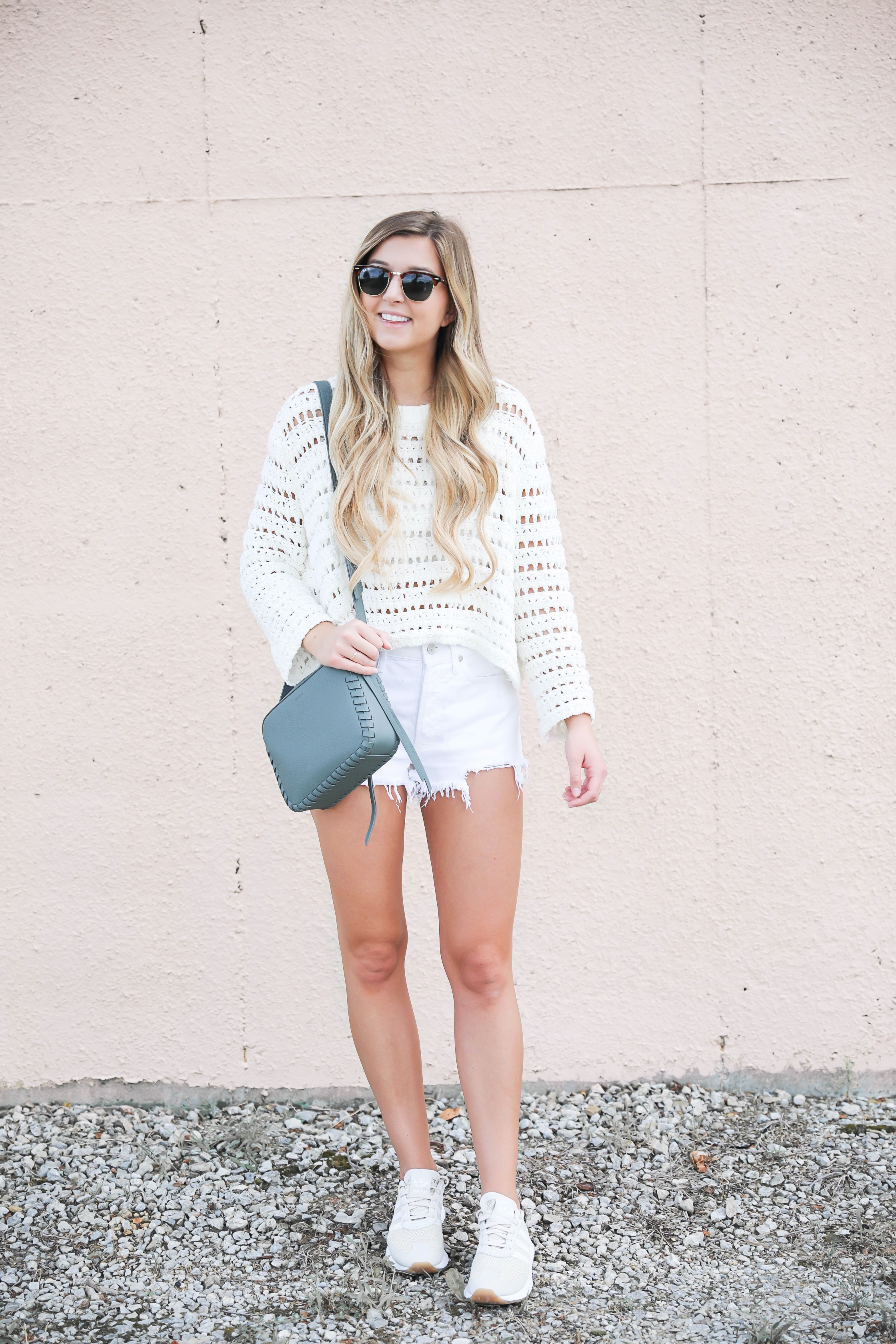 This sweater is my favorite sweater I own right now!! I have been wearing it non-stop with white shorts and jeans shorts. It's really high quality, which I always appreciate, and it will look cute as we transition into fall! I paired it with my AGOLDE jean shorts that I have been wearing a ton on here in the last month (this is the white version, but I also own this blue denim). I finished off the look with my favorite, new tan Adidas sneakers and ALLSAINTS bag – both from the Nordstrom sale!
I hope you guys are having an amazing week! Sorry there was no post yesterday, I had to study and go take my ECON final. I am finally done with that class WAHOO!
xoxo,
Lauren Emily Lindmark
Copyright © 2018 dailydoseofcharm.com