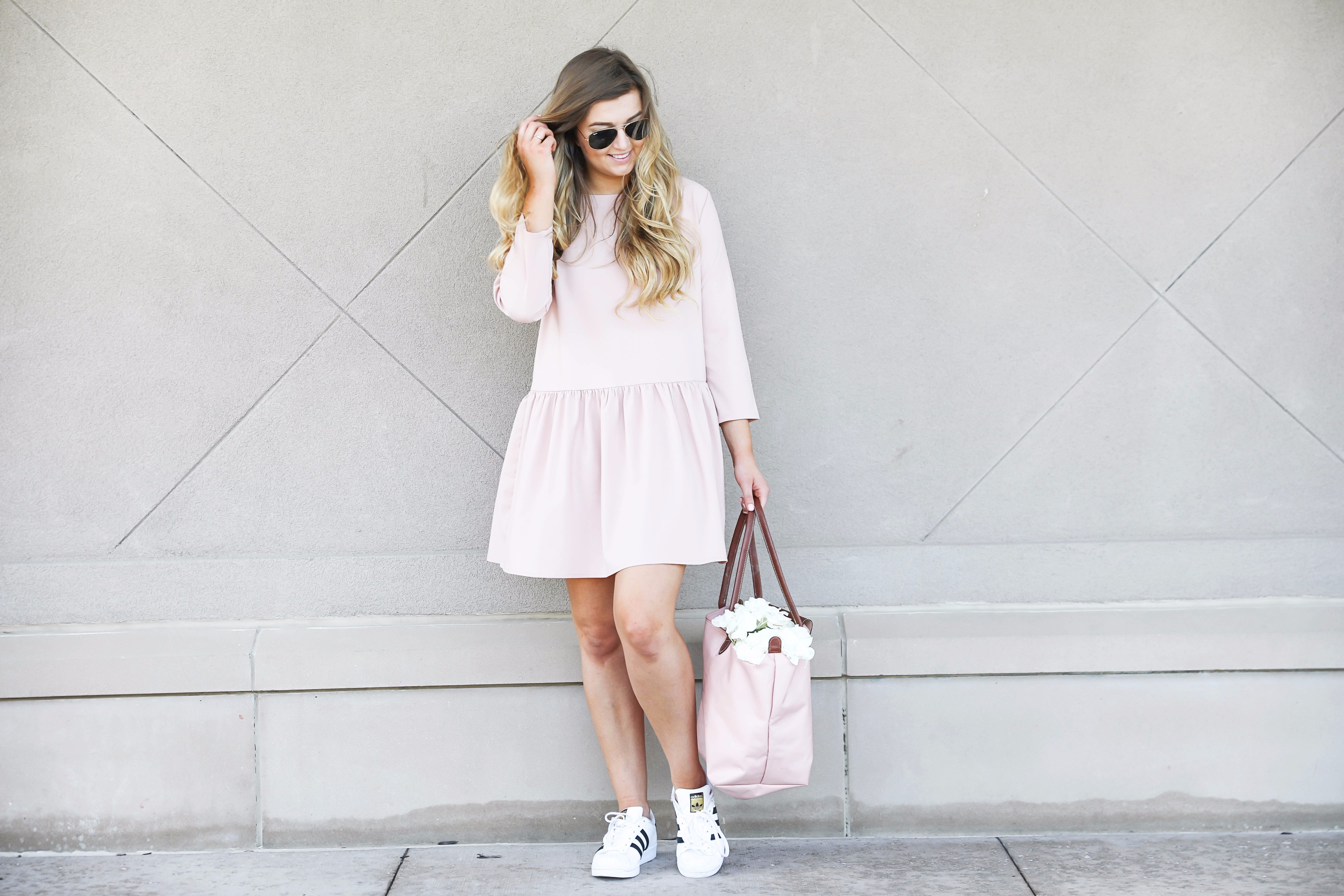 Casual Drop Waist Dress | OOTD + What to do when you are doubting yourself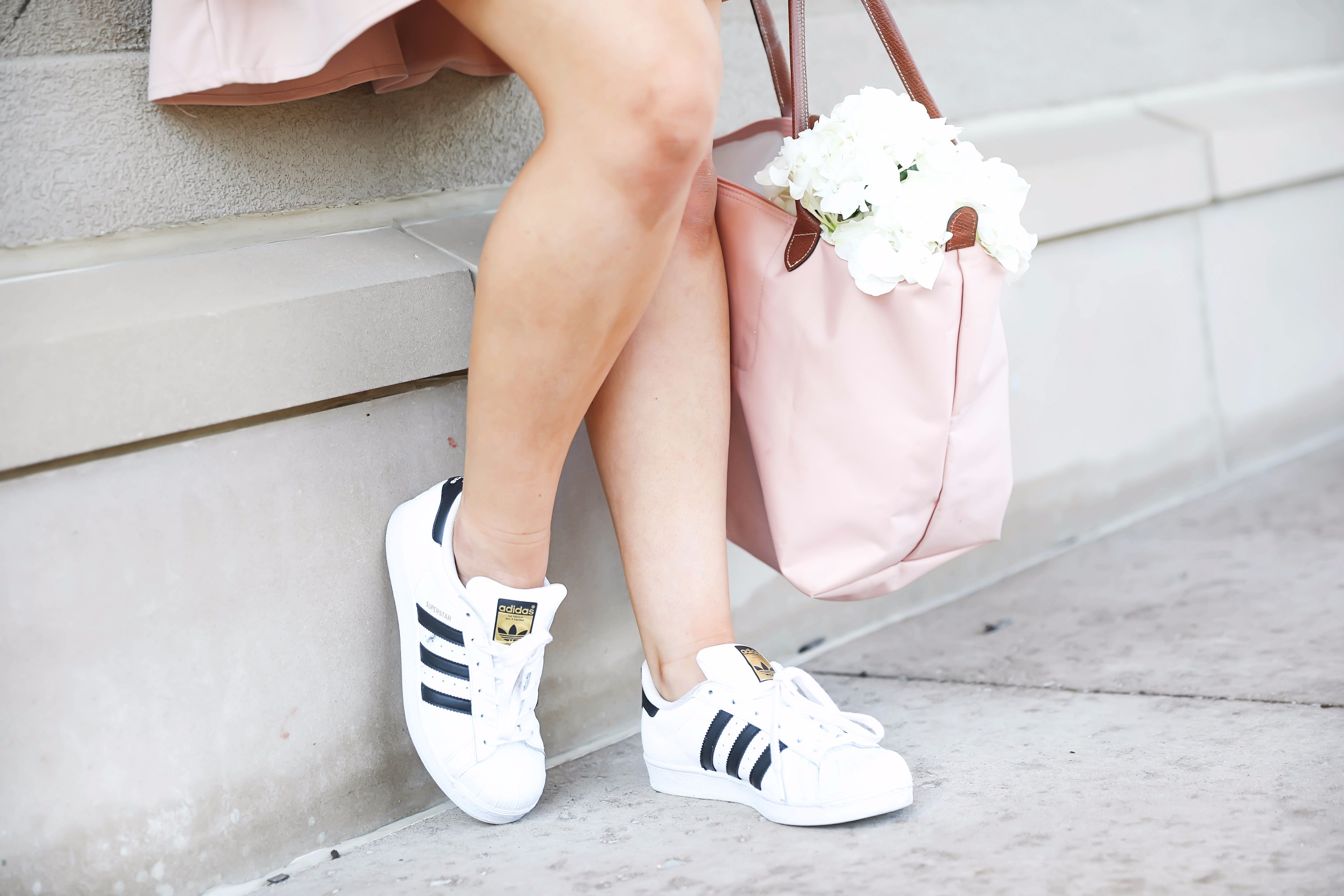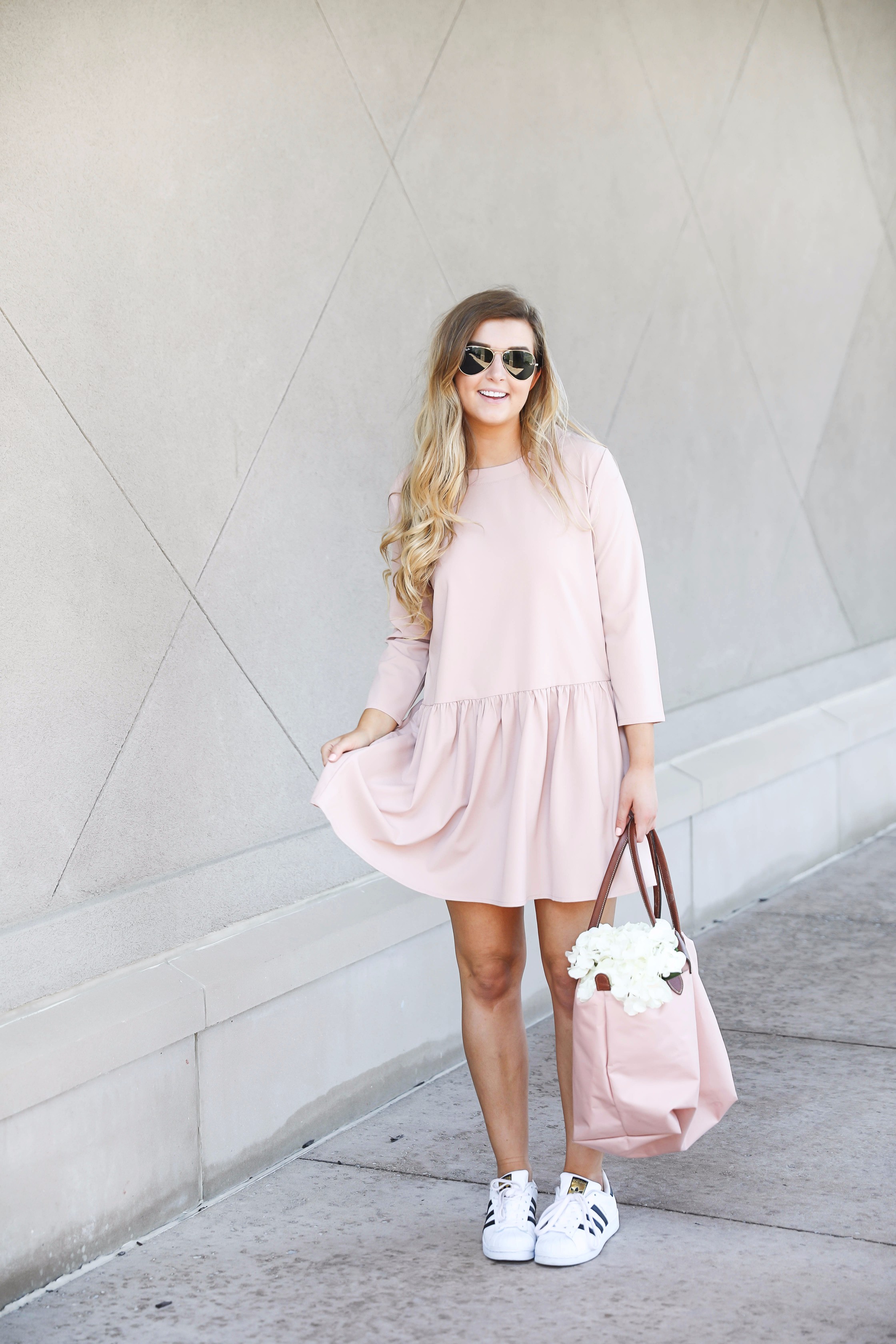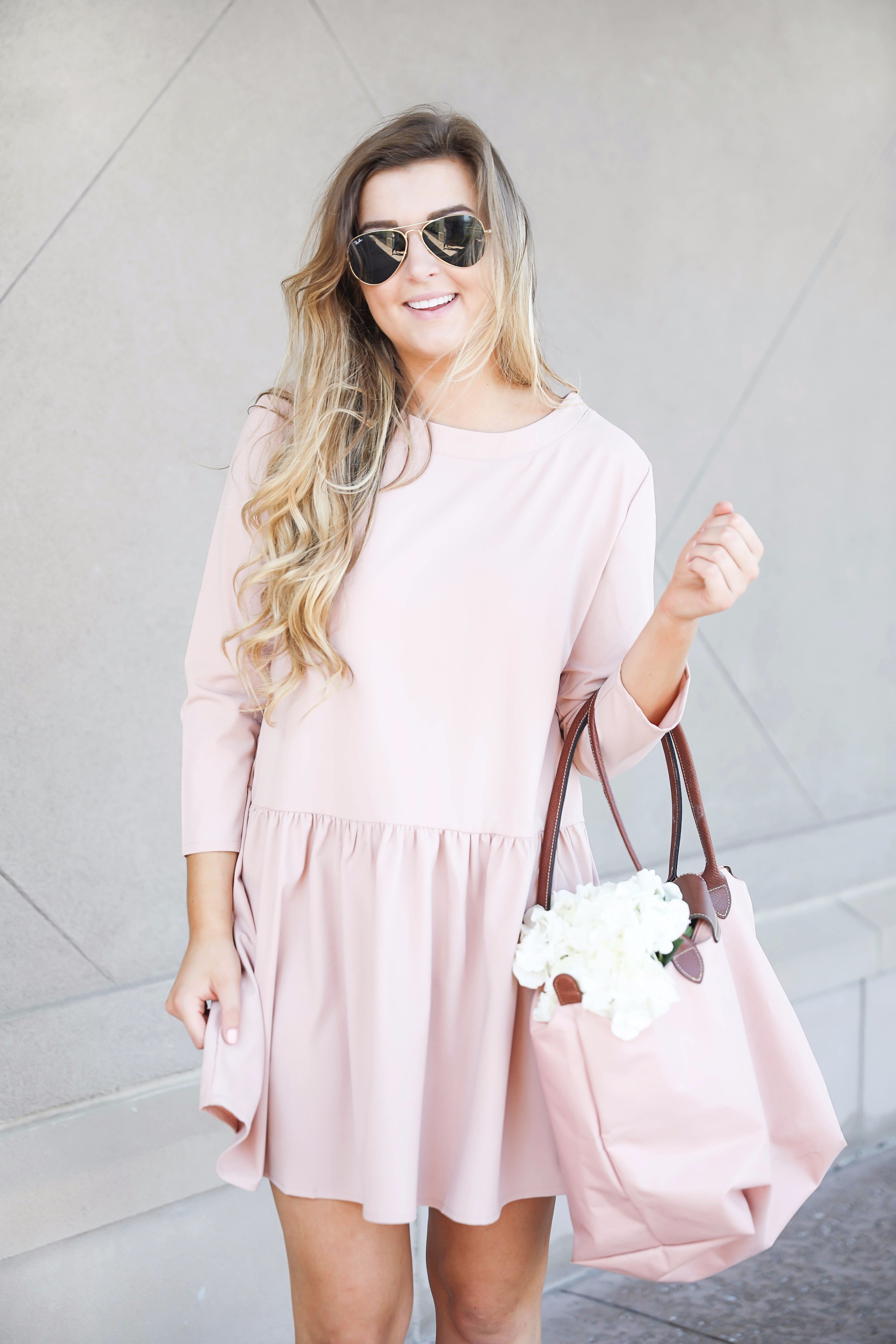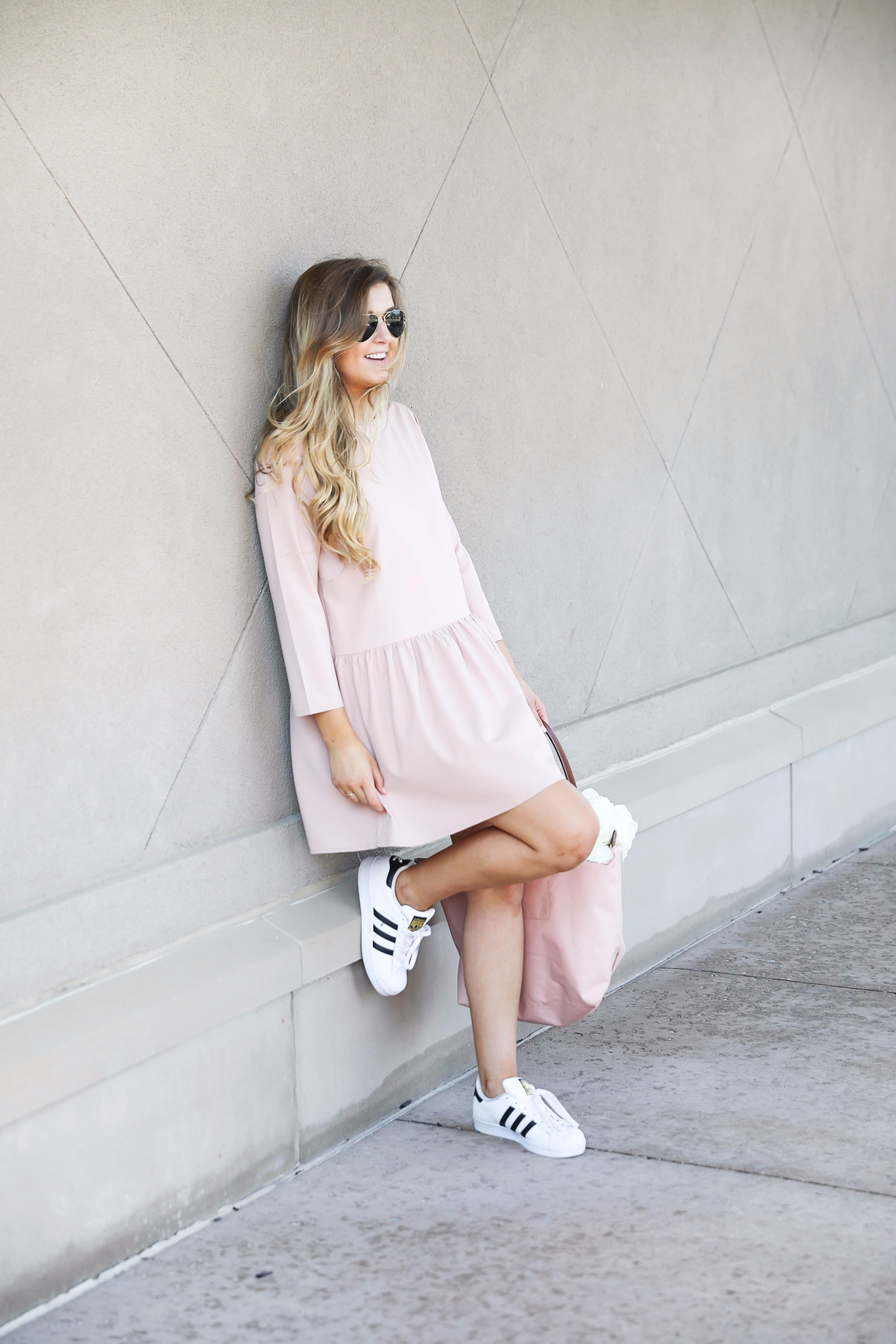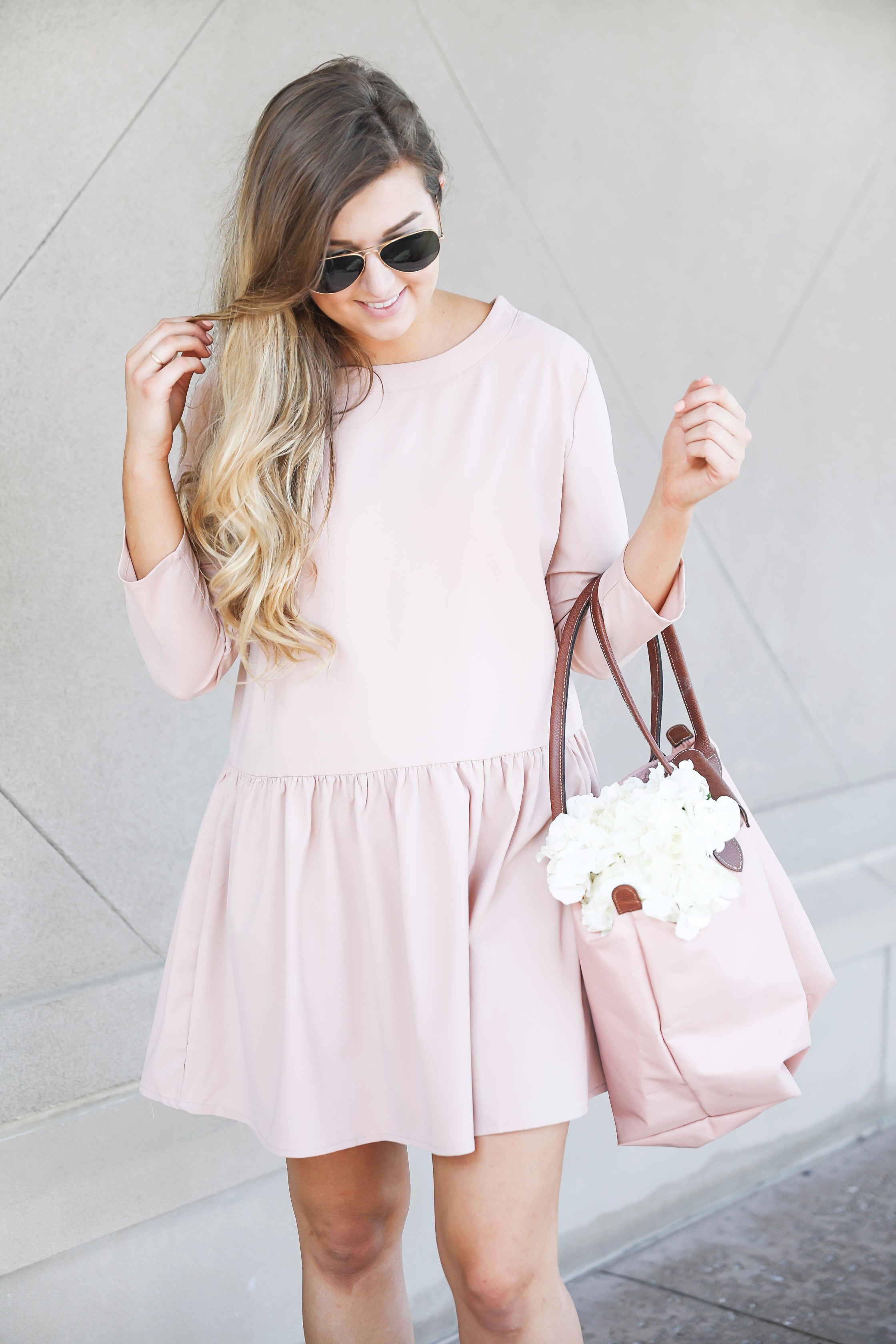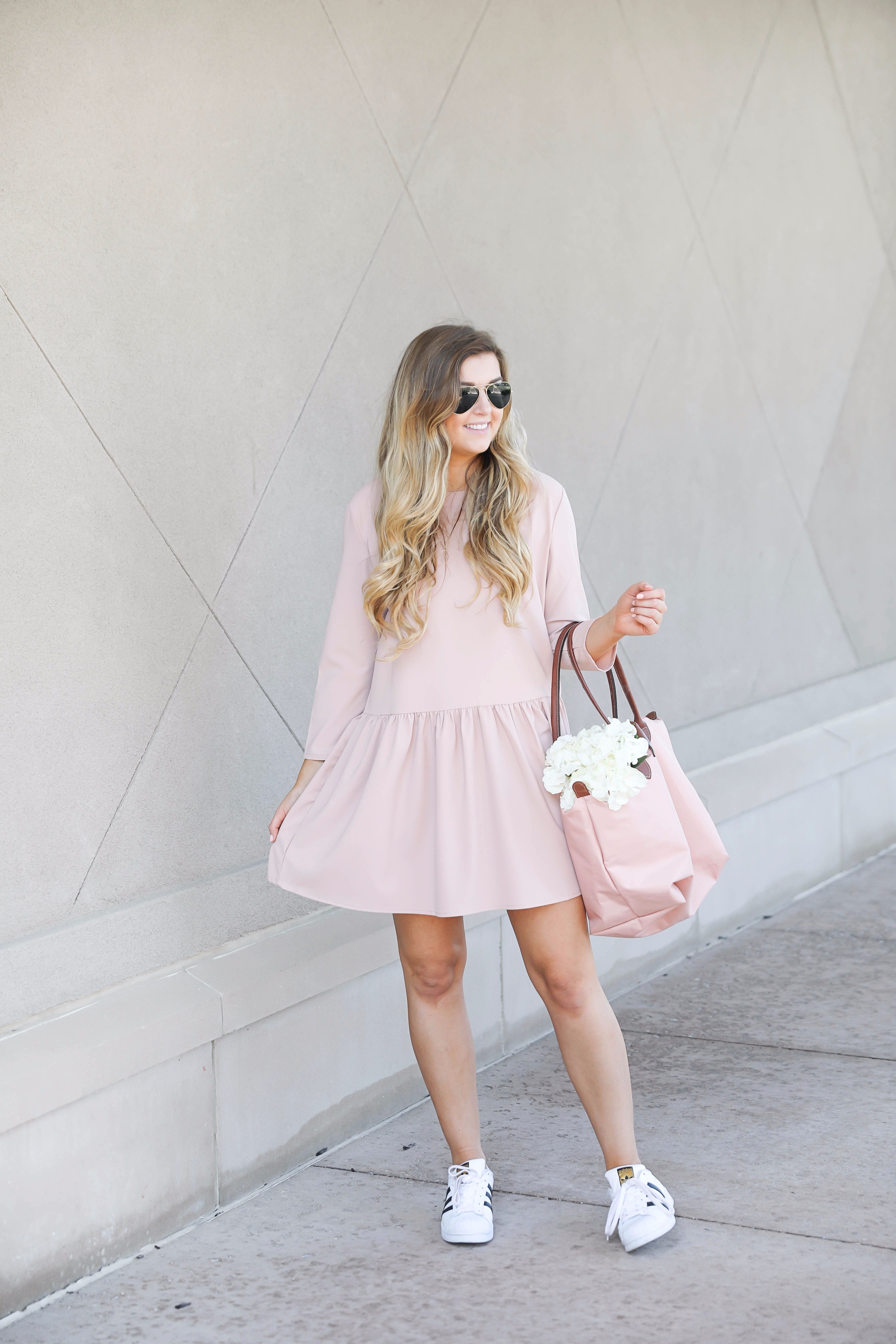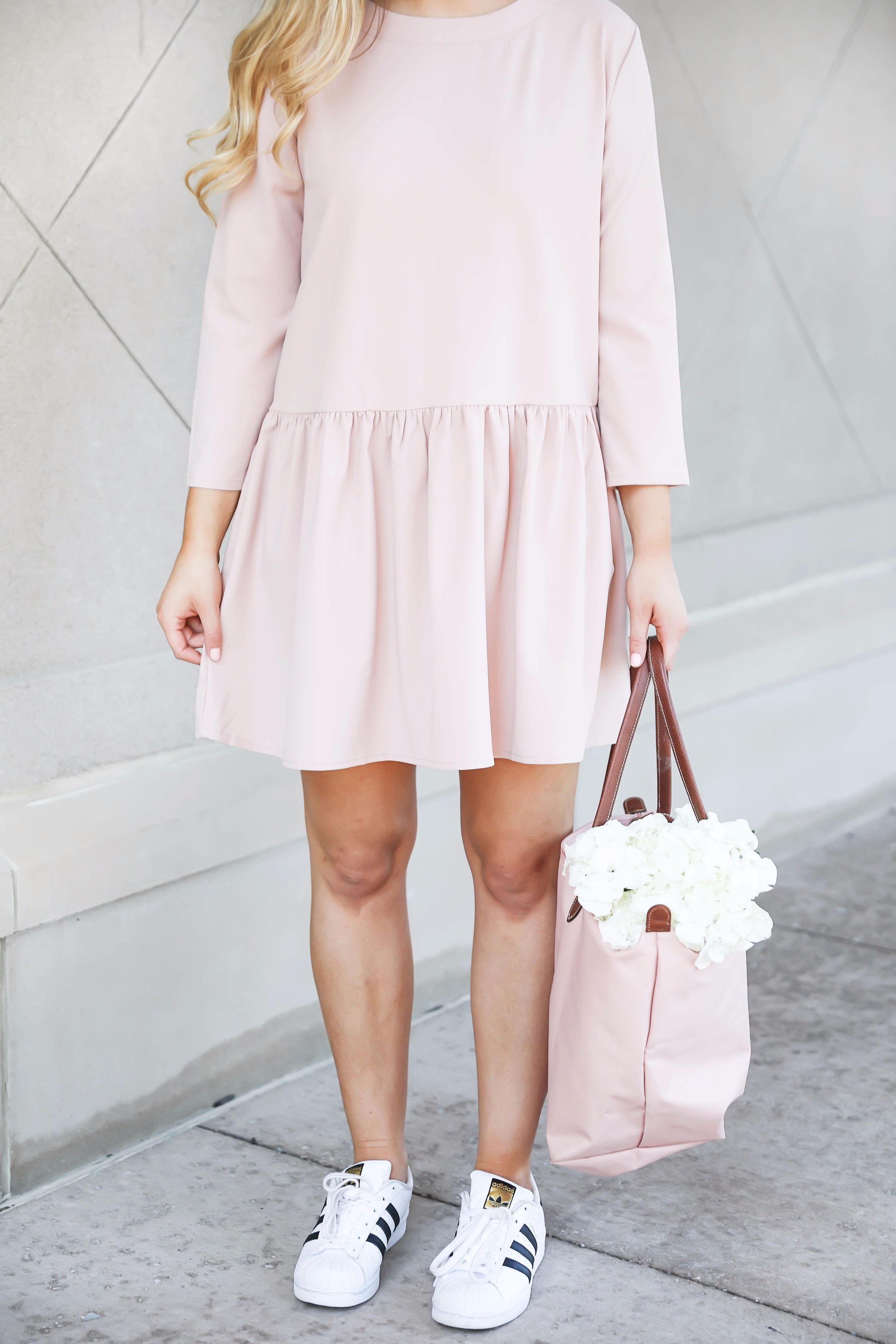 Before we get into what I want to talk about let me just talk about this adorable dress! I decided to browse BooHoo the other day and I forgot how much I loved that site, I used to shop there a ton freshman year of college because it was so cheap! I found this dress (plus a few other items) and I love them all! I love light pink, it's one of my favorite colors to wear. So even though the other colors this dress came in were super cute I decided to go with this one and I'm super happy I did! I paired it with sneakers on a whim because I wanted to be comfy and I actually love the look! To be honest I wasn't really a fan before, but it may be my new thing! I also threw some hydrangeas in my Longchamp because I found some at the grocery store (don't you wish flowers were actually an acceptable accessory?? They make every outfit so cute!
An hour ago while editing these photos my mind was racing. Lately I have been feeling lost. I've had so many big changes in the last year and I'm still trying to find my path in life. All of my friends are finally back at college and although I know I am making the right decision, I feel like their lives are continuing while I'm stuck in one place. One million fears have been going through my head about whether or not I am making the right choice about switching schools. I don't want to feel forgotten or fall behind. I keep beating myself up over it and convincing myself of things I know deep down aren't true, but it's hard when you are comparing yourself. Last night my dad said to me, "it's okay to go left when everyone is going right" and I keep repeating that to myself. I know I am making the right choices, it just all feels so new and I just want everything to settle into a rhythm.
I decided to go for a run and my mind instantly felt better, it was so crazy. It was also my best run yet – it was rejuvenating! As much as I just wanted to lay in bed and be bummed, I knew that wouldn't be good for me. So here are my tips on what to do when you are doubting yourself.
1. Exercise.
I had to add this one in first because it's what I did to make myself feel better today. I have been exercising a ton lately and I think it's really helped to have something to focus on that is so good for me.
2. Do something special for yourself.
I am getting a massage Thursday and I can't wait! I have had a gift card for forever and my mom ended up making me my appointment since I kept forgetting. I really want to start getting them once or twice a month because they're really good for your mind and body!
3. Talk to someone who you know can make you feel better.
My parents give the best advice. I am really lucky that they are not only supporting me changing my plans, but also lifting me up and rooting for me. I love talking to them when I need advice or just someone to cry to. They are the best!
4. Make a list of goals and make plans on how to execute them.
This is super important when you are doubting yourself. A lot of times we doubt ourselves because we are overwhelmed and confused. Getting your mind together helps a ton.
5. Accomplish little tasks to boost your mood.
Things as small as folding laundry or cleaning my room make me feel accomplished and help when I am feeling doubtful or down on myself. It's way better for my mind than laying in bed and watching TV which is usually my alternative haha!
6. Think short term.
A lot of my doubt comes from the unknown of what is ahead and if I am making the right choices right now. I feel so much better when I just think of how decisions will affect my next week instead of my next year. Also, think of short term things you are excited about! It's a good distraction!
7. Make a list of things you have already accomplished and read it when you feel doubtful.
This may seem vain, but I not only do this but I keep a list of really nice things readers have said to me. If someone says something to you that makes you feel good write it down and read it over and over again! There is nothing wrong with that. We doubt ourselves way more than we should so having reminders of what we've accomplished and how others feel is such a good thing.
8. Fill your life and mind with happy things.
This sort of goes along with the tip above, but for this tip I mean things such as happy movies to end the day or a good podcast while you are working. I love listening to inspirational podcasts like the Balanced Blonde's Soul on Fire or just listen to Joel Olsteen talk (shout out to my mom who reminded me of him today). What you fill your mind with is what you are going to put out into the universe!
9. Remember that everyone has been in your place, and you'll get through it.
We all have gone through some for of self-doubt. Chances are you've already been through something like this before, and even if it was on a smaller scale you still need to remind yourself that you got through it!
Does it bother anyone else that I stopped at #9 and didn't make a #10 to finish the list haha? I just feel like 9 is an odd number. Anyways, I would love if you all left more advice below or any similar posts you have read/written. I hope this helps anyone going through similar periods!
xoxo,
Lauren Emily Lindmark
Copyright © 2017 dailydoseofcharm.com