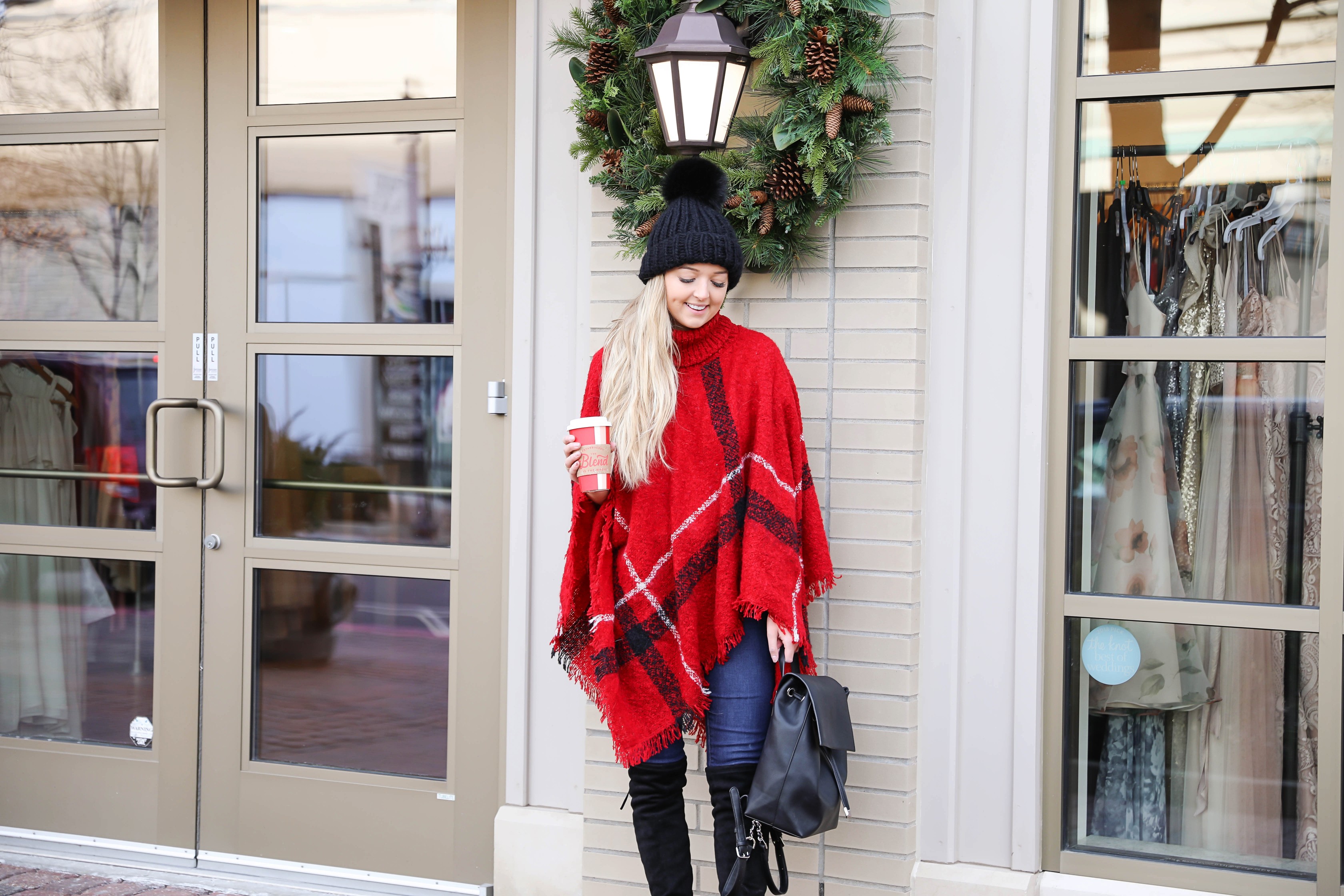 Casual Holiday Look | OOTD
I don't think I have owned a poncho for years, I remember them being really in when I was in elementary school – in fact, I think my mom knitted me one when I was little! However, I have been seeing them for sale lately so I figured it was time to get one! On Black Friday I was shopping around online and found this adorable red plaid poncho from The Pink Lily Boutique! I had actually had a few glasses of wine and forgot to put the Black Friday discount code in before I checked out, but that's beside the point.
Let me tell you, this poncho is so worth full price haha! It actually isn't expensive at all which is why I didn't beat myself up about the tipsy mistake. Someone needs to take my credit card away when I have wine in my hand though!
I decided to pair this with my over the knee boots and Kyi Kyi beanie. Plus, of course, I had to get a grande hot chestnut praline latte with almond milk and no whip so the cup would match my outfit 😉 That is my go-to order right now!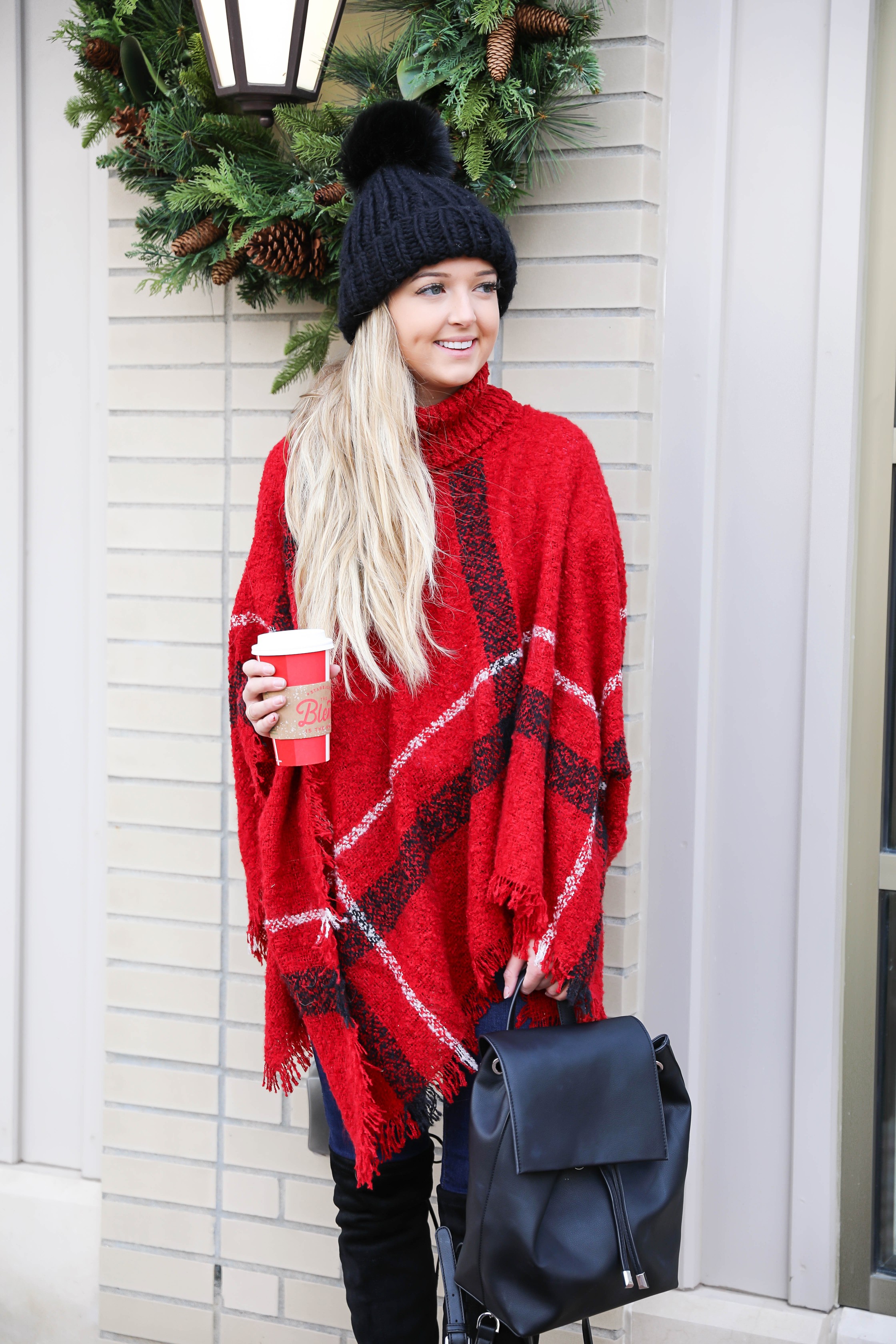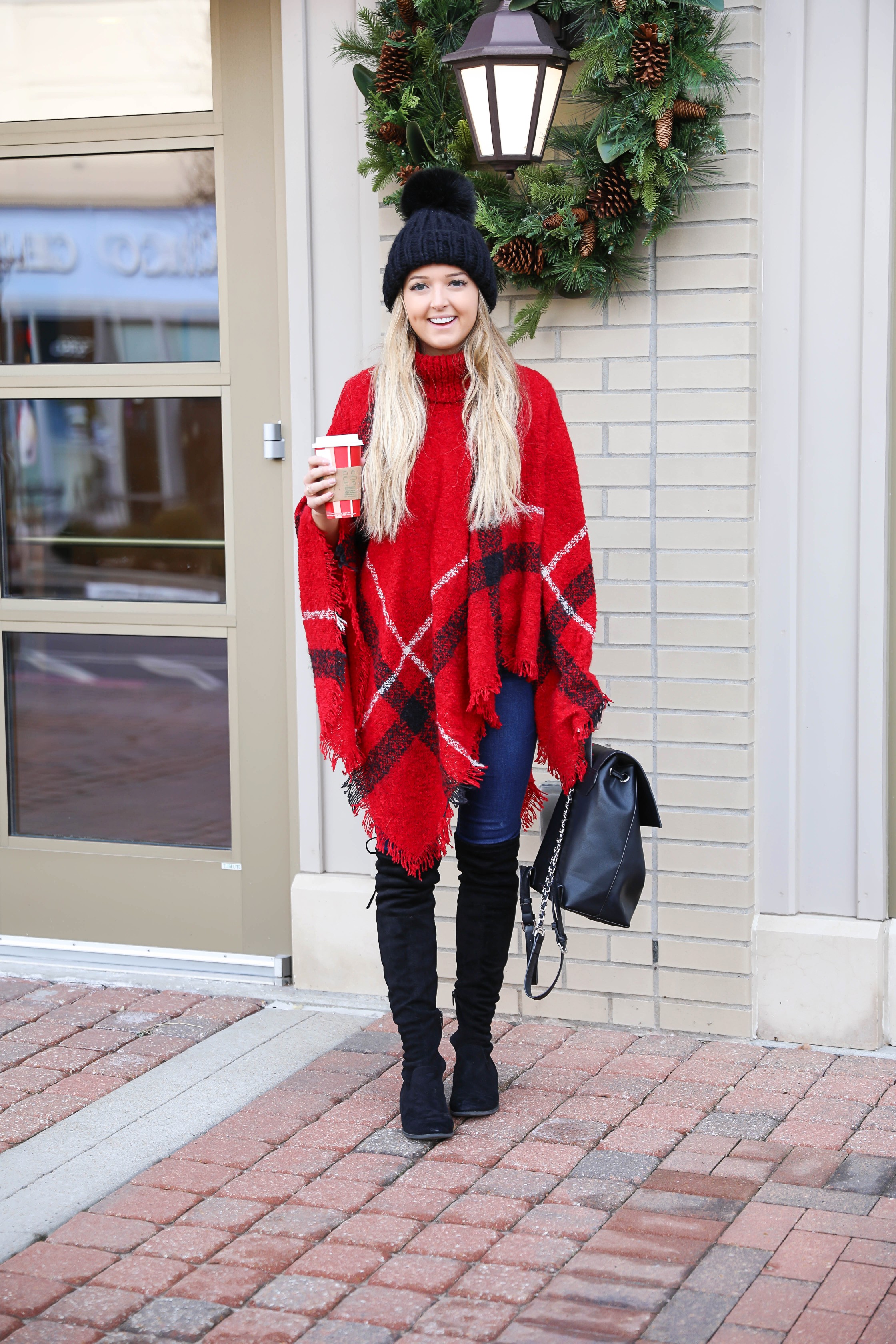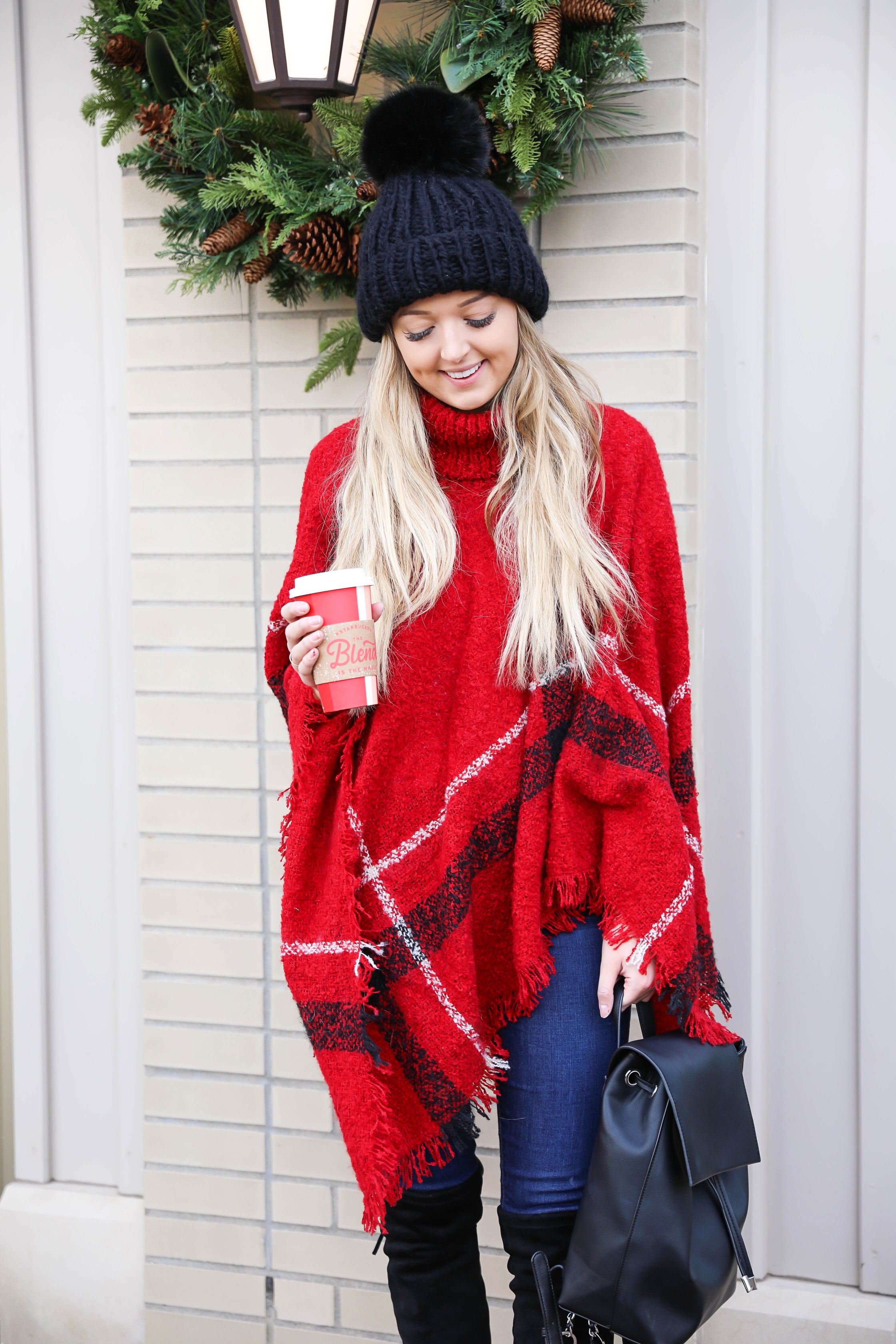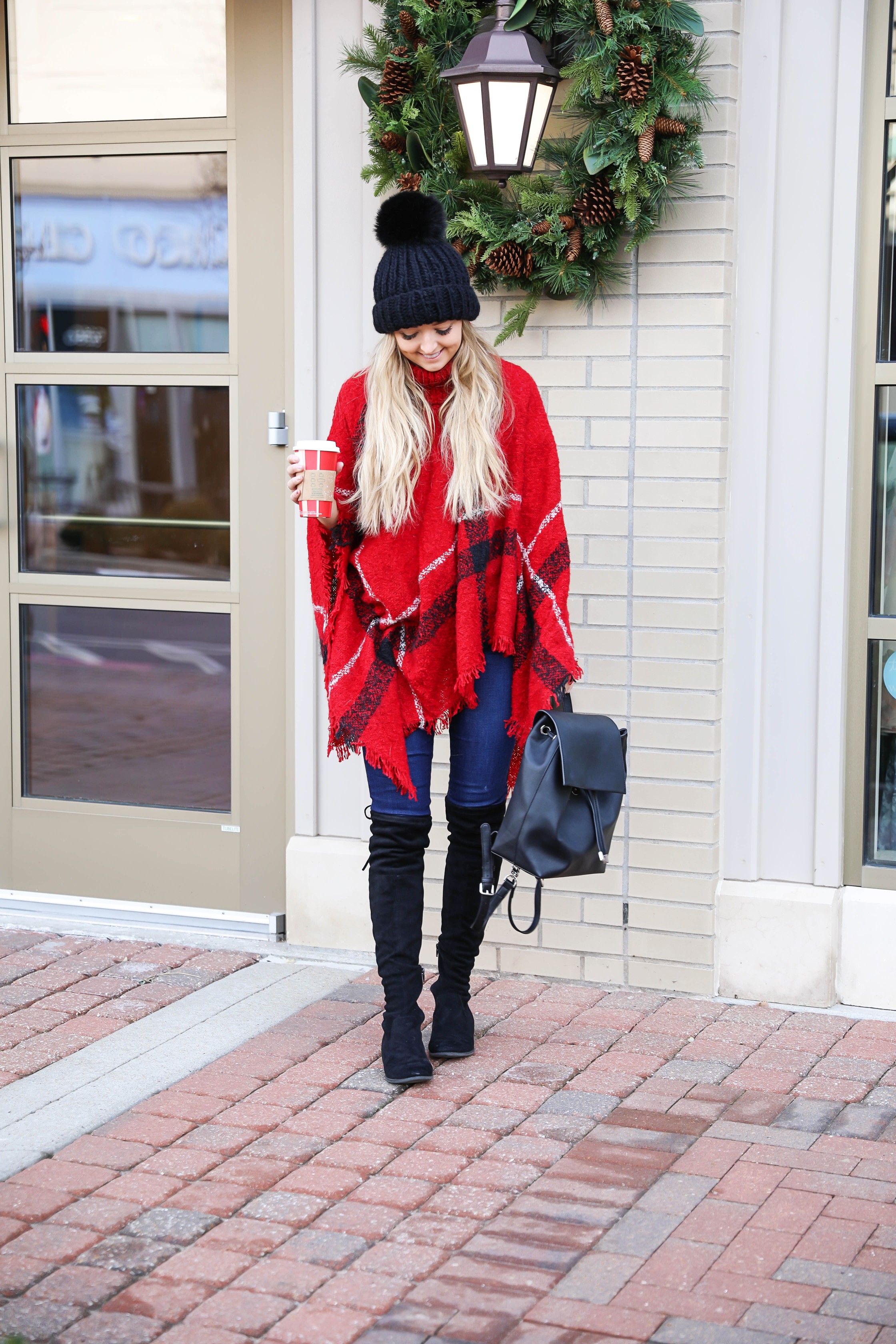 | Poncho ($36 also comes in tan – more linked below) | Dark Denim Jeans (TTS) | Over the Knee Boots ($40 also comes in tan) | Beanie (comes in three colors) | Black Backpack (similar – more linked below) |
I have a crazy busy day ahead! I am shooting my best friend's graduation photos then heading downtown for a blog event. My third blog-related trip this week! I have been trying to say yes more and put myself out there. I am super introverted and hate networking, but I am excited for tonight because one of my good blogging friends, Jessica Budke, will be there!
I actually had a really slow morning because I accidentally slept in until 9:00 (oops), then I had to do my hair for the event tonight, plus my new roommate, Madi, is moving in! I live in a three bedroom and one of my roommates just graduated and moved out so she found Madi to sublease. She seems so sweet! Plus one of her best friends was my old best friend from high school, Abbye! Abbye and I sort of lost touch in college, but she is here today to help my new roomie move in so it's been so good catching up!
I hope you guys are having a good week and if you are still in school good luck on finals!
Shop this Post + More Similar Items!
xoxo,
Lauren Emily Lindmark
Copyright © 2018 dailydoseofcharm.com