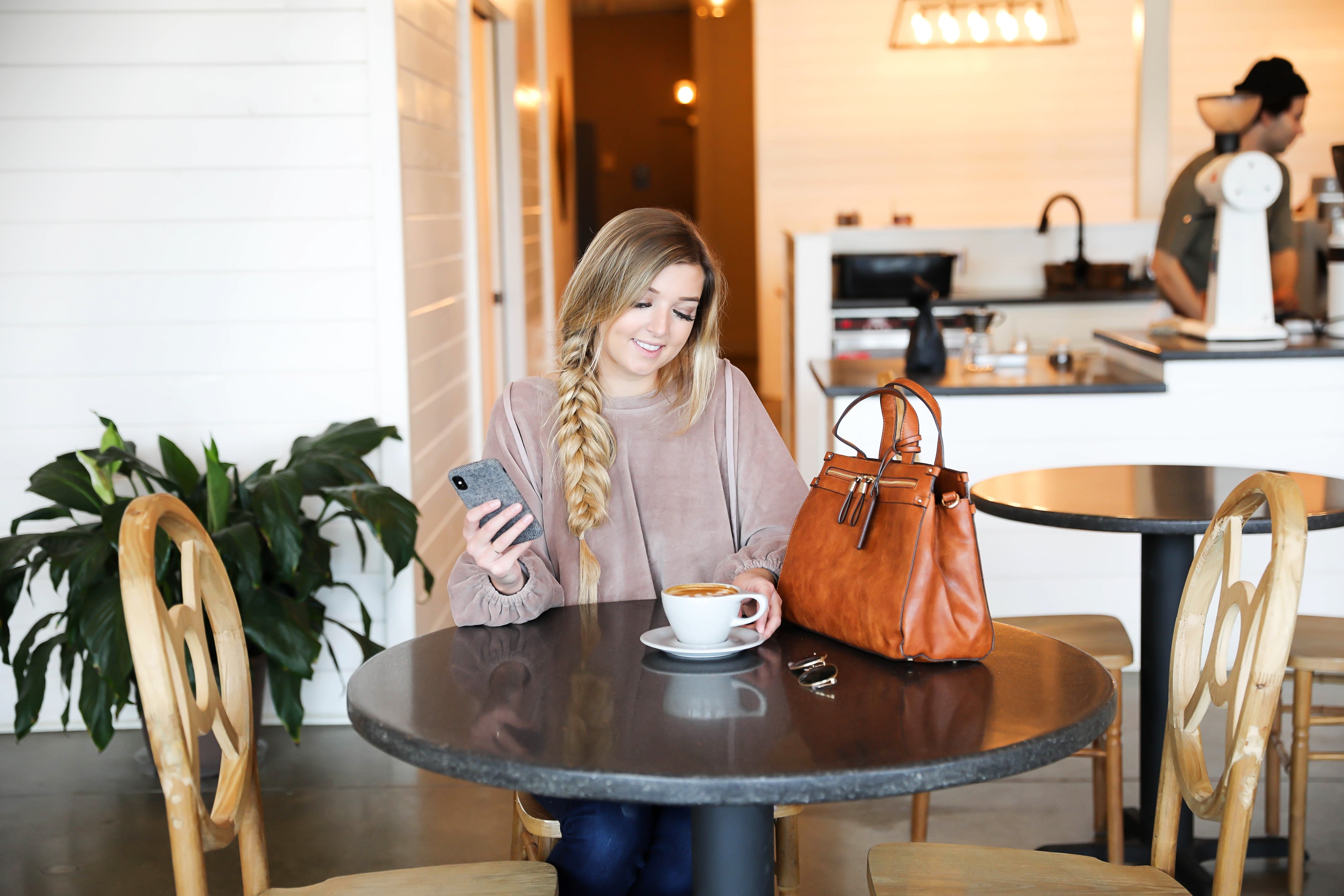 How I Boosted my Instagram Engagement by 50% in Two Months | Tips & Tricks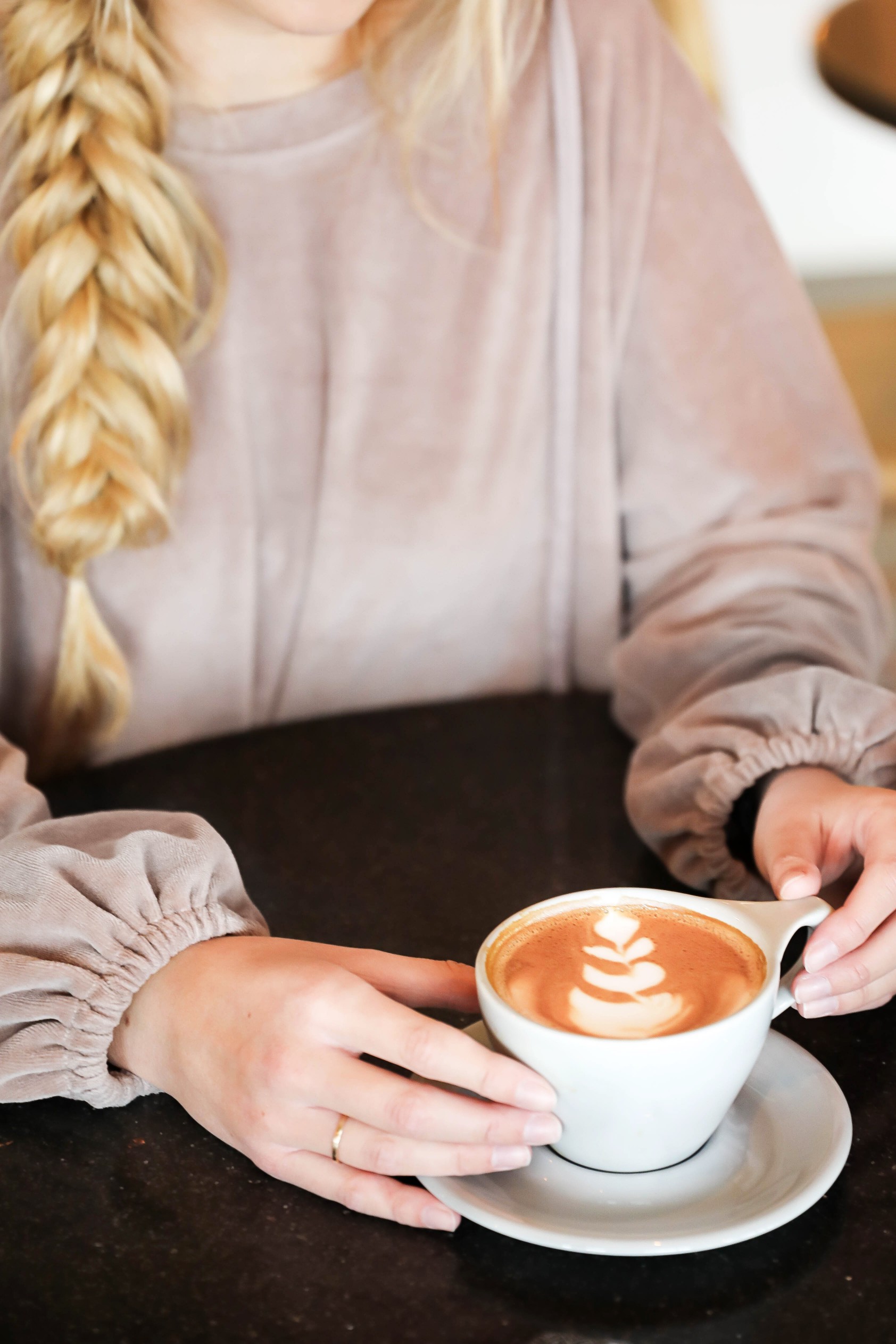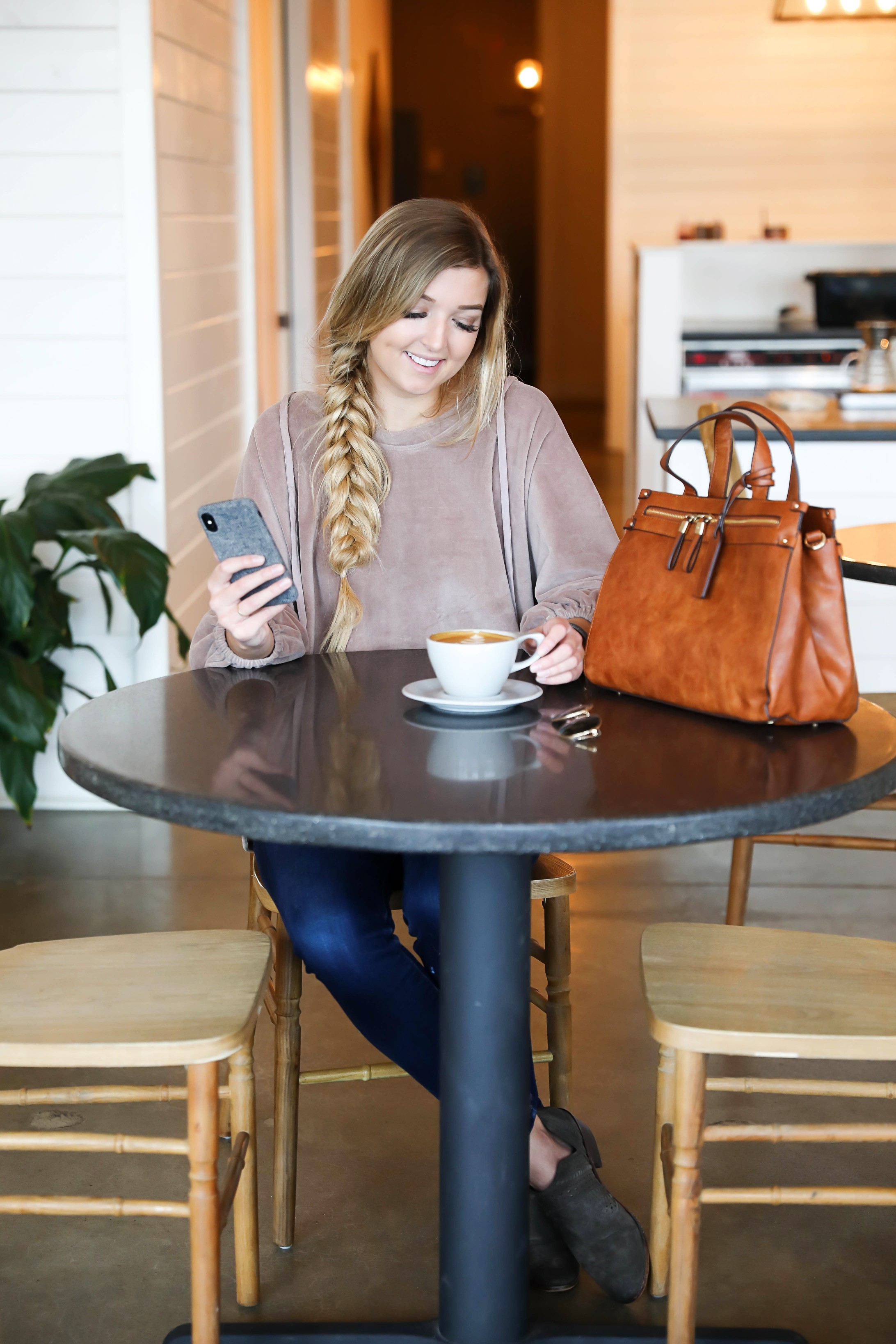 | Velvet Sweatshirt | Dark Denim Jeans (similar) | Grey Booties | Faux Leather Bag (comes in four colors) | Herringbone Phone Case (ON SALE $8 and also comes in brown) |
My Instagram Story
November 25th, 2011 I posted my first ever Instagram photo. At the time, my username was @laurenlindmark, I probably had 2 followers (my two best friends I was with when I made the account), and the photo was a picture of our driveway at the lake with one of those horrid Instagram filters put on it. Little did I know seven years later this app would be such a huge part of my life.
I want to start out this post by saying Instagram engagement isn't what really matters in life. I know that, you know that, so let's not try to pretend I sound like a dumb millennial by talking about this subject. The truth is, Instagram is a really important marketing tool this day and age. I genuinely enjoy making content and interacting on the account – but it wasn't always like that.
Why I Felt Down About Instagram
A year ago this time I was seeing amazing growth, I was getting high likes, had just hit 10,000 followers, and my blog was doing great. Then this last January I moved back to my college town after a semester off. I dove back into school and social life and left less time to actually put in the work it takes to succeed on Instagram. Let me tell you this before you waste all your time reading this post, INSTAGRAM. TAKES. WORK. That is the one consent thing when it comes to all the strategies that have worked for me. Like anything in life, you can't just take short cuts or half-ass things and expect to succeed.
So as my spring semester went on I pretty much gave up on Instagram. I was still posting daily, but I was barely interacting and I saw my likes drop by a crazy amount. Fast forward to the end of June. I had been working hard on my content all summer and not seeing much return when it came to Instagram growth. I thought back to a year ago and how much better I was doing and I realized that I wasn't putting in the work anymore. So I decided to make a change.
Where Did I Start this Growth Journey?
Like I said, the end of June is when I had had enough of my Instagram engagement being down. There was a lot that went into having low engagement, such as the Instagram algorithm always changing, but the biggest thing was I was not trying. If you back to June's photos (on the left), I was not responding to people, liking other blogger's photos, or spending much time on Instagram at all – other than just posting pictures.
Fast forward two months later and look at this month's likes (on the right)! They have nearly doubled!
Growing your Instagram likes is a slow process, and I want to point out now there will be certain photos that don't perform well from time to time and that's okay. You can see in this month's likes (on the right) I had a photo that is just under 500 and photos that were in the high 800s. That's just how Instagram works!
So let's talk about how I made this happen…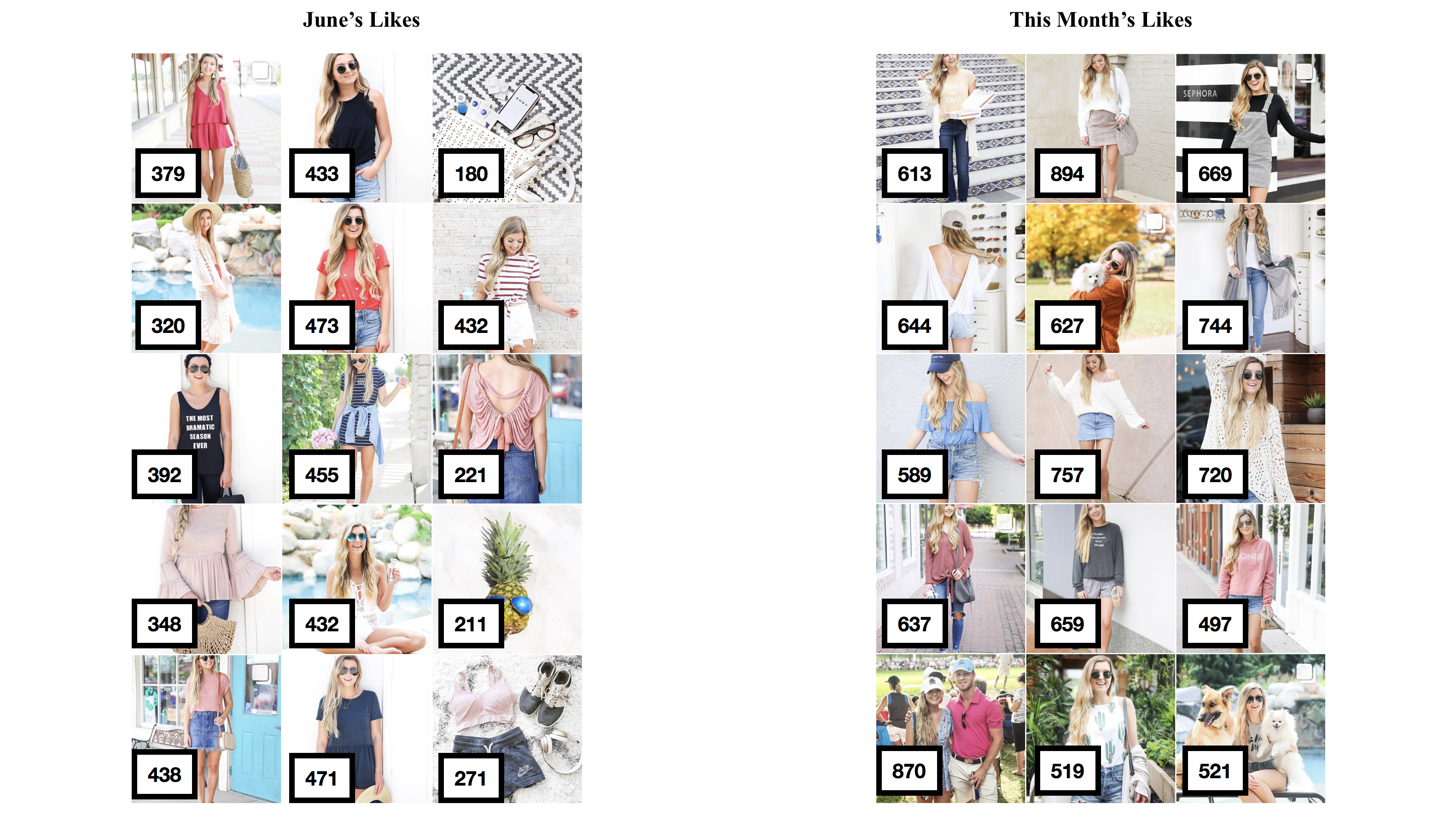 The Strategies
1. The Genuine Comment Strategy.
This is the best strategy for me when it comes to engagement. I comment on almost EVERY photo that I like. Getting your name out there and connecting with people in the same niche as you is so important! Not only that, but a lot of bloggers will comment back on your photos if you comment on theirs. That is another strategy of mine. I sit down everyday and go through the last photo I posted comment's. I respond, go to their account and comment on one of their photos, then I will even go through some of their comments and click on accounts then like/comment on those people's photos. It becomes this huge chain reaction of getting your name out there and interacting! Plus, you get to find a ton of new bloggers instead of just the ones you follow.
2. The $1.80 Strategy
This strategy took my Instagram engagement to the next level. A few weeks ago my mom sent me this Article, The $1.80 Instagram Strategy to Grow Your Business or Brand, and I loved it! I won't go too much into it here becuase I recommend reading the article, but it is basically a strategy where you choose nine different hashtags and go and comment and like the top nine photos on each. Like I talked about above, this gets your name out there and you are able to reach a whole new audience.
3. Keep a List of Your Favorite Instagammers
With the annoying Instagram algorithm there are times when I am on Instagram and I think "Oh my gosh I haven't seen ___ post in awhile!" I will go to their page and realize I just hadn't been seeing their posts. To fix this, I keep a long list of my favorite Instagrammers on my phone and I (try) to check the list daily. If you keep the list on your phone with direct links (such as https://instagram.com/dailydoseofcharm) your phone will automatically open up the Instagram app when you click on it. It's super easy! This helps me be able to support my blogging friends who support me! Relationships are so important in the blogging world!
4. Comment on Big Accounts in Your Niche Right When They Post
Supporting any size blogger is important, and a lot of the relationships you form are with people who are your size. However, I always make it a point to like and comment on big bloggers I like in my niche. A huge tip is to put on post notifications for your favorite bloggers and comment right when they post. This makes it so you are more likely to be at the top of their comments plus people who are also on at the time will see you commented and go to your page! A lot of people go through big Instagrammer's comments to find other bloggers, it's a great way to get your name out there!
5. #Hashtag #Hashtag #Hashtag
 I read in an article that every hashtag you put on your photo is like a lottery ticket, so why wouldn't you use as many as you can?! The max amount of hashtags you can put on your photo is 30. I always put mine in my comments so they don't crowd the caption, but I have also heard they work better when they are in your caption! Look at what hashtags other bloggers are using and CHANGE YOURS UP! If you use the same ones over and over again you can get "blacklisted" and your photo won't show up on that hashtag.
6. Tag Locations
I try to tag a location on every photo I use. This is just another way people can find your photo! Plus this helps you get a bigger local following. If you are on a trip this is especially important because people go through popular locations such as "New York City" to find accounts!
7. Use Good Captions
This one may be obvious, but having good captions is so important because people are more likely to comment on your photo which boosts you up in the algorithm (meaning more people will be shown your photo)! This can be as easy as a funny quote or something about your day! Change it up and be yourself!
8. Use Instagram the Way Instagram Wants You To
So this isn't proven, but I have heard that using Instagram the way "Instagram wants you to" will help your algorithm. Meaning, if they come out with a new feature (such as Instagram TV) USE IT! The idea is you will get "rewarded" and your posts will show up for more people.
9. Go Live
Speaking of using Instagram's tools, go live! I haven't done this yet, but when you go live you are more likely to have your Instagram story show up first on people's feed. This helps you gain exposure! Plus it is more personal and you can gain a more genuine audience.
10. Don't Use Third Party Apps
So I always heard if you use third party apps (such as apps that post for you or that check your unfollowers) Instagram punishes you by making your algorithm worse. I never really knew if I believed this until I made this mistake! A while ago I downloaded an app called "Cleaner" that goes through and finds your inactive followers and it connected to my Instagram. I immediately started getting less views on my Instagram stories and my likes went down for a few days! I don't know if it was a coincidence, but I would not risk it.
11. Block Inactive Accounts
Speaking of that mistake, go through your "inactive followers." I have had Instagram for seven years so a lot of my followers are no longer active. I have heard going through and blocking those inactive followers will help you show up on more people's feeds (because Instagram won't be putting your photo on those inactive feeds anymore and instead active followers will see the post). I had a follower tell me that once a week she goes through a new letter of the alphabet and blocks all the names under that letter – such a good tip!
12. Tag Repost Accounts
This is a tip that a fellow blogger told me, tagging repost accounts (such as @OOTD or @americanstyle) not only give you the chance to be reposted to their huge audiences, but people go through their tagged photos and can find you! I always tag some in the corner of my photos!
13. Pay Repost Accounts to Repost You
This may be controversial, but I had heard of people doing this. So to be honest – I gave it a try. I found a random "fashion repost account" and messaged them. In my opinion, I don't think it is worth it… I think I paid about $30 to be reposted to 500k and I didn't gain that many followers for what I paid. I also kind of feel like this is "paying for followers." I wanted to add this in though because it may work for you if you want to try it!
14. Giveaways
I am not a huge fan of those big loop giveaways where people giveaway a Gucci bag or $1000, I don't feel like you gain a genuine audience that way. My favorite way to do giveaways are either solo or with a few bloggers in your niche. If you do a solo giveaway, have your followers tag their friends to gain exposure! I did a small giveaway with a few bloggers in July and gained so many followers because we were all similar accounts and people did not have to jump through a million hoops to enter. Flash giveaways, which are the short Instagram Story giveaways, are my favorite right now!
15. Stop Overthinking Your "Theme" and Post High Quality Photos
I used to care so much about what my theme looked like that I would post "filler photos" (such as a coffee, random flat lays, etc.). This may have made my feed look prettier, but that photo wouldn't get much interaction which would hurt my overall algorithm. By high quality I don't necessarily mean taken on a nice camera, I just mean post photos that you would want to interact with on someone else's page. For me, outfit photos perform the best so I try to post mostly those! I still post with the same preset on all my photos and try to get my colors to look good together, but a good photo is better than an overall theme!
16. Don't Repost the Same Outfit Over and Over Again
This is mostly a fashion blogger tip and if you are a new blogger this may be hard (because you don't have much content). In the past I used to post two or even three shots of the same outfit on my feed. I liked how it made my feed look, but your followers want to see new content! I get way better interaction on new outfits. I hardly post the same thing twice anymore! To add onto this, my posting has definitely slowed down a bit because I try to post more genuine photos – and that's okay!
17. Interact on Instagram Stories
Have you ever noticed that if you respond to Instagram stories those people's photos will show up more on your feed? This is the Instagram algorithm working it's magic! It thinks you like that account and will show you more of it. So if you respond to other people, not only will it build a relationship where they might respond back to your stories, but it also gives you more of a chance to be on their feed if they message you back (and follow you).
Last Tips and Things to Remember
– Try different strategies and see what works for you. Everyone is different!
– On your journey, some photos will perform well and some won't. That's just life! I could be having a week of all my photos hitting 700s then BOOM one that barely gets in the 400s. If you go to big Instagrammers you will see some of their photos get 20,000 likes and some get 50,000. The type of content, time of day, and Instagram algorithm all affect that. Don't stress it!
– If all you do is comment on your followers photos you won't be reaching new people! Using my tips to find new accounts is so important for growth!
– Comments should be genuine. I try to always do tw0 part comments. For example, I will tell them how they look ("You are looking stunning!") then comment something else about their caption or specific part of the photo ("I need those shoes in my closet!").
– Quality over quantity!
– Work hard to get the results you want!
xoxo,
Lauren Emily Lindmark
Copyright © 2018 dailydoseofcharm.com