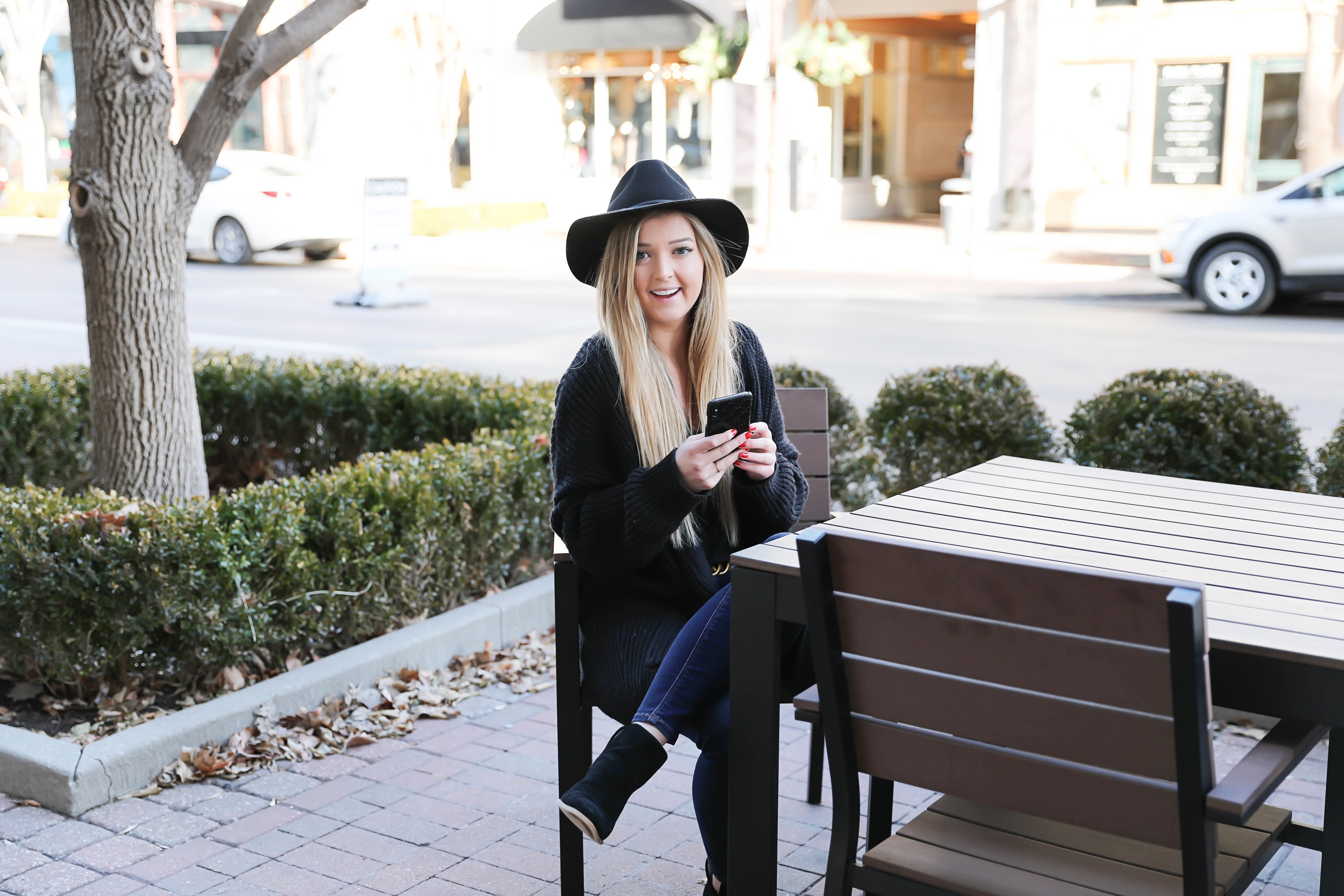 How I In-Depth Plan my Days on my iCalendar | OOTD
Hey everyone, happy Friday! Coming at you with another highly requested post – how I plan my days! I started planning my days like this my freshman year of college, and man, have I come a long way! This method has genuinely taught me so much about efficiency, time management, and prioritizing. I still am working on all of those things, but I feel like I have definitely learned a lot.
My schedule is sort of like my to do list. Every evening I plan out my day ahead and move tasks to the following day that I did not get done that day. This has become really helpful because not only do I have a to do list where I can look at everything I need to do, but it's also scheduled so it actually gets done!
I plan as small as 15 minute increments. Today I am showing you an example of yesterday's calendar. I was at my apartment and had nothing to do all day but work, so I did! I did a lot of social media outreach yesterday (more than I usually do) and also edited a lot. My online school started Wednesday (unfortunately) so I also worked on that a bit!
For the record, everyday for me is wildly different. Some days I work more on schoolwork, some days I am shooting content, some days I am meeting with people, going to events, working on my boutique, etc. I also have those days, just like everyone, where I am totally unproductive and have to put that into my calendar haha! That is partly why this method is so efficient, I feel bad blocking out an hour+ of my day and saying "Netflix" – so I rarely do that kind of stuff! It keeps me accountable!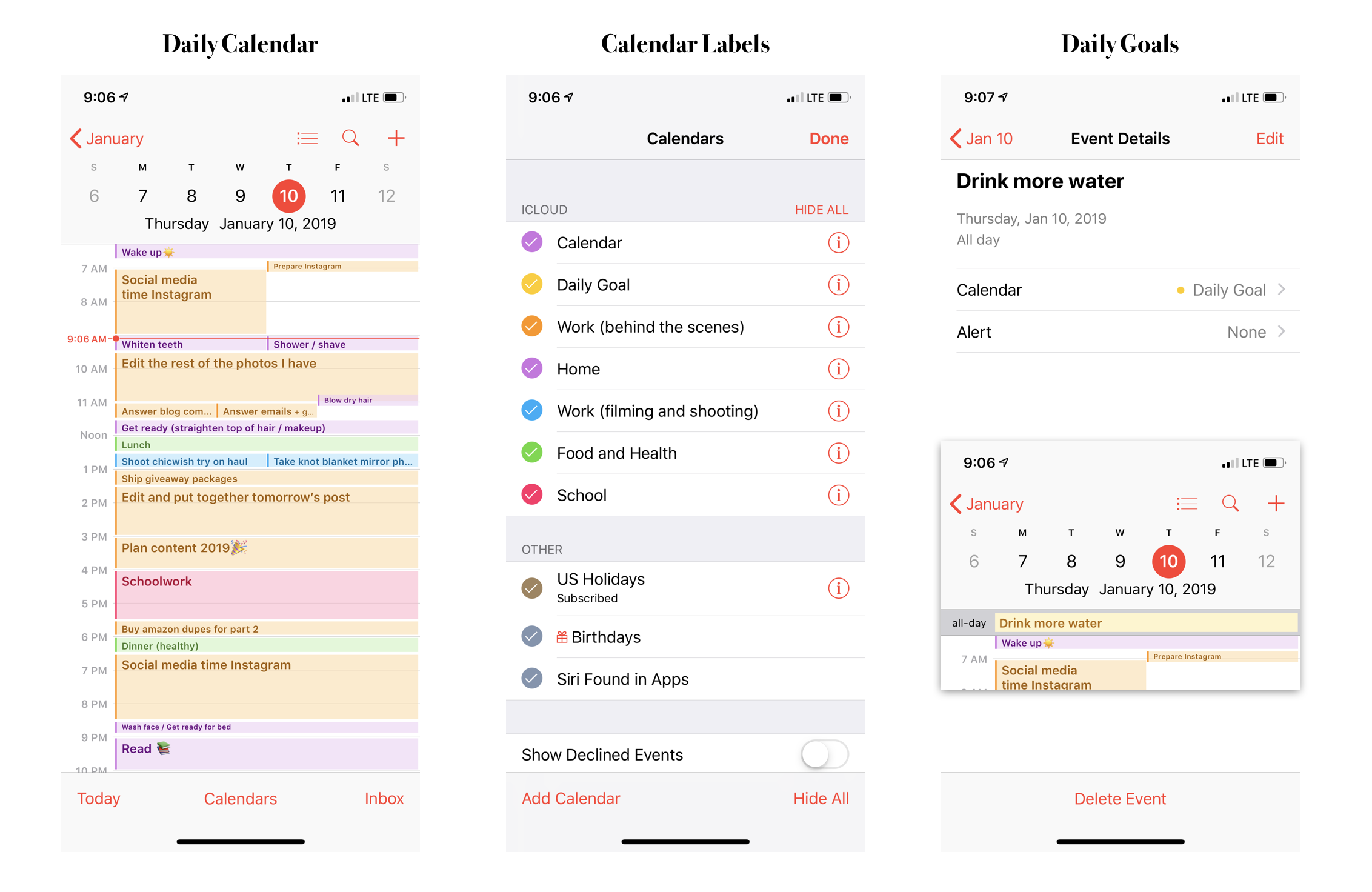 As you can see I have different colored calendars for different categories. The orange is blogging or my boutique, blue is shooting, green is eating or working out, red is school, purple is any non-work related tasks (like cleaning, showering, etc.), and yellow is my daily goal. I don't set main goals everyday, but if I really need to work on something or have something I need to get done that day I set it as the "Daily Goal" color and make it an "all day event" so it shows up at the top.
My favorite thing about this method of planning is it's flexible. If I have to move my schedule around, add more time to something, change something last minute, etc. it's easy to do! I always hated having a planner and having to scratch things off I didn't get done. I also like that I get reminders when I need to switch what I am doing!
Planning this way also helps me to take time for myself, days like yesterday where I am working non-stop are easy to do since I am in online school and have more time. When I plan out my day I can add in lunch with my mom, reading before bed, trips to Target, etc. to change it up and take breaks!
Okay, I think I covered pretty much everything. Is there anything else you guys want to know? You can ask me below! Now for an OOTD…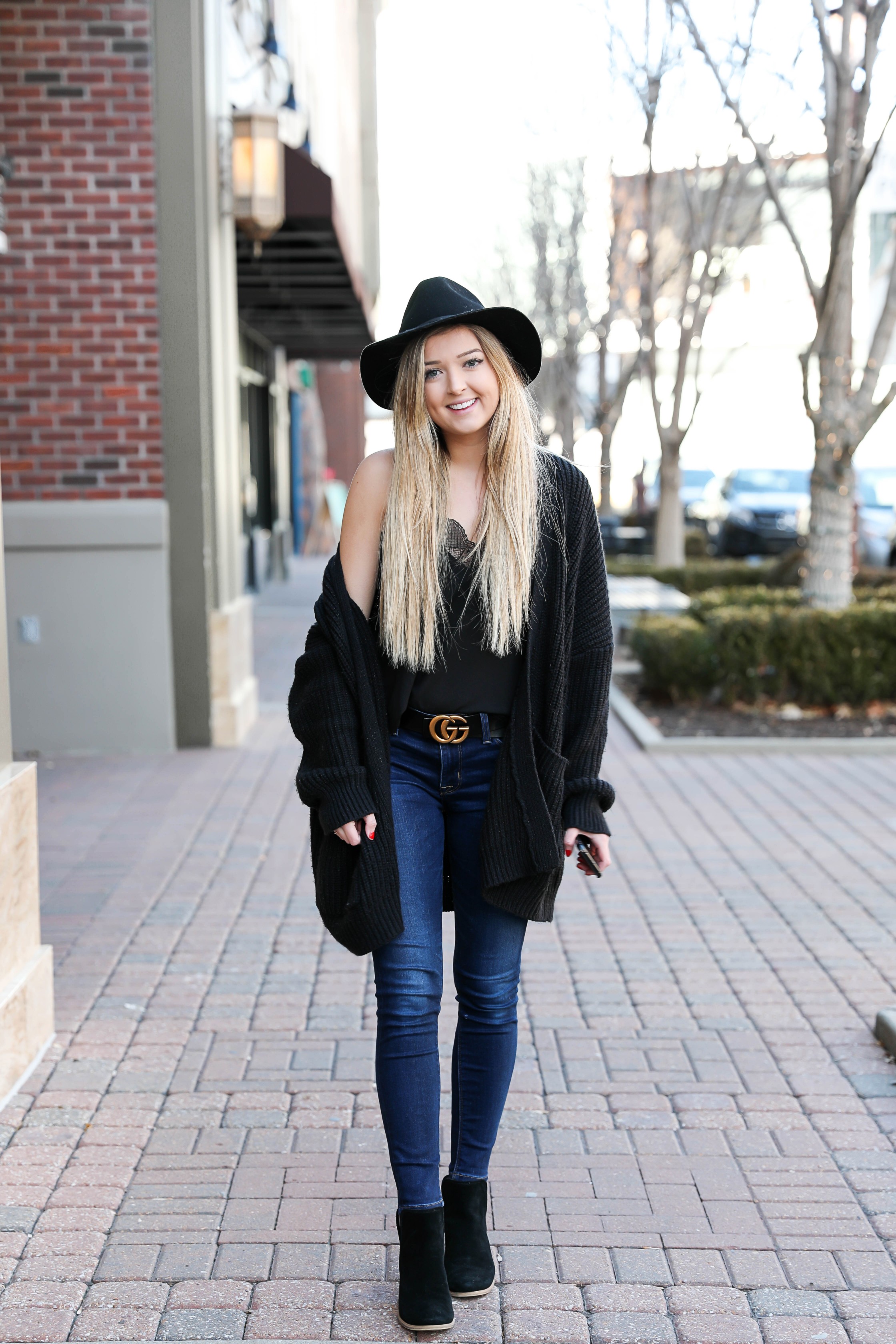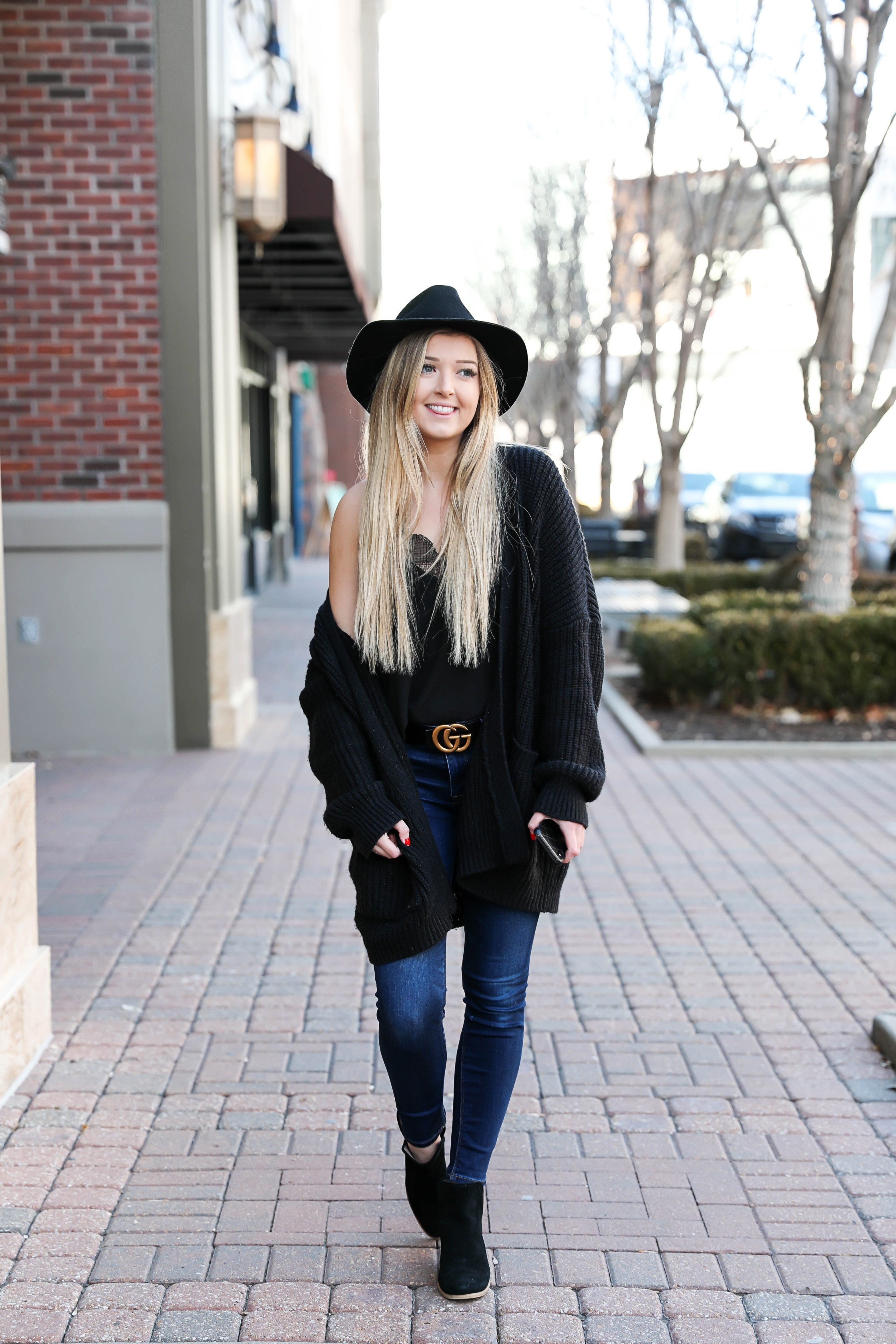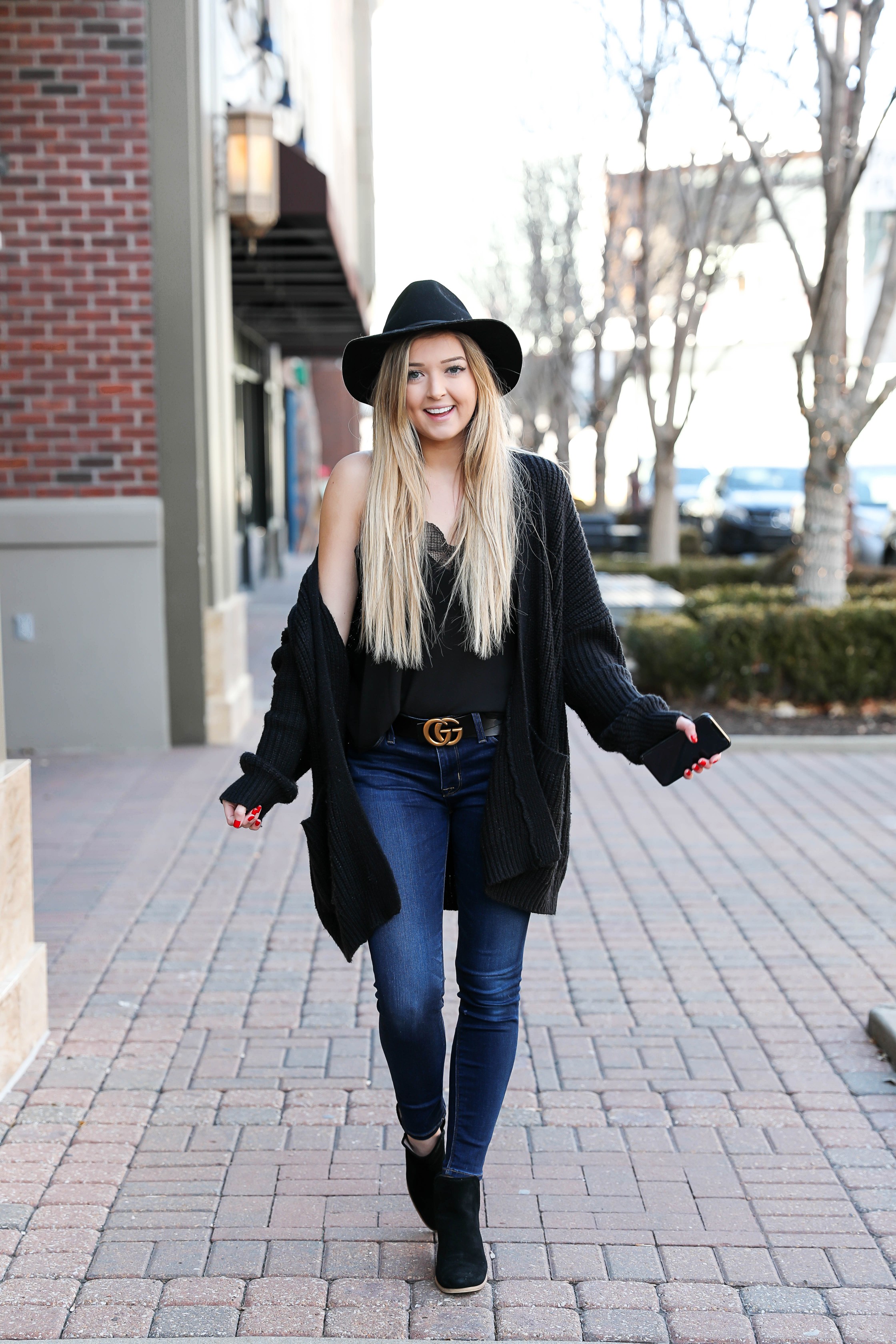 | Black Cardigan (similar & ON SALE) | Black Lace Cami ($25 similar) | Faux Gucci Belt ($19 – make sure it says 1.1″) | Jeans (TTS) | Booties (comes in four colors) | Faux Gucci Phone Case ($24) |
Everyone have a safe and amazing weekend! Go Chiefs!
xoxo,
Lauren Emily Lindmark
Copyright © 2019 dailydoseofcharm.com