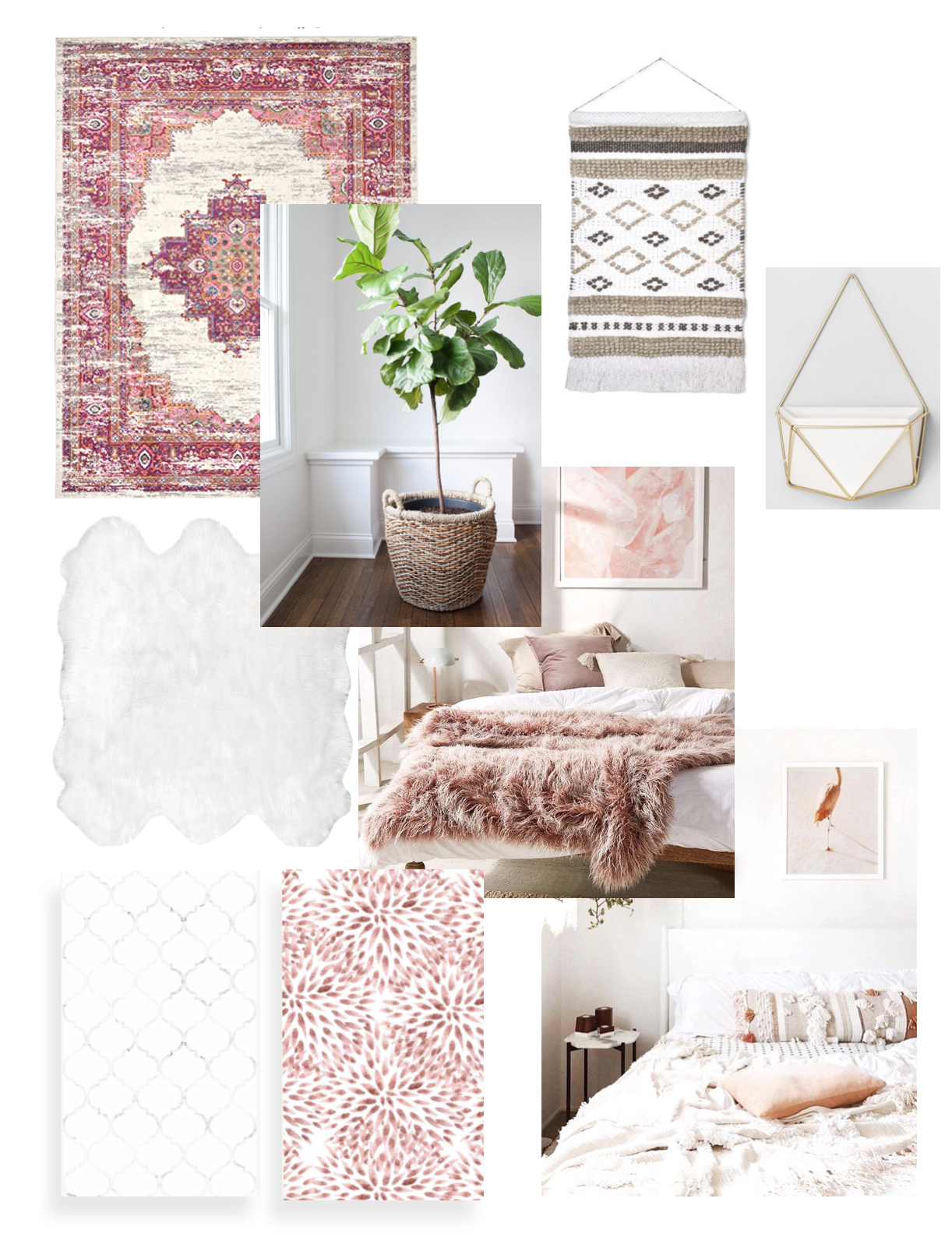 How I Plan my Room decor & Apartment Design Tips on a BUDGET! (+ Help Me Choose my Wallpaper)
If I had to go back and choose a different major I would definitely choose interior design. I LOVE designing rooms! In fact, it is one of the things I am most excited about when it comes to moving! Sometimes I just design rooms for fun like this, I still remember the day I signed my lease for my first apartment I went home and sat there for hours designing my living room and bedroom! I just love how a room can come together and turn into a whole new space, there are endless options!
I wanted to show you all how I plan my room while also chatting about how to decorate and buy furniture on a budget. I paid for all my furniture by myself for my room (luckily my roommate already has the living room decorated since she has lived there for a year). Altogether I have spent $735 on my room! That is including my bed, mattress, rug, accent pieces, and other things here and there that aren't included in this post.
I will round up my tips for saving money below, as well as show you all my wallpaper I am choosing from! Be on the lookout in the next month for my official room tour and see how everything came together!
How I Design My Space
First things first, I create a vision board like the one above with the colors and look I am going for. To do this I always start with a rug. I like to look on Amazon because they have a ton of cute and inexpensive ones! You can obviously use whatever you want as your "focal point" – bedding, an accent chair, an accent wall, etc. Then I look at Pinterest and home decor sites (such as PBTeen, Lulu & Georgia, and Wayfair) for ideas and to see what's in right now.
Once I am done figuring out some inspiration I go to a floor plan. I use a word document (Apple's version) because I think it's easy to navigate! This is sort of weird, but I make these little squares that represent square feet. I make an outline of the room then I make sure all the items I am putting into the room are to scale!
In my design I laid down the rug and bed first. I just used a plain bed I found on google to do this! I turn a lot of photos into PNGs (aka getting rid of the background) to get everything to look good so to learn how to do that read this!
My apartment is small and one thing I knew I wanted was a fuzzy bench (#1 in the photo). I don't know if I will have room to put a TV stand against the wall and a bench at the end of my bed so I decided to borrow my family's old projector to use as a T.V. That will go on the night stand by my bed (#7) and point towards the wall with the bench.
I found both my bench and my nightstand at Target and I am really excited about them! The bench was a bit of a splurge – but not too crazy! And the nightstand was only $30! I am going to put some baskets in it to hold phone chargers, books, etc. I love Target for home decor because they have really adorable stuff, but at reasonable prices.
Next I laid out the furniture I already had at home that I wanted to bring. That is a huge tip when it comes to saving money, work with what you already have! The one thing that is it a bit pricey in my new room is my Lingerie Chest I am bringing from home. I got it for my birthday years ago and I love it as an investment piece (definitely recommend if you want to splurge), however, I will link a similar one below that is cheaper.
I played around with where to put my lingerie chest, clothing rack, and mirror from home – but came up with this layout for now! I measured them and made these squares proportional to how they will really look. That made it easy to visualize how the room will come together! Side note, another tip for saving money is doing DIY decor! My mirror I am bringing from home I got 50% off at Hobby Lobby and spray painted with some off white paint! It was much less expensive than white mirrors you buy online or in stores!
Lastly, I add in a few accessories. I know I want a floor plant or cactus in the corner of my room so I googled this photo and placed it there. I also have a few faux sheep rugs at home that I wanted to bring as well as a little pouf!
This really helps me visualize the space and I can then confidently purchase whatever items I want! Get links for everything below!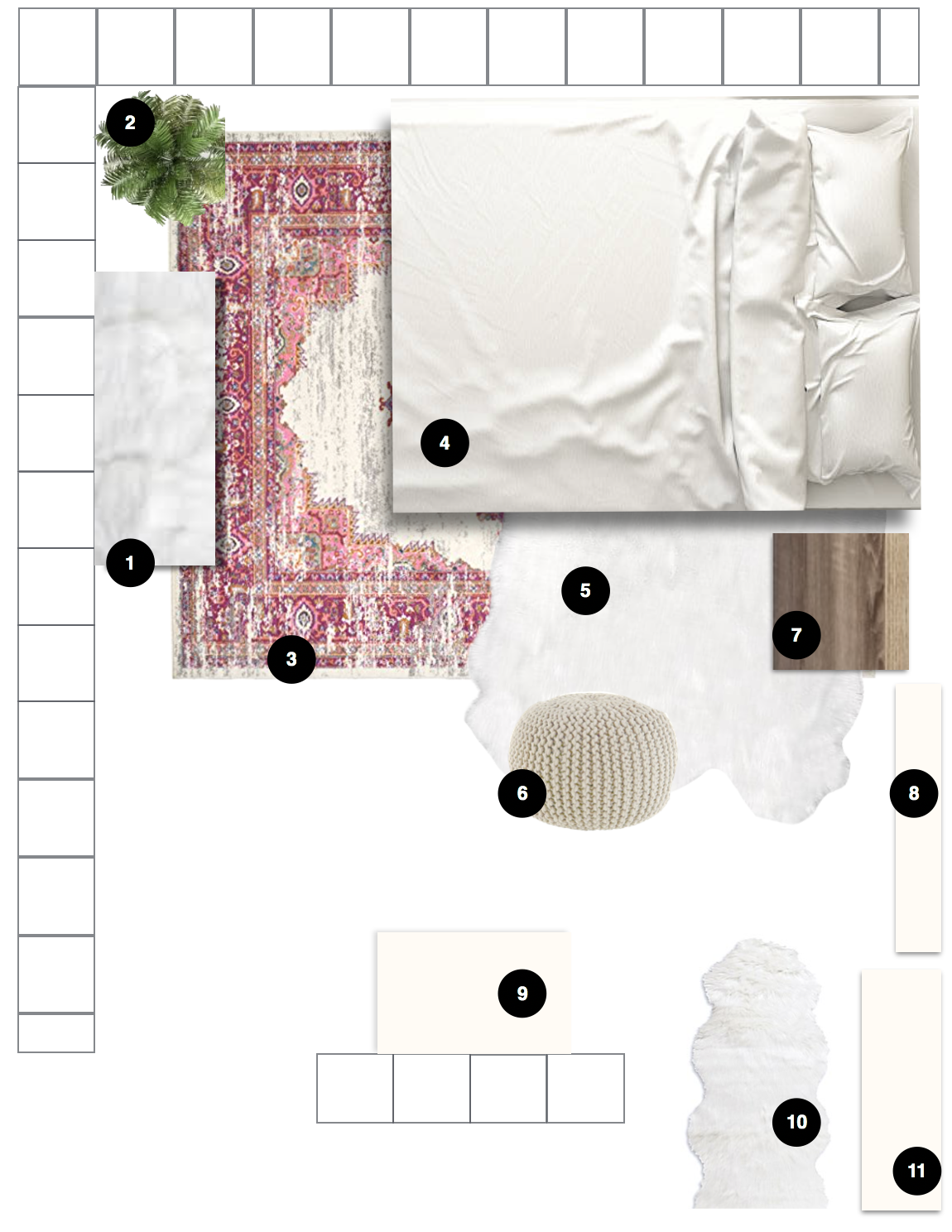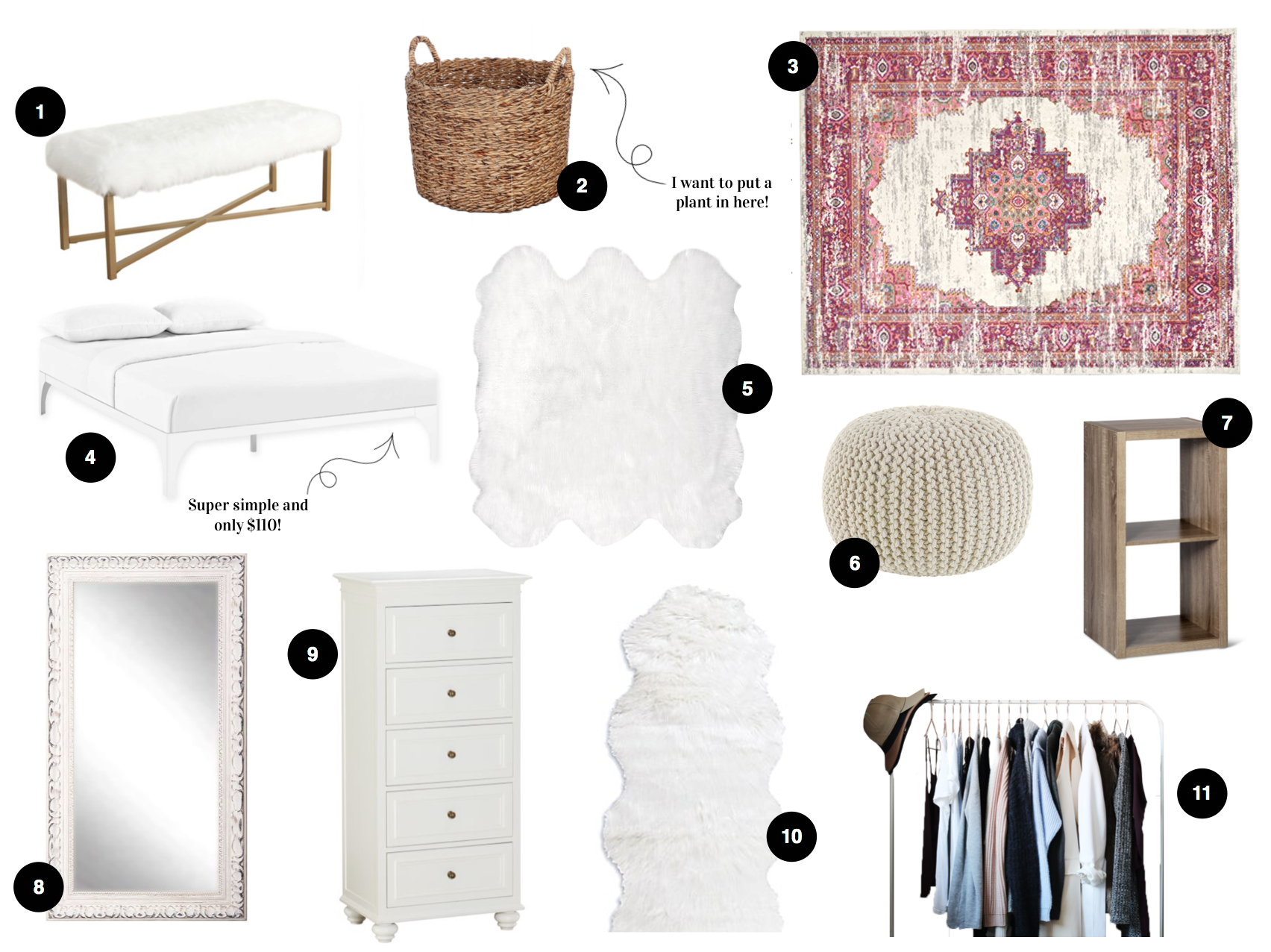 1. Fuzzy Bench ($120 SALE)
2. Basket ($30)
3. 8'x10′ Rug ($160)
4. Bed ($110)
5. Faux Sheep Rug (I already owned)
6. Knit Pouf (I already owned)
7. Bedside Table ($30)
8. Mirror from Hobby Lobby (I already owned)
9. Lingerie Chest (I already owned, similar cheaper here)
1o. Faux Sheep Runner ($50)
11. Clothing Rack (I already owned)
I also found a mattress that is super cheap, but has pretty good reviews! I am going to try it out and maybe get a mattress topper if I need it. My last apartment complex had horrible mattresses and the mattress topper made it SO comfy so I am not too worried. If you want to know what mattress I got check it out here ($225).
Help Me Choose Wallpaper for my Statement Wall!
I'm really excited to announce I am partnering with Think Noir Wallpaper on Etsy to make an awesome statement wall for my new apartment! I worked with a really amazing company called Wallflora Shop to do my wallpaper at my parent's house, but I felt like Think Noir was a little more of the trendy look I was going for this time. I want to note that all of the colors in her wallpapers are totally customizable, so keep that in mind when helping me choose! Below are some of my favorites, but feel free to go on her site and help me look at others! I want to make it a statement wall like I have at my house now (photo below) so it will just be on the wall by my windows!
These are the four that I am eyeing. I really like bright statement walls (as you can see above) so I am immediately drawn to the bright floral one! However, I can't decide if that would be "too much" with my rug? Next is this cute black watercolor polka dot one. I LOVE this one, but I am thinking about purchasing this myself for my bathroom after I move in! I just think it would be cuter in there!
Next two are the cute Moroccan prints. The first one is shown in navy, but I think I would get it in a tan color (or maybe pink? Let me know what you think). The next one is actually a subtle marble print which is super cute! Which one should I do?!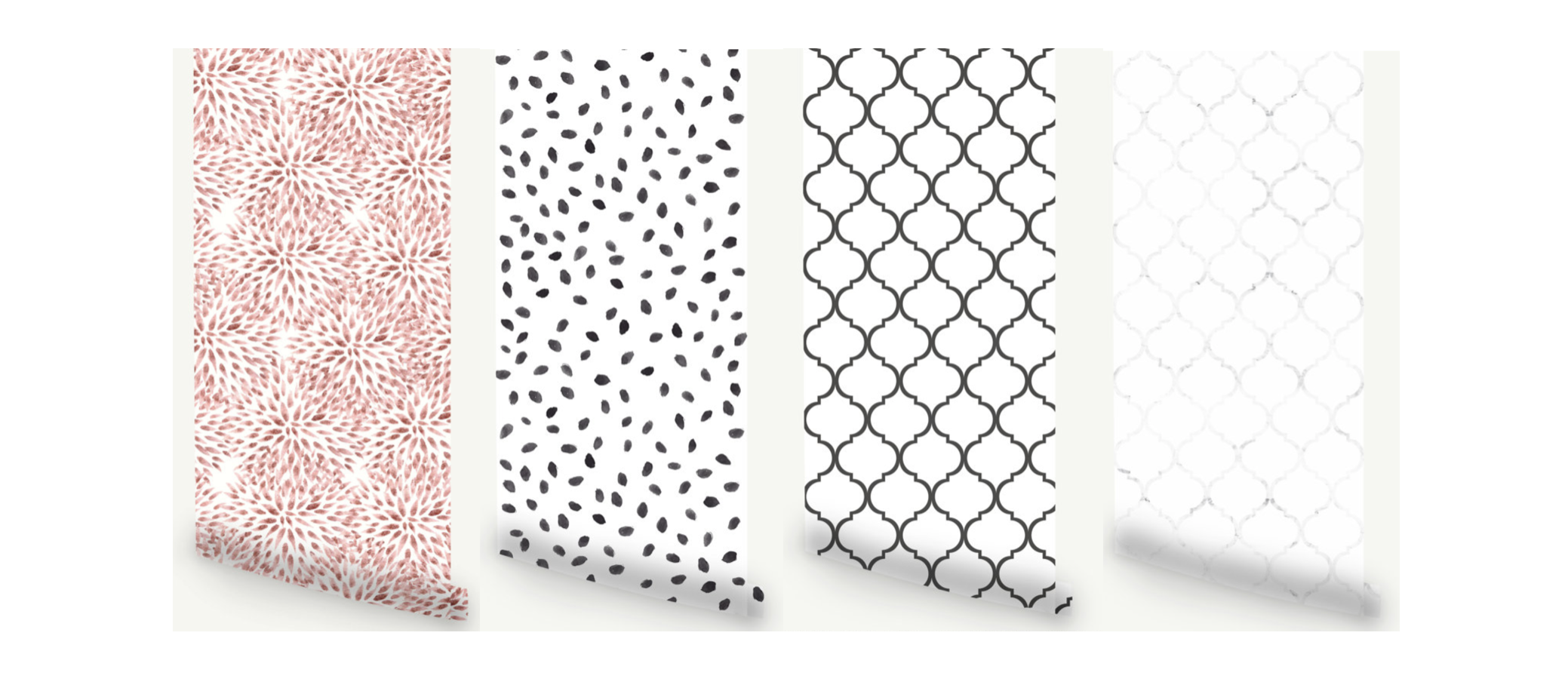 Recap of Ways to Save Money When Decorating & Buying furniture:
1. Find Places to Shop for Inexpensive Home Decor.
My favorites are:
T.J. Maxx (also Homegoods in store)
2. Work With What You Have Already at Home.
I am bringing my dresser from home since I will be bringing most of my clothes I won't need it at my parent's house! This is also true if you are moving out of a previous apartment. Although it can be tempting to want to buy all new things, see if you can use what you have even if you need to refinish or paint some things!
3. Don't Go Crazy on the Decor When You first Move.
I did this when I moved into my first place and the truth is – I didn't need it all! I ended up spending way too much money on small things I didn't need and I redid quite a few things anyways. This is also the reason why I didn't design my closet or bathroom yet. Things change and you don't want to be stuck with too much before you move in!
4. DIY Projects.
Like I said while talking about my room layout, I bought my huge stand up mirror from Hobby Lobby years ago when it was on sale. Then my dad and I spray painted it to match my room (it was oringally brown, we painted it pink, and now it's white)! There are a ton on Pinterest DIY posts such as ottomans, shelves, curtains, bedding, even furniture that you would think would be more "complex" like cabinets!
5. Buy Used, but Don't Rent if You Can Help it.
There are a ton of places such as Craigslist, Facebook Marketplace, and Ebay to buy used furniture/decor! In fact, a lot of people just want someone to haul their junk away so they will give you stuff for dirt cheap. Keep in mind, things like couches and chairs can be reupholstered and other furniture can be repainted if necessary!
This is just my opinion, but I don't think renting furniture is the best option financially. In fact, if I could afford it I would be buying a house and not even renting an apartment! Buying is a better investment most of the time because in the long run renting adds up and if you buy your own furniture you can always sell it when you are done! It's better to buy what you can and save instead of having to pay monthly.
I have not designed my bathroom or closet yet so let me know if you are interested in seeing that next!
xoxo,
Lauren Emily Lindmark
Copyright © 2018 dailydoseofcharm.com