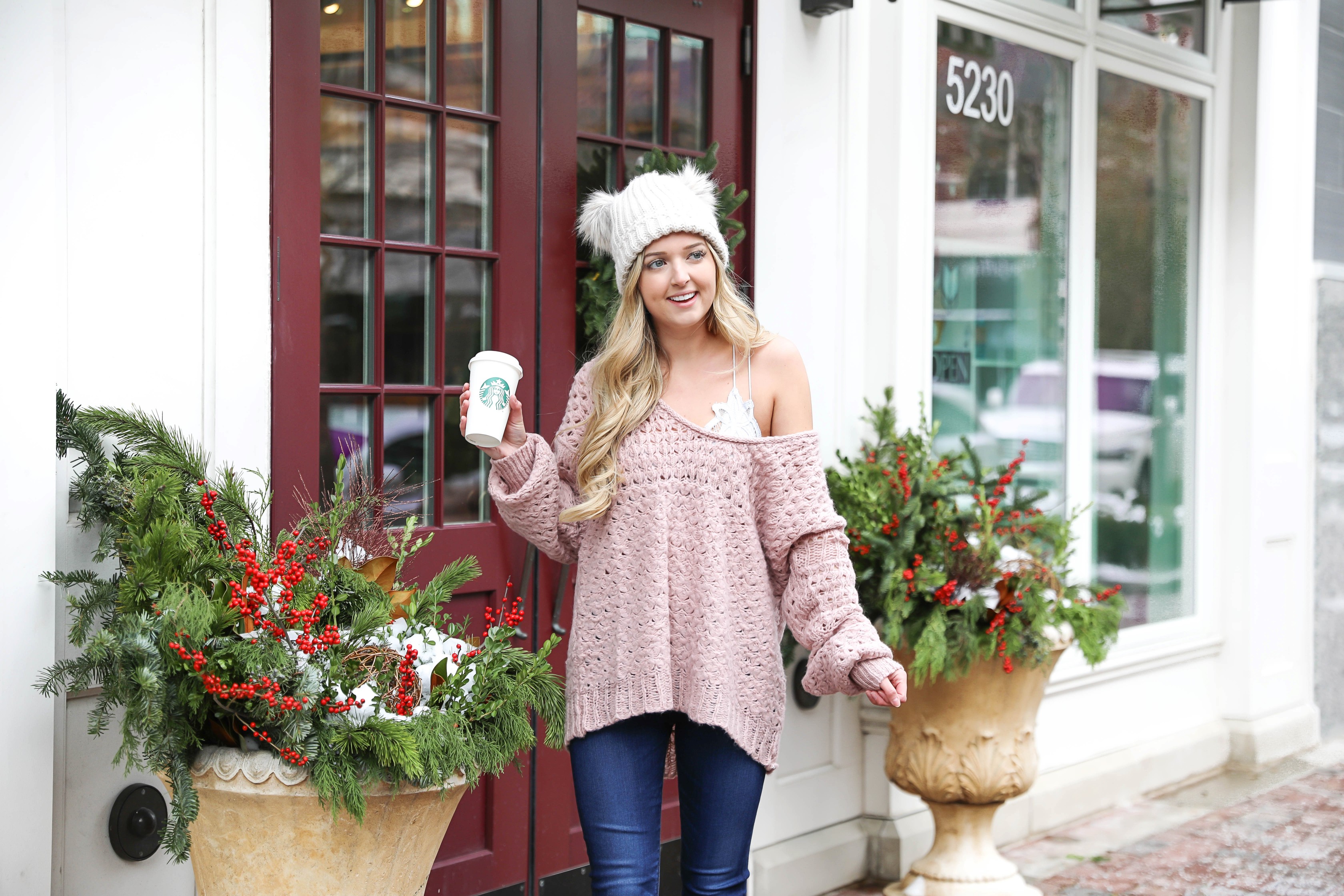 I Will Not Be Taking Off this Sweater (ON SALE) | OOTD
So in the midst of taking these photos snow starting falling off the building above us. I am not talking about little flurries, I am talking about HUGE piles that would come crashing down between my mom and I giving us heart attacks! I am surprised my mom didn't get any shots of me looking shocked and scared, but she would stop taking photos as soon as it happened because it scared her just as much!
You can see some of the piles on the ground in front of me, and those weren't even the biggest ones! Thank goodness it didn't hit either of us haha! I may need to get insurance to cover my ass! Just kidding, hopefully my mom would never sue me lol!
Woke up with a horrible sinus headache this morning and I called my mom and she said she did too. Just that time of year I guess! My boyfriend told me to drink some warm water, honey, and whiskey. Can you tell he was raised on a farm haha? This is the same guy that told me to put dip on wasp stings, he is full of odd wisdom, gotta love him! I may try it if it actually turns into sinus stuff, but for now my grande latte is helping!
I am currently working on some huge exciting projects that will be happening in 2019. YOU GUYS I CAN'T WAIT TO TELL YOU! I love being excited about life! I have had so many ideas in the past that I have announced and they they just didn't happen (like my blogging workshop). In 2019 I really want to work on some of those projects I have dreamed about, I definitely need to hire some help haha!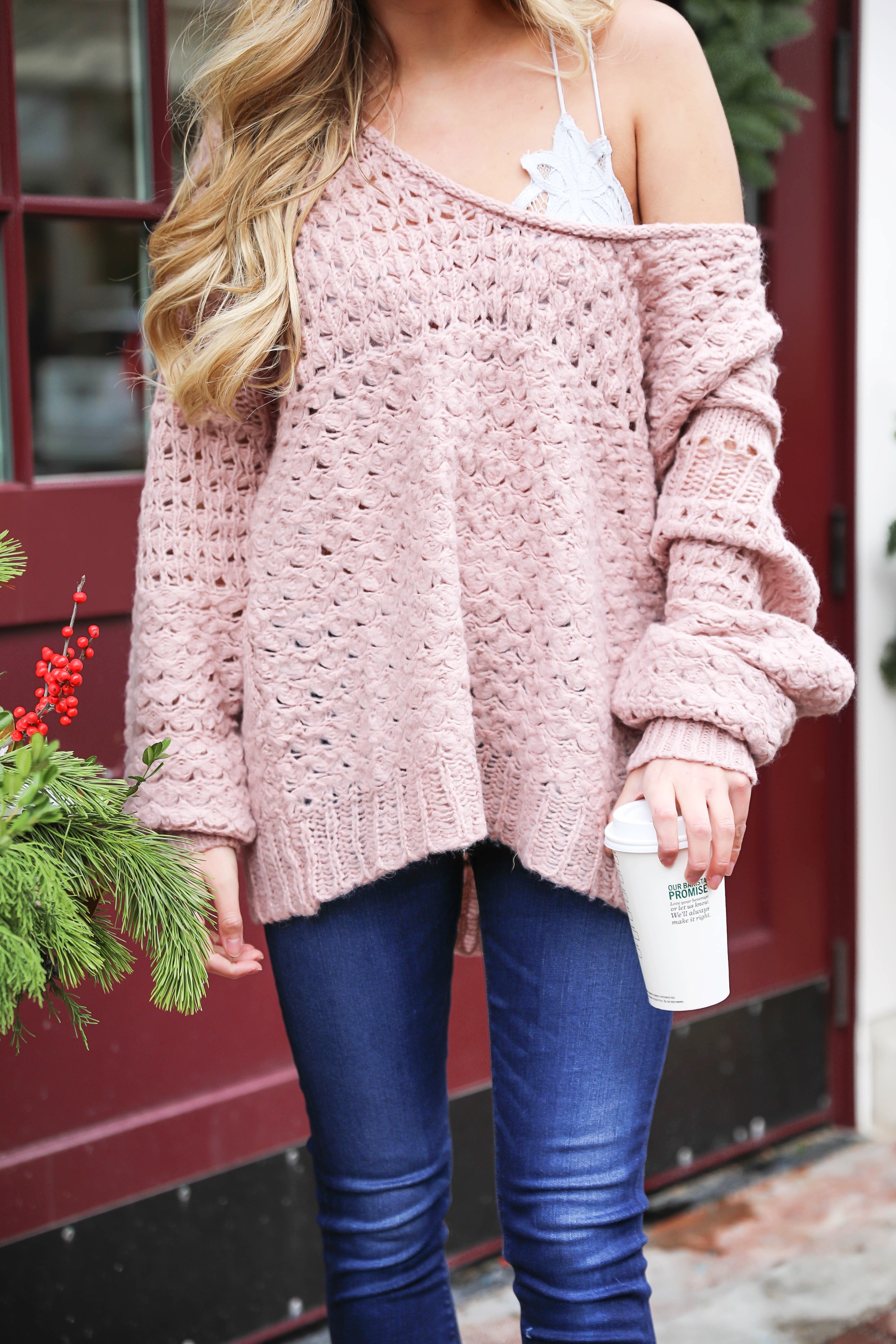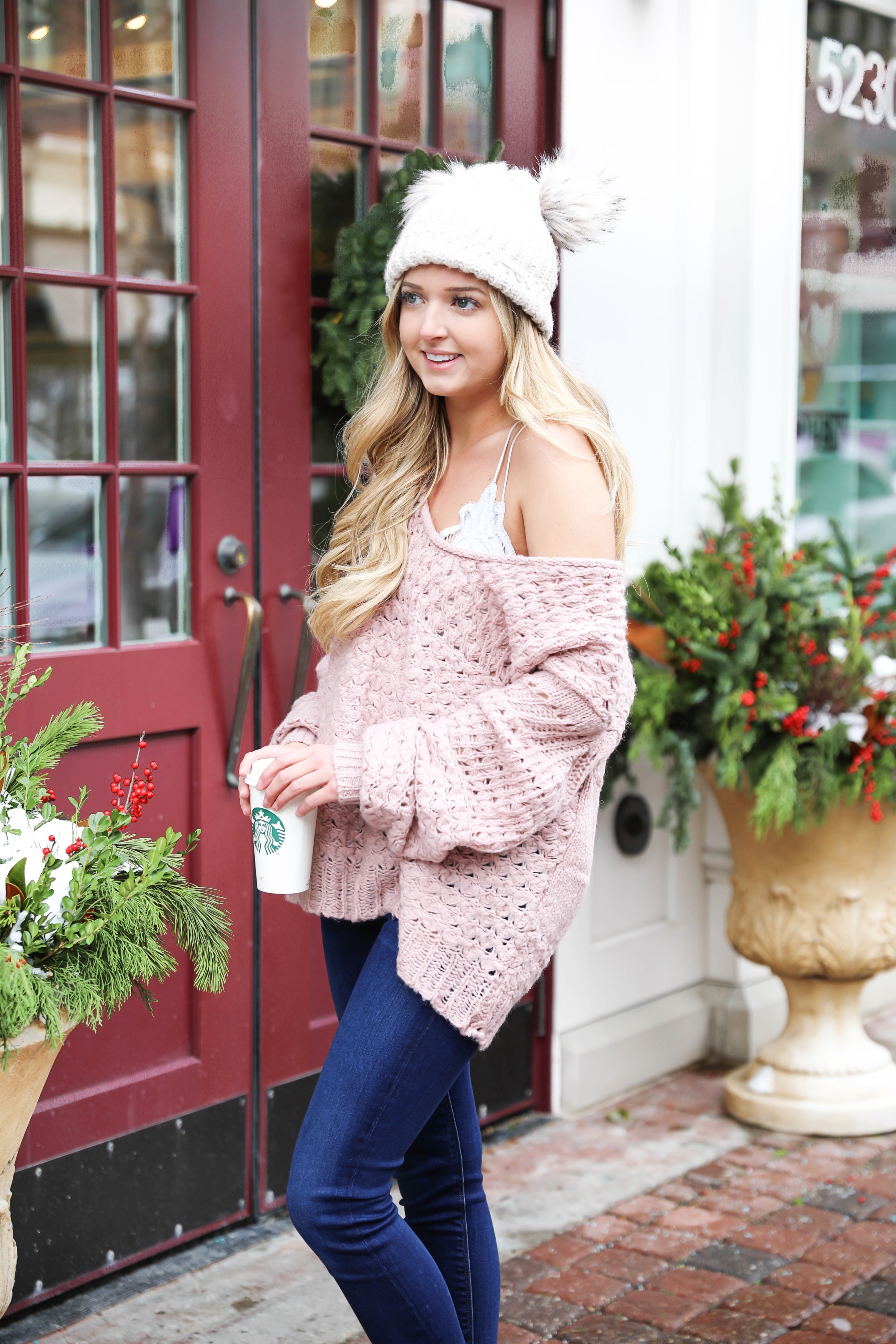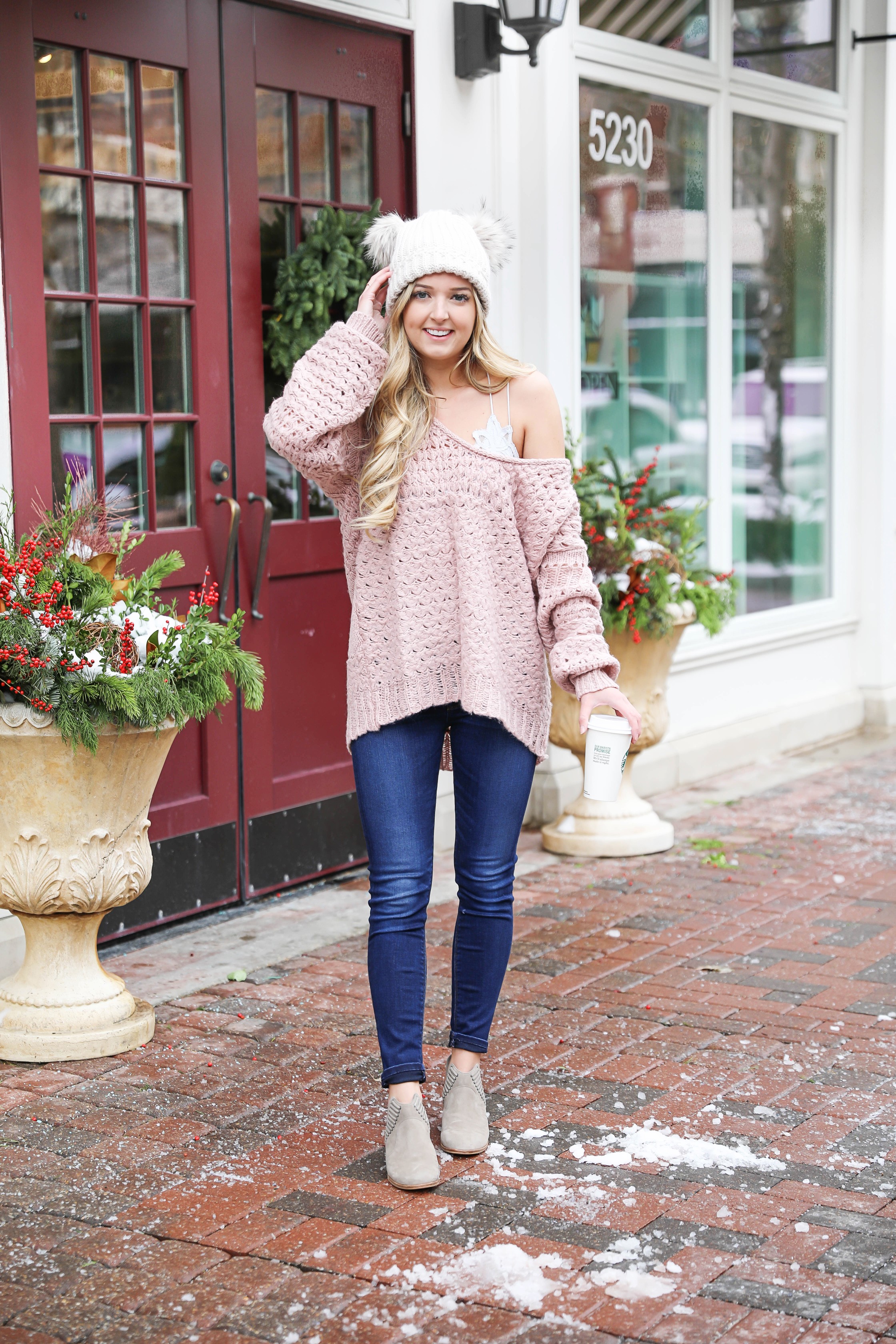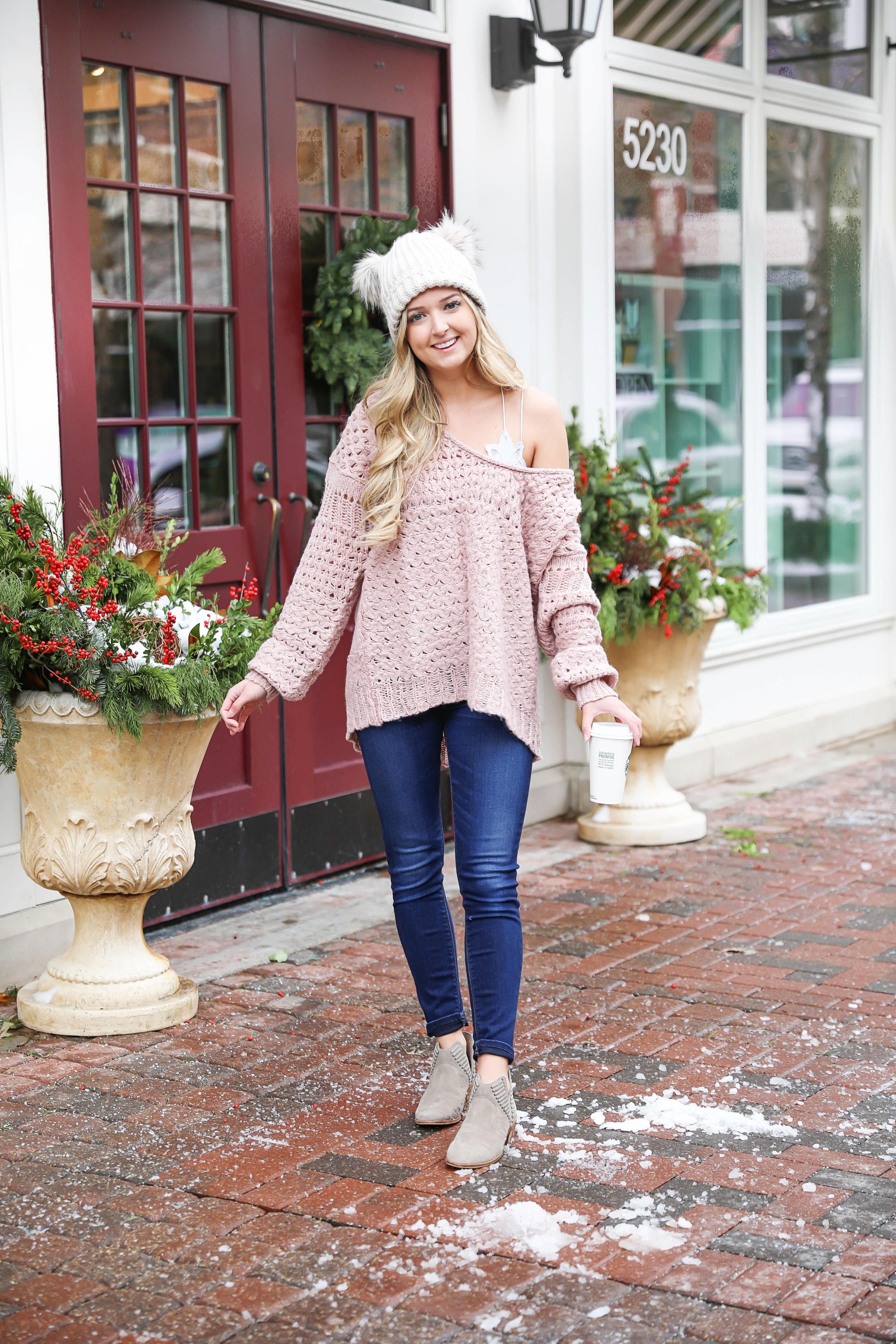 | Slouchy Sweater (40% OFF I am wearing a size small & comes in 7 colors) | Bralette ($38 comes in 13 colors and I am wearing a size small in the color grey) | Dark Denim (ON SALE – similar) | Grey Booties (ON SALE) | White Two Pom Beanie (similar, more linked below) |
This sweater is ON SALE, and so are the jeans and boots! Who doesn't love a good sale?! I shot these quickly yesterday and I am about to shower and put this whole outfit on again. I just love it that much! This is one of my favorite colors right now so get ready to see it quite a bit on my blog.
Shop this Post!
Anyways, happy Friday Eve loves! Talk to you tomorrow!
xoxo,
Lauren Emily Lindmark
Copyright © 2018 dailydoseofcharm.com