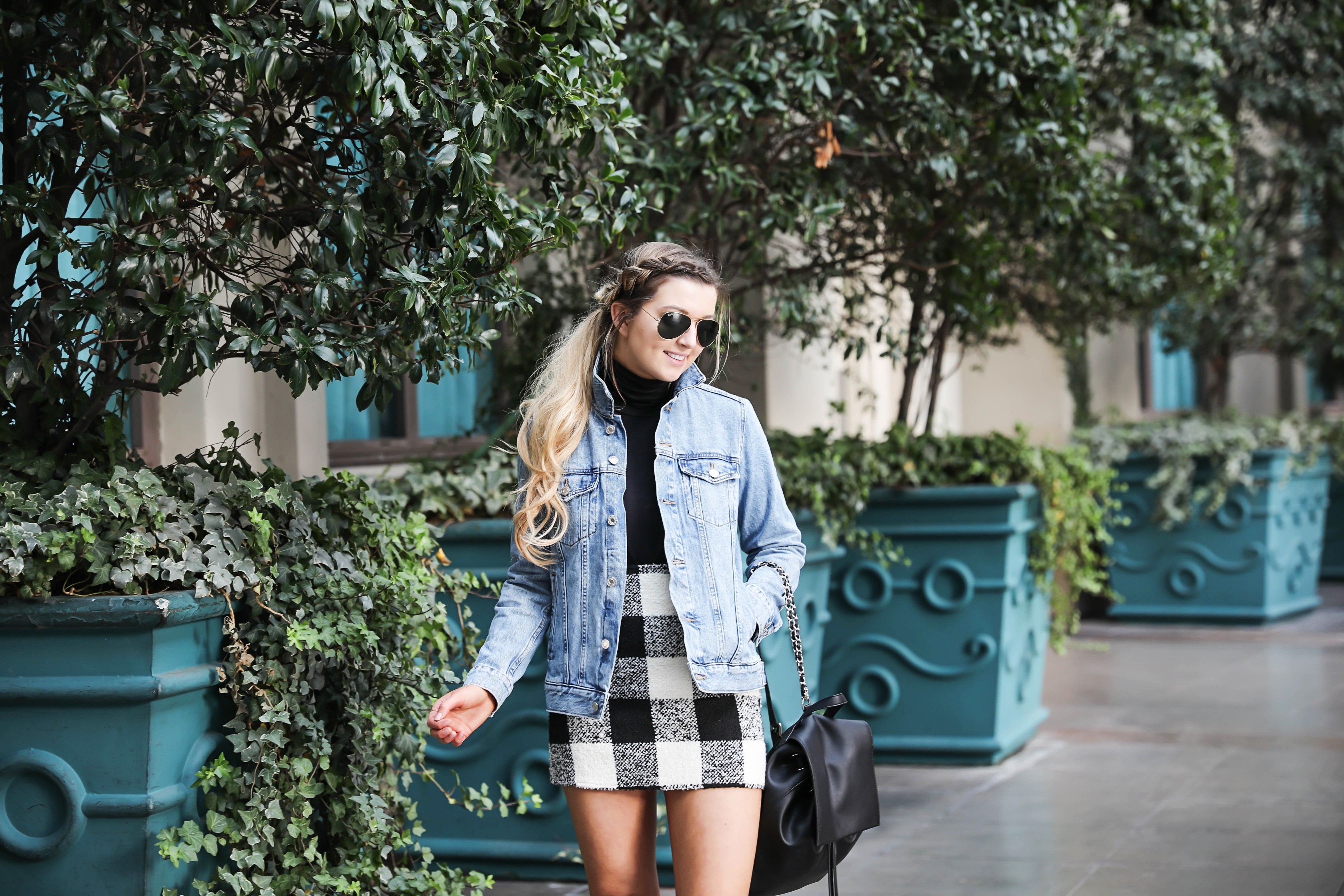 Las Vegas Style | OOTD 📍Venetian Hotel & Casino in Las Vegas, Nevada
So if you haven't caught up with me on my blog or social media, here is a little recap. My family and some family friends were supposed to go to NYC this past weekend and because of the weather we did a little 180º and went to Las Vegas instead! When we decided to switch plans my family and I were already in Knoxville, Tennessee (we are from Kansas City) – so we couldn't go home and repack. Luckily, I really did not pack well for my New York trip, I mean I would have been FREEZING with some of the stuff I brought haha! So a lot of it worked really well in Vegas. This was one of my favorite outfits from the trip. I don't wear enough skirts for how much I love them! So when I saw this one online I decided to order it for my trip!
My plan for this look in New York City was to wear black tights and a coat, but I still would have been so cold with the negative degree weather they are having. So for Vegas, I paired the skirt with a tight black turtleneck and this cute jean jacket! I threw on my Hinge booties which were actually so comfy for all the walking we did! I really love this outfit! I actually didn't own a jean jacket before a few weeks ago which is crazy, I bought this for our trip and I am happy I did because I am going to wear it a ton more! Plus it was really inexpensive!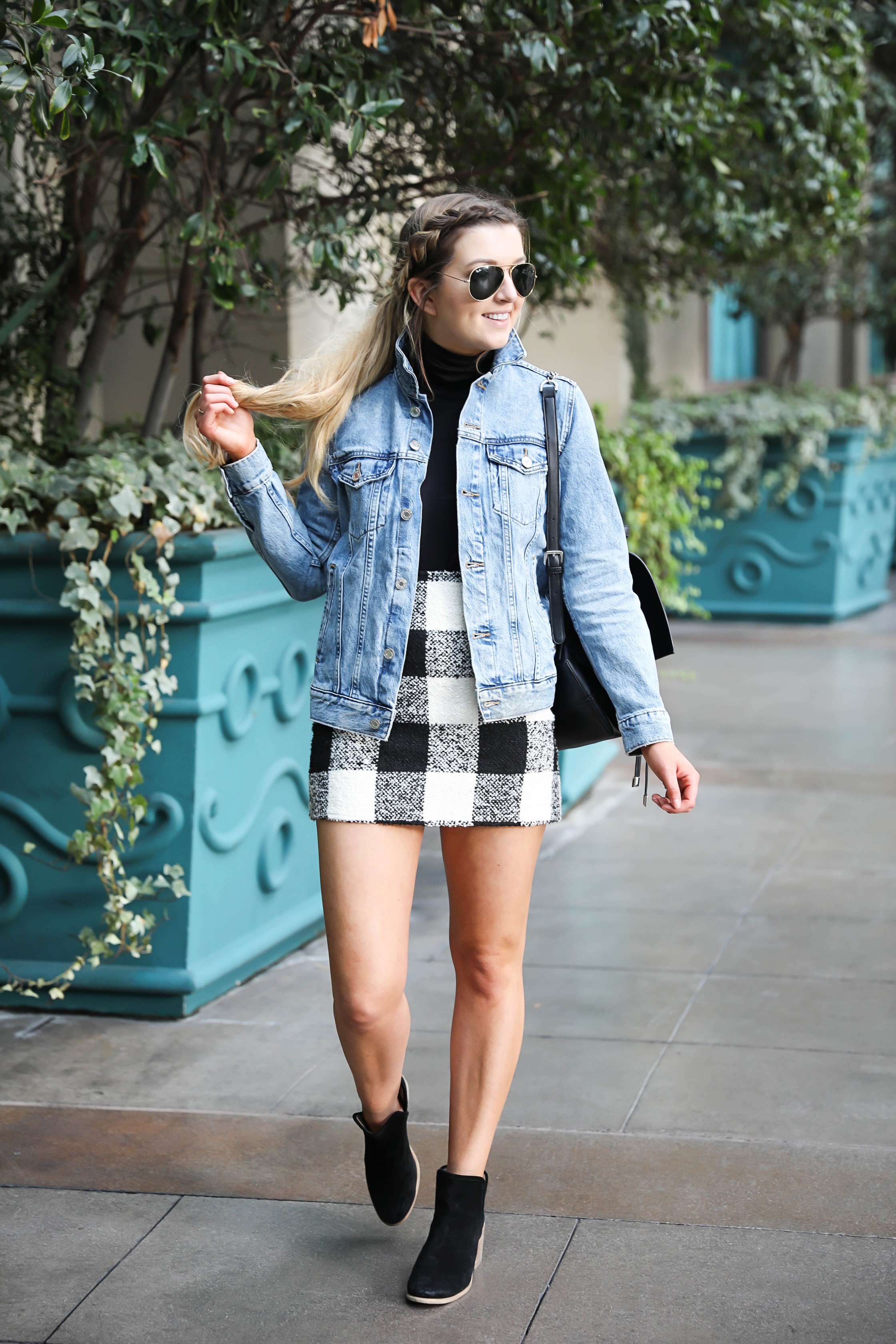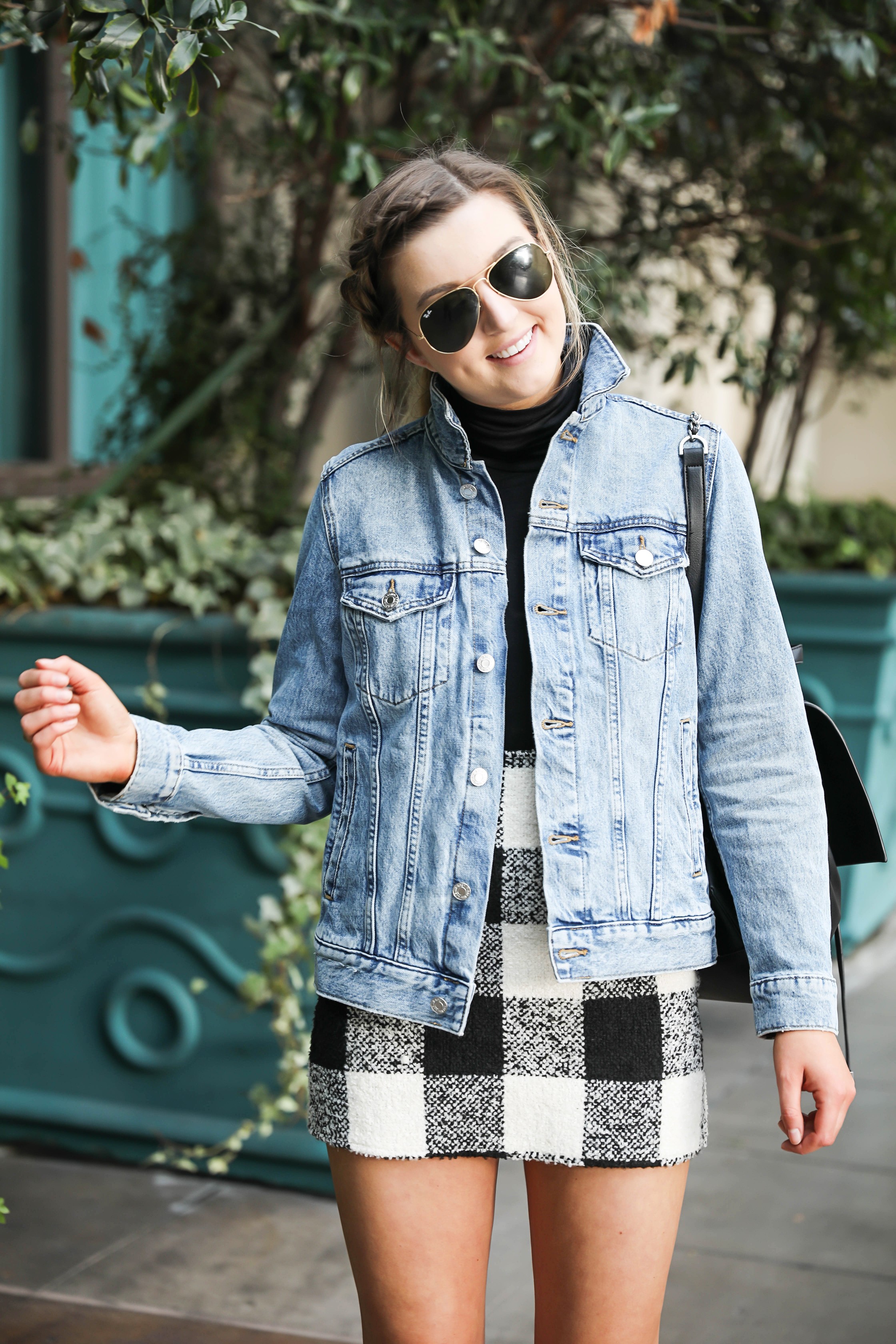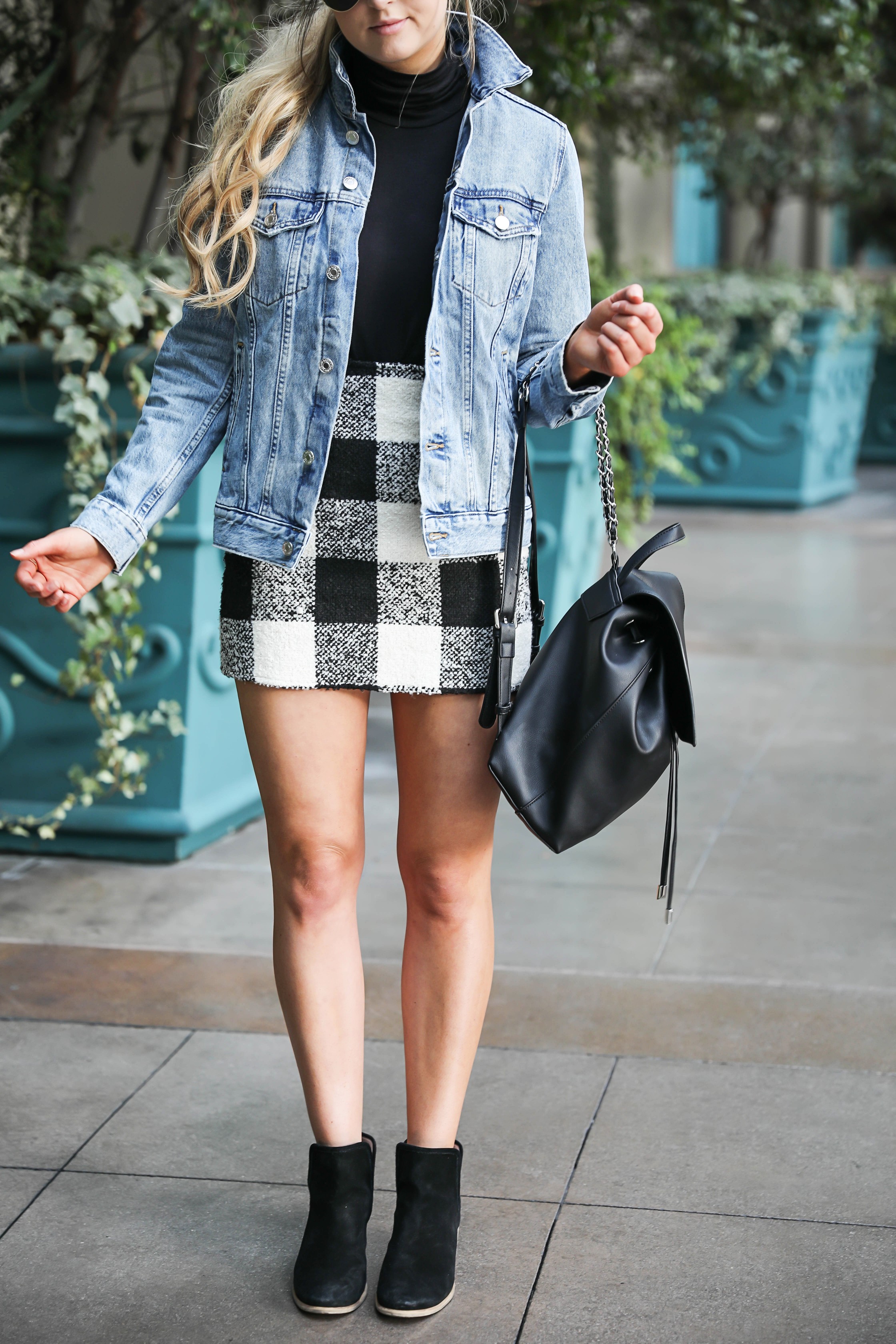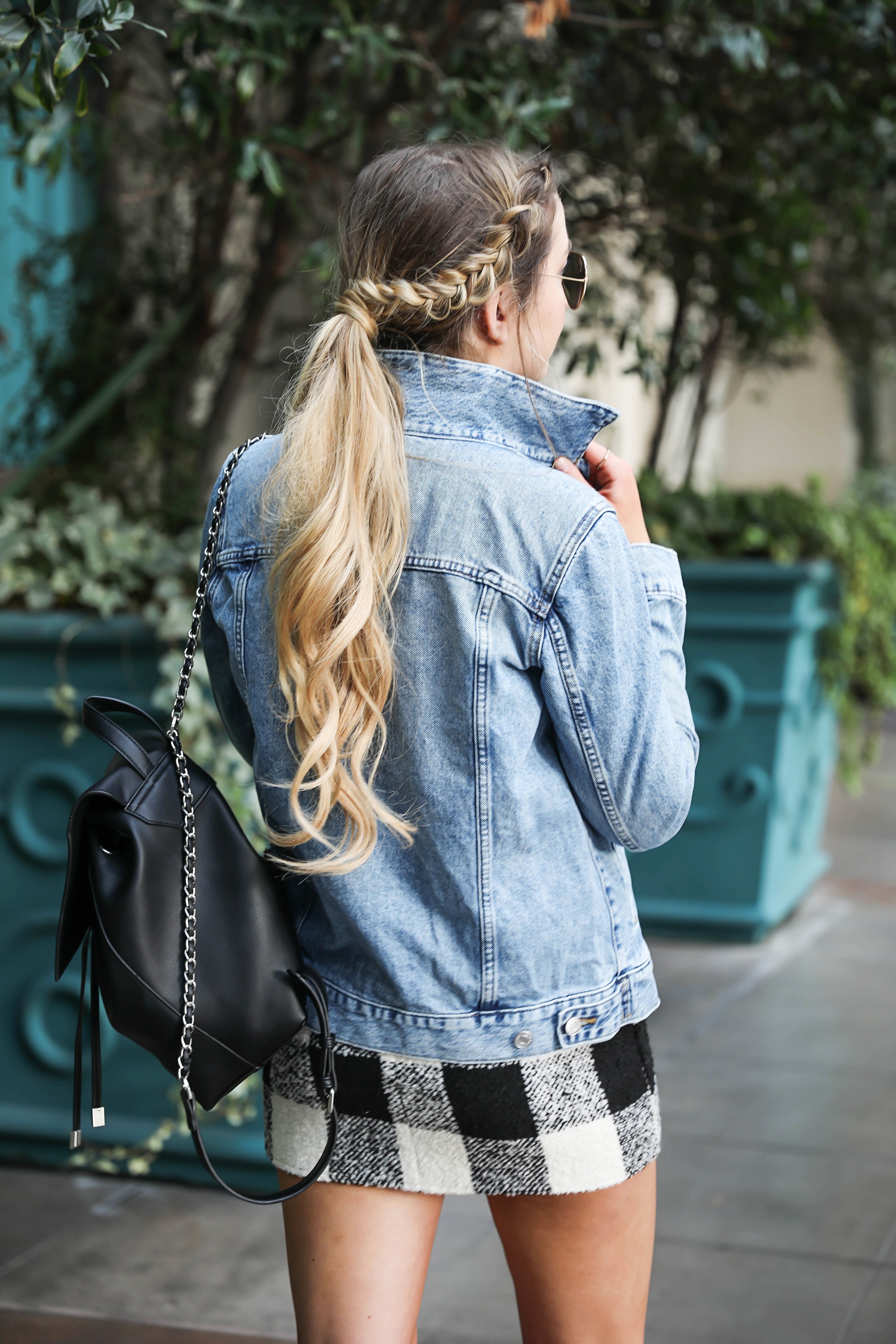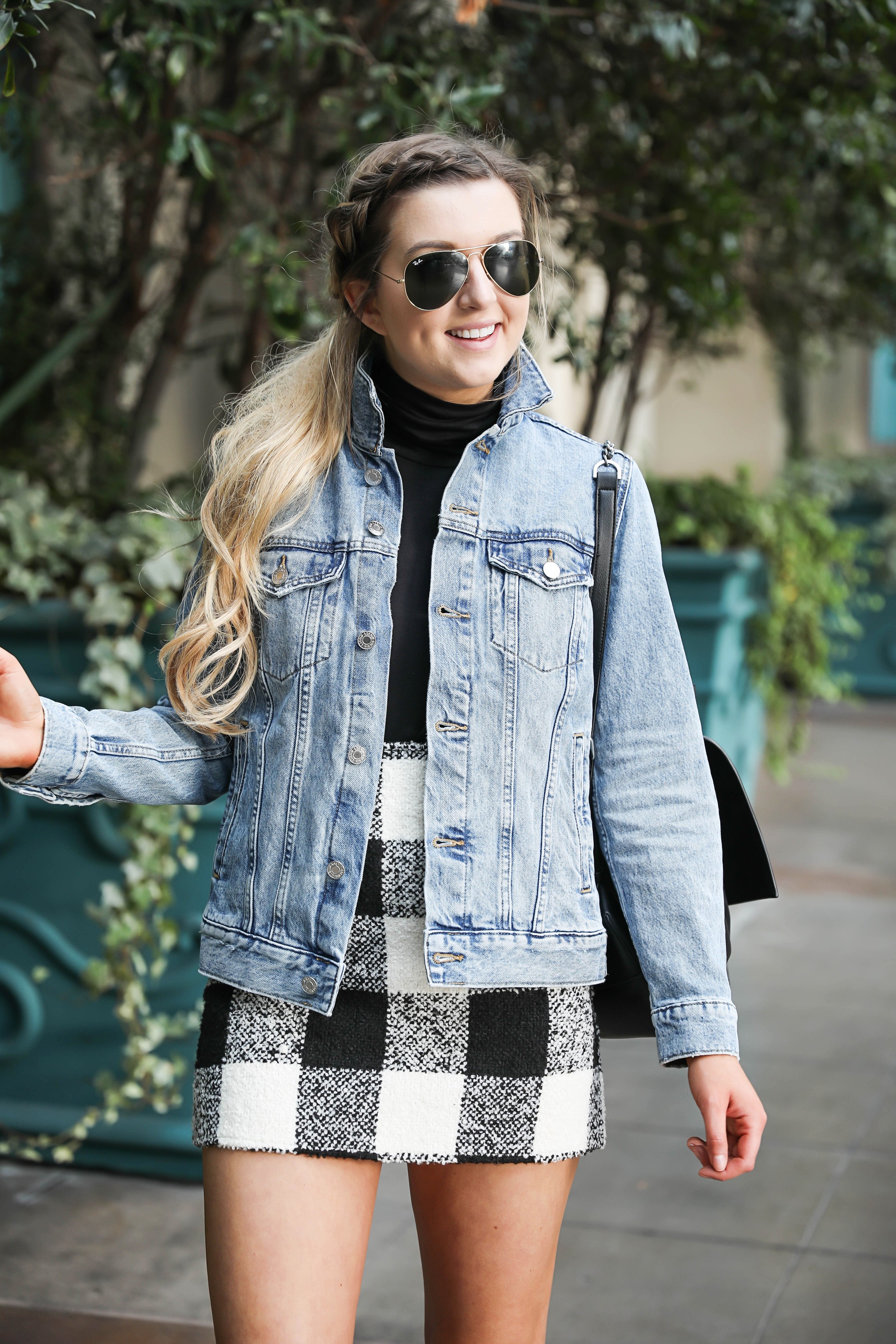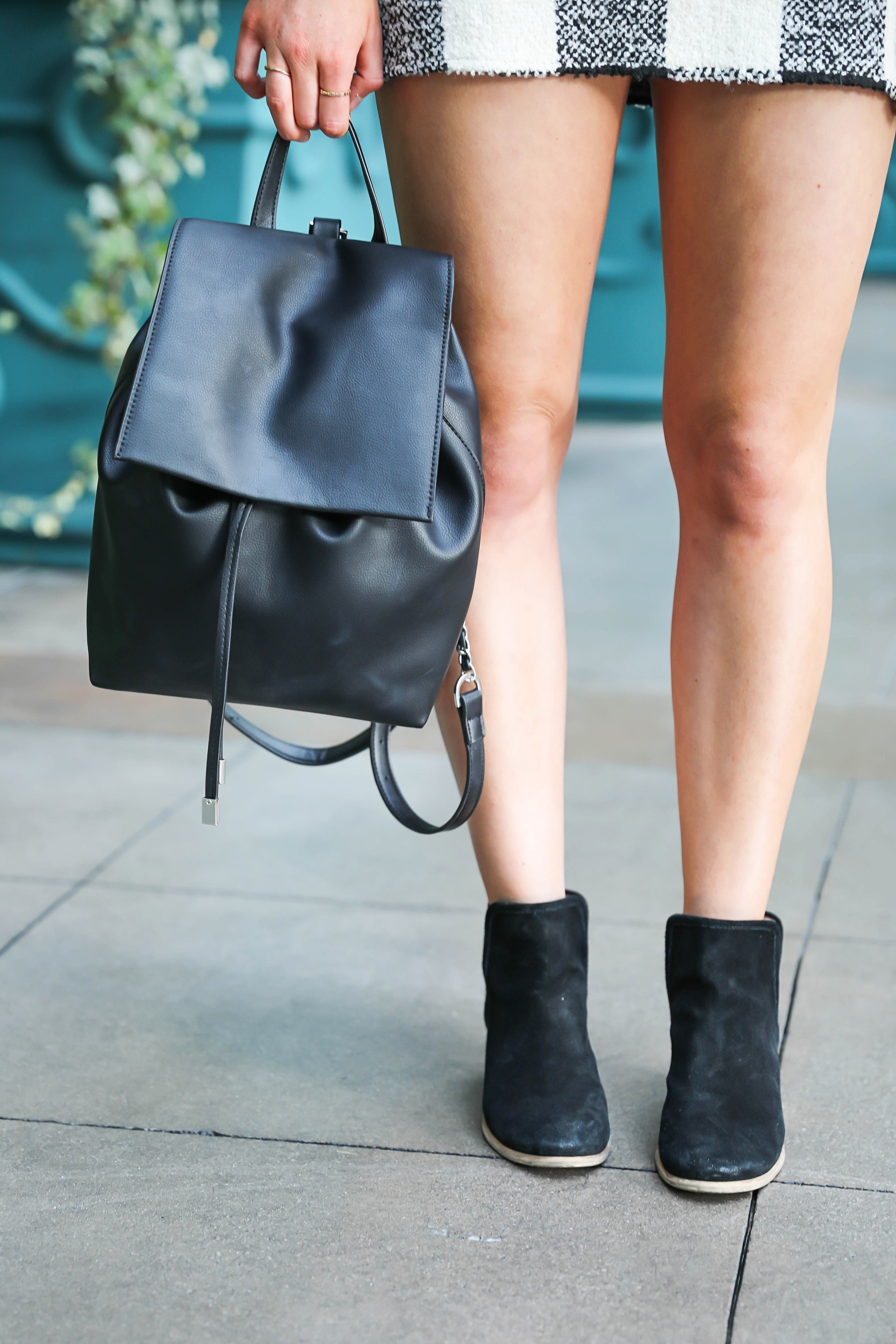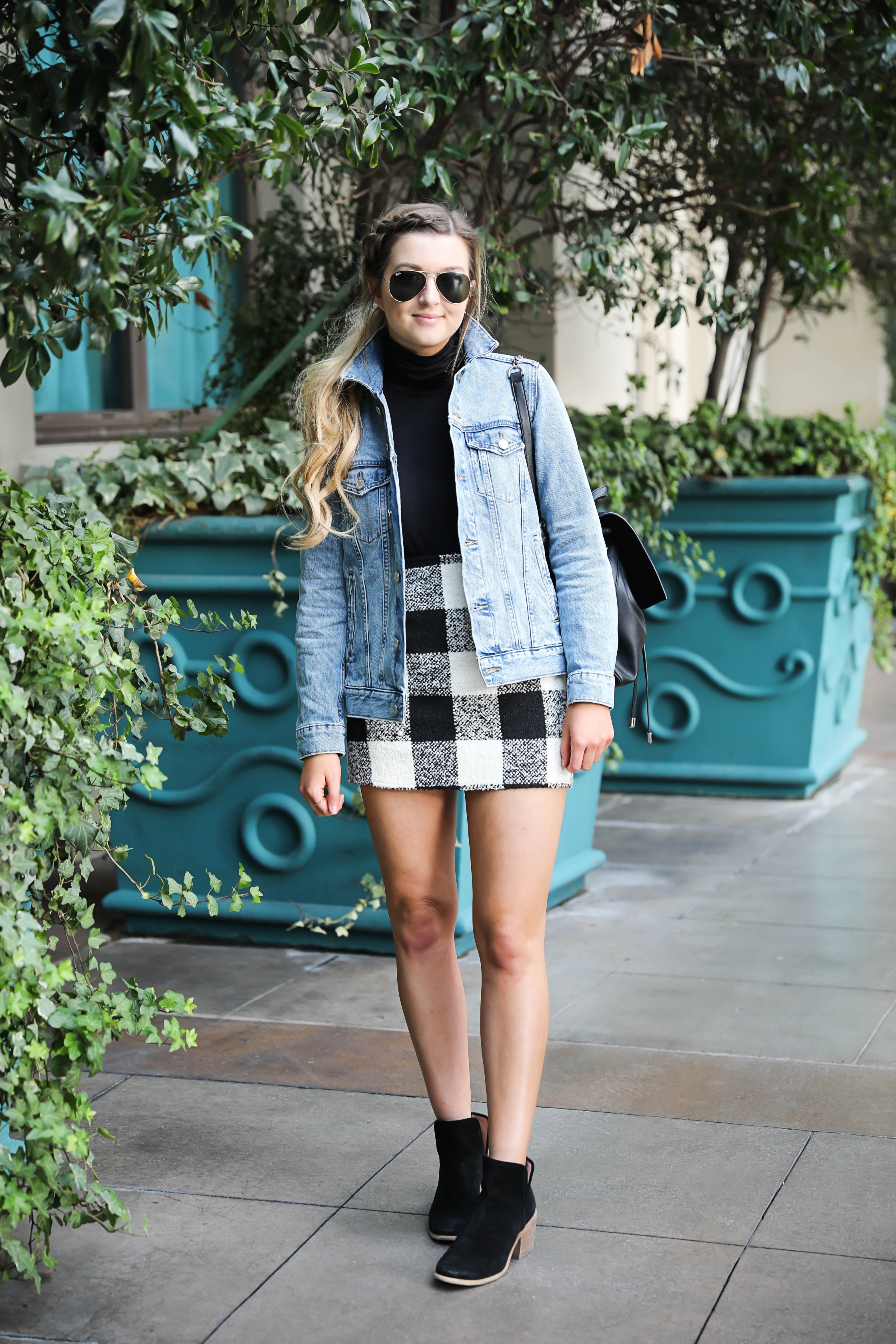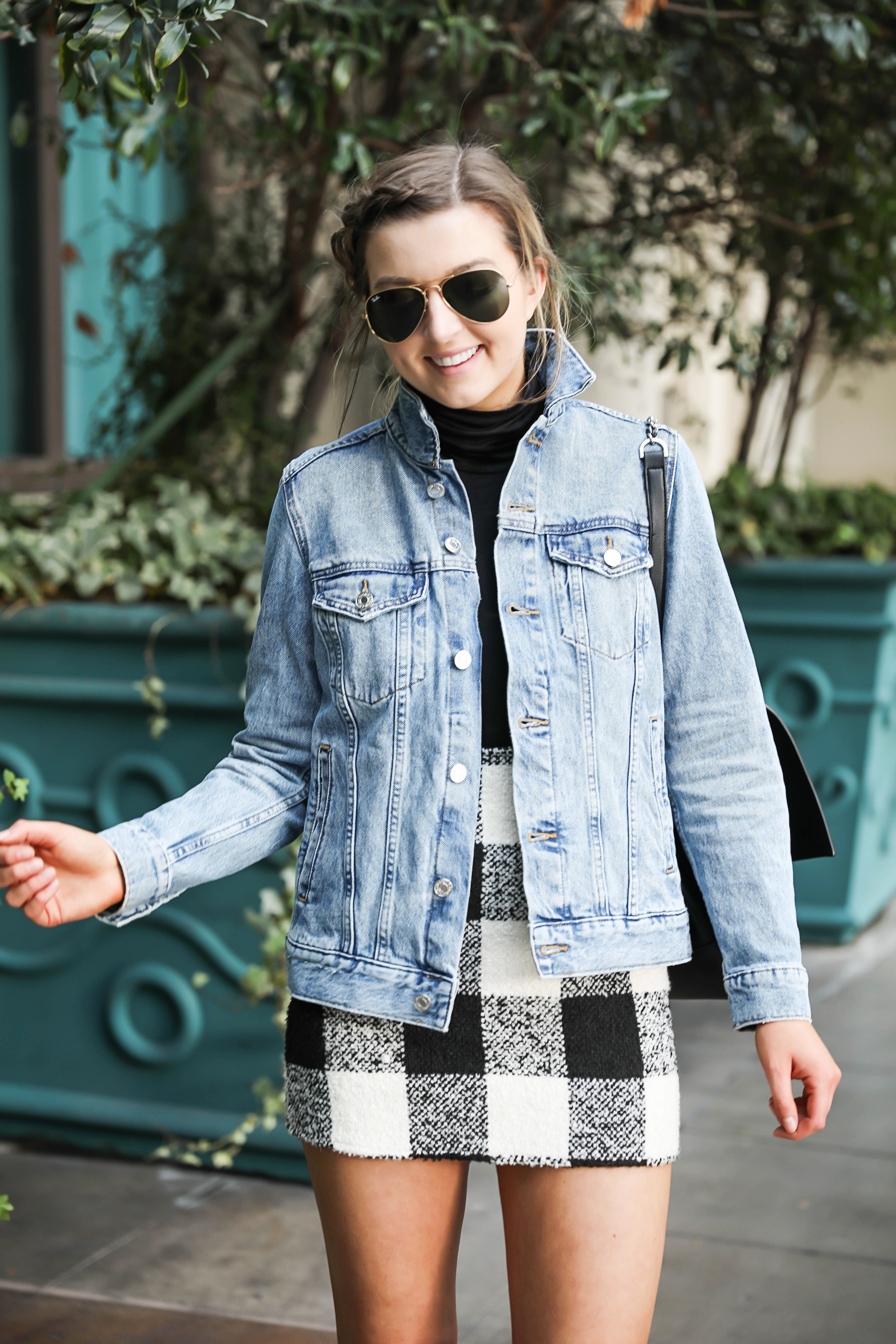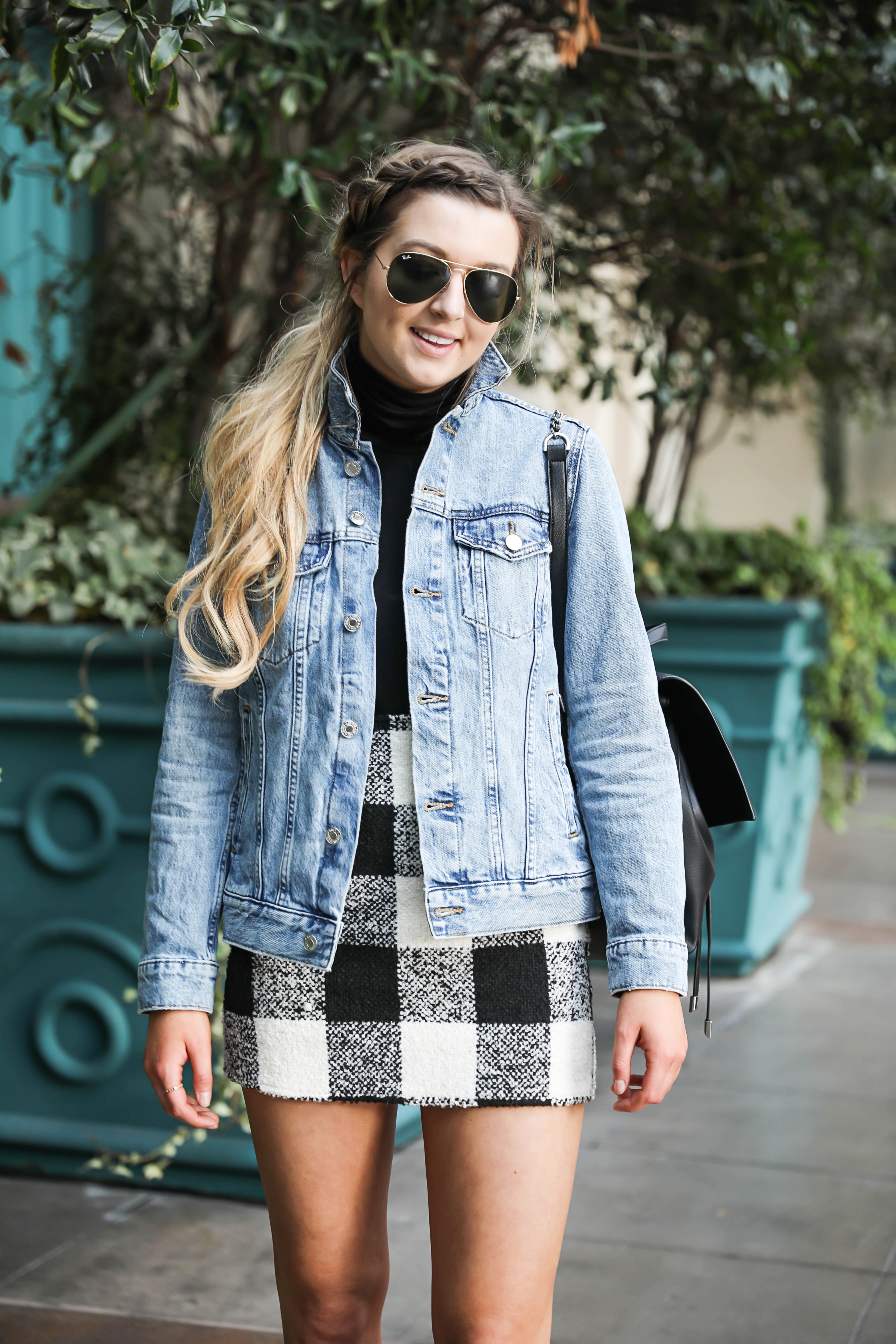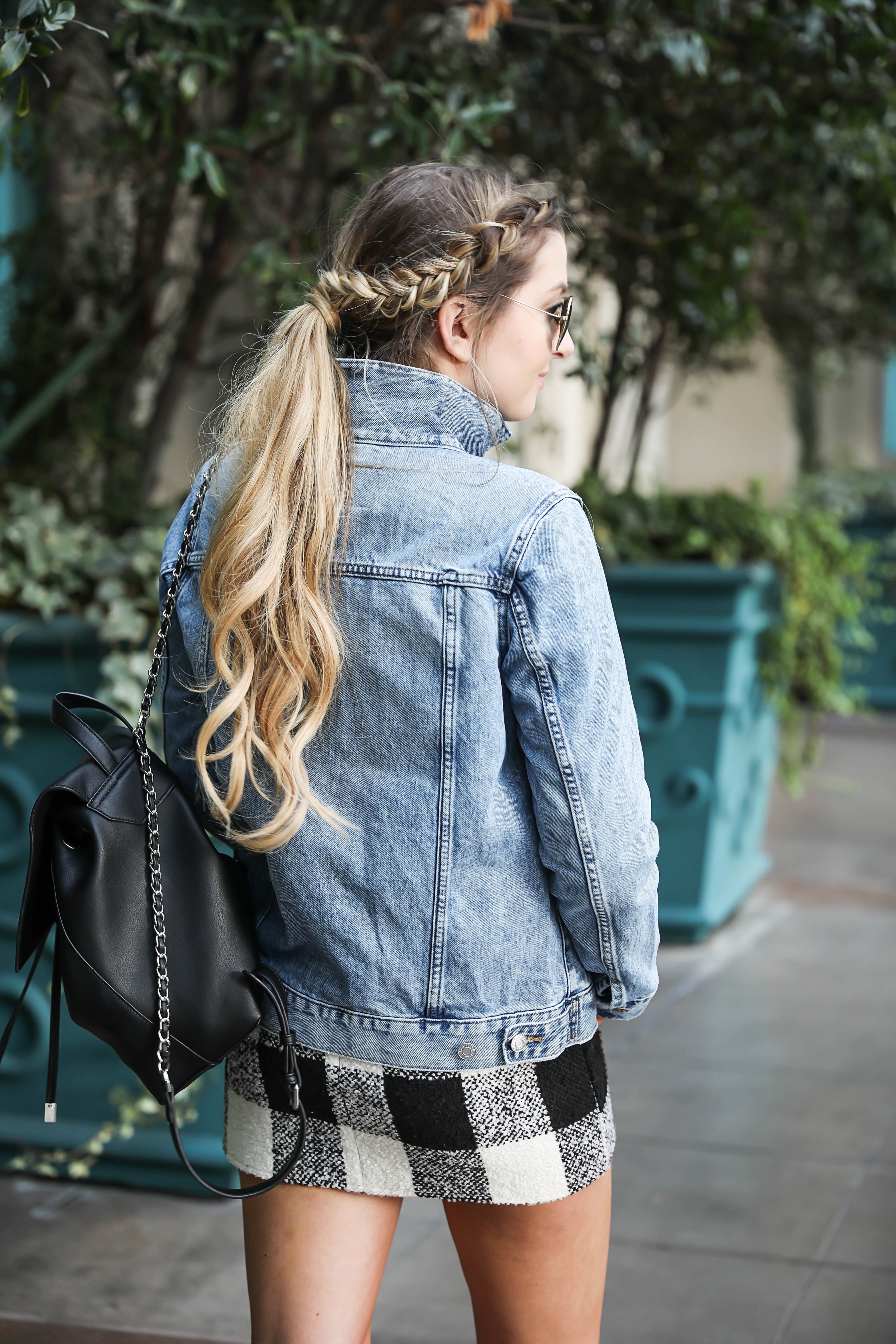 | Jean Jacket (only $40, I am wearing a size 6) | Black Turtleneck ($12 and comes in four colors, another similar here) | Plaid Skirt (only $25 and I am wearing a size small) | Black Booties (similar) | Black Backpack (SALE $20) | Sunglasses |
The day I wore this in Vegas I had breakfast with everyone then stayed behind for an hour to get a few things done. After I was done I called an Uber to meet up with my fam! Now, I have been to Las Vegas plenty of times so I thought I had this city pretty figured out. So when my family told me to meet them at the gondola ride I for whatever reason told my Uber driver to go to Caesars Palace instead of the Venetian. *face palm* I got out of the Uber, walked in, and immediately realized what I did. So, I had to call another Uber and go to the right casino haha! If you've been to Vegas you are probably wondering why I didn't walk, but I just wanted to get there as fast as I could.
Regardless, it was a really fun day of exploring! I had been to Vegas quite a few times but never done the "touristy" things so it was fun to go with a family that had never been and get the chance to experience the city like it was the first time!
xoxo,
Lauren Emily Lindmark
Copyright © 2018 dailydoseofcharm.com