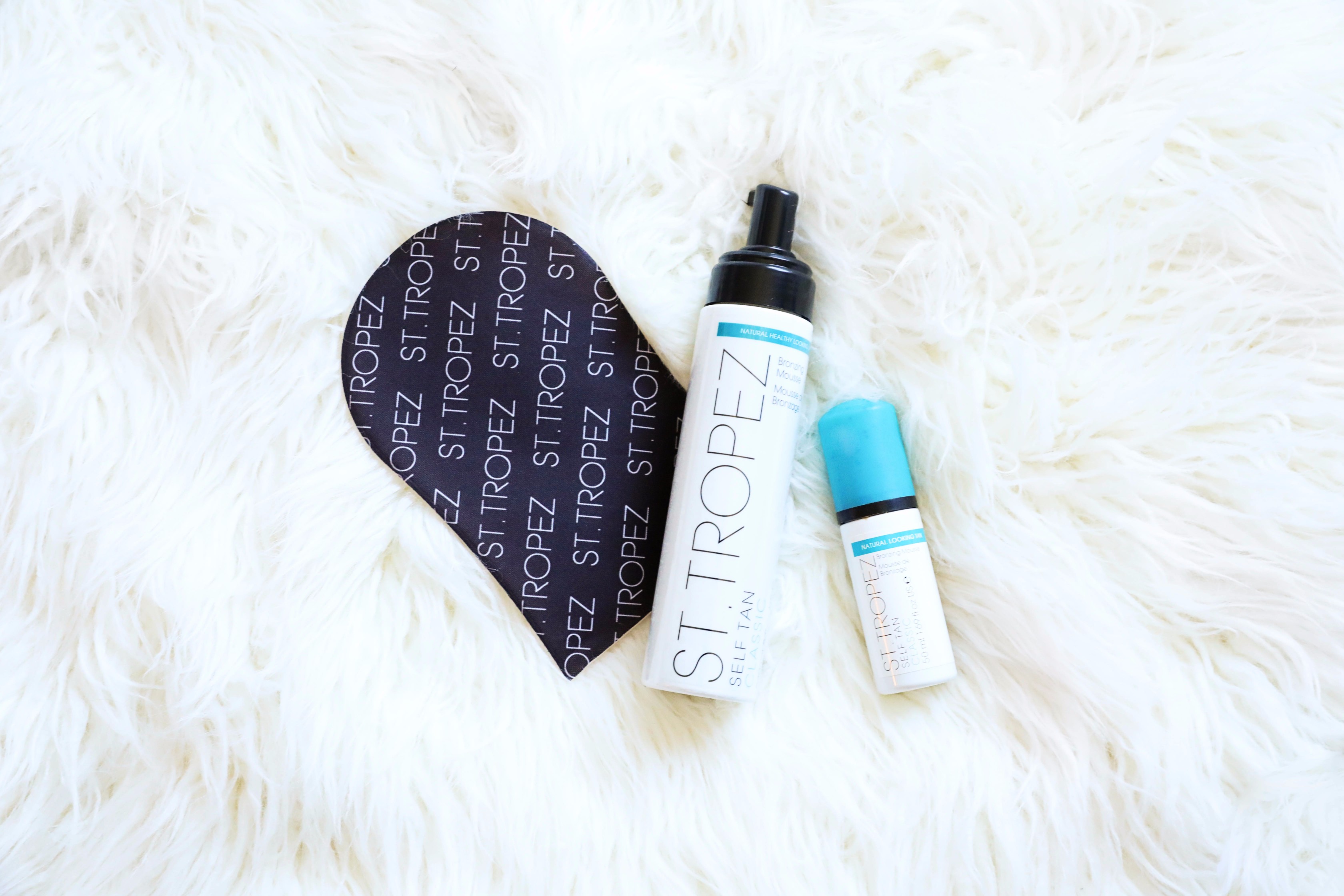 My Tanning Routine and Tips | How I Stay Tan in the Winter
I probably get asked what tanning lotion I use at least once a week! I realized I have never made an official post about my tanning process, so I figured it was time!
The high school I went to was notorious for fake tans, people called us the orange school haha! I started getting spray tans my freshman year and never looked back. Well, up until junior year when I made the dumb decision to switch to tanning beds… I used those for a few years before I finally realized how unhealthy they were and stopped. Having a natural glowy tan is great, but not worth the risks that come with it. So I started using Jergens foam to get tan the healthier way. Tanning foams and lotions have really come a long way in the last few ways, a lot of the tans are green based now so they don't show up orange. Now I religiously use St. Tropez because it gives me the best, most natural looking results!
For the record the before after photos were taken on my phone because I didn't have anyone to help me take the pics, so that's why these look grainy! However, you can really see the different when I am pale vs. tan! These photos were taken just a few minutes apart. The tan progressively will get a little darker as it sets.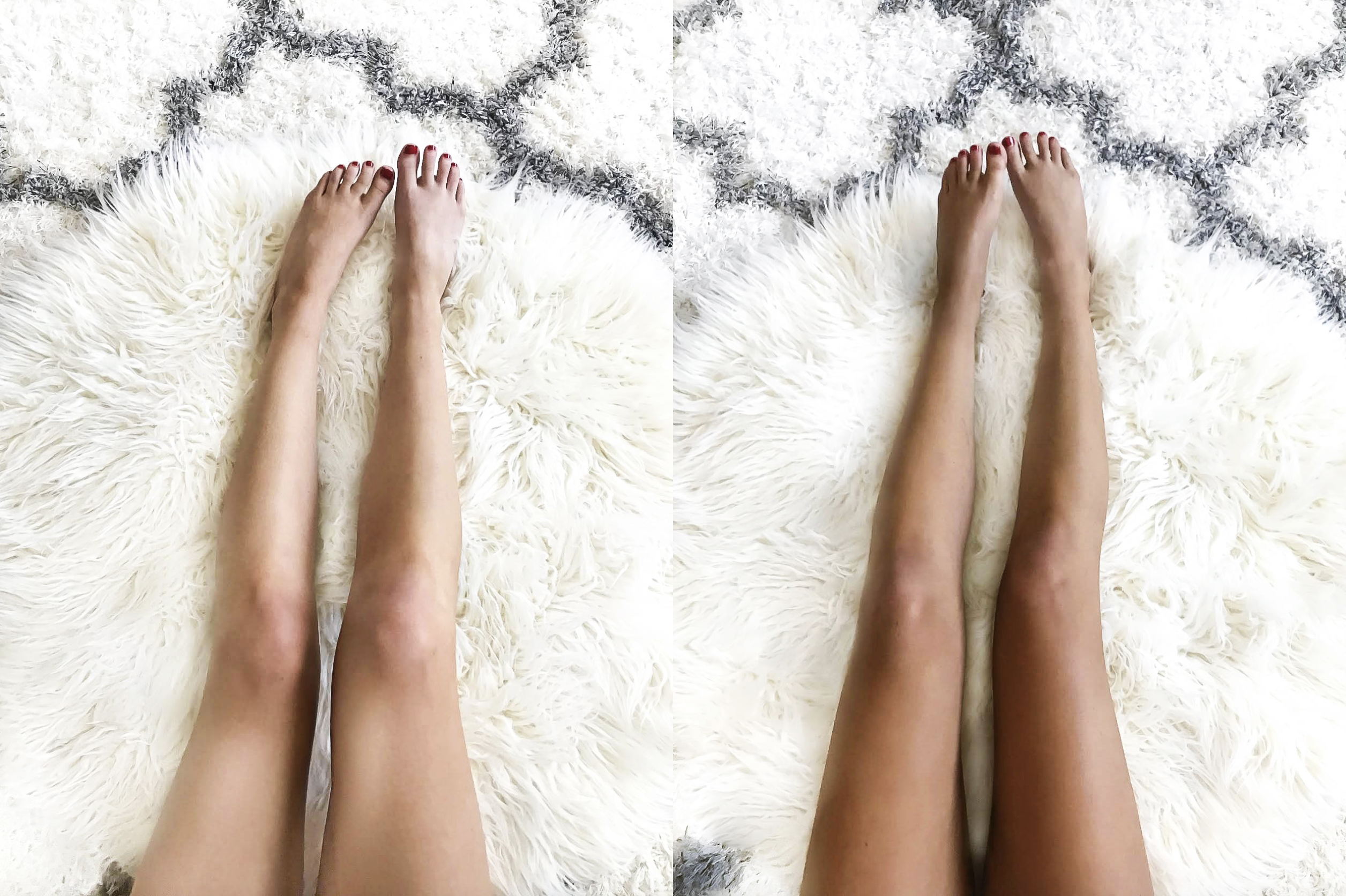 | My Tanning Foam | My Tanning Mitt | My Exfoliating Brush (SALE $4) | My Exfoliating Scrub ($4) |
My Steps to Tanning!
1. Shower, Exfoliate, & Shave.
I always shower and shave before I tan because it gives me the most even look. Depending on how often I tan I don't exfoliate every time. I can usually tell when I need to exfoliate because my skin will start looking splotchy or areas around my knees and ankles will start looking really dark.
2. Dry Off and Moisturize.
After I am 100% dry after my shower I put some lotion on my knees, ankles, bottoms of my feet, elbows, and hands. Those are the areas that are most likely to look dark because they are more dry, the lotions helps it look even!
3. Tanning.
I use a mitt to tan because it helps protect my hands and gives me an even result. I put some foam on the mitt and buff the product in the my skin in circular motions. I start on my legs, they do my feet, back, stomach, neck, then arms and hands last. Every once in awhile I will tan my face and wash it an hour later, but I usually just use darker make up to match.
4. Let it Dry.
After I tan I usually walk around naked for a good 15 minutes to let the tan set. It isn't an issue if you need to get dressed sooner than that, I just hate the sticky feeling. The following days I moisturize my skin to keep the tan looking darker longer.
Q&A
What time of day do you tan, before bed or during the day?
I always tan in the morning. I used to only do it before bed and for some reason I don't think the tan comes out as even because of how I lay at night. I like to tan in the morning so the tan sets all day as I get things done and it also helps my hands not be as dark because I will wash them throughout the day!
How often do you tan?
I usually tan two or three times a week, depending on what I have going on. I like the color to be dark so that is why I do it more frequently.
Does it stain your clothing or sheets?
Sometimes my sheets will start looking a little pink or if I put clothes on too soon after I tan the inside will look brown. However, it has always washed out! The only thing that has ever stained for me is bras.
How soon do you shower after you tan?
I usually like to wait 24 hours to really get the tan to set, however, I have also tanned 12 hours later and the tan still looks good!
How soon do you put deodorant on after you tan?
I try to wait as long as I can (about an hour), however, I still haven't quite figured out the magic trick when it comes to tanning and deodorant. I feel like my armpits always end up looking white afterwards. Let me know if you have tips!
What do you use to exfoliate?
I will put a photo of what I use, I used to use just a plain loofa but recently got the brush and it works so much better! I wouldn't use it more than once a week though because it is pretty rough. Like I said above, I don't exfoliate every time I tan though!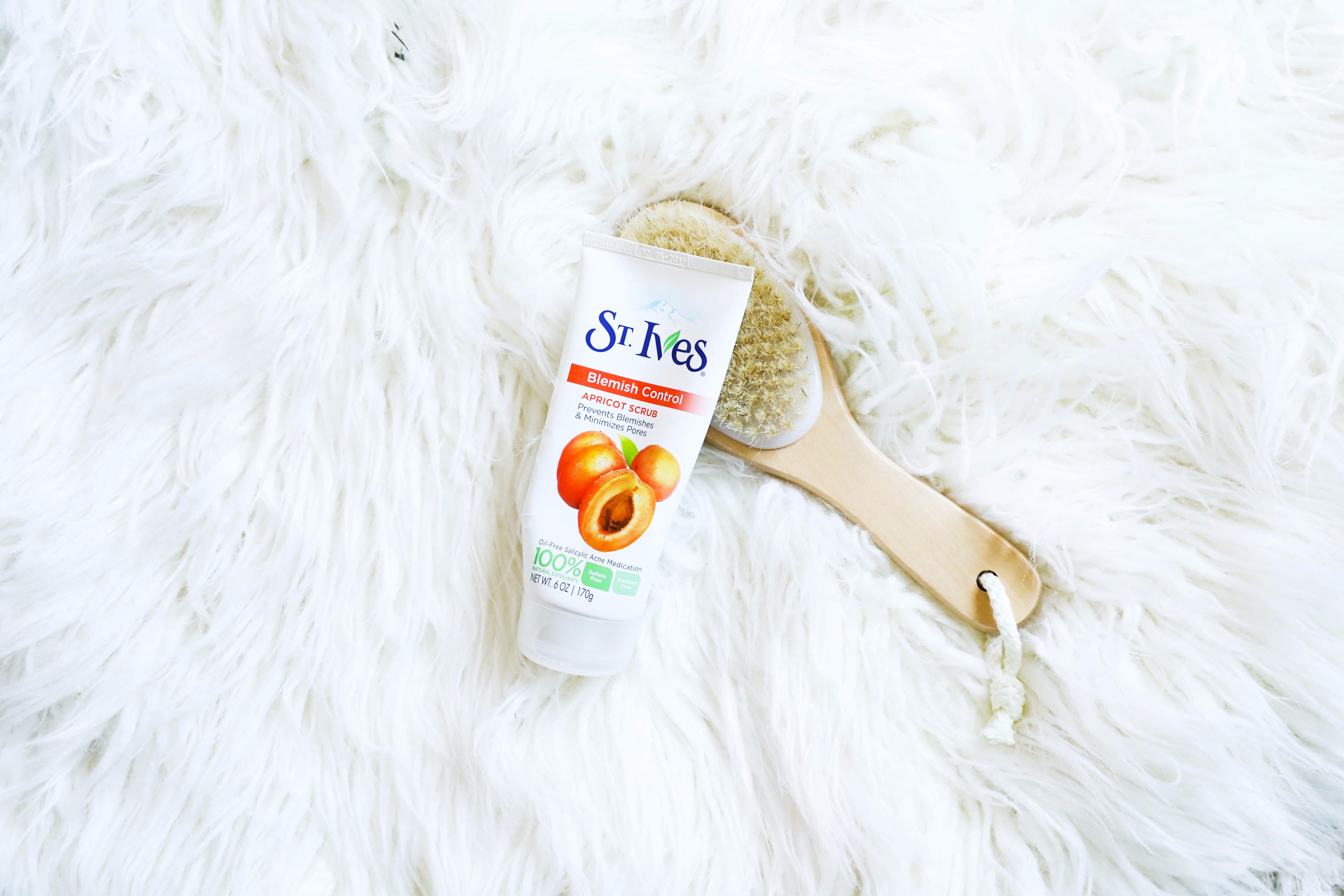 Let me know if you have any questions I didn't cover or leave some of your tanning tips below!
xoxo,
Lauren Emily Lindmark
Copyright © 2017 dailydoseofcharm.com