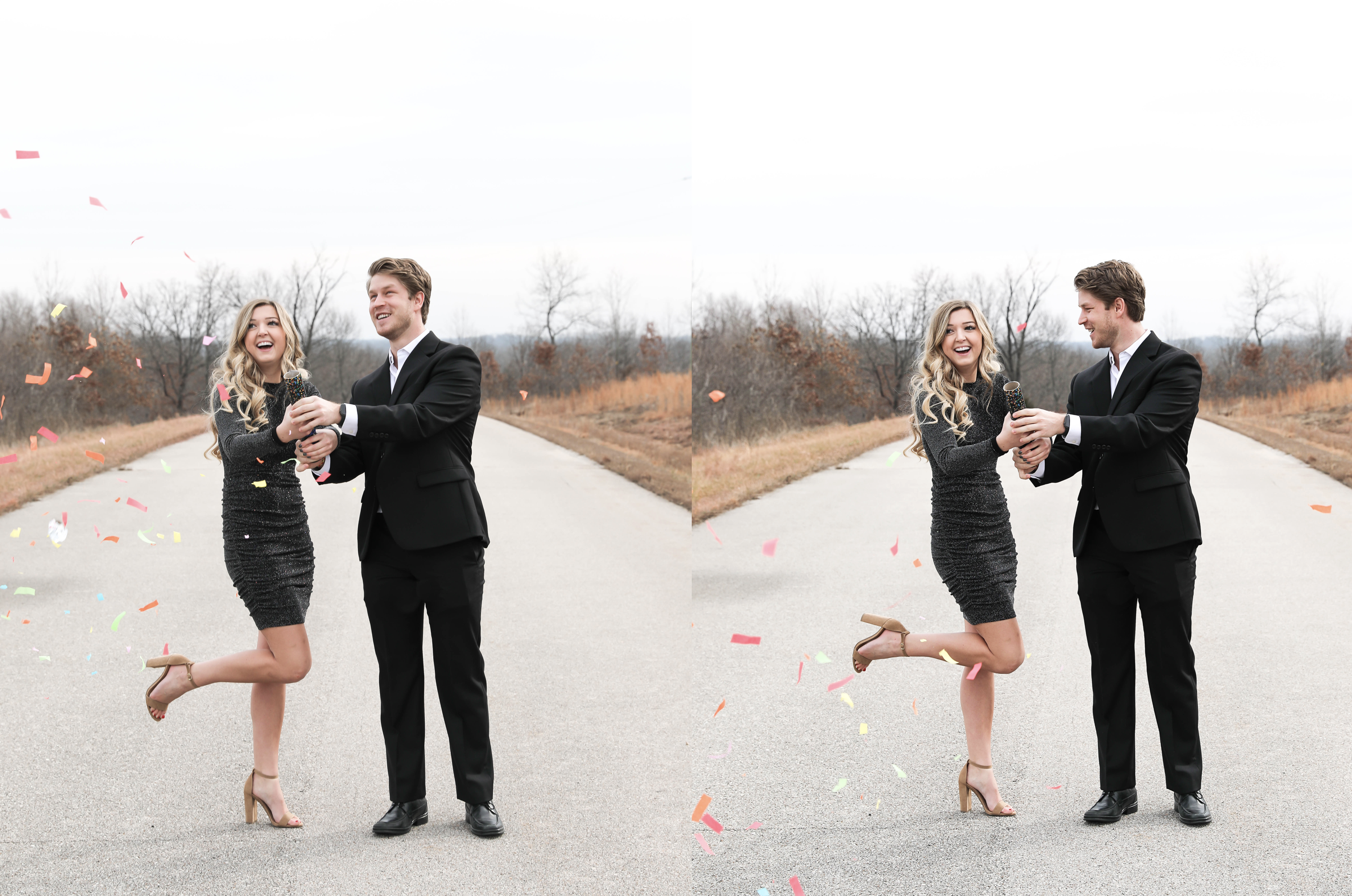 NEW YEAR'S EVE | How I Met My Boyfriend One Year Ago (STORY)
Happy New year's Eve! I honestly can't believe it's already here, this year has flown by! 2018 was one of my best years yet, you can read my recap here if you missed it! Like any year, it was filled with some ups and downs, but I learned a lot and wouldn't have changed a thing!
For today's posted I wanted to bring you guys back to exactly one year ago on last year's New Year's Eve, the day I met my now-boyfriend! I was going to do a Q&A with him for this post, but he has work all day and we didn't get that done this weekend (oops) so we will be doing the Q&A portion on my Instagram stories later!
Big thanks to him for being a trooper and taking these photos with me! A lot of you guys asked in my Q&A how supportive he is of my blog and if his "Daily Dose of Cam" account was his idea. He is SO supportive, I feel really lucky for that. The DDOCam account was all his idea, but he uses it to troll people more than anything haha! So big thanks to him for letting me drag him out to this lake road to take photos (on a Sunday, I might add).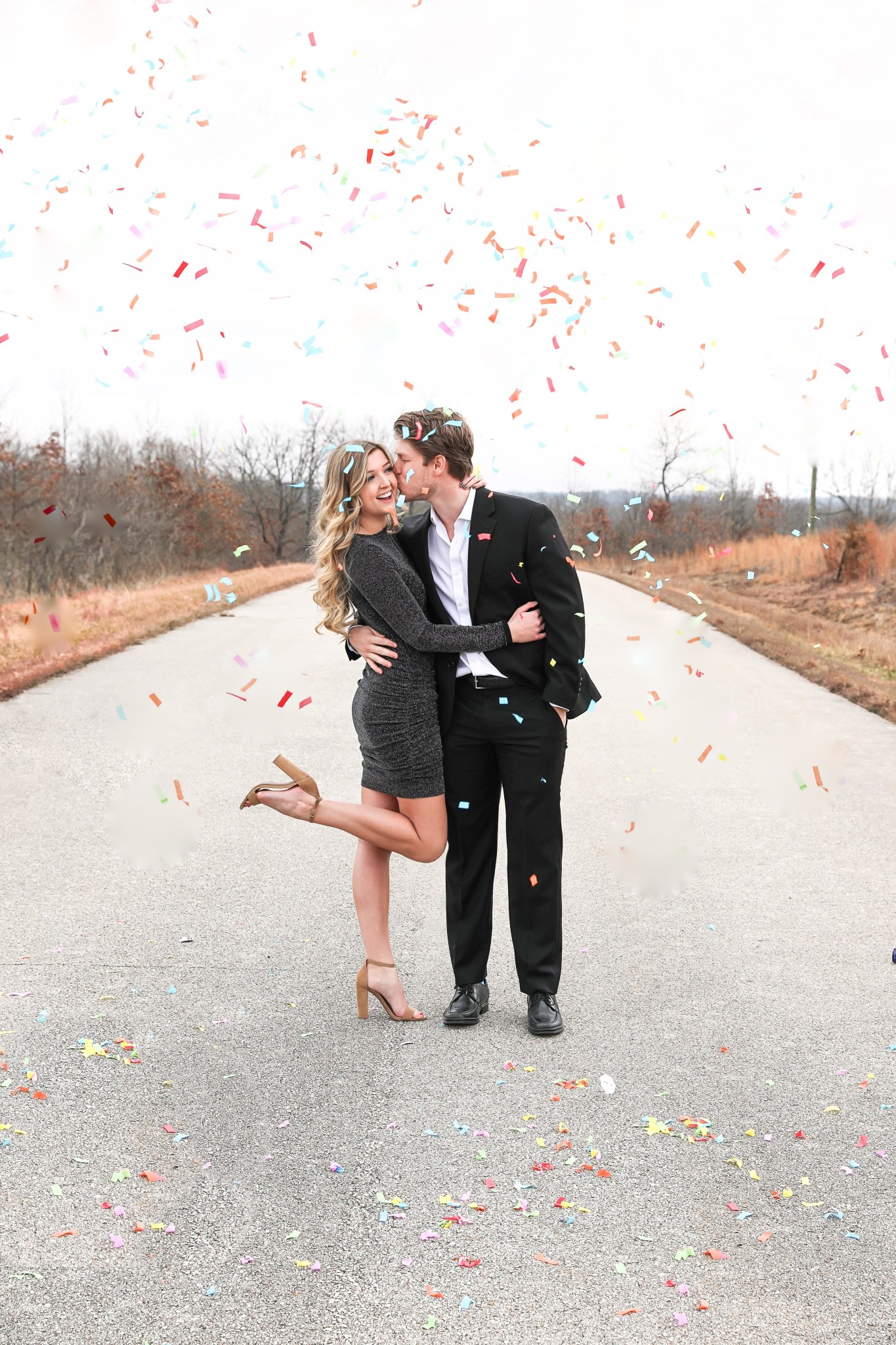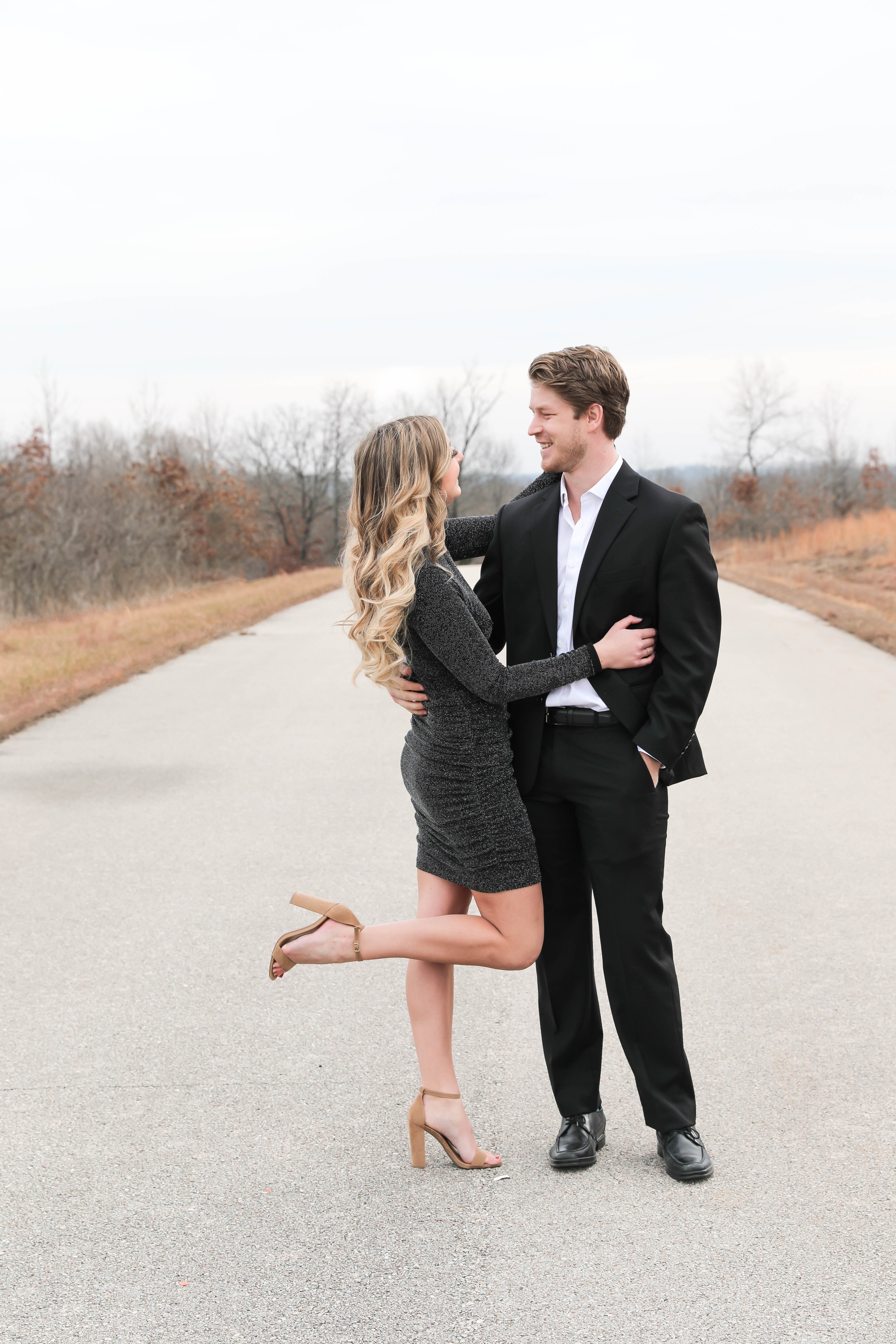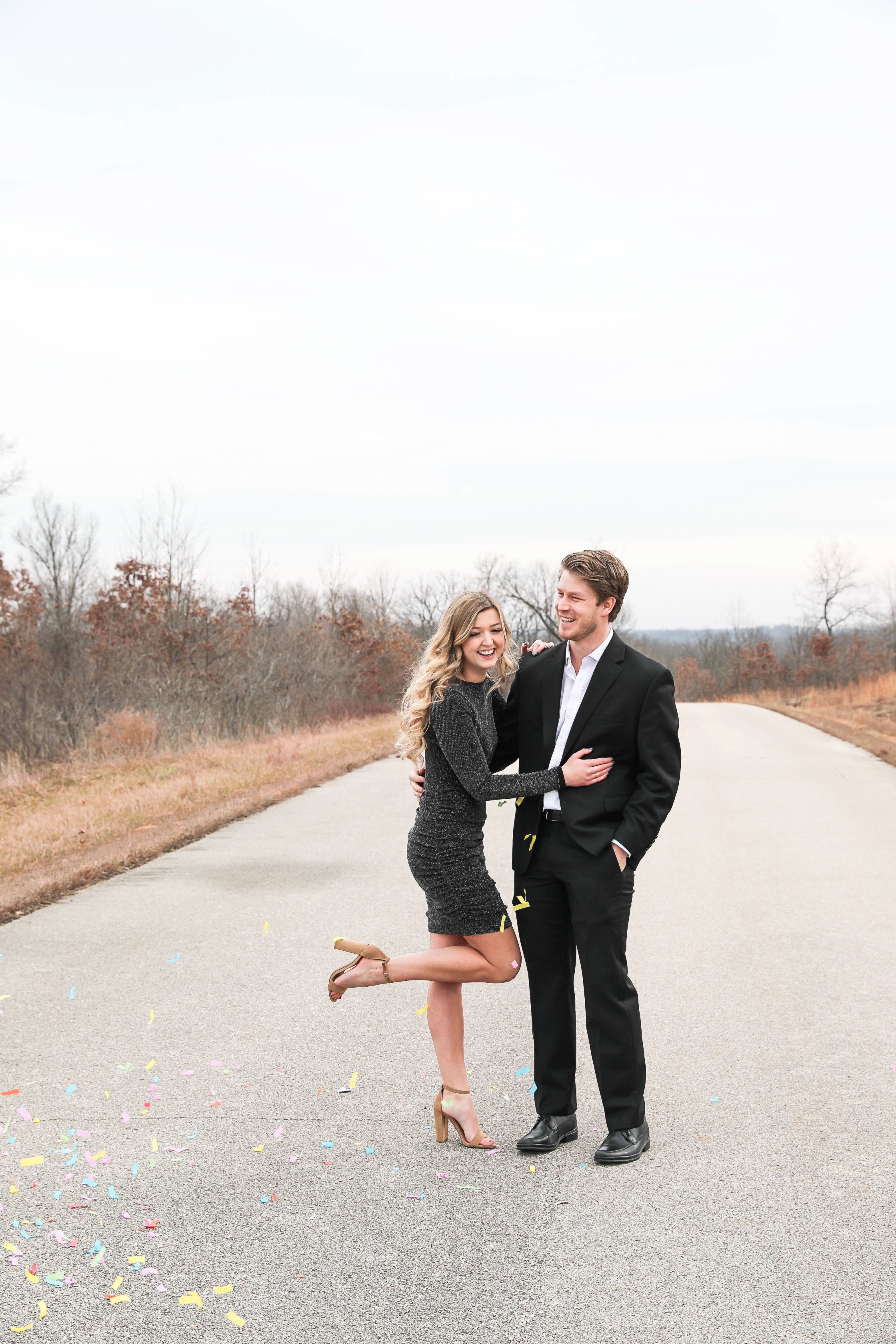 So rewind to December 31st, 2017. I'm sitting in my room dreading having to make any kinds of plans for that evening. To be honest, I have never had one of those "amaaazing" New Year's Eves that everyone talks about. I didn't have high hopes for the night, but my best friend Grace and I agree on going bar hopping in Westport (a fun area near downtown KC). I send her back a classic Lauren text, "can we just dress sort of casual?" then put on a black sweater and threw my hair in a half-assed fishtail braid. Not knowing I should've looked way cuter!
Grace and I get to our first bar, our favorite "pregame" spot, The Brooksider. Her and I are sitting there drinking our cheap bottle of wine and chatting when she stops me and pointed out two guys walking in. Grace is a manager at a yoga studio so she knows pretty much anyone and everyone in the fitness world, one of the guys that had walked in worked at a fitness studio she knew of. I look up and my eyes are immediately drawn to the two guys – one of which, spoiler alert, is Cam.
We start talking about the both of them and the bartender and Grace somehow convince me to buy us all shots and have two sent over to the guys across the bar. It may have been the liquid courage I had already been drinking or the peer pressure from Grace and the bartender – but I thought, why not? And sent them over.
The guys took the drinks, gave us a little air "cheers!" then drank them…aaaand didn't come over. Grace and I, feeling slightly rejected by them not coming over, turned away and scoped out two other guys sitting on the right side of us and decided the only logical thing to do was to buy them drinks. Ya know? Act like we're just sending drinks to everyone in the bar? Our poor egos…
Just as the bartender is passing out all our drinks I hear someone to the left of me, I turn around and there he is! Cameron introduces himself to me and I'm sure I very awkwardly greeted him back. I am so not smooth, I get so nervous around guys and Cameron was definitely the most attractive guy that had ever talked to me. He sat down next to me and we ended up talking for hours (side note, I later found out that they had taken awhile to come over because they had to close their tab before moving from the tables to the bar. They had been leaving and coming back and I guess they annoyed the waitress at some point haha)! Grace and I never ended up leaving that bar because I was so deep into conversation with Cam.
Cam and I spent all night with each other (including watching the ball drop), but at the end of the night I lost him after I went to the bathroom. I went home that night without getting to say goodbye to him, and I honestly didn't think anything would come from the night! I still joke with him that I just thought he was just some nice guy giving me the time of day because there was nothing else to do at the bar! To my surprise, the next morning I woke up to a DM from him asking for my number, I was so excited I went into my mom's room and told her!!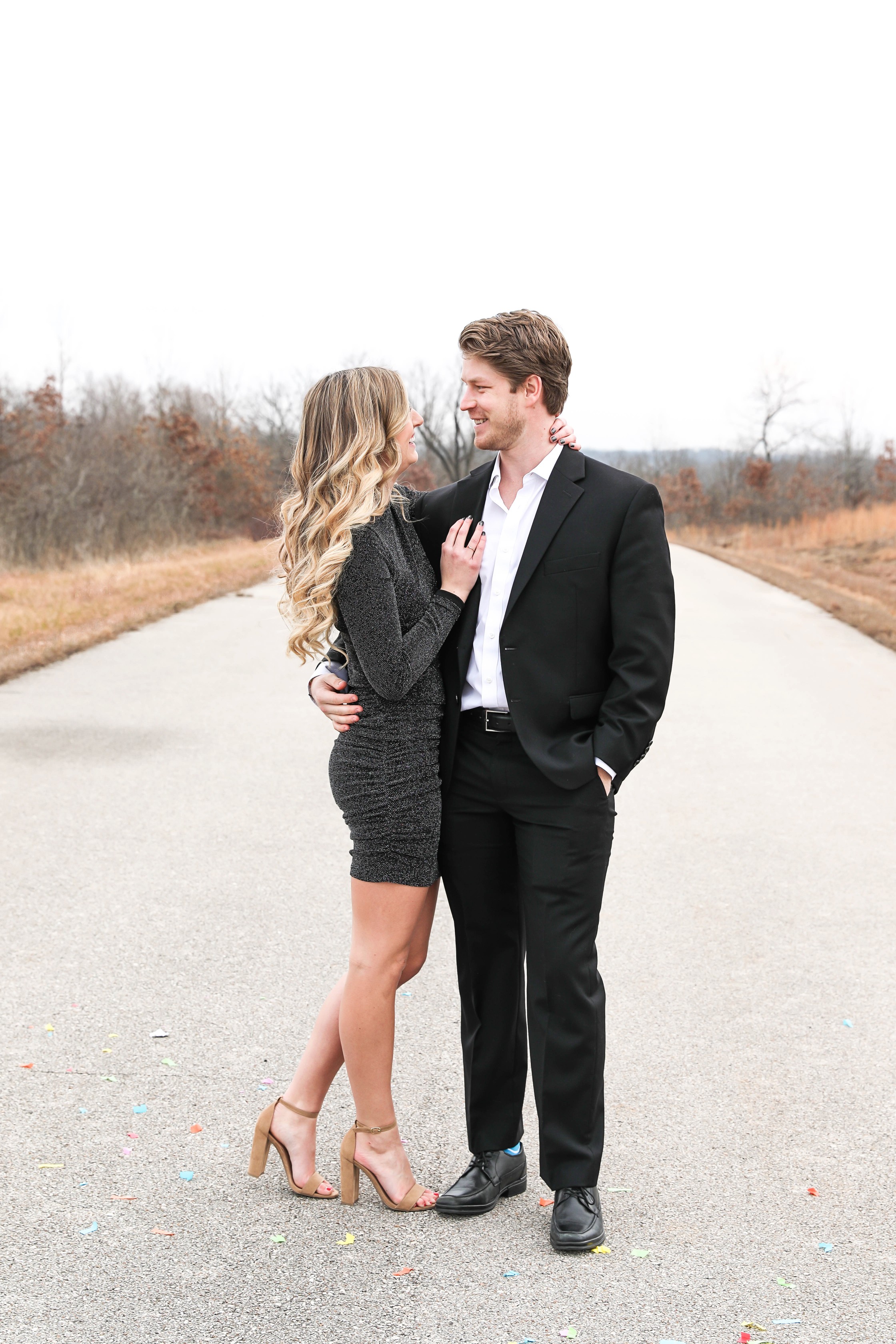 I can't believe it's been a whole year! 2018 was genuinely the best year yet for so many reasons, but I'm so thankful to Cam and the other people in my life for being playing the biggest part in that! I feel so blessed for the people God has brought into my life!
I can't wait to see what 2019 holds! I'll talk to you guys tomorrow! Everyone have a fun and SAFE night!
Happy New Year!
Lauren Emily Lindmark
Copyright © 2018 dailydoseofcharm.com