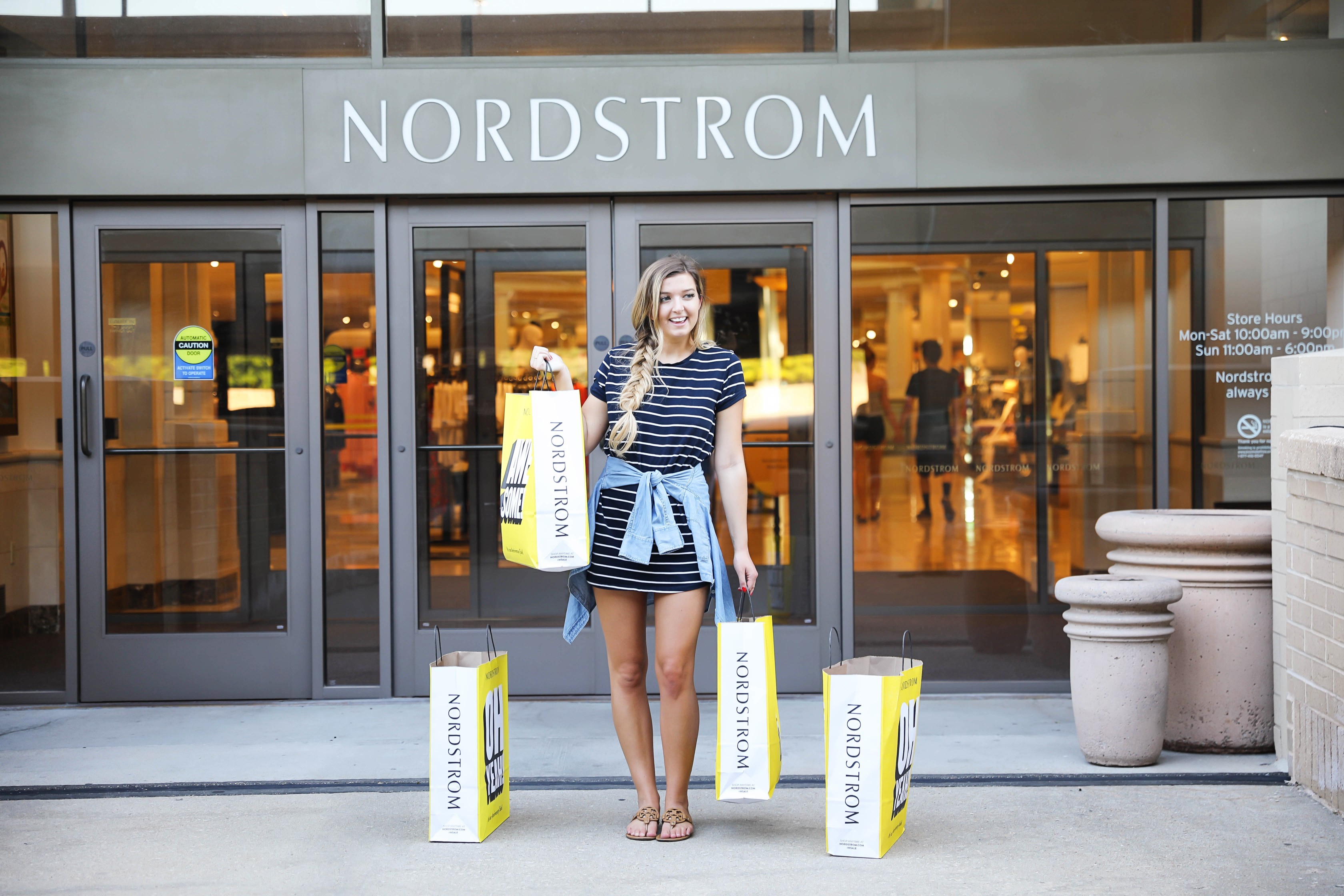 Nordstrom Anniversary Sale 2018 In-Store Try on Haul + Shop with Me VLOG!
Happy OFFICIAL first day of the Nordstrom Sale (if you are a card member)! I hope you guys are as excited as I am! I am so excited that I am still up at 3:30 a.m. putting this post together for you guys! I keep thinking I need to go to bed, but I am just so ready to share this with you all. I had the chance to shop the sale a day early because my parents are level four card members, so last night I made this little vlog and took photos of some of my favorite that I tried on! Make sure to watch the video – there are way more outfits featured within the video than there are in the post! Plus you get a better look of how things fit.
Disclaimer: these outfits are not fully styled! I am just trying on different pieces I like. Stay tuned on the blog tomorrow to see what I ended up buying and how I styled the pieces!
*everything shown in the video is linked in the bottom bar on YoutTube! Click the title to see!
Now for the try on photos! Don't mind the quality of the outfit photos. I am not good at iPhone selfies haha! Stay tuned to see how I actually style these looks! A lot of these pieces come in multiple colors so make sure to check the site!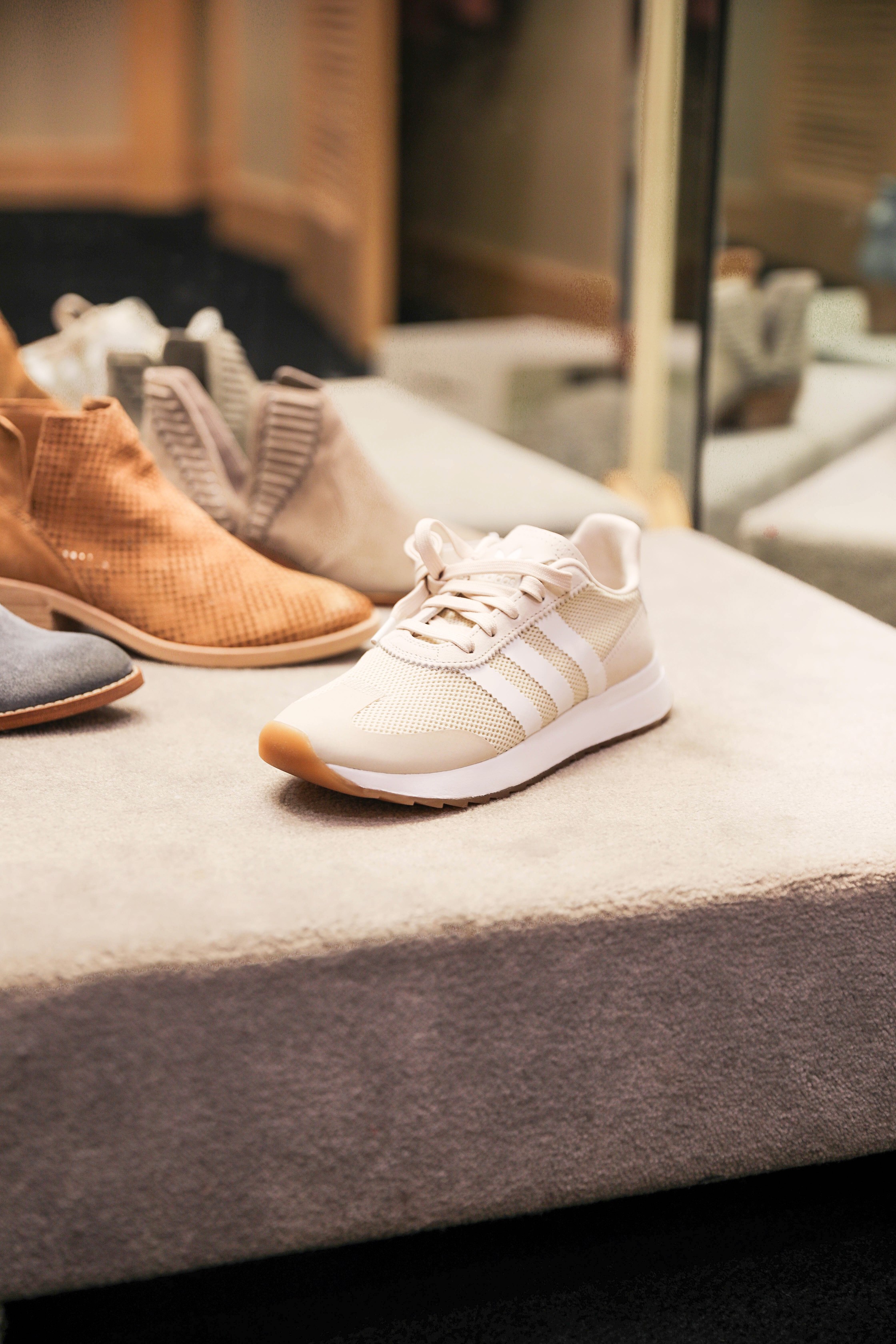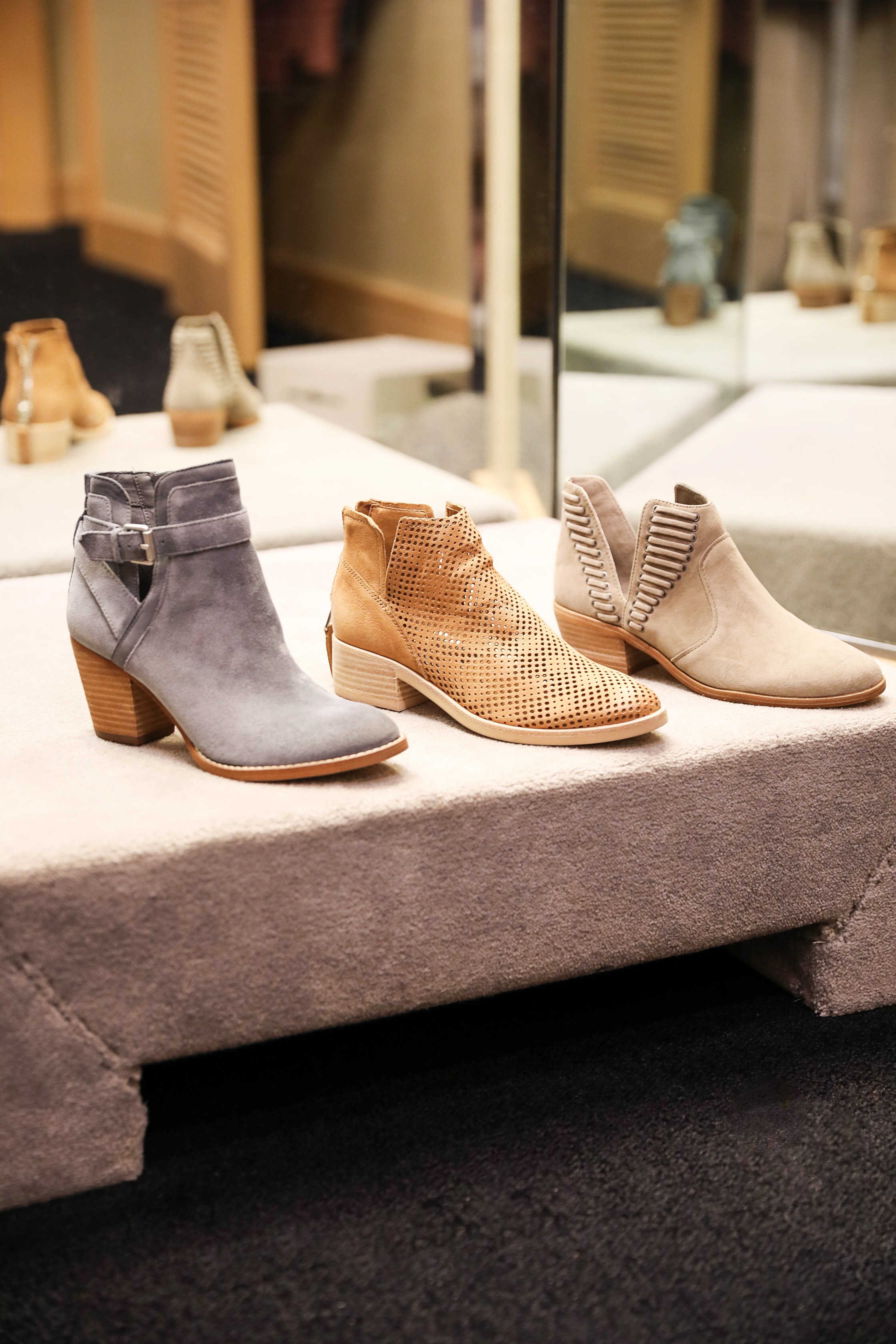 They have so many cute shoes this year and I can't wait to share more with you! These were my favorite "first impression" shoes! I always look for booties every year in this sale and I am a sucker for sneakers! I am eyeing some over the knee boots that are included in this sale and a few flats. Stay tuned for those!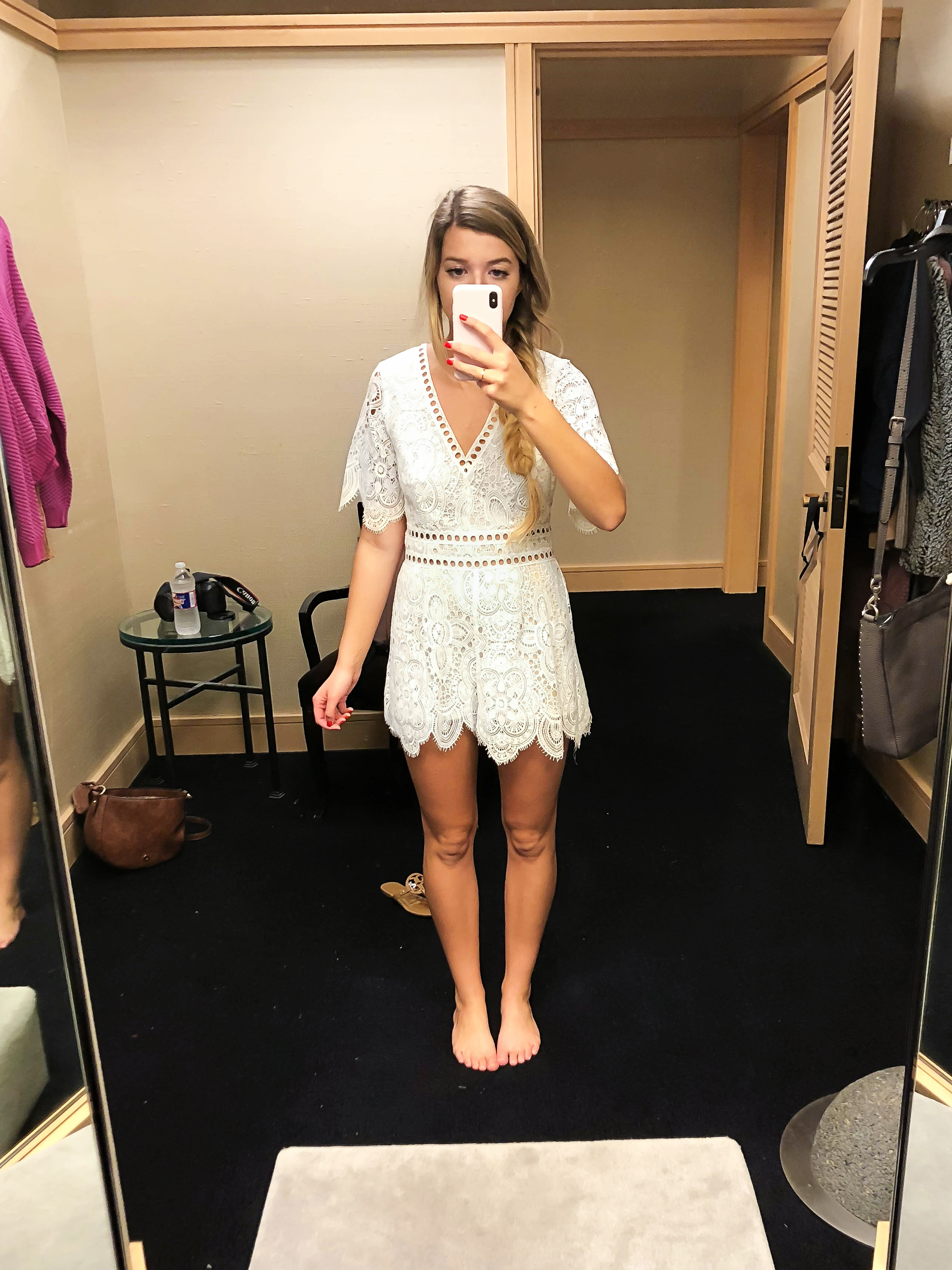 I loved this romper! I am a sucker for anything white lace. I thought this would be perfect for brides to be or any summer event! I love that Nordstrom included some cute summer pieces like this in the sale.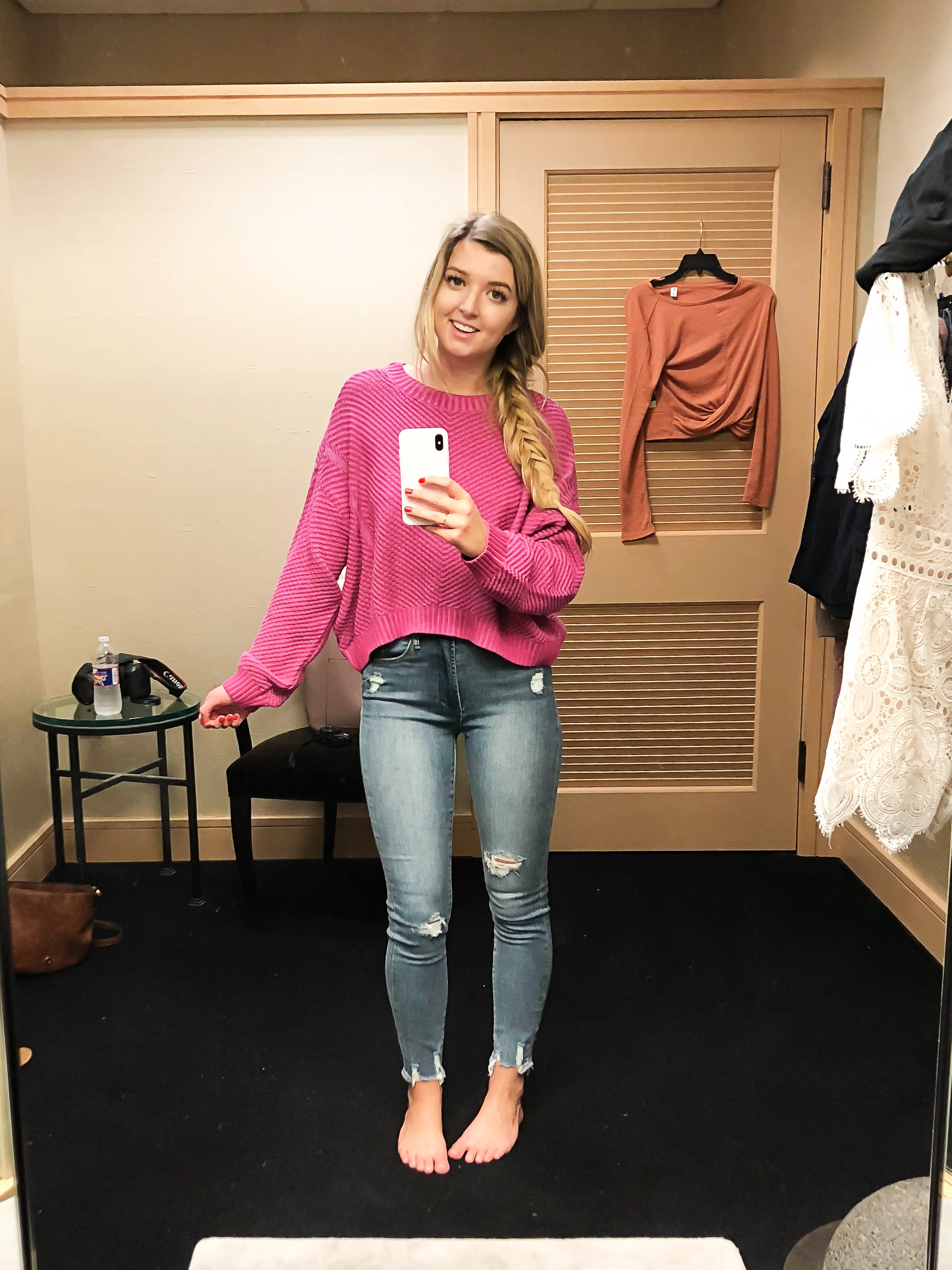 Okay I need to talk about the jeans first because they are featured in the rest of the post – simply because these are perfection! I love the fit, the color, the ankles – everything! I like buying jeans during the NSale so I have some for the fall! This hot pink sweater is also too cute! I am loving bright sweaters right now, the cut of this one is perfect!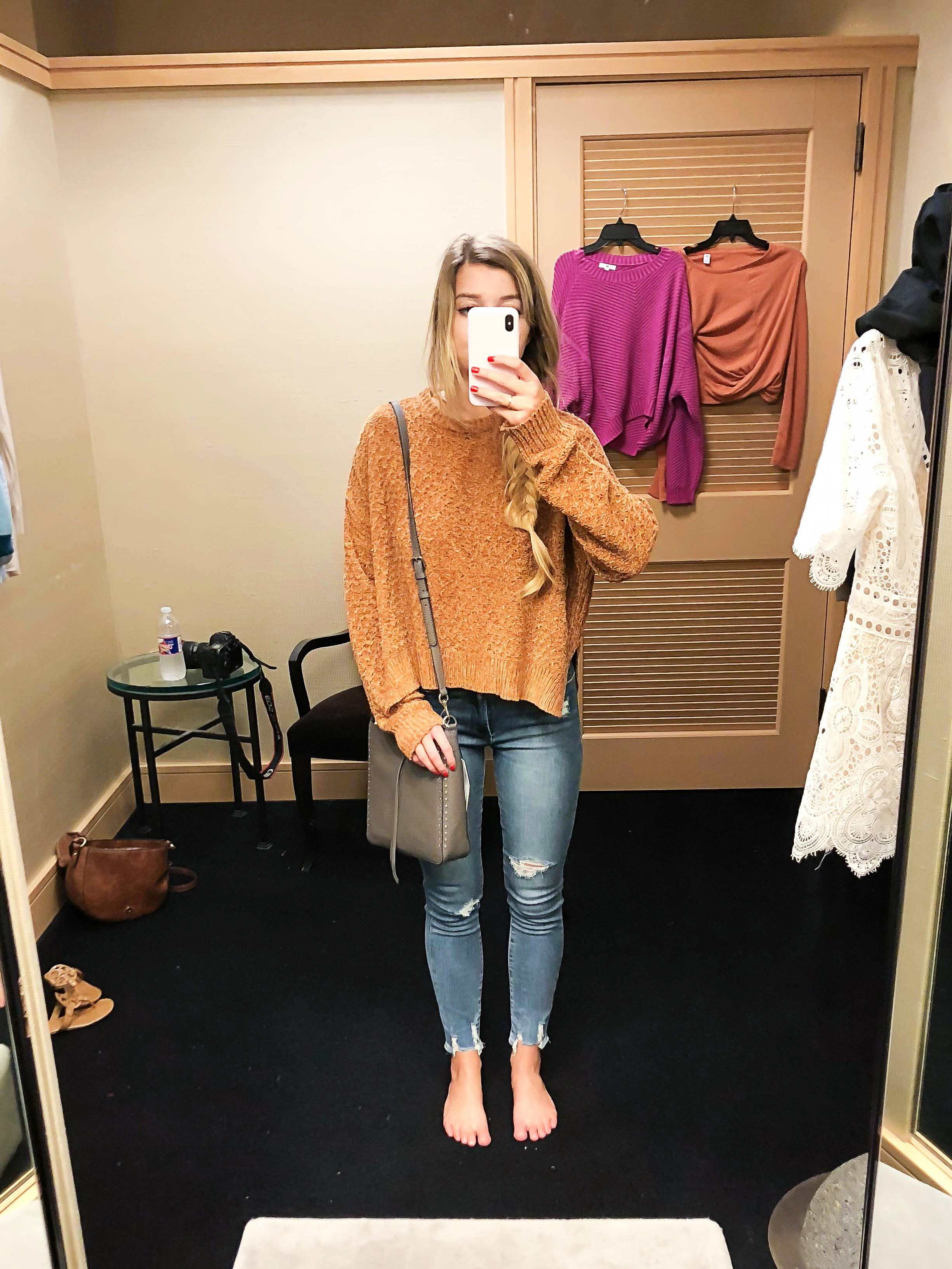 This sweater was unbelievably soft! It comes in two colors so you best believe I'll end up with both! This color is super in for fall though. As for this Rebecca Minkoff bag, it is adorable! It also comes in a few colors and is such a steal.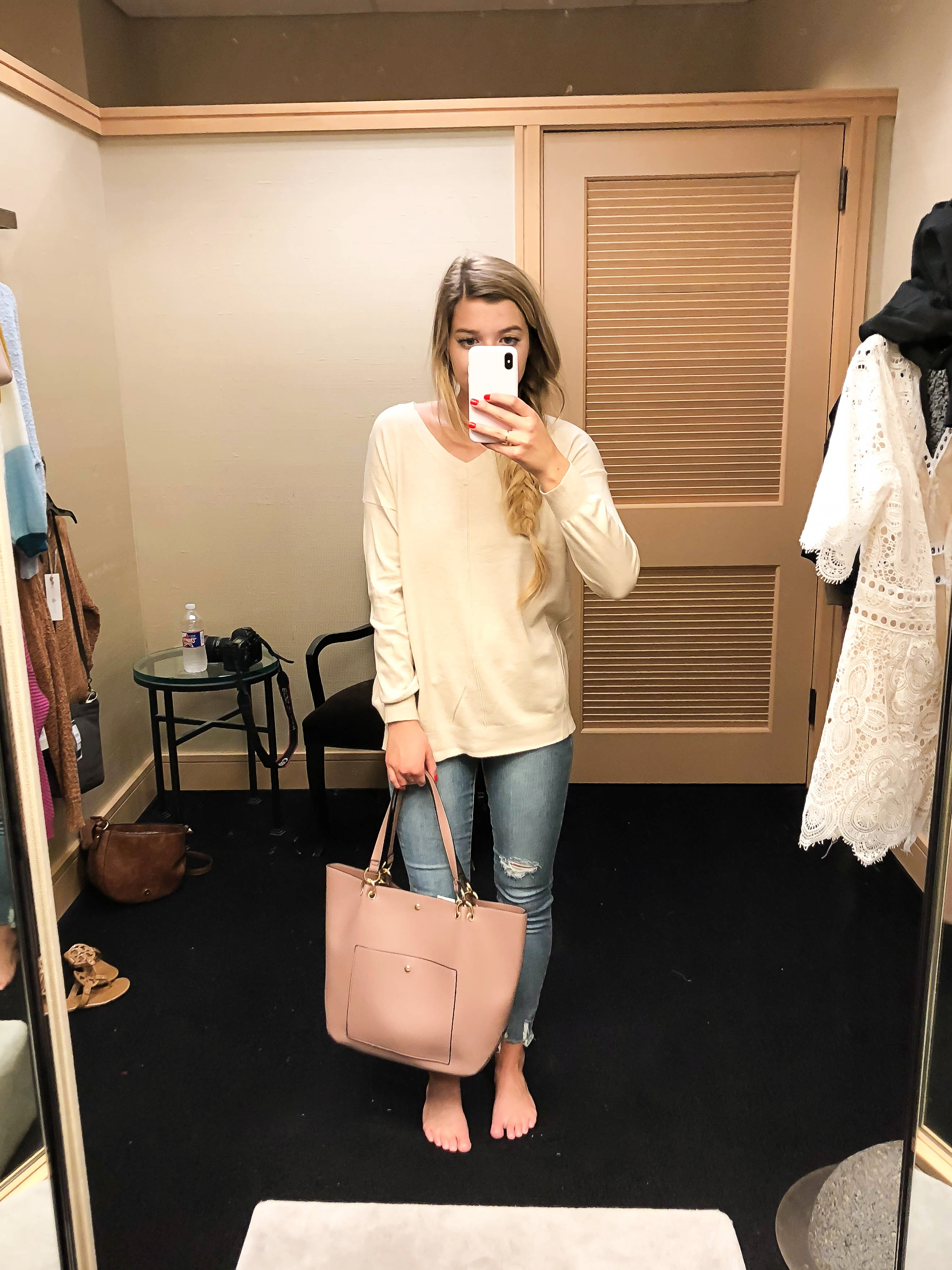 I love a good ivory sweater. This one was sooo soft and the cut is perfect for bralettes! I love that has sort of a v-neck! It is a bit pricey though.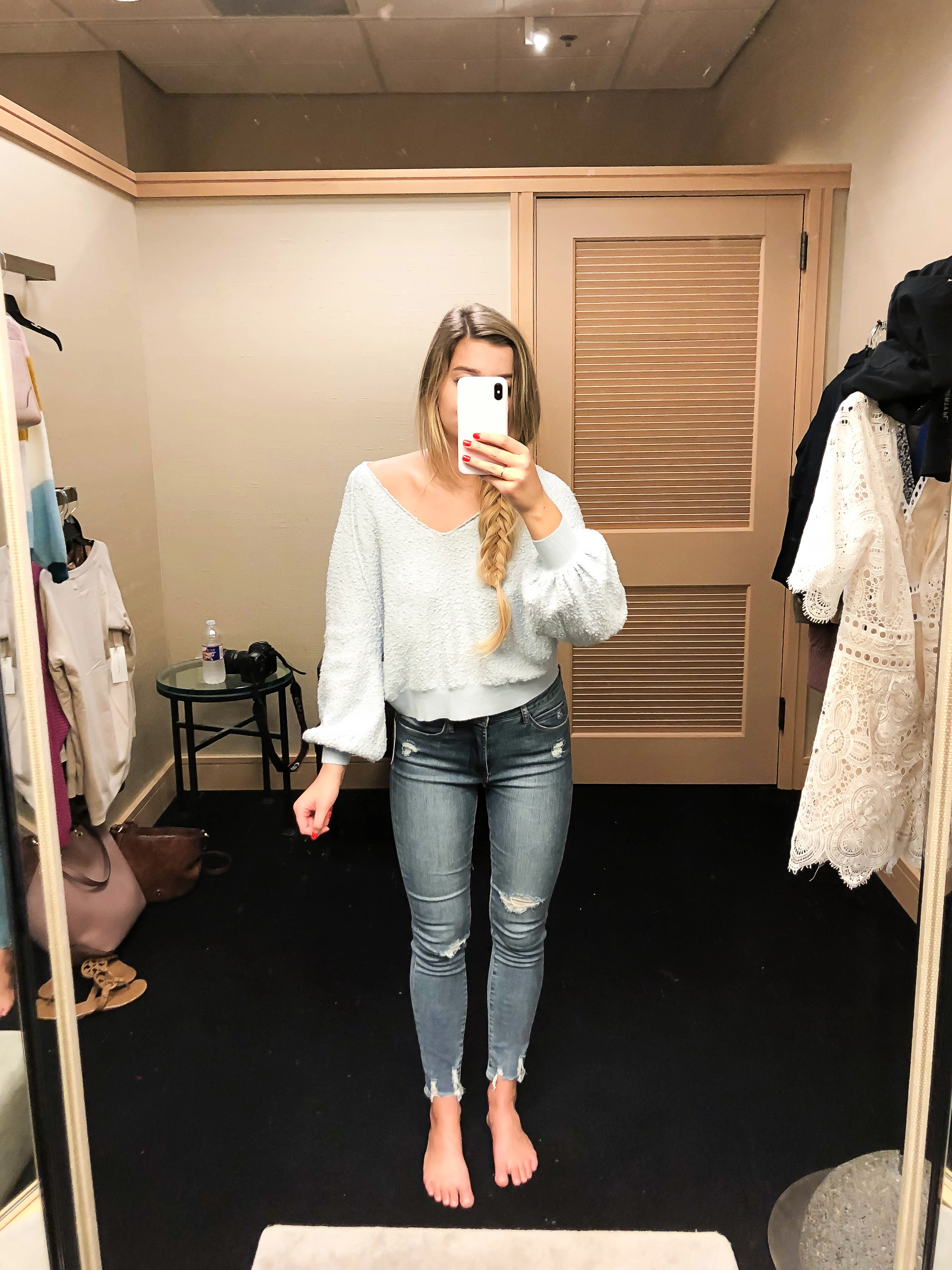 Another one that would look super cute with bralettes! I love the color and the crop. I would definitely wear this with shorts until fall!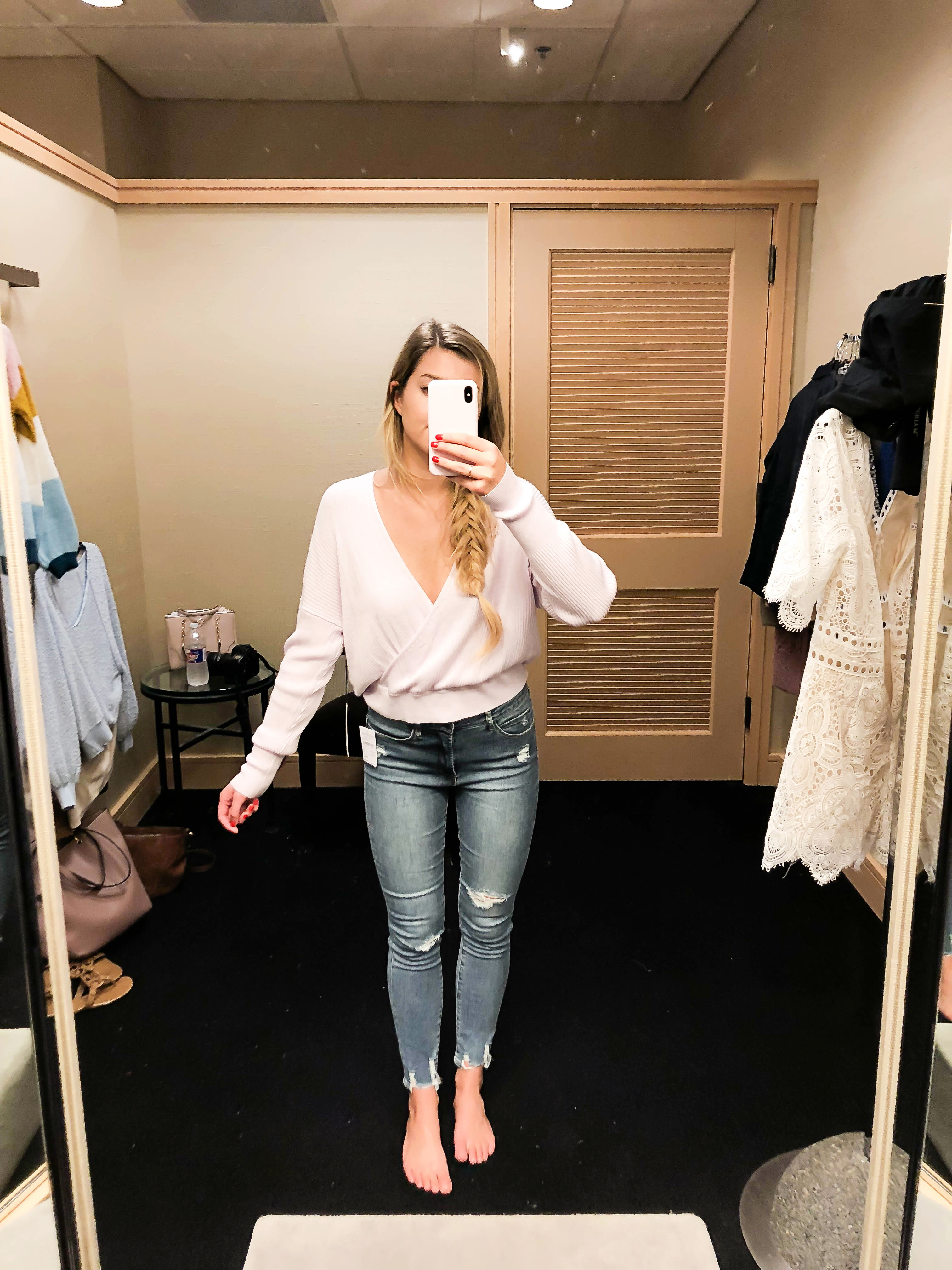 This looks more lavender in person and it's another super soft one. I am really impressed with the quality of everything in this year's sale! I sound like a broken record, but this would also be cute with a lacey bralette!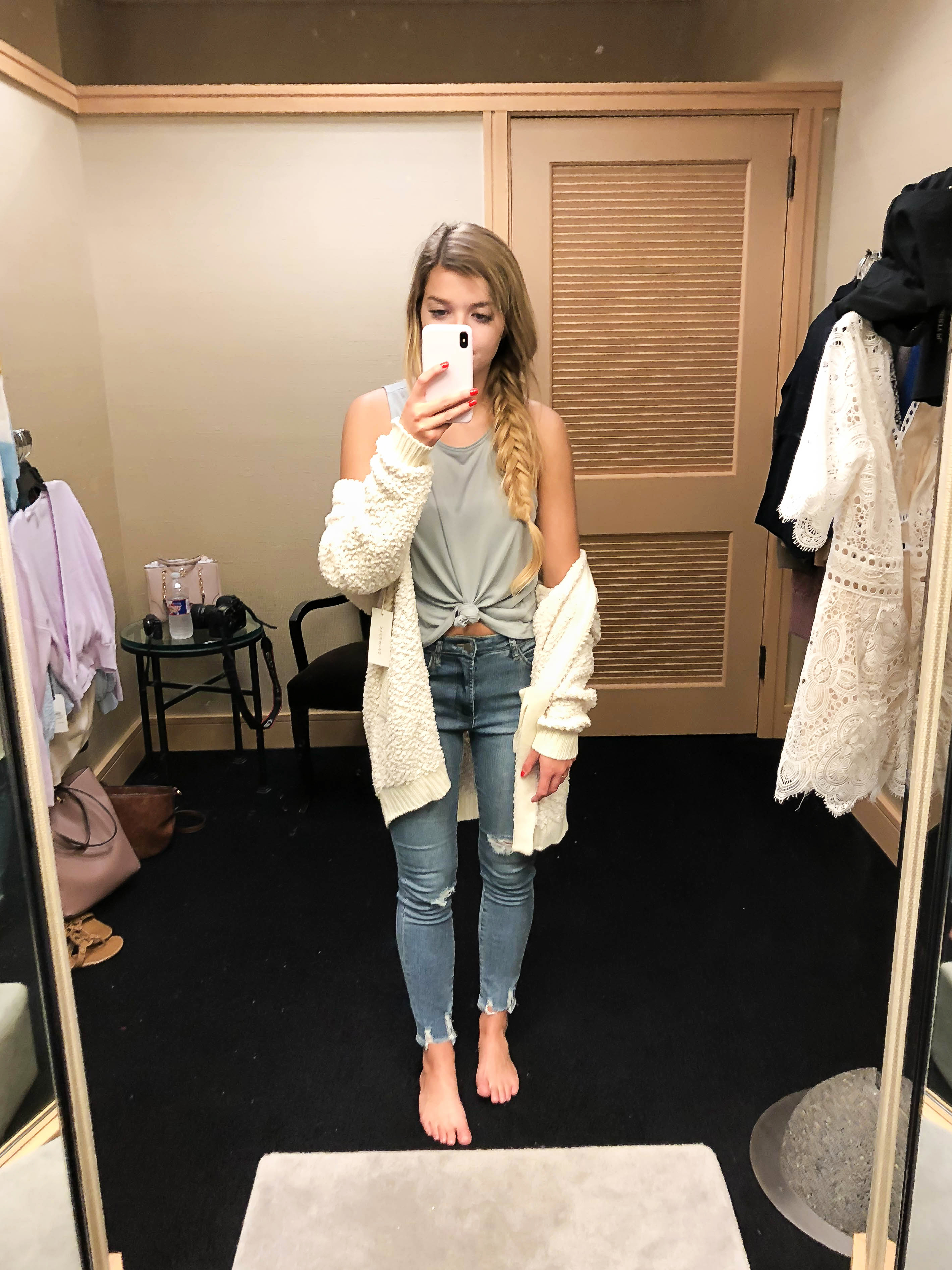 My FAVORITE outfit so far! I loved this cardigan and the color of this top is so pretty! Another super soft set, the top is almost a silky feeling and the cardigan is the coziest!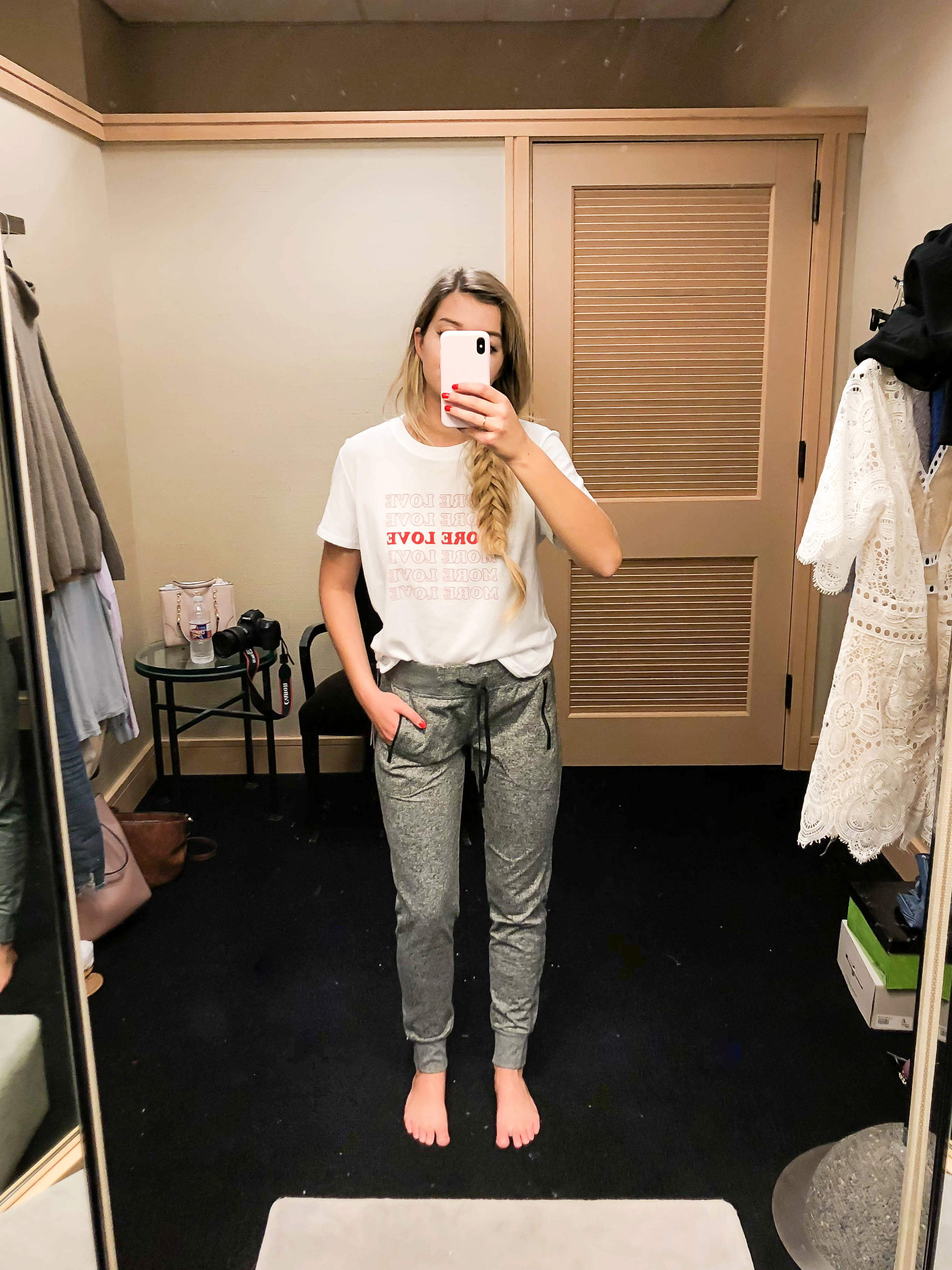 I don't know why these pants look metallic in this photo because they are not… but anyways – I had to grab a comfy outfit! I love these joggers, Zella is HANDS DOWN my favorite workout brand. Their brand is the only brand of leggings I ever wear! So I was excited to try these joggers, they did not disappoint! I love this cute tee too!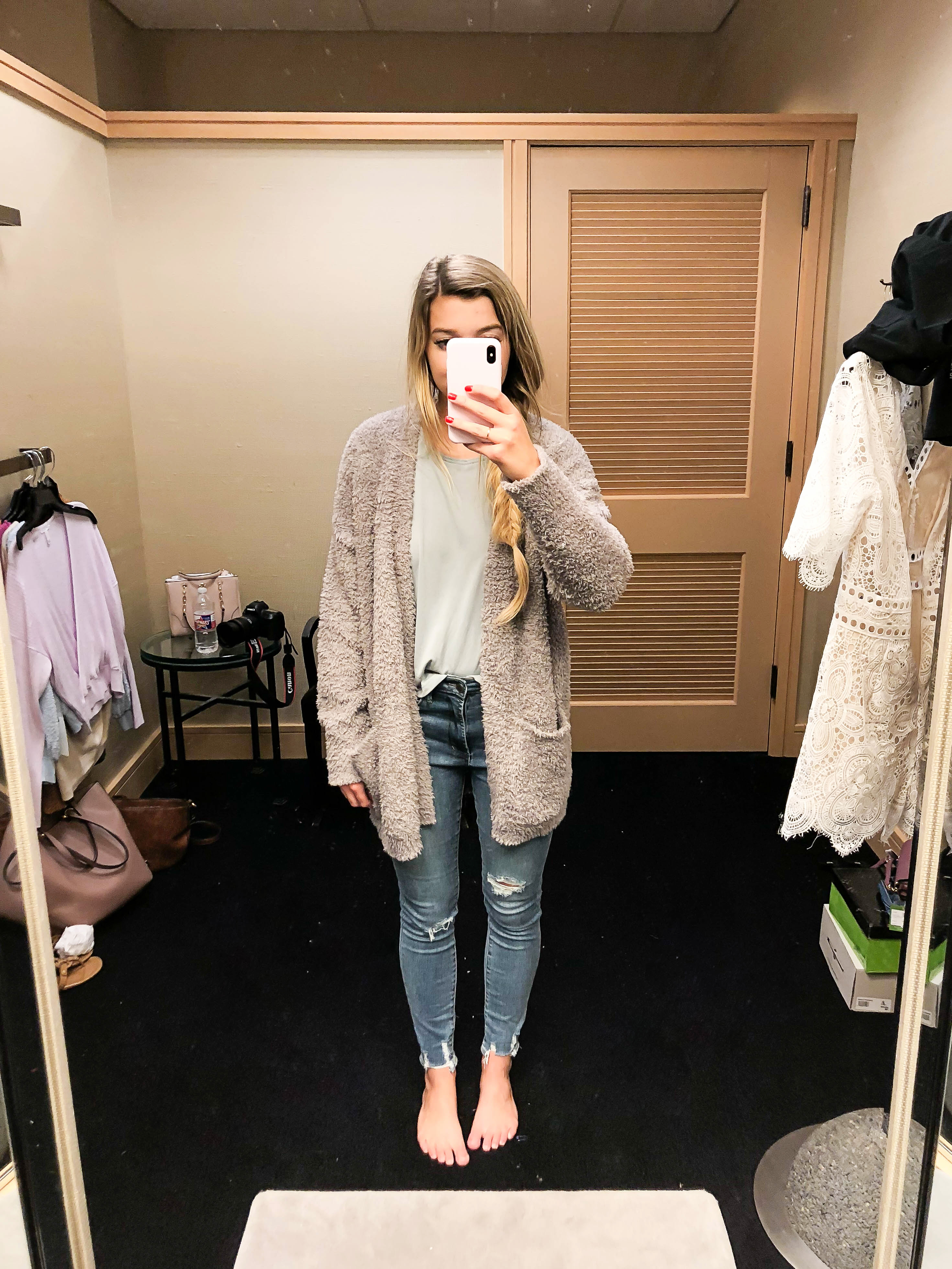 | Barefoot Dreams Grey Cardigan ($134 NOW $88.90 comes in four colors) | Blueish Grey tank ($29 NOW $18.90 comes in four colors) | Ripped Denim Jeans ($68 NOW $44.90) |
Okay, if there is one "cozy piece" you should buy from the sale THIS IS IT! I have always wanted a Barefoot Dreams cardigan. My mom has one of their blankets and it is the softest thing you will ever feel. I can't wait for cold weather so I can start wearing this! It isn't too thick, but it's definitely too hot out to wear now haha!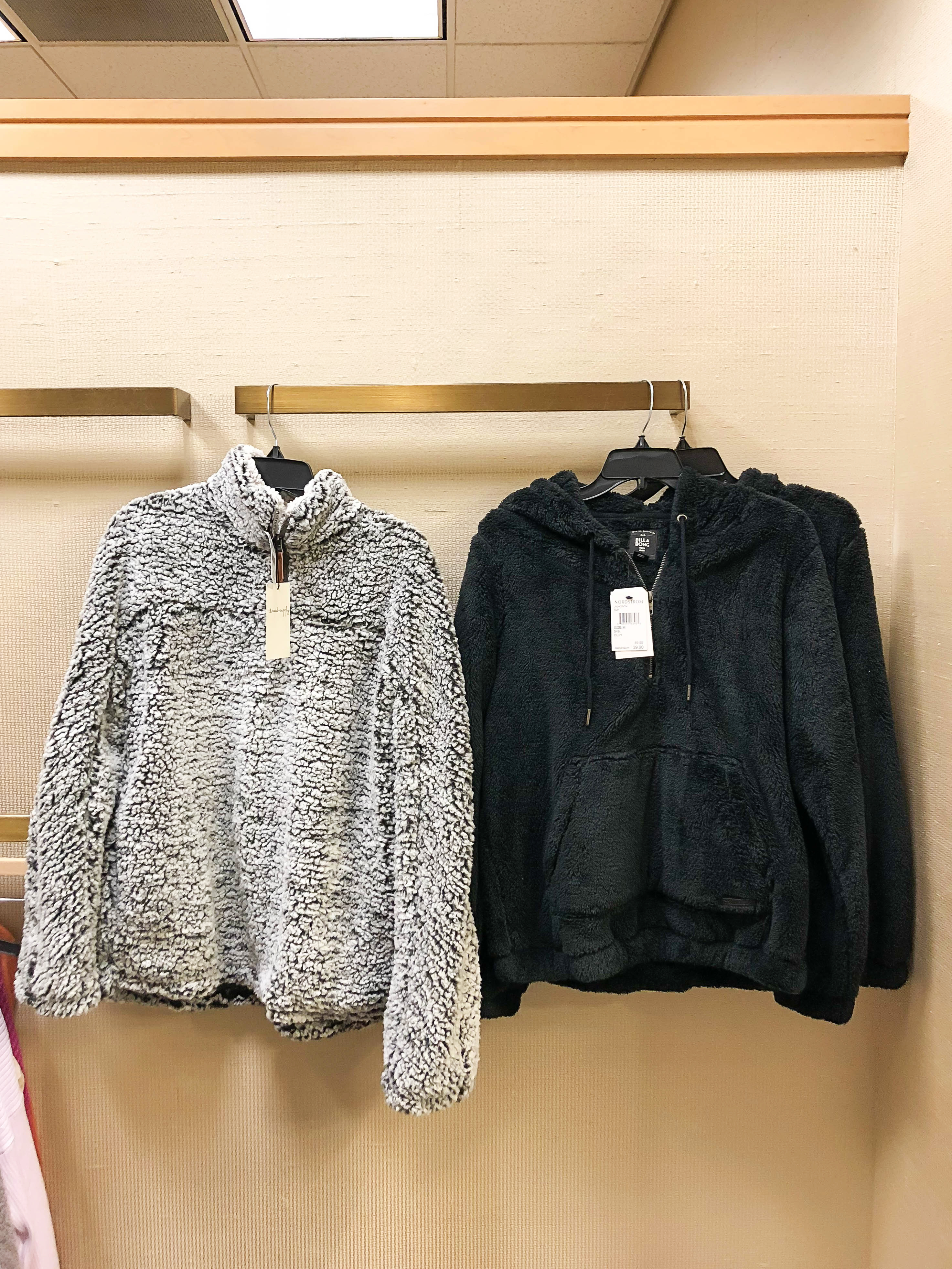 Two more super soft cozy items included in the sale! I have the pullover on the left in two colors and I always wear it non-stop in the winter! It's the best!
I hope you guys enjoyed this post! Stay tuned to see how I style everything and to see more of my purchases in the upcoming weeks! These were all just my "first impression" picks – now that I have shopped online I am seeing even more that I am excited to order and share with you guys! Happy shopping!
xoxo,
Lauren Emily Lindmark
Copyright © 2018 dailydoseofcharm.com