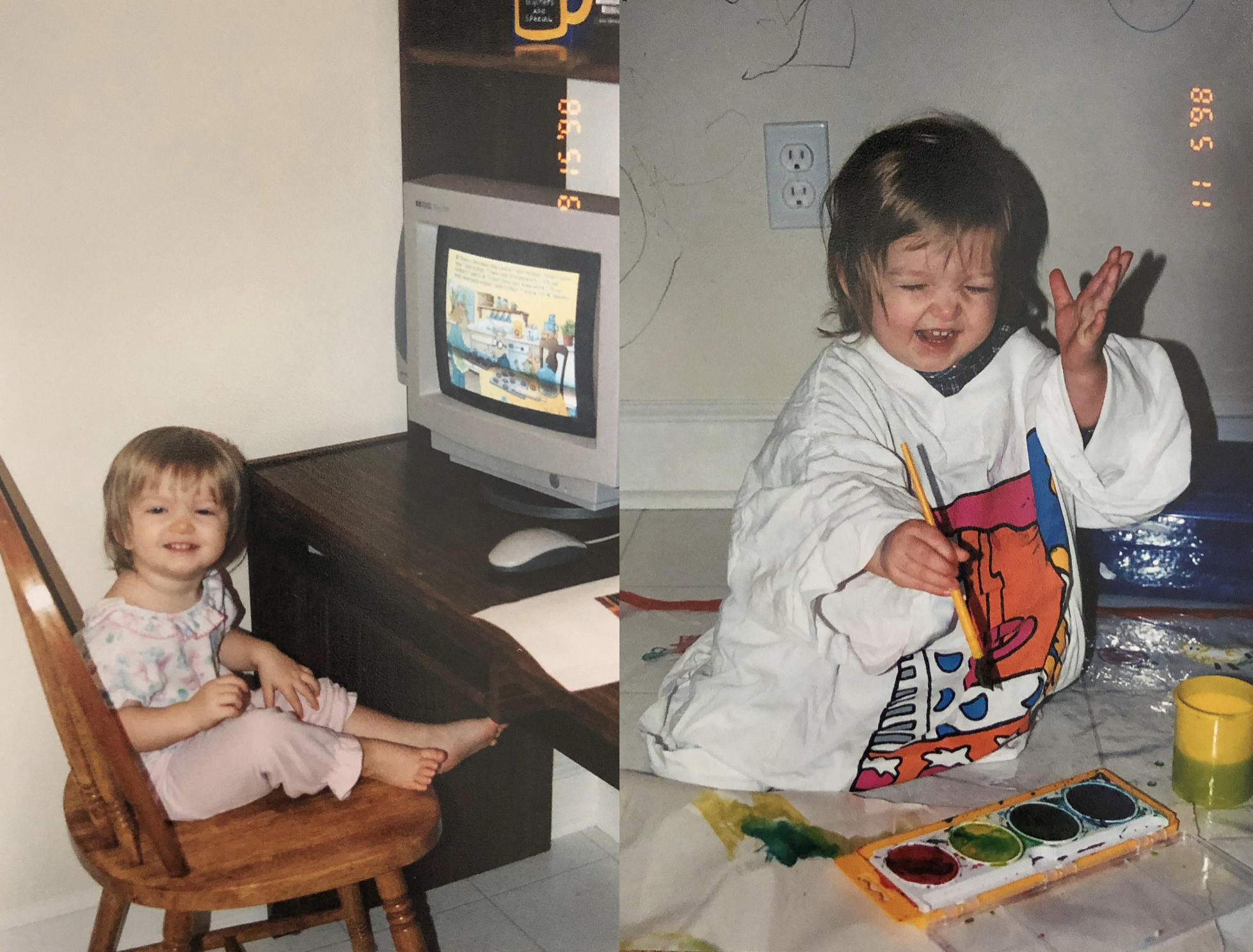 Then & Now | How Life Led me to be a Blogger and Boutique Owner
Hey hey hey! Happy Monday everyone! It is OFFICIALLY boutique week! This week is all about my next venture in life: opening a boutique! I will be telling you all about the process so far of opening a boutique and on Friday I will finally be announcing the name! I wanted to start off the week by telling you why I decided to start the boutique and how I got to where I am today.
I want to start off by saying I have always been different. I am not trying to say "Oh my gosh I am so cool and unique." – because to be honest I hated being so different growing up. I felt alone a lot, I felt like no one understood me, and I thought something was wrong with me for not being like everyone else. Now, I am so happy with who I am. I know a lot of other people are in my place and so my hope with this post is to inspire anyone who needs it. It's okay to be different, and you should let yourself be you because it will pay off. I promise.
Being Different
You know when your family tells stories of you when you were younger, and everyone just kind of looks at you and says "oh yeah makes sense now." That definitely happens to me all the time. I really haven't changed much since I was a kid. I am still super shy (which if you have never met me in real life it always shocks people to hear that – I am really only outgoing on my blog or around close friends and family). I also still love being creative any way I can (the two photos above are from when I was 16 & 19 months old, I used to beg my parents to let me use the computer). And, like I said, I have always just been different.
Growing up I didn't like sports or after school activities. I would come home and make pretend things out of paper (my family's favorite one to tell people about is how I made a sewing machine out of paper). I would then open a little store in my room and have everyone else in my family come shop at it! My sisters and I would do this all the time for fun. Middle school was the first memory I had of wanting to open a boutique. My best friend Chloe and I would go to the mall and look at the vacant stores for rent and then go home and ask our parents if we could start a boutique there (we dreamt big from a young age haha)! In high school her and I ended up making spirit wear for our school and selling it out of our lockers (which I don't think was allowed), we were both little entrepreneurs though and didn't care!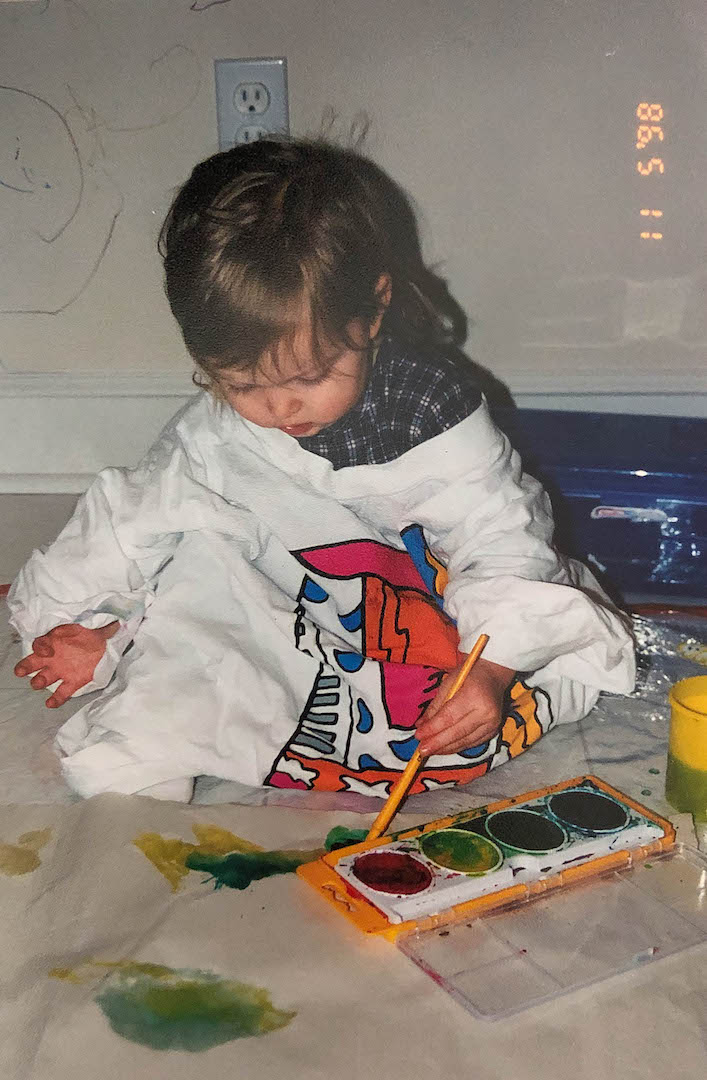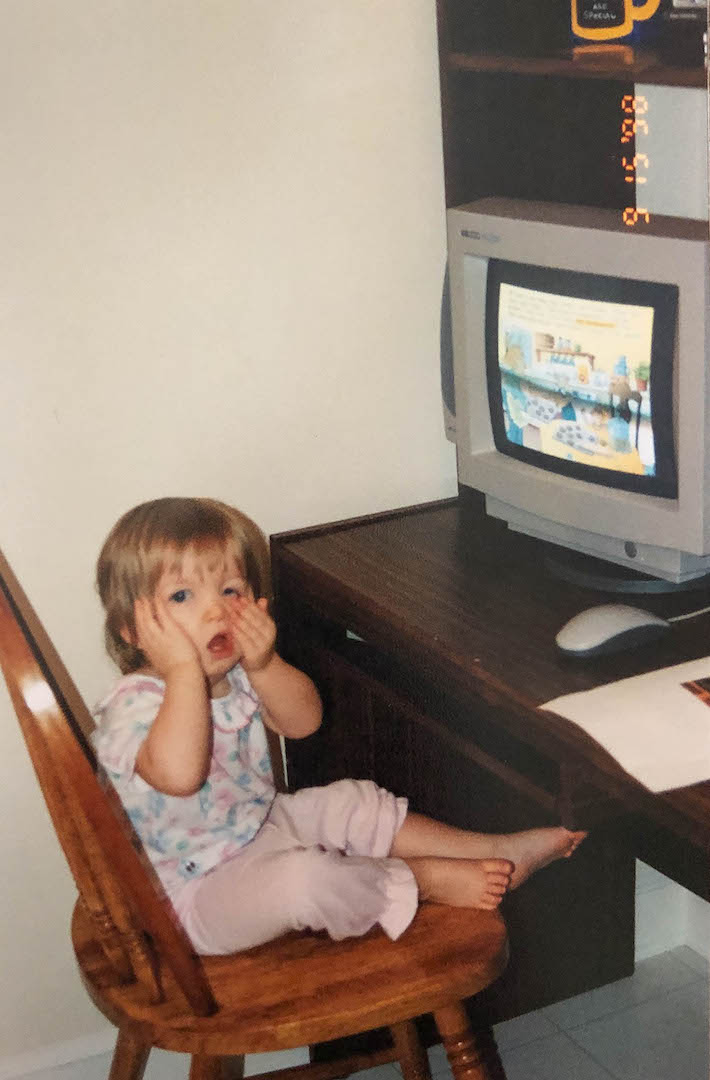 Schooling
High school is when I started my blog. I remember being so nervous of what other people thought about it. I had purchased the domain Daily Dose of Charm my sophomore year and didn't have the guts to post on it until my senior year. I owe a HUGE part of my drive back then to my high school experience. I have hated school my whole life, my family calls me a preschool dropout because I only went for a few months haha! The trend continued growing up, I would find any excuse not to go to school. I just hate anything structured where other people are telling me what to do. My creative side definitely did not feel nurtured there. So in high school my school district offered this amazing program where you could go to school half days and the other half you went to a "Professional School" I ended up doing a year of the business program and a year of multi-media journalism. I learned so many skills that are still so useful to me. In journalism I actually had the chance to intern for a local blogger who put on blogging conferences – which gave me a lot of encouragement to get started!
After high school I went to the University of Kansas and continued to blog more and more. I remember calling my parents multiple times a week and just saying "I don't belong here, this isn't where I am supposed to be." I felt pressured by my peers to be like everyone else and go to a four year college. I am so thankful I have parents that supported me and told me I didn't need to be like everyone else. I ended leaving KU and starting online classes after my sophomore year and I couldn't be any happier with my decision.
Figuring Out my Path
As I continued with online school, I started putting my all into my blog. A lot of people don't know all the time it takes to be a blogger. I used to try to justify it to everyone, but now I don't care what people think. I know I work hard and I know I work more hours that most people. At the end of the day the only person that needs to see your success is yourself. I have been so grateful for all my growth and for all the support I have from not only my followers, but the people in my life.
I was enjoying my school and blog work I was doing, posting five times a week on my blog while still taking classes. However, in 2018 I started really thinking about my future. I still had more school to finish, but most of the people I knew who were my age were going to job fairs, interviews and figuring out a career path. I don't want this to sound rude, but it has never been in my plan to work for someone else from 9:00 – 5:00. It just isn't for me. That's okay though – because everyone takes a different path. The other day my friend Brooke and I were talking about how we have an ongoing list in our heads of "what's next." I have always had a million ideas on what I want to do with my life, but one of my dreams has always been to open a boutique.
So I got to work and this year I made the decision to start posting three times a week on my blog and I announced that I was going to open an online boutique! I am going to be honest, I was a little over-ambition in the beginning. I tend to be that way when I get an idea. I thought I would have the boutique up and running by now, but so much goes into opening one and I want to do it right! So right now, we are planning to open this fall. I am going to talk more about the process in Wednesday's post, but I couldn't be more excited!
So thank you all for following along and supporting me. Not to sound cheesy, but none of this would be possible without you guys. It blows my mind to think back to my 17 year old self, being scared to put myself out there and barely getting 50 page view a month if I were lucky. I can't wait to see what this year has in store for our little internet family! I can't wait to share my boutique with you! I love you guys so much!
xoxo,
Lauren Emily Lindmark
Copyright © 2019 dailydoseofcharm.com