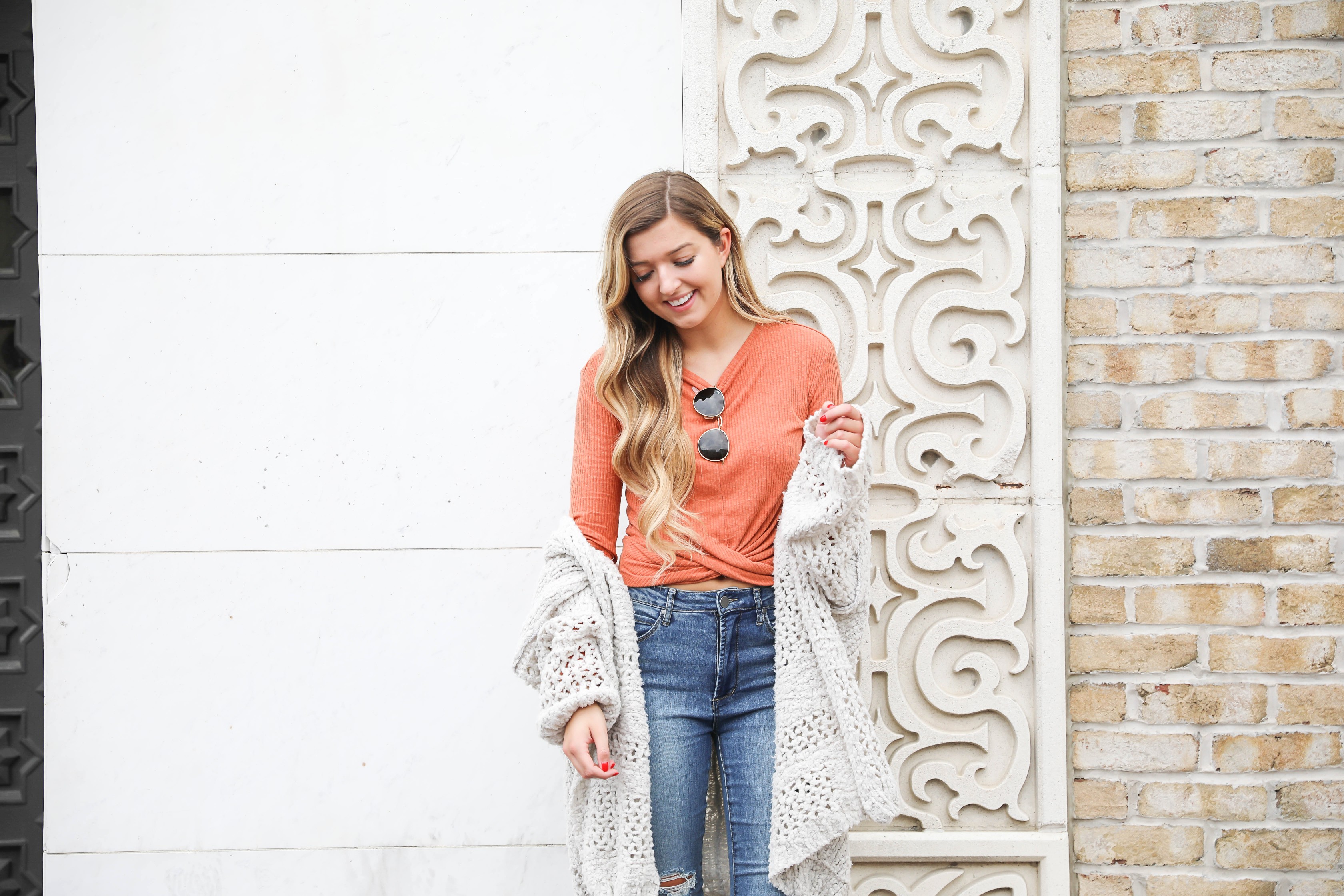 Time Traveling to Fall | OOTD + Answering: Does the Nordstrom Sale Restock? & When Am I Posting My 'Boosting Instagram Engagement' Post?
I feel like every blogger has time traveled to fall this last week with the Nordstrom Sale going on! There are just too many cute cardigans, sweaters, jeans, boots, etc.! I definitely stocked up for next season. One of my favorites from the sale, though, was this cardigan that I actually already owned! I believe I bought this last fall and it is so cute and comfy. My roommate and I wore it 24/7 this last semester – even with just nike shorts and oversized tees! It's such a versatile cardigan. This sale they have it in three colors – this cream color, burgundy, and black! I ordered the Burgundy one because I couldn't resist. Plus I know I will wear it since I wear burgundy all the time in the fall!
I paired it with this super cute twist top that is also from the Nordstrom sale! I think the color is so darling for fall and I love how it fits! It also comes in grey, but they are sold out in my size so I am going to try to snag it if they restock. The outfit wouldn't have been complete without my new Sam Edelman boots! One of my FAVORITE purchases from the sale. I will be wearing them 24/7 this fall! I am also wearing my Articles of Society Jeans from the sale that are unfortunately sold out. They were one of the most popular purchases from my blog though so I am hoping they restock for you guys. Which brings me to a questions I have been getting a lot…
Does the Nordstrom Sale Restock?
Does Nordstrom restock items in their sale? The short answer is: yes. I notice every year that they do a few waves of restocking in sizes and colors, especially for shoes. However, those restocks also go fast and they are not guaranteed which is why it's smart to apply for a Nordstrom card before the sale. They also tend to restock after the sale which is when you, unfortunately, have to pay full price. If you follow me on Instagram I will try to let you all know when my items I have shared come back in stock!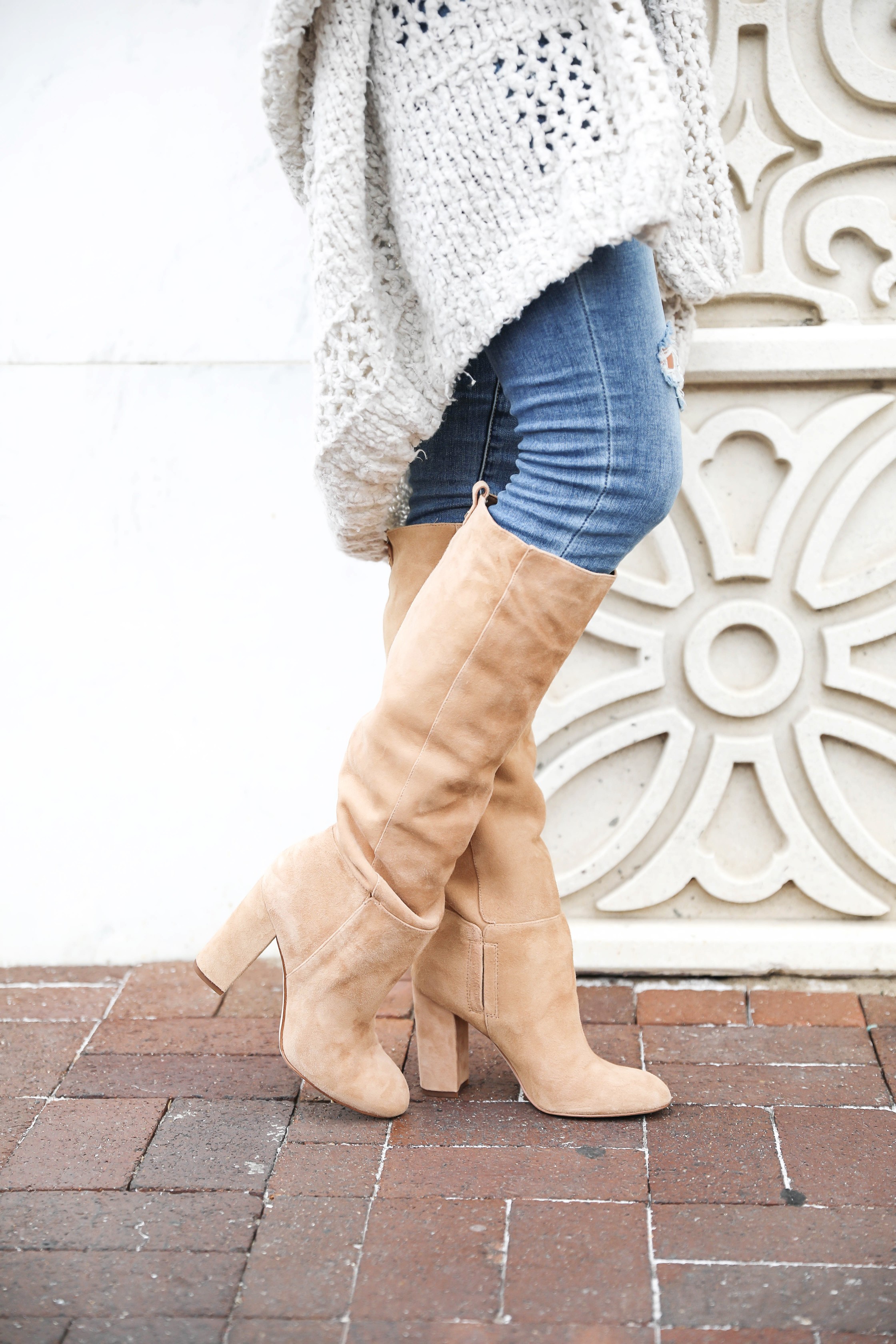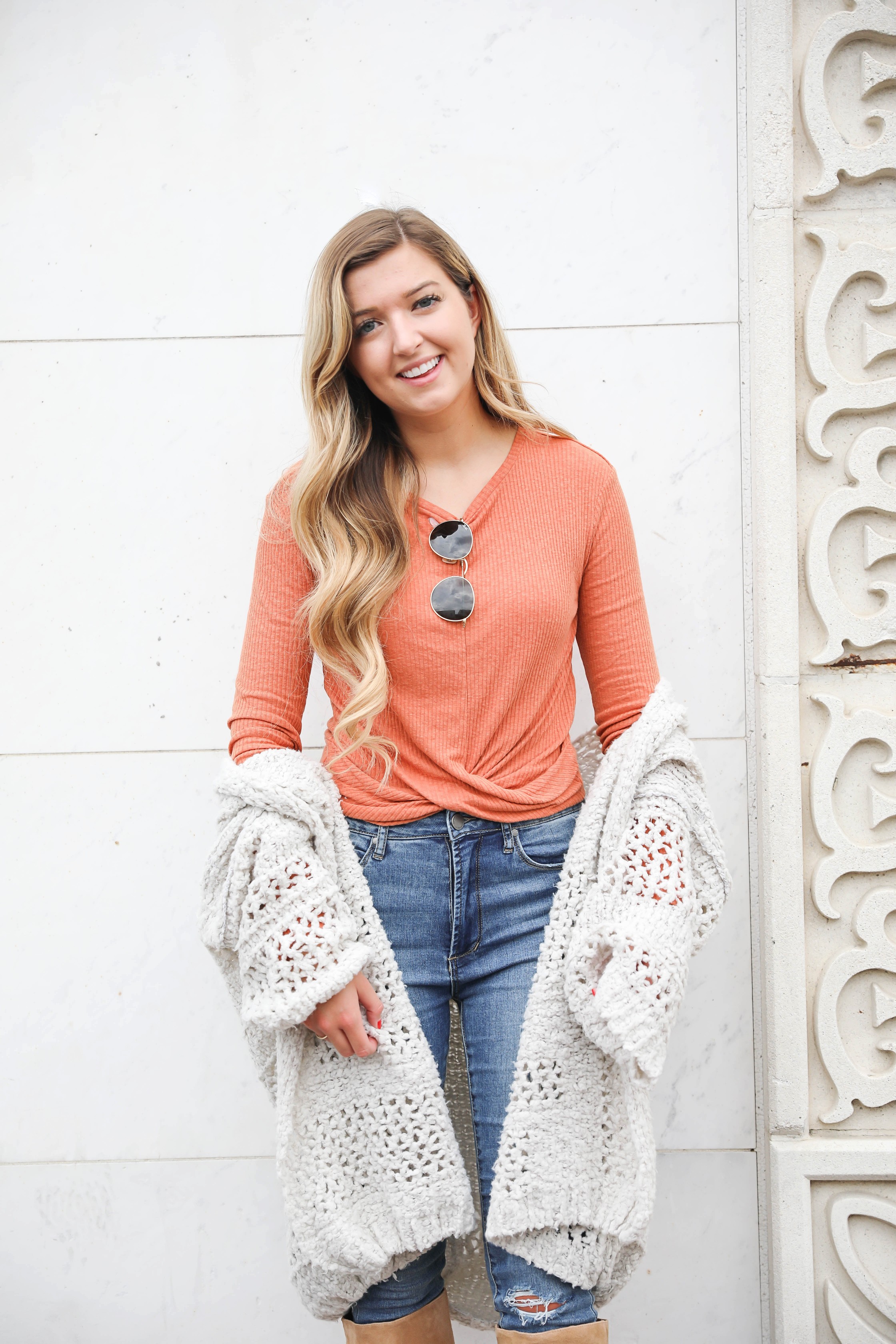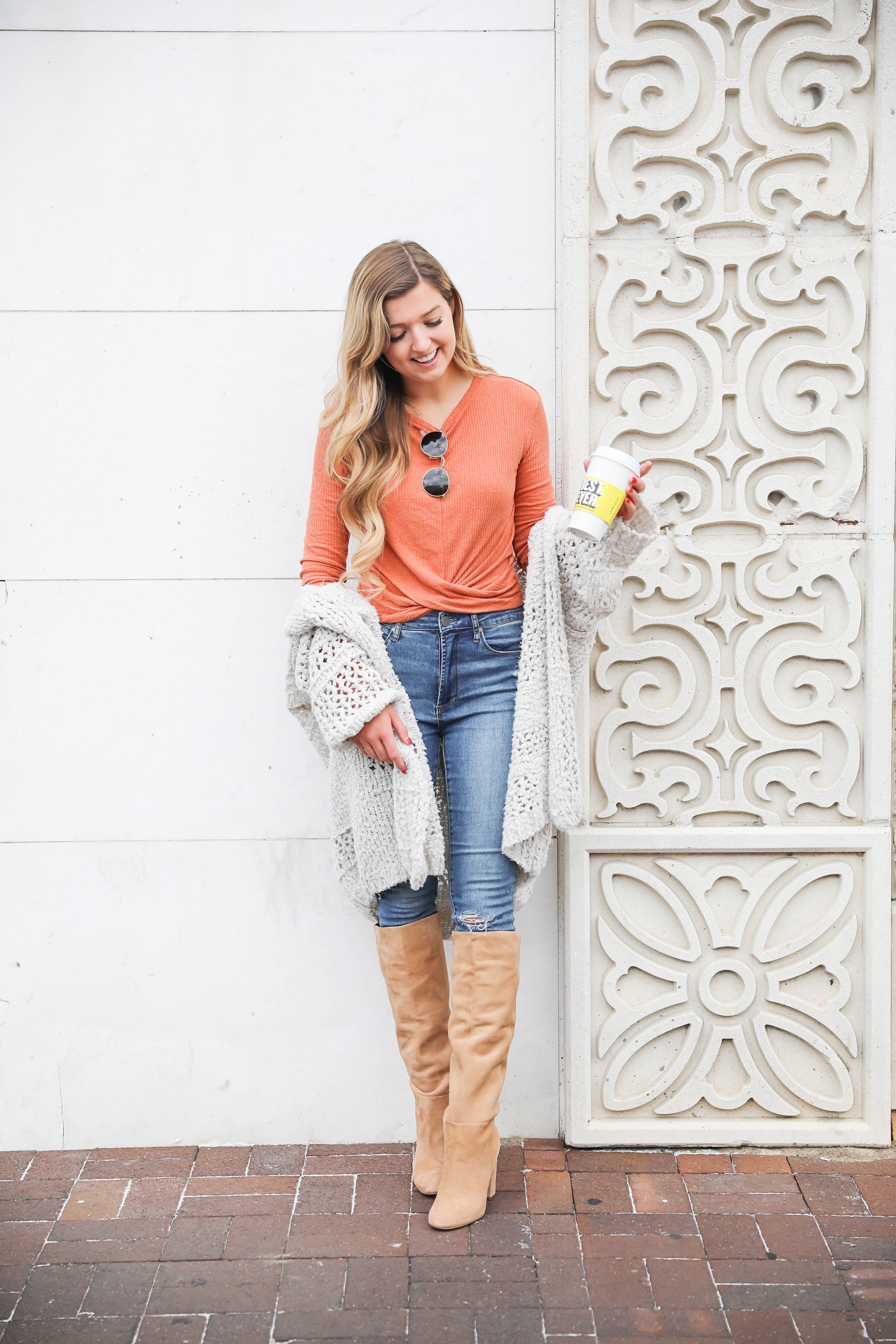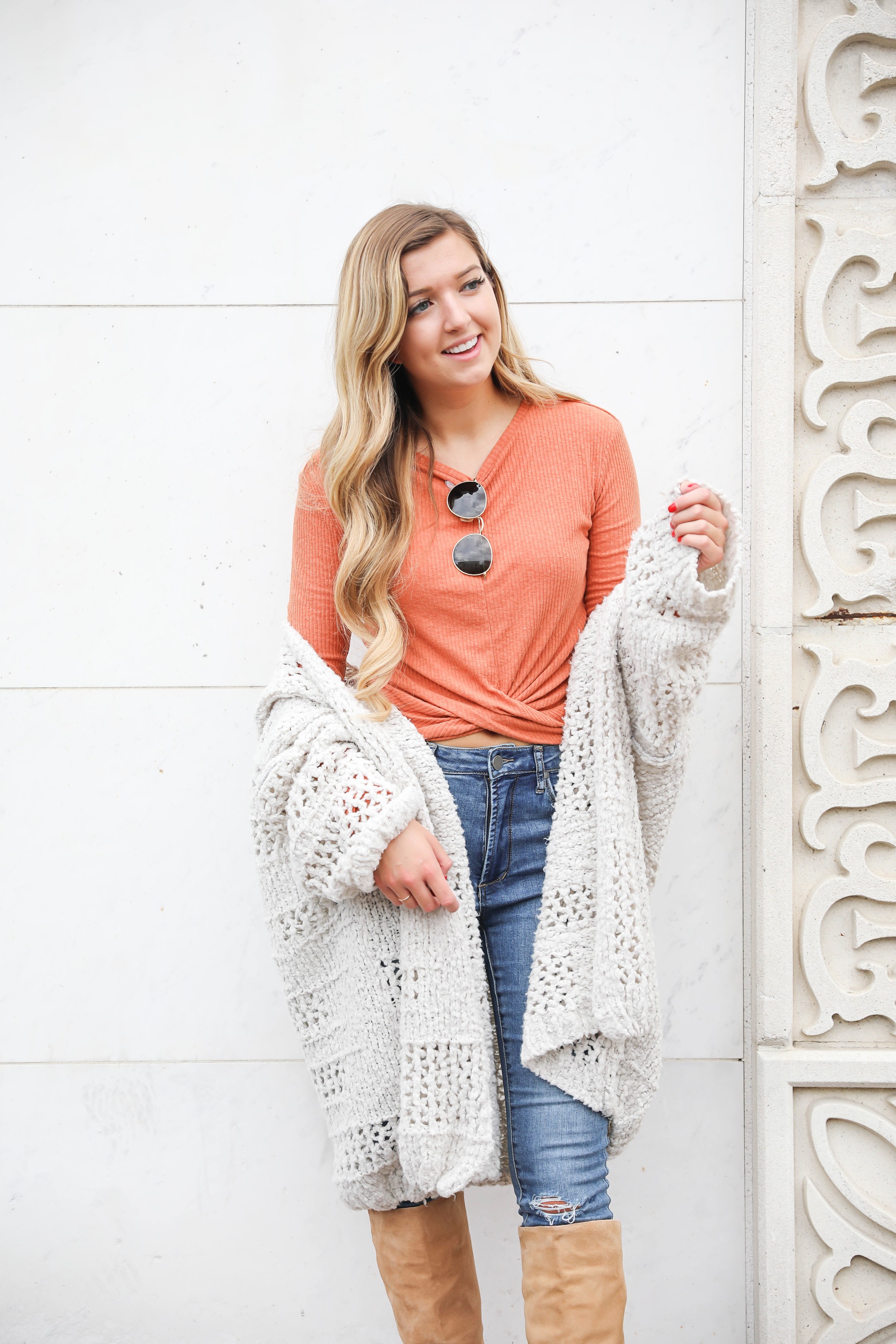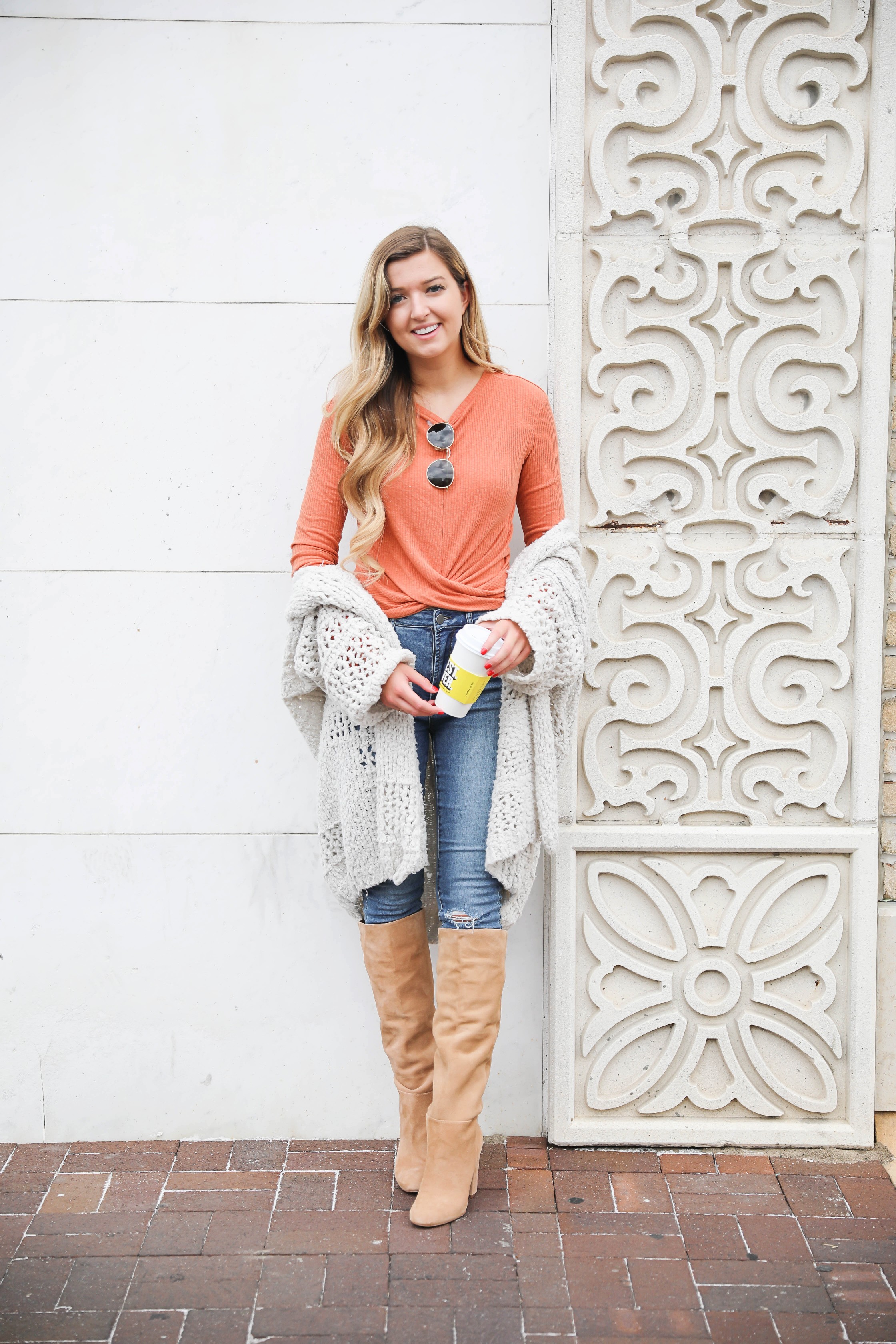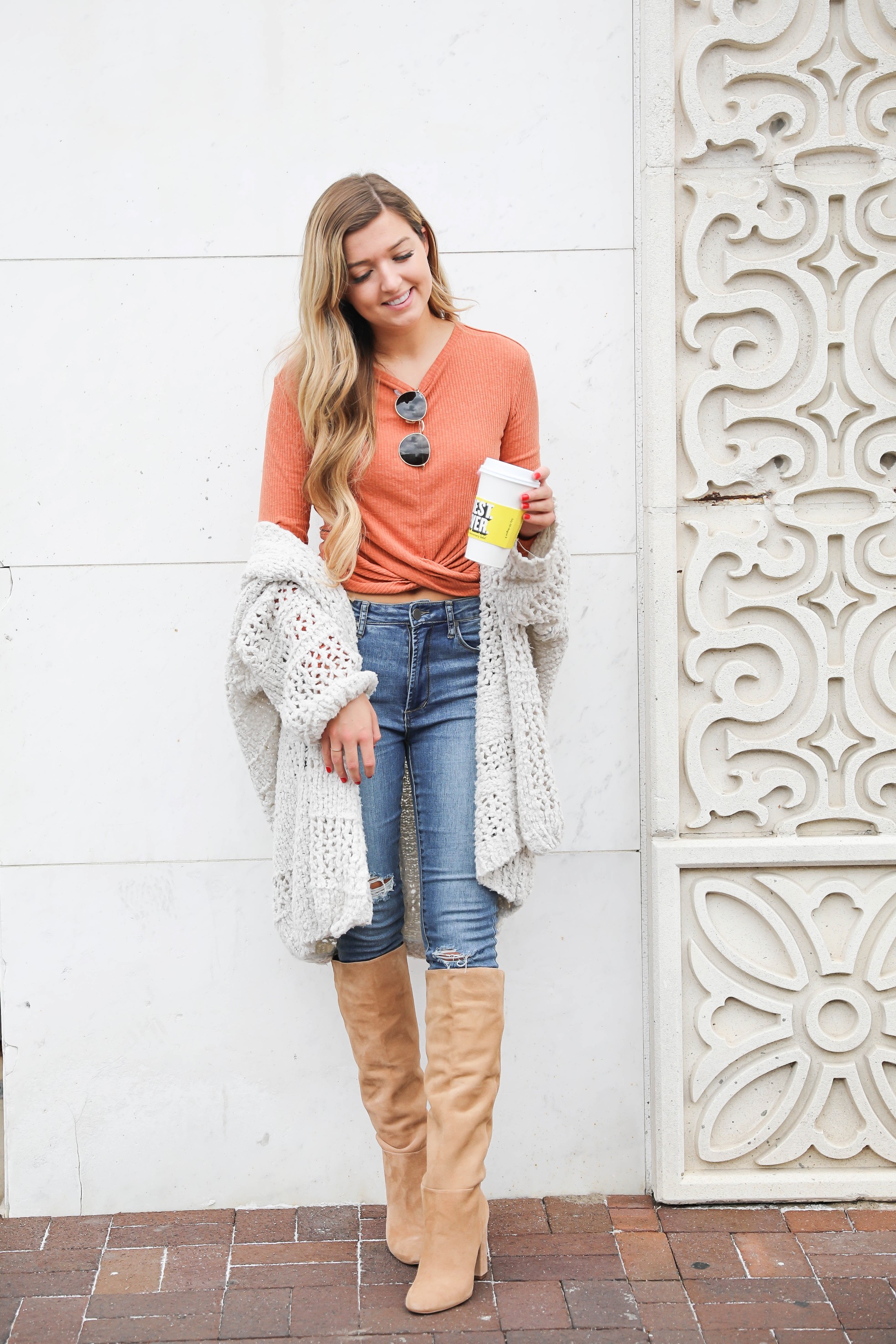 | Orange Twist Top ($35 NOW $22.90 also comes in grey and I am wearing a size small) | Ripped Denim Jeans by Articles of Society ($68 NOW $44.90 I am wearing 26 and they are true to size – sold out, but hopefully should restock) | Free People Cardigan ($148 NOW $98.90 comes in three colors & I am wearing a M/L here, but ordered a S/M in the Burgundy to compare the fit – will get back to you soon) | Sam Edelman Tan Tall Boots ($224.95 NOW $149.90 comes in three colors and fir true to size) | Ray Ban Circular Sunnies |
Speaking of Instagram, I am still planning on doing a post about how I have boosted my engagement in the last few weeks. It is taking awhile to work on, because 1. the Nordstrom sale got in the way of posting it, 2. it is a lot of info, and 3. I wanted to give myself a few weeks to work on my Instagram engagement so you guys could really see the growth! It will be up sometime this week or next week though! I am excited for you to read!
I hope you guys aren't too tired of Nordstrom Sale posts! My Instagram has featured some non-nsale items and I will be posting some outfits this week that are not from Nordstrom! I just love this sale and it's such a good deal so I need to share!
P.S. the color orange reminds me of halloween which reminds me of fall and crisp air and yummy candles and cuddles and fall dates and I CAN'T WAIT!!
xoxo,
Lauren Emily Lindmark
Copyright © 2018 dailydoseofcharm.com