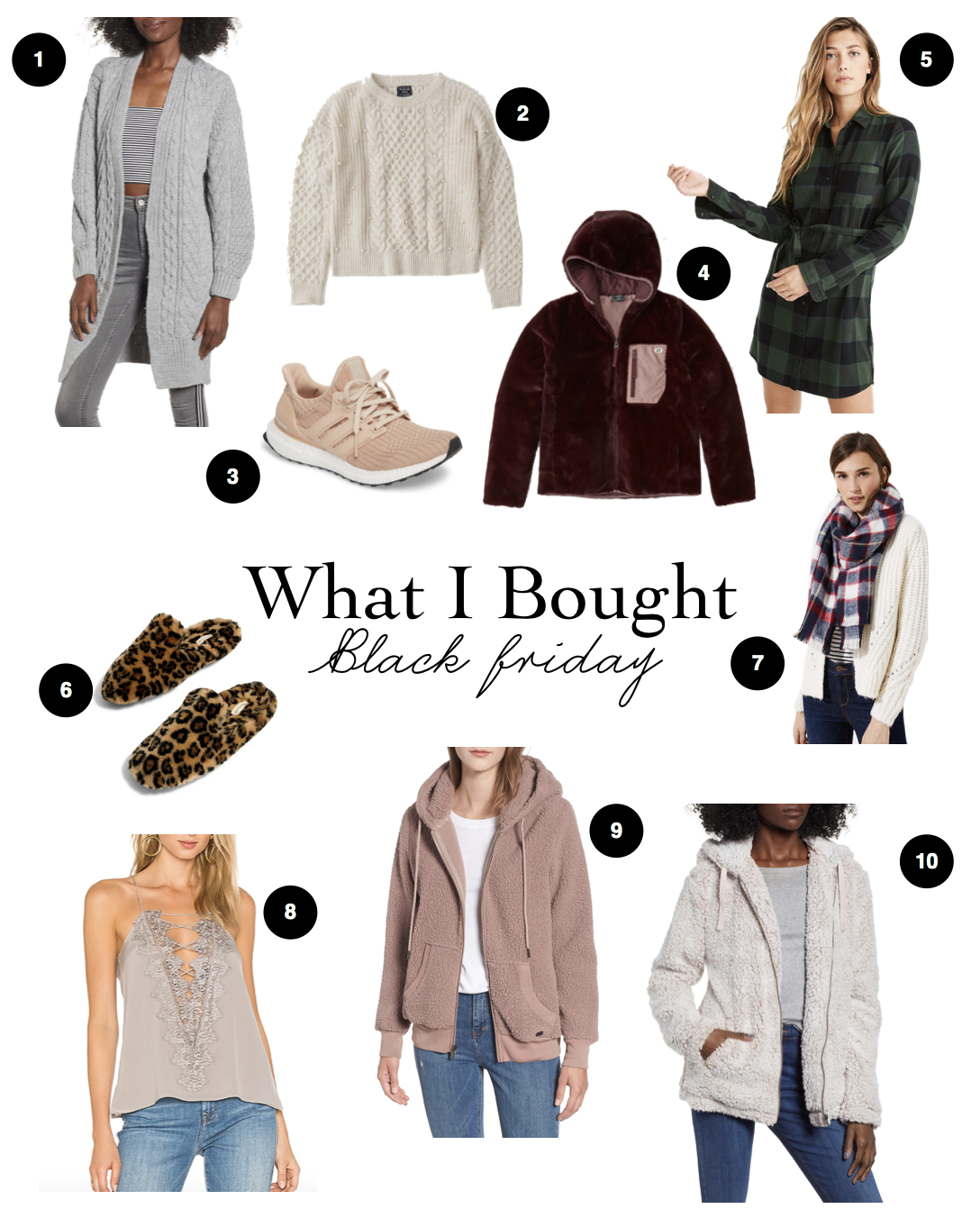 What I Bought Black Friday 2018 | HAUL
Happy Saturday! I wanted to post this quick post today to show you guys what I bought on Black Friday! There are SO many good sales! If you didn't see my master list of 75 Black Friday and Cyber Monday Deals make sure to check that out too!
1. Gray Cardigan $45 (was $75)
Comes in 7 colors! These were on sale over the summer. I borrowed my mom's cream one and loved it, I just never bought one myself! I think these are so cute and cozy! This gray color will look good in the winter. I bought an x-small.
2. Embellished Sweater $39 (was $78)
Also comes in red! I love the little "pearl" looking embellishments on this sweater! I have a plaid skirt this is going to look so cute with for the holidays! I bought an x-small.
3. Adidas Sneakers $162 (was $180)
I just really liked the color of these! I am a sucker for cute sneakers, especially because I wear so many pullovers this time of year. Pullovers, leggings, and sneakers are a go to look! I bought my regular size.
4. Maroon Pullover $49 (was $98)
Okay, so I actually bought this in the blue, but it sold out. Now I really want this color too! So perfect for the holidays! I bought a medium.
5. Plaid Dress $34 (was $68)
This is another one I bought for the holidays! It comes in 4 patterns. I can't wait to style this! I bought this in x-small.
6. Leopard Slippers $30 (was $4o)
OMG! I fell in love with these when I saw them! I mean, how cute?! I love slippers this time of year and since leopard is so in I had to buy it! I bought my regular size.
7. Plaid Scarf  $23 (was $45)
Ugh, you know I have a scarf problem. I really tried to not buy one you guys, I swear! But, this one was just too cute of a pattern for the holidays!
8. Lace Up Tank $98 (was $160)
Comes in 6 colors! I have this in white, but really liked this color too! Especially for under white cardigans! I bought this in an extra-small.
9. Comfy Mauve Zip Up $46 (was $69)
As you can see I bought two super comfy zip ups this year! I was obsessed with this color when I saw it, I can't wait to wear it! I bought this in a size medium.
10. Sherpa Zip Up $58 (was $88)
This is the second cozy zip up I got! I actually own this in the gray (you can see that here) and I loved it so much I needed this color too! The gray one I already own is a size medium, but this one was only left in large so I bought it and will wear it oversized!
xoxo,
Lauren Emily Lindmark
Copyright © 2018 dailydoseofcharm.com