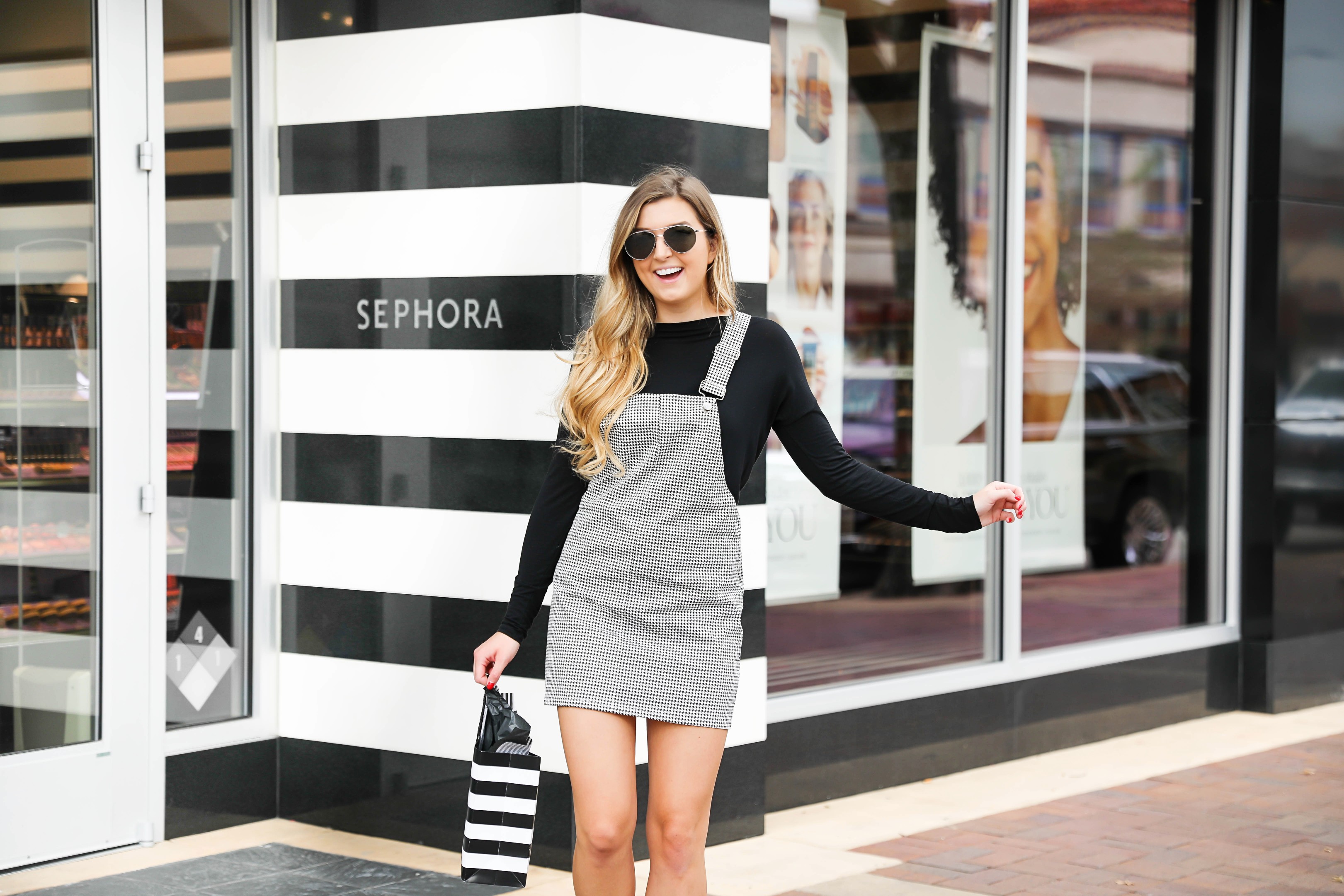 What I Use EVERYDAY from the Sephora Sale + My Wishlist | OOTD
The Sephora sale is officially open to all VIB and Beauty Insider members, wahoo! To be honest I am not one to spend a lot of money on random beauty products, which is why the theme of this whole post is "what I use everyday." I pretty much just buy the same things over and over again haha! However, I wanted to include some of the items I was eyeing so checkout my "wish list" at the bottom of the post. Let me know if you have tried any of them and if I should buy them!
So yesterday I wanted to shoot this outfit for today's Sephora post, my mom and I headed downtown and we walked into Sephora to get a bag to shoot with. My mom told me should would buy something so we could get a bag and we actually ended up both buying a few things! Luckily, my little sister is a Rouge member so we got 20% off! As we were leaving my mom got a phone call so she handed me the bag and said "don't ruin the tissue paper." She said it right in front of the sales associate and I am sure this girl thought she was crazy haha! She was just looking out for me since I was shooting photos with it.
Here are the details of the sale:
First Access: August 24–29
Sephora Rouge members get first dibs to shop top beauty finds at 20% off with code YESROUGE a full week earlier than Beauty Insider and VIB members!
The Main Event: August 30–September 3
All VIB members will receive access to shop event products at 15% off with code YESVIB, and Beauty Insider members will be able to shop the same at 10% off with code YESINSIDER.
The code is a ONE TIME CODE online, but can be used multiple times in stores (according the sweet gals at my Sephora)!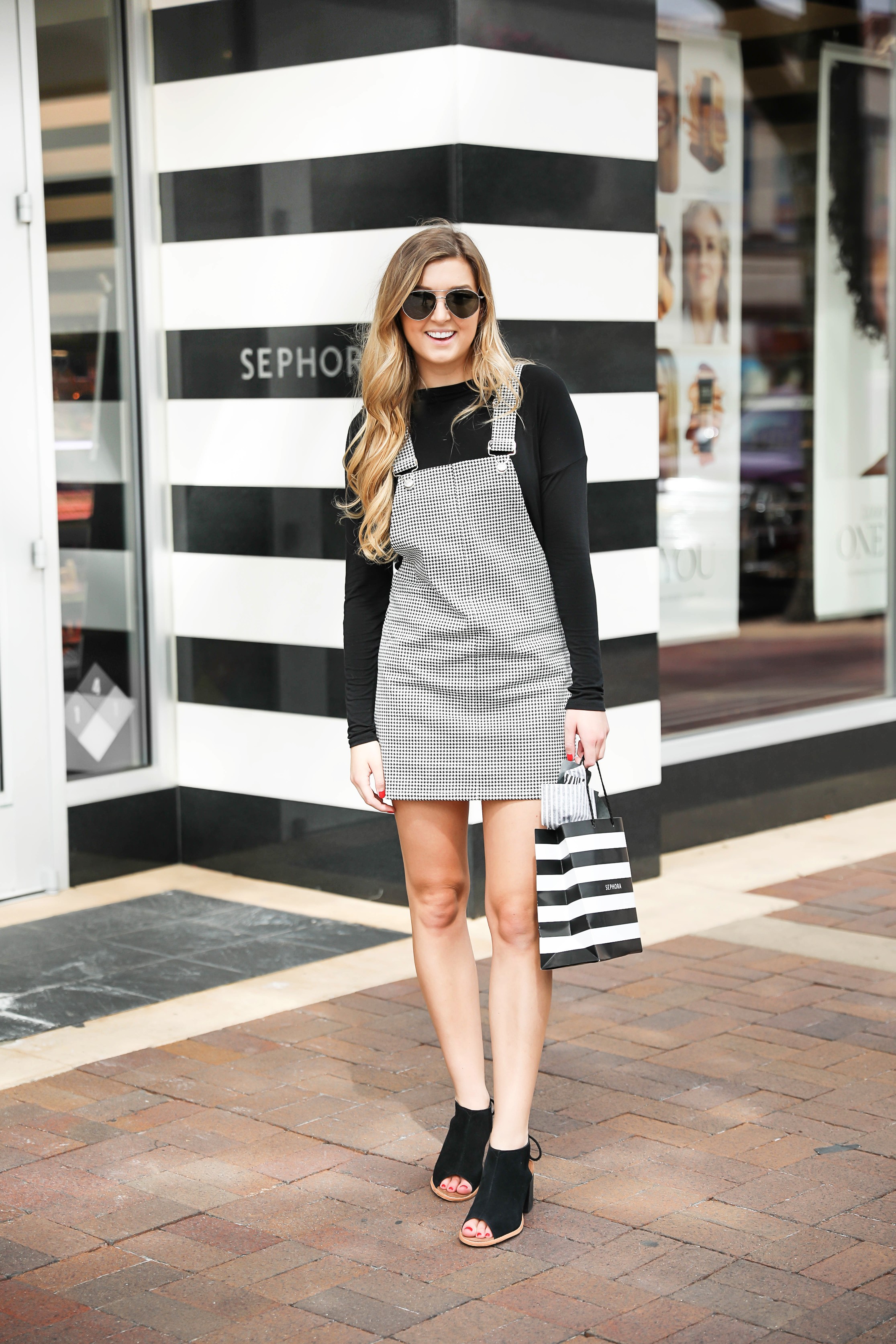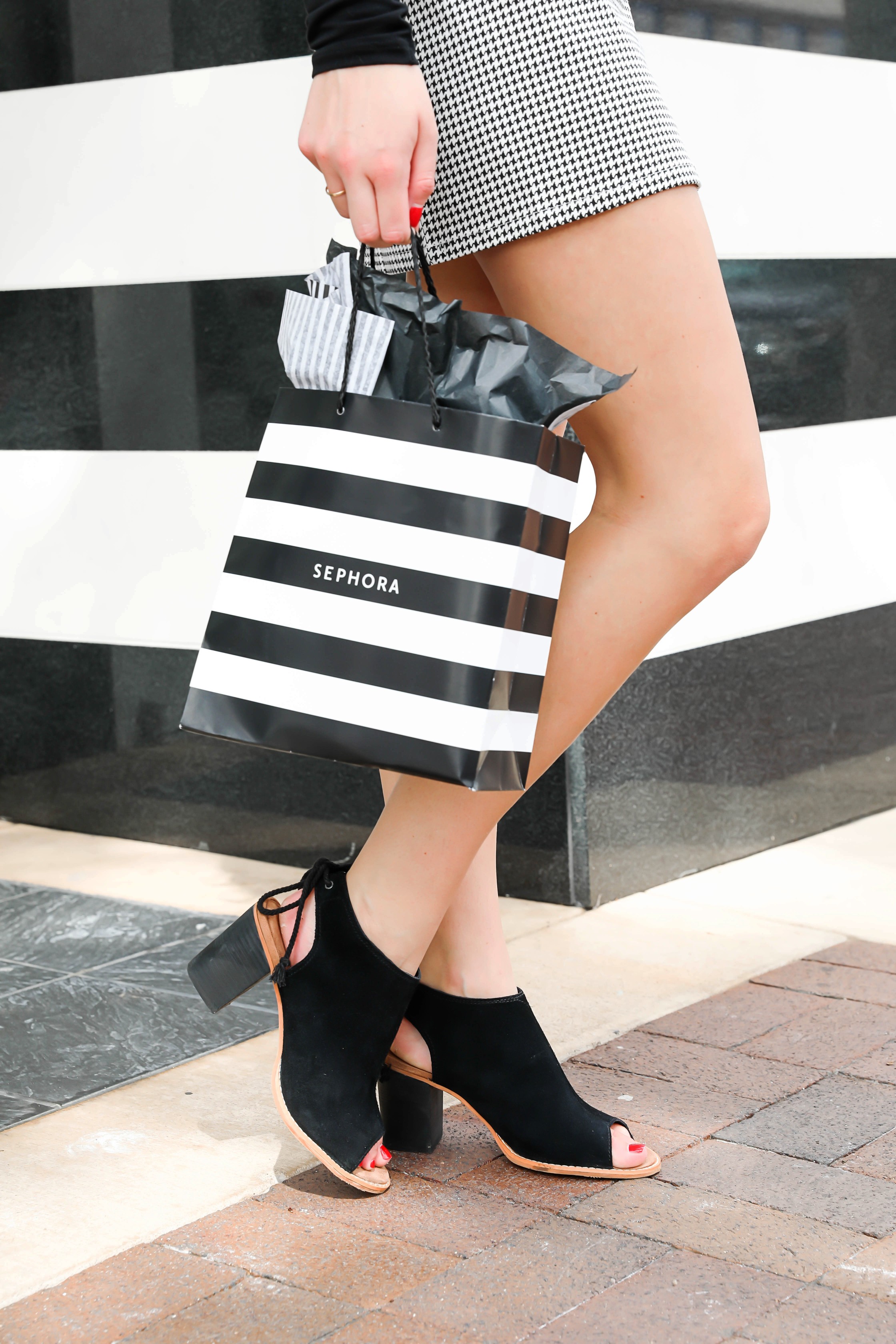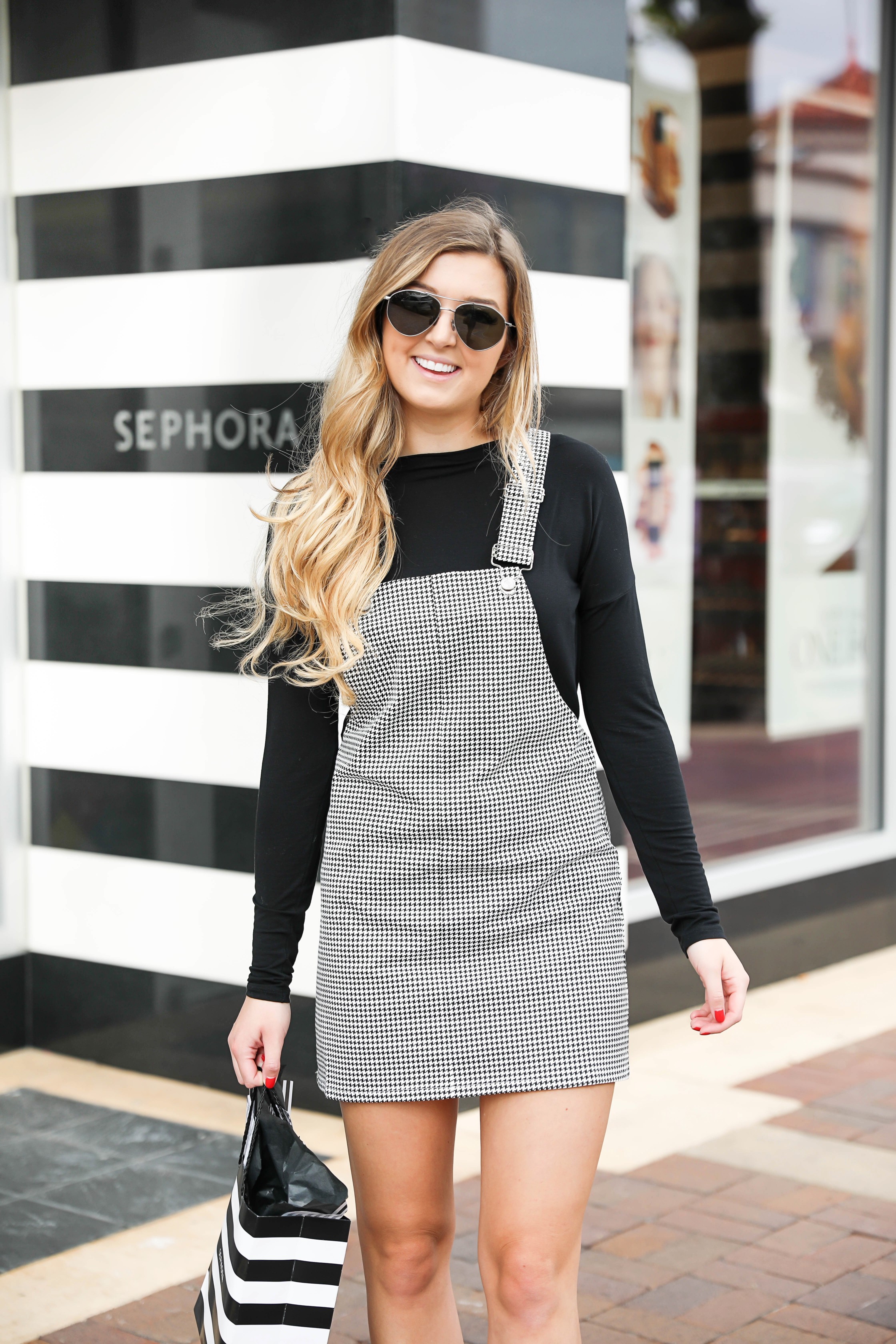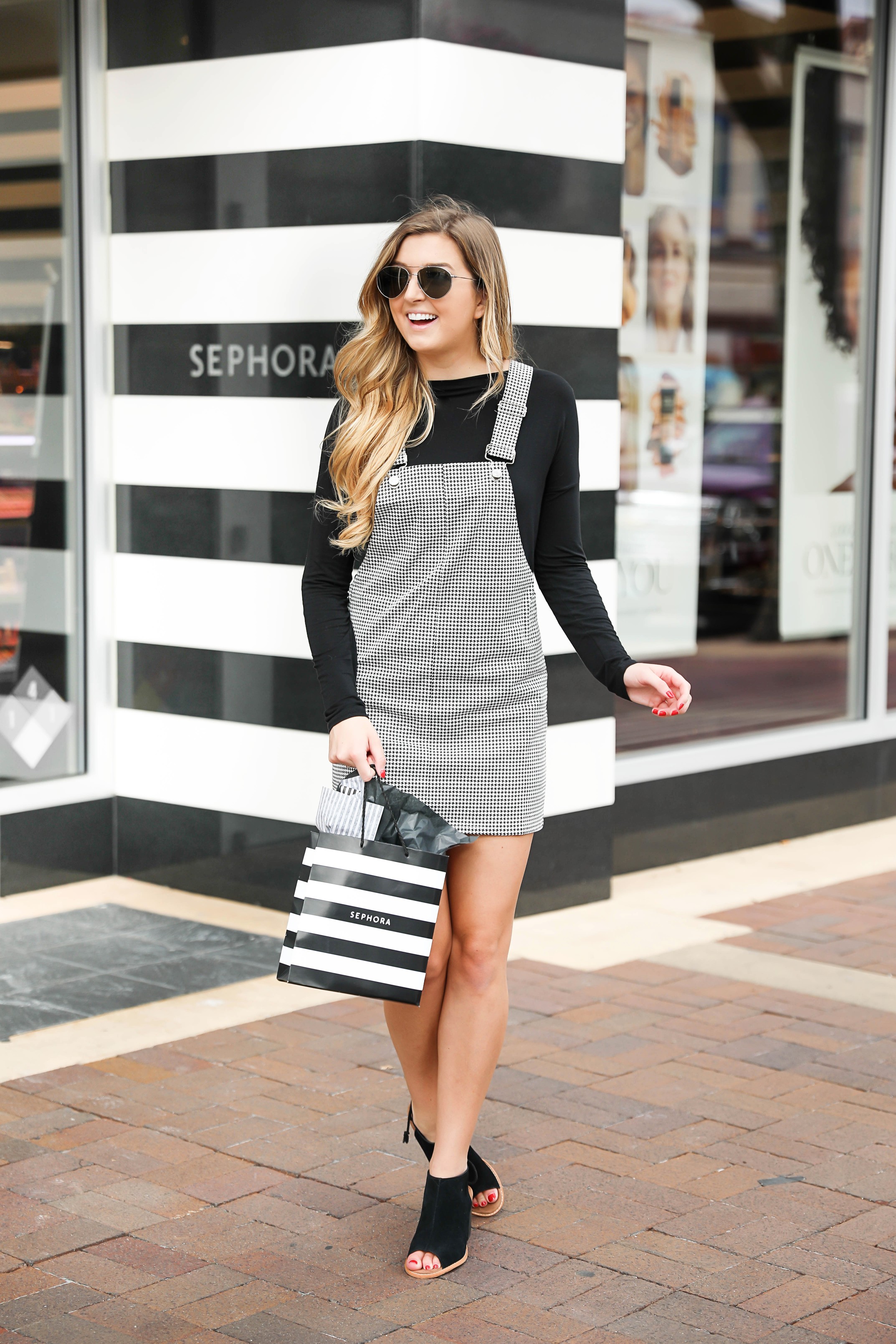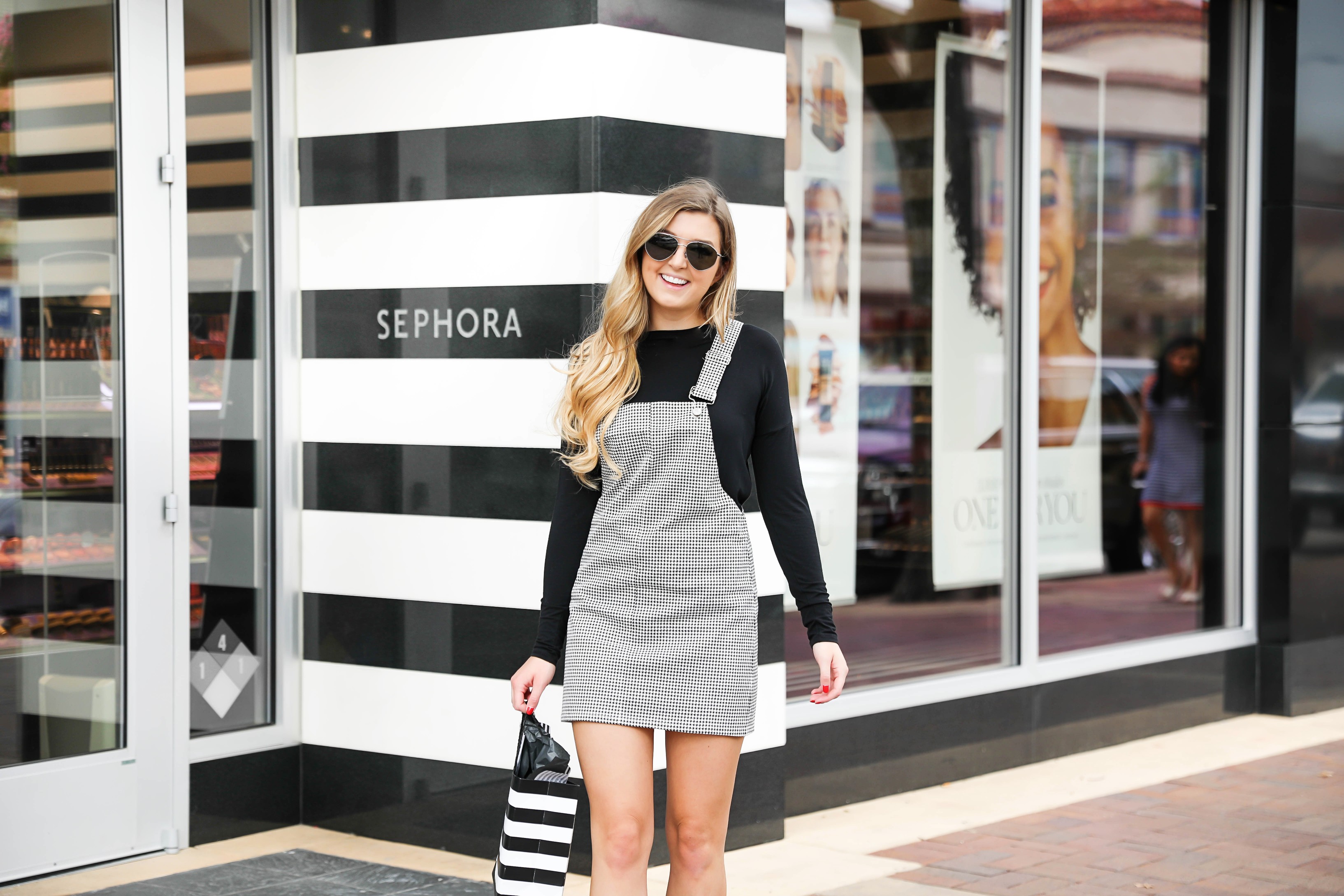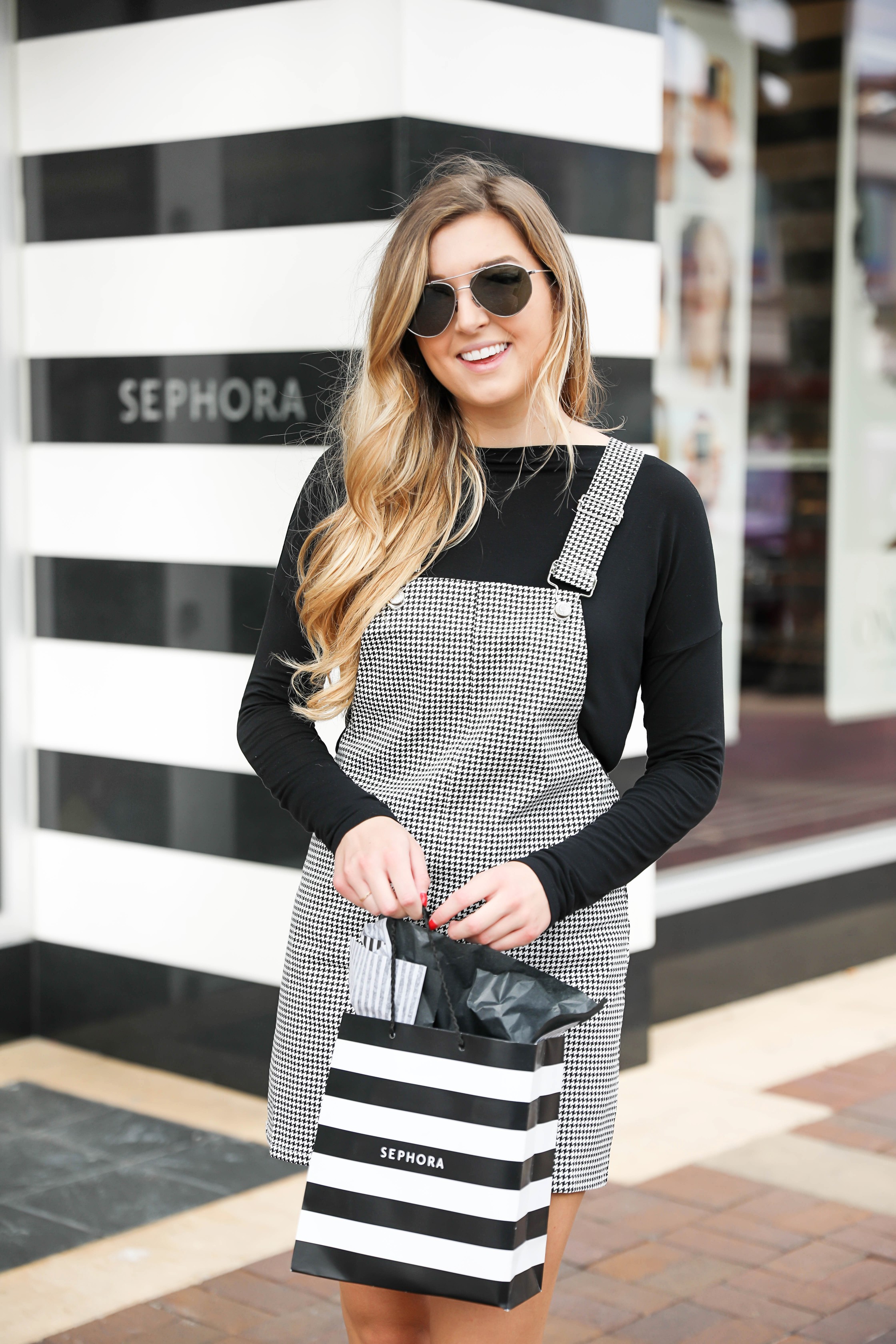 Before we get into my favorites, I do want to chat about this outfit! This cute little number is from Forever 21, but since it sold out I found it for cheaper from SHEIN (plus in more colors)! I had been saving it for fall, but thought it would look so cute to shoot outside of Sephora yesterday! Plus I am going to start sharing fall outfits on my blog anyway! I paired it with my brand new booties that I am OBSESSED with, I bought this to wear out last weekend and they are so comfy and cute!

---
So here are products I use EVERYDAY that are on sale via Sephora. Some of these products, specifically the Moroccan Oil ones, are new in their package because I am about to move into my new apartment and I wanted to buy extras of my favorite products so I could have some in my apartment and my parent's house (since my mom helps me with my blog I am back and forth a lot).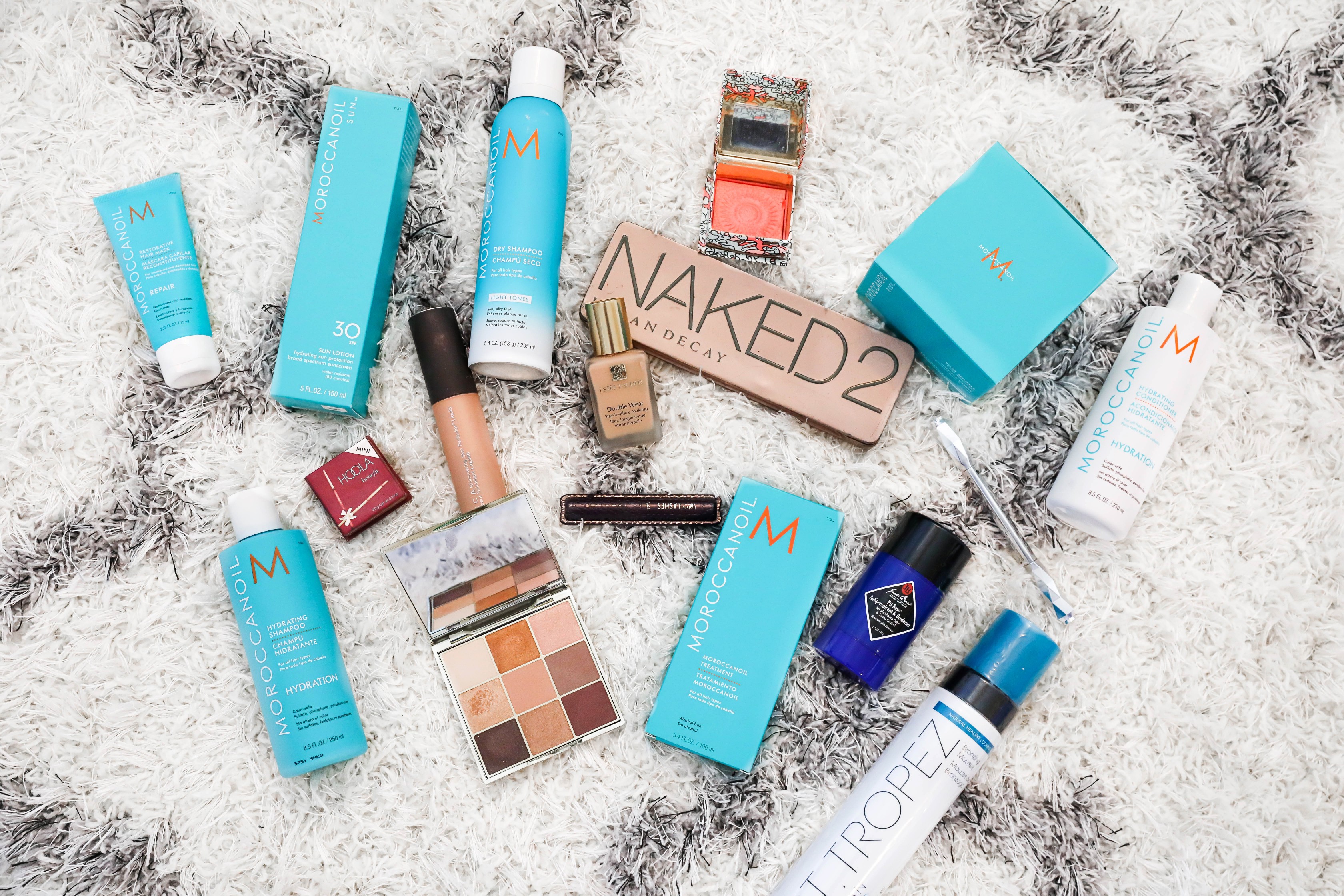 Makeup I Use Everyday That's On Sale!
I have literally owned this for years, maybe even since high school! If you look at the pallet in person it is all worn on the outside and most of the colors on the inside are all used up. It may be time to buy a new one haha! This pallet is the best eyeshadow pallet you will ever own, seriously!

I bought this two years ago on my birthday and it barely even looks used. You would have no idea that I have used it almost every day! It's super pigmented, so you only need a little dab. It has a tiny shimmer that just makes you look glowy (but not too over done). I never reach for any other blush!

This is another product I have been using for about two years. I honestly can't remember what bronzer I used before this, it's the best! I also have the cream version that I use when I am really taking my time on my makeup.

I think most people who are into makeup know how life changing this is, I couldn't not include it on my list! I want to emphasize the importance of buying an actual "Beauty Blender" brand blender! I have tried the cheaper ones and they just do not compare! Also pick up the "cage" to keep it dry in your makeup bag and the wash!

This is the only foundation I have tried that ACTUALLY stays on my face all day, but doesn't look caked on! My older sister introduced this to me, I wear it every time I am going out or shooting blog photos!

I bought this on New Years Eve two years ago and it has lasted me FOREVER! That is sort of a theme in a lot of these products haha! I love the glow this gives you, I put it on with my beauty blender when I am going out then put a little powder over it. Makes you look glowy and dewy!

This exact pallet isn't sold anymore, but this is a close second when it comes to my favorite eyeshadow brand!

This is the best brow pencil I have ever tried! It personally matched my brows really well and it's super easy to use (which I appreciate). You can buy the kit that comes with a clear setting gel and white brow pencil to make your brows pop (I use it under my brow).

I just got this stuff during the Nordstrom sale and it is amazing! It makes my makeup go on so smooth and stick so well!

Hair & Body Products I Use Everyday That are On Sale!
This has to be first on my list because I have used this on and off for years! You can not beat the smell of any of the Moroccan Oil products! The smell lingers which is the best part, I will have people ask me on second day hair, "did you use Moroccan Oil?!" It also is really moisturizing which I appreciate since I have extensions!

This stuff is amazing when you feel like your hair is getting dry or damaged. I either leave it on for 15 minutes in the shower then rinse or sleep in it and wash it out in the morning!

Okay seriously, both of these make my skin sooo soft! They were life changers when I discovered them this January. I usually shave then after I get out of the shower, but before my legs dry, I will spray on the oil then cover it with the lotion after. You will thank me later, the softest lasts all day!

It's been amazing this summer, I am just such a fan of this brand!

My issue with dry shampoo is the smell. I don't want my hair to smell "dirty" – but a lot of dry shampoos smell weird or super strong. This was obviously a saving grace because it smells AMAZING and works so well!

This stuff smells so good and works amazing! I never get pit stains! My parents were using this for a year or two and one day I ran out of my regular drug store deodorant and tried there's – I haven't gone back since!

This is the only fake tanner I will use! I love how it goes on (use a mitt) and it makes you look like you have that summer glow all year around!

I bought this stuff last November and lost it, I need to buy a new one! I guess it should technically be on my wishlist, but since I have tried it and used to use it every day I will keep it up here. It tastes so good (not that I eat it lol…but it's on your lips so you can obviously sort of taste it). Plus it makes them so soft! They also make tinted one, I linked two below – but click on it to see the rest of the colors!

This is what I use to curl my hair! It is THE BEST! I usually use the big barrel. It heats up so fast, plus they are cute!

My Wishlist!

xoxo,
Lauren Emily Lindmark
Copyright © 2018 dailydoseofcharm.com