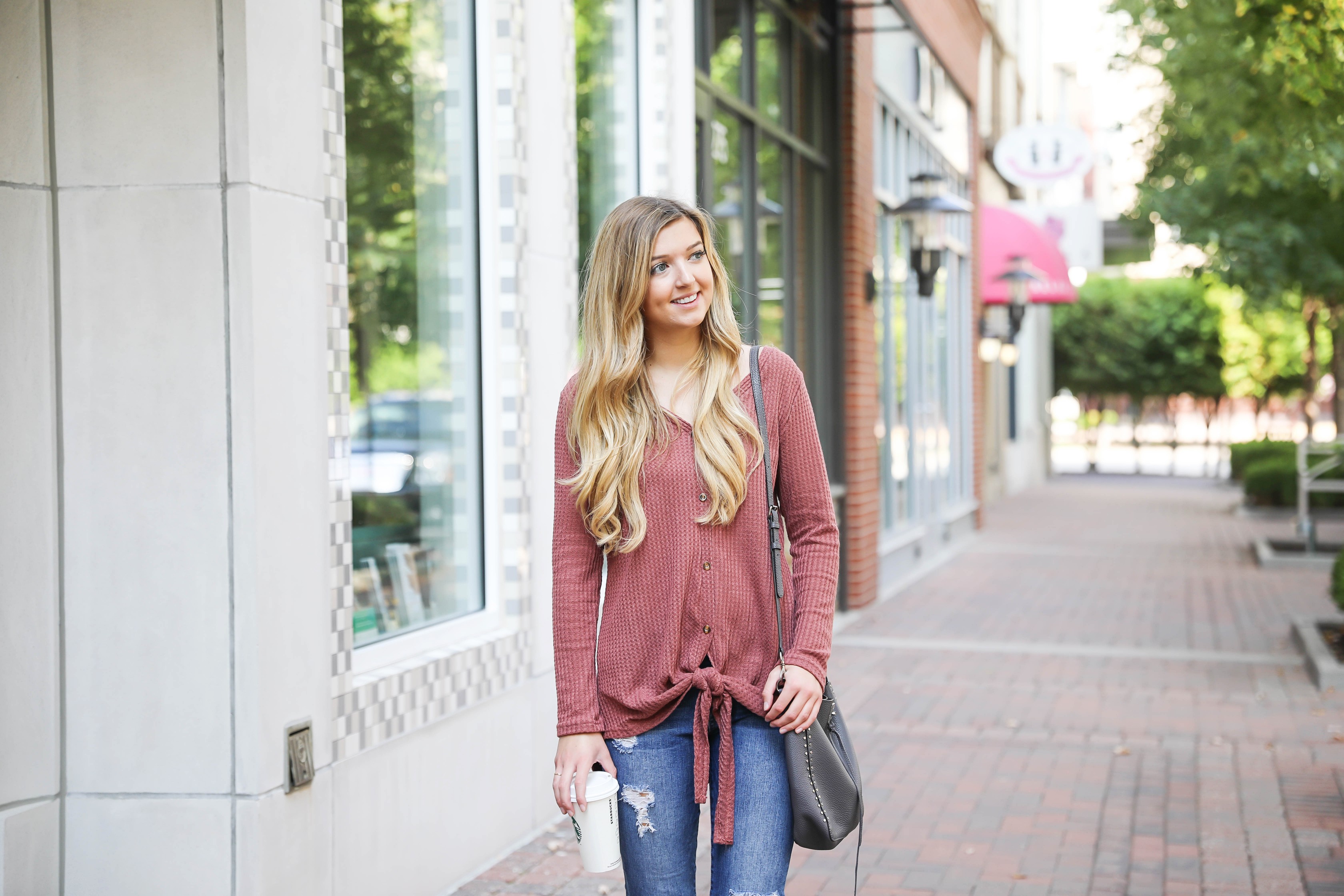 Back to School Tips from Someone Who HATES School | OOTD
I feel like this is one of my first official fall looks that is going on the blog and I am so excited! I have been burning my Bath & Body Works fall candles for a few weeks now just waiting for mother nature to take the hint and cool off haha! I think we are in for a hot August though. It probably won't stop me from wearing sweaters and jeans! Fall fashion is definitely my favorite out of all the seasons, I love sweaters! It is always a fun time for blogging, I can't wait to show you guys everything!
I wanted to do another little back to school post. A lot of you wanted college and high school advice when I asked you what posts you wanted to see! I decided to make it one big post where I talk about things I've learned and tips for success. I hope it helps you guys!
Back to School Tips
1. Find Things that Will Get You Excited About School!
This has always been an important one for me as someone who does not like school. I always had to find ways to trick myself into being excited for school! Whether it's a new backpack, some fun school supplies (check out my post), new clothing, or just a enrolling in a certain class you are excited about. There are lots of ways to set yourself up for success and happiness!
2. Invest in online programs like "Chegg."
This is something that I didn't do until this last year, but I am so glad I did! There are mixed opinions about Quizlet, Chegg, etc. because some people see it as "cheating" – which honestly you could use it to find a lot of answers. However, I liked it because it helped me study for tests and it also helped me work through homework problems I was stuck on. I split the cost with friends and we all share logins (which you aren't supposed to do, but oh well). They really are great tools! Side note, Quizlet is free, but I heard they are cracking down on study guides that have test answers.
3. Make Plans for After School.
This is something that especially helped me in grade school/high school. I was never excited for back to school so I would make plans with my friends to hang out after. That way I woke up and though, "yay I am having dinner with my friend tonight!" and not "ugh I don't want to go to school." It even works in college! Syllabus week is a week a lot of people go out and have fun at KU so it has always been a more exciting way to kick off the school year!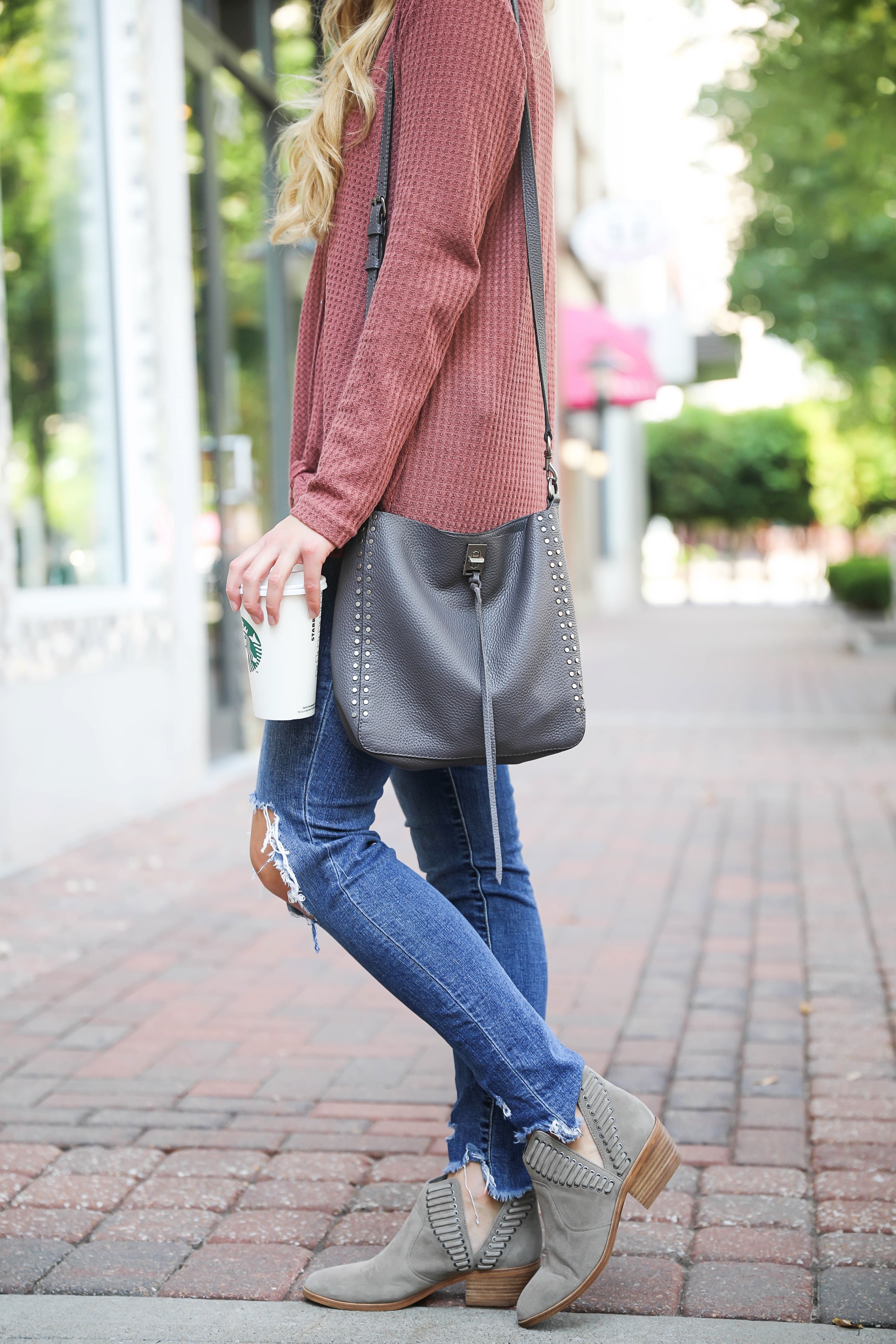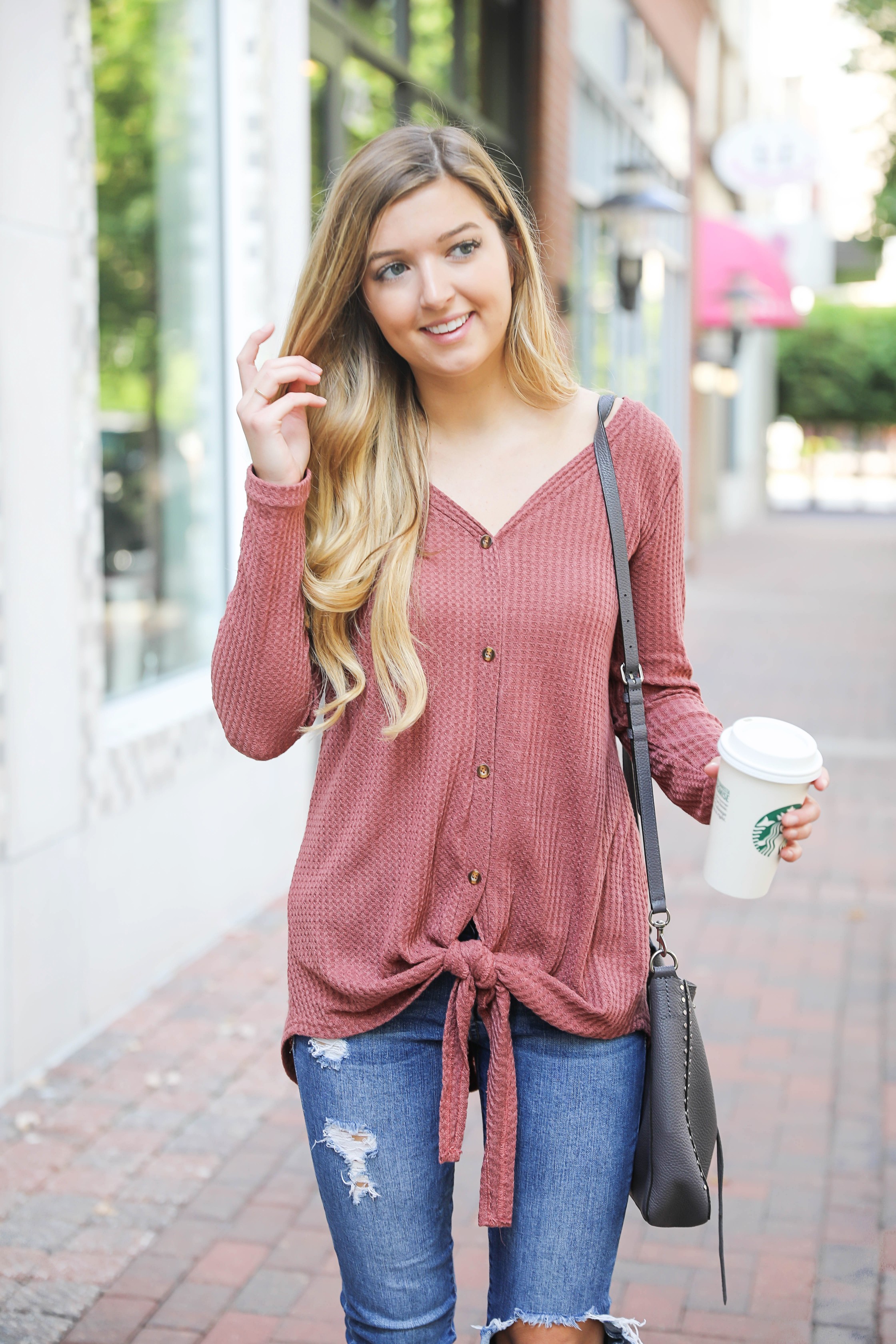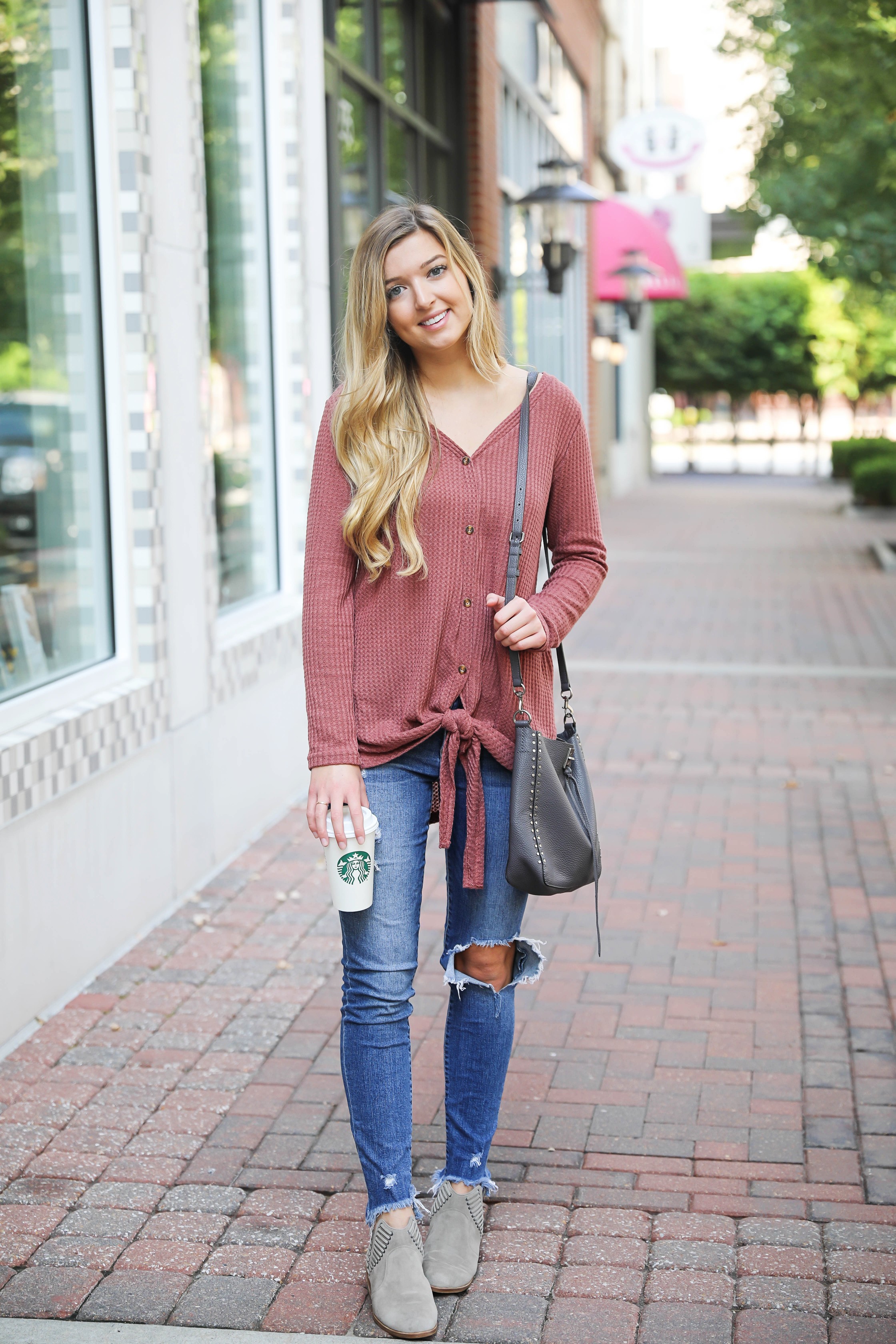 4. Write Down All Your Semester Due Dates the First Week of School.
You don't even need a planner to do this, I had a friend that would write down and organize all her due dates for all of her classes and color coordinate it. Then she would keep it with her and cross of things as she went. It was a great way to stay organized and not forget to do any assignments!
5. Get Organized and Get Ahead.
If you don't already use a planner or iCalendar, you should! I use the iPhone calendar religiously and it has changed my life! It helps me stay organized and it has helped a lot with time management. I know you can't get ahead in all your classes, but if you have classes where you can work ahead I highly suggest it! You never know what is going to come up, and the last thing you want is to miss out on something because you waited until last minute to get work done.
6. Wait to Buy Textbooks.
I swear I have only used two actual textbooks in college. The online ones we have used more, but I cringe thinking about the hundreds of dollars I have wasted on actual books. Ask friends or someone you know that has had your professor if you need the book. If you do, see if your friend will sell you their oldbook!
7. Try Your Best, but Don't Overthink the Grades.
When I was younger and got upset about a test score my parents would always ask me, "well did you try your best?" Because the truth is, sometimes we do try our best and something happens where we just don't perform as well as we want – 0r maybe the required class you are in just isn't your forte. At the end of the day your grades do not define you. Focus on learning and not just getting the A, your future employer is going to care about your skill, not what your grade was.
8. Get Involved.
To be honest this is something I don't love to do. I am introverted and always so busy with my blog that I didn't spend a lot of time getting super involved on campus. However, building up a resume is important and you also meet so many great people through getting involved! I was in a sorority at KU and it ended up meeting my best friend!
9. Ask for Help.
This is something my mom always preaches to me. I like being independent and doing things myself, plus I am so shy I hate the thought of having to go to office hours or get help from a TA. However, asking for help is important! It's better to do it before it's too late. A lot of school and college have peer tutors you can see which is awesome!
10. How to Find Your College Classes on Campus:
So this is a random tip, but the other day my boyfriend and I were having a disagreement about which maps were better on the iPhone: the plane white one with street signs or the satellite one where you can see the trees and buildings (if you don't know what I am talking about go to your maps and the "i" in the top right corner. It will let you choose between "map" and "satellite"). I like the regular maps better because it's less busy and just give you turn by turns, but my boyfriend like the satellites so he can see what the buildings look like. It reminded me of my freshman year of college when I would type my lecture hall into my maps and use the satellite to figure out what it looks like! It was a HIUGE help!
11. Have an Open Mind.
Don't go in to school with too many expectations. Whether it's high school or college, we see so many movies and TV shows that glorify the experience. However, everyone's experience is different. You have to make the most out of what you get!
12. Be in the Moment and Don't Forget to Live.
My last tips is don't let school take over your life. Yes it's important. Knowledge is important, working hard is important, and your future is important. With that being said, life is all about balance. You can't spend all four years of high school or all four years of college with your head in a book. Find things you are passionate about, go out with your friends, take up new hobbies, fail a few tests, make mistakes, but live your life! No one is perfect, and in 20 years you are not going to regret taking time for yourself!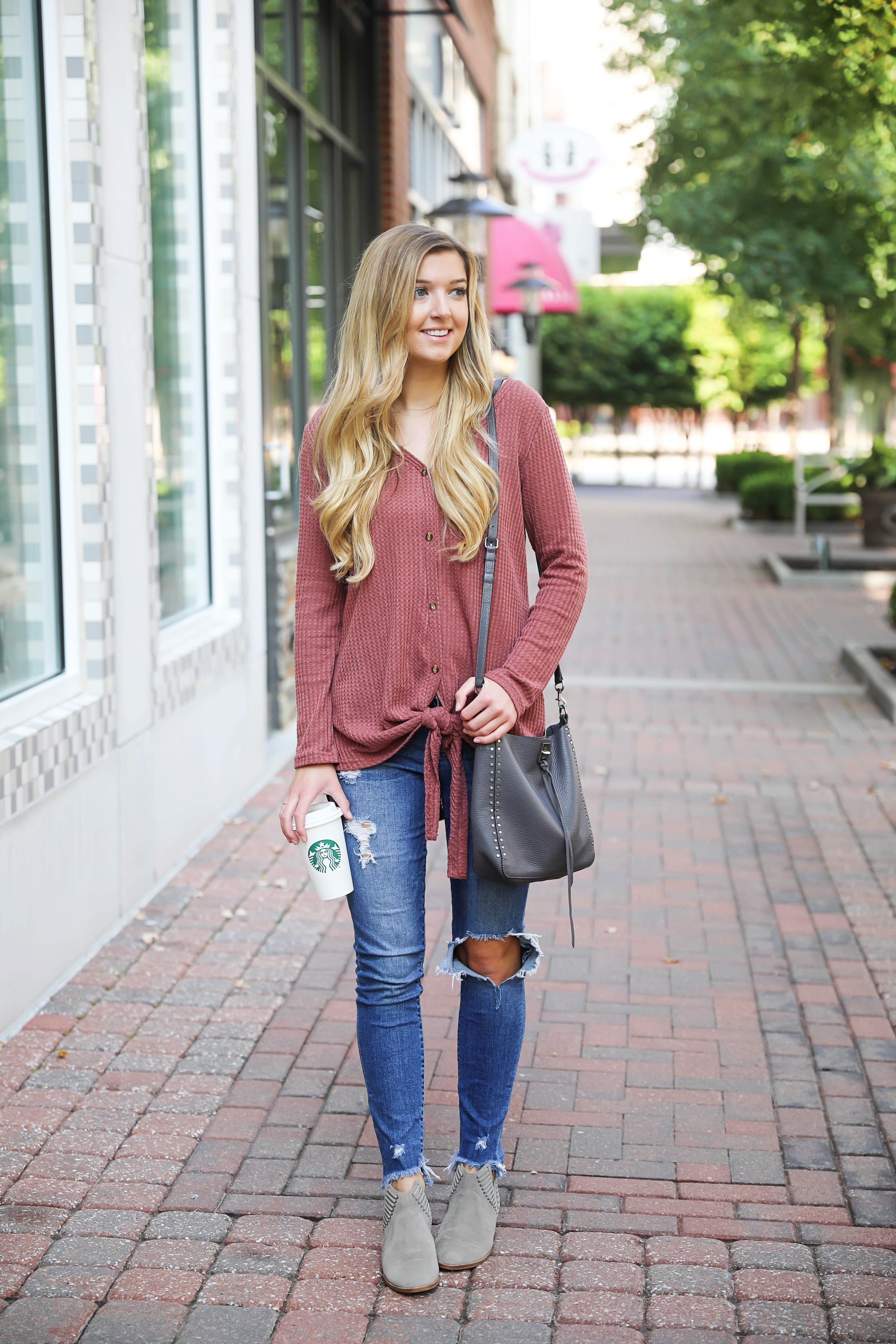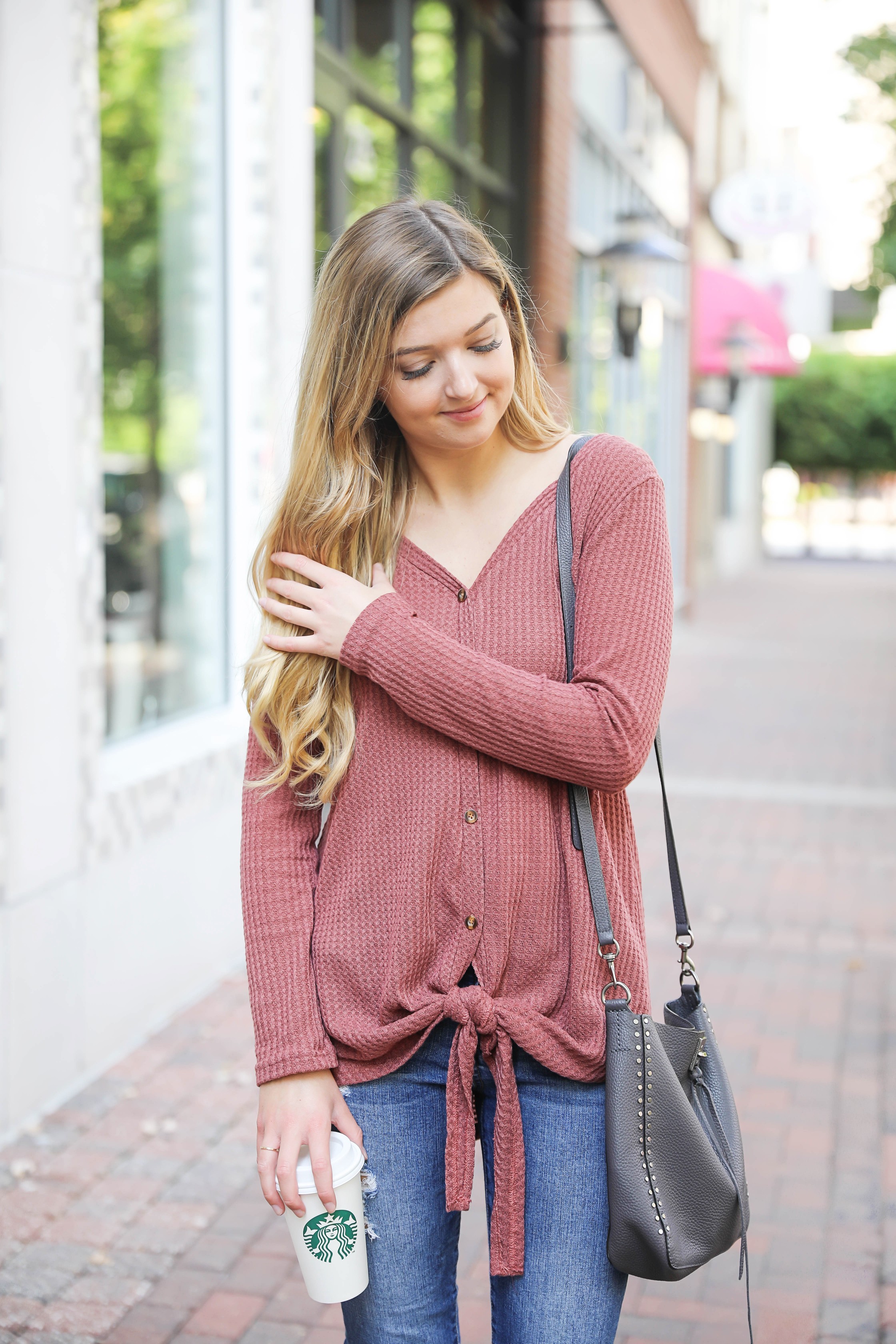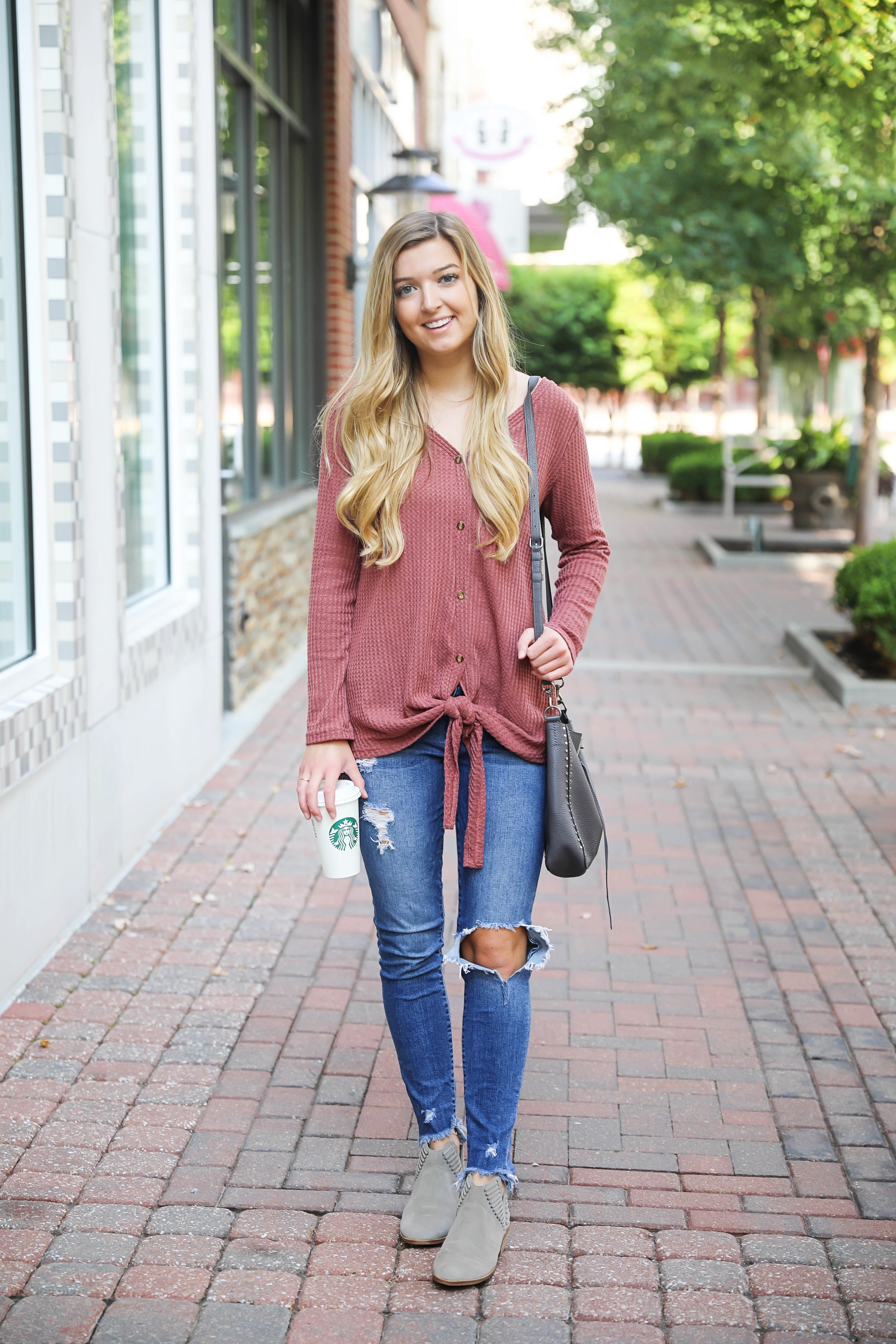 | Waffle Top ($20 and comes in six colors, I am wearing a size medium in the color red) | Ripped Denim Jeans (similar linked because mine are sold out) | Grey Booties (fits true to size, I am waring the color greystone comes in 4 colors) | Crossbody Bag (my color is sold out, more colors linked below) |
How cute is this fall outfit? It just makes me so happy for some reason! These waffle takes have been so in this year and I was really excited to find them on Amazon for only $20! They come in six colors and I am thinking about ordering another neutral one. Should I size up more? I like them oversized, but this one fits really well!
I paired them with my favorite ripped jeans from Red Dress Boutique that are unfortunately sold out, but I linked a similar pair I just ordered! You'll see them on the blog soon! I also threw on my favorite shoes that were from the NSale, they come in four colors and are really comfy!
Shop the Post!
xoxo,
Lauren Emily Lindmark
Copyright © 2018 dailydoseofcharm.com