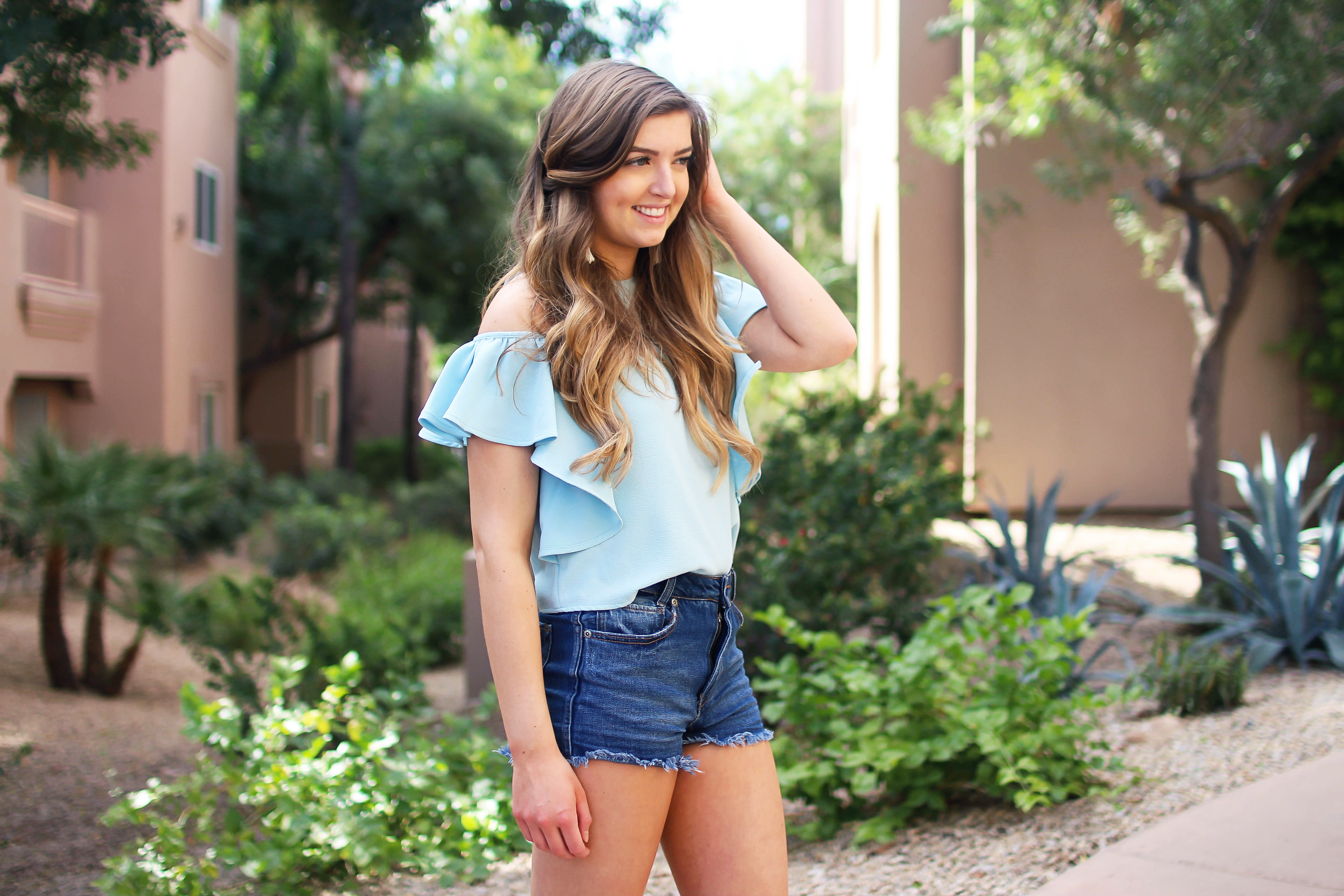 Cold Shoulder Ruffle Top | OOTD
Hey everyone, happy Monday! I am writing this from the beautiful city of Scottsdale, Arizona – which means yes, I am still here and I did extended my trip haha! I was supposed to leave yesterday, but as of right now my mom, sister, and I do not have a return ticket and I do not want to leave! I definitely have a bad travel bug! Although I am really starting to miss my dog…
I wore this top this weekend and LOVED how it looked! It's a cold shoulder top with the cutest ruffles around the sleeves. I also love the pretty light blue color, it reminds me of the sky and makes me happy! I paired it with my new favorite wedges that I think they are definitely going to be a staple this spring and summer! Not only are they cute, but they're super comfy and easy to walk in which is something I look for when I'm buying wedges.
In other news, I have been NON-STOP researching cameras lately. I currently shoot with a Canon Rebel t4i that my sweet grandma gave me to support my blog! Everyone in my family is really into photography and gear including her so she upgrades every few years and I got her old one! I will forever be grateful for this camera, but I want to save up to buy one on my own that is newer! Right now I am leaning towards the Canon 5d Mark IV, however, I have never purchased something that expensive and I am so worried it's the wrong choice! I am also torn because I want to get more into videography and I've heard it's not the absolute best for that.
Because of that I have also been researching the Sony a7s II for video, but that camera is not as good at still photography and I would also have to buy new lenses so I would have to end up eventually getting a photo camera too. *SIGH* Haha that probably seemed so dramatic, I'm so lucky (believe me I know that)! But at the same time it's just such a huge decision. Anyways, sorry for the rambling, but if anyone has an guidance let me know! If you're even somewhat a photographer you know how crazy this world is – there are so many brands, models, lenses, etc.
xoxo,
Lauren Emily Lindmark
Copyright © 2017 dailydoseofcharm.com