Comparing Three Brands of Faux Leather Leggings | Which is Best?! OOTD
Happy Wednesday! We made it halfway through the workweek! One of my New Year's resolutions was to post more meaningful posts on my blog, instead of just shooting a random outfit and posting the photos. So, today I thought it would be fun to compare three different brands of faux-leather leggings, all from different price points!
If you follow any blogger on social media you have probably seen that faux leather leggings are super in! It took me awhile to actually get a pair, but now that I have I can't take them off! They're such a cute way to spruce up a casual outfit.
Today I am comparing three brands, TopShop ($60), Spanx ($98), and Target ($16). I had always heard to size up with faux leather leggings because they are TIGHT. So I bought them all in the same size – medium – because I thought it would make it a "fair" comparison, but unfortunately the Target ones ran larger than the rest (or should I say, more true to size) so they look a little big.
Let's go ahead and get into the post!
Pair #1 TopShop ($60)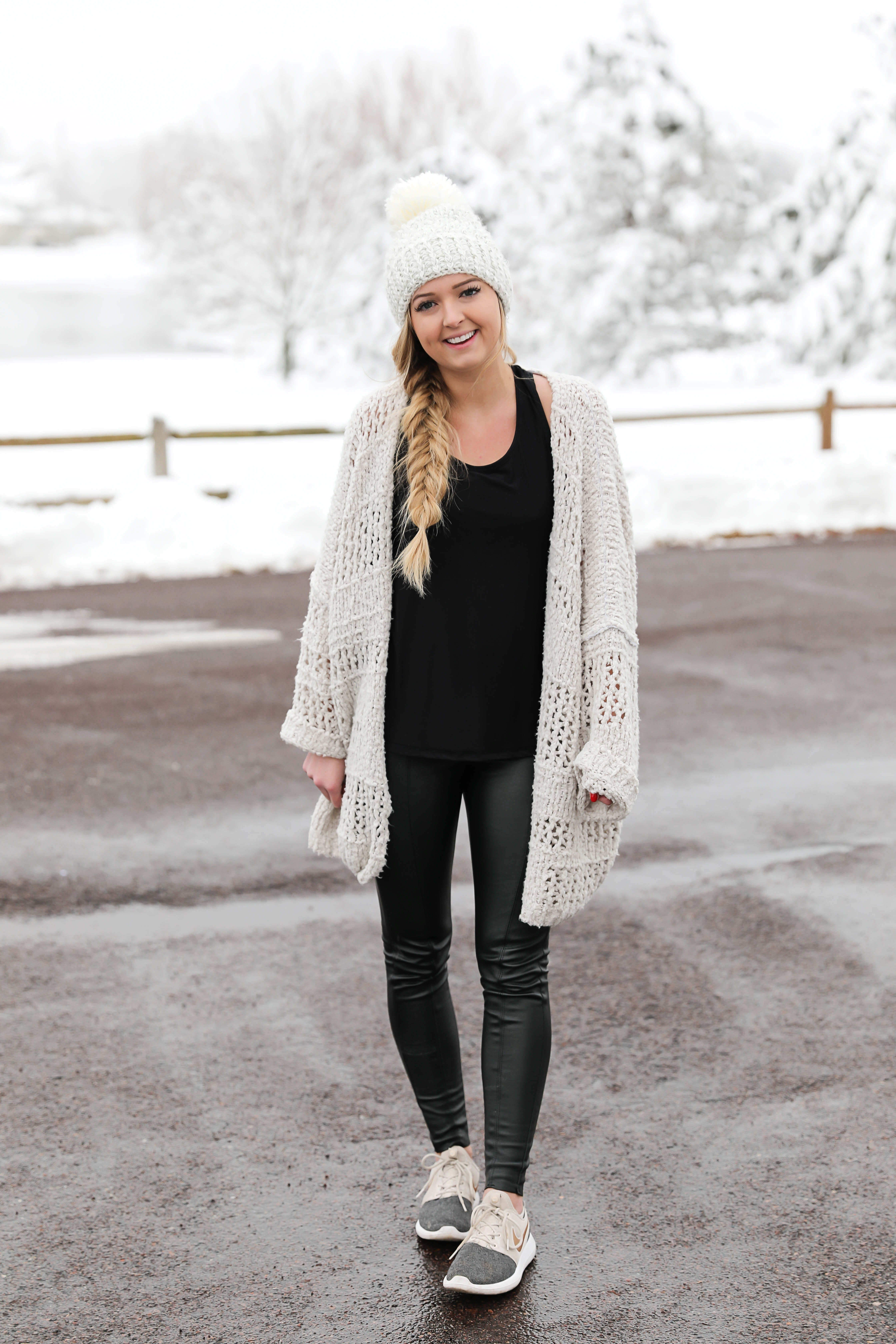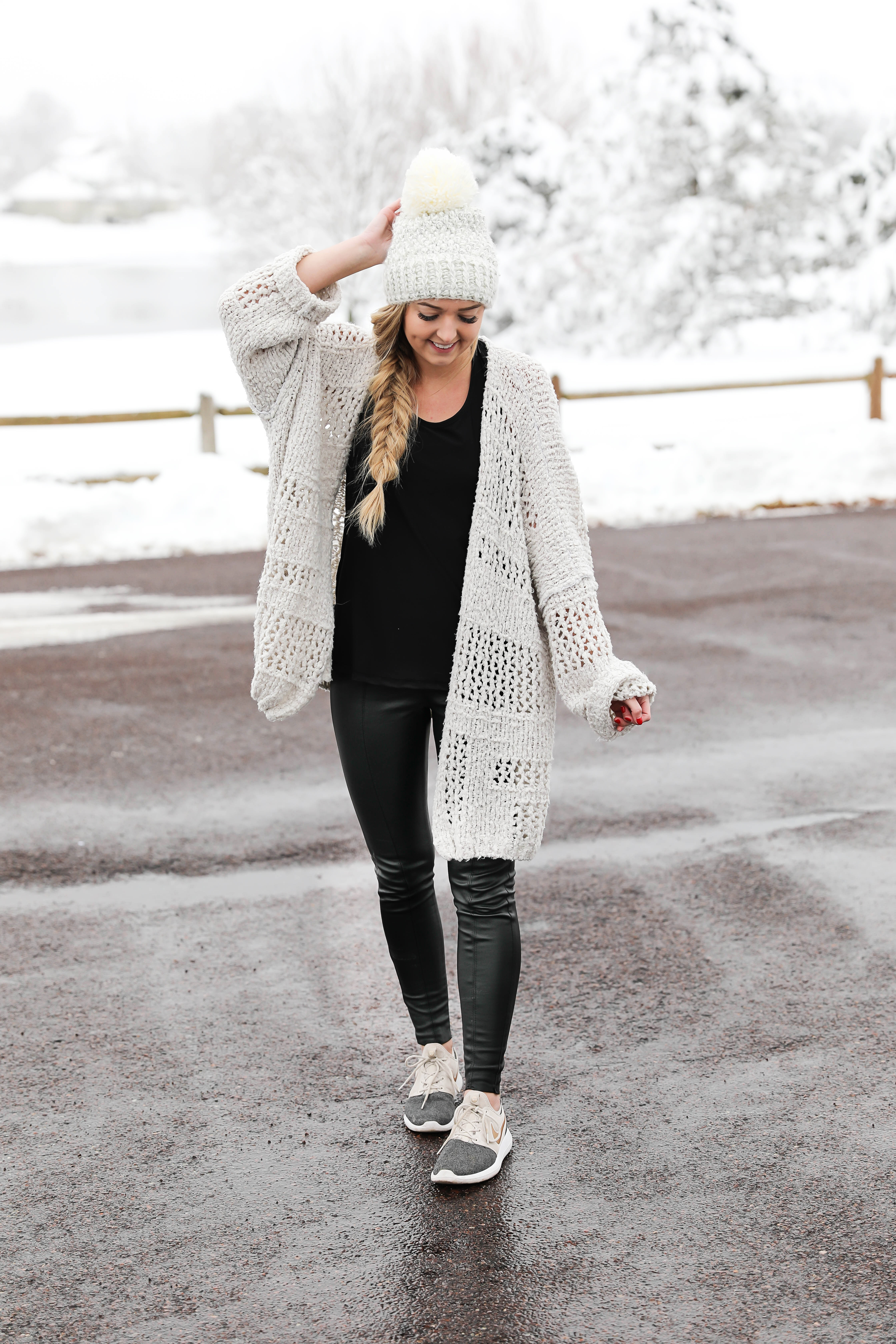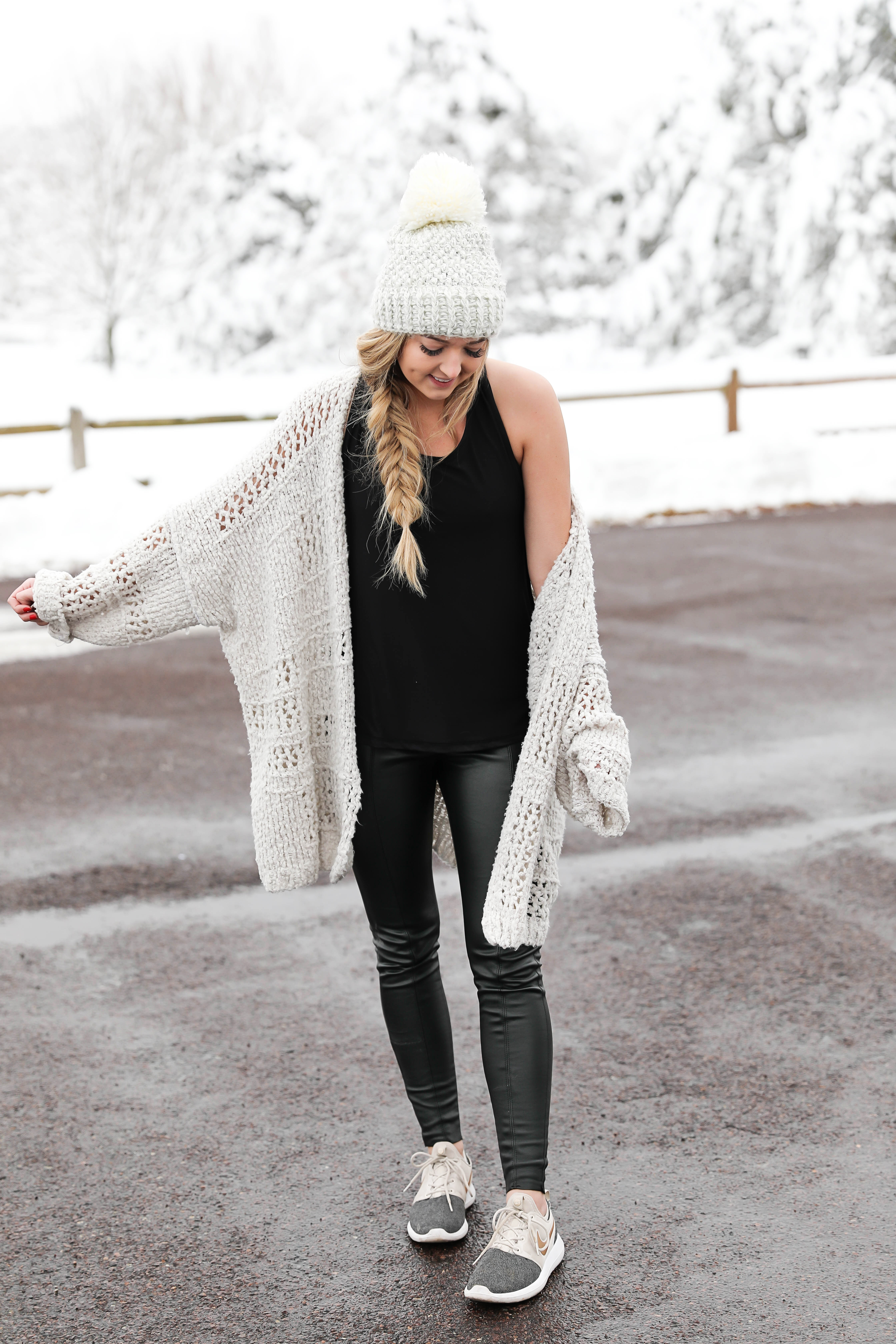 | TopShop Faux Leather Leggings ($60 I am wearing medium – I sized up) | Cardigan (super similar) | Beanie (similar) | Black Tank ($7) | Sneakers (sold out) |
These were the first pair I bought (you can see them styled in this Instagram photo from before Christmas). Here are the pros and cons:
Pros:
– Price is pretty reasonable compared to a lot on the market
– You can see the shine
– SUPER comfy (they feel fleece lined)
Cons:
– Thick (which may be nice if you live somewhere super cold)
– Lines running down the legs (which may be cute, but they are not plain like a lot of the other ones)
– Too high waisted (I wish I would have gotten a better pic, but they aren't the kind of pants you can tuck tops into)
Pair #2 Spanx ($98)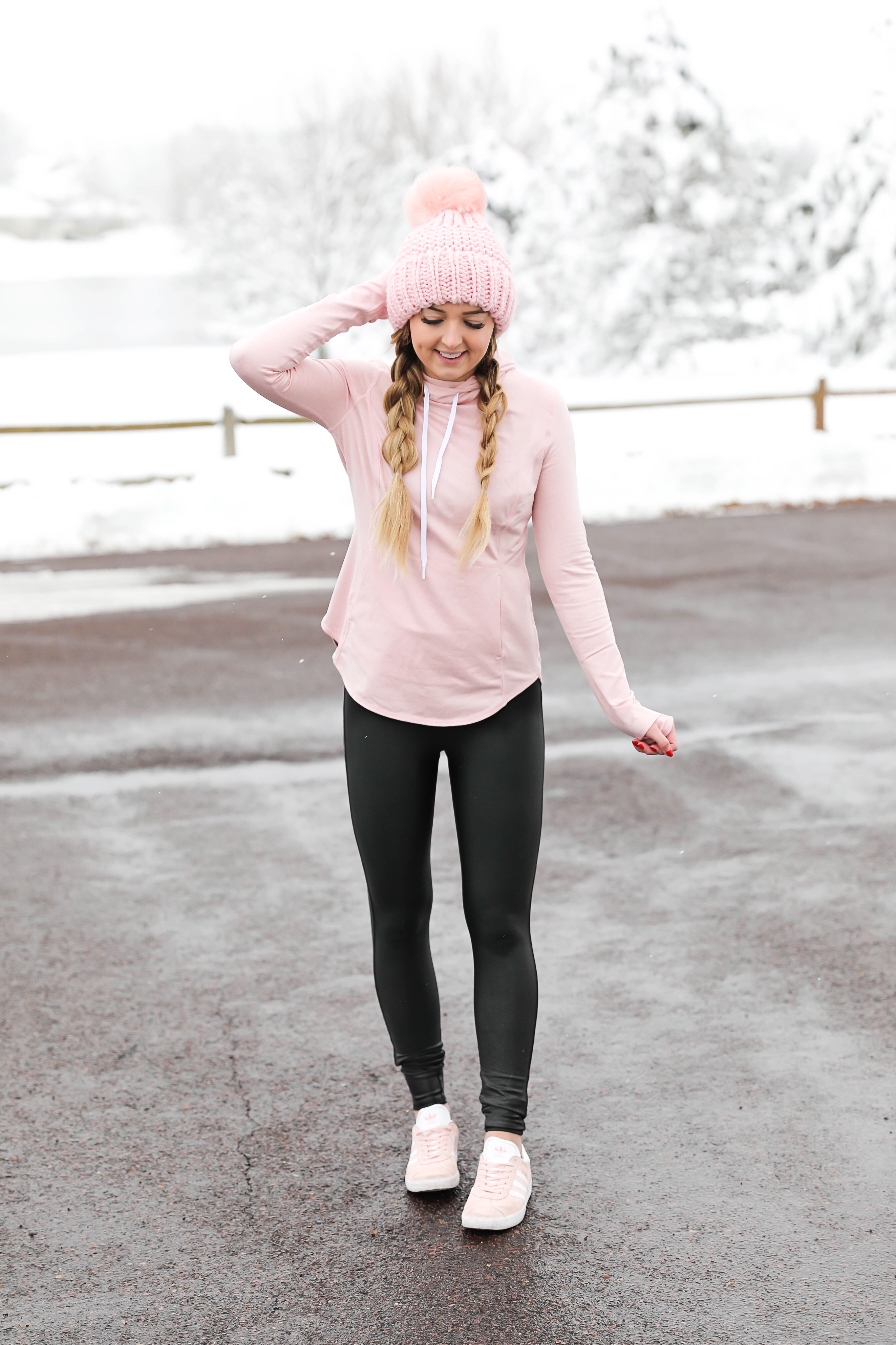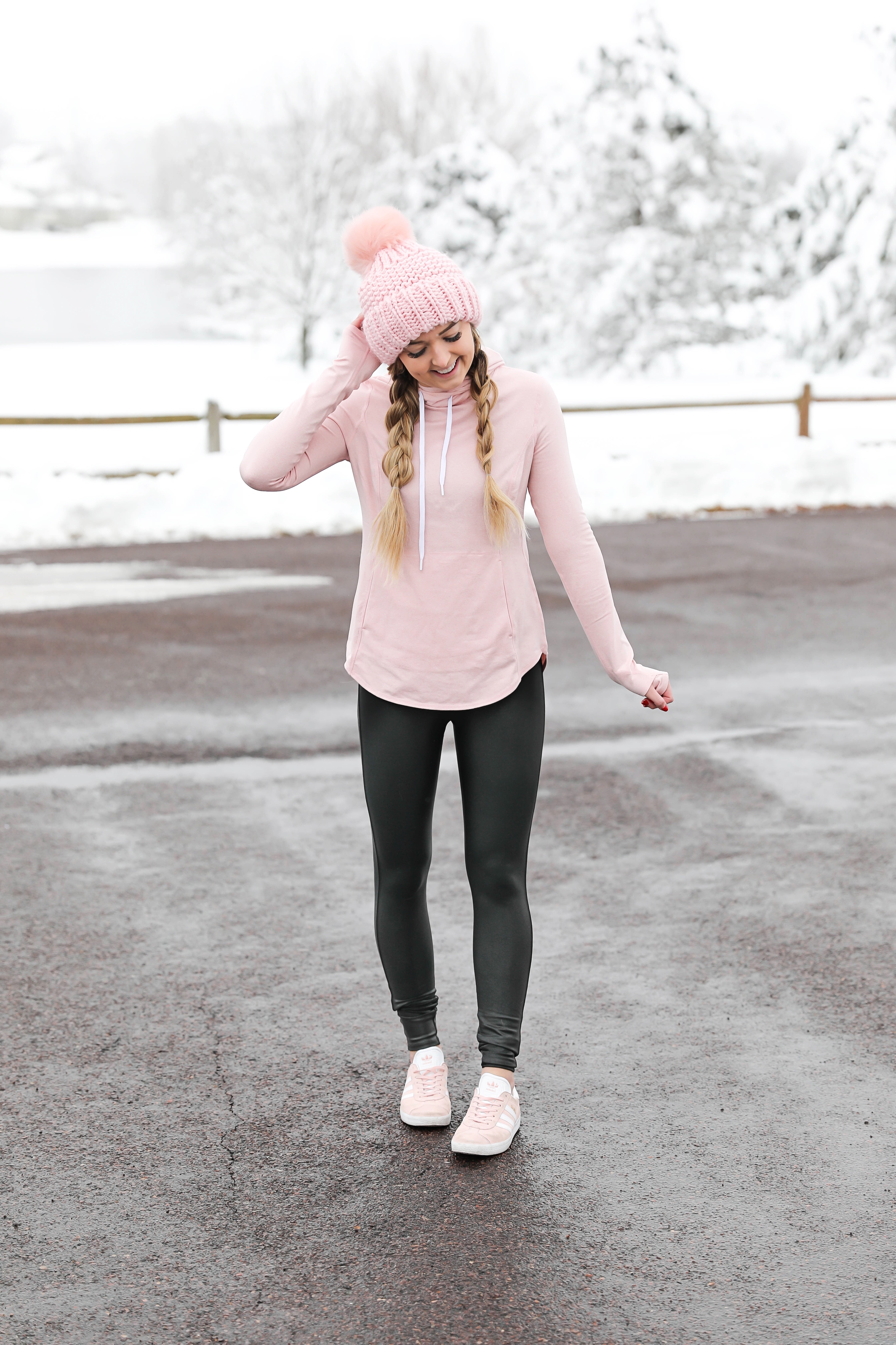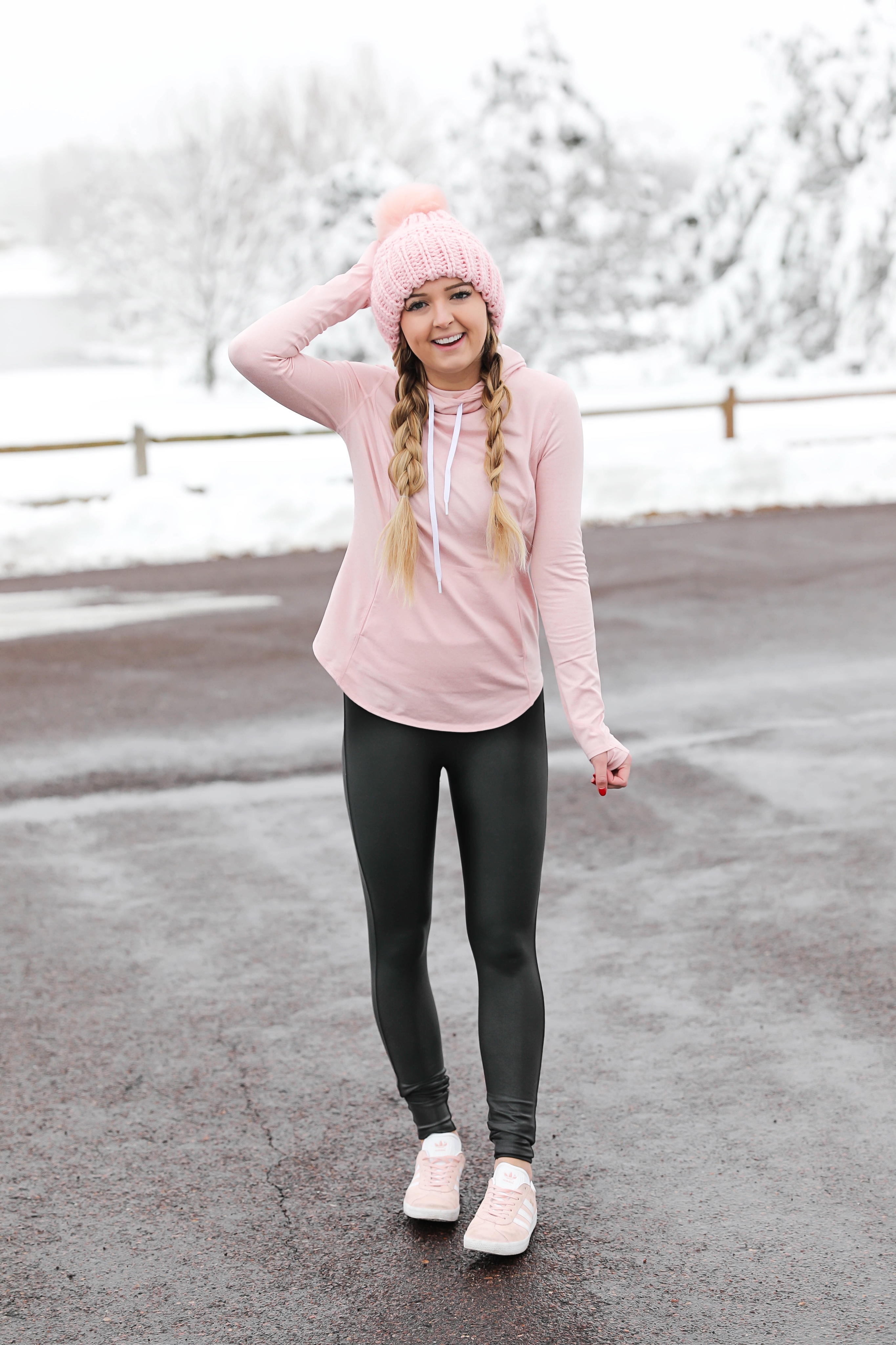 | Spanx Faux Leather Leggings ($98 I am wearing a medium – I sized up) | Zella Workout Top (I am wearing a size small and it comes in 6 colors) | Pink Adidas Sneakers (similar) | Pink Beanie (similar) |
These are the leggings that you see all the bloggers wearing! They are $98 which is a bit more pricey, but they are definitely good quality!
Pros:
– Comfortable
– Flattering
– Good quality
Cons:
– Expensive
– Subtle shine (so in some light they just look like regular leggings)
Pair #3 Target ($16)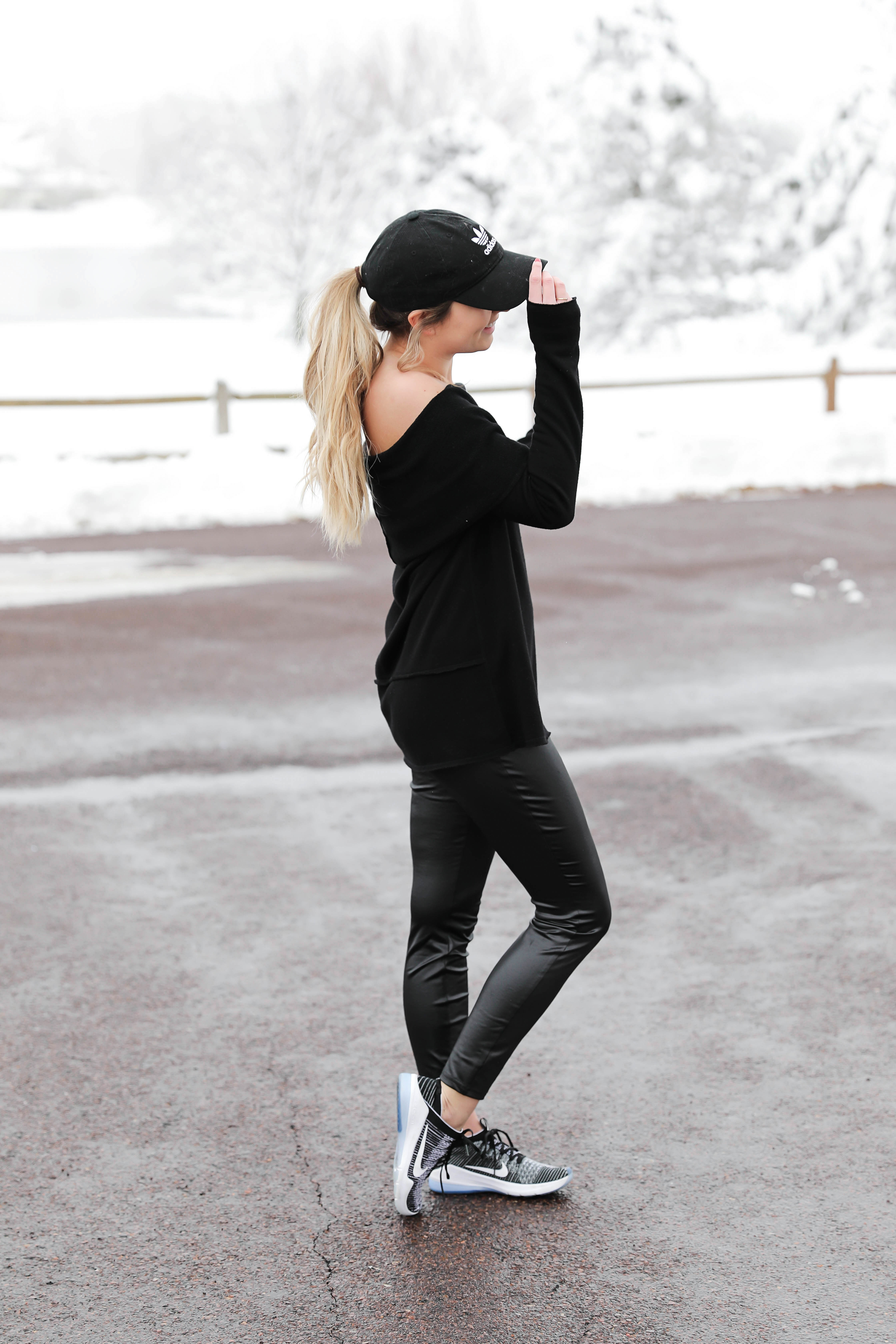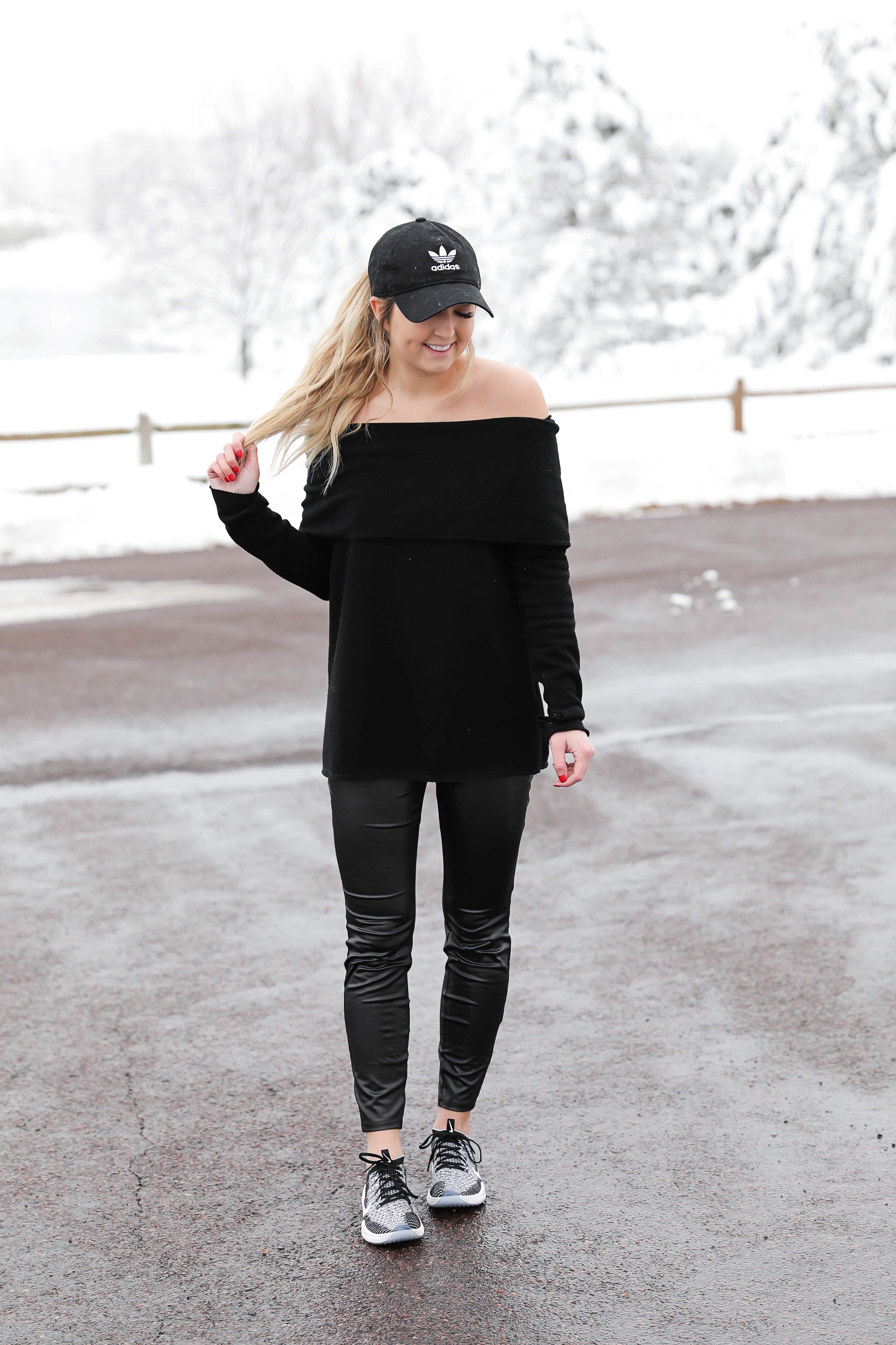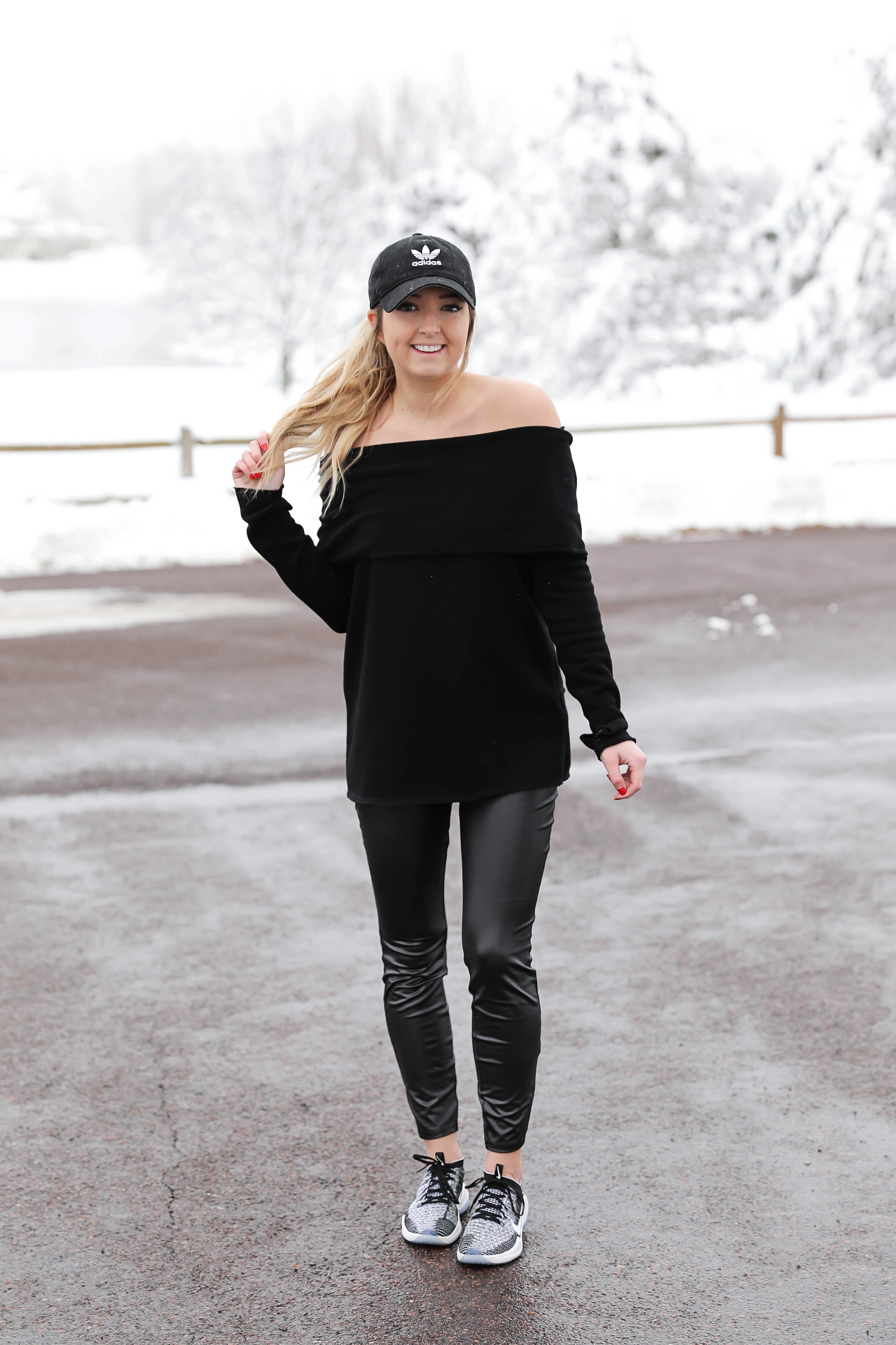 | Target Faux Leather Leggings ($16 I would size down or go TTS) | Off the Shoulder Black Sweater (similar) | Sneakers (comes in seven colors) | Ball Cap (comes in three colors) |
I was super excited when I found these on Target! I wanted to give you guys an inexpensive option for this trend! I was bummed that these were a size too large, but I think in the right size they would fit better.
Pro:
– PRICE
– You can see the shine
Cons:
– Poorer quality
– Baggy?
– Thinner than the others
Overall Thoughts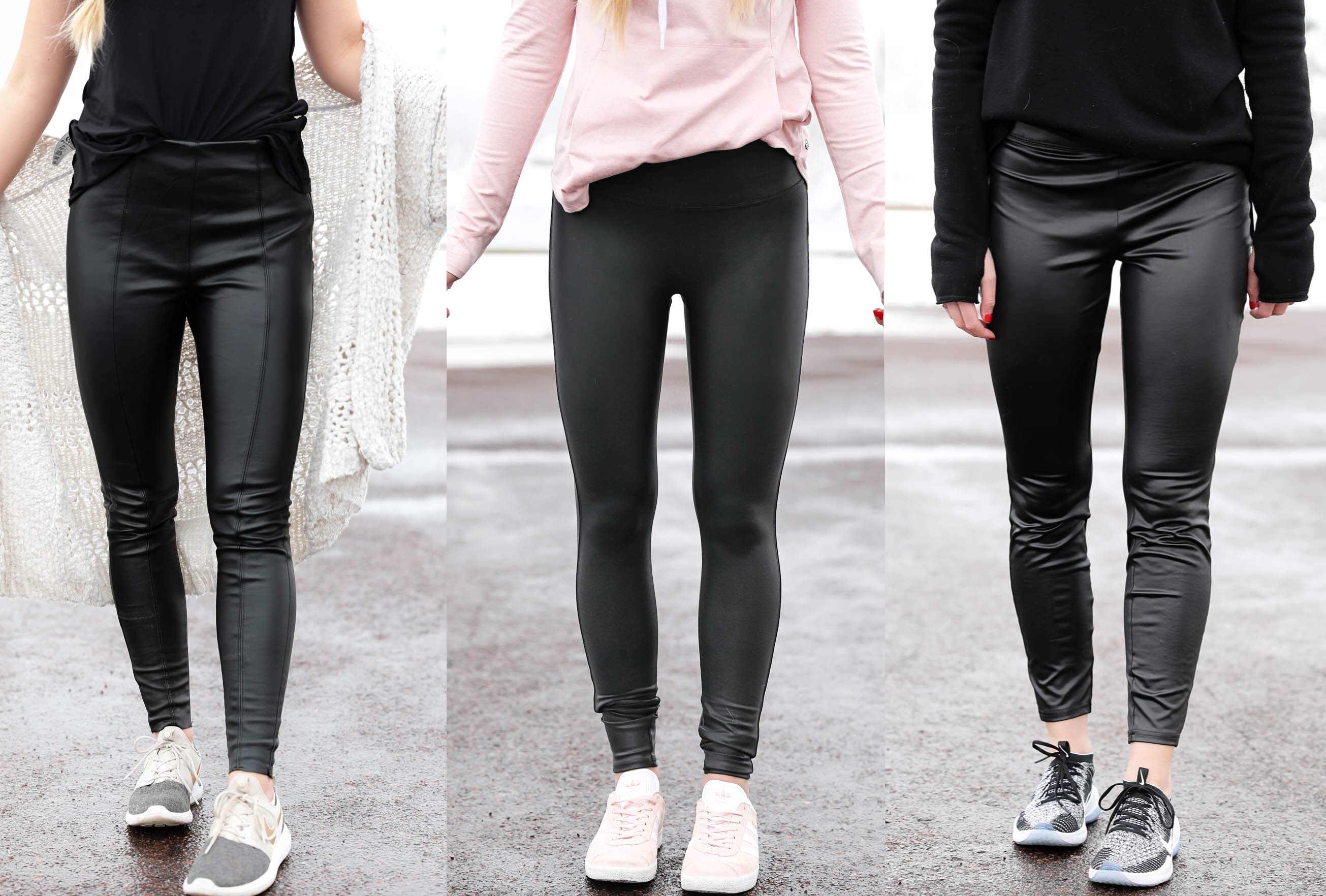 I am not sure I can choose a winner! I would say Pair #1 (the Spanx) are good for dressing them up and Pair #2 (The Spanx) I have definitely worn the most out of all of them! The Target brand you can tell is poorer quality, but if I didn't already owned the other two I think I would have loved them more (in the right size).
Overall they are all great pants, so I would go based on how much shine you want, if you want them to be plain, and how much you want to spend!
I hope you all enjoyed this post!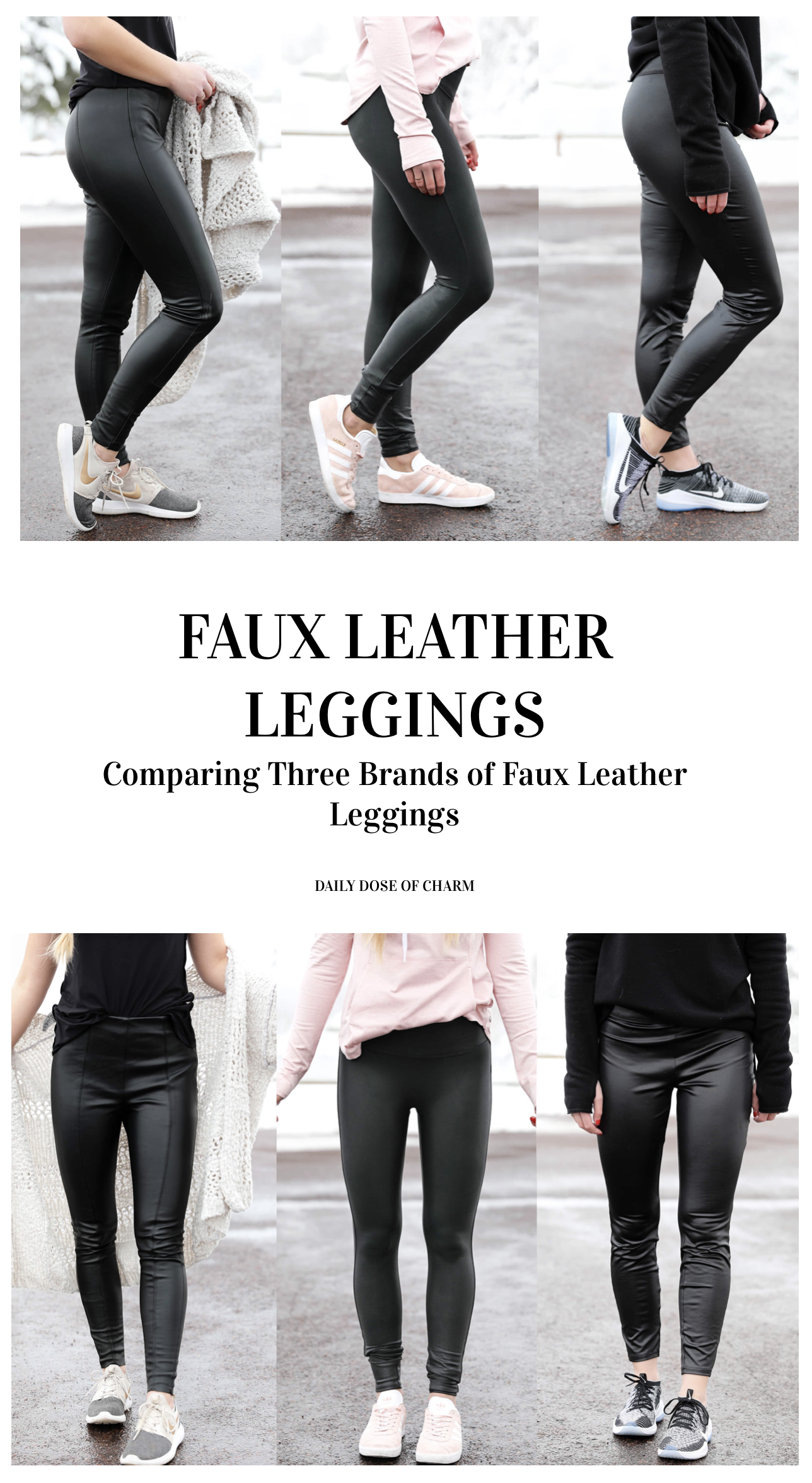 xoxo,
Lauren Emily Lindmark
Copyright © 2019 dailydoseofcharm.com