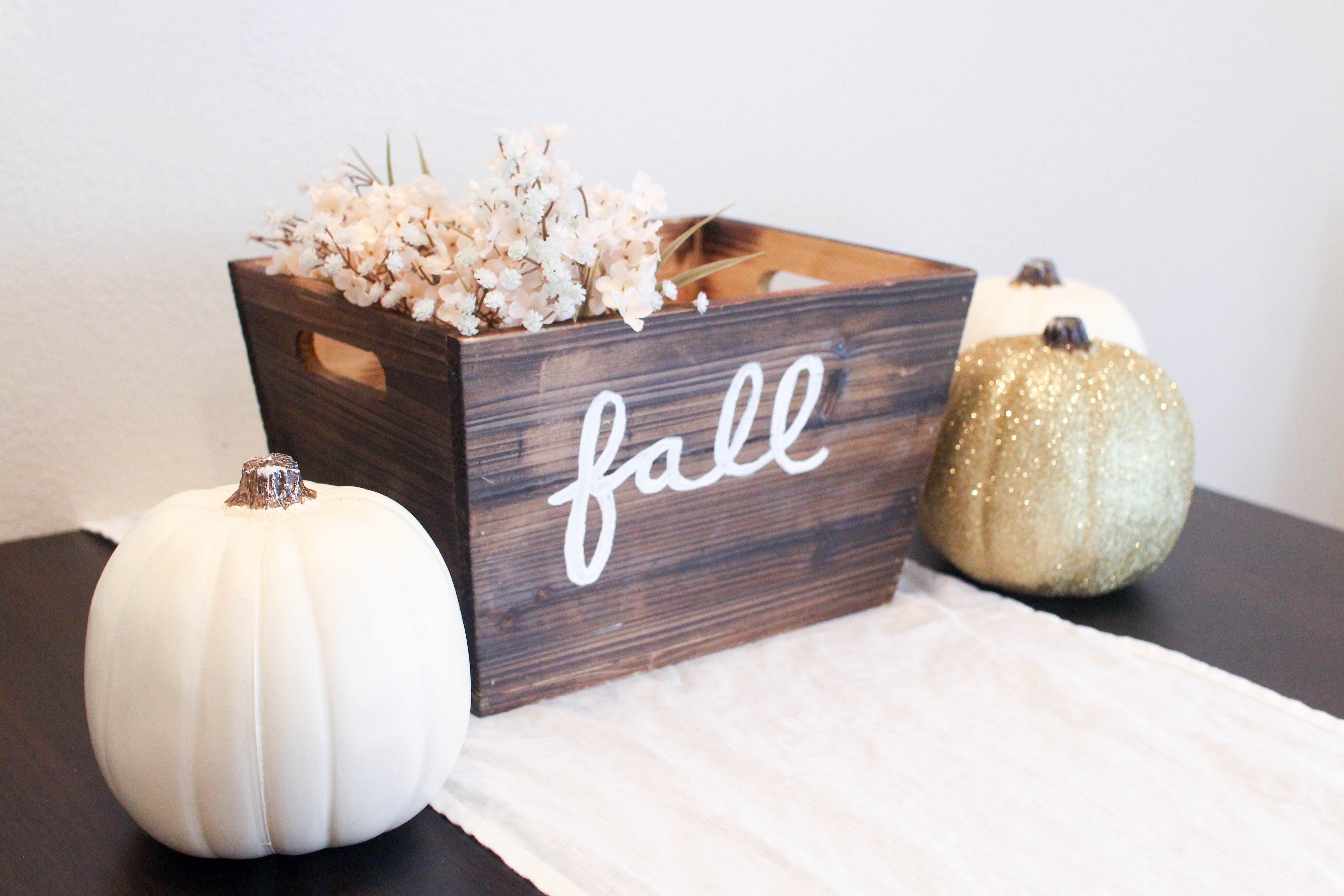 DIY Chic Fall Decor that Doesn't Clash with Your Space
I stopped by my favorite place (aka the craft store) the other day to pick up some DIY fall decor to put in my apartment! I always check online for Michaels coupons while I shop so I ended up getting all this stuff for under $35 which was awesome! It also helped that I already had some glitter, mod podge, paint, and paint brushes at my apartment, but still it's a pretty great deal 🙂
For some reason it always bugs me that holiday decor doesn't match my space. I wanted to decorate for fall, but I knew all the orange and black would clash with my white, pink, and gold apartment. I decided to do a fun little post on how to make your fall decor a bit more chic!
First Project: Painted Pumpkins
This one is nothing new to anyone, I think we have all seen painted pumpkins before. However I still want to add this in here to remind you that you can make pumpkins perfectly match your space for fall! I was going to buy all orange pumpkins then buy spray paint to make them white, but since my store already had white pumpkins I went ahead and just stuck with those.
Supplies:
-Pumpkins (plastic or real – these were originally $9.99, but are currently 50% off at Michaels)
-Mod Podge
-Glitter of your choice (I really like Martha Stewart because the glitter is fine instead of large)
-Spray paint or acrylic paint of your choice
How to:
Paint the pumpkin by sections with mod podge and lightly sprinkle glitter over it.
Continue until you cover the whole pumpkin. Shake off and let dry.
With a different pumpkin cover the tip with blue painters tape.
Spray paint outside until all areas of the pumpkin are covered then let dry. You can also use acrylic paint instead of spray paint.
Second Project: Fall Crate
For some reason I really love how fall looks when written in cursive! When I saw these crates at Michaels that were 50% off (lol I swear this isn't sponsored I just really love Michaels and there is a store 30 seconds from my apartment 🙂 ) I decided I needed to add it to my fall decor! You don't necessarily have to write fall on your decor, you can also trace a leaf pattern or write other words like "autumn," "thankful," "home," etc.
Supplies:
-Crate (this one was only $10 from Michaels)
-Paint
-Paint brush
-Fillers (I bought fake flowers)
How to:
This one is also super easy, all you have to do is paint whatever you want on the wooden crate!
(Optional) before you start you can trace whatever you are writing/drawing with pencil.
Third Project: Feather Garland

I got this idea when I saw this cute ribbon at Michaels! I thought it would be fun to sew some feathers onto the ribbon and make a cute, fall garland! It was also be super cute to hang the letters "FALL" or "AUTUMN" onto the garland too. The bows on the end are optional, but I thought it was a fun touch!
Supplies:
-Feathers
-Ribbon
-Needle
-Thread
-Scissors
How to:
Start by threading your thread through the needle and poke it through the end of the feather (as shown in the photo above).
String it through the ribbon then tie it in a knot so it stays on the ribbon.
Alternate feather colors until you reach the end up of the ribbon.
Make a small bow for each side of the ribbon.
Thread the ribbon into the bow and sew onto each side.
Pin this on Pinterest for later!
xoxo,
Lauren Emily Lindmark
Copyright © 2016 dailydoseofcharm.com