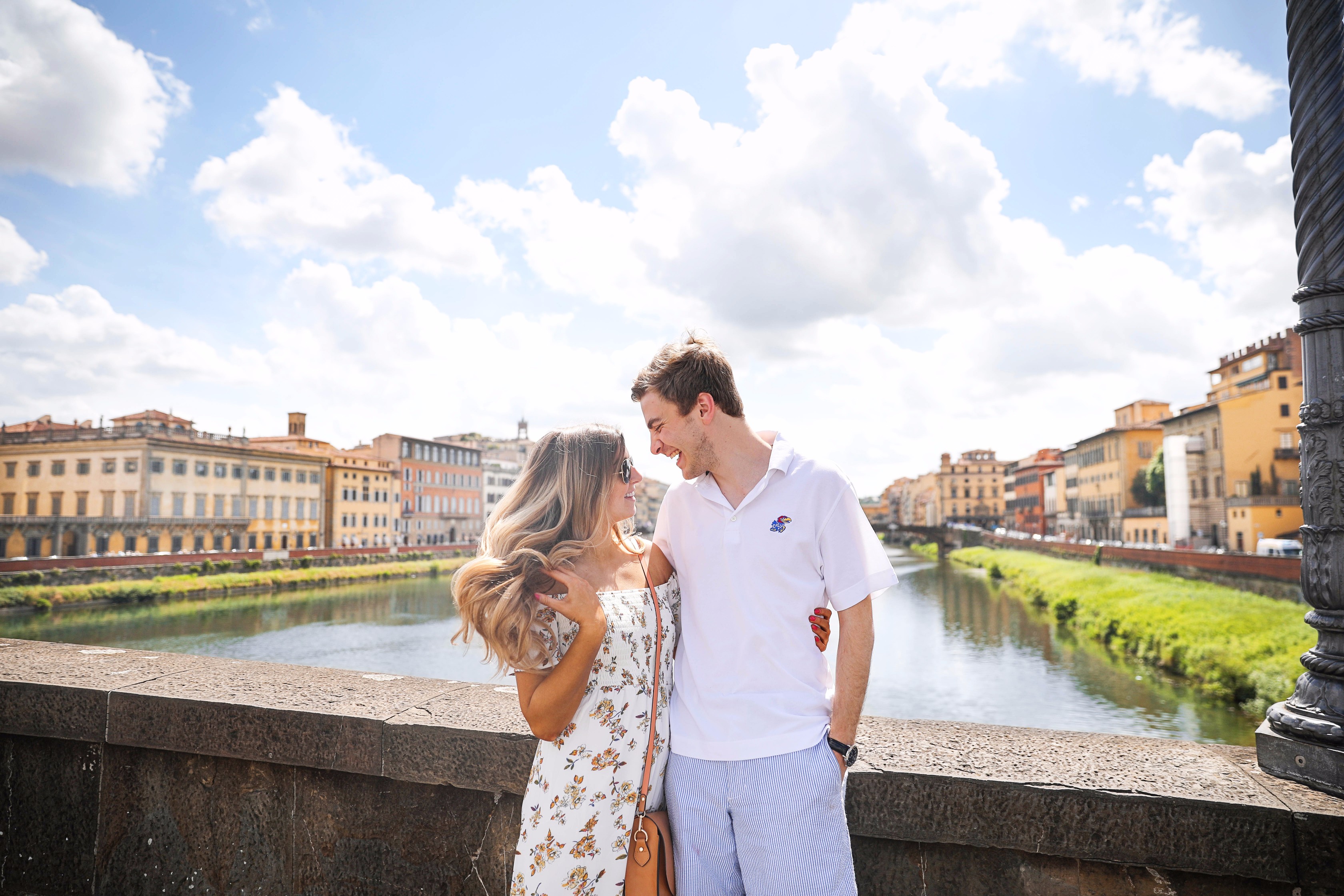 Dreamy Weekend in Florence | OOTD + Recap 📍 Florence, Italy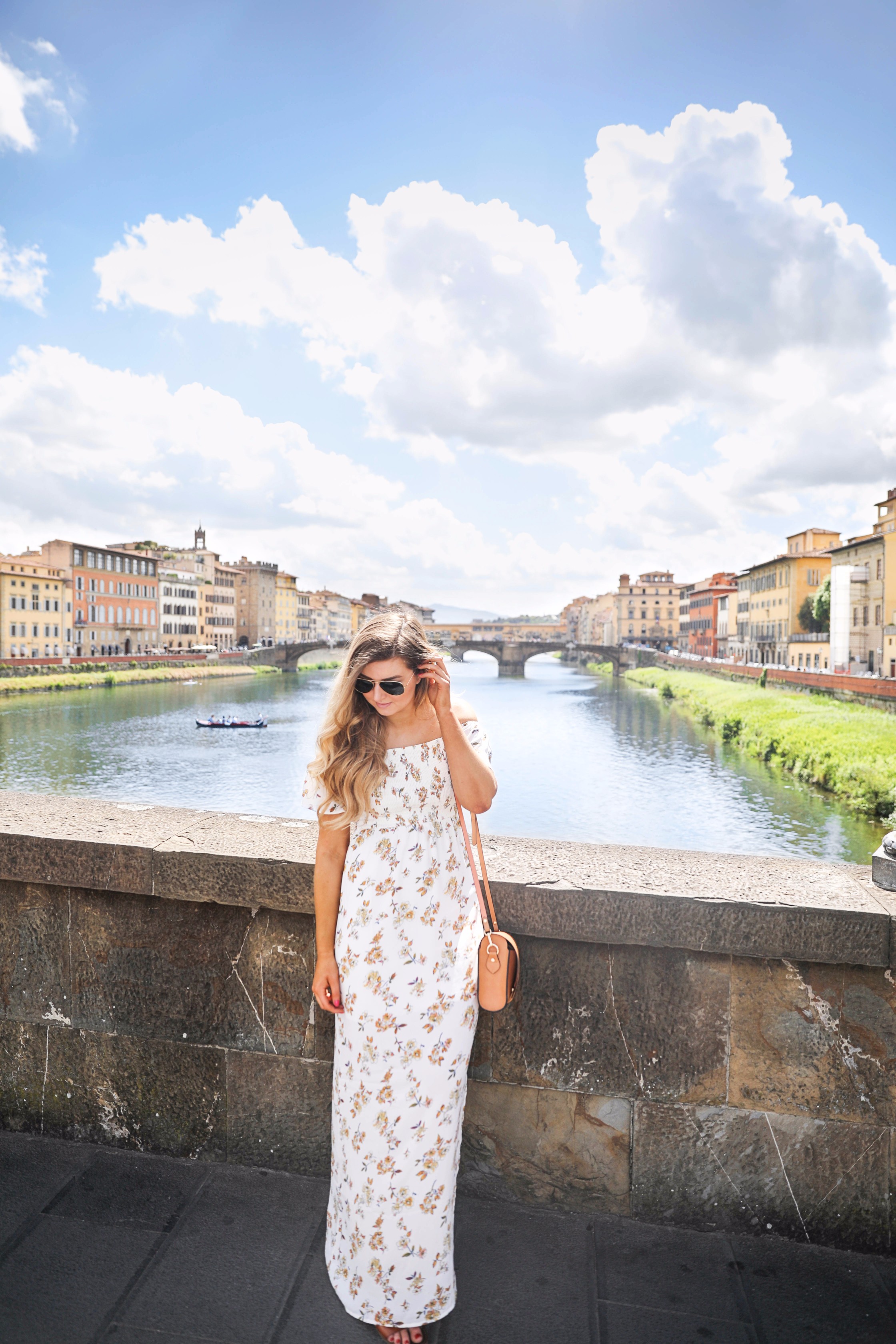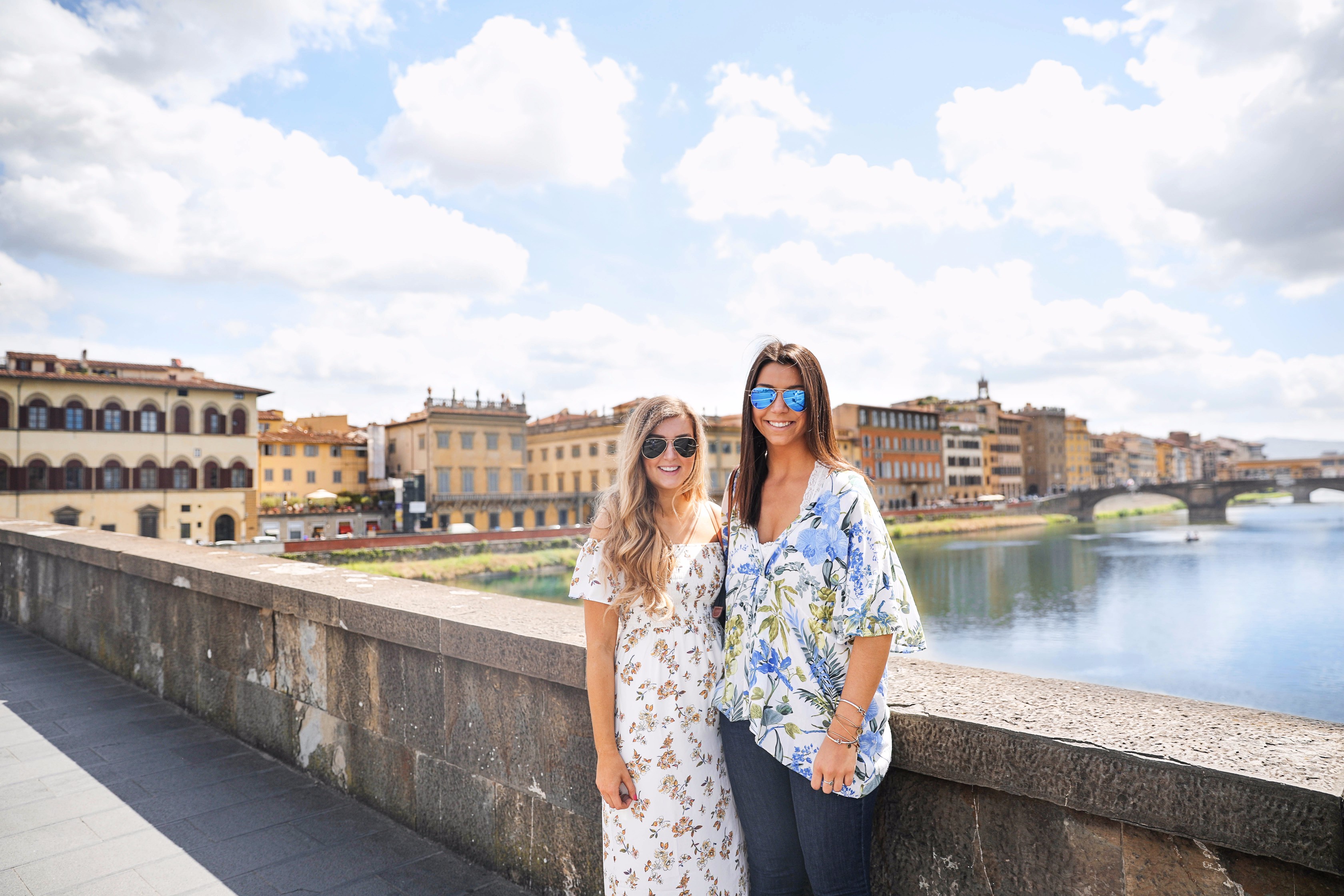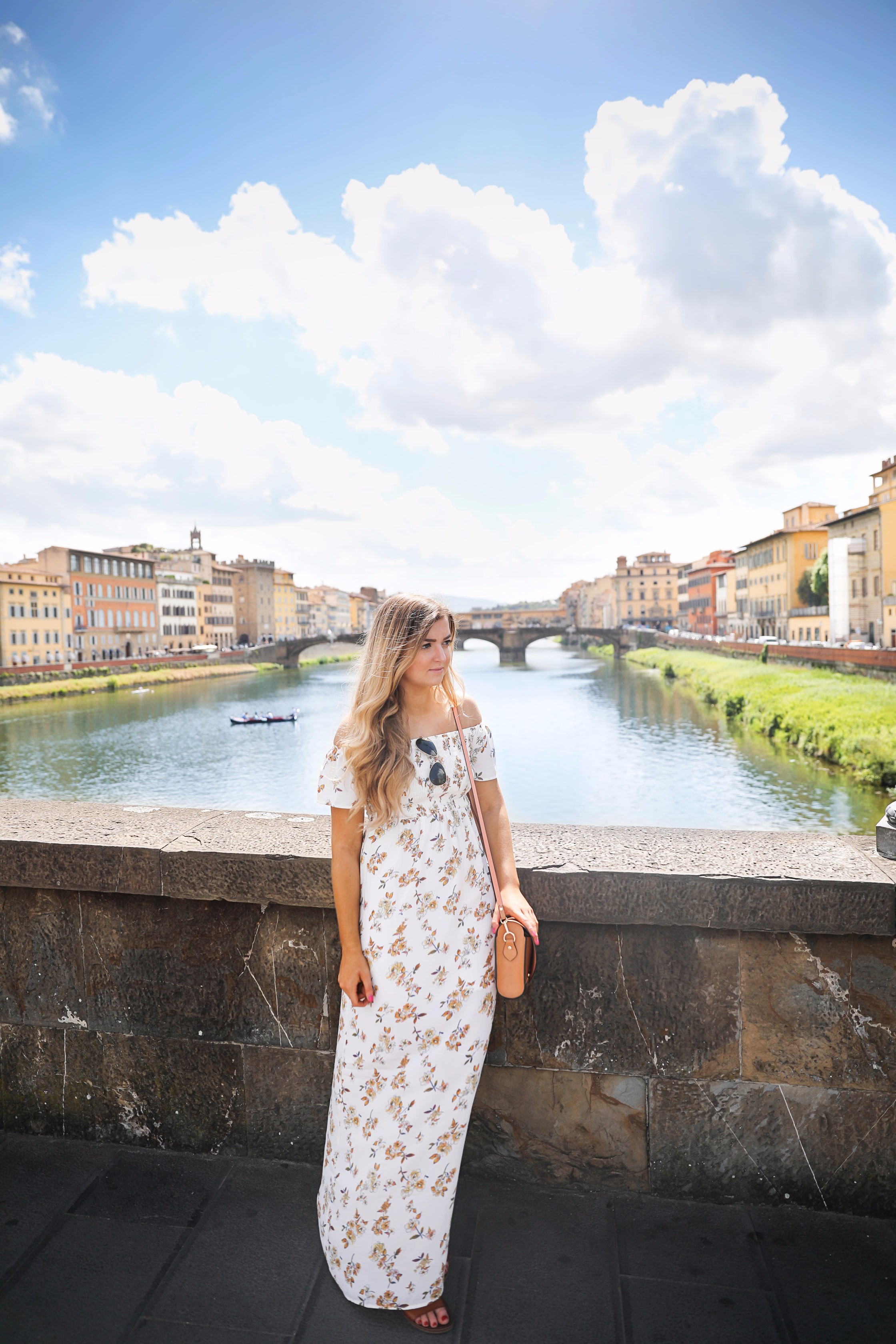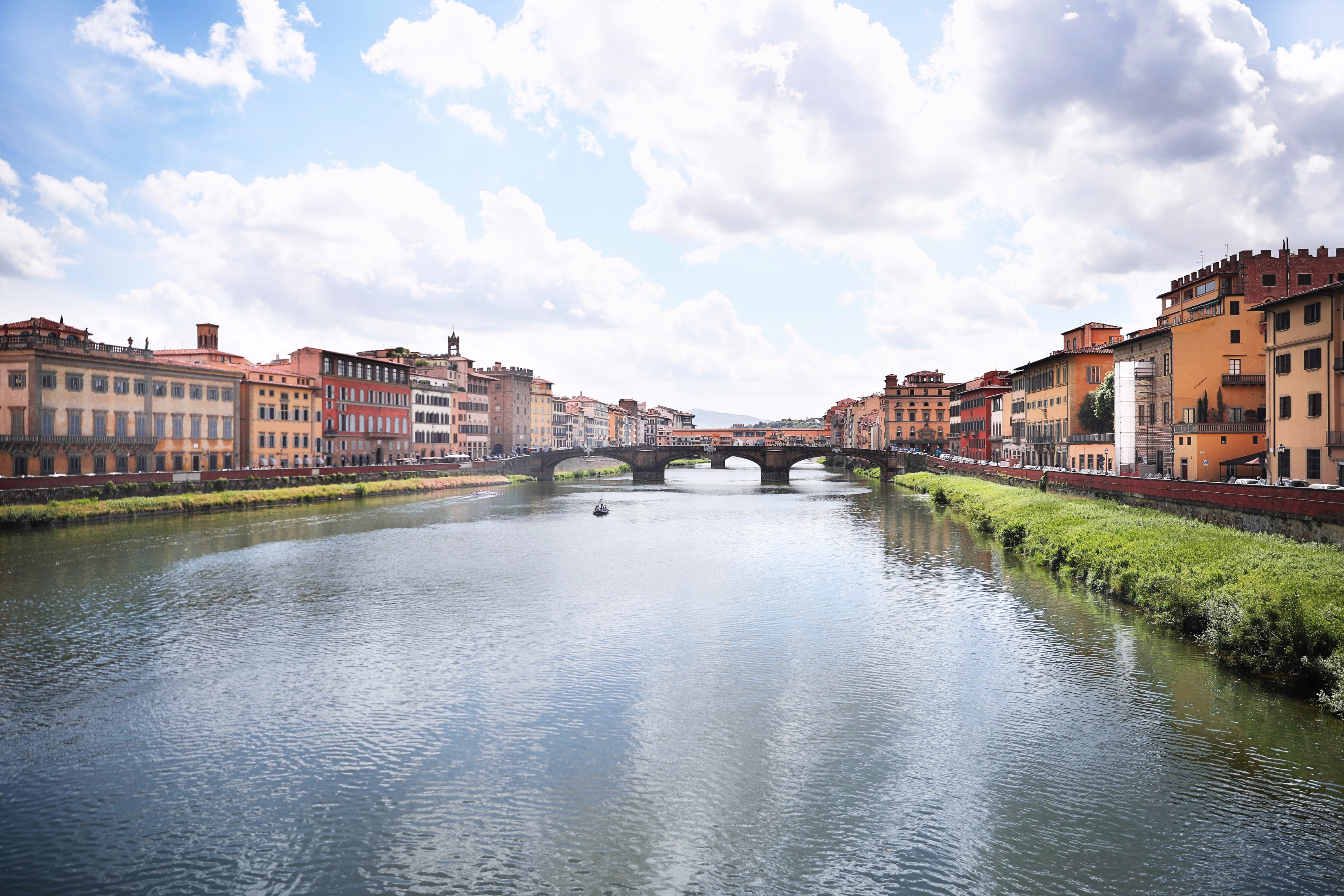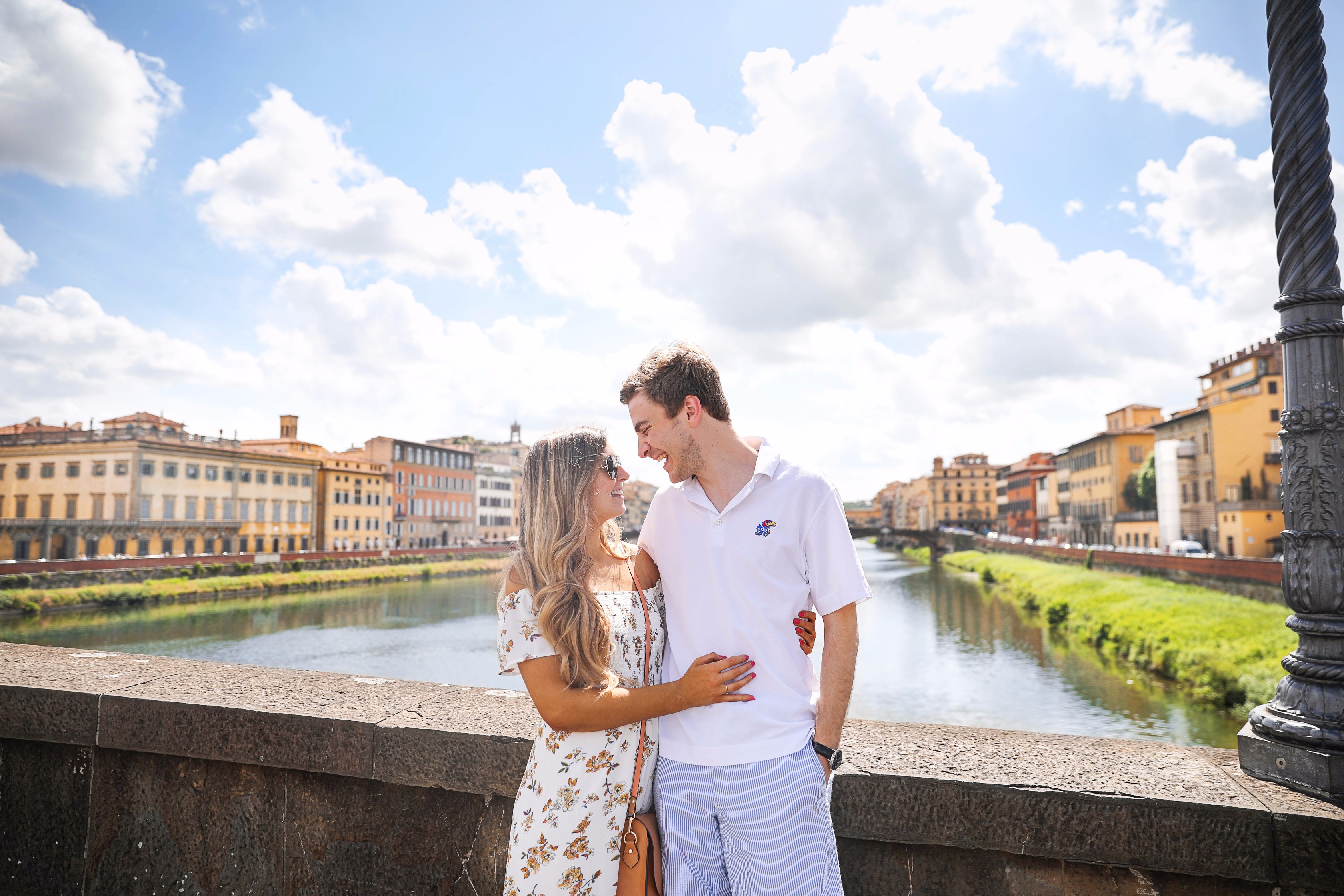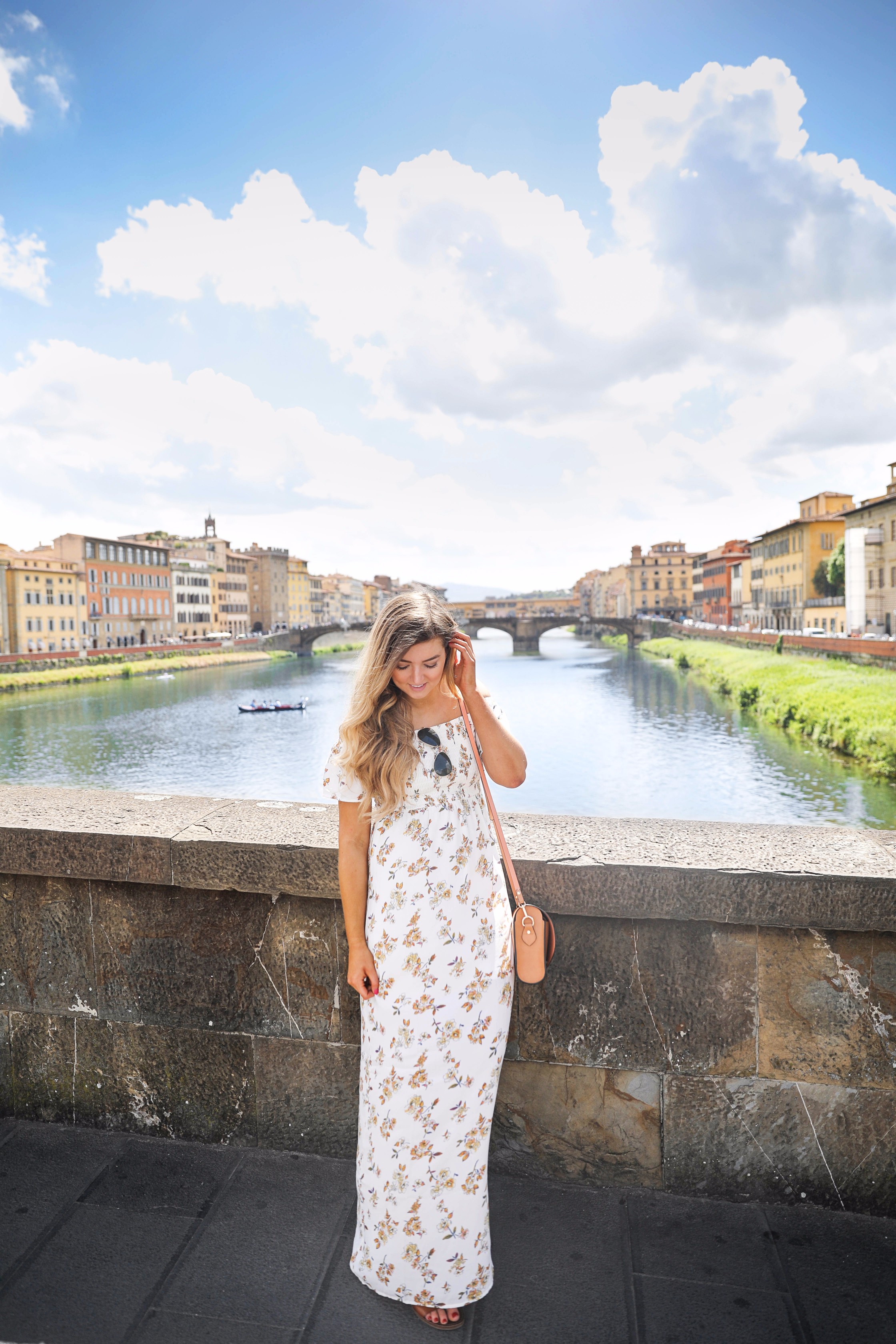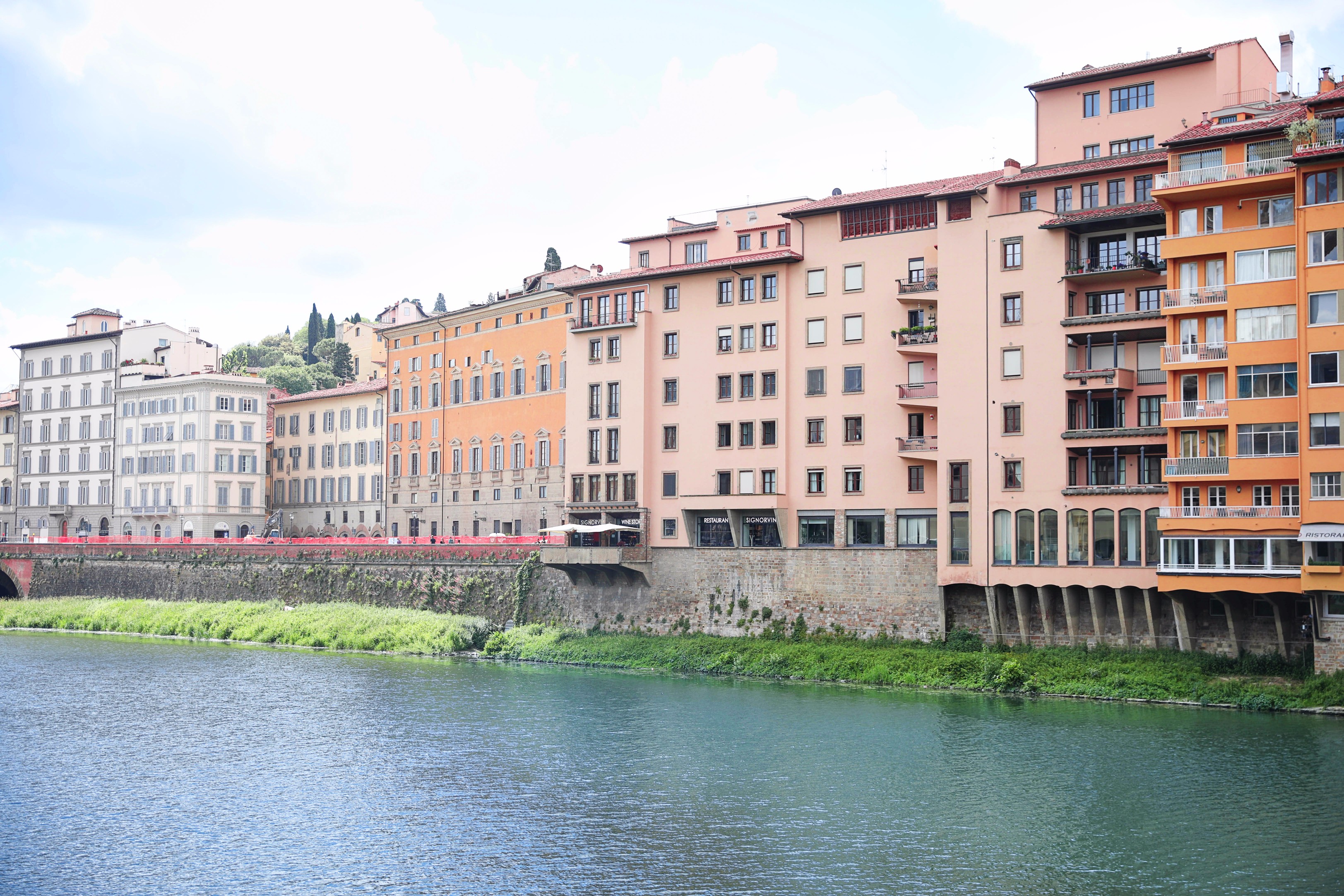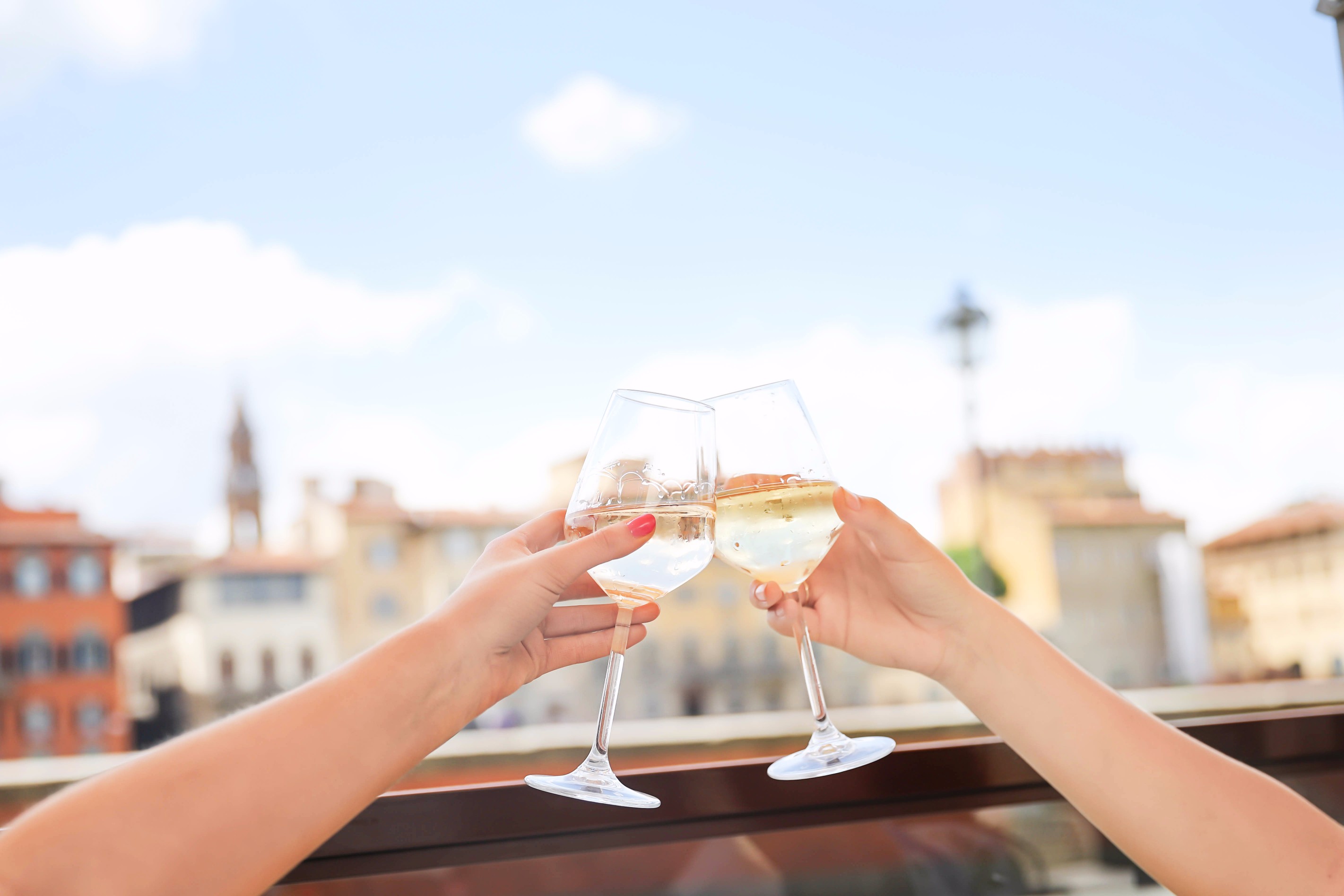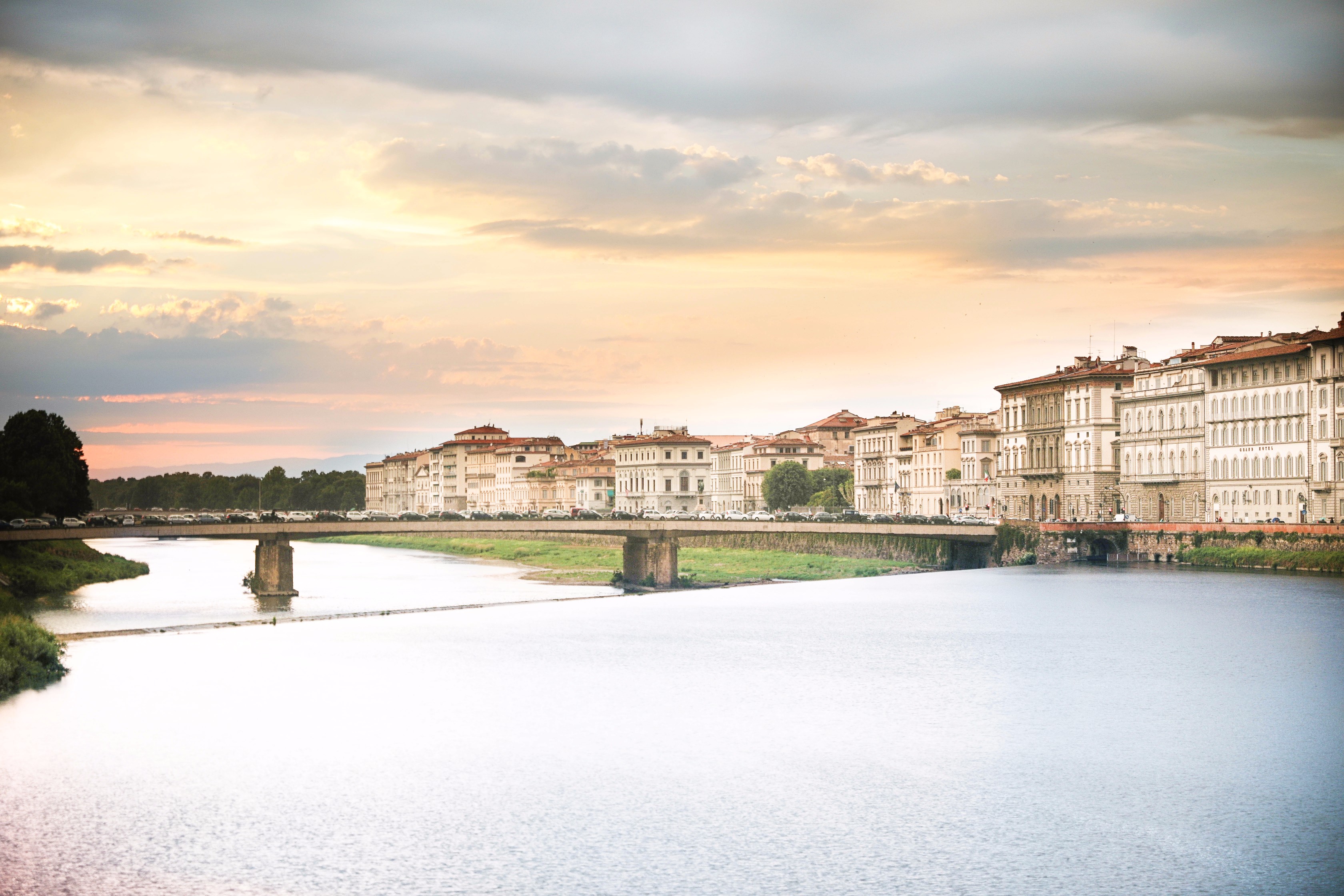 Florence was so dreamy. We had only been in Northern Italy where we are staying for school for five days and this weekend was a whirlwind! You can read about my first week recap here. I left off in that blogpost on Friday, which as you know was a bit of a rough day after a long night out. I am traveling with my boyfriend Philip, one of my best friends Megan, and my boyfriend's pledge brother John. We all went to our morning classes and headed to a town near us called Castelfranco where we hopped on a train and headed to Florence! When we arrived we went straight to our AirBNB which was about a 20 minute walk from the center of town. Needless to say we did A TON of walking this trip. I didn't bring my Fitbit because I noticed it had been rubbing at my fake tan and was looking weird (does this happen to anyone else?), but I am sure we hit well over our step goal everyday.
The first night we all got ready and walked across the pretty bridge you see in the photos above to a really yummy restaurant! I have spent over thirty minutes on google maps trying to find what restaurant it was and I can't find it 🙁 I am so frustrated haha! However, as I talk about the rest of our restaurants you can scroll down and see them! After filling our bellies with yummy food we walked around town at night to see everything lit up. I also but a really yummy cake from a local pastry shop! Then we went back and headed to bed to be well rested for the rest of the weekend.
Saturday was a blast! We woke up and walked around the river until we came to a restaurant called Caffè Alfieri! They had the yummiest eggs Benedict (which is one of my favorite meals)! That restaurant was cool because it was right on the river and they had outdoor seating! Then we spent most of the day walking around, looking at the street vendors, and, of course, more eating! In the afternoon we did what was the highlight of my whole trip – The Duomo! I will explain more below (and show you photos), but it was breathtaking! Afterwards we went to Caffe Giubbe Rosse for some wine then headed back to the AirBNB to freshen up. That day was John's birthday so I found a really cool restaurant for a big group of us to go together called Golden View! The food was pretty good, but the view was what made it amazing! Afterwards we went to a really cool bar for the rest of the night called Red Garder which was so fun! It was a karaoke bar so it was super entertaining and the drinks weren't too expensive!
The next day we only had about half the day to explore since we had to take the train back home. We went to breakfast in the center of town at a restaurant called Caffe Donnini 1894 that was right across from the famous antique carousal! Afterwards we walked around and I did some shopping for my family! We went to the best gelato place called Venchi Cioccolato – Gelato. You really can't go wrong when it comes to finding good Gelato in Italy, but this place was by far my favorite (don't forget I have photos and more info below)! Afterwards we did some more walking then caught our train back home! It was an unforgettable weekend!
We did even more in Florence that I want you guys to see! …including a bird pooping on me on Saturday and much more haha! I will link the vlog below when it goes live, but for now subscribe to my YouTube!
THE DUOMO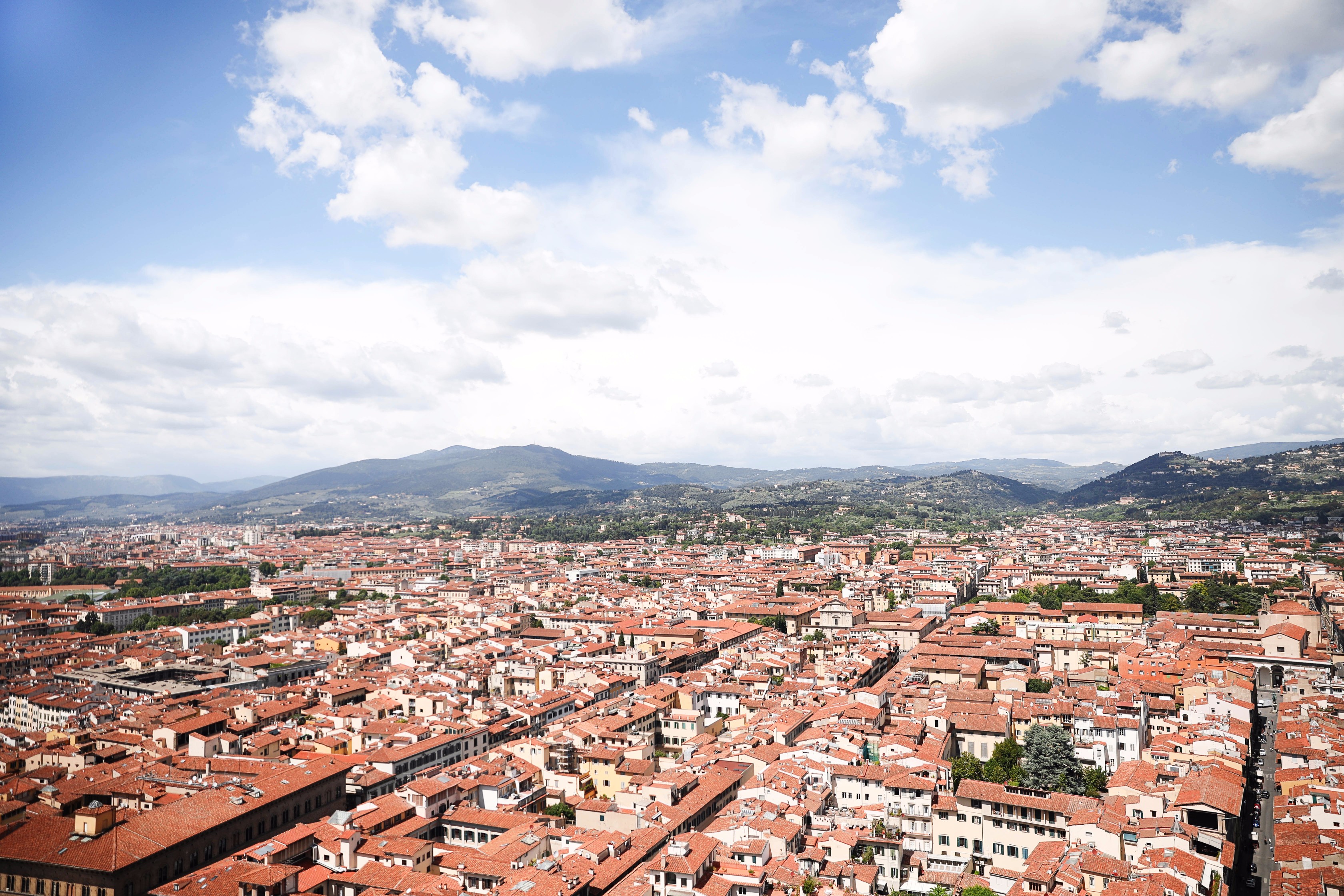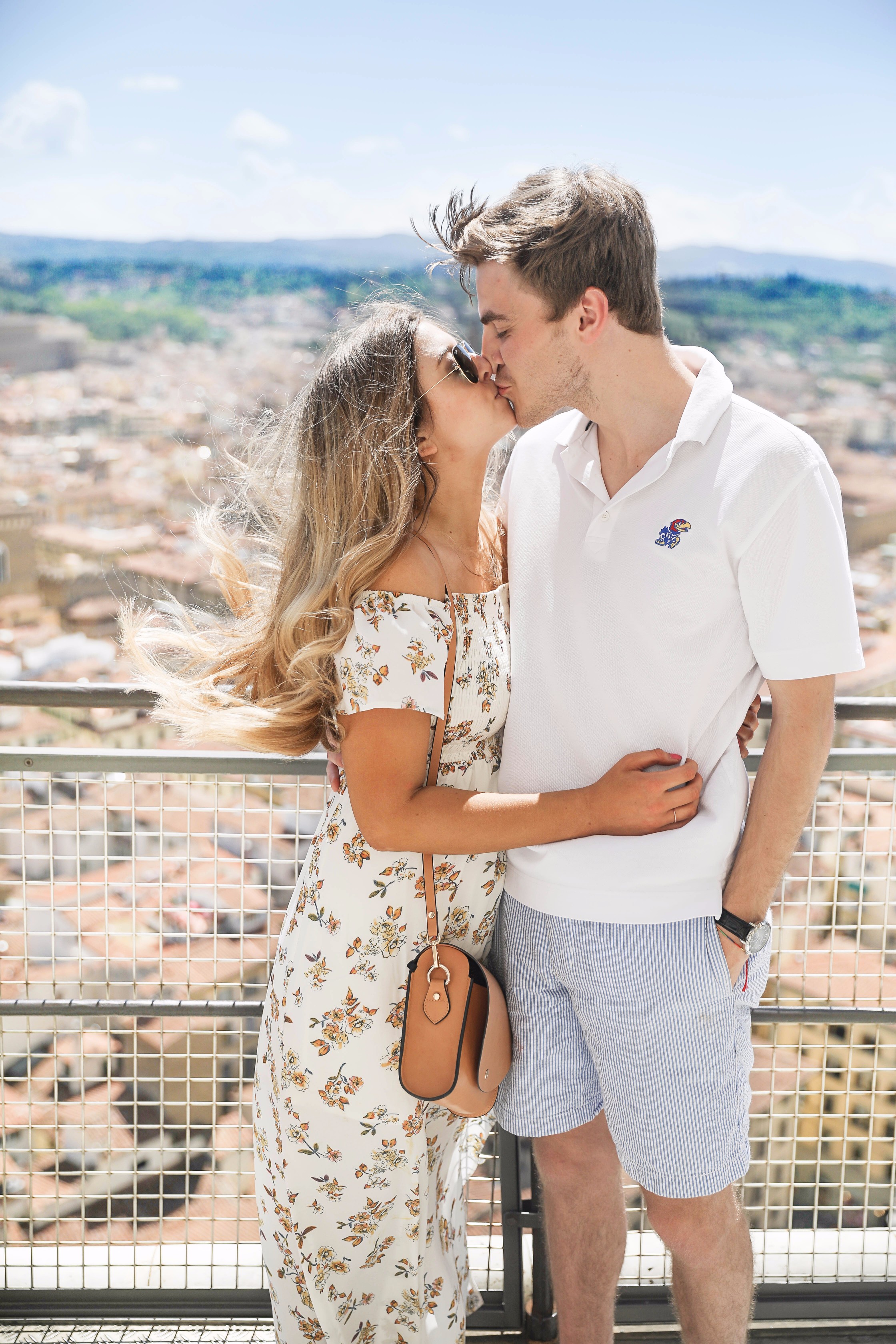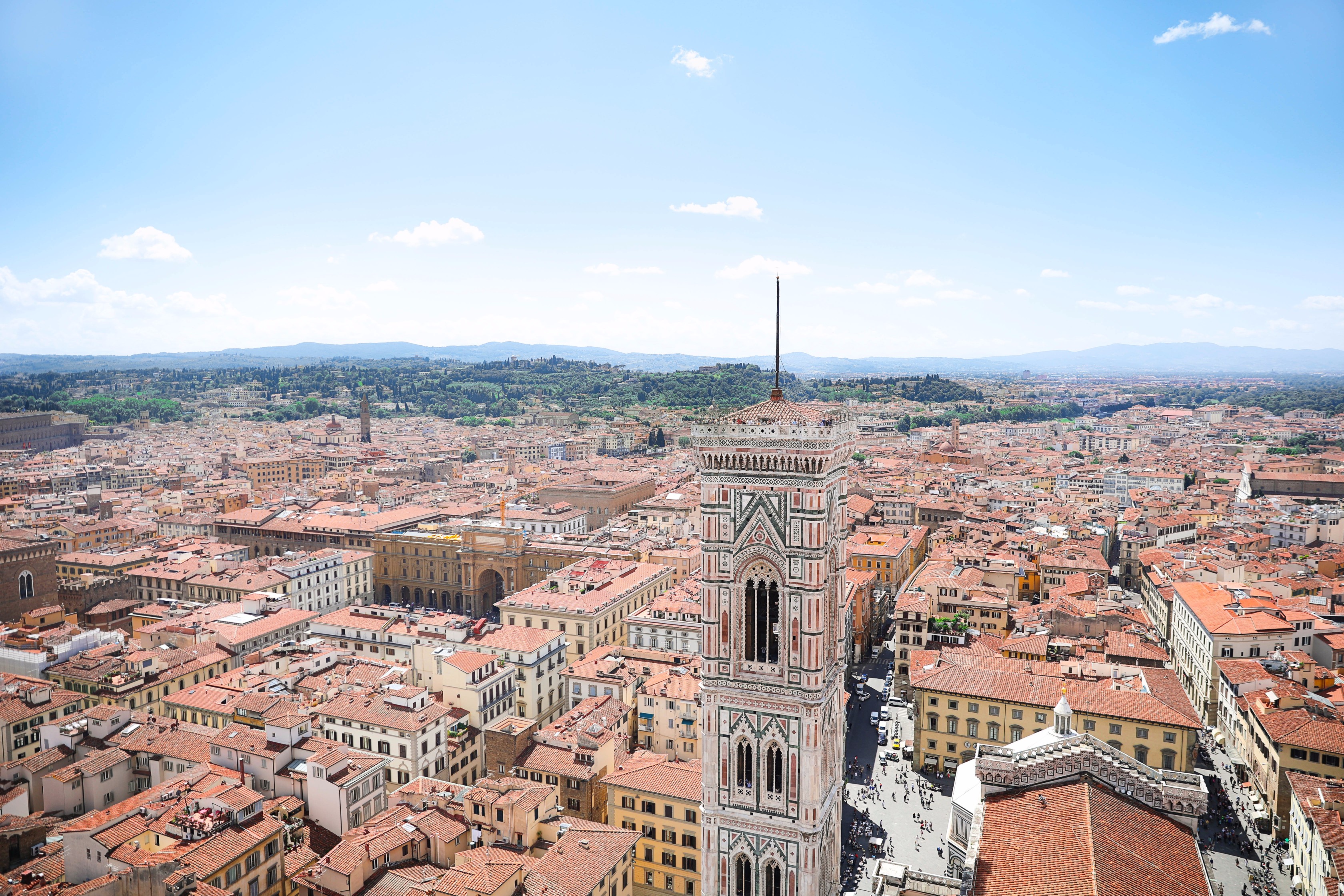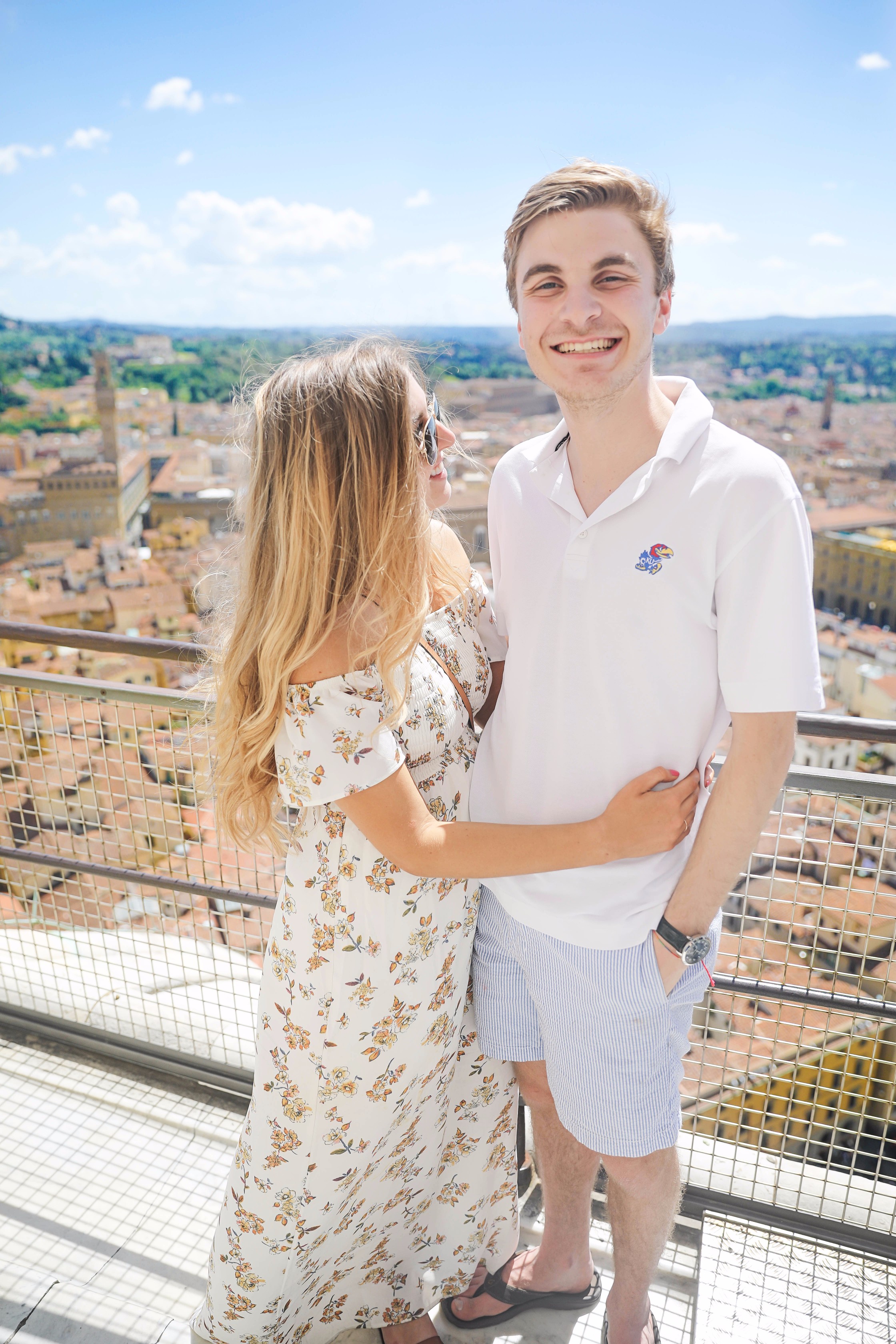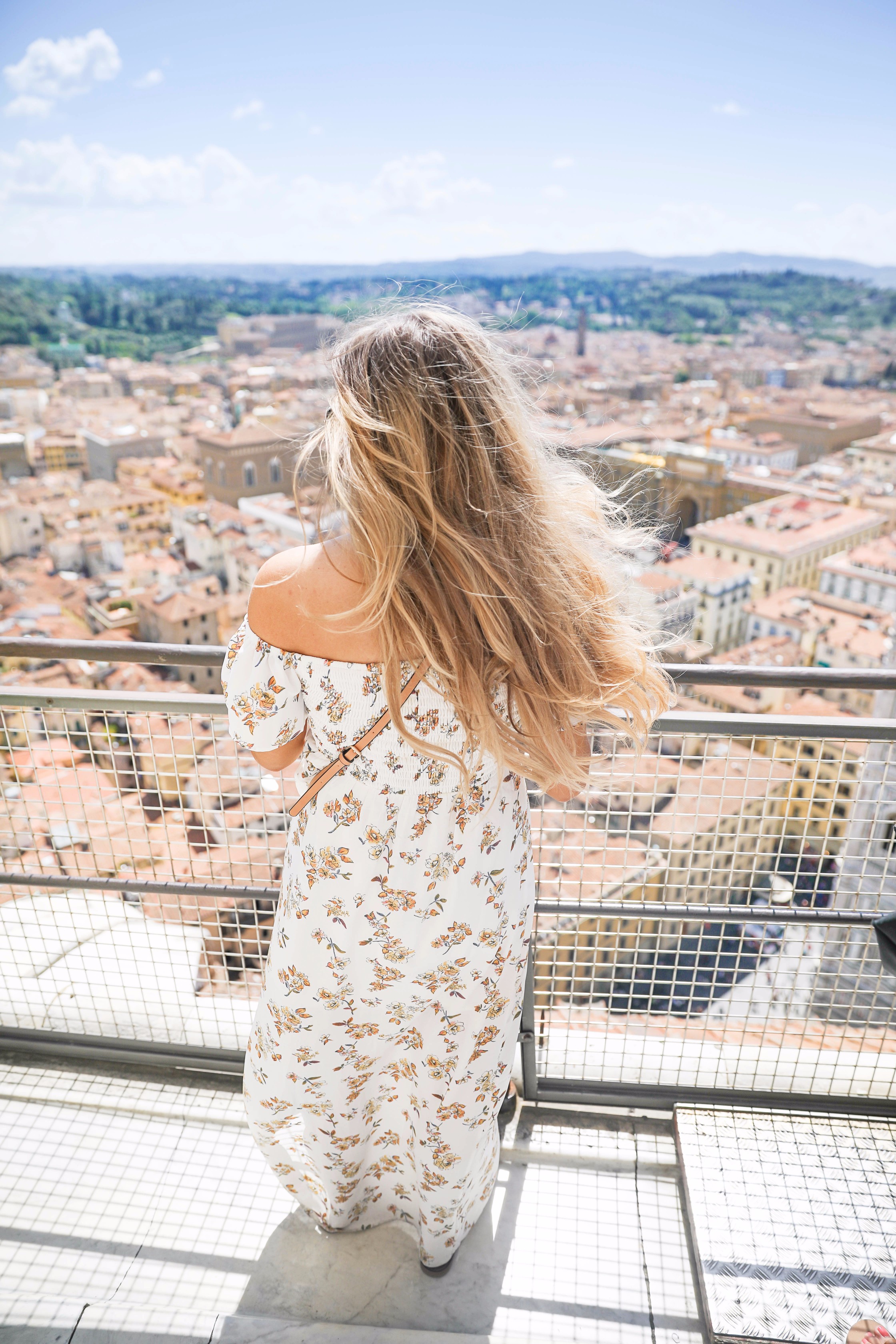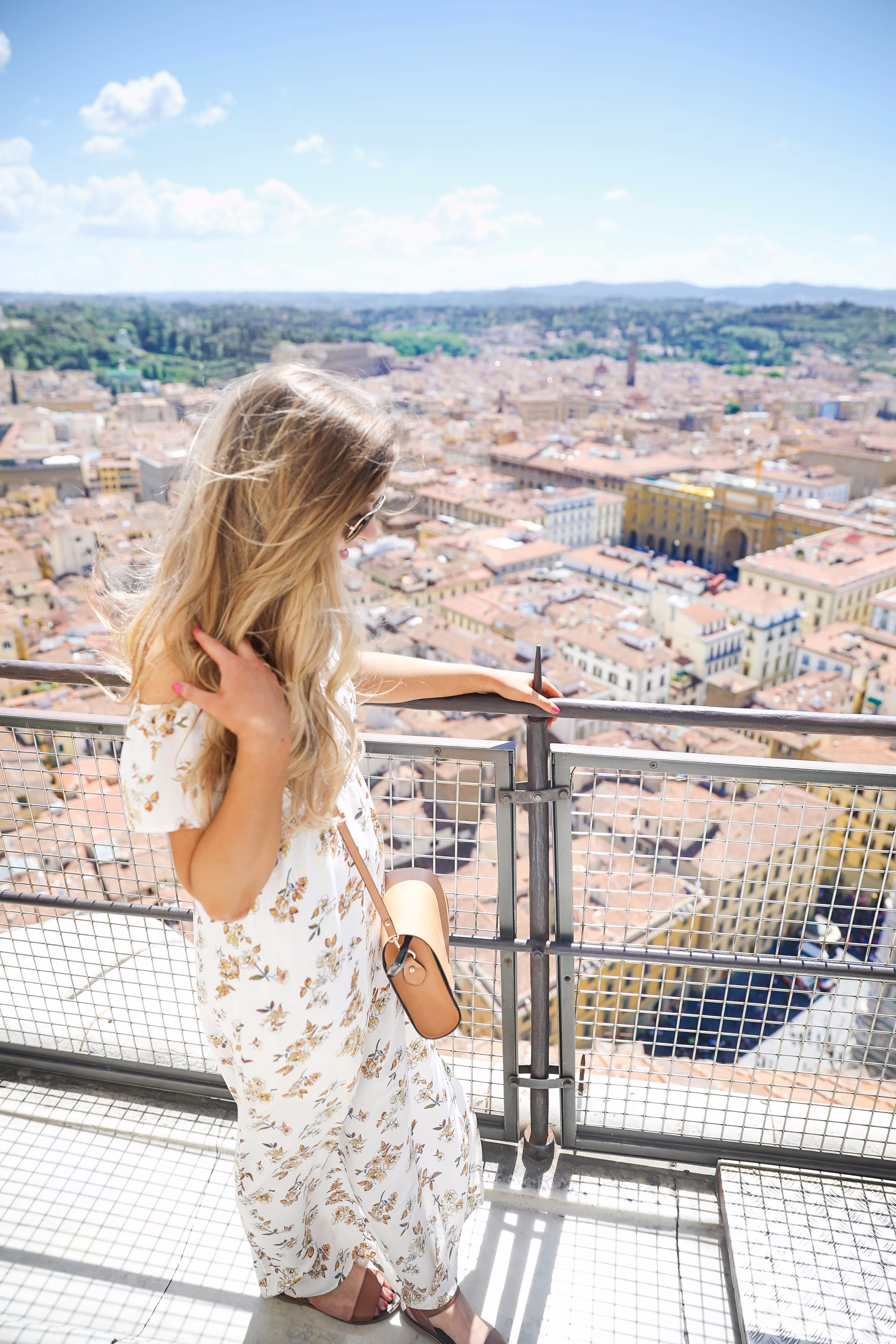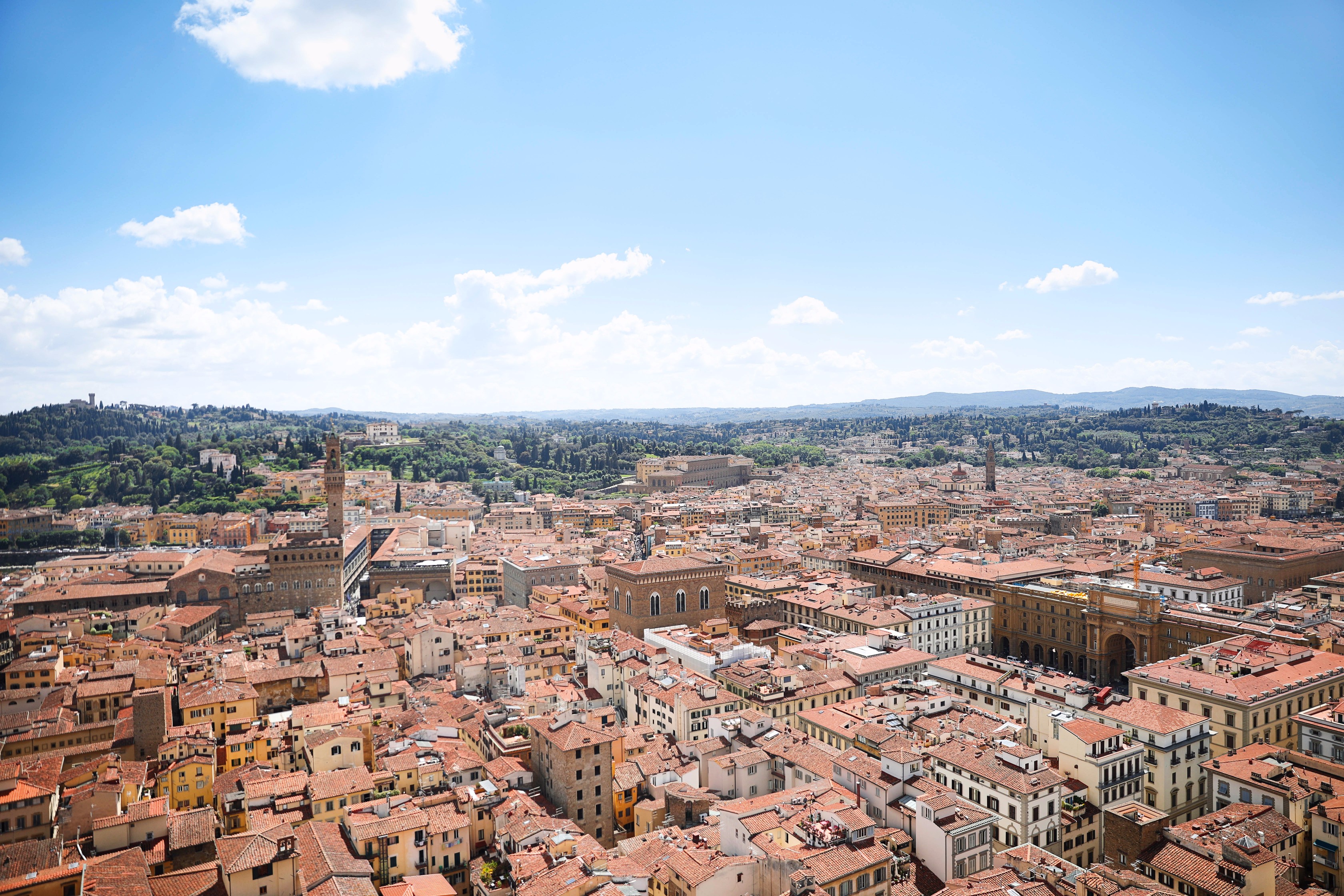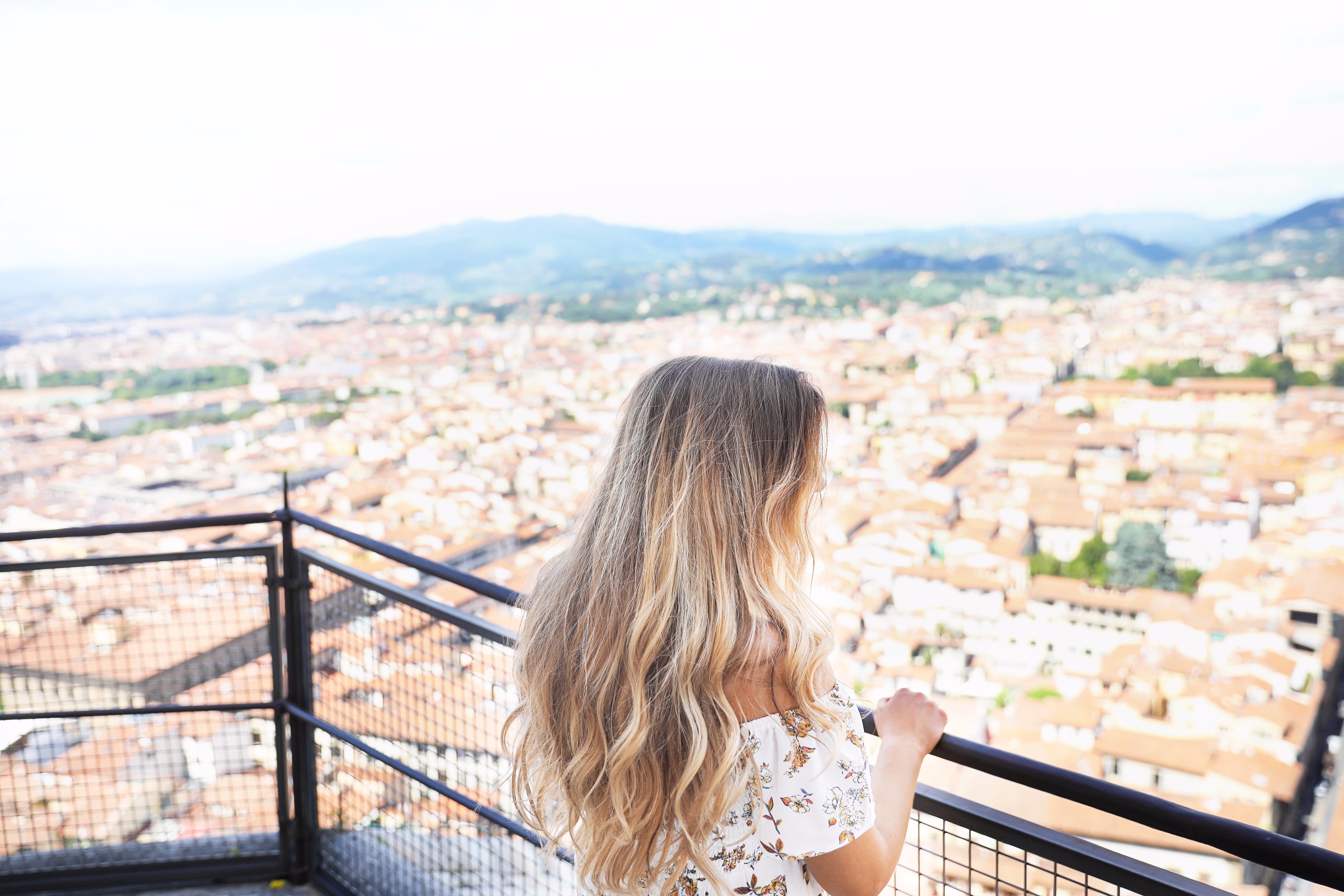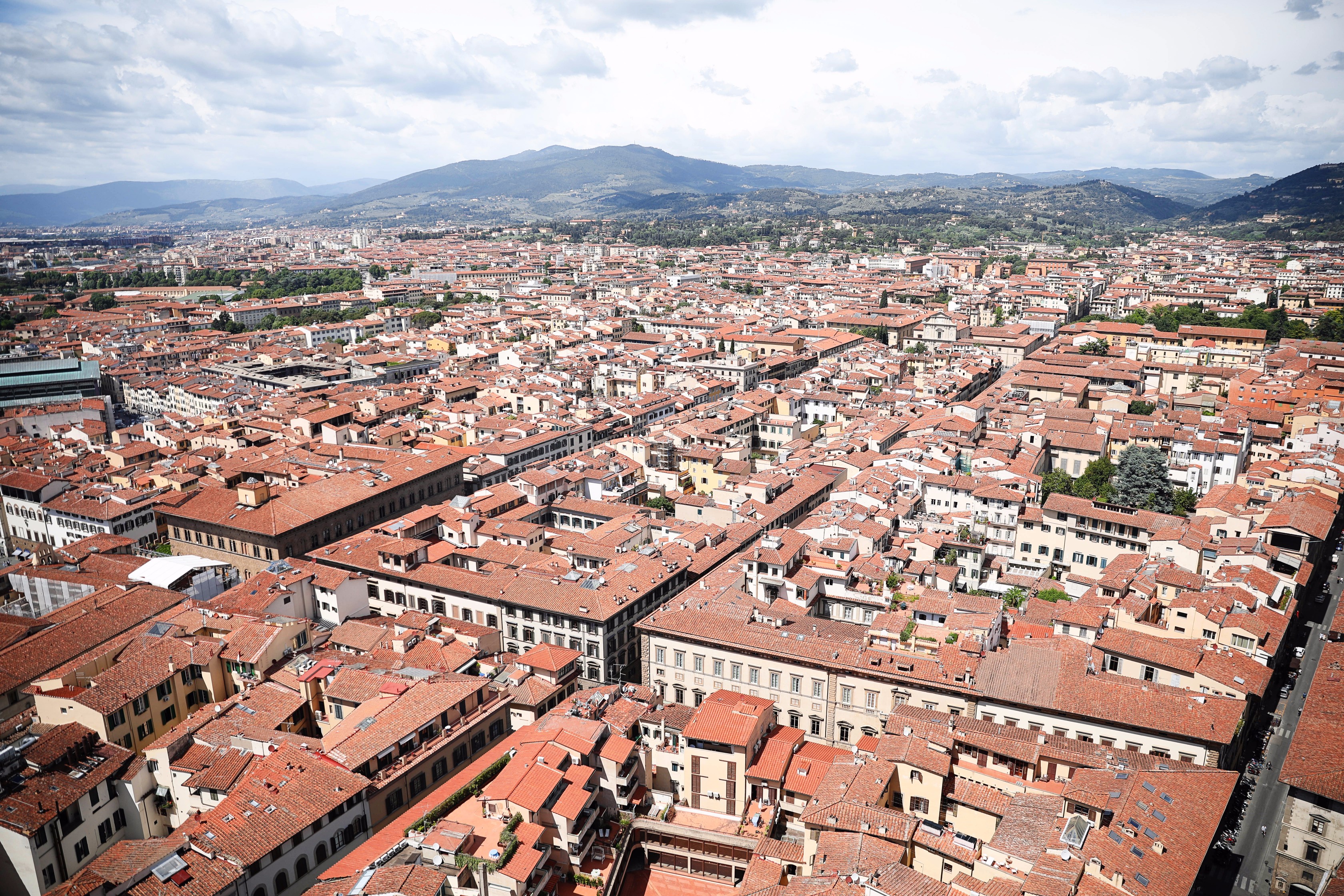 The only real "famous attraction" we went to in Florence was the Duomo, and oh my gosh it was amazing. To be honest, I am not really one who loves to sightsee on trips. I think it is interesting to see some, but I would much rather walk around, eat authentic foods, and enjoy the time rather than take guided tours and have to be on a schedule when you buy tickets for attractions. The Duomo, however, was 11o% worth it! The Duomo is a huge Catholic Cathedral that is famous in Florence. It has over 450 steps that lead you to the roof which is where we got shots of this amazing view! We were lucky enough to run into a tour company right outside whose group did not show up so they sold us tickets at face value (15 euros) and got to skip the line! There are a lot of things like this in Florence, especially if you go to see the David, so make sure to look around for people who wear lanyards!
FOOD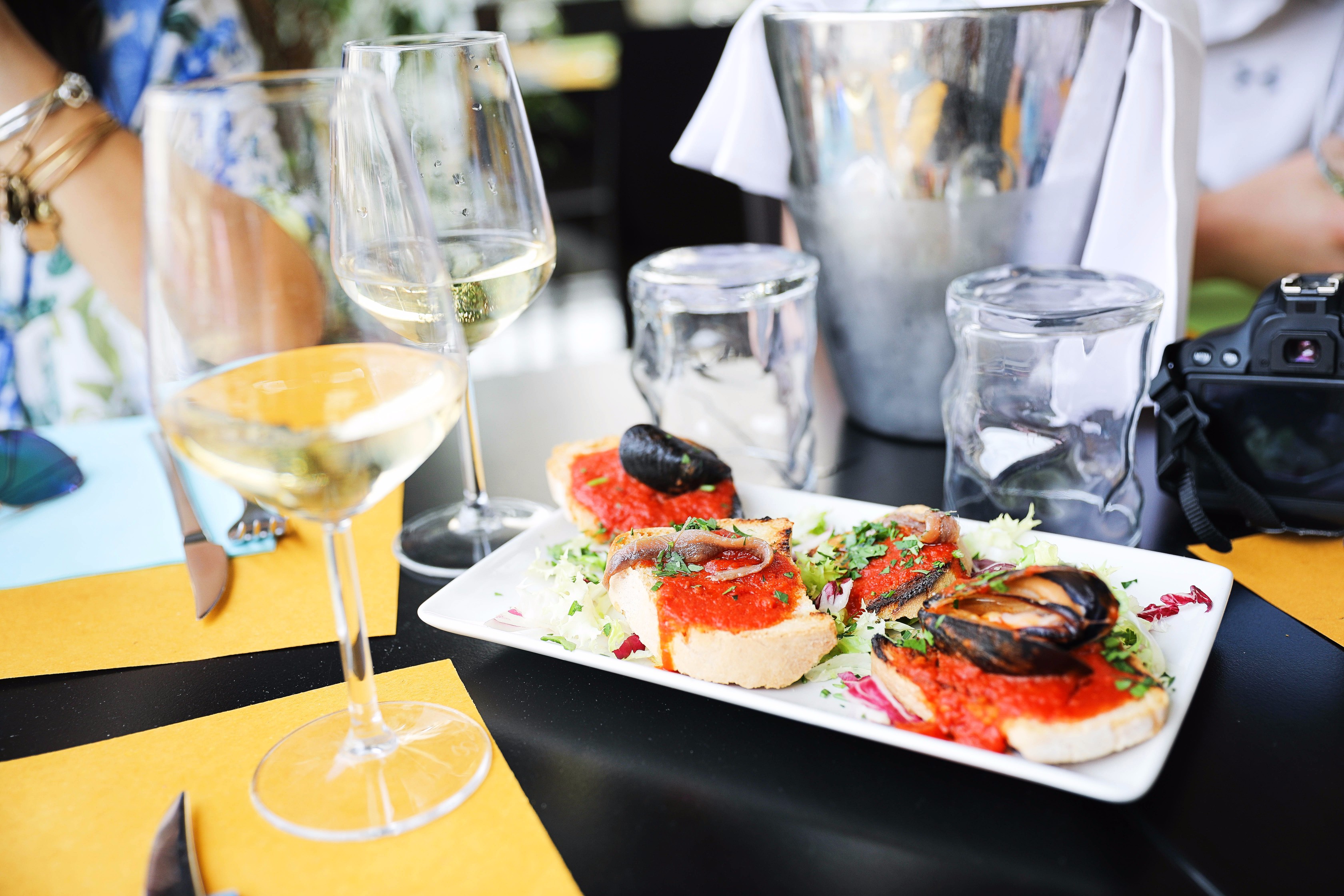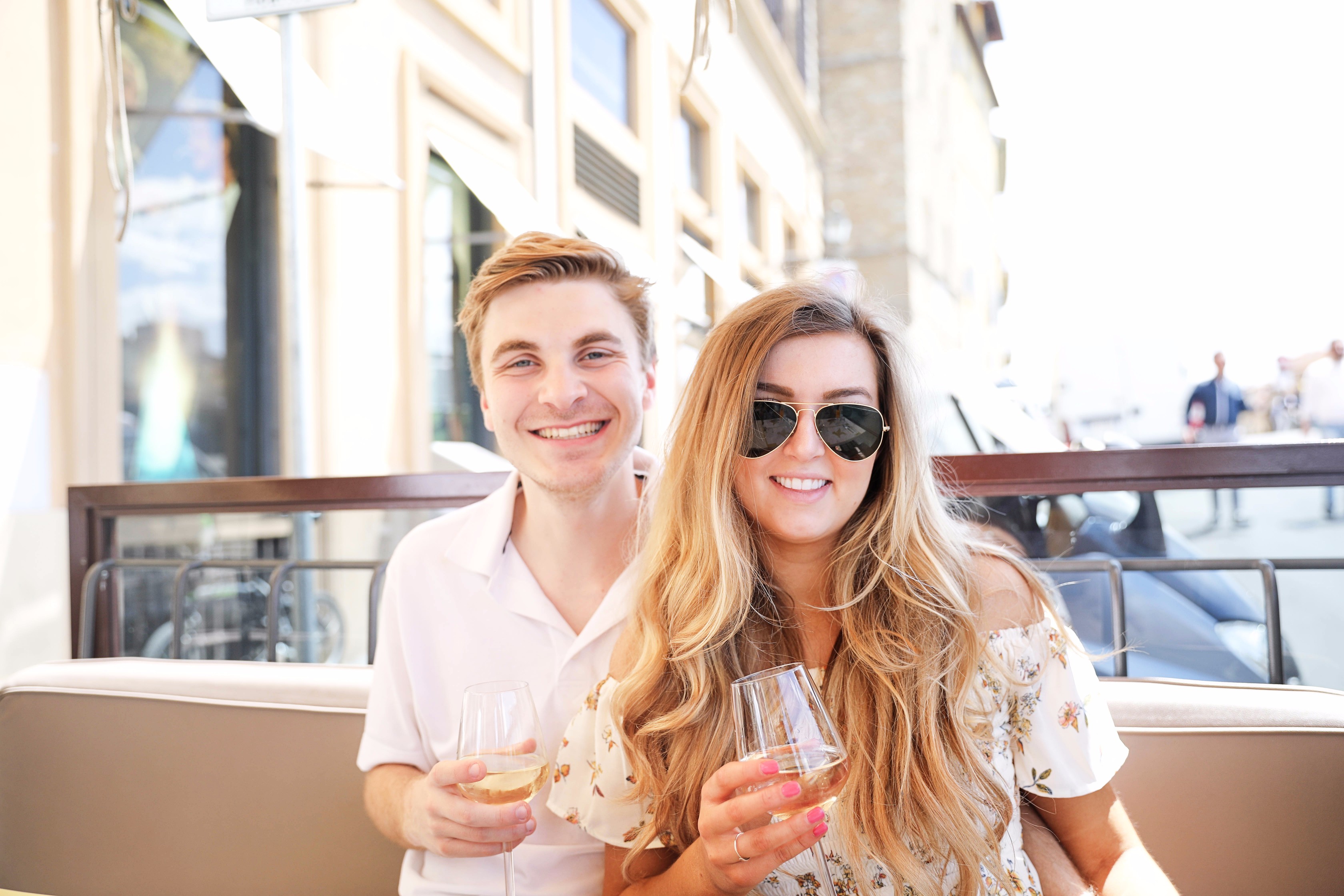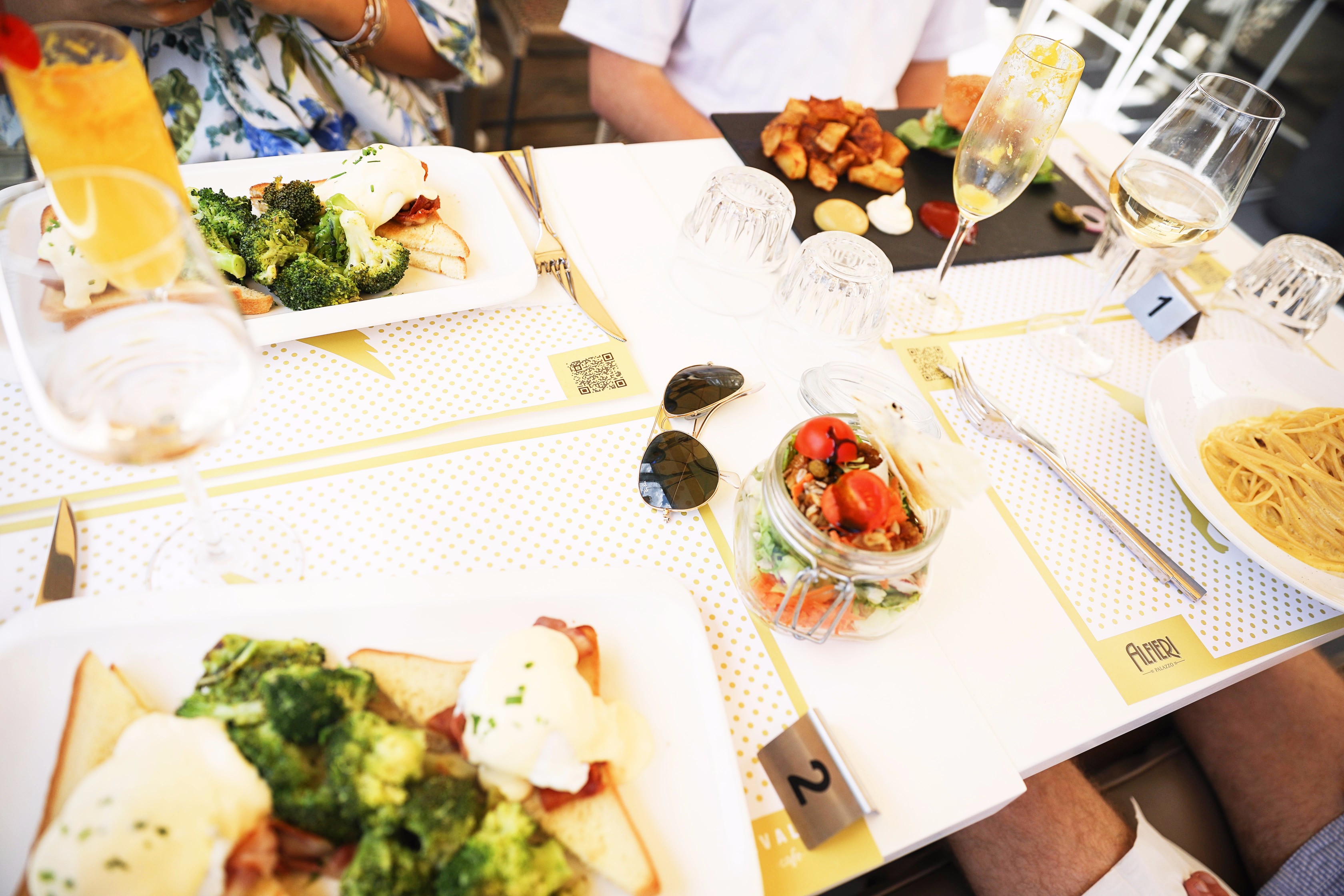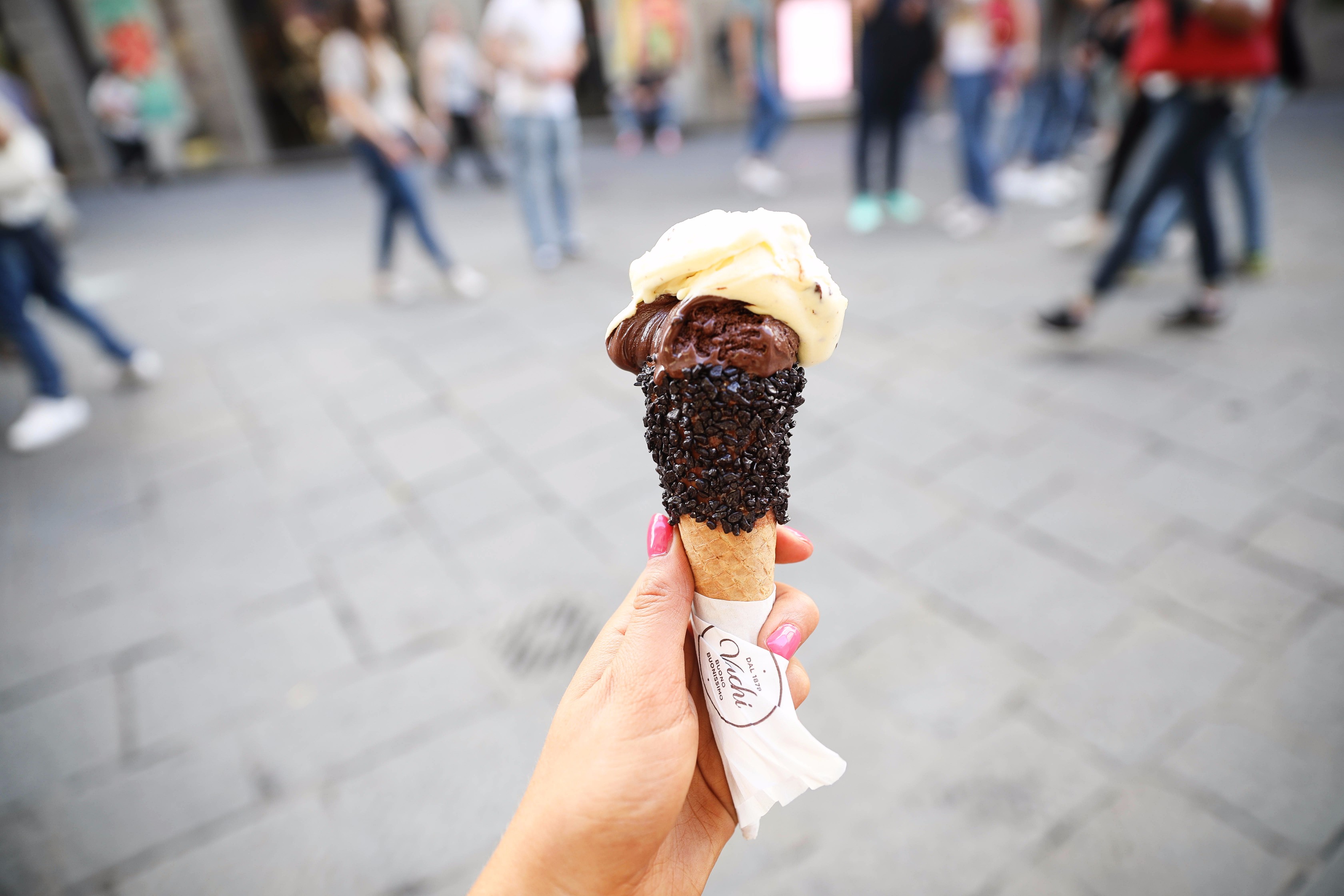 This is the most important part of vacations in my family haha! I could spend 75% of my day eating when I am on vacation (and a lot of the times we do)! I listed all the restaurants that I talked about above!
Caffè Alfieri – Really cute outdoor seating area and is located right on the river! I got the eggs Benedict and some white wine and my meal was delicious (fourth photo above).
Caffè Giubbe Rosse – Another cute restaurant with a fun outdoor eating area across from the famous antique carousal! We just stopped here for wine since we had a late brunch at Caffè Alfieri. They were really nice though and brought us free pieces with red sauce and seafood on them (first photo above). You have to be careful in Italy because sometimes people will bring you bread or appetizers and if you say yes they charge you. So make sure to tell them "we didn't order this!" and if they say it's free (or if it costs money, but you still want it) then dig in!
Golden View – This was the restaurant I found for John's birthday that was really cool! It was one of the few restaurants on the water that had a perfect view of the river. Make sure to make a reservation a day or two before to get the seats by the windows!
Red Garder – Really fun karaoke bar we went to for John's birthday! Good mix of Americans and locals which was cool and the drinks weren't too expensive. Be safe walking back home at night though, I suggest getting a taxi when it's late!
Caffè Donnini 1894 – This restaurant is right next to Caffè Giubbe Rosse and has some good breakfast and lunch options! These restaurants were in a really centralized location which was a plus!
Venchi Cioccolato Gelato – The best gelato ever! We walked by at different times and sometimes the lines were super long, but we ended up going and getting ours right away (last photo)!
xoxo,
Lauren Emily Lindmark
Copyright © 2017 dailydoseofcharm.com