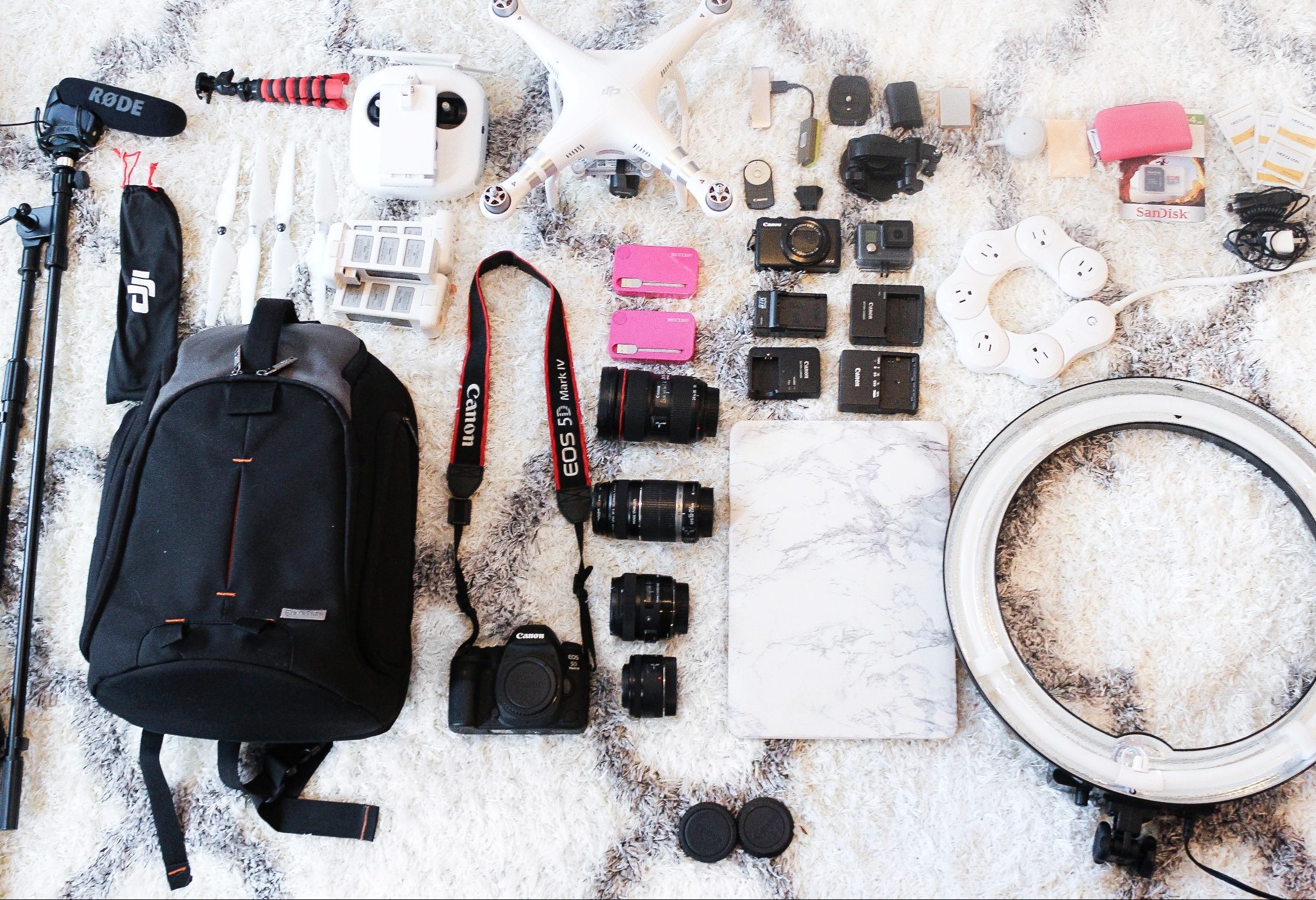 What Camera I use | What's In My Camera Bag Blogger Edition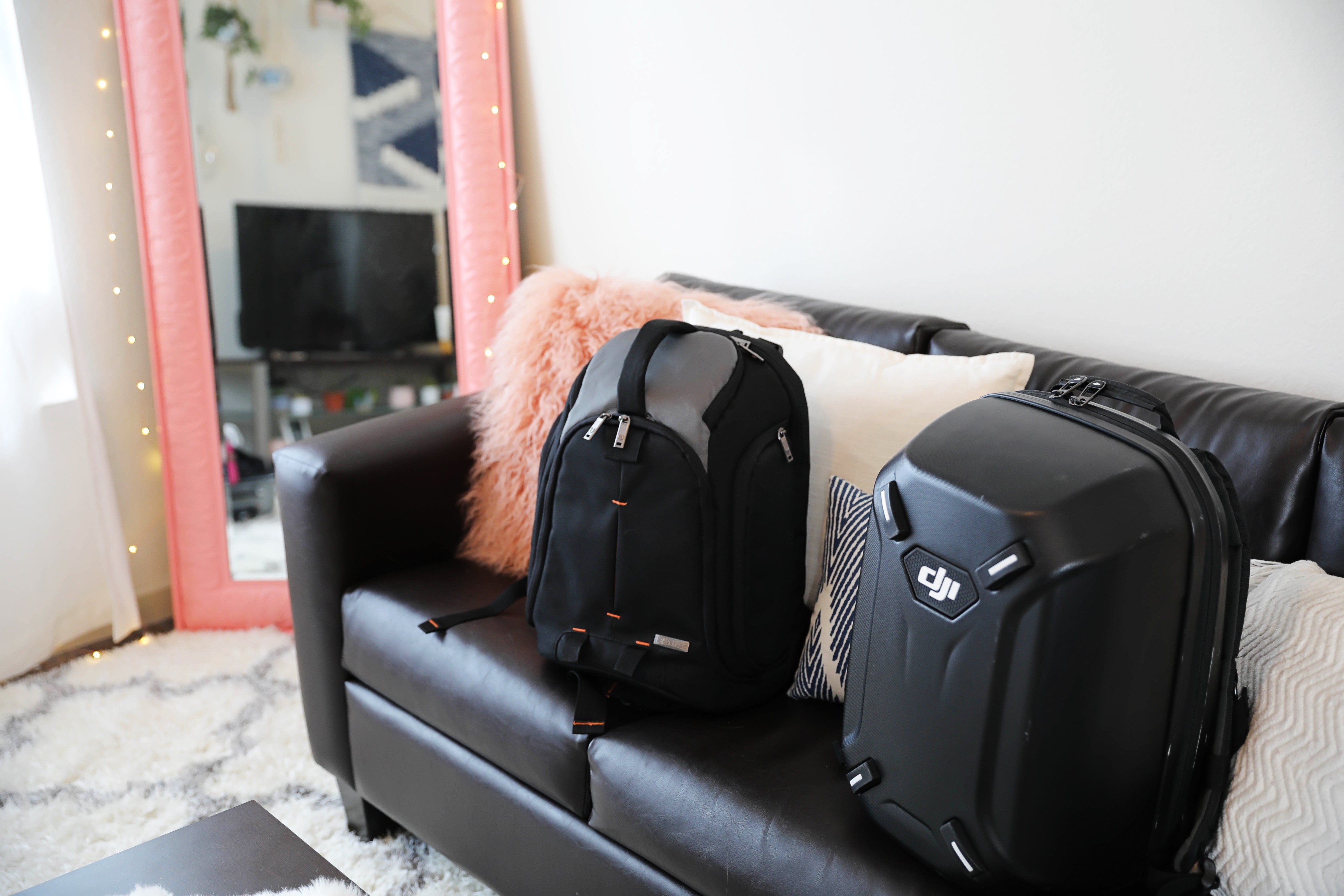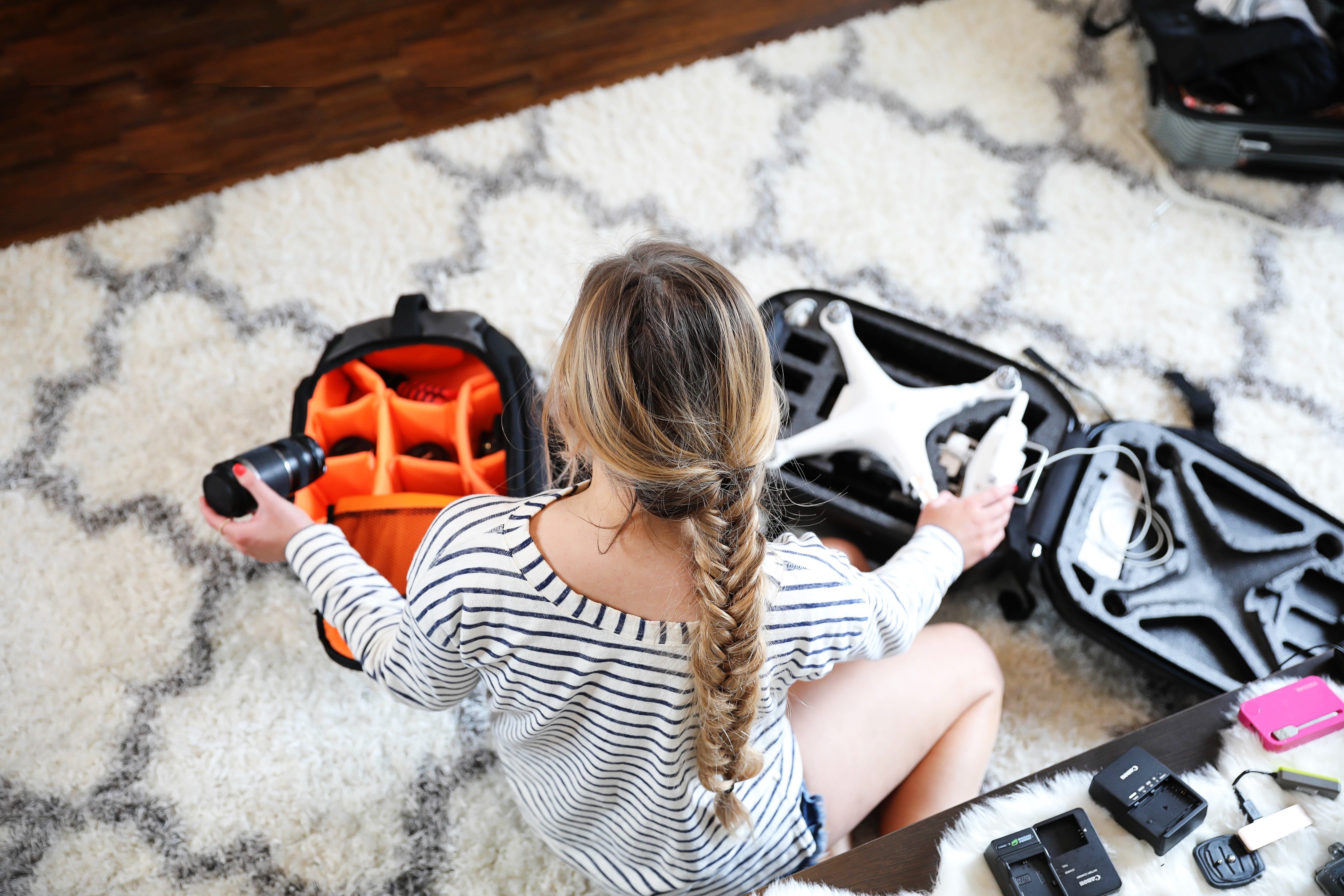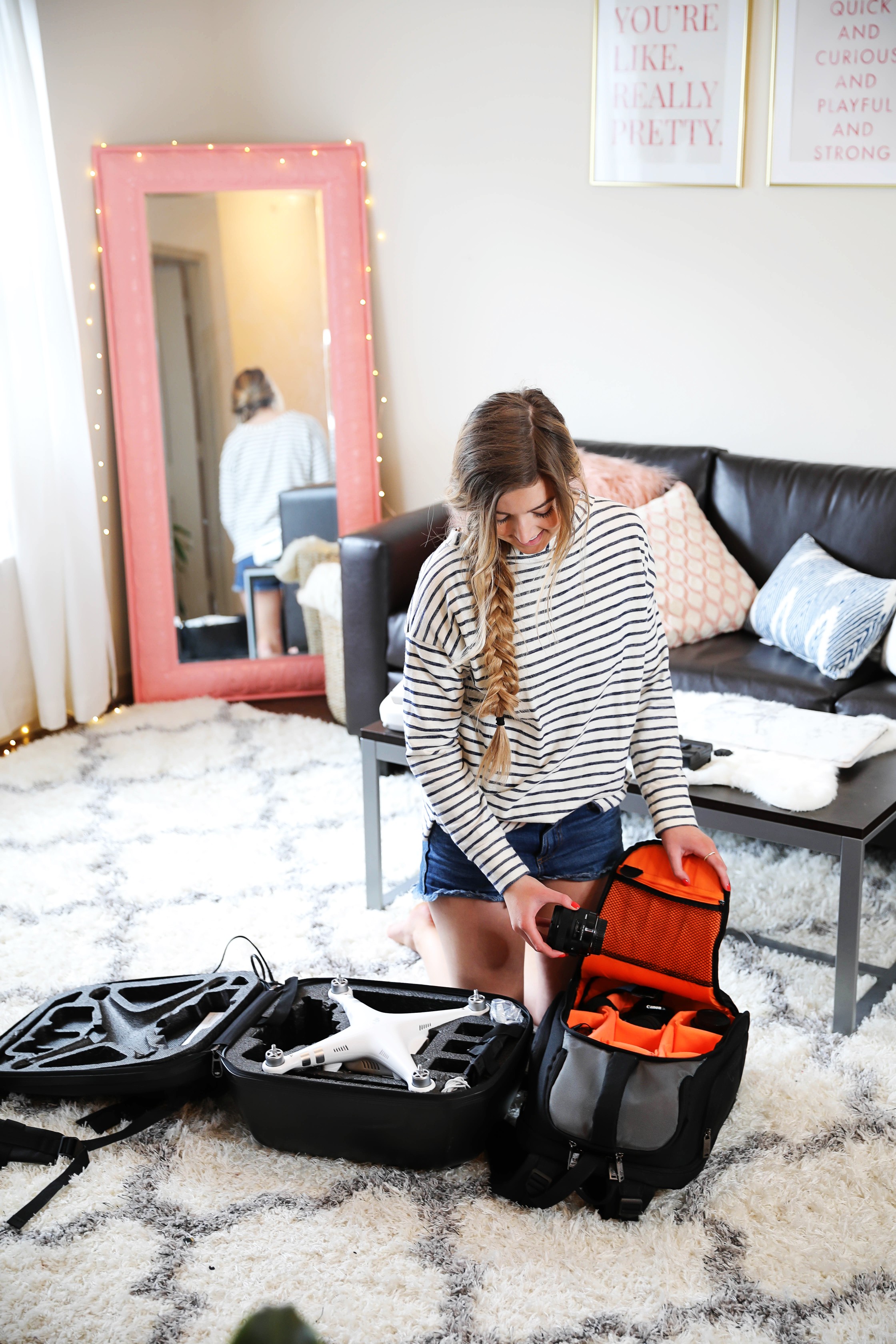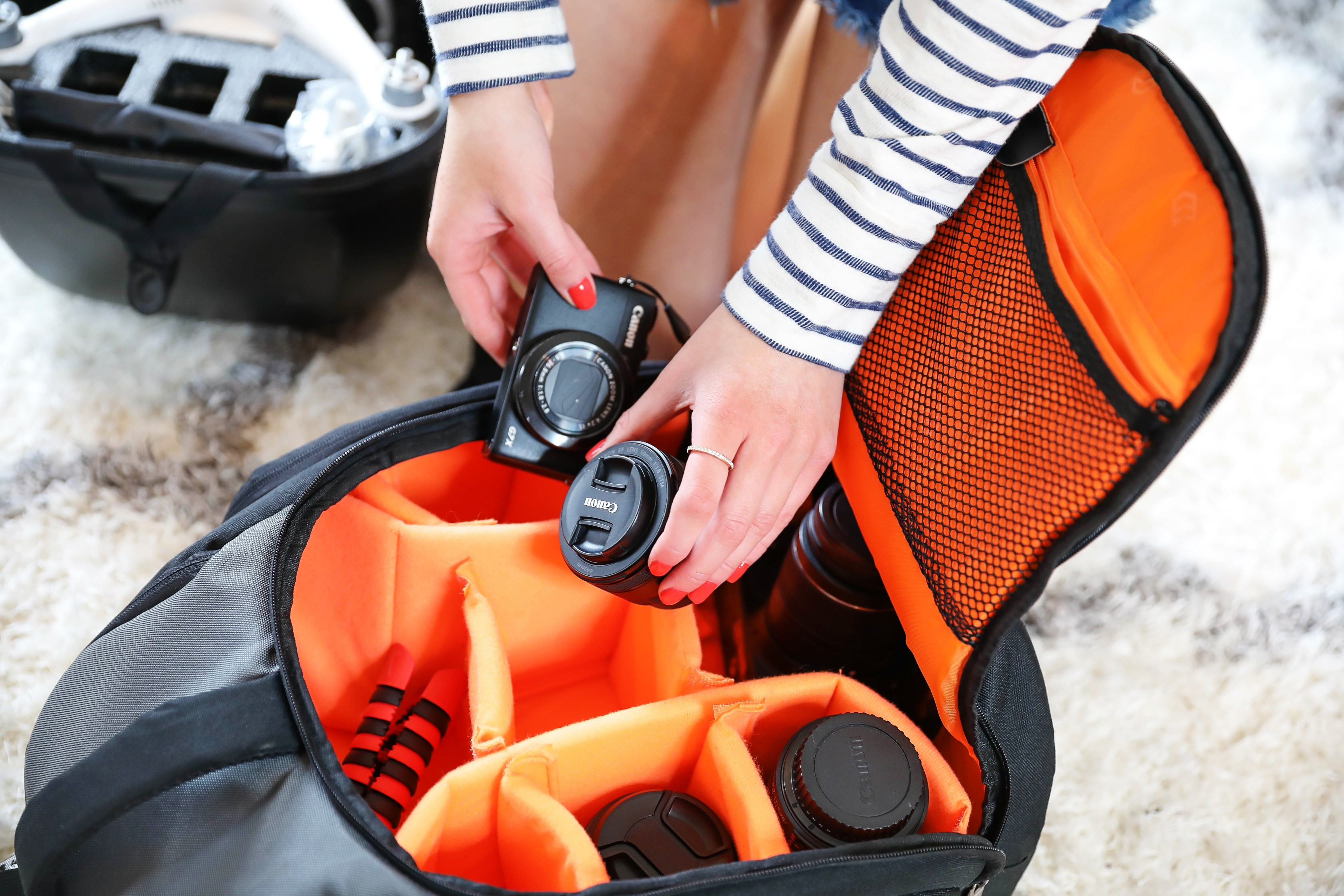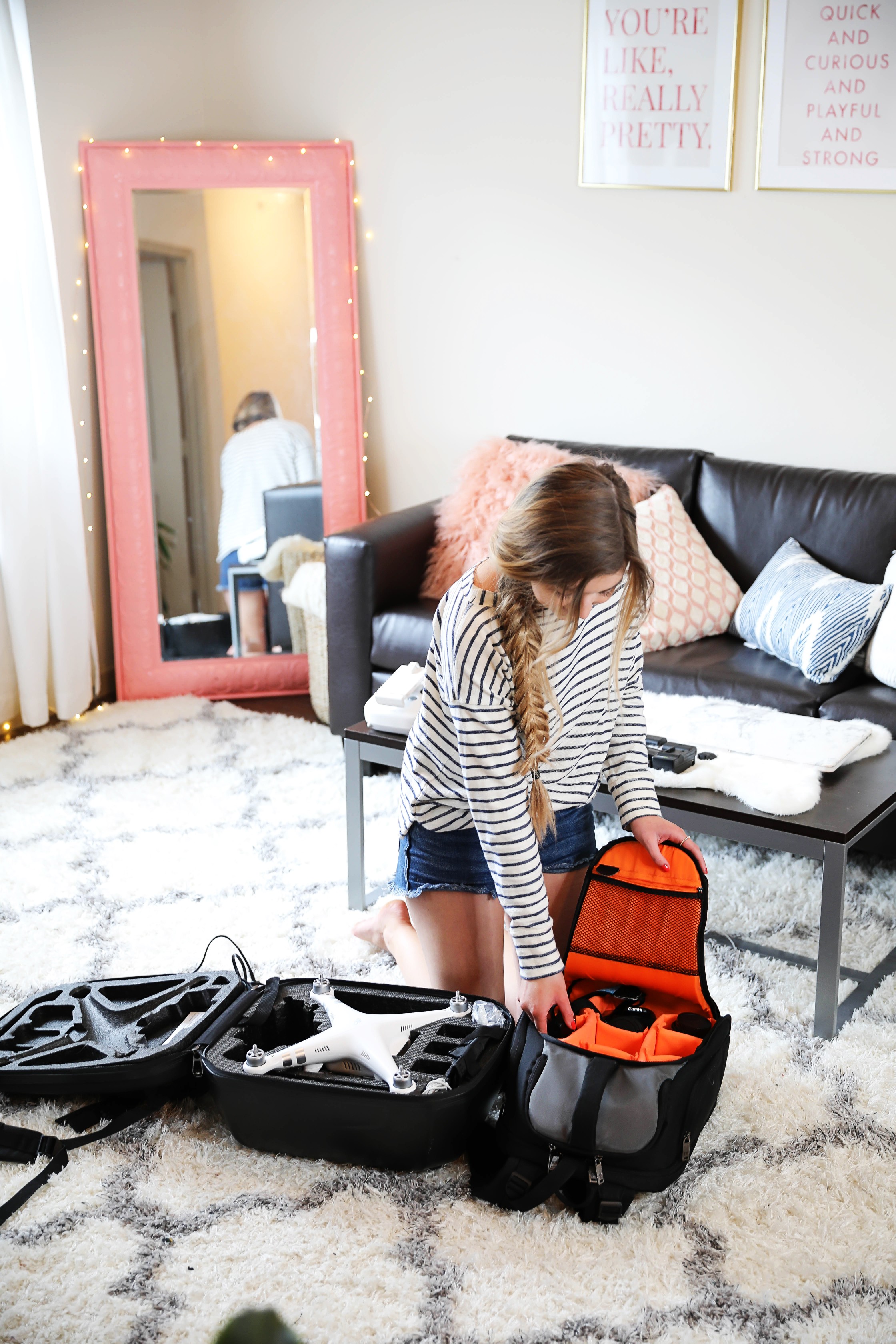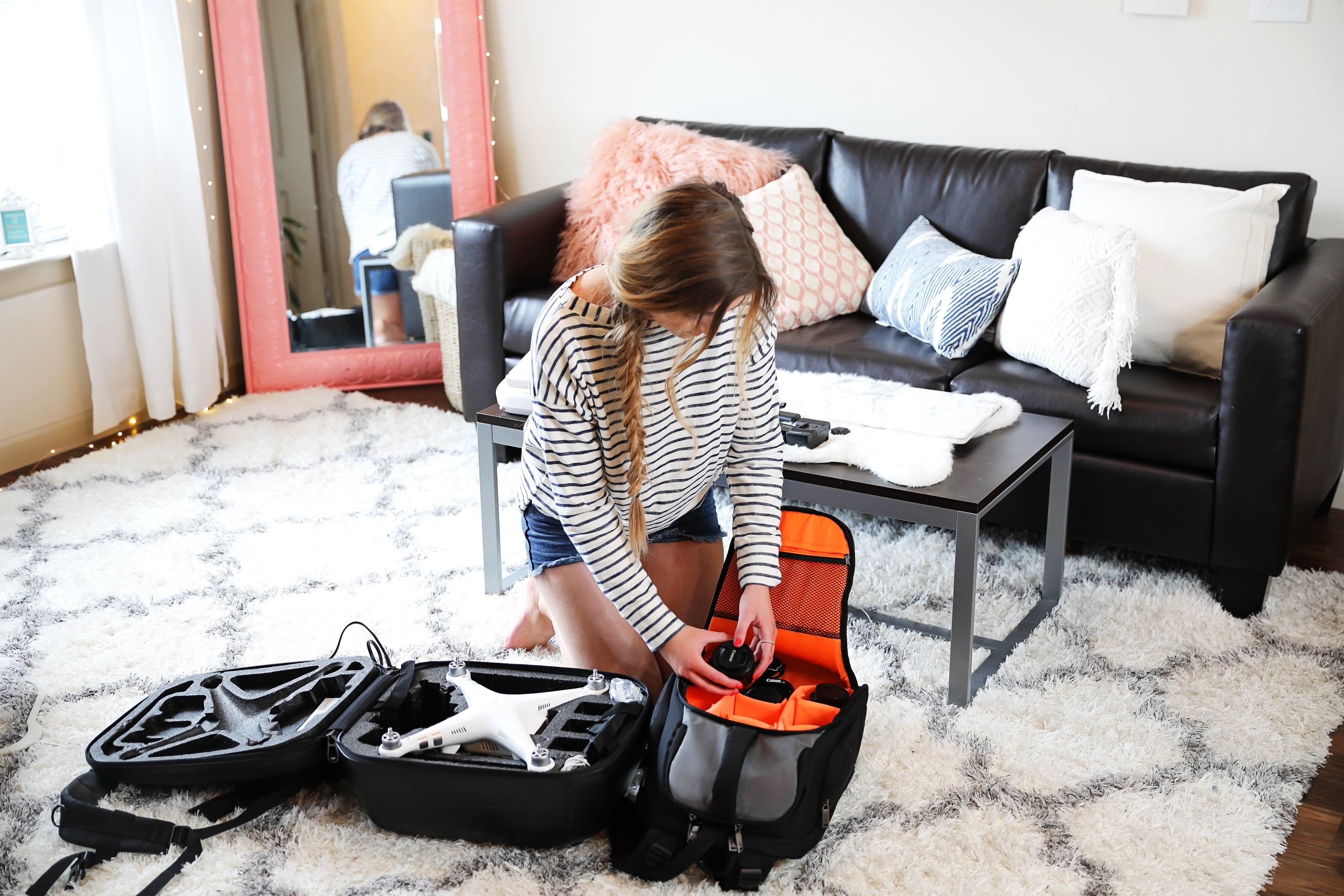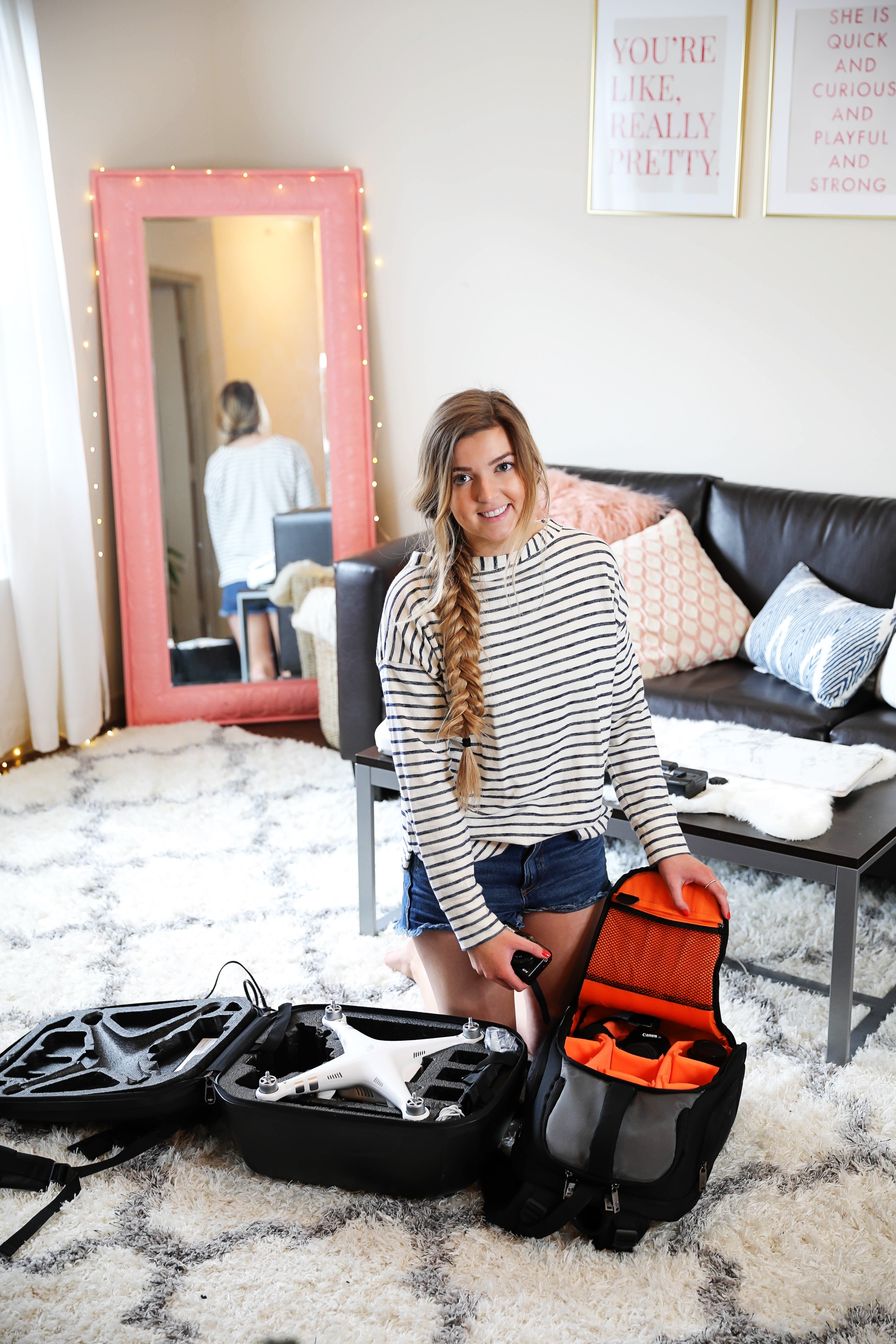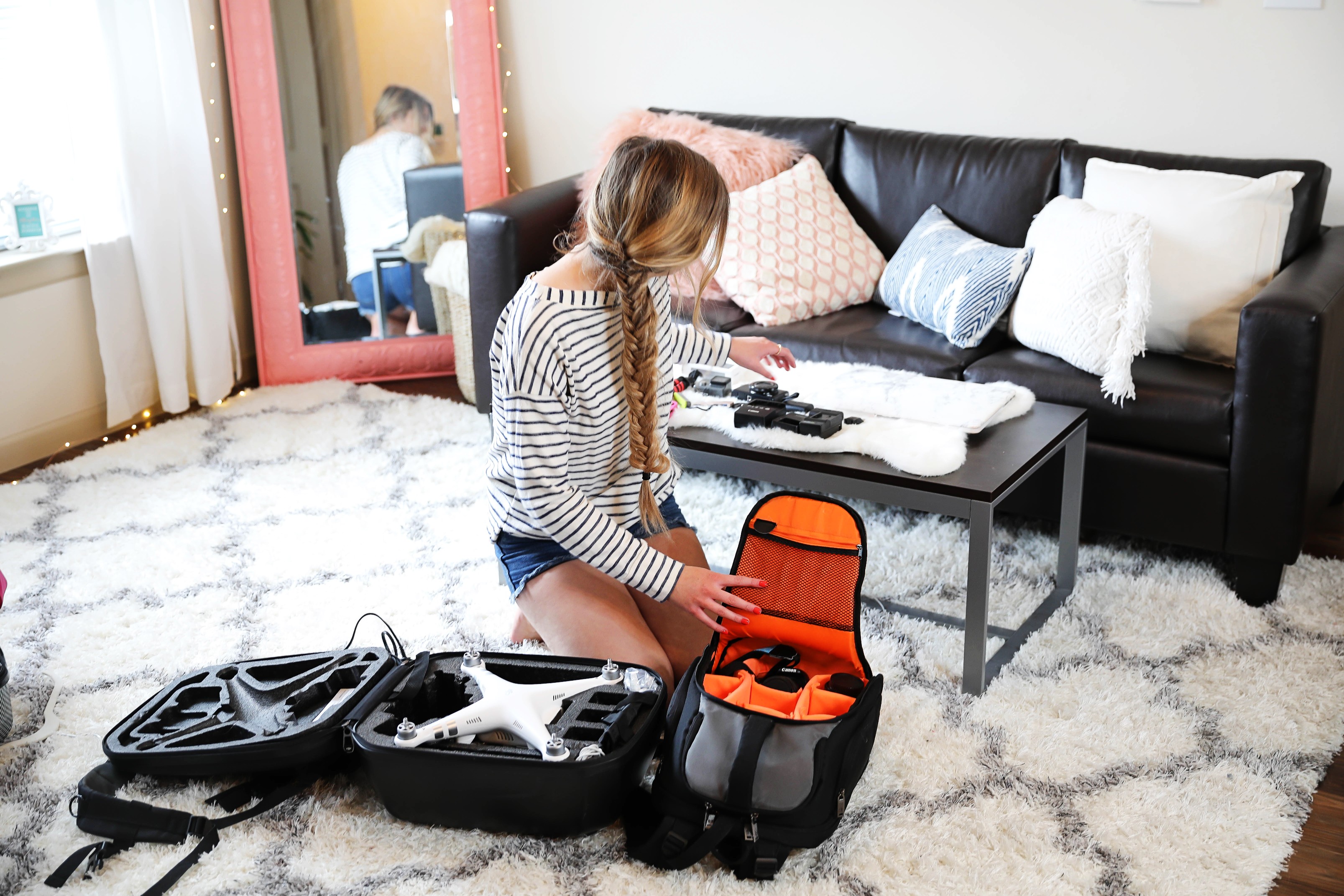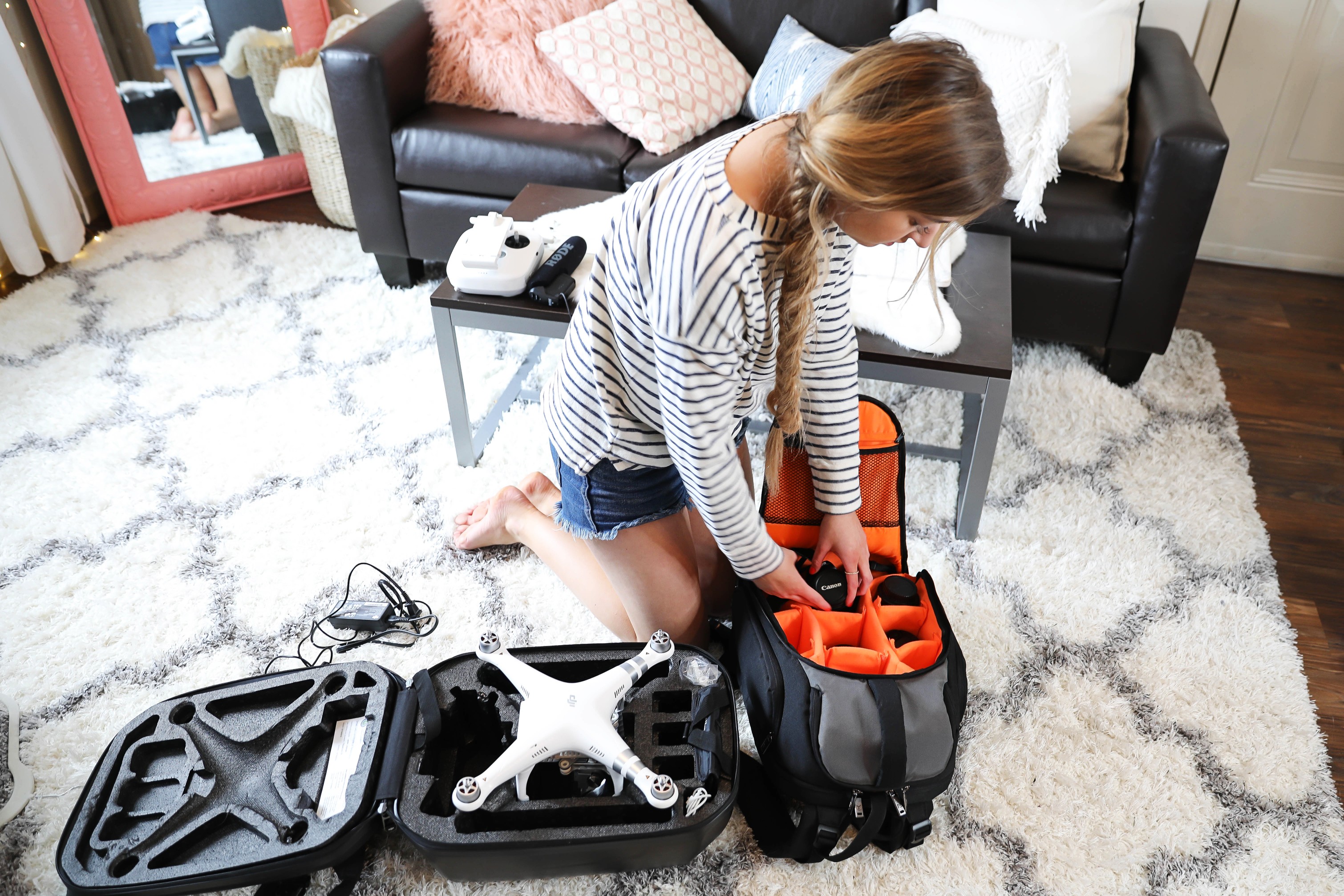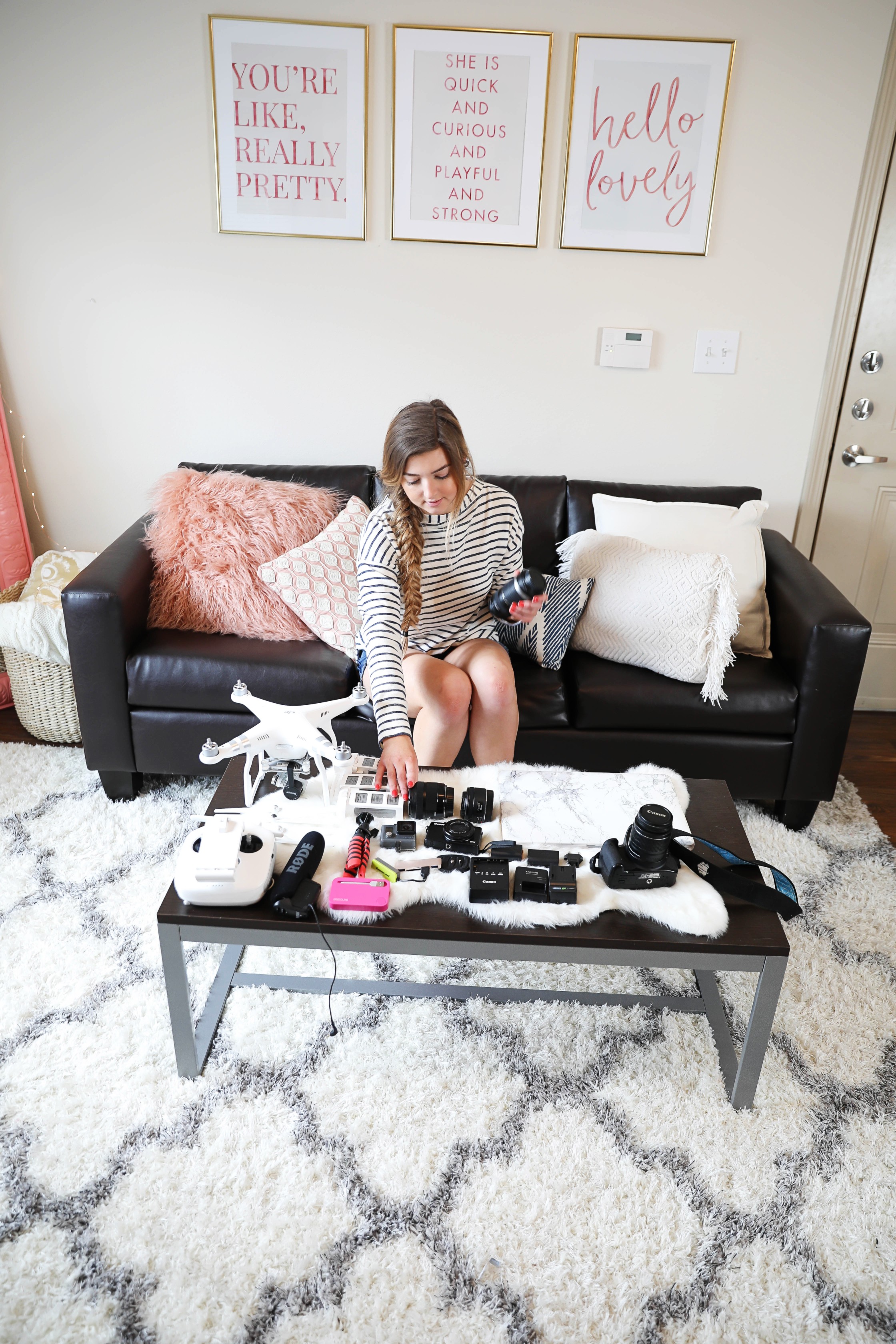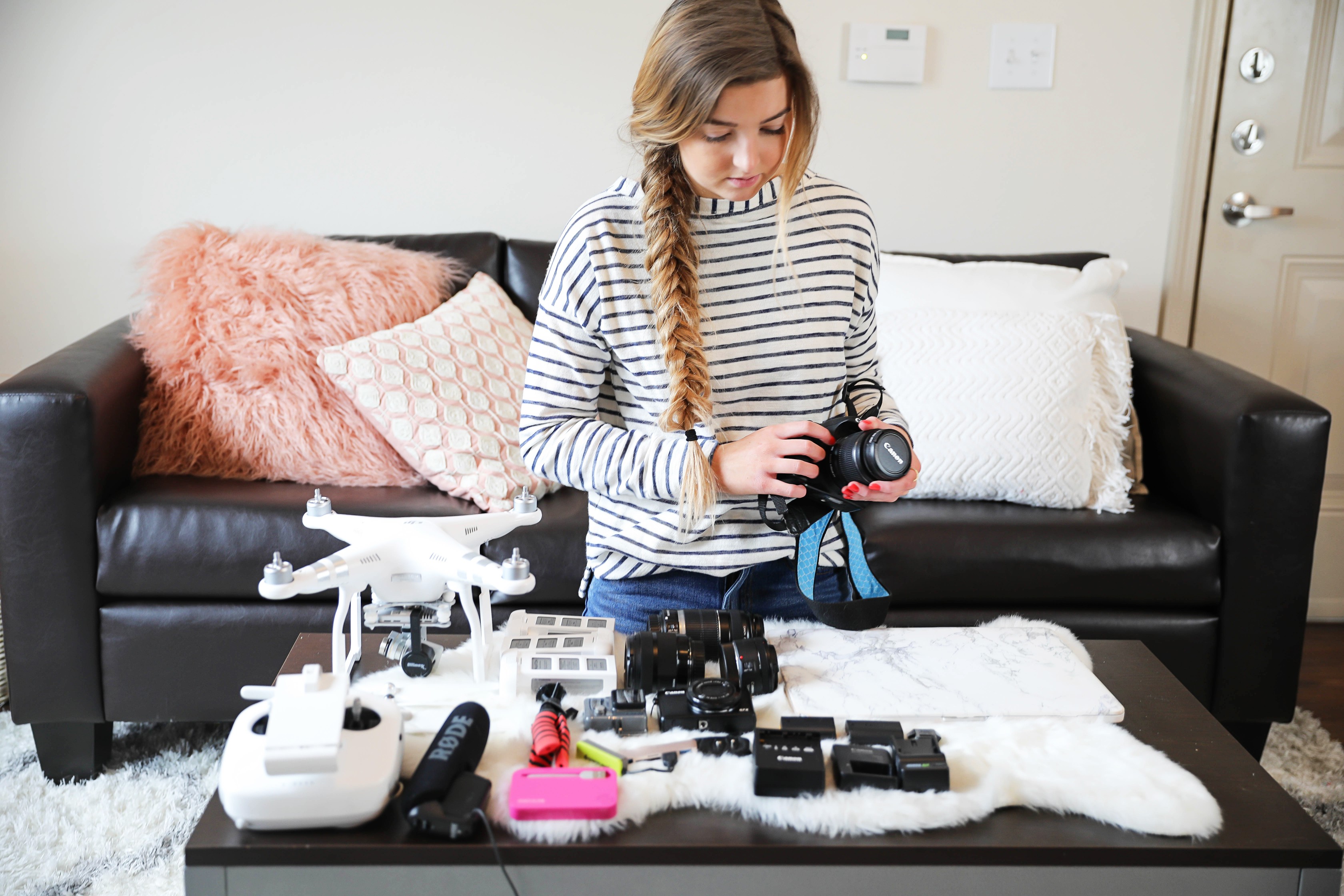 Ever since I was a little girl I have always had a camera or video camera in my hand. I have always loved technology and being able to create things through it. I love watching old home movies of my sister and I fighting over who gets to use the camera or looking back at old photos I've taken throughout the years. I was really young when I got my first camera, I got a clunky Kodak digital camera for my birthday in elementary school that I still have it to this day haha (however I definitely do not use it)! It wasn't long before I asked for my first "DSLR" and I say DSLR very loosely because it was a cheap Nikon version that I think was more of a Powershot digital camera made to look like a nicer camera haha. After I started my blog my sweet grandma gave me her old camera (Canon t4i pictured above) and it has been my trusty camera for the last few years!
With that being said, I am so happy to announce I just bought a new camera! If you read back on my blog about a month ago I was talking about not being sure which camera I should buy. I definitely wanted to stick to a Canon and I really loved the 5D Mark III and IV! I decided on the Mark IV because I knew it would last me forever and guys – it's perfect! This post has been highly requested, but this week after shooting on my new camera there have been way more people requesting I talk about my camera gear! So here it is! PS, when you are reading this I will be in Europe to see my sister who is studying abroad! I'm sorry a post didn't go up yesterday, it was the first time I missed a day in so long and I was beating myself up over it! I wanted to make this one perfect and as well detailed as I could so it took up way more time (and so did all my packing and pre-trip to do's)!
And guys, this is probably the longest post I have ever posted haha! It's my pet peeve when people are vague when writing posts like this so hopefully this was more than enough info! I really wanted to help anyone looking to up their camera game! Lastly, I want to emphasize that all of my gear has been accumulated over years of saving and holidays! I am so lucky for all I have, but it takes time to grow your camera collection. Remember that what is important is you learn and practice photography, fancy gear won't make you great!
CAMERAS
This was my first Canon DSLR camera given to me by my grandma. I loved this camera and it was great for beginner photography! My older sister has the Canon Rebel T6i and she also loves it so I would definitely look into a few of the Rebel cameras if you are looking to buy on.
This is my newest camera that I am so excited about! For the most part all of the photos above were taken with this and I can't get over the quality. I still have a lot to learn about it so I can't wait to the photos to improve even more!
To be honest I am not even sure which GoPro this is because it's my dad's. I've had it in my camera bag since Colorado (see footage in this vide0) and I'm not a huge fan of this one. I want to save up and get the latest (GoPro Here 5 Black), but right now it isn't on the top of my priority list.
This is my vlogging camera that I bought last November and I love it! It has the flip up screen which is nice because you can see yourself as you film. Definitely a great vlogging camera, I bought mine slightly used so it was a bit cheaper!
This is something my dad and I bought last summer and it is my favorite thing EVER! I think aerial photos and videos are so cool and add such a unique perspective to any photo post or video. It's one of my goals this year to use it more!
Lenses
Canon Rebel Kit Lens and Telephoto Lens
I am grouping these together because honestly I haven't used them in over a year (other than the cover photo to this post which I am not a huge fan of). These were great to start out on, but for blogging photos and serious photography you can't get far with these. These were my first two and the rest of lenses below go in order of when I bought them!
This one is known as the "nifty fifty" in the blogging world! If you're a blogger you should definitely own this lens because not only does it create pretty blurred backgrounds, but it's also so cheap! These are basically what all of my photos were taken on in 2016! Here is a post shot the other day with it on my new camera.
I got this one for my birthday last April and I really only used it for video until recently. The last month or so I've been using it for photos, it's a good lens but the focus isn't great for photography (a lot of them show up blurry). This is a great videography lens for beginners looking to invest in a bit of a nicer lens. I am thinking about selling this though because it is not compatible with my new camera so let me know if anyone is interested! Here is a post I shot with it.
This is my first L-Series lens and I am so in love with it! I've had it for about a week and I've shot the last three posts with it (#1, #2, #3) and I don't think I will be using the sigma or 50mm for quite awhile because this one is so versatile and high quality!
Video
This lighting changed the game for me! I haven't used it much for video yet, but it actually works really well for indoor photography! I got this for Christmas and I am so happy with it!
This is something that for some reason a lot of videographers and YouTubers fail to mention, but you NEED a microphone! This is because most lenses focus really loudly so the sound shoes up in your video if you don't have an external microphone. Rode is an amazing brand and I love mine!
Some people attach their mic to the camera, but I like the sound quality better when it's on a stand! This one is a good one and it's cheap!
You need this to get the mic to reach the stand!
It's nice to have another external lighting kit to use along side of the ring light. This was the first lighting kit I got and I like that it's cheaper!
Bags
I bought this before my trip to Colorado and so far I like it! It's durable and fits quite a bit!
The drone I linked above comes with this bag! It's nice because it fits all three of my extra batteries and all the other chargers and accessories!
Accessories
Extra Batteries Galore
As of right now I have 3 batteries for every camera I own. There is honestly nothing worse than running out of battery when you need your camera!
Car Battery Chargers
It just so happens that these came with the extra batteries and battery chargers I bought on Amazon, but these are super nice to have!
This is a newer purchase and I've only used it once, but there are a lot of things you can do with a backdrop!
Portable Chargers
I know these aren't necessarily "camera accessories," but having a charged phone is important! I control my drone with my phone and sometimes need to look things up!
Since I have the 5D Mark IV now I can actually download an app on my phone for a remote, but this remote was nice to have on my old camera! Funny story, I bought this and lost it so I had to buy another, then I found the original one so now I have two that I don't even need haha! At least they are cheap!
Memory Card Reader
I have the newer Mac and it no longer has a memory card slot or regular USB plugins (come on Apple!!!!). So I had to buy two different adapters for the memory cards to be read. You can search these on Amazon if you need on!
I have so many memory cards so I bought this a few months ago and I love having all my cards organized now! This was only a few bucks on Amazon too!
Extra Memory Cards
I cannot stress this enough, but ALWAYS have backup memory cards! Deleting photos is a pain and you never want to be somewhere and suddenly realize your card is full!
I use this for vlogging and it comes in handy! The one I have is super cheap too!
Tripod
I have a cheap one now, but I am looking to upgrade now that I have a nicer camera! Let me know if anyone has suggestions, preferably one with fluid head movements for video!
This is a must-have for GoPros because not only does it keep it safe from water (and usable underwater), but it is also how you get other accessories to work with it!
I bought this for Colorado and got a few shots of us driving through the mountains with the camera on my hood!
Outlet Extension
This is nice so you can charge everything at once!
Power Adapters
This is something I didn't think about until I planned my trip for Europe, but it's a good thing to remember if you are traveling!
I bought these wipes the other day to have on hand and it came with SO MANY haha! I wish I could give some to you all who need them because I don't think I will ever finish my box. At least they were inexpensive!
Macbook
I am a huge Apple fan, especially for anyone who is into photography. So no, you don't need a Mac, but you do need some kind of computer to edit on!
If anyone is curious on how I edit my photos I do them all on Lightroom and Photoshop (I am way better at Lightroom though). I definitely recommend downloading at least a free trial to try it out!
Wishlist
You're probably thinking, what more could this girl need? Haha! I love photography and technology so because of that my collection has grown quite a bit as you can see. With that being said, there is always new ground-breaking gear being created that I fall in love with! Since I am still paying my parents back for my new lens and camera it will be a long time until I can save up for more gear (which I'm sure some of you were wondering how I paid for my new camera and lens, so shout out and big thanks to my parents who are my biggest supporters and gave me a loan). But, the two things that come to mind are a stabilizer, since I want to get more into video, and a nicer GoPro!
Let me know what gear you use and what's on your wishlist!
xoxo,
Lauren Emily Lindmark
Copyright © 2017 dailydoseofcharm.com