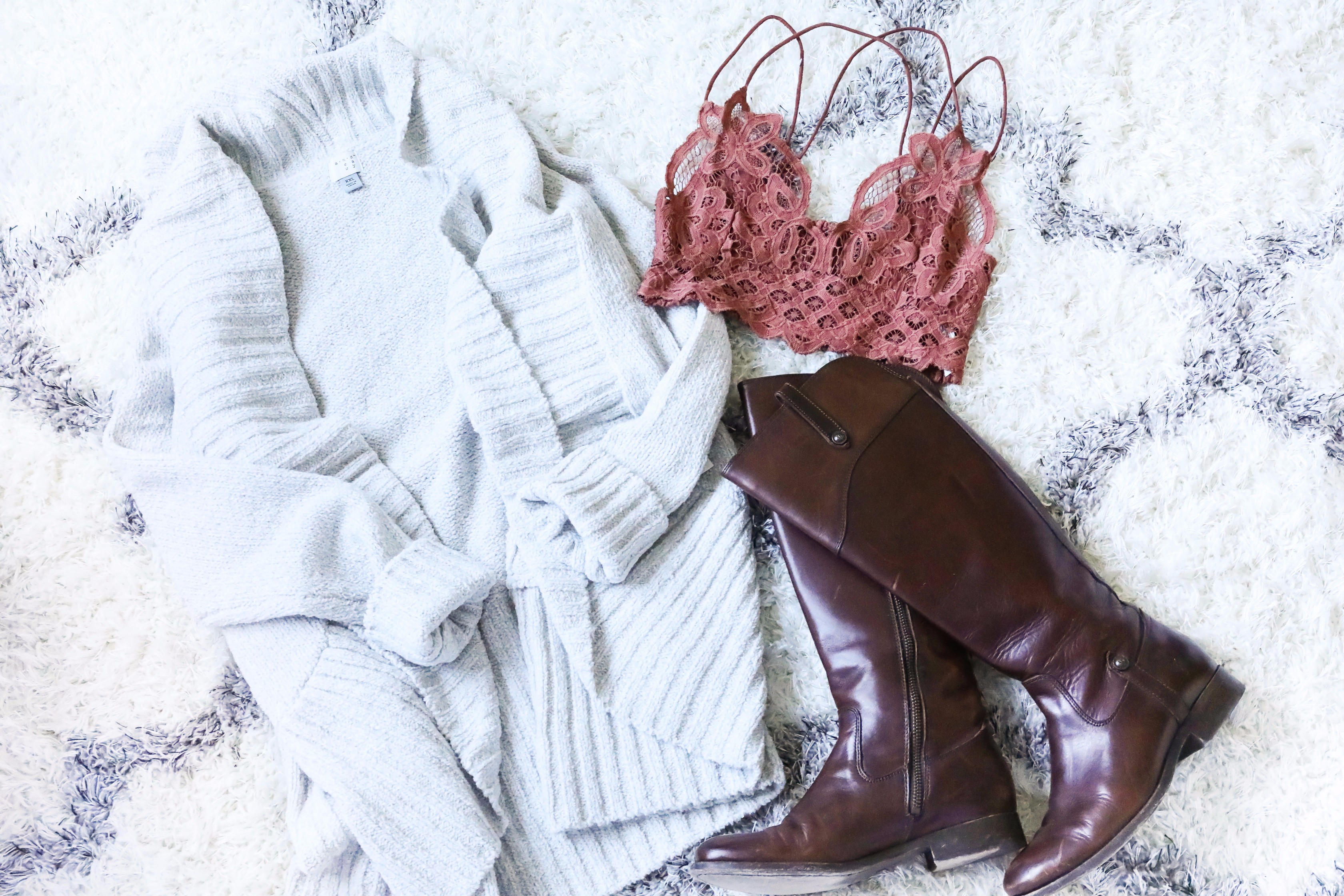 Fall Accessories You Need | Roundup
This is sort of a short post because I have a ton of homework to do tonight (college probs…I am writing this on a Sunday night), but hopefully this post helps spark some ideas on what accessories you can wear this fall! My parents were out of town this weekend and I was super busy so I wasn't able to shoot any outfits (which is also why I didn't post last Thursday/Friday), but I am shooting a few hopefully today so I can have more up!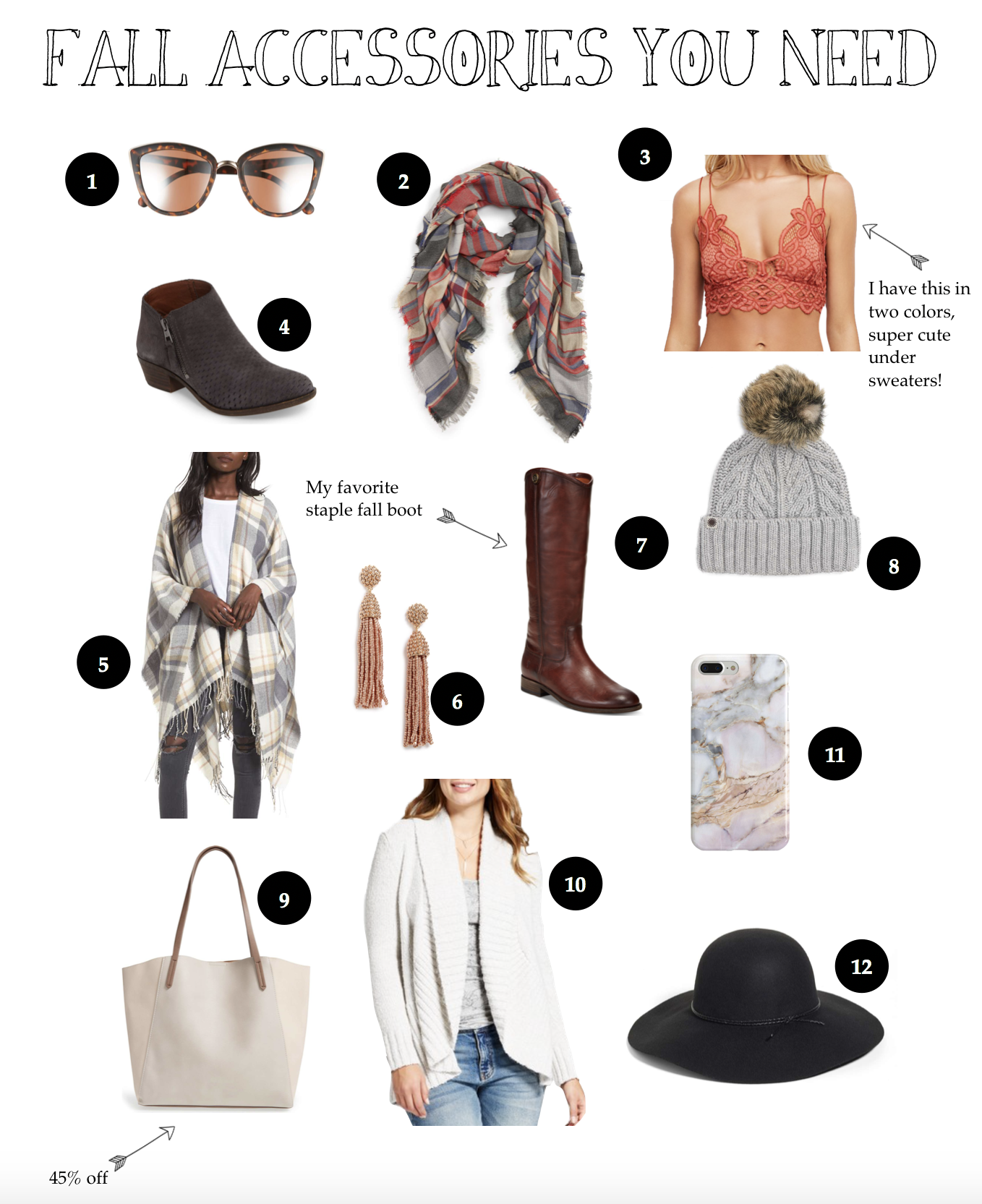 1. Metal Rim Cat Eye Sunglasses (only $12)
Dark rimmed sunglasses like this are super cute in the fall! I also love the pattern!
I love scarves for fall! I have about a million, but it doesn't stop me from finding more and more I want every year!
3. FP One Adella Bralette ($38)
I own this bralette in two colors and it's my favorite accessory for fall! It looks adorable under slouchy off the shoulder sweaters. I have a few OOTDs coming soon showing you how I style them!
4. Brielley Perforated Bootie (35% off)
I have done a full post on what booties I love for fall, but I just found these the other day on Nordstrom! I love the perforated trend!
5. Plaid Cape
I just ordered this the other day, I love capes for fall because they are so cozy!
I have these and I love them! I think the color is super cute for fall!
7. Frye Boots
I have talked about Frye boots a ton on my blog because they're amazing quality and so timeless! I have had mine for a few years, they are so cute!
I love beanies and I can't wait for it to be cold enough to wear them! For some reason I didn't even look at the price of this one (or the fact that it has real fur) before doing this post so I want to also put another option here that is only $13 and super cute!
9. Colorblock Faux Leather Tote (only $25)
This bag is super cute, but the price makes it even better! I love cute totes like this for fall!
10. Chenille Cocoon Cardigan (only $30)
Okay funny story about this… I bought this sweater on Friday at Target and wore it out on Saturday night to a little GNO with my two best friends since middle school. Let's just say I had a little too much fun (they have always been my bad influences) which ended in a 40 minute Uber home of me puking, I blame the long car ride lol. Don't judge me, okay? Is this incriminating myself? I'm in college so give me a break haha, I hadn't had a night like that in a really long time 🙂 Anyways, I didn't want to throw up in the car and have the driver hate me, so I grabbed my new cardigan and just got sick all over it. Fast forward to the next day and I ended up going to Target again and buying a new one because I love it so much… I don't know why I just shared this whole embarrassing story, but there's that. For reference I bought an xxL so it is oversized, I'll shoot an OOTD soon!
How cute is this case?! I love that it's different than the usual marble cases. New seasons call for new cases!
12. Wool Floppy Hat
I have a few hats like this and I think they are too cute for fall! You can throw them on with dresses, sweaters, or even casual flannels!
xoxo,
Lauren Emily Lindmark
Copyright © 2017 dailydoseofcharm.com