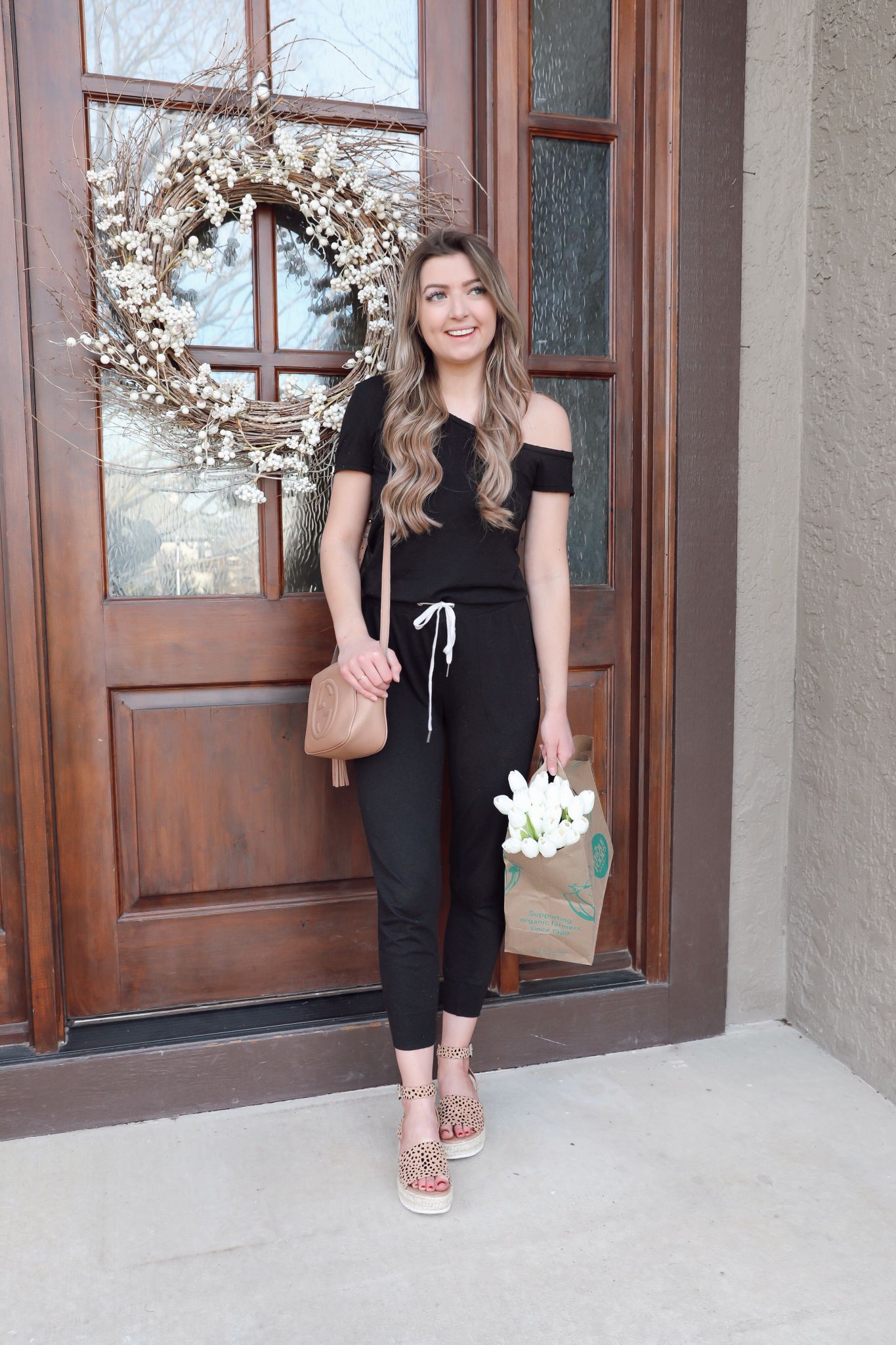 Gluten & Dairy Free Lunch Meal Prepping | Video + Recipes
I feel like I have been seeing clearly for the first time in a long time. That is so strange to say, but I just feel like I am getting my shit together all of a sudden haha! This last week has been a good one, and I've made time for more important things in life – like health. I used to try to eat pretty healthy, but it's hard when you're busy. I have such a sensitive stomach, that I need to be feeding myself clean foods. You just never know what you're going to get when you eat out!
So yesterday I actually took some time to go to the grocery store and meal prep my lunches! I decided to start filming and ended up making a full IGTV video to share with you guys! I hope you like it!
Disclaimer(s): I am not a nutritionist or chef, so go easy on me. I just make what sounds good! Also, I am lactose intolerant so I do not eat dairy. I do not have a medically diagnosed gluten intolerance, but I find that cutting it out makes me feel less lethargic so that is why these recipes are also GF (other than the soy sauce)! Last disclaimer is I pretty much eyeball everything, so these recipes are not exact.
| My Jumpsuit | My Sandals | My Purse | My Glass Meal Prep Containers |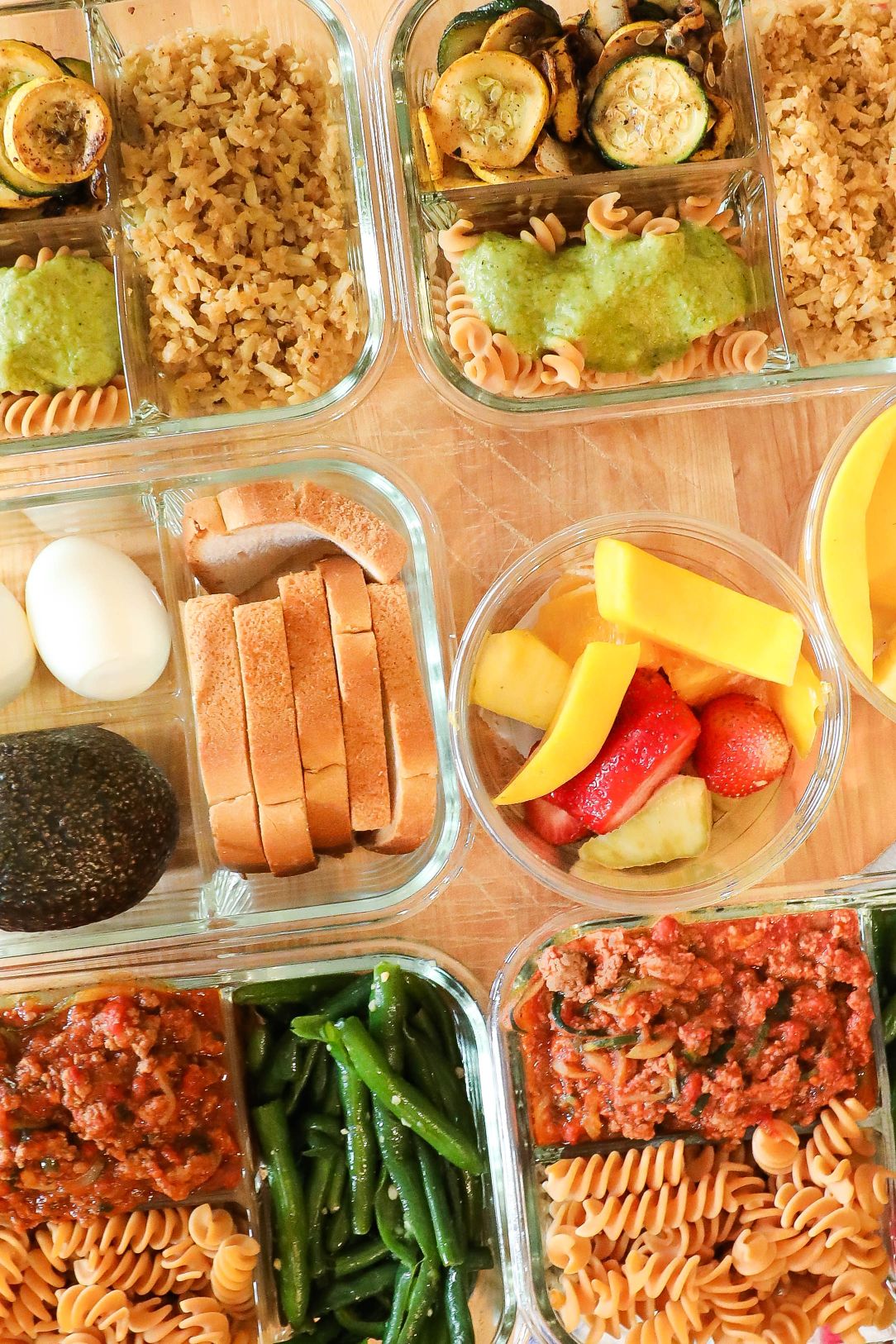 You can watch the Meal Prep Video Here and see the recipes below!
Grocery List
Produce:
Zucchini
Yellow Squash
White Onion
Avocados
Spiraled Zucchini
Fruit
Cauliflower rice
Green Beans
Garlic
Whole Foods GF & DF Pesto (comes with the spiraled zoodles)
Meat:
Eggs
Lean Ground Beef
Rest of the Store:
Red Sauce
Chickpea Noodles
GF Bread
Meal #1 Vegetable Medley with Cauliflower Rice and Pesto Chickpea Pasta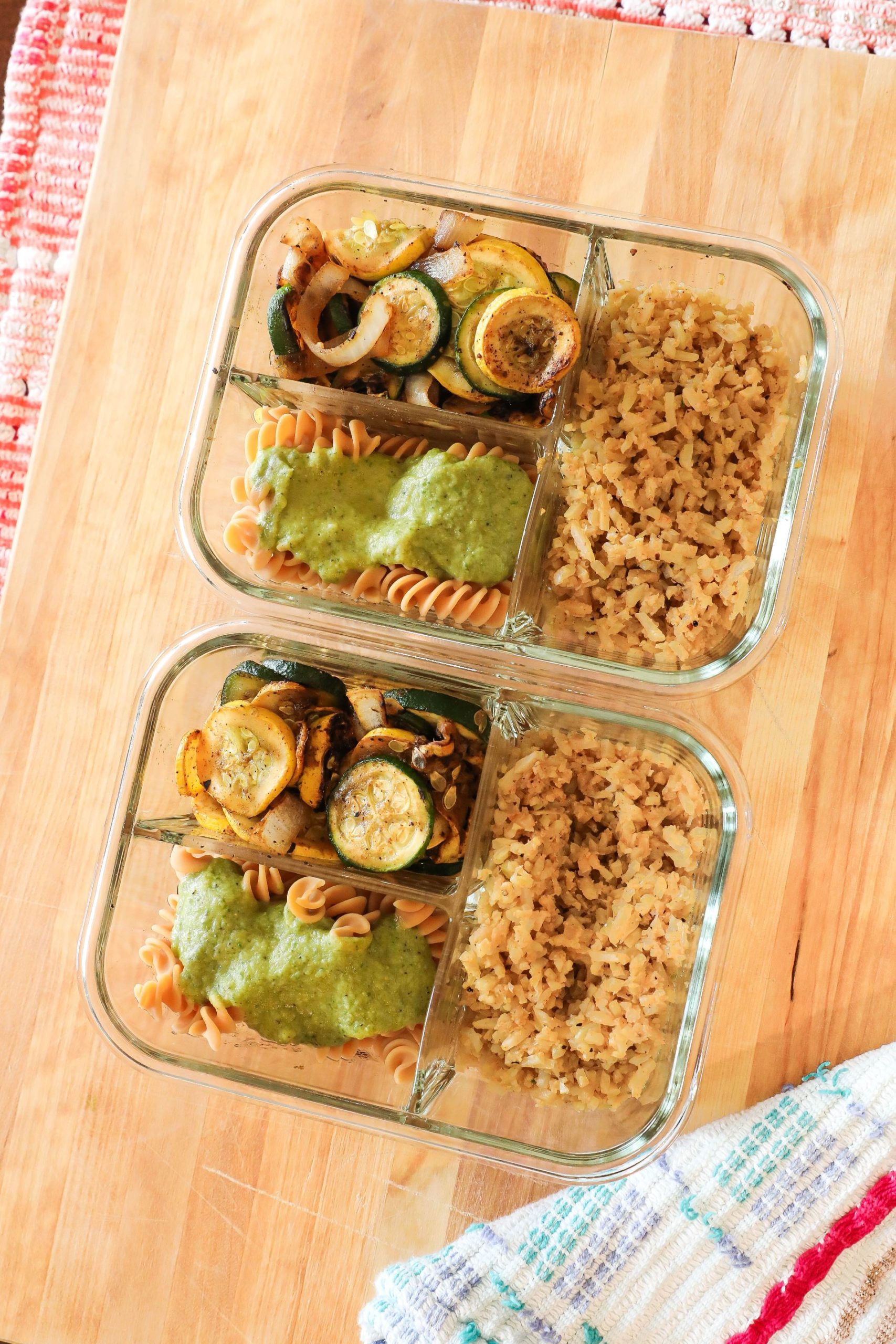 Ingredients:
Zucchini
Yellow Squash
White Onion
Favorite cooking oil
Chickpea Noodles
Whole Foods GF & DF Pesto (comes with the spiraled zoodles)
Cauliflower Rice
Soy Sauce (or Liquid Aminos if you are GF)
Favorite Seasonings (I used Lawry's, Garlic Salt, Pepper, & Cayenne)
Steps:
1. Boil a pot of water for the noodles.
2. Chop the vegetables and onion, add to pan with cooking oil and sauté over medium heat until they are crispy.
3. Season the vegetables and remove from heat.
4. While vegetables cook, sauté cauliflower rice with cooking oil over medium heat. Season with the same seasonings and add soy sauce.
5. Cook the noodles until tender. Top with pesto sauce.
6. Enjoy or save for later!
Meal #2 Meat Sauce with Chickpea Pasta & Zoodles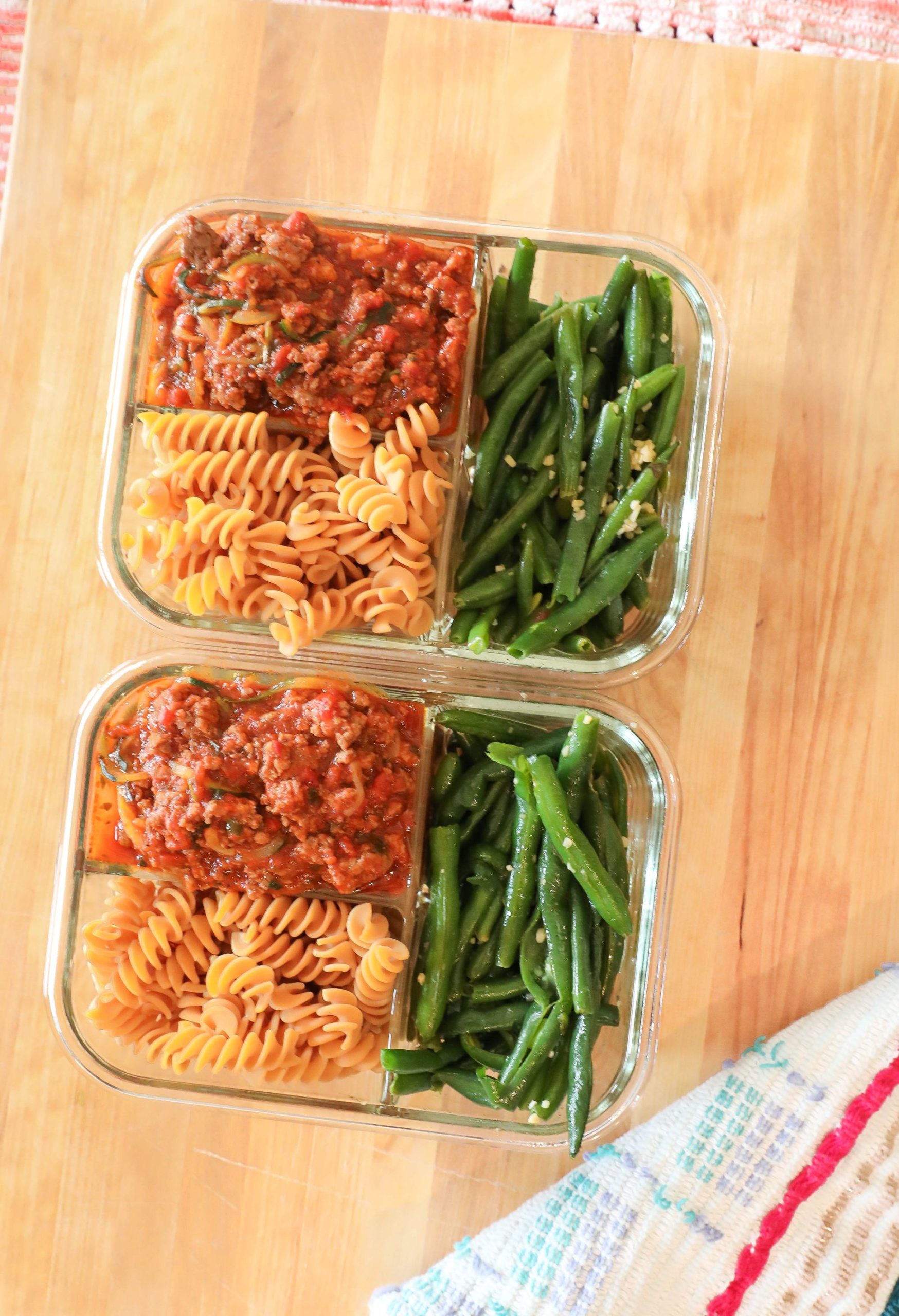 Ingredients:
Lean Ground Beef
Tomato Basil Sauce
Zoodles
Chickpea Noodles
Green Beans
Garlic
Seasonings (Salt, Pepper, Garlic Salt)
Vegan Butter
Steps:
1. Boil a pot of water for the noodles.
2. Cook the noodles until tender. Strain and set aside.
3. Brown ground beef and drain juices.
4. Add zoodles to the pan and sauté until they are soft.
5. Add the tomato basil sauce and simmer.
6. Boil the green beans until tender.
7. In another pan melt a small amount of butter, sauté the garlic in the butter then add the green beans. Coat and season to liking.
8. Enjoy or save for later!
Meal #3 GF Avocado Toast & Hard Boiled Eggs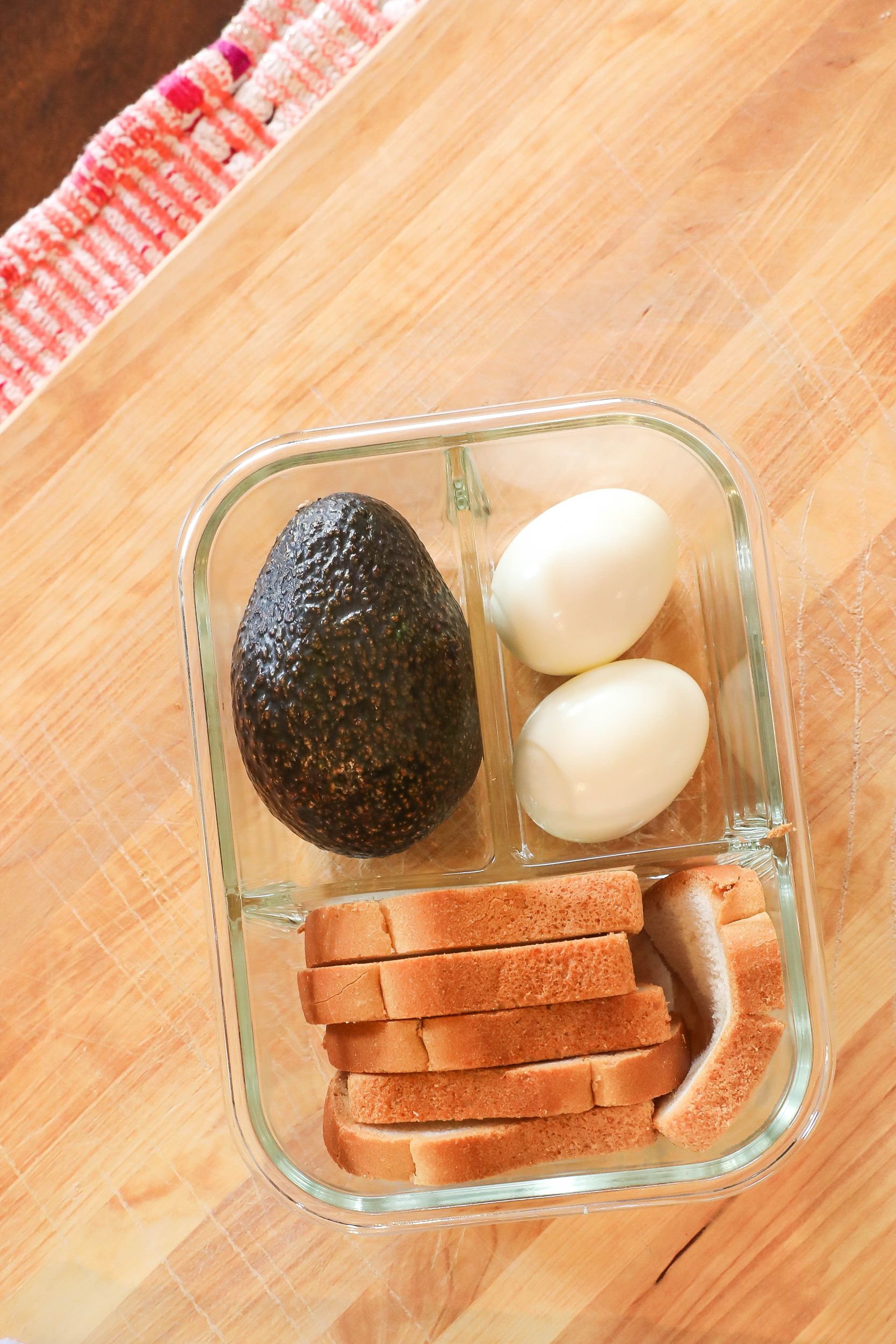 Ingredients:
Avocado
GF (or regular) Break
Eggs
(Optional) Hot Sauce & Seasonings for later
Steps:
1. Boil a pot of water. Once boiling point, add eggs and remove from heat. Remove eggs after 8 minutes and peel.
2. If you are meal prepping, add bread, avocado, and eggs to the container and assemble later.
or
2. If you are eating right away, toast the bread, add the avocado, and slice the eggs to top. Season with salt, pepper, cayenne or hot sauce.
3. Enjoy or save for later!
Snack: Fast Fruit Cups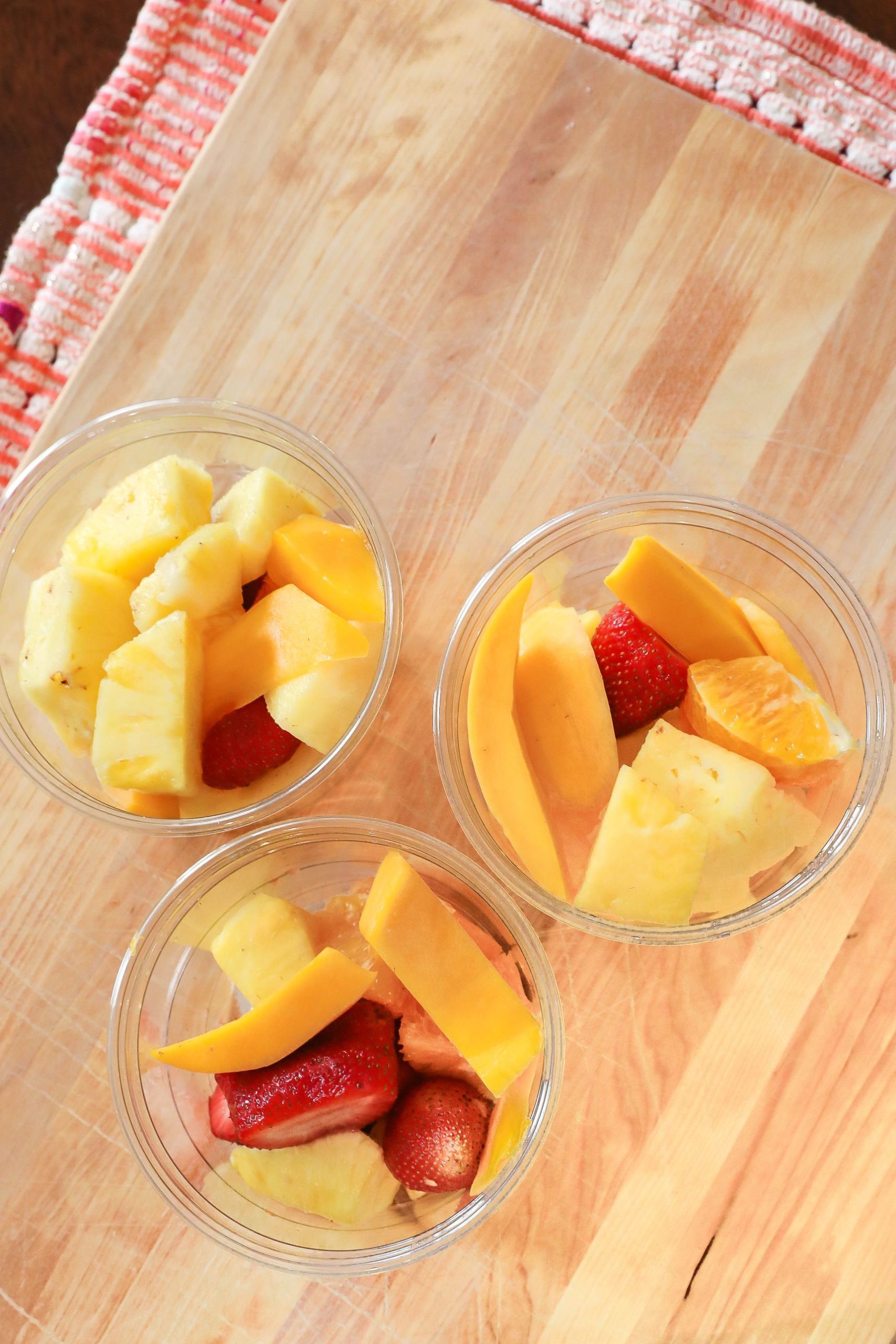 Ingredients:
Fruit
Steps:
1. This one is pretty much self explanatory, but these little fruit cups make for the perfect snacks! The containers are reusable. I like to get a few different kinds and mix them together!
2. Enjoy or save for later!

Let me know if you guys enjoyed this and want to see more!
xoxo,
Lauren Emily Lindmark
Copyright © 2020 dailydoseofcharm.com