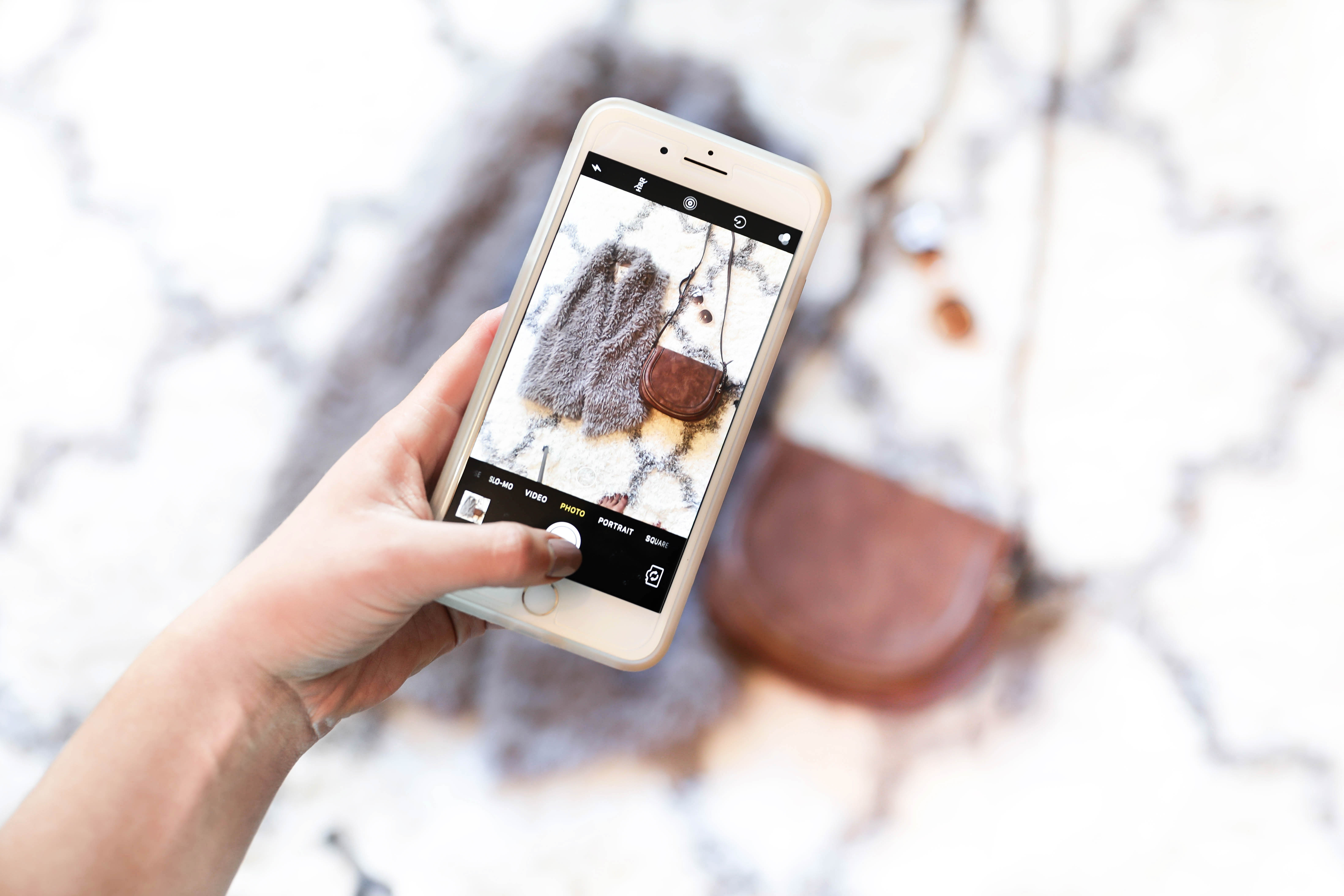 How I Edit Blog and Instagram Photos on My Phone | BLOG SERIES
If there is one blog post request I get asked to write the most it's how I edit my photos! I decided to split this into two posts, first up is editing on my phone! I rarely edit photos on my phone that go on my blog, but I do edit photos to put on my blog's Instagram! I have been posting more flatly recently so I take all of those on my phone's camera. For reference, I have an iPhone 7+, but I don't use the depth perception effect. Let me know if you like this post and stay tuned for the second one which is how I edit all my blog photos! I think for the next one I will include a video since editing on the computer is more complex! Here is the photo I am editing in today's tutorial: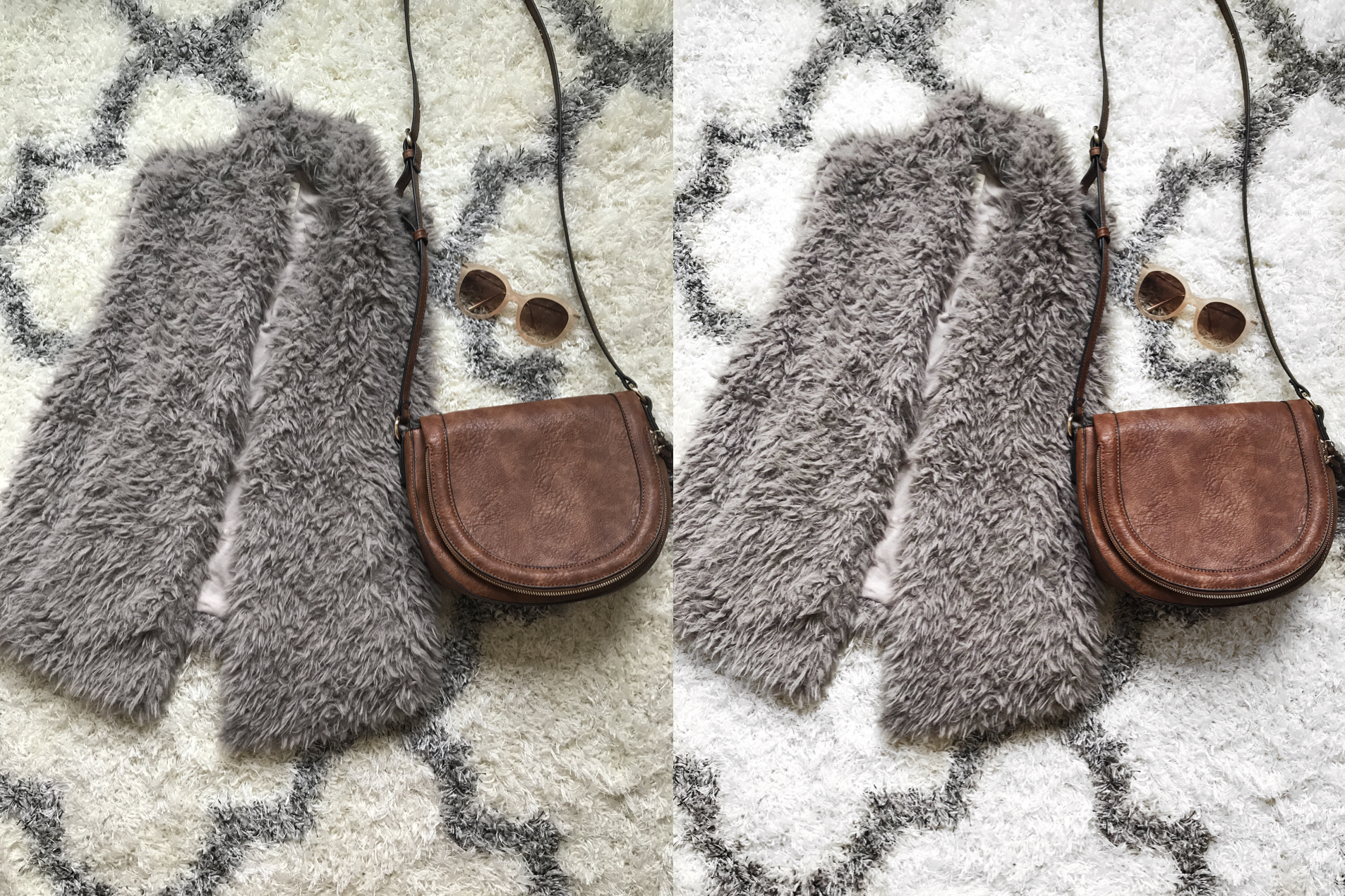 | Faux Fur Vest | Bag | Sunglasses (similar) |
Step One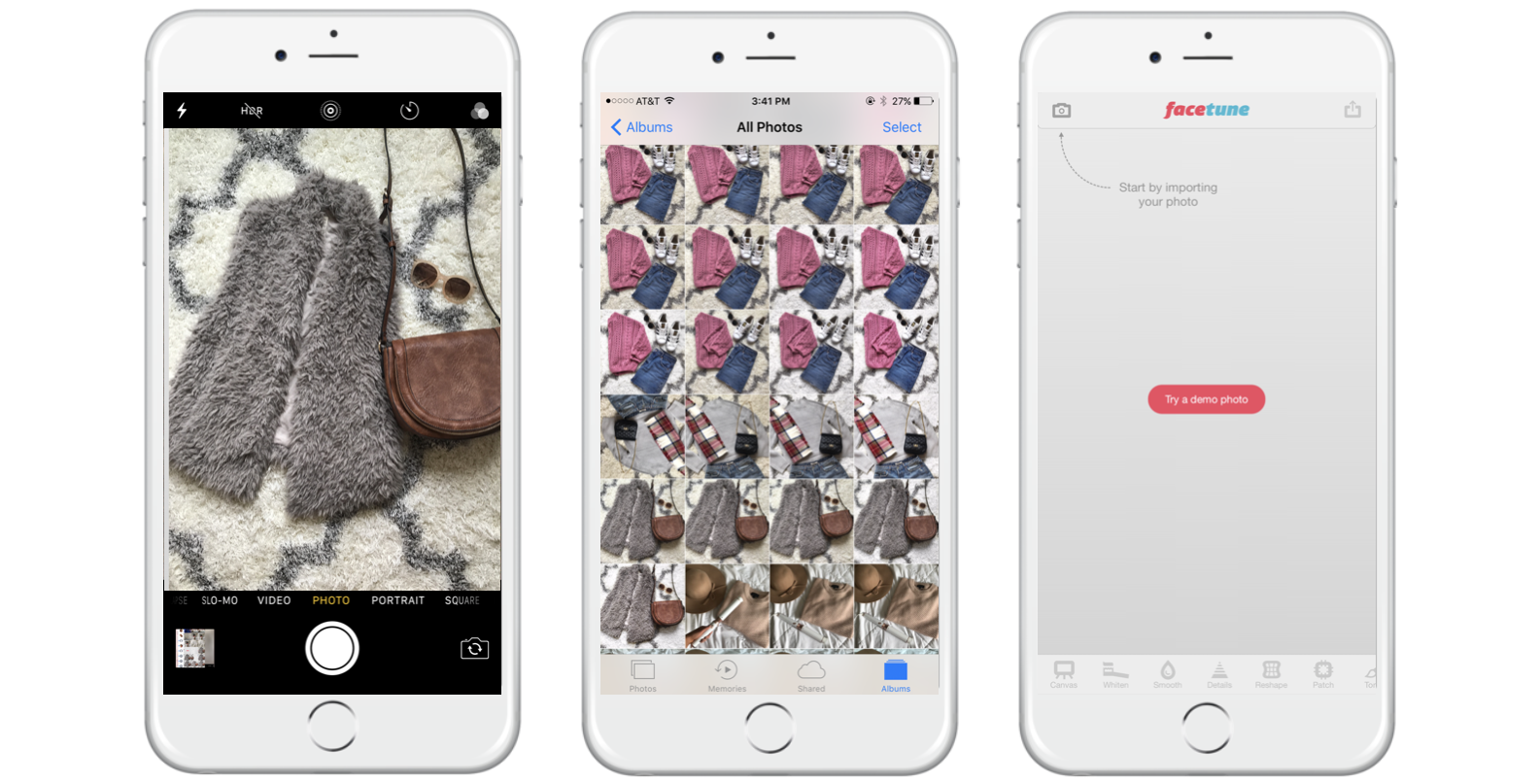 First things first, you have to take the photo! Flat lays can be tough to take and I am still working on perfecting them. I get a lot of inspiration from photos on Pinterest, you can check out my "Flat Lay" board here! I pretty much only take flat lay photos, but this editing technique can work for OOTD shots too! As you can see I take quite a few photos of each setup first. Then I open up FaceTune!
Time to Get Editing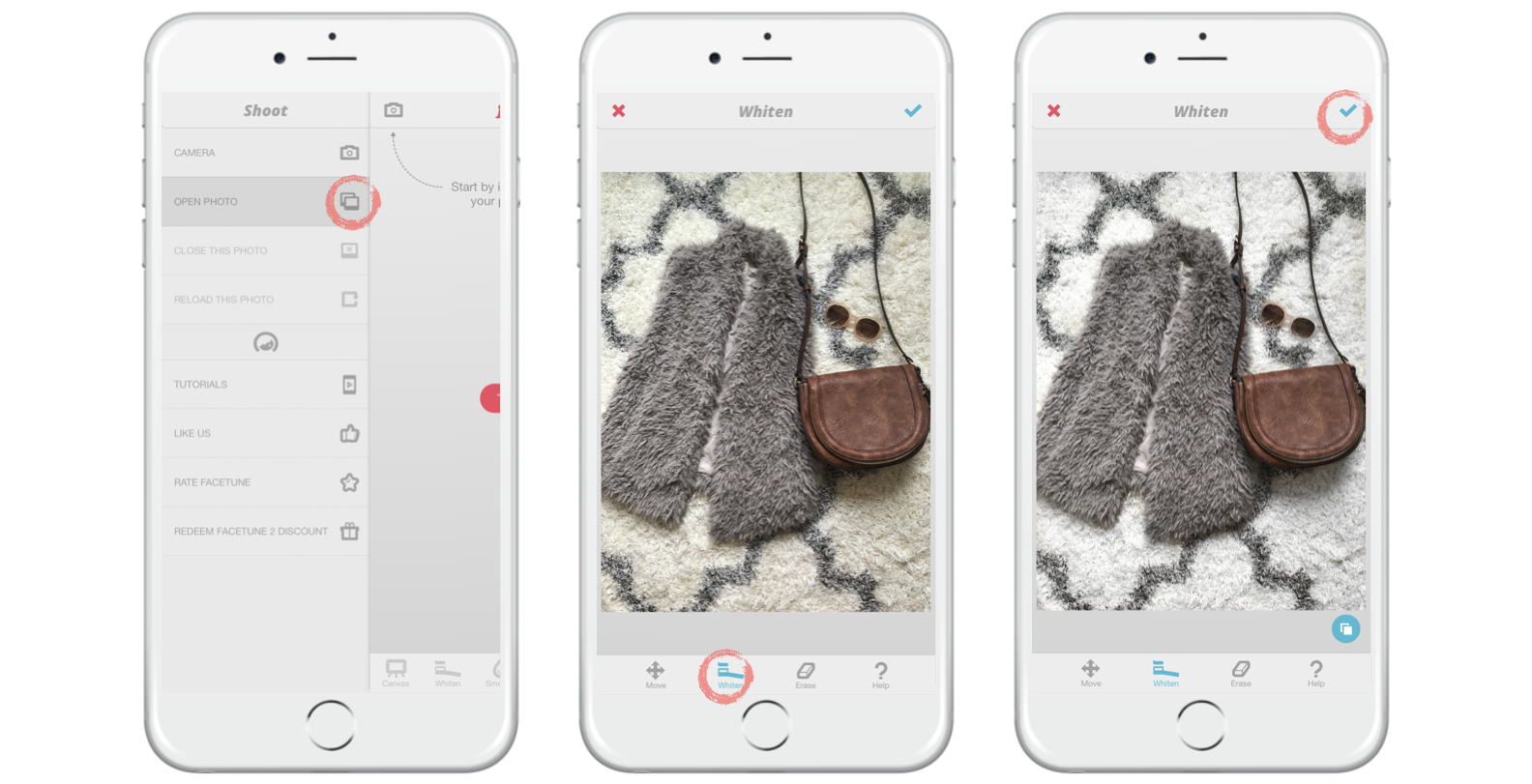 After I open up facetune it's time to get to work! I know FaceTune has a bad rep, but I don't use it to make myself skinnier – I really only use it for three functions: whitening, smoothing, and patching. But mostly whitening! My Instagram "theme" (which I use that term loosely) it white and bright so I like to use this to make things brighter! Just open up a photo in the top right corner, click the whitening button, then color in what you what whitened! When you're done click the check mark in the top left corner.
Save and Move on to VSCO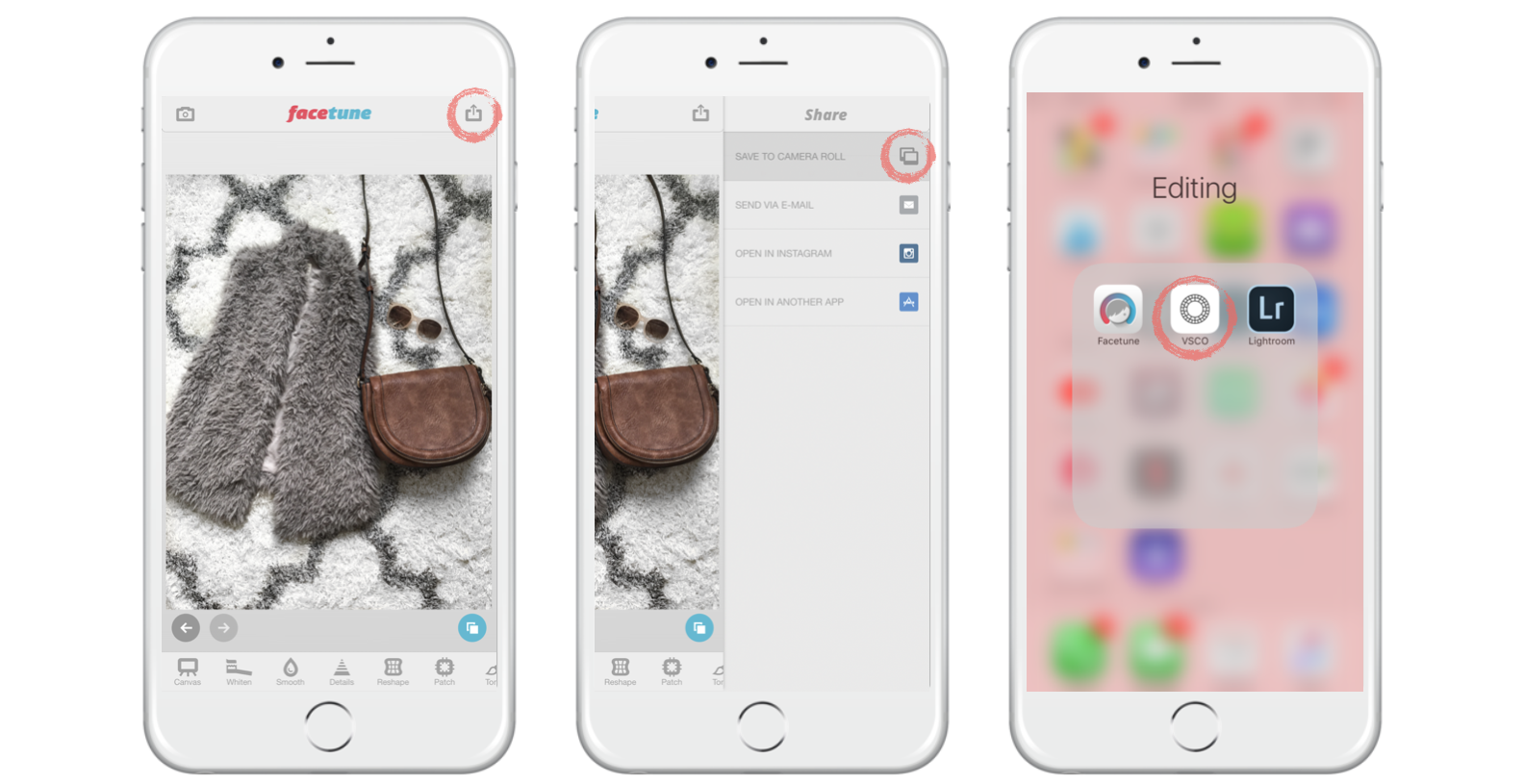 Then I save the photo and move on to VSCO. It took me awhile to hop on the VSCO train, but now I love it! When editing photos for my blog I put a "filter" on every photo so they all look similar. On my computer, I use a Photoshop Action. It took me awhile, but I found a filter on VSCO that looks similar to my blog's Photoshop Action so I can edit on my phone! I'll also note that I have the Lightroom App on my phone too. I love this app when it comes to editing OOTD photos, photos of my friends, or some tricky photos that just need more work because you can mess with the lighting and colors more. To learn more about how I edit on Lightroom stay tuned for my next post!
Editing in VSCO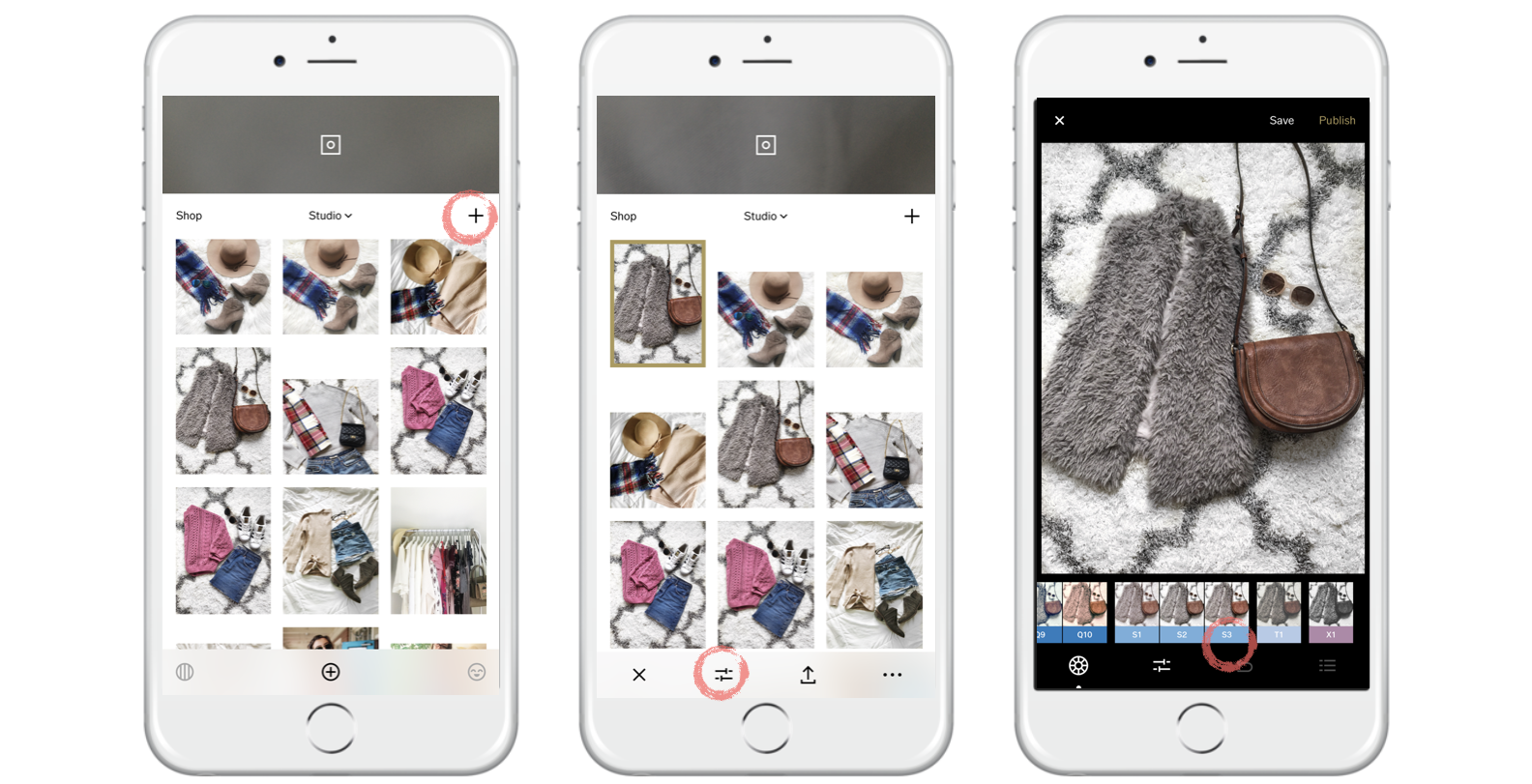 First things first, add the photo! Then select it and click the edit button on the bottom (circled in the middle phone above). I use the VSCO filter "S3" on my photos!
Finishing Touches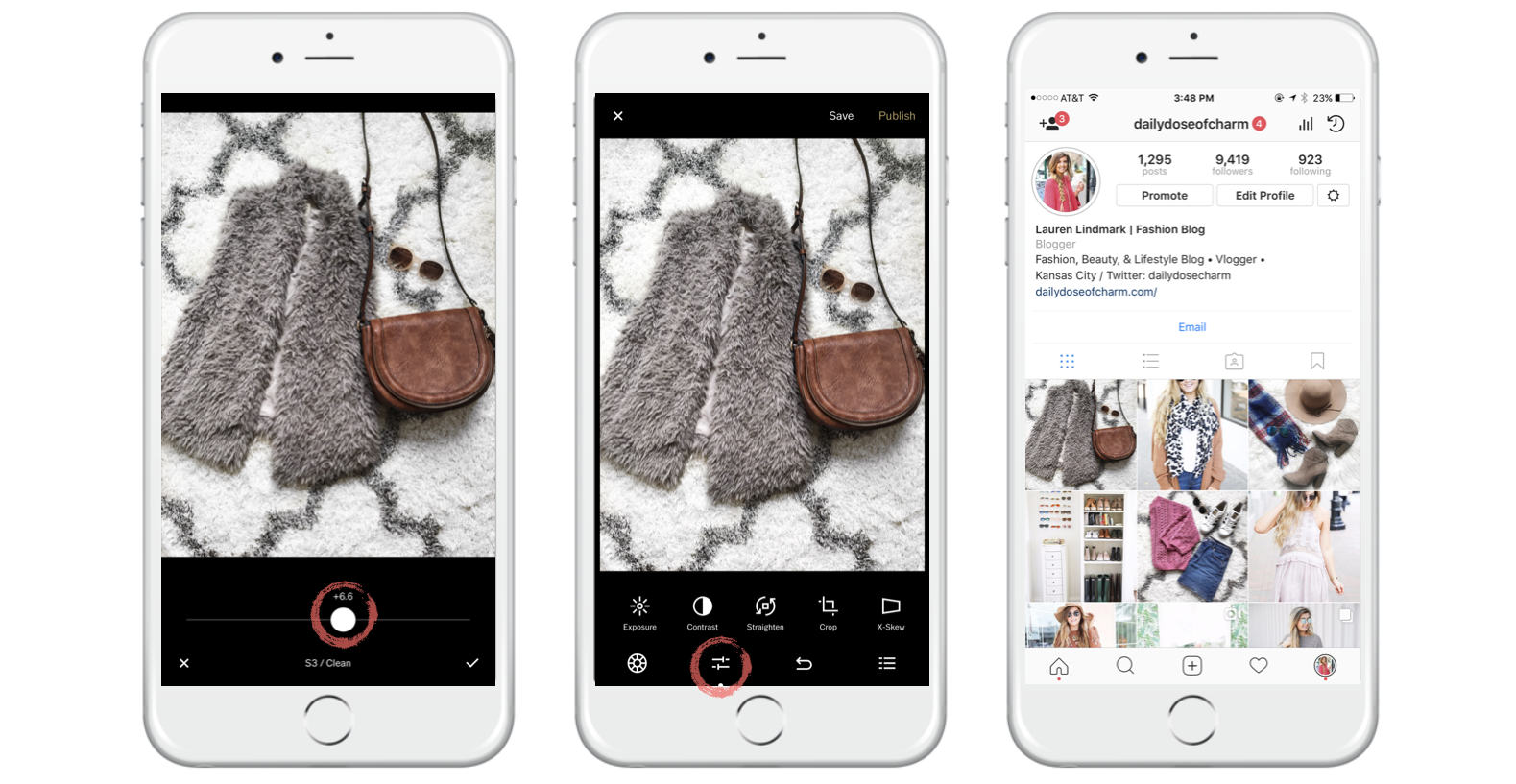 I then adjust how strong I want the filter to be, it depends on each photo, but for this one I hovered around +6. Then I click the edit button, I usually only mess with contrast, exposure, saturation, and shadowing. That just takes practice so I suggest you just mess with the different settings and find what you like best! Then I save it and I'm done! Make sure to follow me on Instagram to see my photos!
If you enjoyed this post make sure to share this photo on Pinterest so you can save it for later and share with friends!

xoxo,
Lauren Emily Lindmark
Copyright © 2017 dailydoseofcharm.com