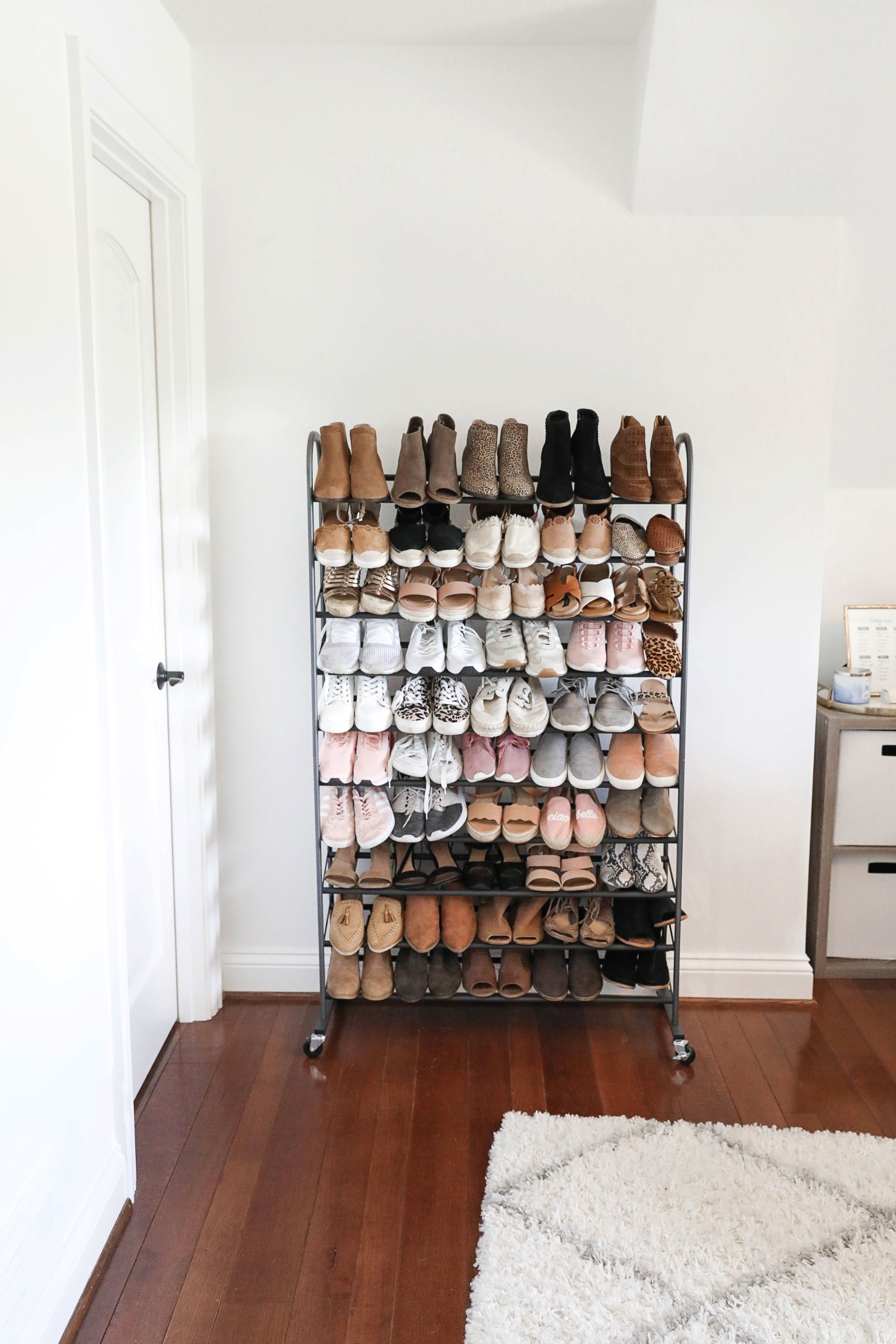 How I Store All of My Shoes + Organization Hacks
There was this quote I once read that really spoke to me. It said, "I need to stop buying shoes, but I can't because they keep making more in my size." I really felt that… ya know? Haha totally kidding, but I really do have a shoe problem (clearly). Recently I moved out of my LAST college apartment and back into my parent's house. After having two homes for the last four years I am now back down to one, which means I also only have one closet. I hadn't realized how many pairs of shoes I had until I had them all laying around me. I was drowning!
I did what I do best, and went to Target. I found this amazing 50 Pair Shoe Rack and immediately knew that my problems were solved! I posted in on my stories the night I put it together and have had so many DMs ever since – so I wanted to do a full post on it!
I thought I would answer a few of the questions I get:
1. It holds 50 pairs, but as you can see I stack some of my sandals which makes it hold even more!
2. Heels DO fit! You just have to put the heel over the bar!
3. It seems super sturdy, I actually bought a plastic one first and hated it so I returned it!
4. It's only $65 – totally worth it!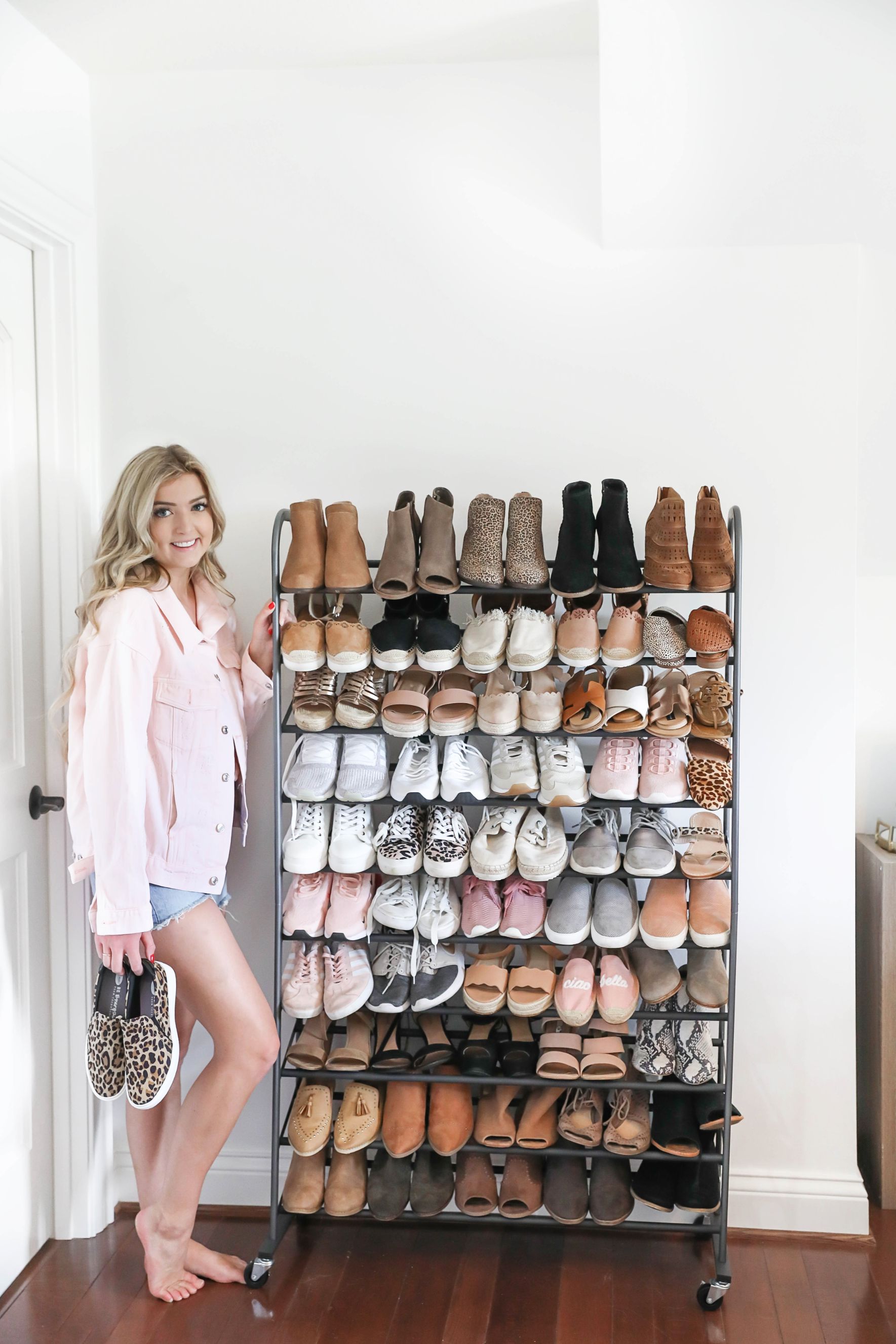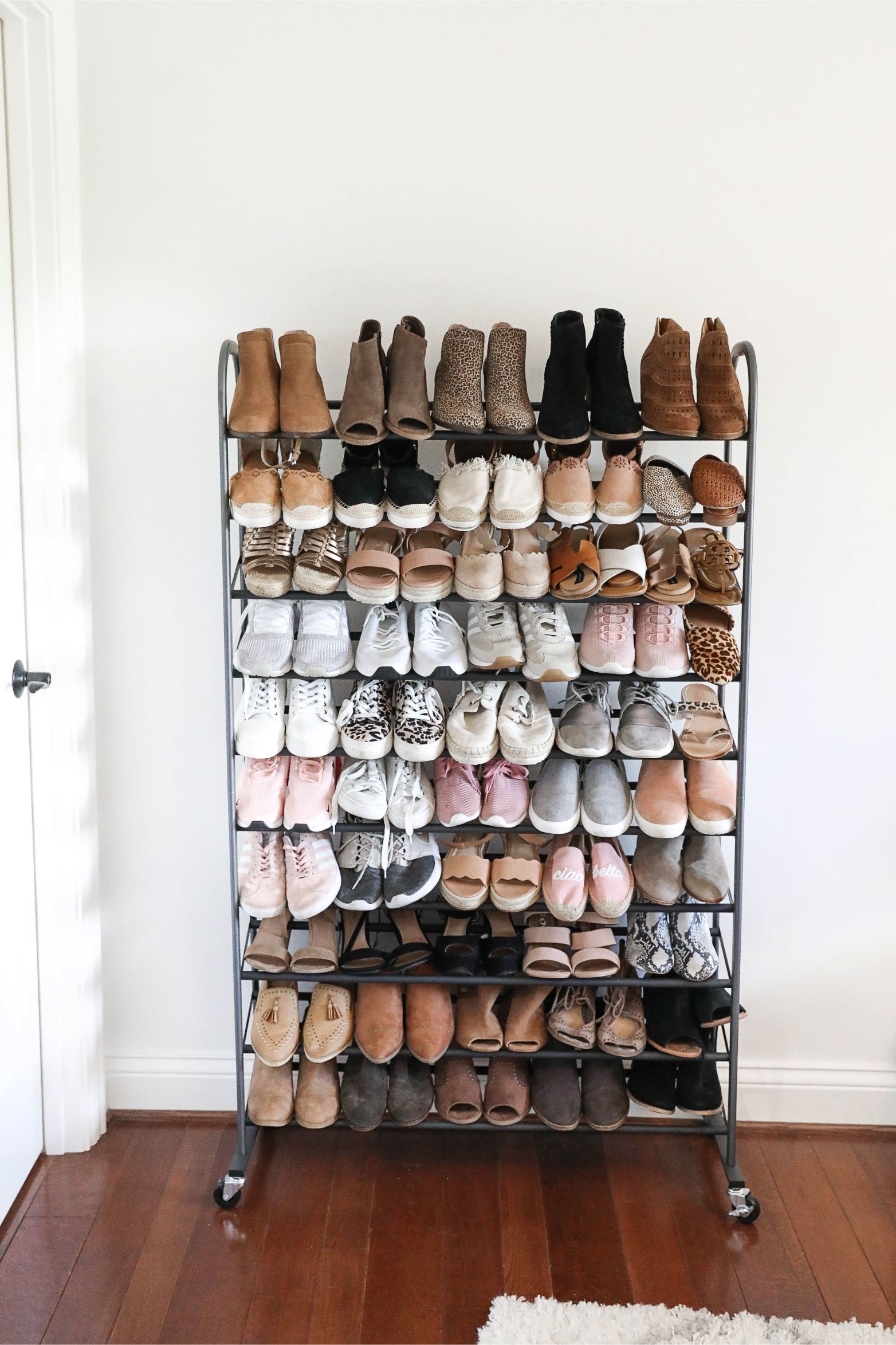 Outfit Details:

my organizational tips:
Now I wanted to talk about some of the other items I have + some tips that have made me super organized lately! Like I said above, I have had two homes for the last four years, which means double the stuff. This has been a huge adjustment and I have definitely had to get more organized!
1. Get Rid of Stuff
Okay, I know you are probably thinking "DUH?" – but I had to add this one in because I didn't want you guys to think I kept all the stuff haha! If you want to be organized, the number one thing you can do for yourself is declutter. I would suggest donating items and selling clothing on Poshmark!
2. Make Sure Everything Has a Place
After you get rid of stuff, make sure everything has a place. This will help you figure out if you need any organizers for your stuff! If you have a lot of stuff, like me, making sure everything is out of sight will definitely help with your stress!
3. Get Creative!
Just because you are organizing, doesn't mean it has to be boring. I bought these super cute Ikea shelves to store some of my bags and shoes and love how it looks! I had two people ask me why I decided to buy two single shelves and not the double shelf that they sell. I just liked the option of being able to add as many as I want and break them up! With that being said, if you know you want just two shelves pushed together I suggest buying the double because it is cheaper!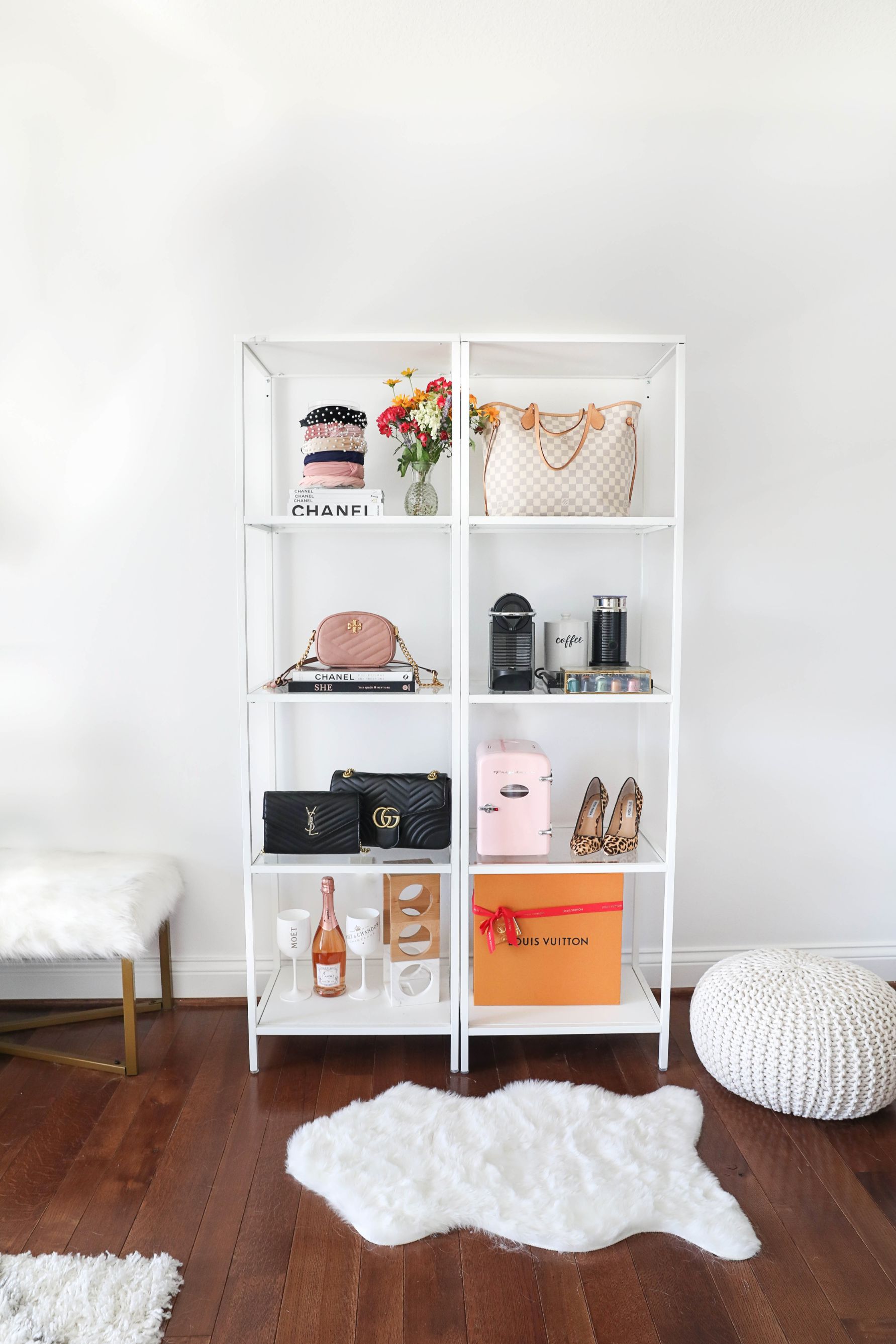 4. Check HomeGoods
For whatever reason HomeGoods always has the best organizers and drawers! You can find really cute ones there, I bought rolling pink drawers that I use to organize my bathroom stuff there! Target, IKEA, and Walmart also have good options!
5. Clothing Rack
This is another piece of organizational "furniture" that I can't live without! I have so much clothing, so it's nice to have a rack for all my overflow! Plus it looks super cute!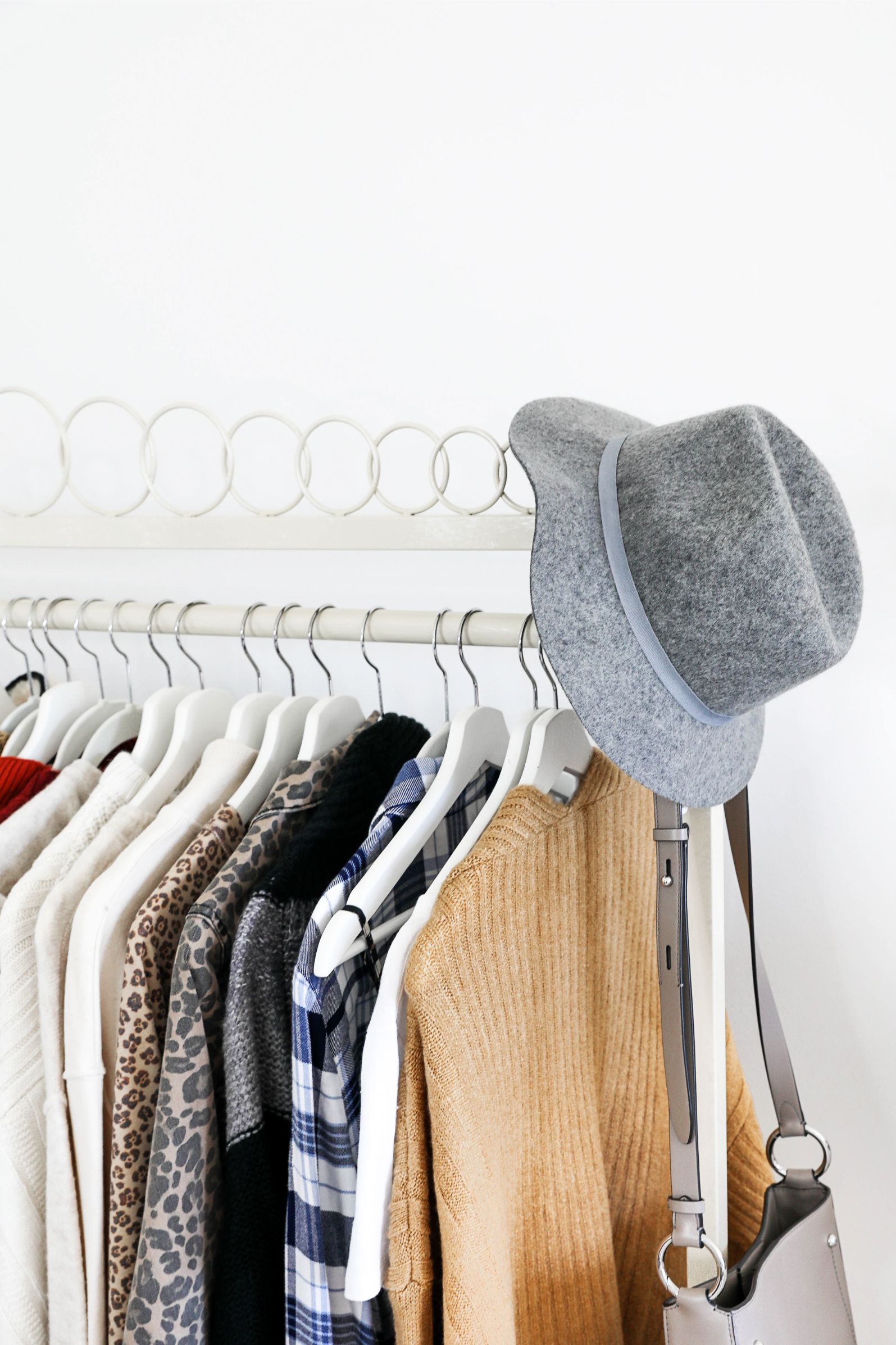 6. Under-the-Bed Tubs
These are THE BEST! Especially for storing off season clothing. Target sells some awesome ones! I like these $5 ones a lot!
I hope some of these tips helped you! Have an amazing Wednesday!
xoxo,
Lauren Emily Lindmark
Copyright © 2019 dailydoseofcharm.com