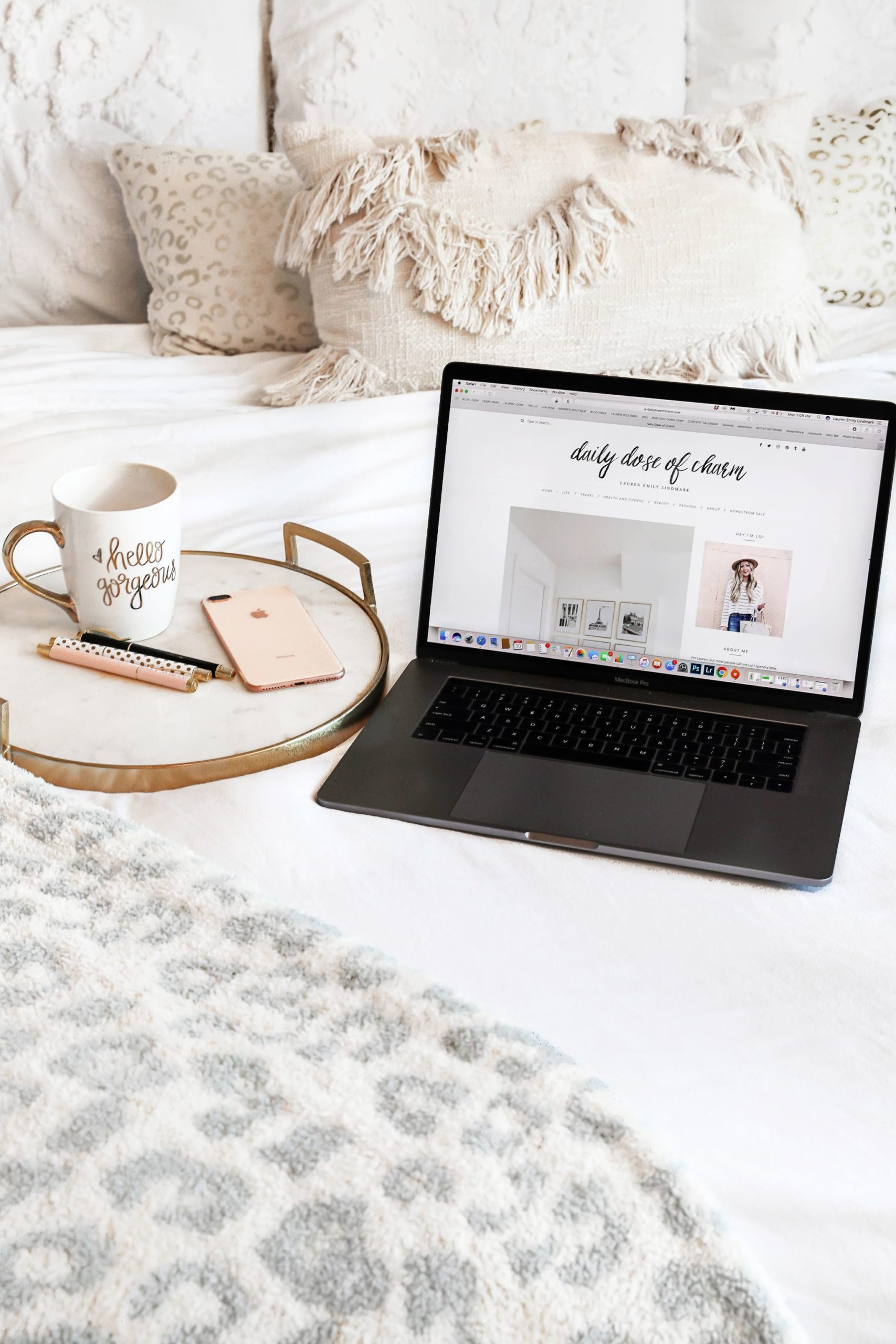 How to Work with Brands as Blogger | Advice From a Blogger & Boutique Owner Point of View
Hey friends! I am so excited to finally share this post. The idea for this blogpost has been in my head for a long time because, honestly, I feel like I've seen it all in the last six months. I've formed a lot of opinions on how to communicate with brands and how not to. Starting an online boutique that heavily works with bloggers has opened up a door for ALL kinds of emails and messages. I would say most of them are from really awesome bloggers who we would LOVE to work with (but don't always have the budget to unfortunately), but for every 10 awesome emails – there is one that is not so great haha.
Don't get me wrong, I look back and cringe about how I used to reach out to brands too! So I promise this is not be making fun of or hating on anyone! I am also just in a sassy mood this week – so I hope none of this comes off as me being rude! No one is perfect, these are just my opinions!
I brought up some of my tips on my Instagram stories the other day and I decided to open it up to you guys to ask questions so I could answer anything you may be wondering about working with brands! I wanted to form all of your questions into an easy to read blogpost with all the dos and don'ts of working with brands, pitching yourself, and pricing yourself. Let's get started!
DO FOLLOW & INTERACT WITH THE BRAND
To be honest, this is kind of what sparked me finally wanting to post these tips. My boutique gets so many messages from bloggers who want to work with us, but they don't even follow us or interact with our brand. Most companies want authenticity when working together, so not taking the step to really follow or get to know a brand can hurt your chances of working together. Giving the brand a follow and liking and commenting on their posts helps them recognize you and increases your chances of the brand wanting to work with you!
DON'T COPY AND PASTE THE SAME MESSAGE TO EVERY BRAND
On top of not following us, we also get a lot of bloggers who message us something very generic. I'll let you in on a secret, brands can tell when you copy and paste a message. It will usually sounds something like, "Hey would love to collab!" The other thing we get a lot is just "Collab?" Not very personal if you ask me! As a blogger you should want to sell yourself and pitch why you would be a good fit to work with a brand! This can be as simple as calling out one of your favorite items they carry, telling the brand your idea for a collaboration post, or even telling the brand how you originally found them (bonus points if you have purchased from them already and can tell them that)! Your blog should be treated like a professional business if you want to work with professional businesses. As a brand, we love when someone takes the time to really talk to us as humans and build a relationship!
DO SEND AN EMAIL INSTEAD OF A DM + INCLUDE YOUR MEDIA KIT AND RATE SHEET
Which brings me to my next point, emails are SO much better than DMs in my opinion. It shows the brand you took the time out of your day to sit down and pitch yourself to them, and you are also able to offer a lot more – like your media kit and rate sheet! If you don't have one of these, I suggest checking out Etsy for templates! Just make sure you follow the same tips as above and make it a personal email. Plus, sending an email saves you a step anyways, because most brands will usually direct you to their email if you sent them a DM.
DON'T OVER PRICE YOURSELF
As a blogger, I think a general rule of thumb is you should not ask for payment until you have over 10,000 followers. This also depends on your engagement! I have always used the $0.01 per follower rule when pitching myself – but it also depends on what the brand is asking of you. I am going to be honest, one of the main reasons we say no to collabs is because bloggers overprice themselves. Honestly, it can look really bad on their part and it makes the whole community look greedy (we had a bloggers under 10k pitch us $700 for an instagram photo once – so crazy). As a company that has worked with a lot of bloggers, and as someone who is also a member of the blogging community, I can look at a blogger and know what kind of reach they have pretty quickly. You should not charge more than you are worth. Some things to think about:
– If you are small, collaborating in exchange for product is the way to go. Think of it this way – what are you making on your affiliate networks? If you know you are not making sales on almost every Liketoknow.it affiliate post, then you are probably not big enough to ask brands for compensation (because then they would not see sales either). If a brand is offering to send you free clothing, the clothing is probably costing the brand whatever fee it would be to pay for your time creating the content. So, in my opinion, if you are under 10k followers, you should not ask for extra compensation.
– If you are over 10k, the brand should be paying you because they are getting a higher reach. Following the $0.01/follower rule, if you have 10,000 follower, that would = a $100 fee, 15,000 = $150 fee, 20,000 = $200 etc. (per post). This is all contingent on WHAT the campaign includes and HOW BIG the company is. Smaller boutiques, like mine, may not be able to afford higher fees for every blogger. If it is still a brand you believe in, just negotiate what you think is honestly fair! It has to be worth it to both parties!
DO PITCH YOURSELF CORRECTLY
I got asked how exactly to pitch yourself for a collaboration. If you meet the size "requirements" for payment, tell a brand:
"Because of the size of my audience and the time it takes me to create the content, I do require a $___ fee for this kind of collaboration. You can see my media kit and rate sheet attached below for more information. Let me know if that would work with your budget!"
If you are pitching yourself in exchange for product, just reach out and tell them that. It' okay to say:
"I am a smaller blogger, but have a loyal audience who would love your items! I have a great idea for a collaboration in exchange for product…*insert idea for sponsored post*"
DON'T BE AFRIAD TO RE-PITCH YOURSELF, BUT DON'T DO IT TOO SOON
This is one of the questions I received from a few of y'all. Re-pitching yourself depends a lot on if you got a response and what kind of response you got from the company the first time you pitched. If a company did not answer, follow up within a week. Say something simple, such as, "Hey! Just following up, I would love to chat about working with you!" If the company has already answered and said they are not able to offer a collaboration at this time, I would suggest waiting 30 days before reaching out again. If a company ignores you more than three times, or rejects you more than three times, give yourself time to grow. You won't always be the perfect candidate for every brand, just as not every brand will be the perfect partner for you!
DO COMMUNICATE IN A TIMELY MANNER
Make sure to check your emails and DMs daily when working with a brand! If a company is sending you clothing to share, you should also communicate when you get your clothing and let them know when you will be able to shoot and post. Finally, at the end of a collab, follow up with any post insights (number of reach/story views/etc.) and let them know what feedback you got from your followers! This is not only impressive and professional to do to the brand, but it opens the door for future campaigns
DON'T SAY ANYTHING NEGATIVE ABOUT THE BRAND IF UNDER CONTRACT
Hear me out – I am not telling you AT ALL to lie to your followers. We have only had this happen once at my boutique, but if you have an issue with an item or do not like it, tell the brand first and not your audience! We understand that not every person will love every item they are sent once they try it on. However, although it is important to be authentic and truthful to your followers, if you are sent an item you didn't like then the brand would much rather you let them know so they can switch it out for something more your style! It honestly will not hurt their feelings at all, and they would rather you be truthful to your followers!
Again, you are entitled to your opinion and should always be honest, but it will probably guarantee the brand will never work with you again if you go on your stories and say "yeah I didn't love this it's not my style" instead of directly fixing the issue with the brand (this is what happened to us haha). Even if you are not trashing the quality, and just don't like the style (like in our case), it makes you look bad to the brand. Just communicate with the company and tell them if you are not loving something!
However, if you have a real genuine issue, such as customer service, etc. and you feel like you need to tell your followers, then cancel the collaboration first before telling your followers!
DO CHOOSE WHO YOU WORK WITH WISELY
I've chatted a lot about how to pitch yourself from the blogger standpoint, but what about the DMs and emails you are getting from brands that want to work with you? My number one tip is to decide if you are a good fit first. You want to remain authentic to your followers, so don't just work with a brand because you want a paycheck (as tempting as it may sound). Working with brands that aren't your style or you don't know anything about can ruin trust between you and your audience. You should also keep in mind my pricing strategy, and don't let brands talk you into doing something for nothing, especially big companies that can afford to pay you.
DON'T ASK TO BE PUT ON A PR LIST
Some bloggers may have different opinions on me than this, but I am not a fan of people asking to be on our PR list. Personally, as a blogger, I have never asked. PR lists are different than "Collaborations in exchange for product" because PR packages are sent out with no strings attached. We only send out PR packages once or twice every quarter to a handful of big bloggers. If you are asking a brand to be on their PR list, you are pretty much saying "Can you send me free stuff?" Asking to collab in exchange for product is a lot more polite, and it at least guarantees that you will be sharing the items to your followers. If you are a LARGE blogger then I think it is more okay to ask!
DO ASK FOR A CONTRACT IF MONEY IS INVOLVED
Both the brand and the blogger should always have a written agreement if something is to be paid out. This holds both parties accountable. If a brand tells you that they "do not require contracts," I suggest creating one yourself. You can find templates online that are more legally binding, but your agreement should include:
– What you are being paid
-When the brand has to pay you
-Timeline of when you will complete the campaign
-Any campaign requirements agreed upon between the blogger and brand
-Whether or not the brand is allowed to use your photos on their social media and for marketing, and for how long.
DON'T DO COLLABS TOO OFTEN
Look, I know we are all trying to make an income, but as a follower I get kind of annoyed seeing sponsored content ALL THE TIME. Yes, I am happy for the blogger, but I have unfollowed people in the past who ONLY seem to post sponsored content. For bigger bloggers, I think once a week is probably the most you should do. More ideally, I would recommend 2-3 a month.
DO BUY FROM THE BRAND + SHARE THEIR ITEMS AUTHENTICALLY
If you are able to show a brand that you have purchased from them and shared their items, then they will be more likely to work with you because you are authentic and know the company! Plus, your followers are able to make more of a connection with a brand you work with when they know you have shared them before. Another option instead of buying is just sharing the brand on your stories! If they have new arrivals or an item you love, post it and tag them! Again, this shows the brand you are an authentic fan of their company and they will be more likely to work with you!
DON'T MAKE IT HARD FOR BRANDS TO FIND YOU
In your emails you should always link any info that the brand will need, such as websites, social media links, and your media kit. Don't just type your handle instagram handle!
DO SEND THE BRAND YOUR INSIGHTS
You should send the brand your current insights when pitching for a campaign (screenshots of your latest post and stories are best) as well as your sponsored post insights when the campaign is over! This shows the brand how well your post(s) performed and will help make them want to work with you!
DON'T BLOG FOR JUST FREE STUFF + MONEY
At the end of the day, working with brands is a cool perk about being a blogger – but it's not what it's all about. Building a relationship with your audience is the best part about blogging at the end of the day! So have fun, share the content you want, and you will be rewarded at the right time!
xoxo,
Lauren Emily Lindmark
Copyright © 2020 dailydoseofcharm.com