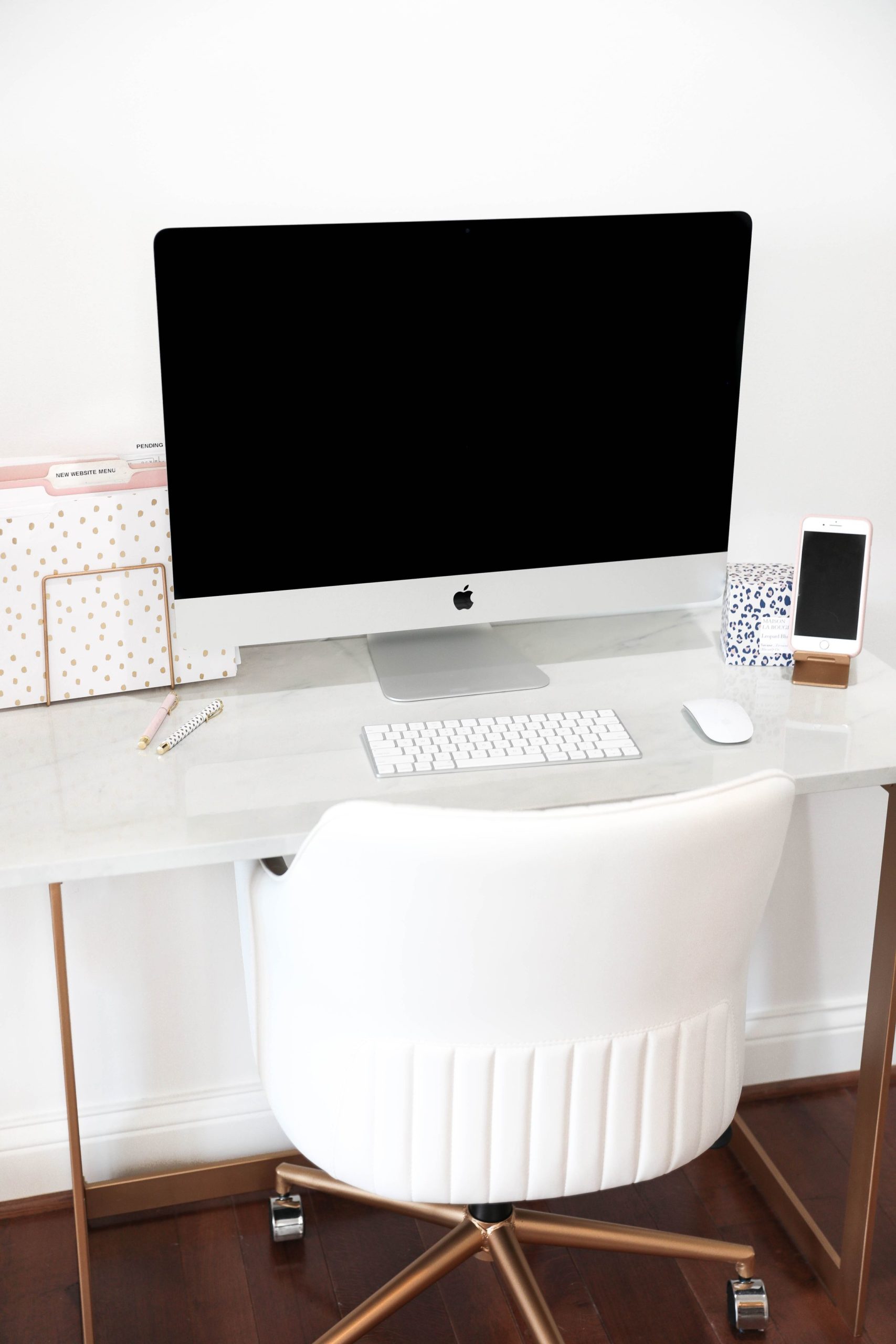 My Marble & Gold Desk | WFH "Office" Details
Happy Tuesday everyone! I hope everyone is staying safe and sane right now. I finally feel like I am getting in a good flow of working from home, so I want to make it a goal to post blogposts every Tuesday and Thursday. I used to work from home when I was just blogging and doing online school, and I loved it! It was harder to get into a flow this time, because of everything going on, but I am finally hitting a groove. A huge factor is because I got a desk!
If you've followed me for awhile, you would know I used to have a desk in my room. When I moved Inspired Boutique into an warehouse space last fall I decided to get rid of the desk in my room. I thought it would help with my work/life balance – ha! Didn't work. Now that I am back to working from home most of the week, I needed a place to work OTHER than my bed. My sleep was so off and I was feeling so down, it is just not good for you to sit in bed all day then try to go asleep. I am currently quarantining with my mom, dad, and little sister – so there aren't that many "quiet places" other than my room…or the kitchen but then I would just eat ALL DAY haha!
So, I knew I needed some kind of temporary desk setup in my room. I scoured the internet for a few days trying to decide what I wanted. I didn't want to spend too much, but knew I would take the desk to my office after all of this so I wanted something cute. I came across a super cute marble desk and I was hooked!
The only issue was, I didn't love the light yellow gold base that the desk had. After finding a cute white and gold chair, a plan hatched in my head to buy my favorite gold spray paint to spray the desk legs and base of the chair – so everything matched and it was the right color!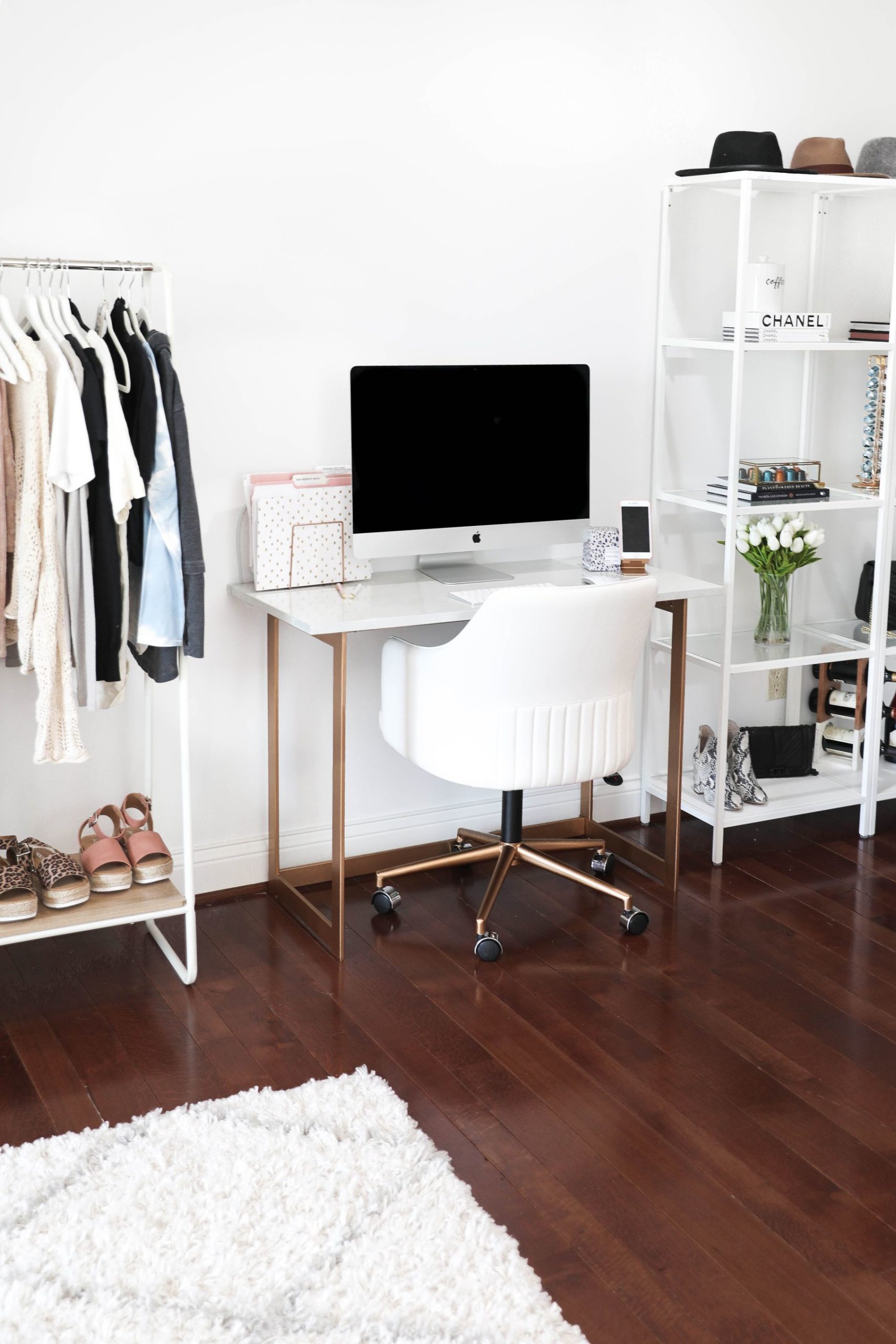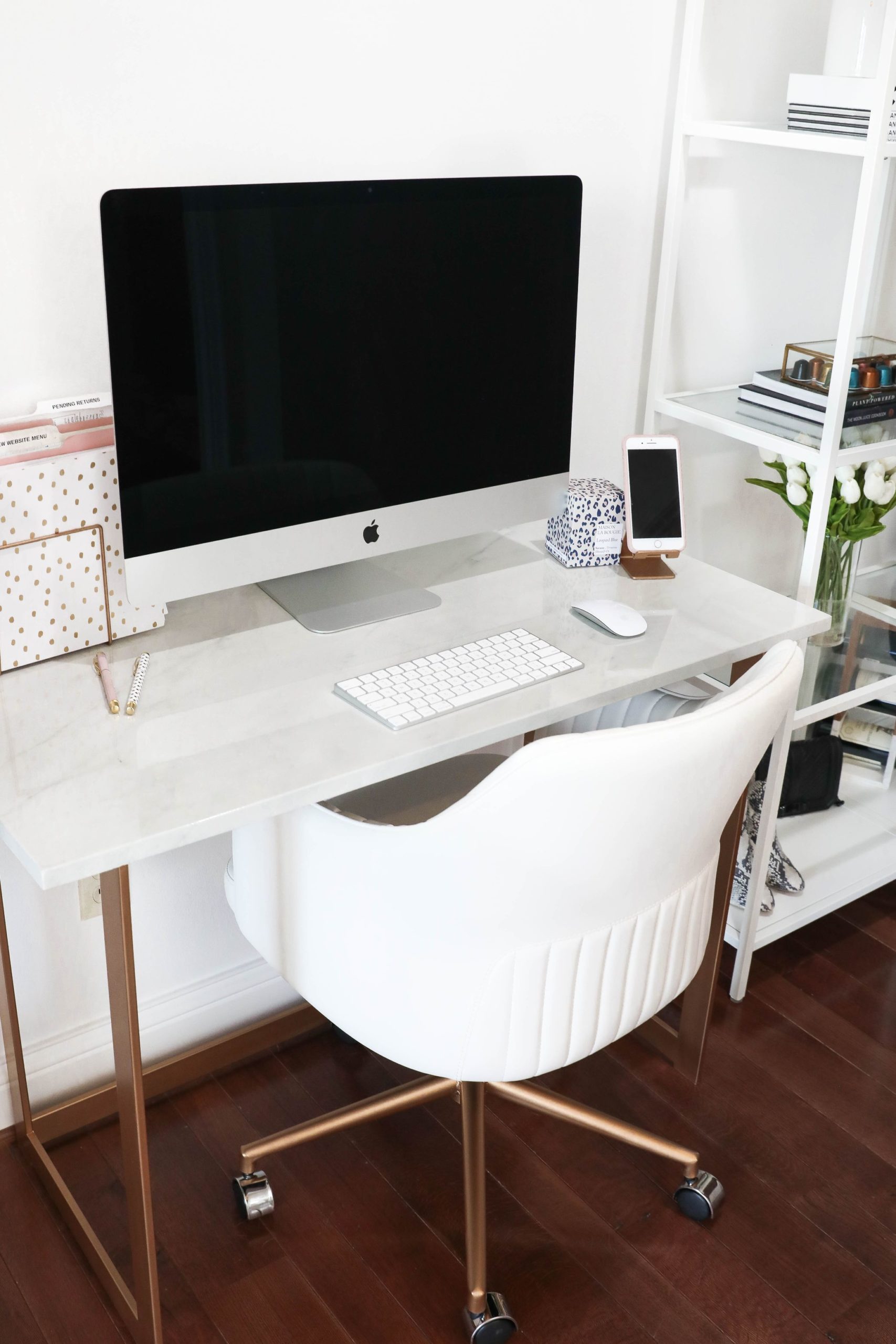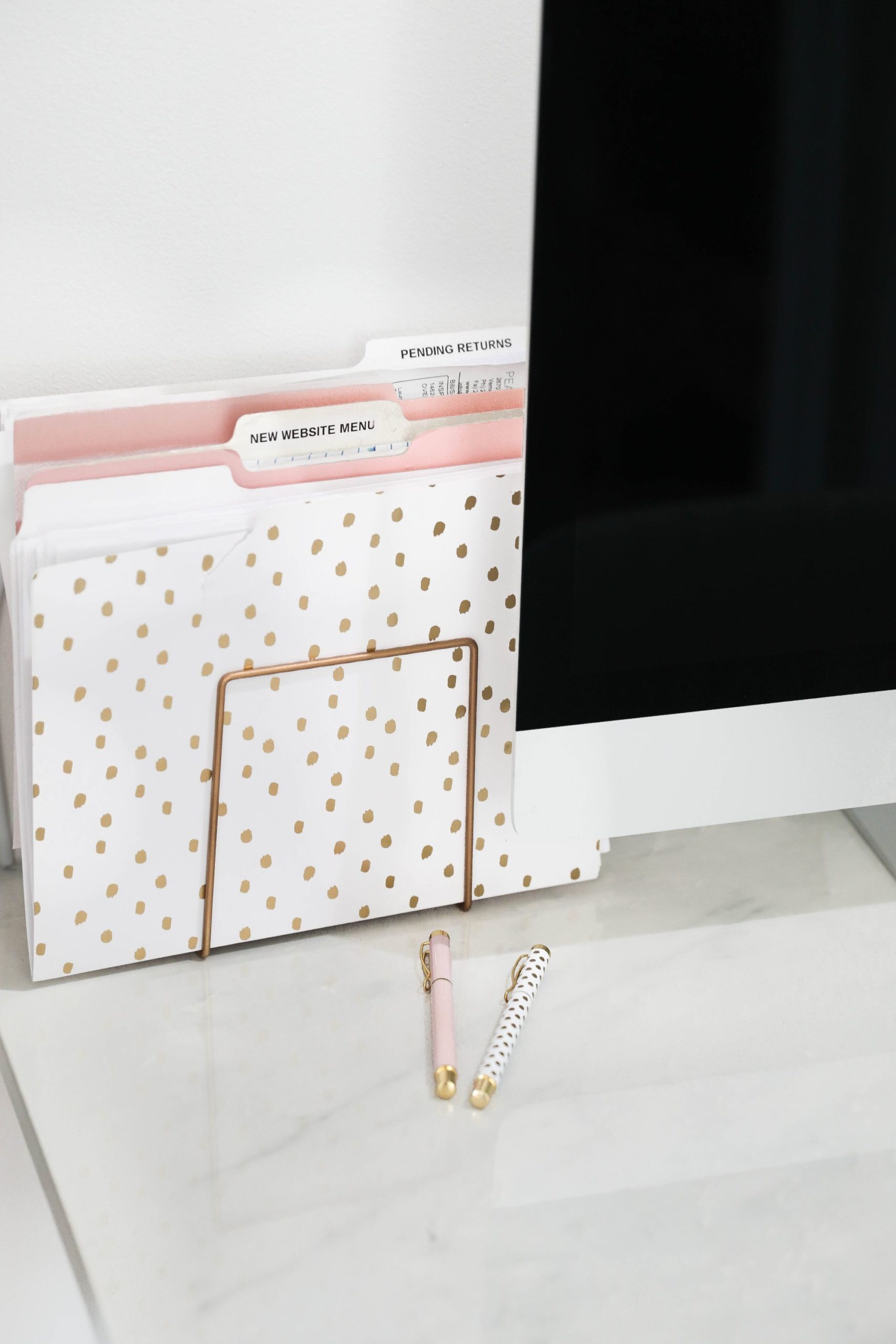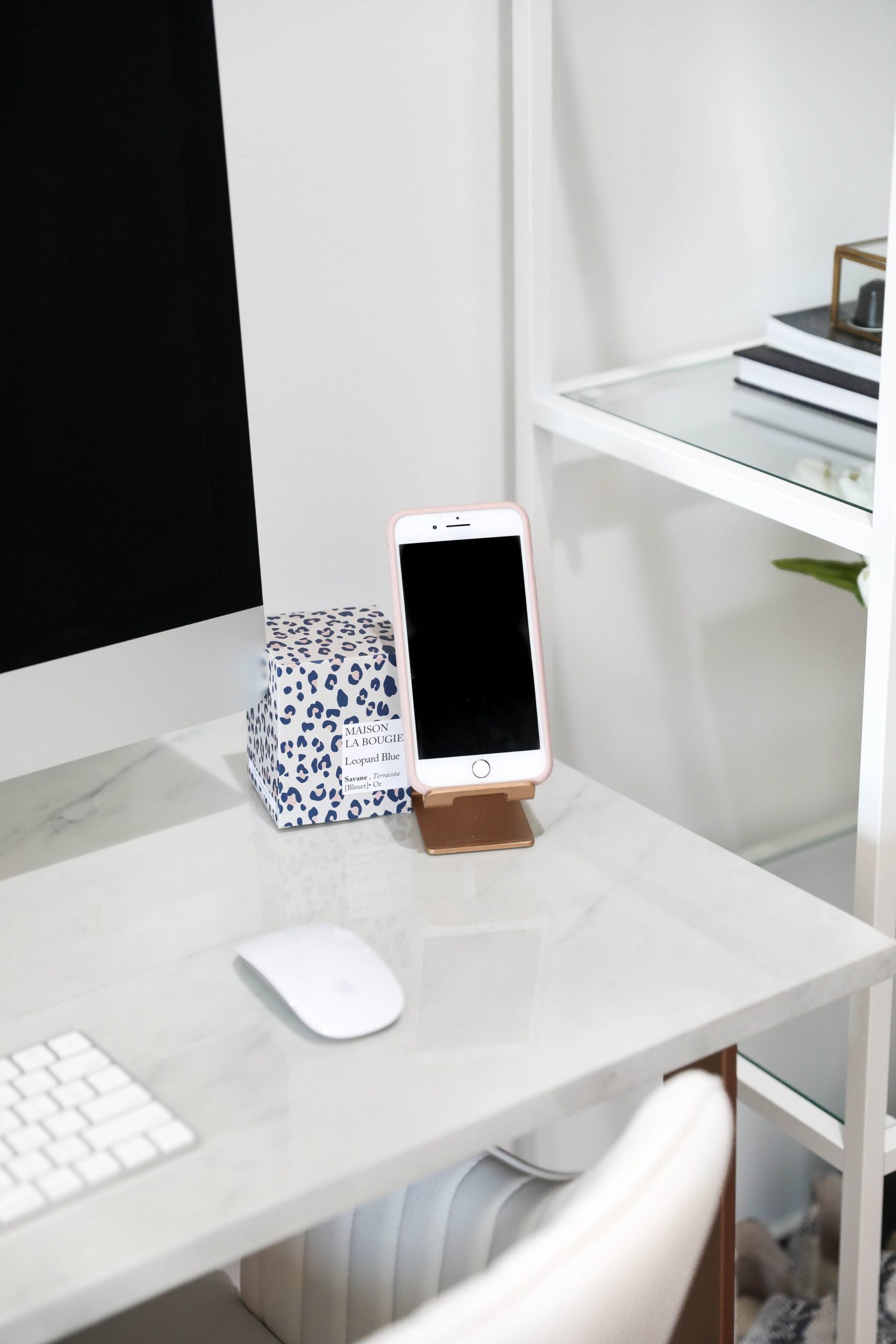 I ended up spray painting my desk, chair, phone holder, and file holder all with this spray paint in "metallic!" I love how it all came together! Shout out to my dad for the help. All the details are below! Let me know what other posts you want to see this month. I am finishing up one that I have been working on for a year now – and I am so excited!
P.S. the desk I bought is from Wayfair, but it sold out in this color. I found the exact desk from another site and linked it below, along with another similar one! So the one I have is the $160 one, not the $600 one haha! I just want to reiterate, I did spray paint the legs. So if you want it to look like mine you need to do the same! It wasn't hard to do at all, I just laid down some cardboard and sprayed the legs before putting it together. It took three coats and I let it cure over night before screwing the top on!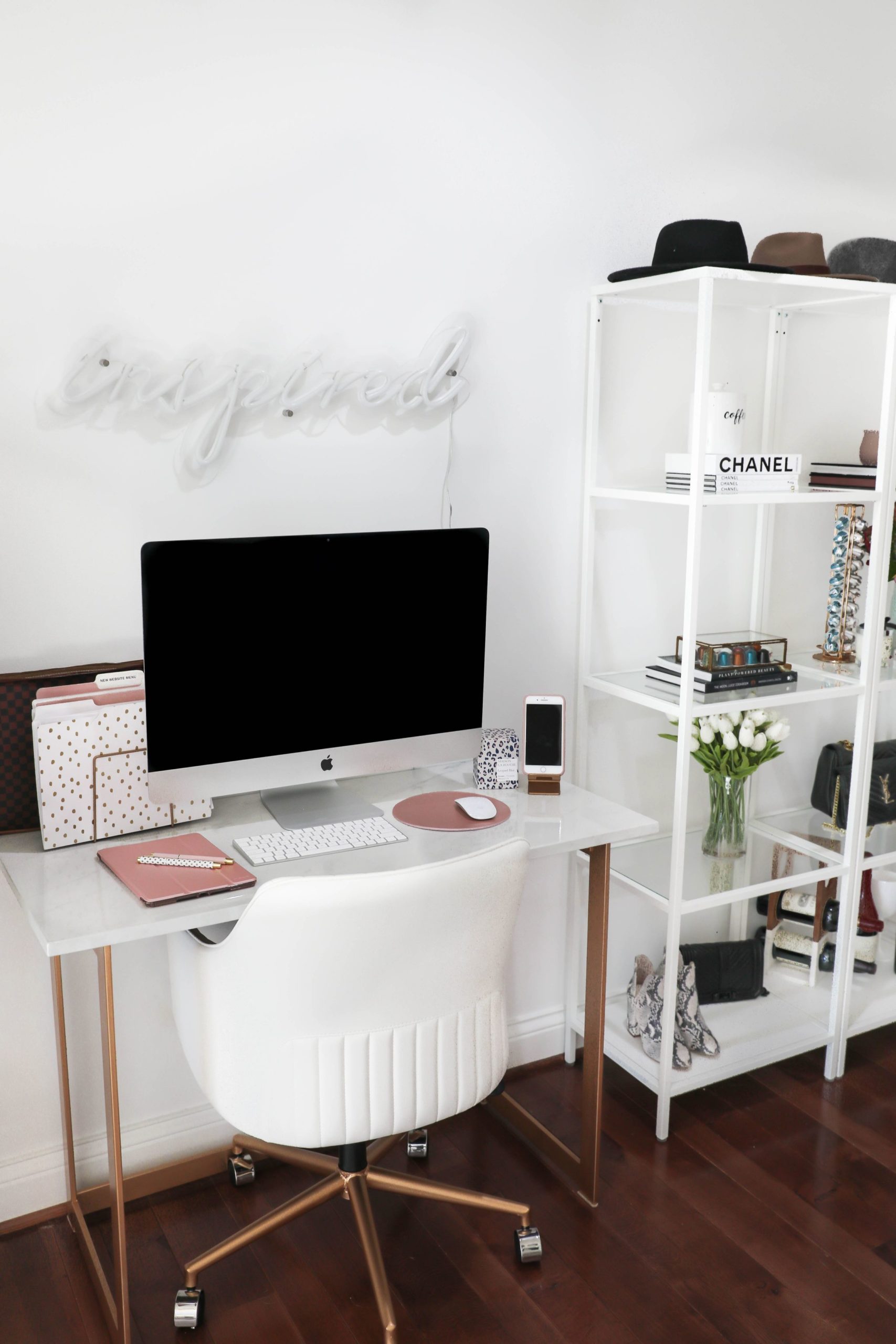 Last thing, my sweet sisters got me this awesome sign for mu birthday that I just added above my desk! Neon sides are SO hard to shoot pics of, so the light is off in this pic, but I think it looks amazing! Here is the Etsy Shop they purchased it from, they said the guy was awesome to work with! Once of my favorite gifts ever!
My desk is the $160 desk – not the $600 one! I just linked that one too because I love it!

Stay safe xoxo,
Lauren Emily Lindmark
Copyright © 2020 dailydoseofcharm.com