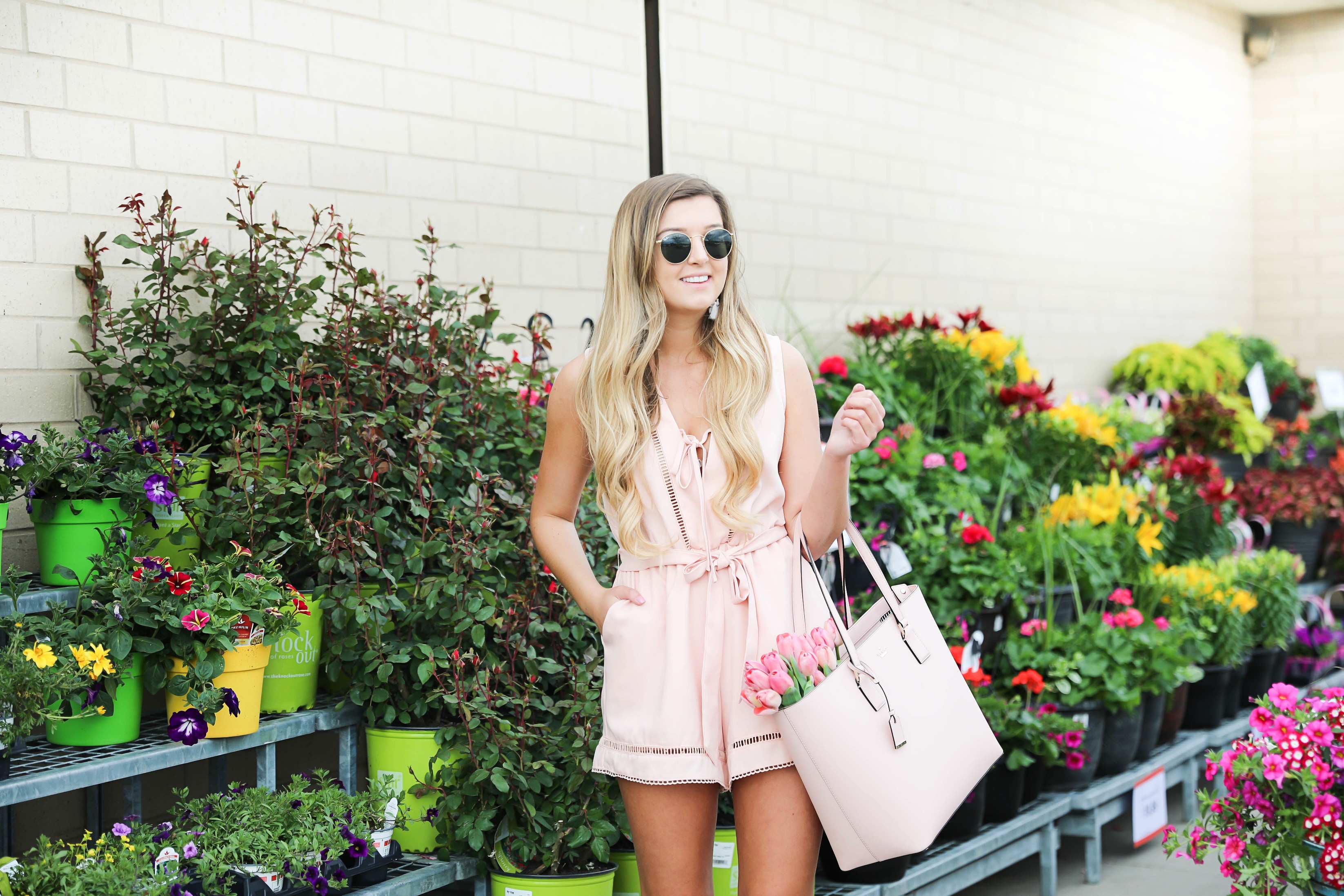 I Can't Stop Buying Flowers | OOTD
I am a total sucker for flowers and plants, it's sort of a problem… Every time I walk into a grocery store I browse through the flower section and I usually end up buying at least a pretty bouquet for my apartment! The other day my friend, Megan, and I went to the grocery store and I promised myself I was only going to buy fruit because I didn't need anything else. Before I knew it I had a little cactus in my cart and I couldn't be talked out of it – I really am addicted! So yesterday I went by our local grocery store and ended up seeing this pretty section of outdoor plants, I immediately texted my mom and said – "I know where we are shooting today!"
Have you seen those "ugly photoshoot location challenge" videos going around? I feel like this one almost qualifies (minus all the pretty flowers). I always find the weirdest place to shoot photos though! Of course it was also a Sunday so there were so many shoppers walking by me giving me weird looks. They were probably thinking "what is that vain girl doing prancing around in the flower section taking photos?!" My mom is the ultimate momager and photographer though, she is always up for anything and she was moving signs around to get the best shots – we honestly just don't care what people think anymore haha!
Okay let's talk about the star of the show – THIS ROMPER! I am absolutely obsessed with it. I don't know why, but I am such a flowy outfit person. I love oversized sweaters, loose shirts, flowy dresses, etc. So I have made it a goal to start buying things I don't swim in. I was shopping on Showpo the other day – which if you follow along with my blog you have probably noticed a lot of my outfits have been from there lately because I love their stuff – and I found this and thought it was the perfect stepping stone to buying more fitted pieces for my closet. I love the cutout details and the ties too!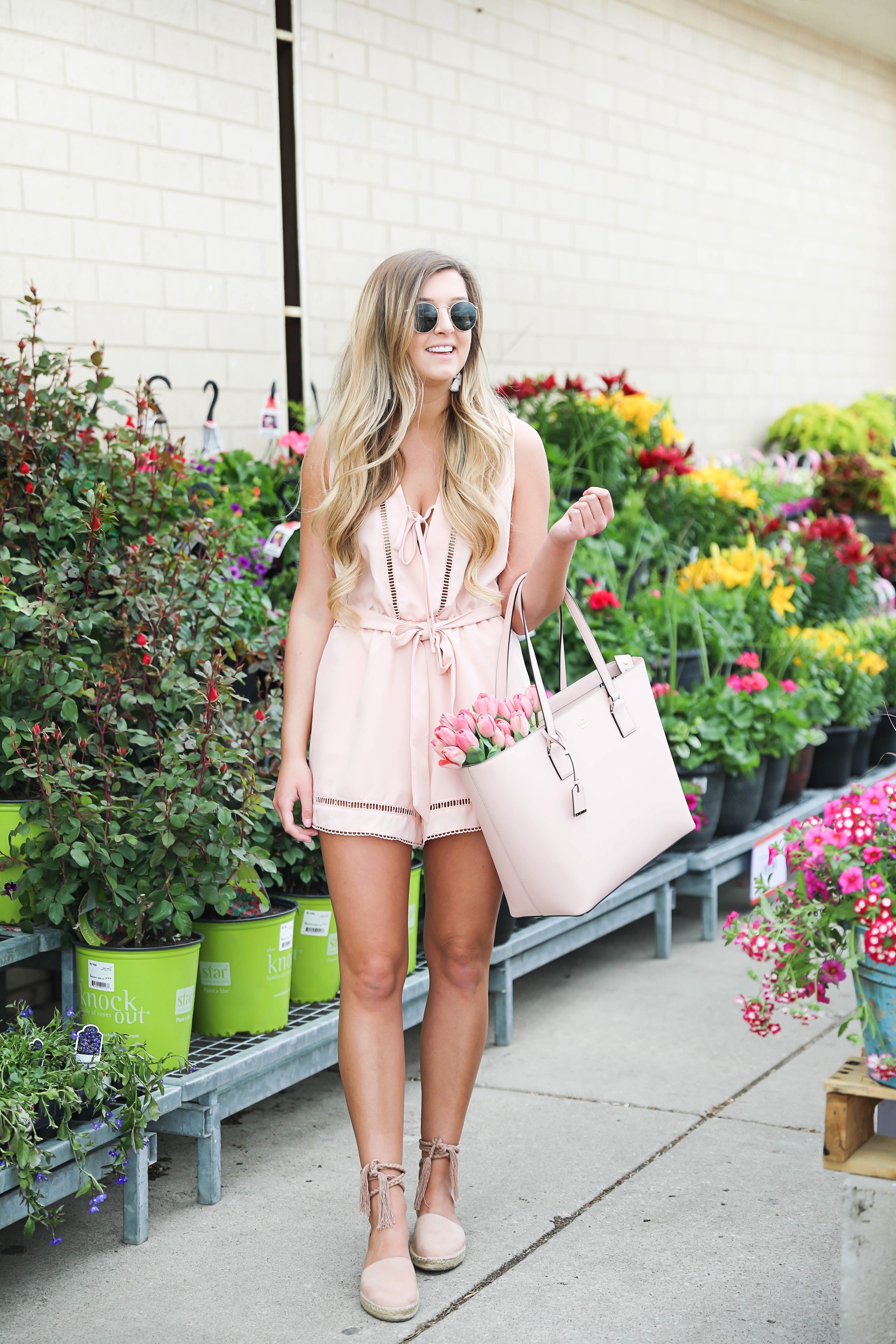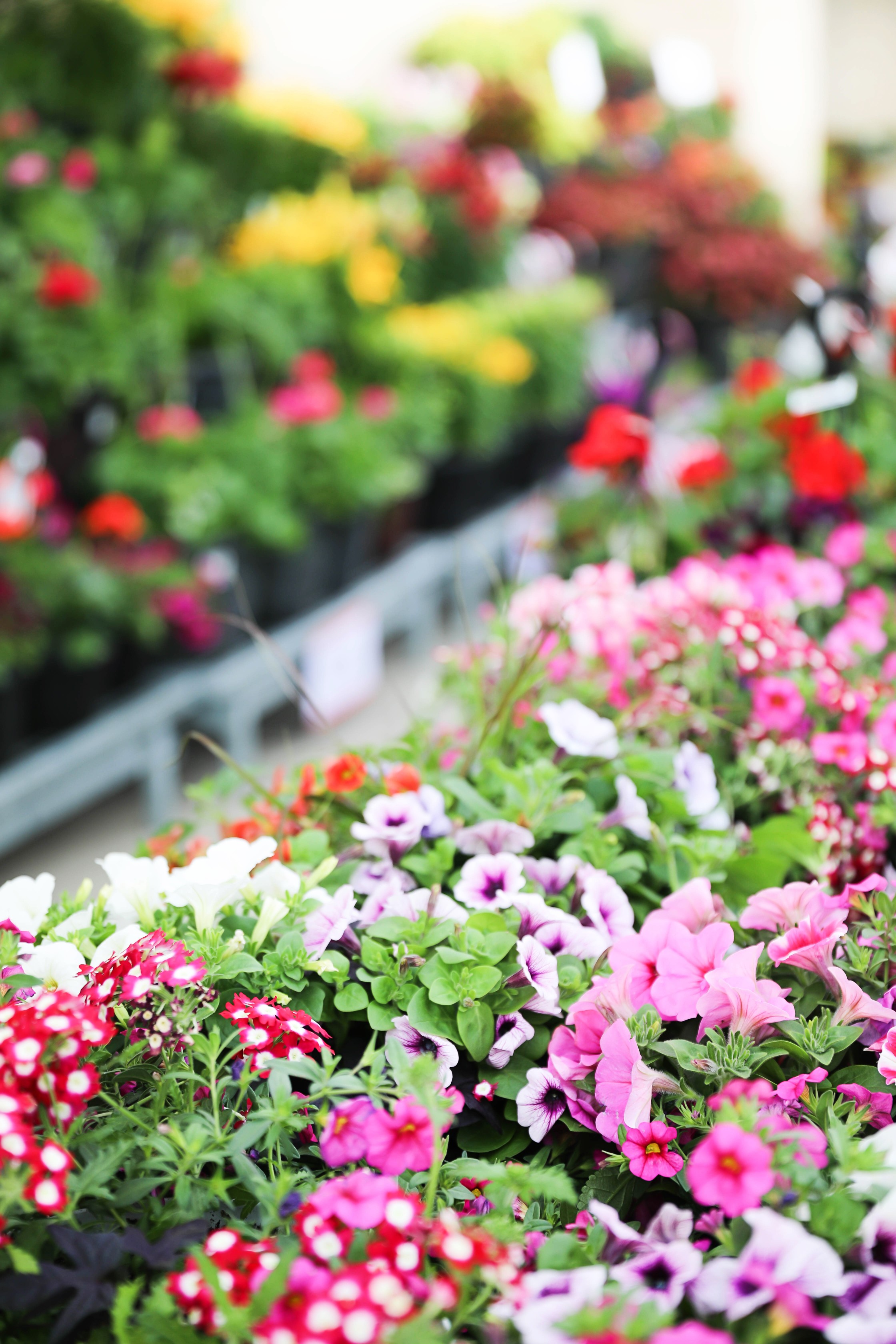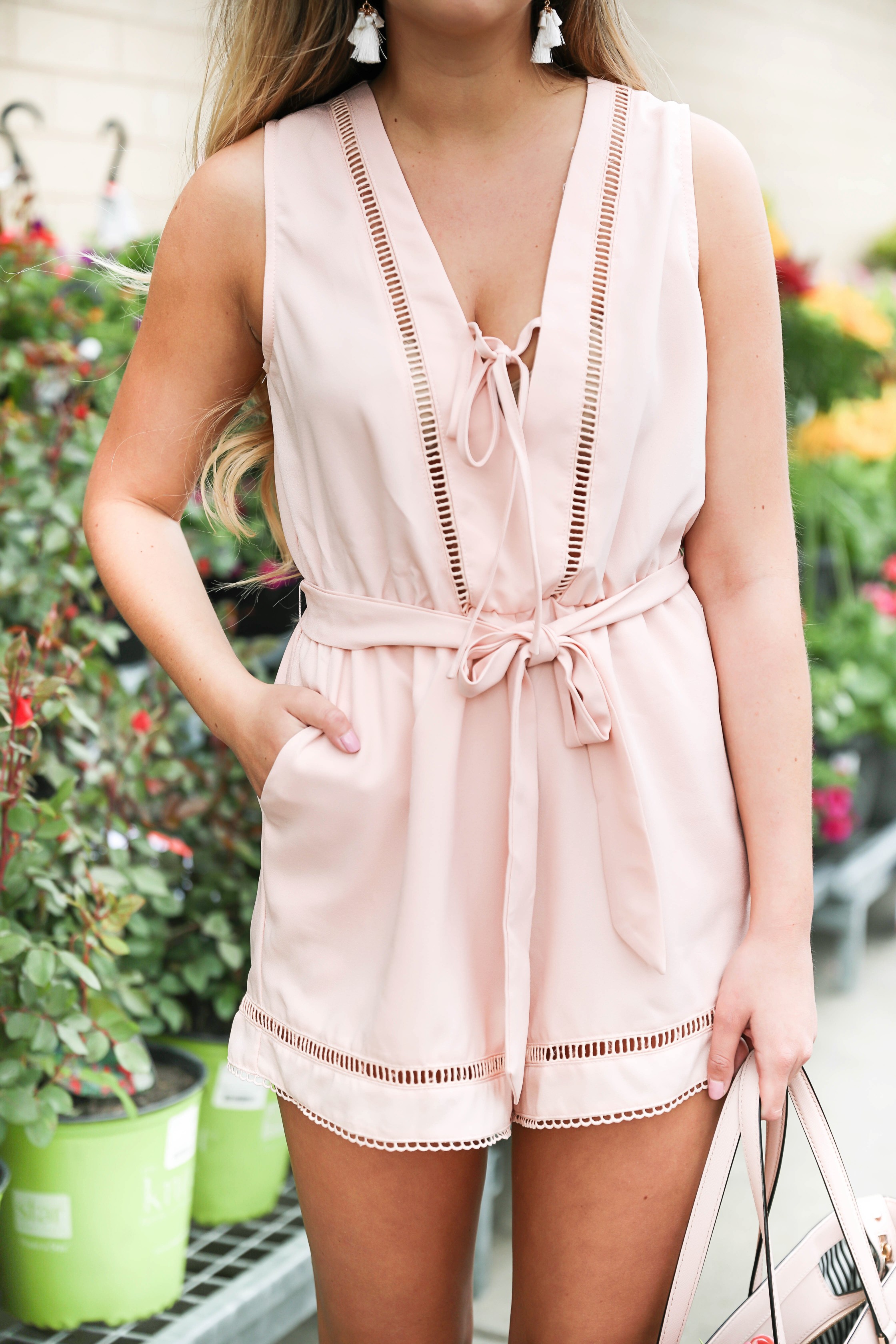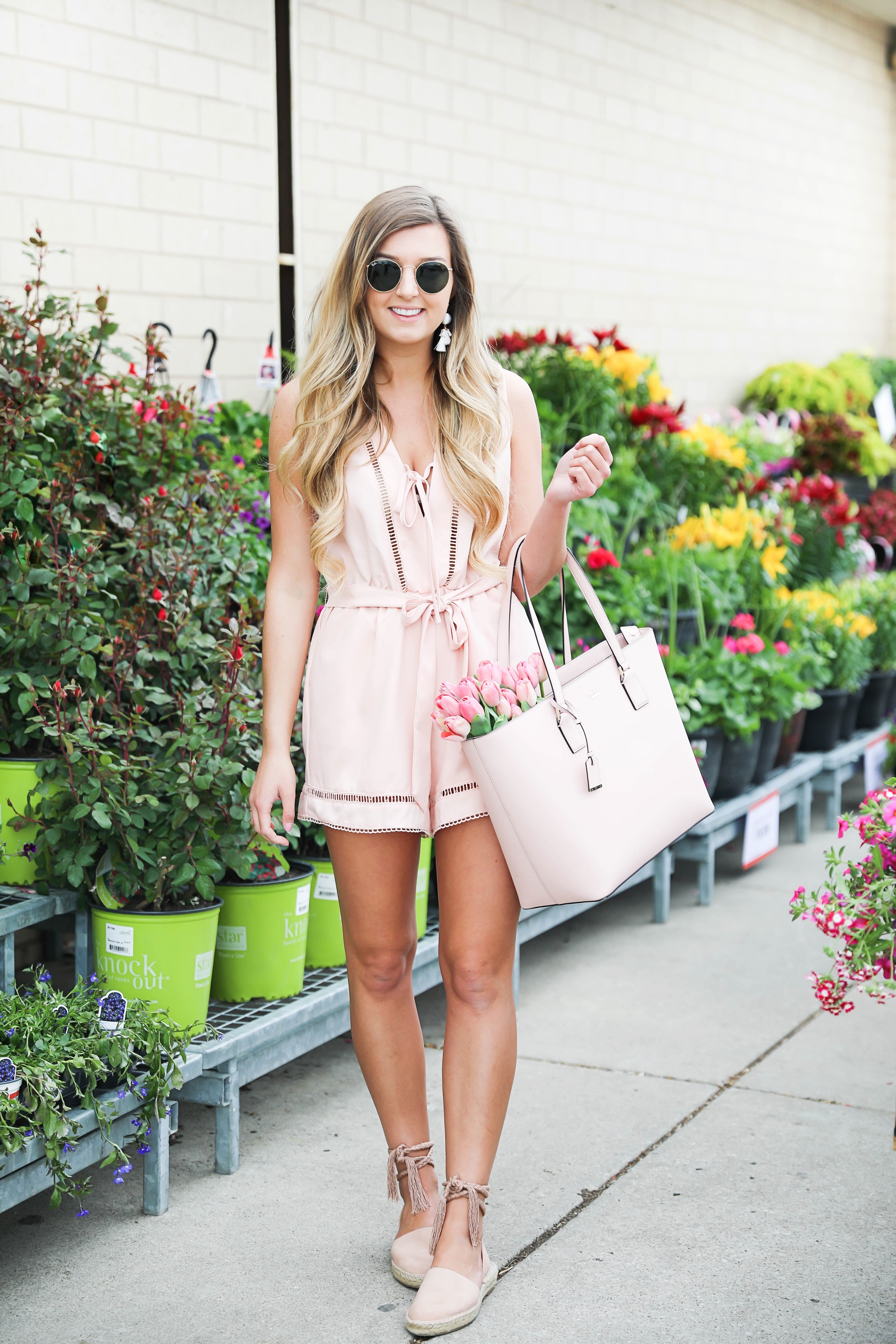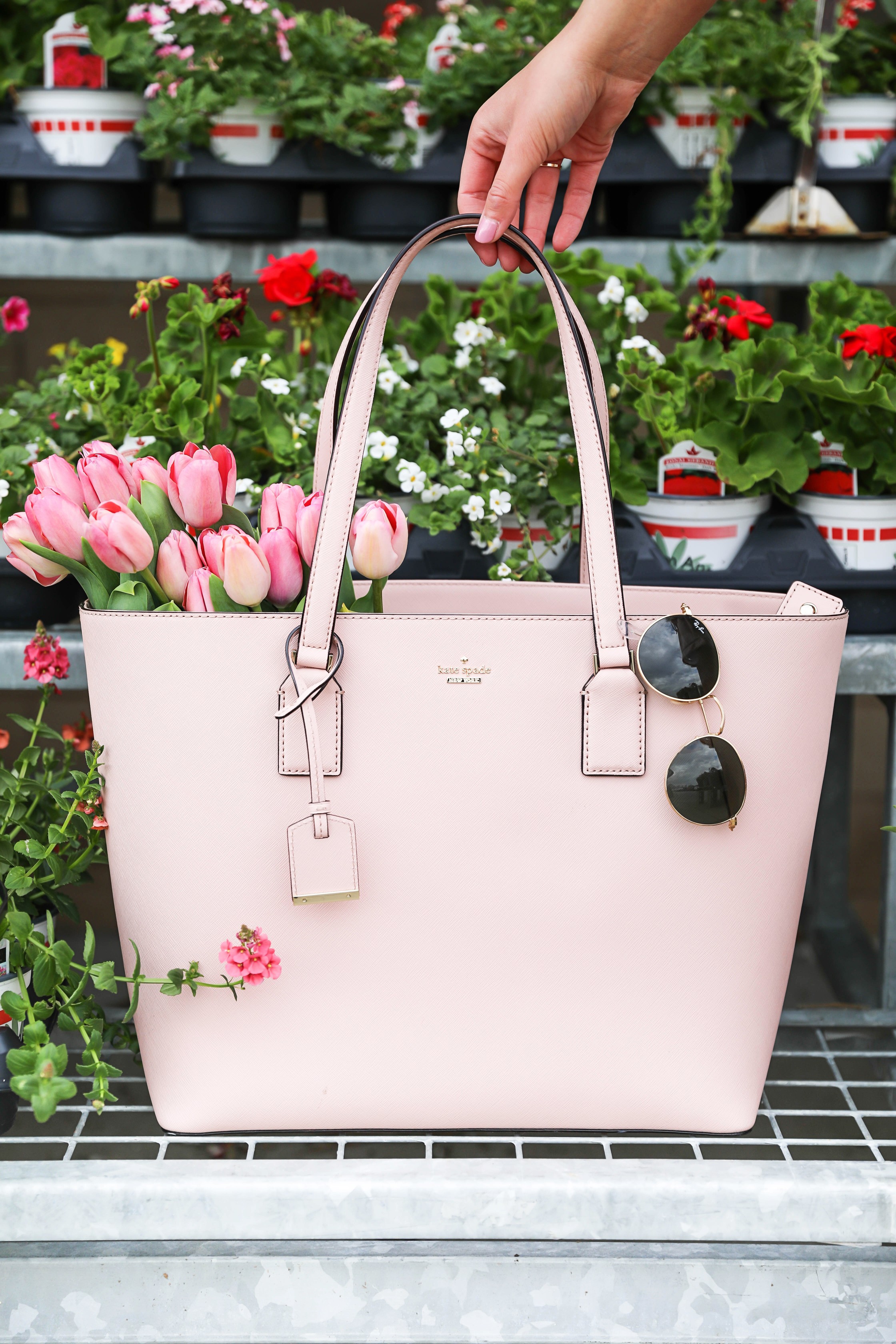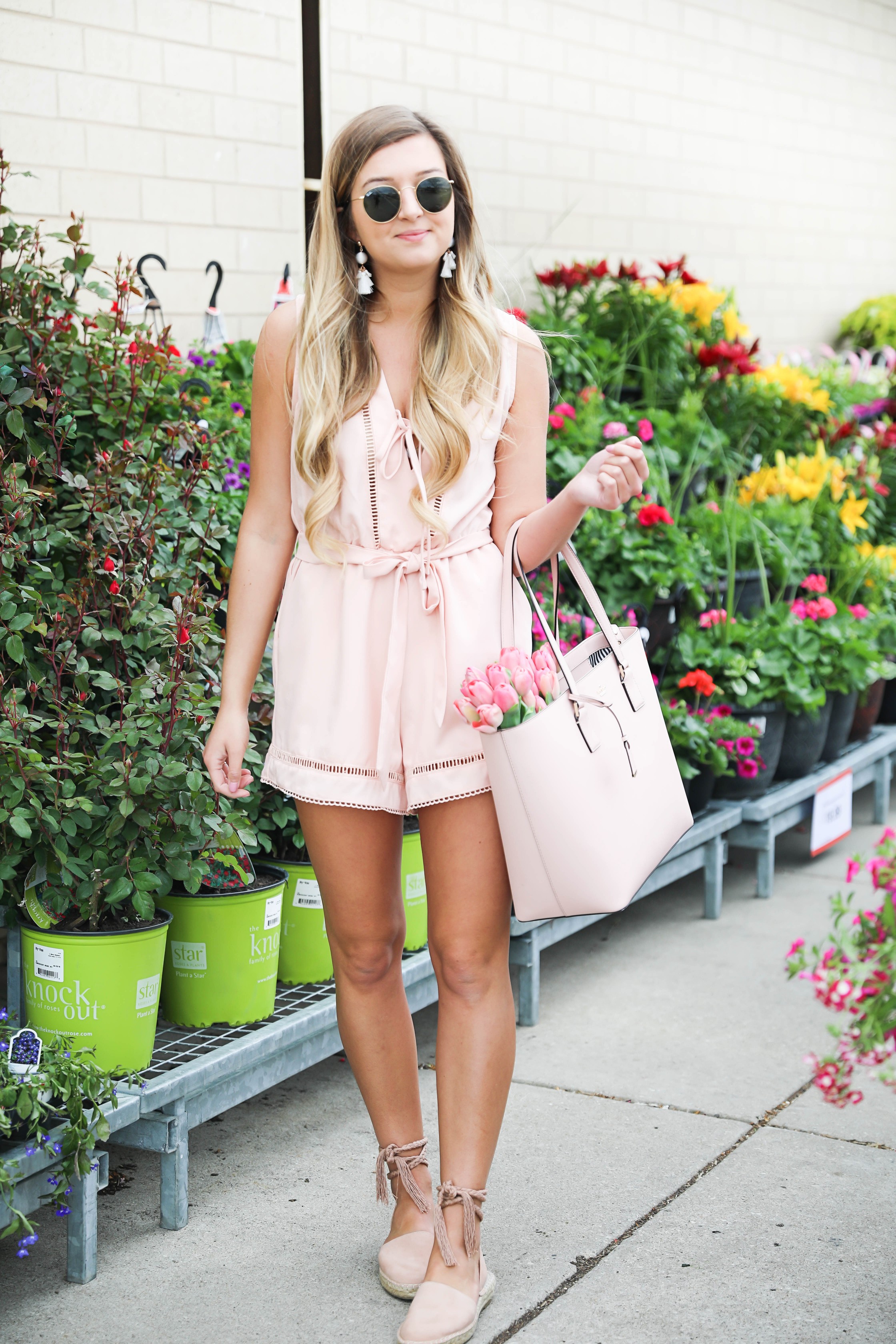 I paired the romper with the newest addition to my shoe collection, I think these sandals are so cute! They're also pretty comfy (so far – I haven't worn them a ton yet). Shoes that tie up your ankle are super in right now, you can see more of my favorite shoes for spring and summer here! I also grabbed my Kate Spade purse because I thought it matched my romper perfectly! This tote is honestly my saving grace. I drive back and forth from school a lot because my mom helps me with all my blog photos, I always throw my camera, chargers, cords, accessories, makeup, etc. in this bag! It's huge, I wanted one big enough to fit my laptop so this one is perfect.
I am also wearing my newest pair of BaubleBar x Sugarfix earrings. I have the biggest earring collection right now so I have been trying to wear a pair everyday! Would you guys want me to go buy some of my favorite Sugarfix earrings and do a little giveaway?! They seriously have the cutest stuff!
Okay ending the post now, my allergies are killing me – anyone else? Allergies make me so out of it, It's 10:15 p.m. and I am about to go crawl in bed and pass out!
Shop this Post!

xoxo,
Lauren Emily Lindmark
*c/o stands for "courtesy of." Big thank you to BaubleBar for generously sending these earrings, however, I am not obligated to post them and all opinions are always my own. Not sponsored.
Copyright © 2018 dailydoseofcharm.com