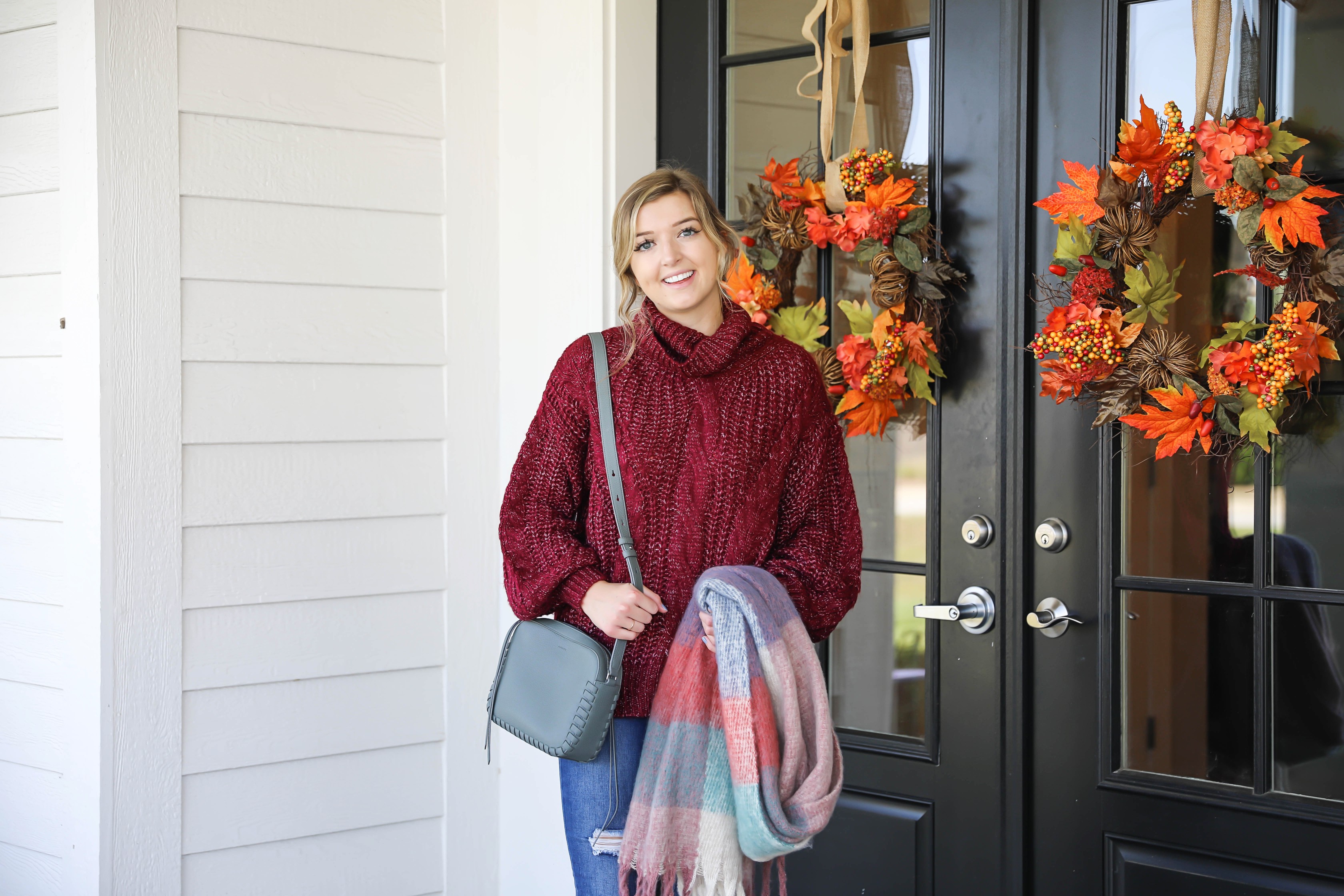 I Had the Most PERFECT First Day of Fall | + OOTD
Ahh happy fall everyone! I'm so excited that it's official now, I've been pretending that it has been fall since September 1st… so now I don't seem crazy haha! I had the most perfect first day of fall. It started out with my boyfriend and I driving up to my lake house on Friday, we stopped at Freddy's for dinner and swung by Walmart to get stuff to make chili that weekend!
We crashed on Friday night (after getting to the lake and being greeted by a mouse…). Then slept in a little Saturday – which was nice because we never sleep in! Saturday was the first official day of fall and it couldn't have been more perfect, Cam and I got up and he made coffee and breakfast while I put out all the cushions on our screened in porch. Cameron is THE best cook, everything he makes is delicious! We had eggs and toast which was so simple, but y'all, the way he makes eggs is to die for haha! I'll have him post an Instagram story about it sometime.
Then we sat on the screened in porch and drank coffee and chatted. It was 55° when we woke up that morning which really made it feel like fall! After coffee we both grabbed a few beers and headed down to the water to fish. He spent some time on the shore fishing while I sat around and got the fire pit ready for a fire later that day. It was a perfect chill Saturday morning!
That afternoon I made some croc pot chili that we could have for dinner and we fished some more on the dock. Cam probably caught 5-6 fish all weekend, guess how many I caught? ZERO!! I thought I was good at fishing but I guess not haha! When the sun started to go down we built a fire and sat by it for a few hours. It was so cozy! Sitting by the fire is one of my favorite things in the fall! We finished Saturday night with some chili then fell asleep on the couch!
Sunday we woke up early and there was the prettiest fog on the water. When we first got up you couldn't even see across the cove because it was so thick! We made coffee and went and sat on the dock to drink it and fish! It was such a relaxing day. That afternoon Cam watched the game while I painted my nails and napped then we packed up to leave. I didn't want the weekend to end! Such a perfect way to kick off fall!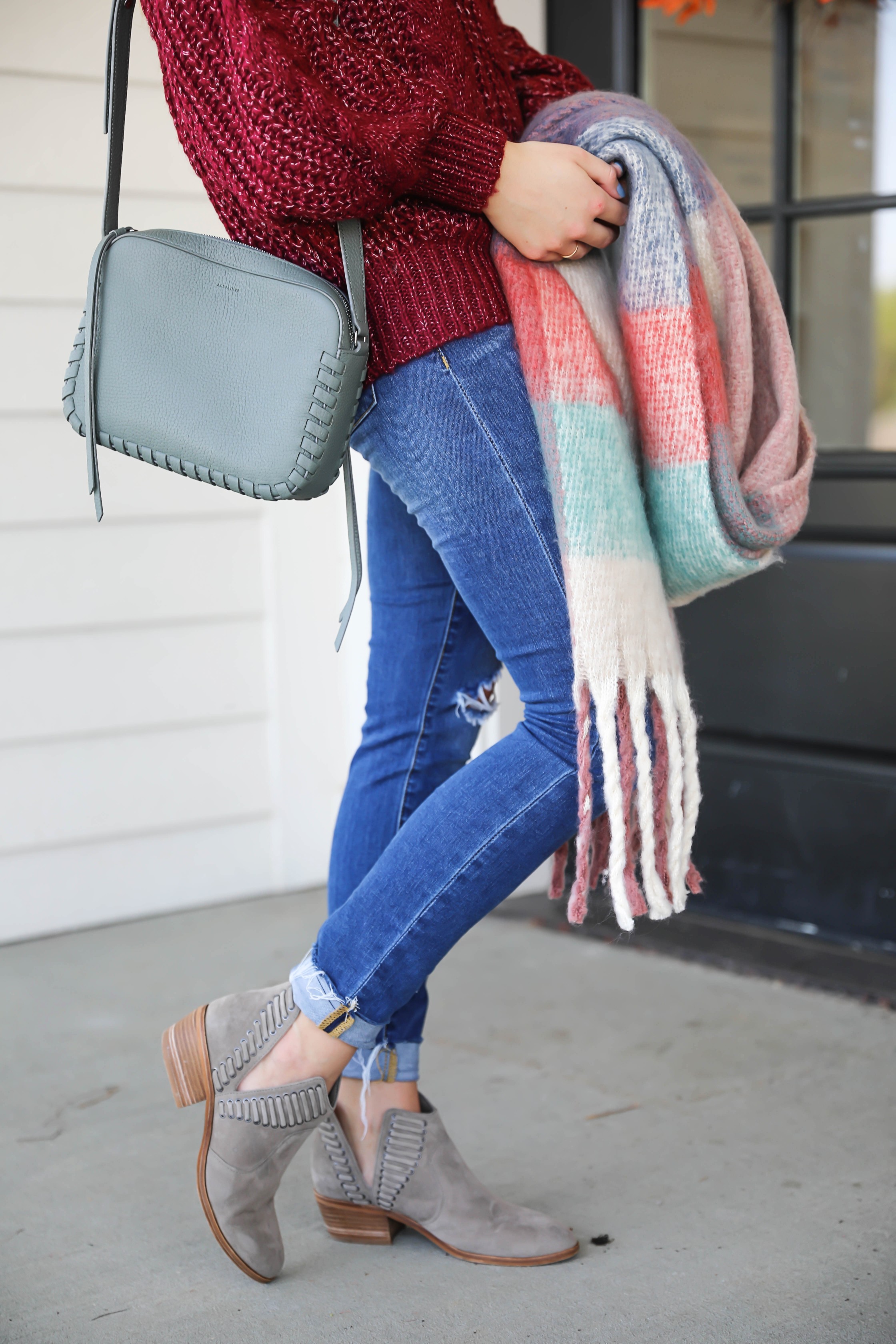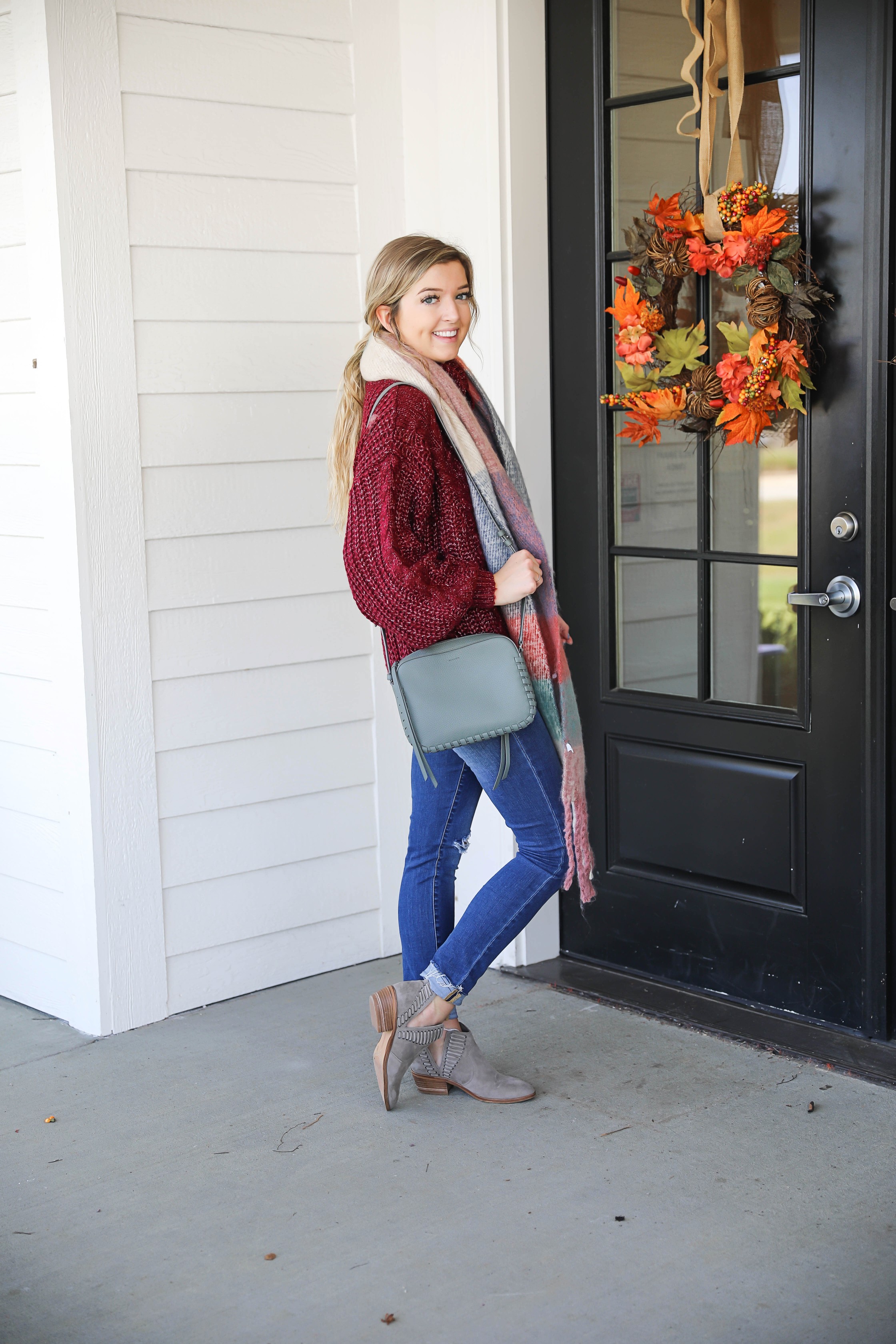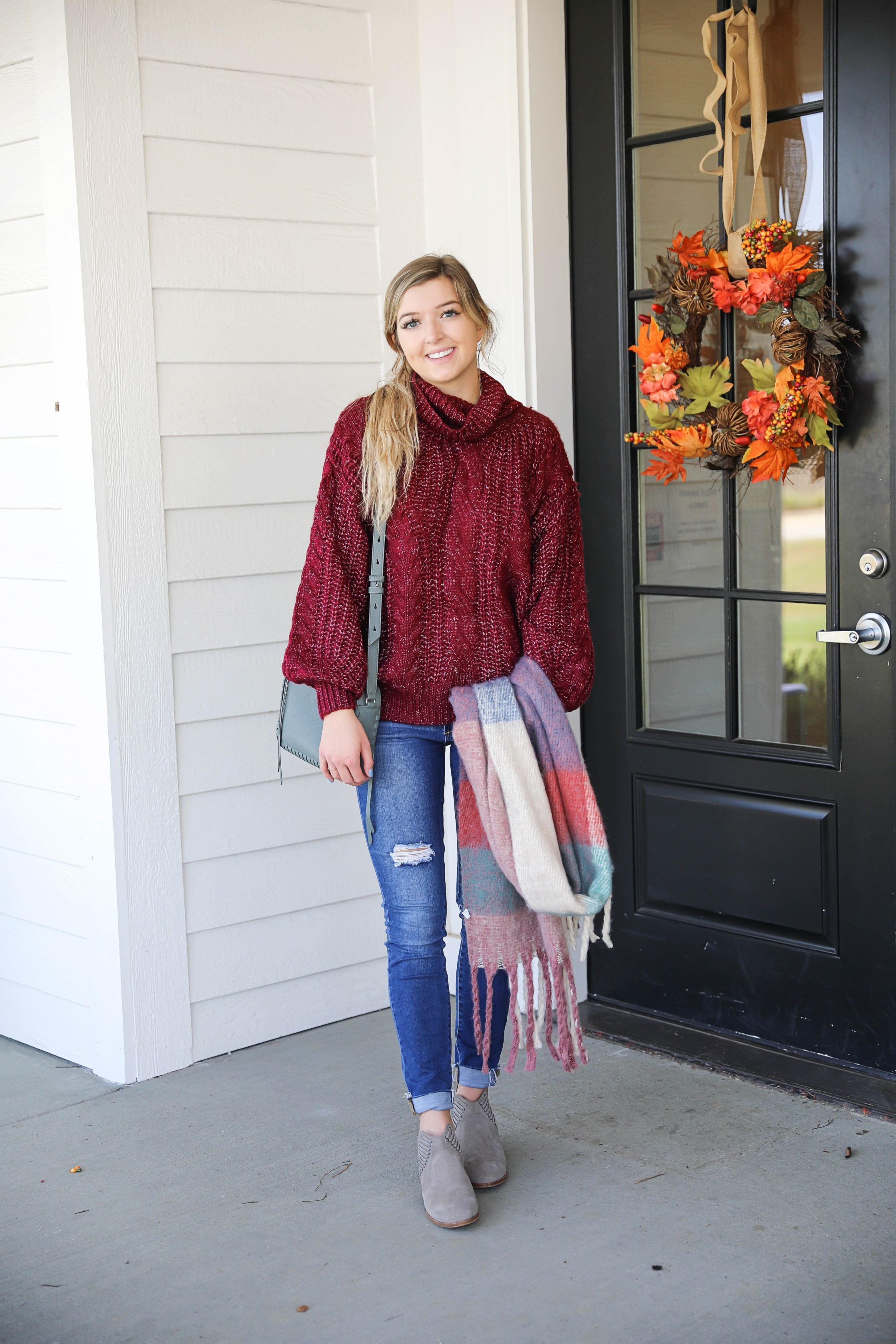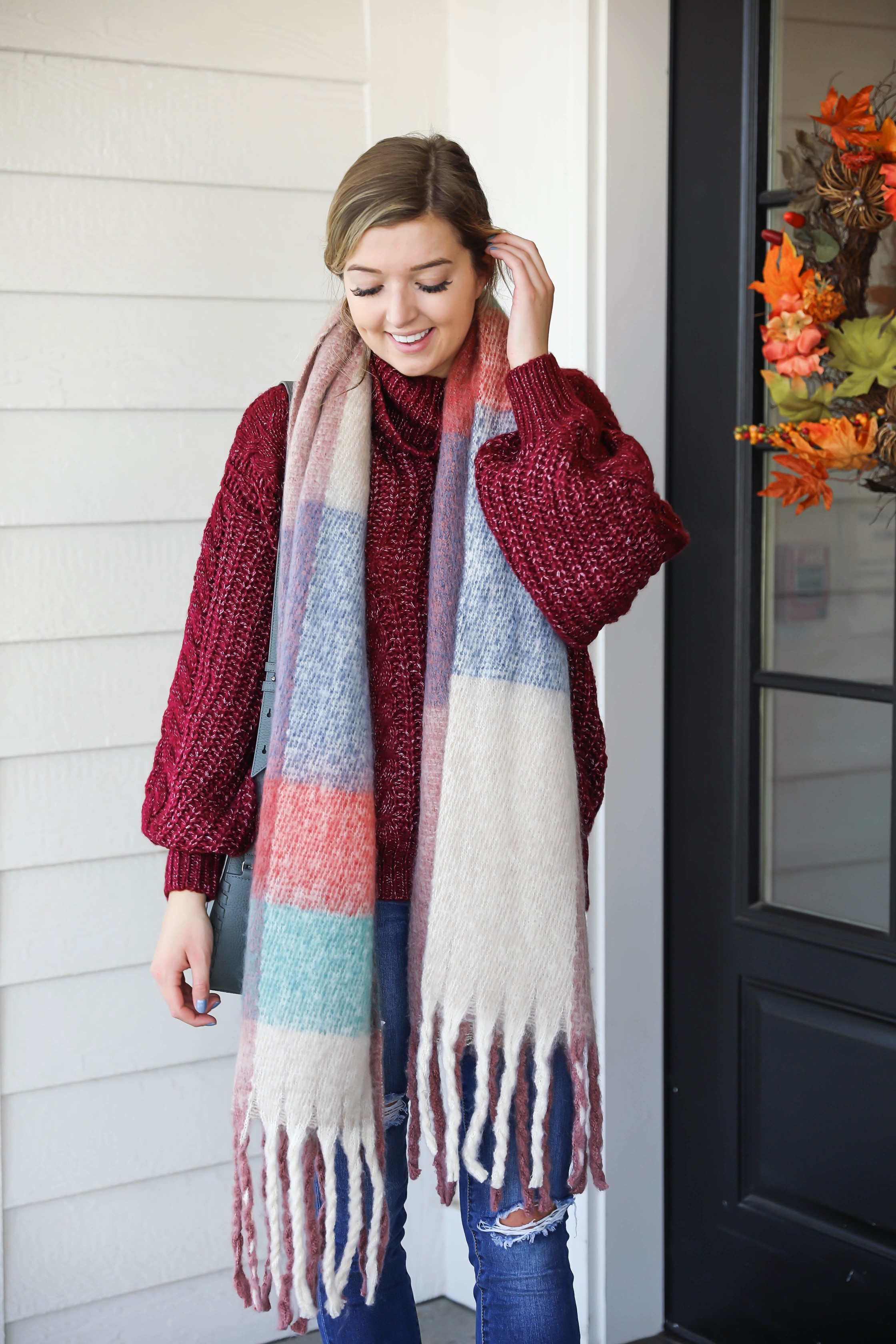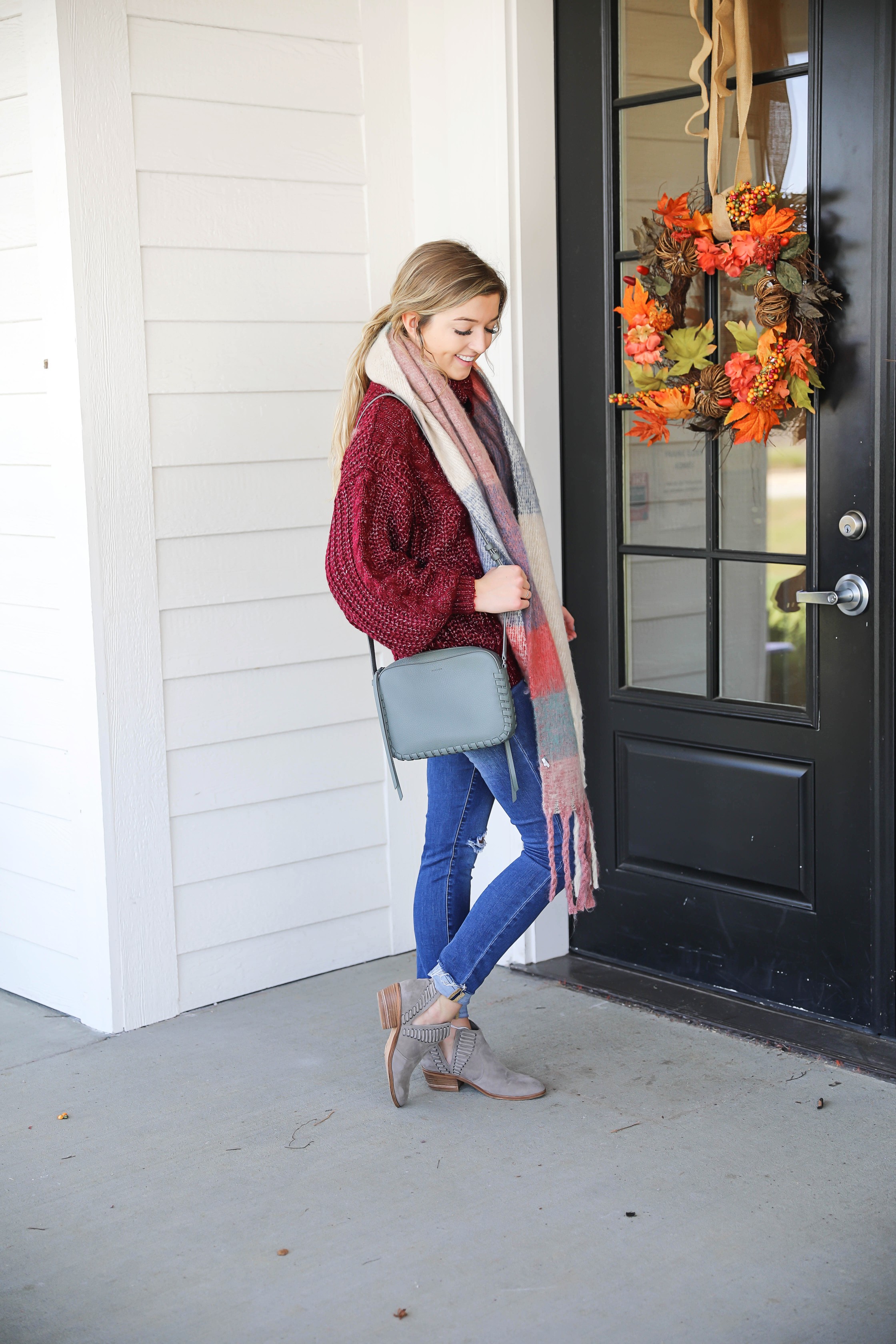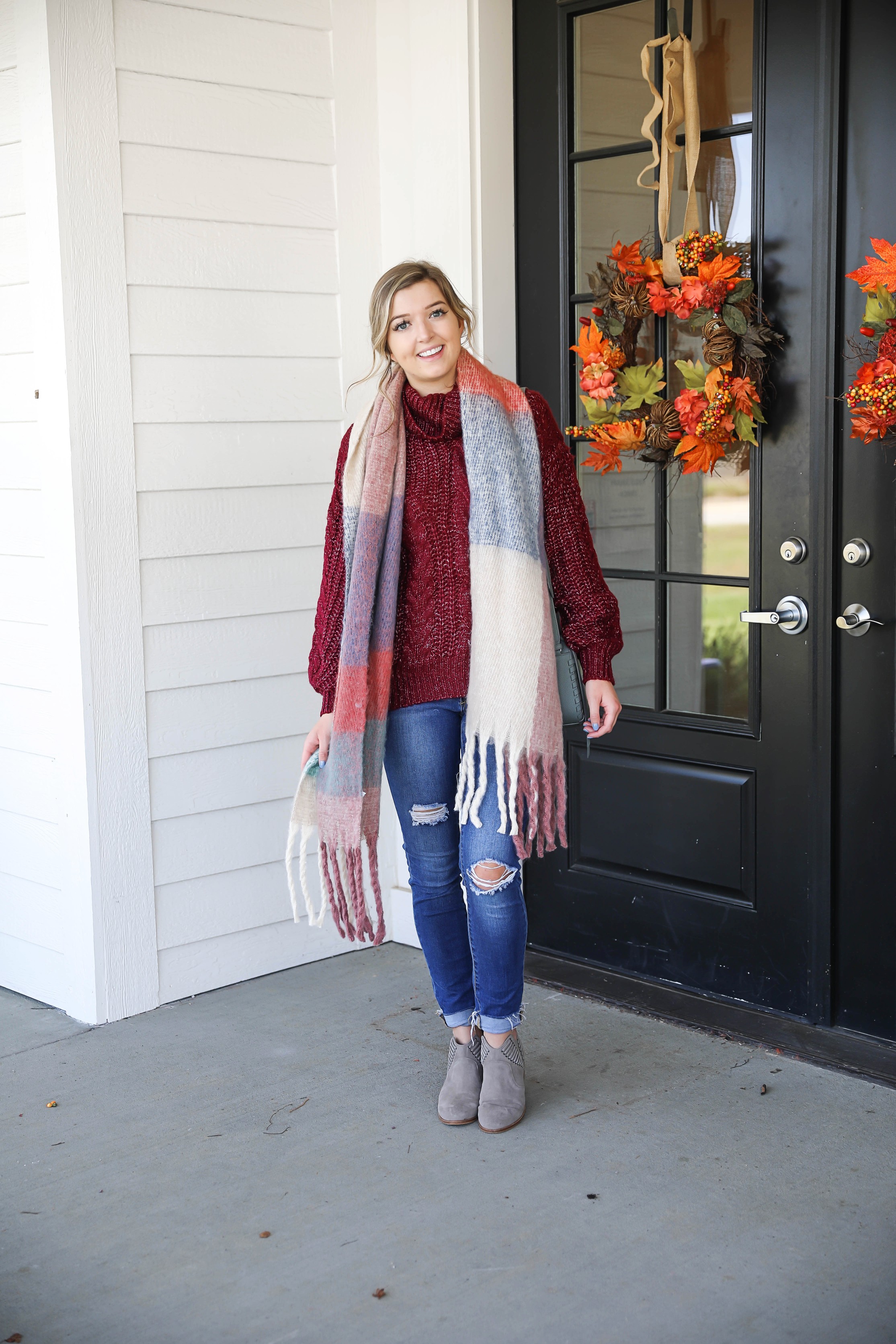 | Burgundy Sweater (c/o* $46 and comes in three colors – I am wearing a size small) | Soft Plaid Scarf (c/o* $18 comes in three colors) | Ripped Denim Jeans ($64 and true to size) | Vince Camuto Booties (ON SALE 33% OFF come in three colors) | Allsaints Bag (my color is sadly sold out) |
This outfit was featured in my Red Dress Boutique try on haul on my Instagram (you can check it out on the "try on haul" story highlight). RDB was sweet enough to send me some fall outfits to share with you guys and they're all perfection! They're one of my favorite boutiques and they always kill the fall clothing game!
I wore this cute burgundy sweater paired with the SOFTEST scarf (both from Red Dress). My mom and I took these photos on the prettiest porch – don't worry I asked the owners permission haha! I wish my porch looked like this. My mom hasn't decorated yet, but she always makes ours look so pretty too!

Happy Monday and happy first week of fall! Hope you guys are having the best day!
xoxo,
Lauren Emily Lindmark
* (c/o) stands for "courtesy of." Red Dress Boutique generously sent me this sweater and scarf, however, all opinions are always my own and I was not required to share this outfit in a blog post.
Copyright © 2018 dailydoseofcharm.com