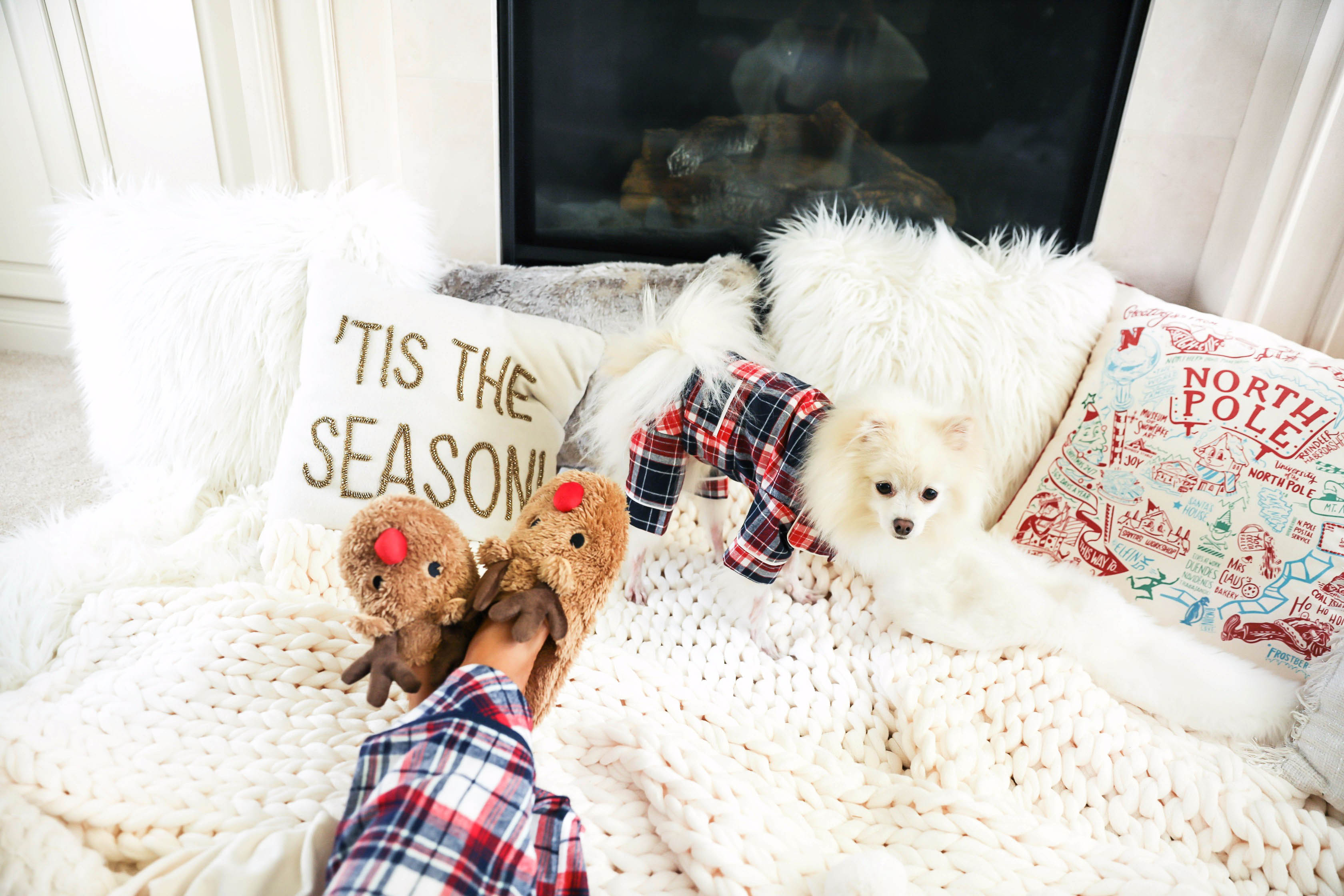 Matching Pajamas with my Puppy | OOTD (Year 2)
This is the second year in a row I bought my pup and I matching pajamas and I love that this is becoming a tradition! He looks so adorable when he is dressed up, he used to love it when he was little because people would give him so much attention and he would prance around proudly showing himself off! However, now he is not a huge fan anymore – I stopped dressing him up for awhile and I think he just isn't used to it anymore haha! Now he will awkwardly walk around with his legs sticking out when he is dressed up or he will just stand there frozen. For that reason I don't really ever put clothes on him anymore, but I still wanted to do matching pajamas! Don't worry, he only wore them for a half an hour then he got a bone after for his troubles 😉
I really wanted to do plaid pajamas this year so I scoured the internet and finally found his and mine that look almost identical! I love the red and navy plaid because I have nothing like it! He was being such a snuggle bug when I was taking these, he is the cutest thing! Beau is definitely the opposite of a lap dog, he has the BIGGEST personality and usually hates standing still. Sometimes I can get him to lay in bed with me and nap or snuggle, but usually during the day he is running around exploring and getting into mischief. I'm glad he cooperated so I could take these photos and have them for years to come!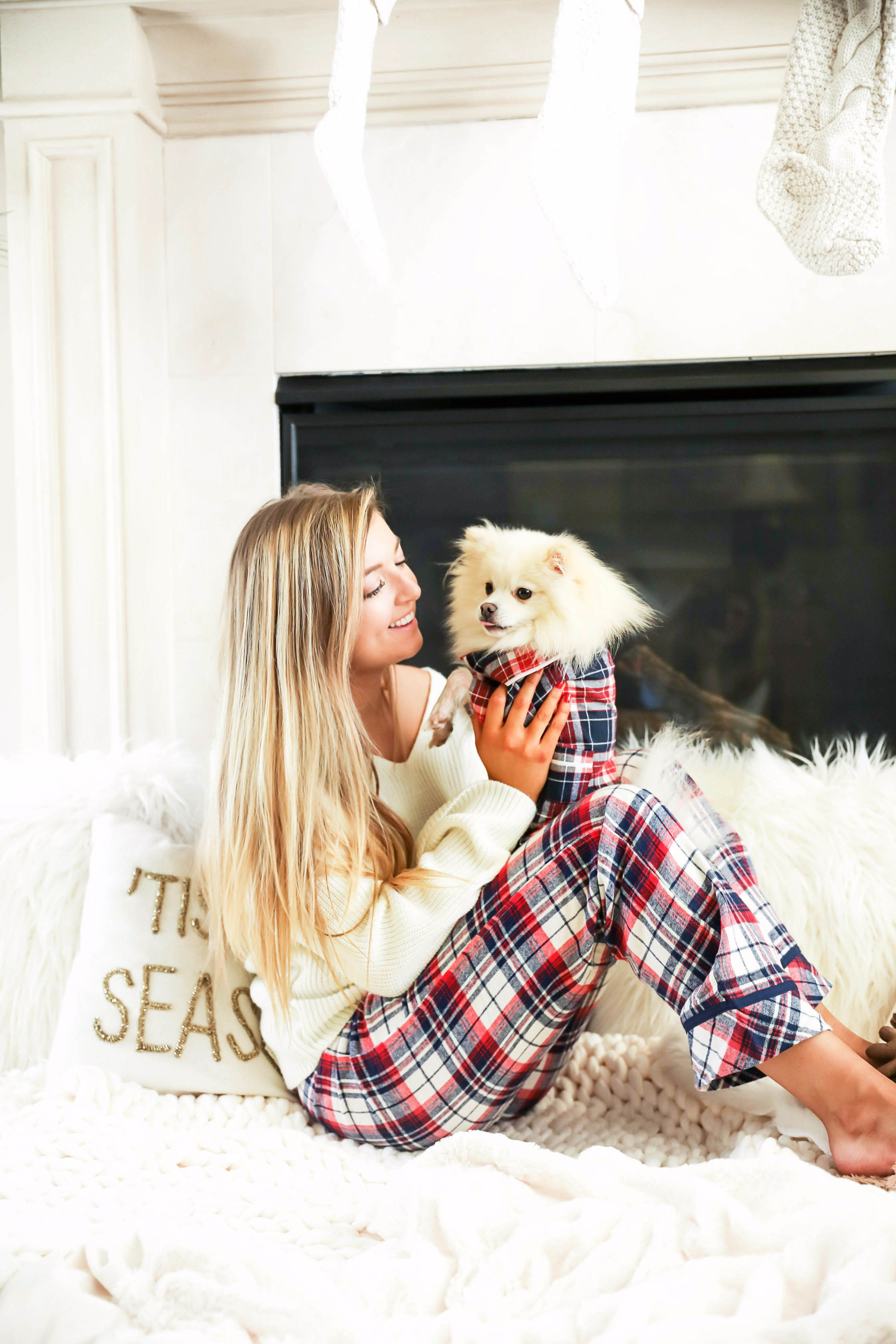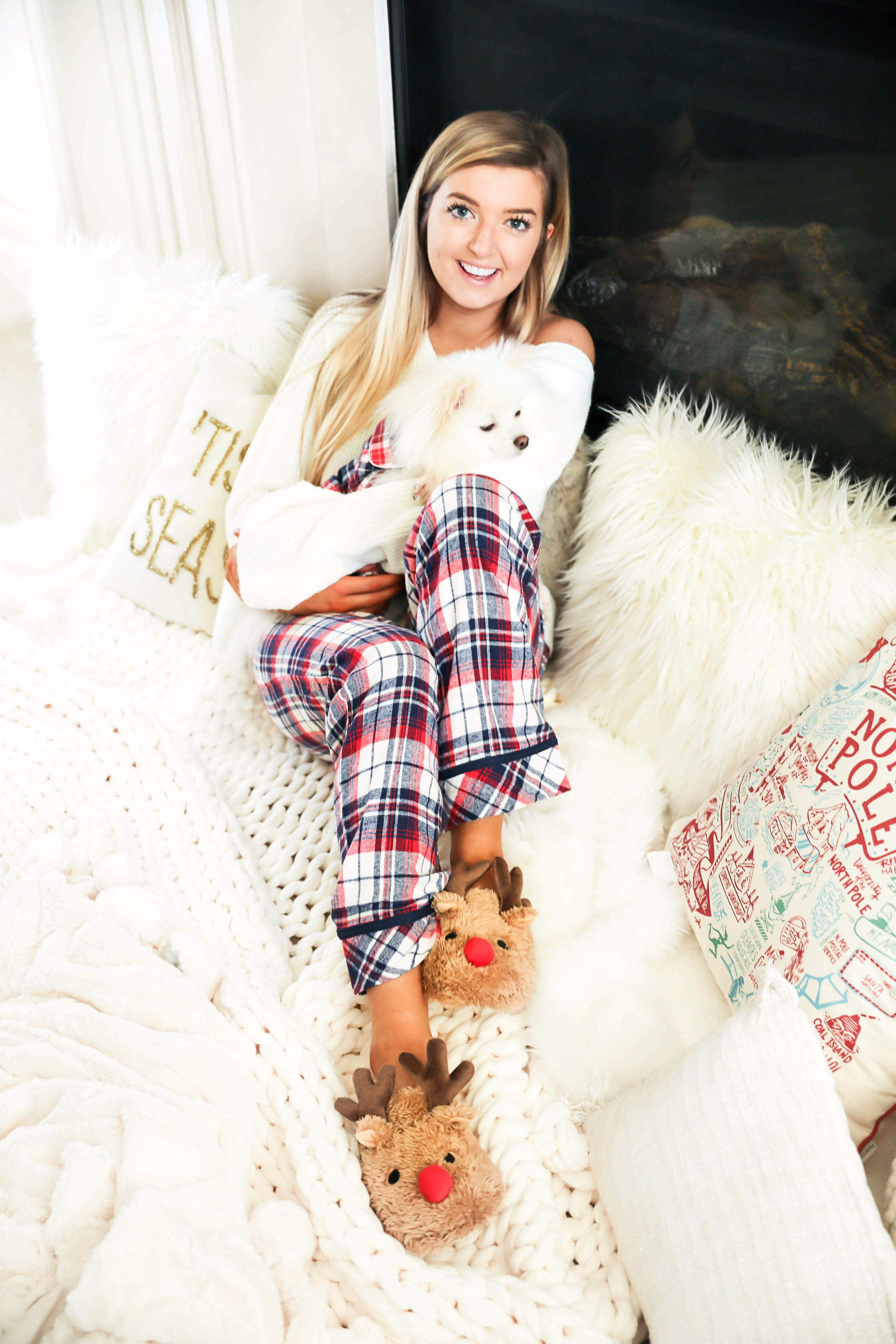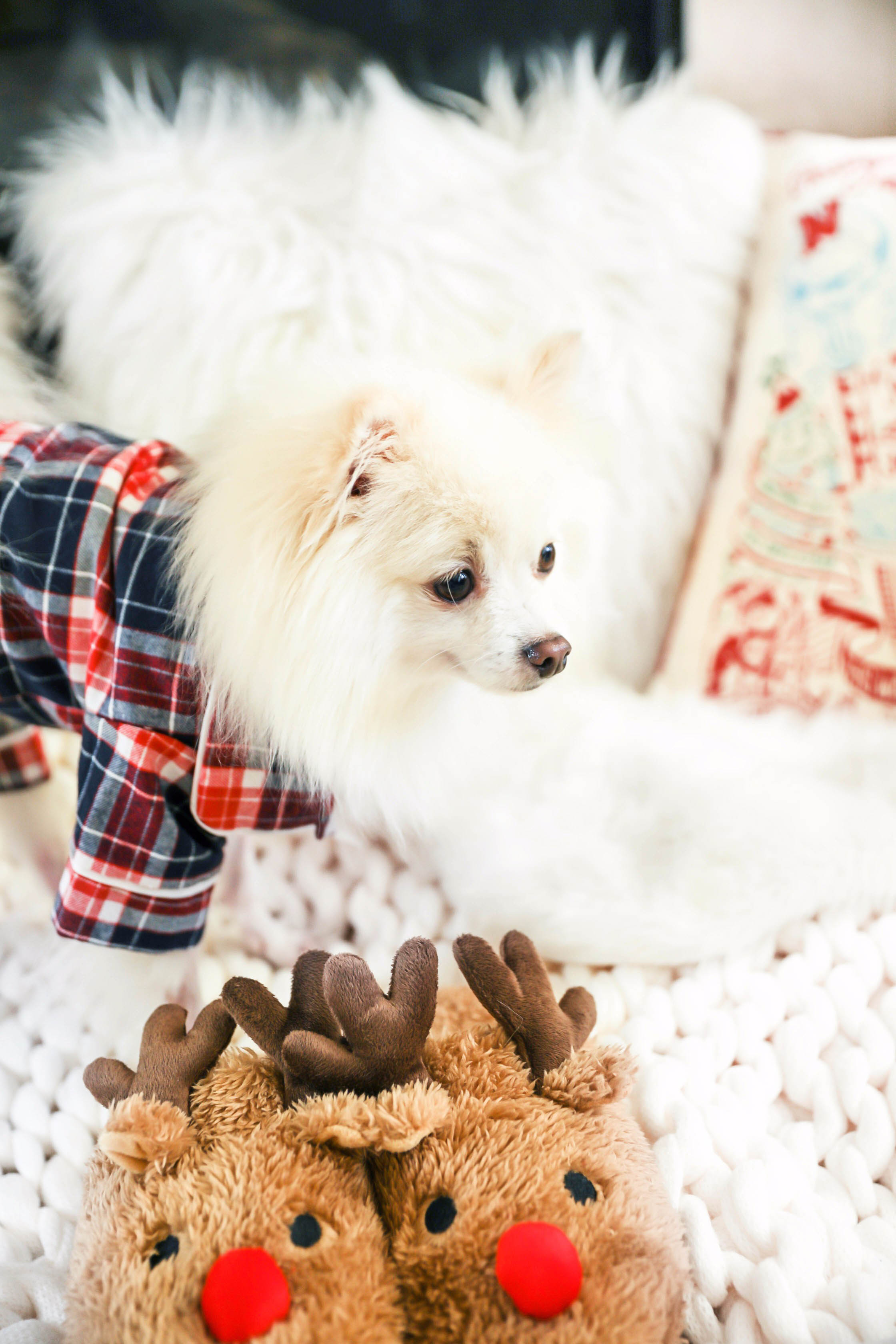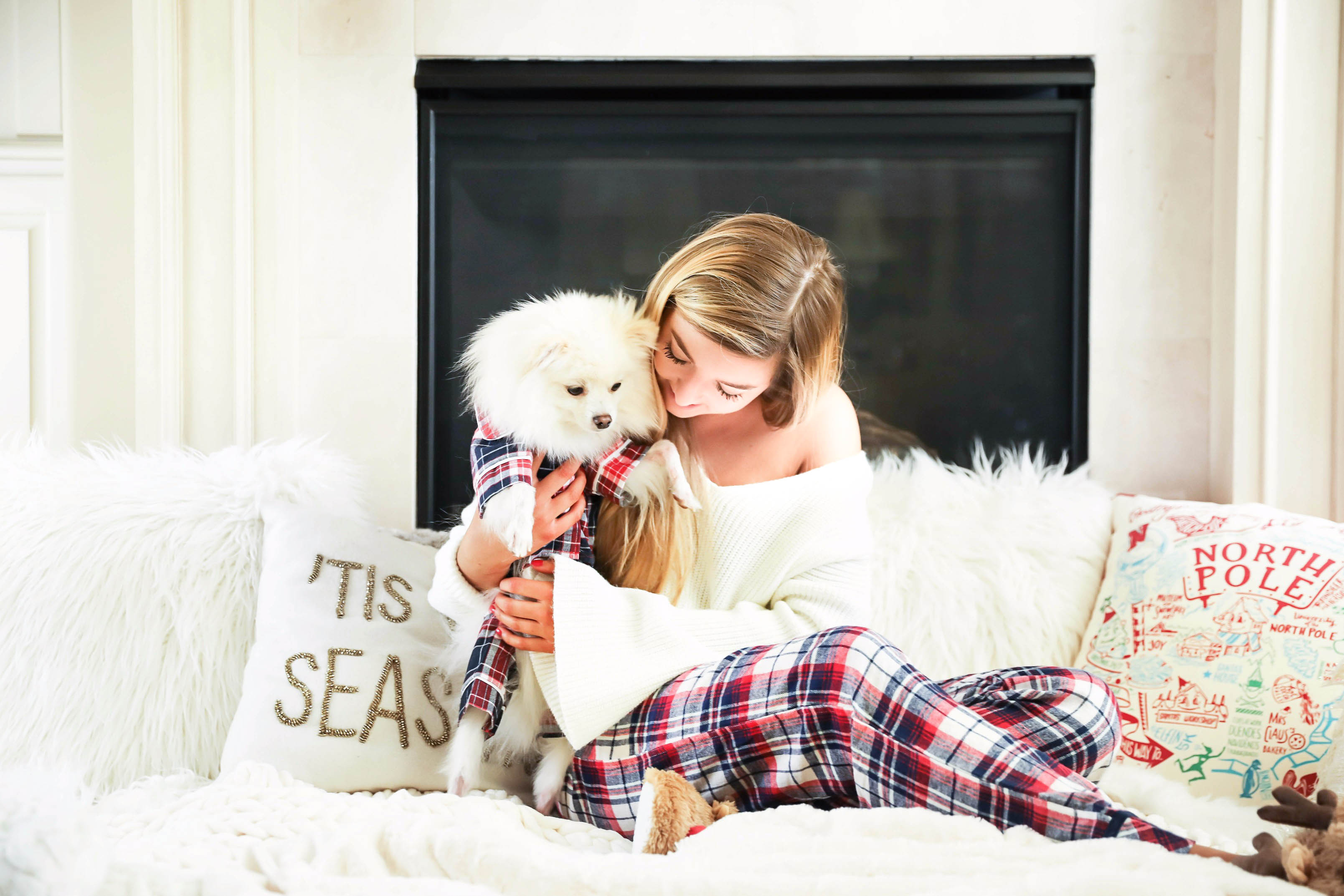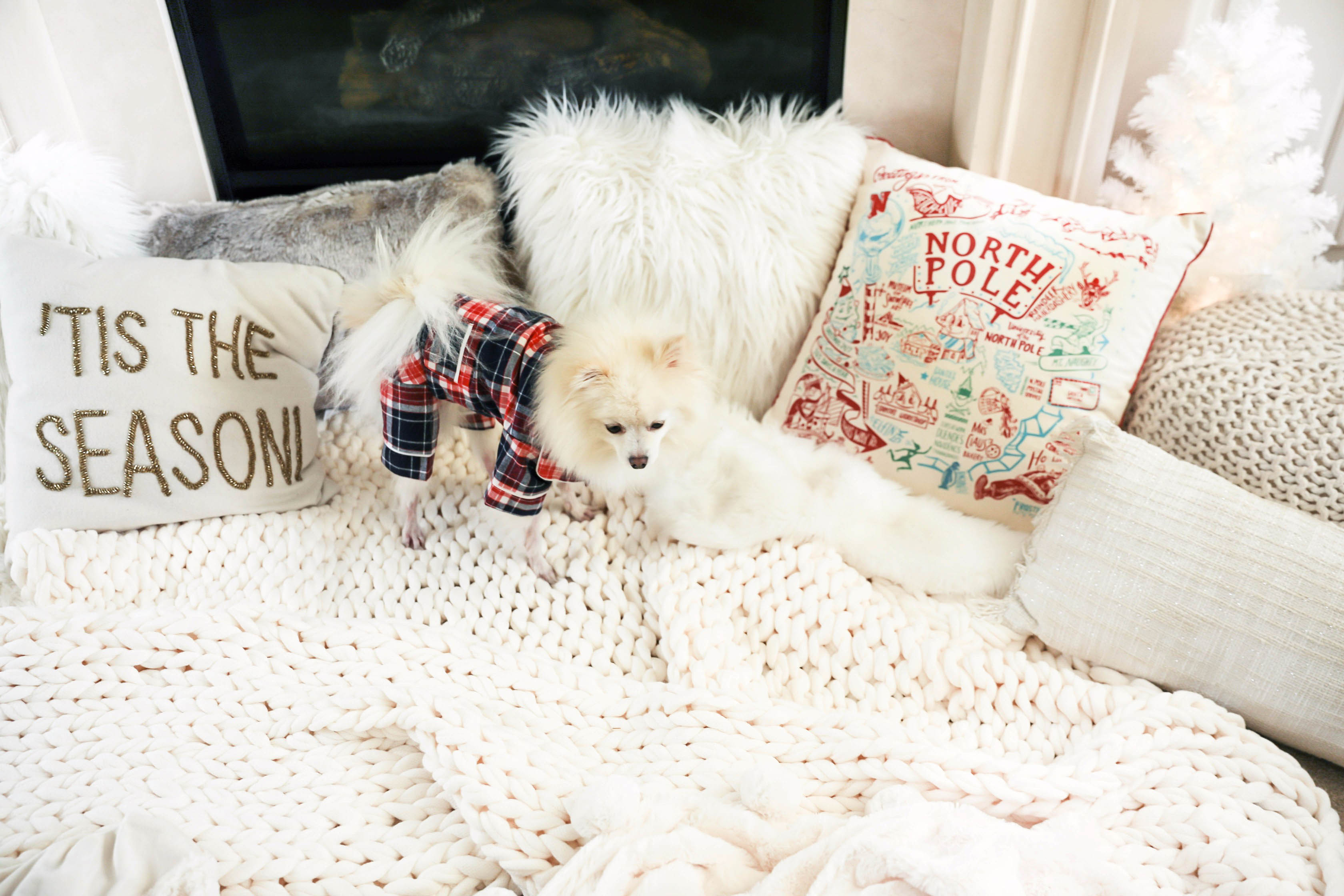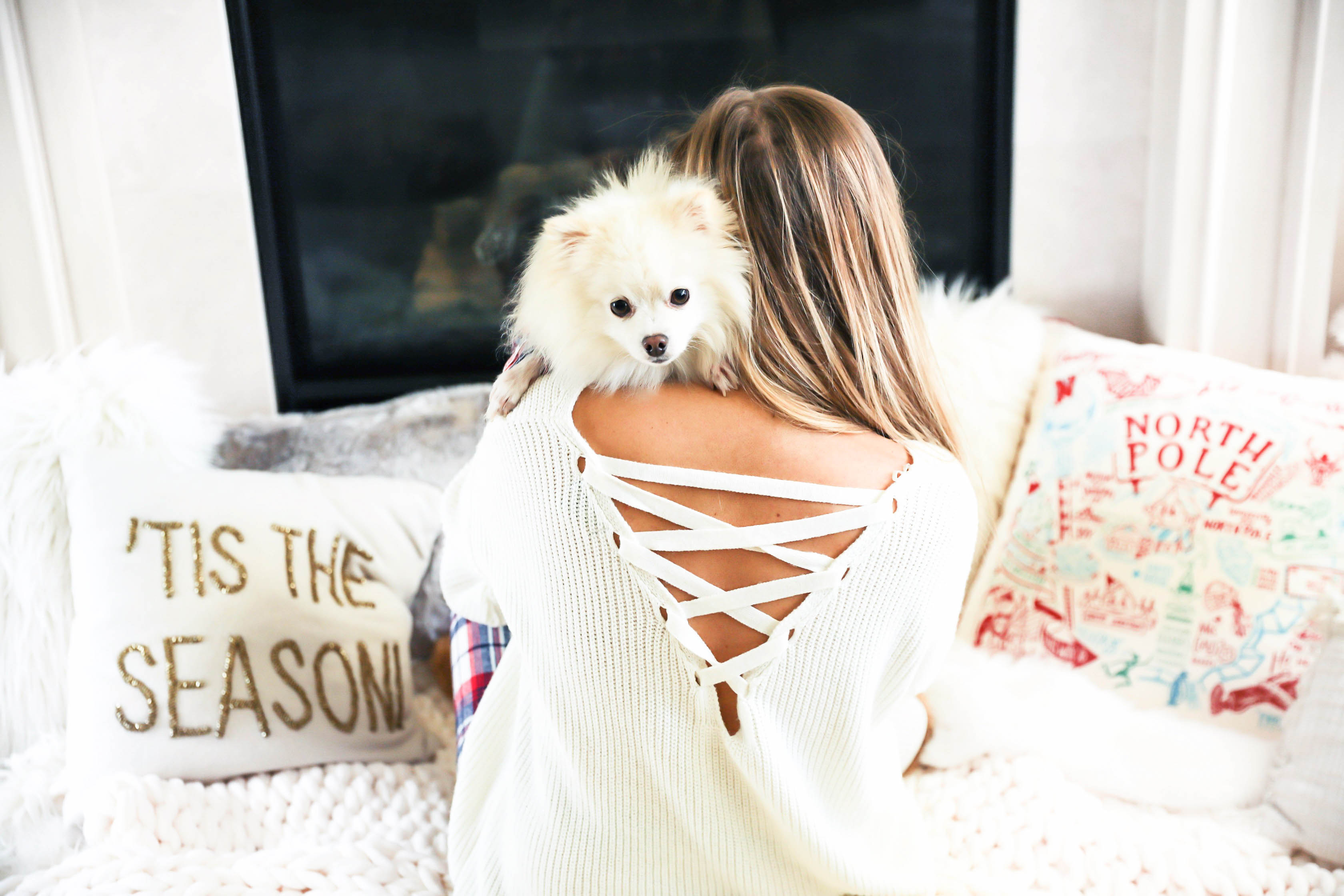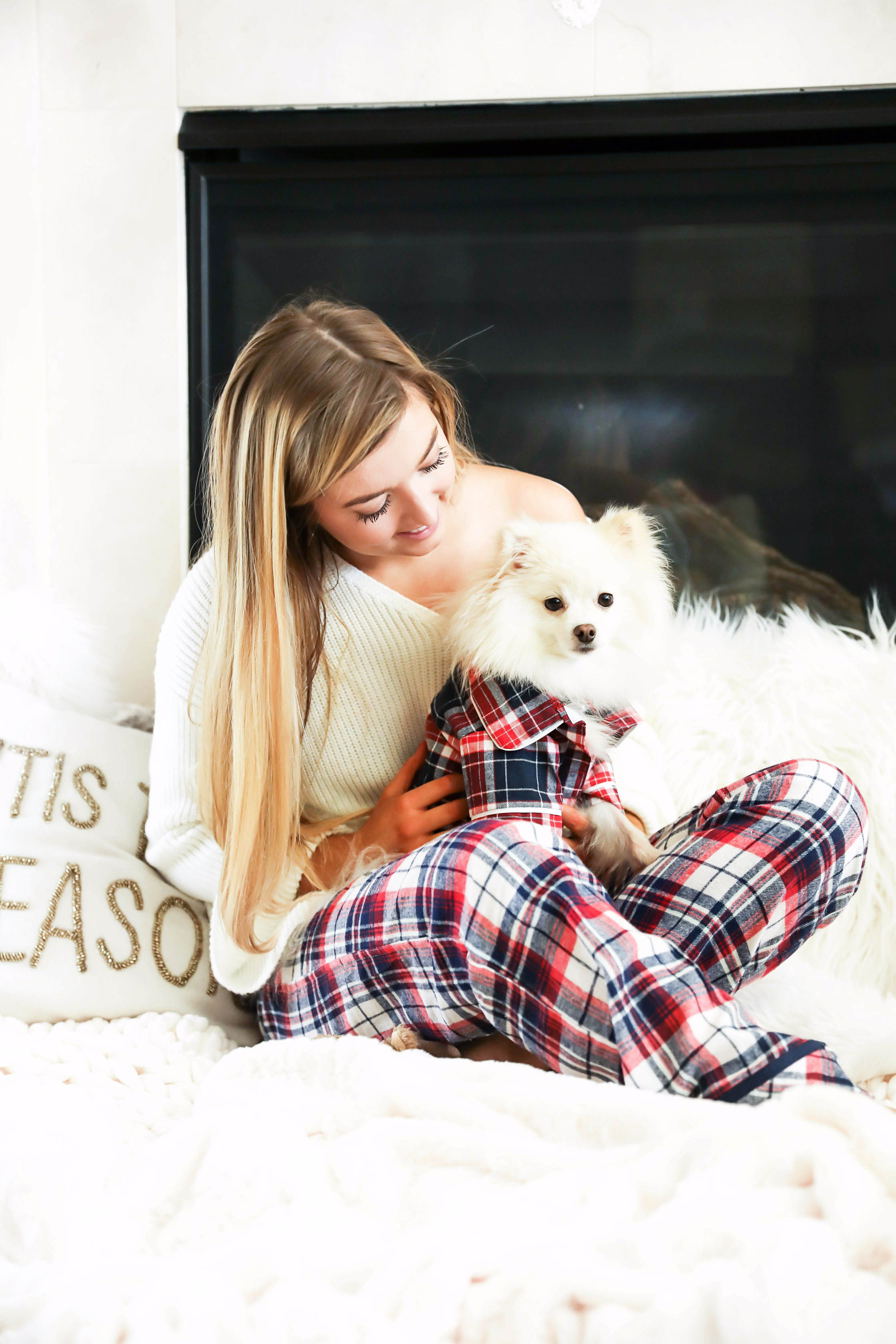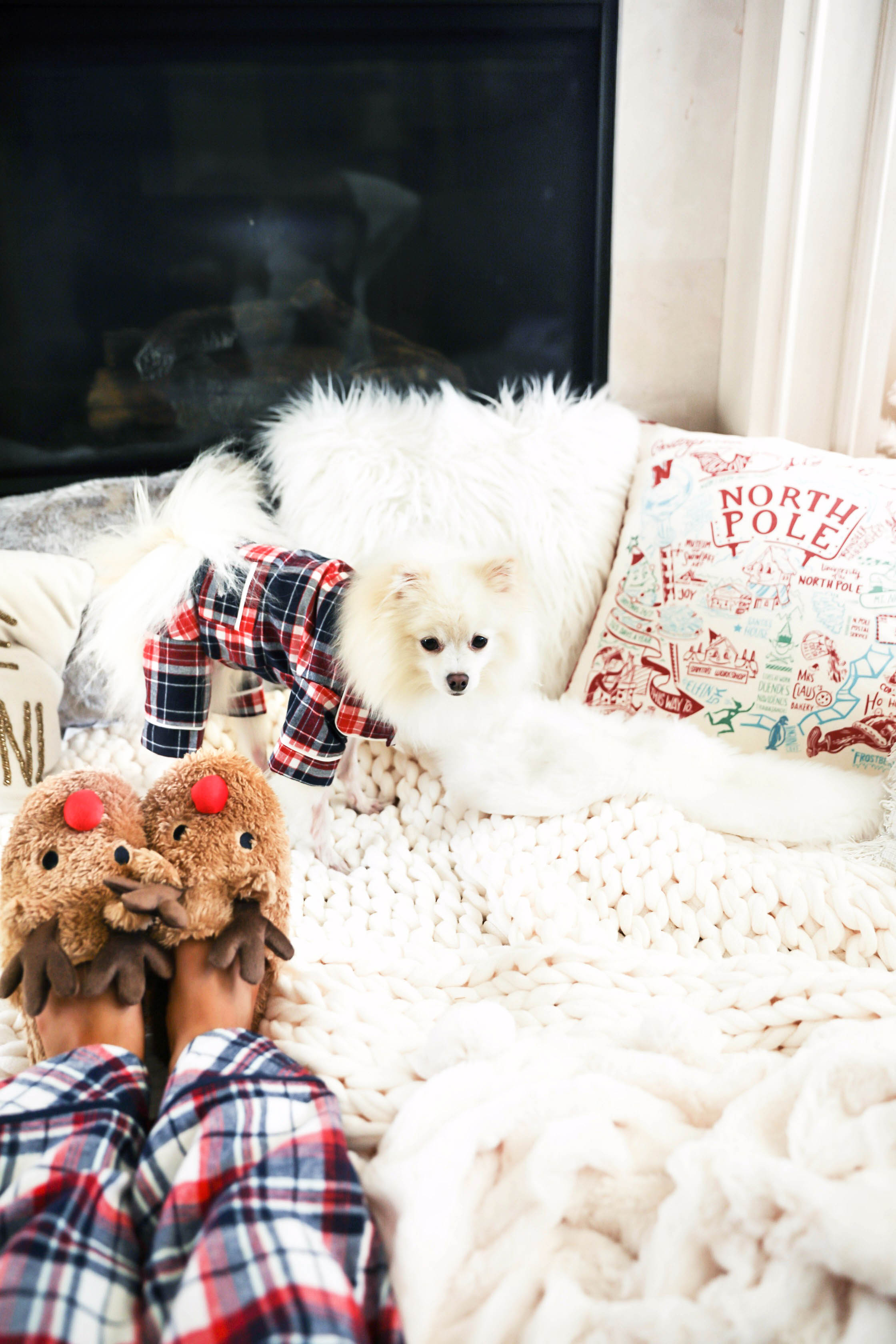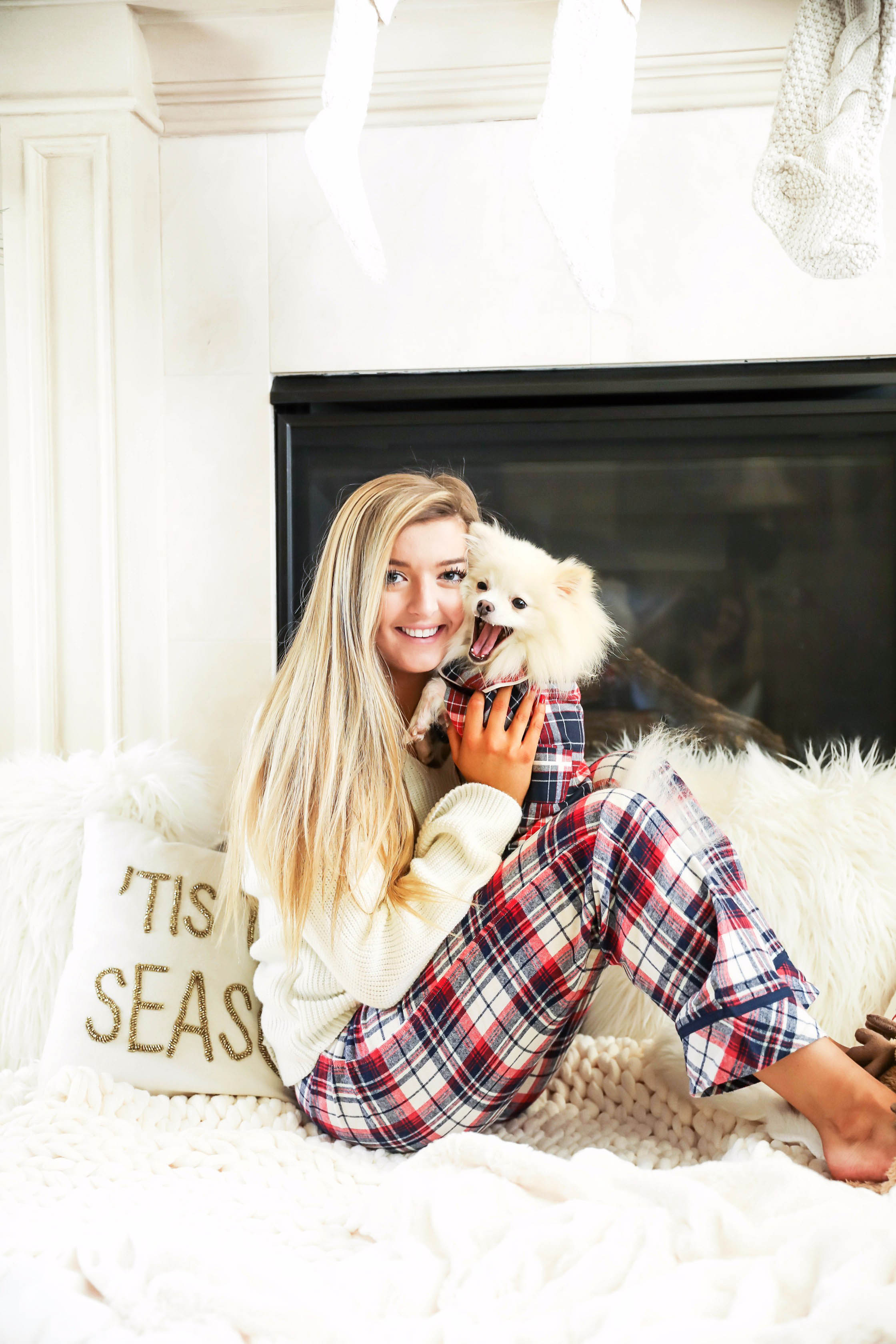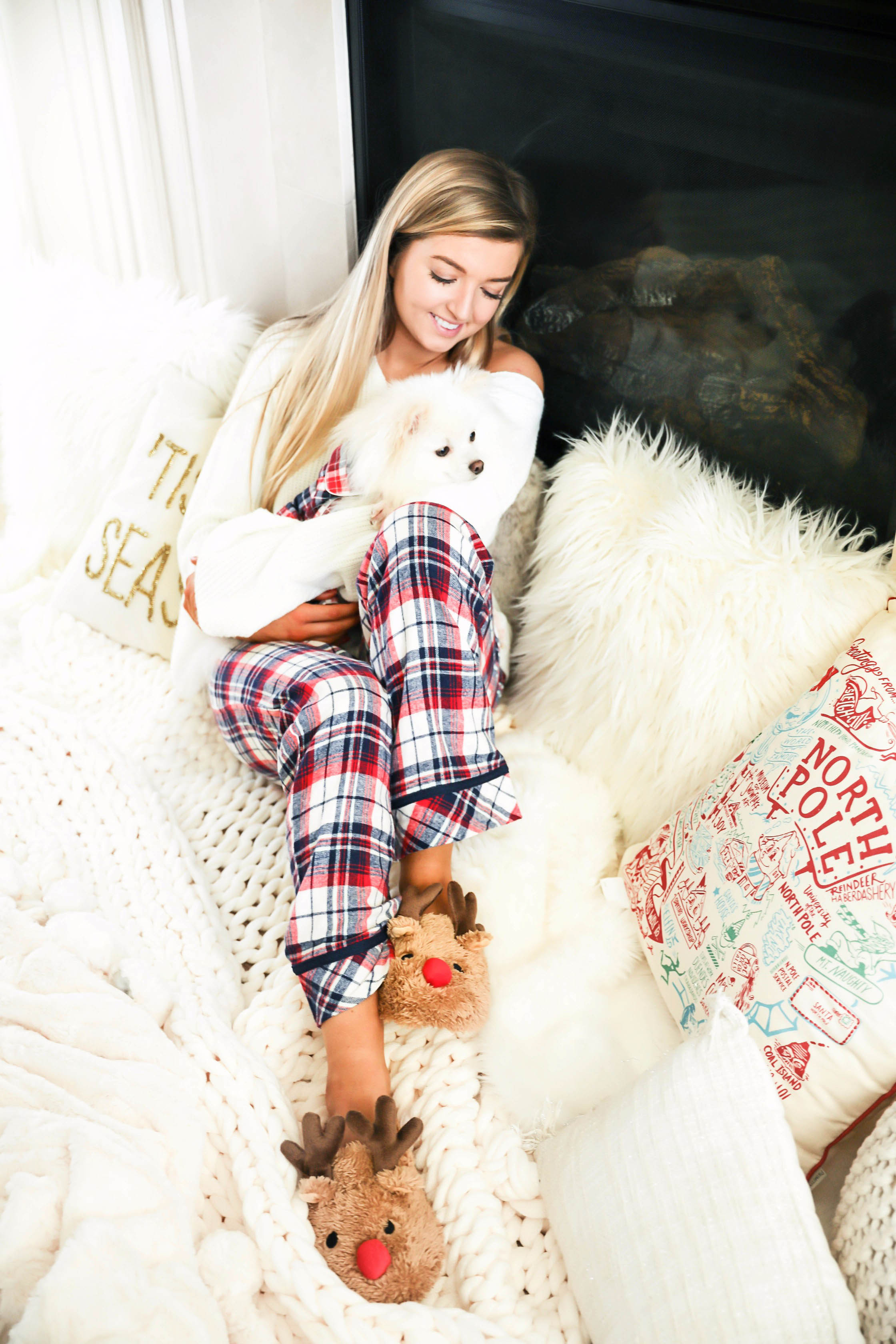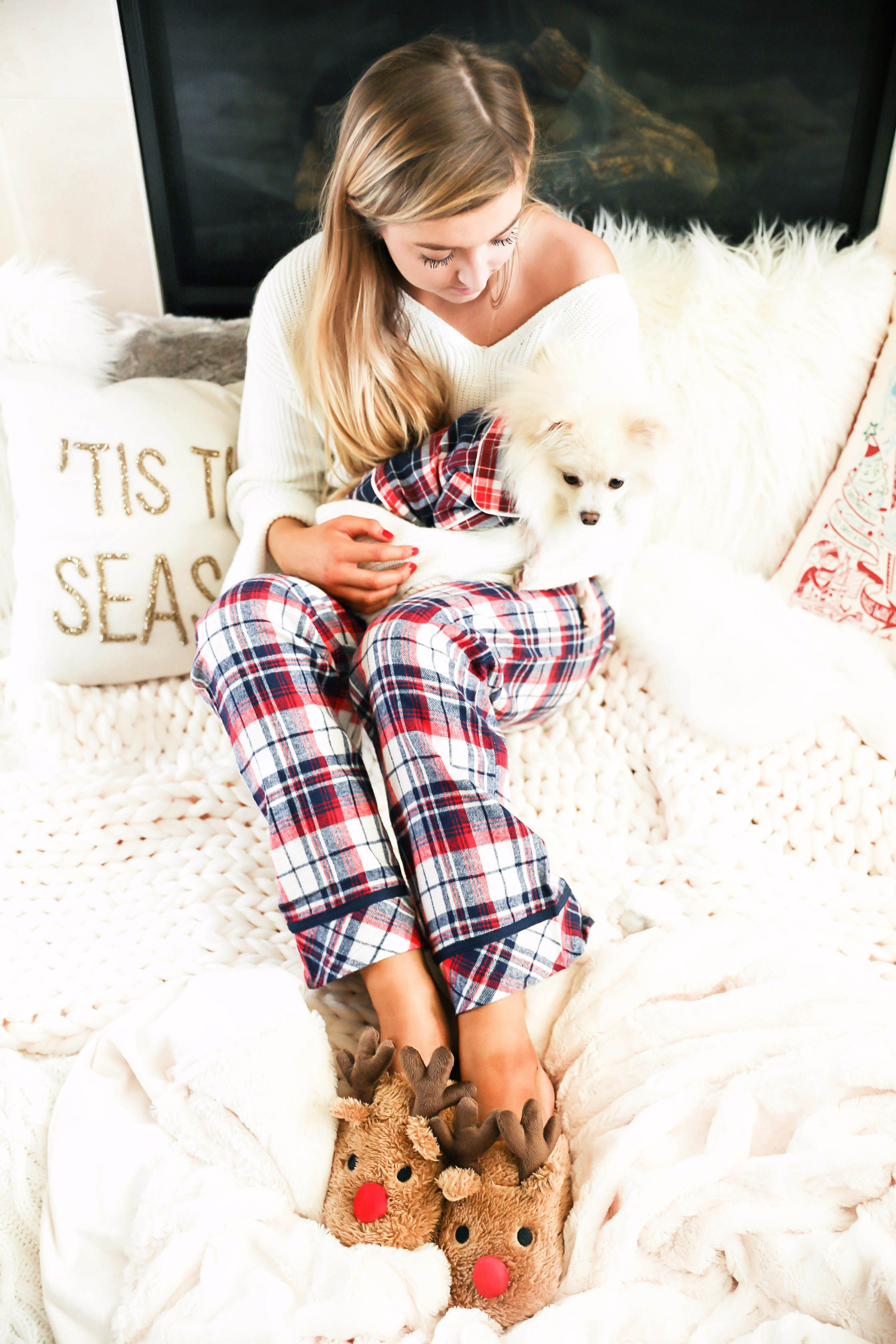 I brought all these pillows and blankets from my room downstairs into our living room and made this cozy little corner by the fireplace. I have really built up a collection of perfect cozy pillows and blankets. My favorite is my new knit blanket! I just bought this big knit blanket on Cyber Monday and y'all – I am obsessed! I have wanted a blanket like this forever, but they are SO expensive. I found this one for about a third of the price, it isn't quite as thick or soft as the nice ones, but it still looks adorable! I posted it on my Instagram story and got a bajillion messages about it, so I am finally posting the details! I was lucky enough to get it on sale, but the price is still good compared to most knit blankets!
I also posted about these reindeer slippers on my Instagram and they were a hit! So I am giving away a pair of these slippers on my Holiday Stocking Stuffer Giveaway Post! If you haven't entered yet make sure to head there by the end of this week because there are a ton of good prizes!
The lighting was weird when I took these photos above so the quality isn't the best. However, it's funny to see how much better these photos are than last year's haha! Check last year's out below, I loved the pajamas I bought in 2016 and I am so happy I have made it an every year thing now! I posted last year's post on December 7th and it was the first day it snowed all season. I love being able to look back on posts and see memories like that. My apartment was all decorated for the holidays and it looks way different than how I decorated my room this year! Having a blog is seriously the best y'all, I love having this little online diary!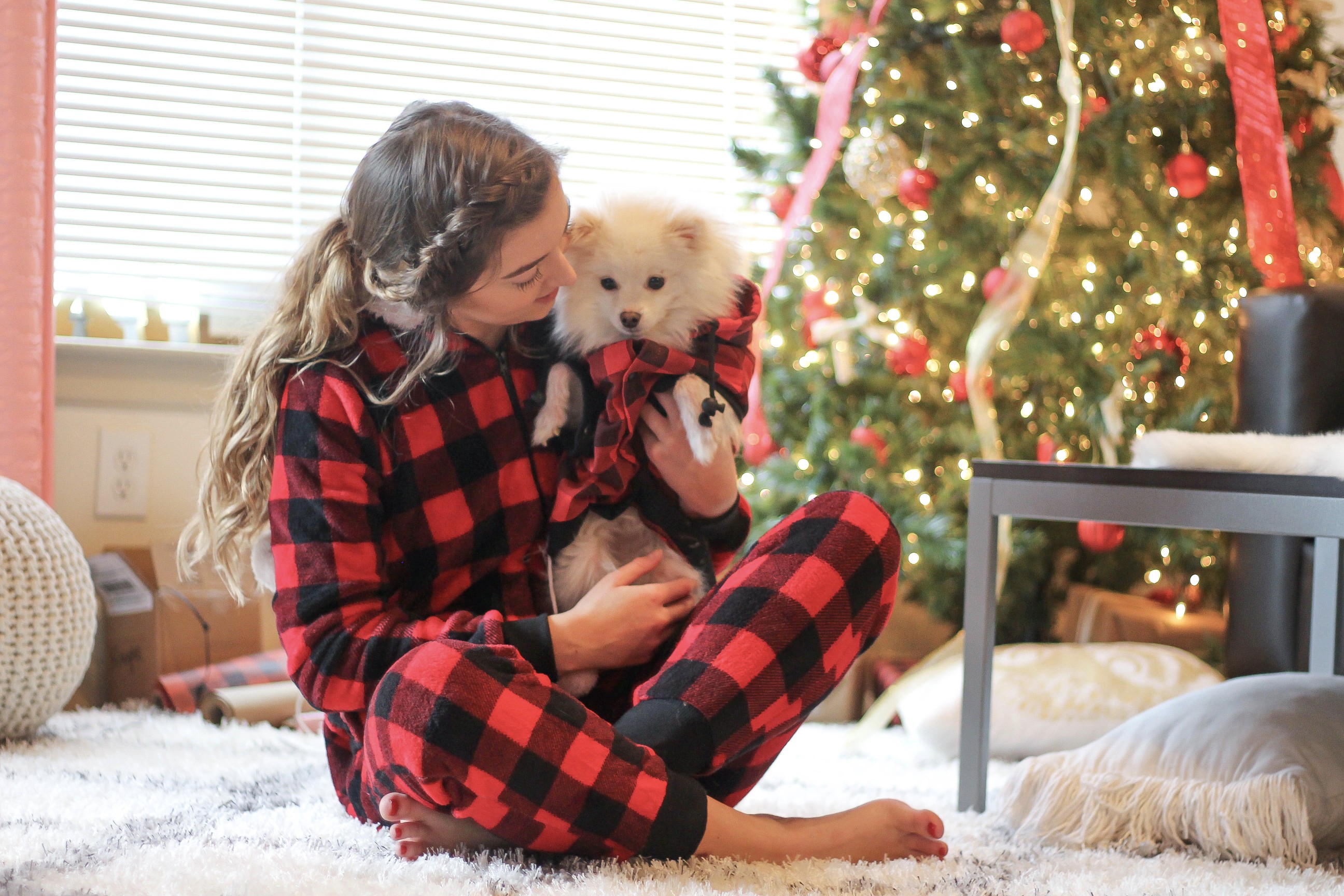 Shop This Post:

xoxo,
Lauren Emily Lindmark
Copyright © 2017 dailydoseofcharm.com