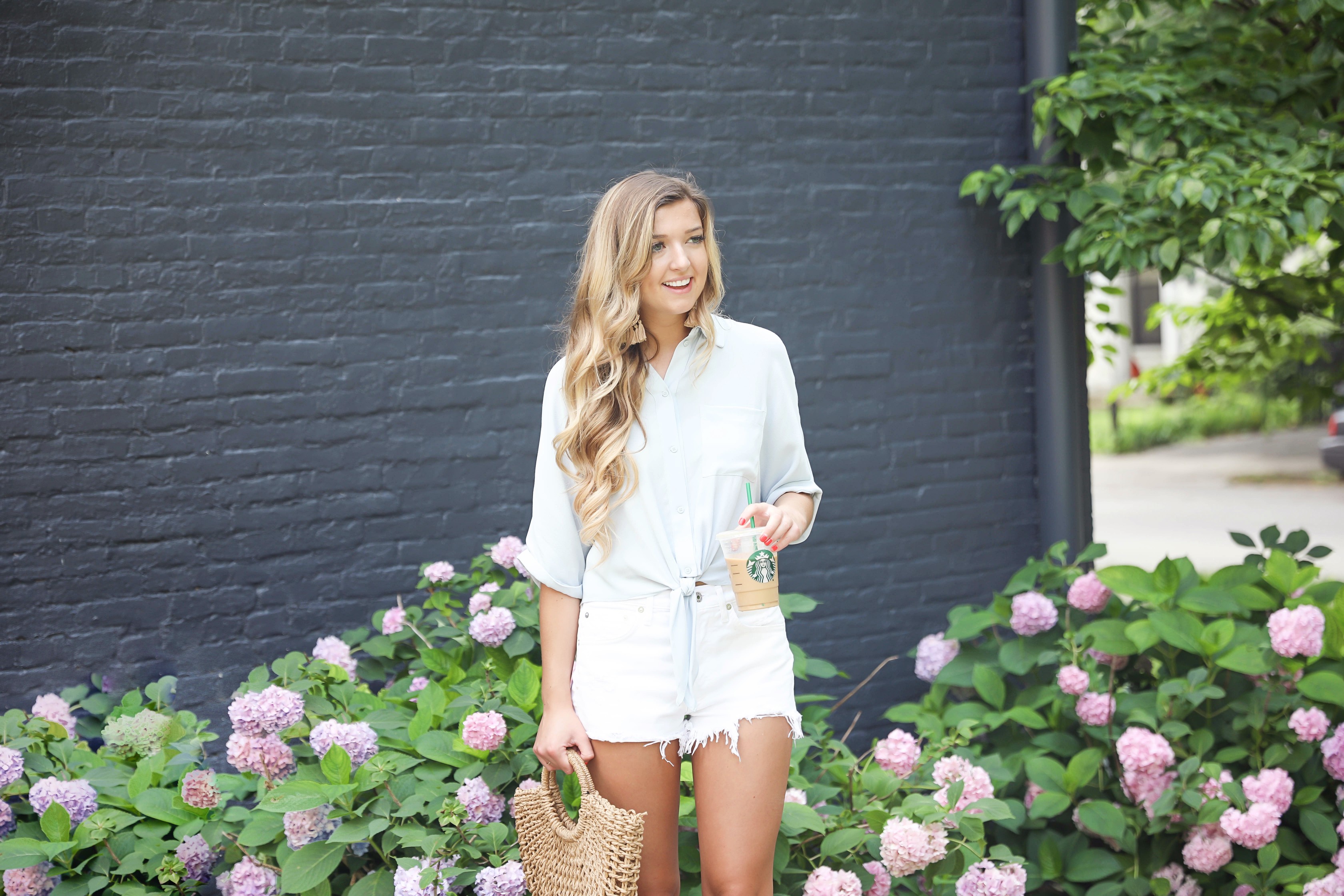 My Acne Came Back – What I am Doing About it | + OOTD Lexington, KY
Beginning my 8th grade year if you would have asked me what my biggest insecurity was I would have said my skin. I hate talking about this, but I had horrible acne all over my face, back, and chest for years. I wore way too much makeup to cover it up, didn't wear shirts that would show too much skin, and I was miserable. I spent so much time getting "facials" aka extractions and felt like I was at the dermatologist 6 times a year trying different topical creams and washes. Nothing seemed to fully get rid of it. Through high school my skin got a little better, but it wasn't until I started birth control when I really saw a change. I was preparing to go on accutane (which if you don't know what that is you can google it, it's basically a really potent acne drug that has extreme side effects). Legally, you have to be on birth control a month before you are on going on accutane, so that is why I started.
Within a month my skin had cleared up quite a bit, so I decided to wait on the accutane and stick out birth control. My skin ended up looking perfect after a few months and I had so much confidence! I got the occasional breakout, but nothing I would worry about. I was going strong up until last fall. I was doing some research and wanted to change my birth control to the bar in my arm. I went off the pill for about three months because I was putting off getting the implant. Within those 3 months, my skin did a 180°! My back, chest, and face were back to my middle school days. I was horrified!
I went back on my original birth control, sure that it would clear things up. However, it didn't. It's been 9 months and nothing has changed. Today (writing this on Saturday) I woke up with a horrible acne breakout on my jawline (I never even used to breakout there, but I was told it's hormonal) and I felt so defeated. I am on a new medication for it, which I will explain in a second, but it doesn't make me feel any more confident that my skin will be better when I wake up with crazy breakouts.
So not too long ago I went to my dermatologist and was prescribed spironolactone – a testosterone blocker. It's supposed to be really good for people who have hormonal acne like myself. I ended up waiting a bit to start it, because I'm someone that is scared of side effects. However, last week I finally had enough of my skin and started it. The day I took the first pill I posted it on my Instagram story and got a lot of messages! It's a really popular medication for acne. Half of the messages were really good and got my hopes up. The other half, on the other hand, were horror stories. Girls talked about being hospitalized, getting super sick, etc. They freaked me out, but I ultimately decided to stick with it.
So far it's made me pee a ton haha, but I'm also drinking way more water because it's a diuretic and I don't want to get dehydrated. My skin wasn't changing much (it's only been a week) until today when I woke up with that horrible breakout. Some people on Instagram warned me that it would "purge" my skin and make things worse before they're better… so I'm riding it out.
As for other skin products, my dermatologist prescribed me antibacterial pads that I use as a toner. I am going to switch back to an old face wash I used in high school and loved! It's by La Mer and I swear it's a miracle wash! I am not currently using any face lotion and I really need to, so if you have any recommendations let me know! Other than that, I don't eat dairy and I try to shower right after I sweat. That's pretty much my skin summary! Leave any good acne tips you have below!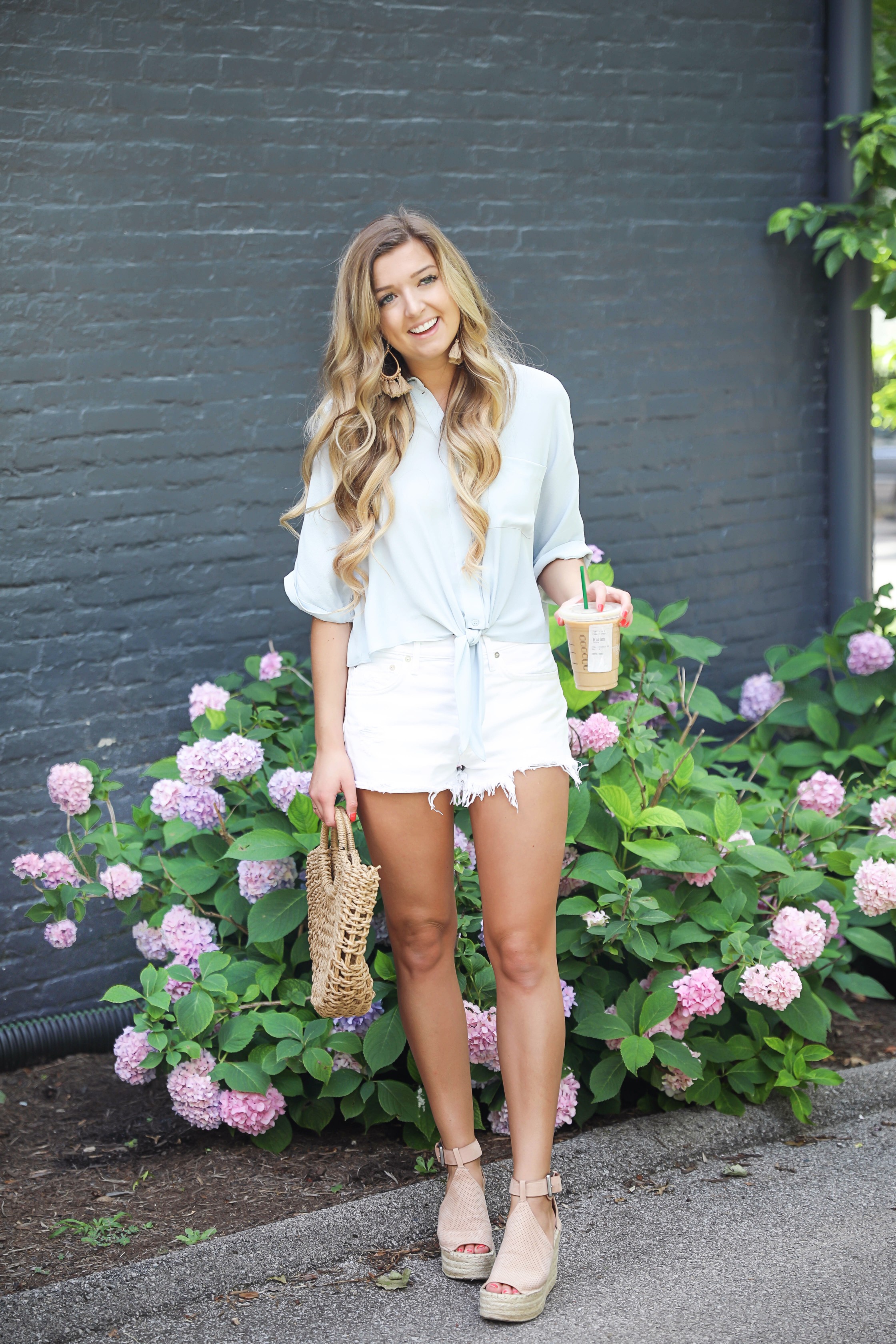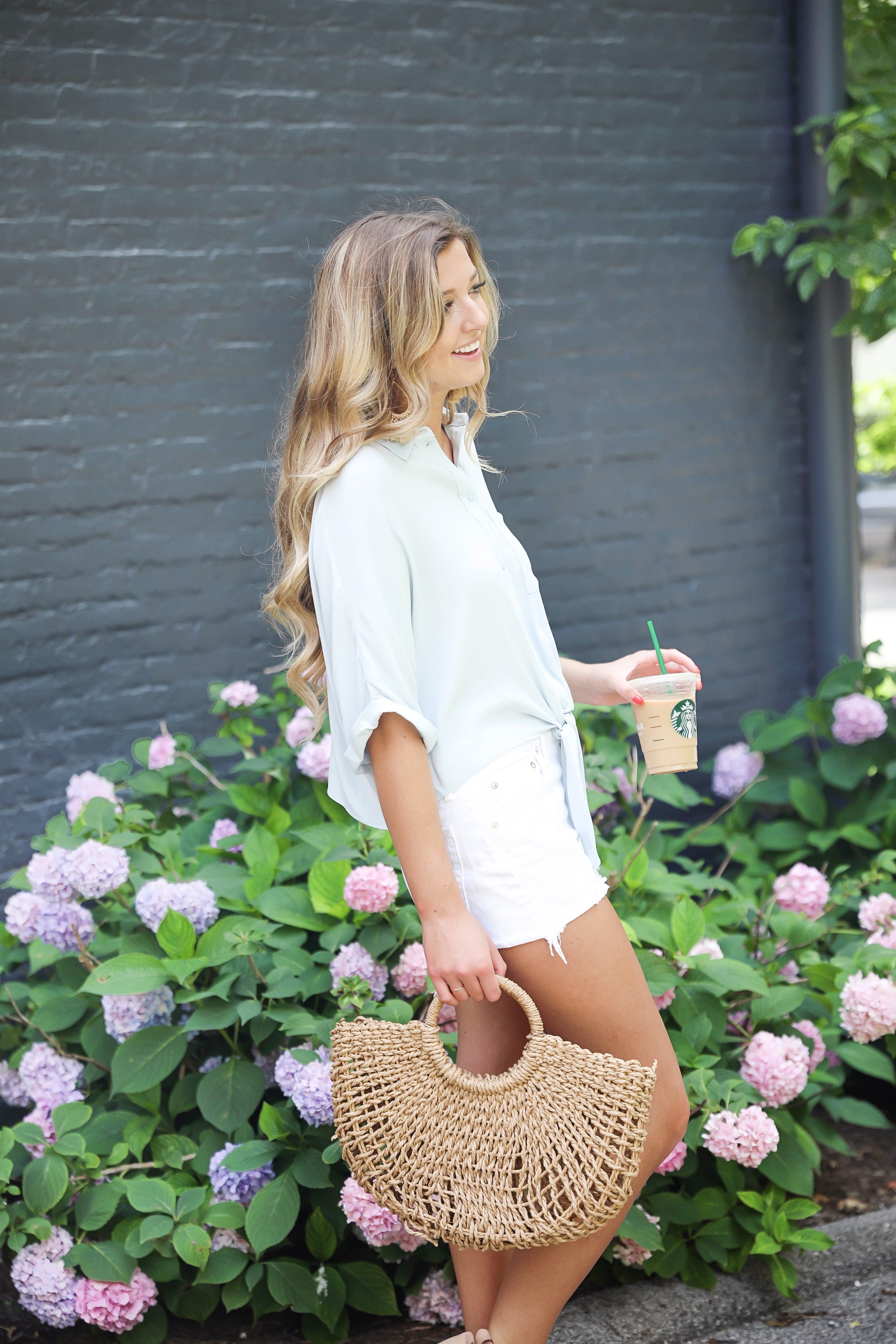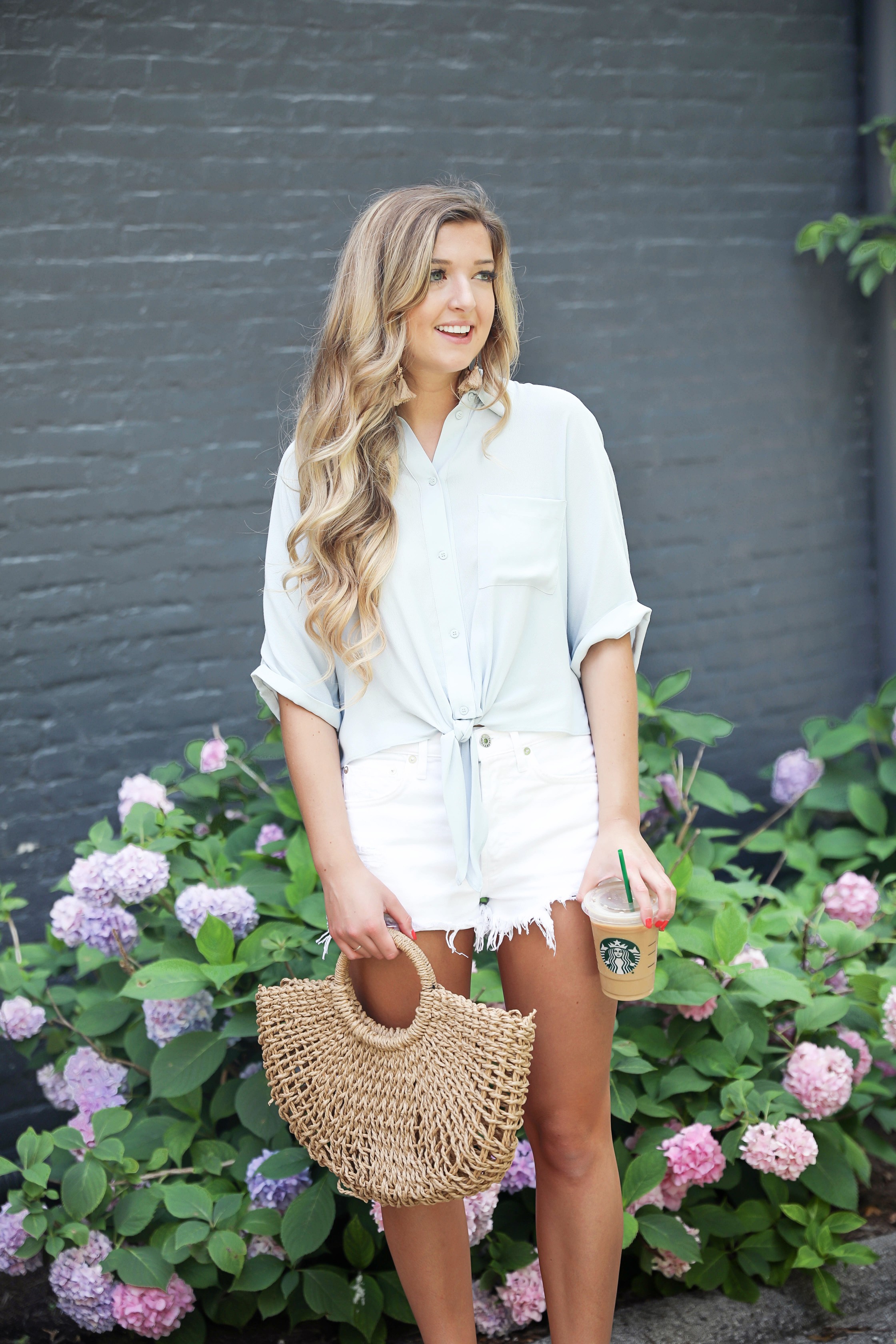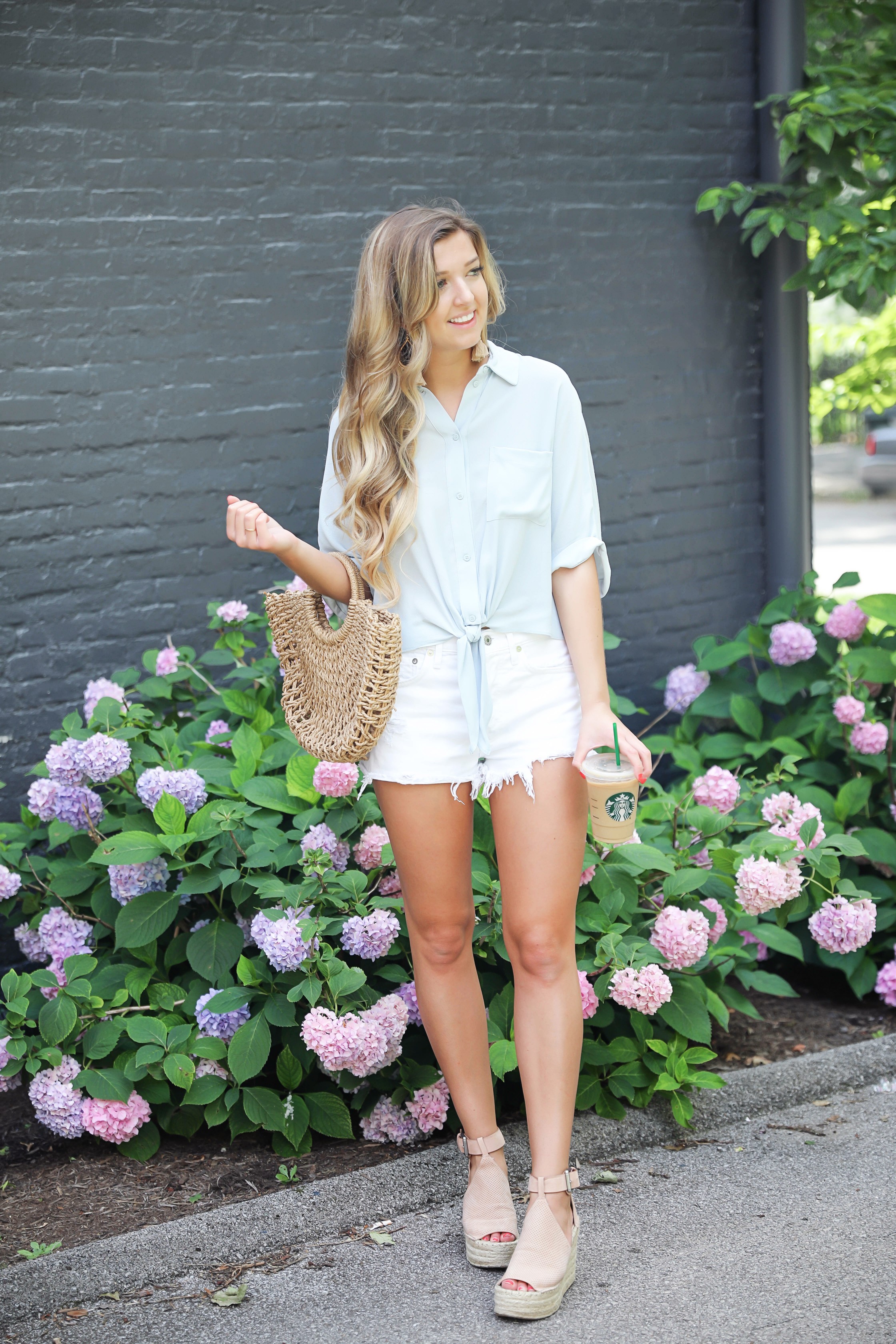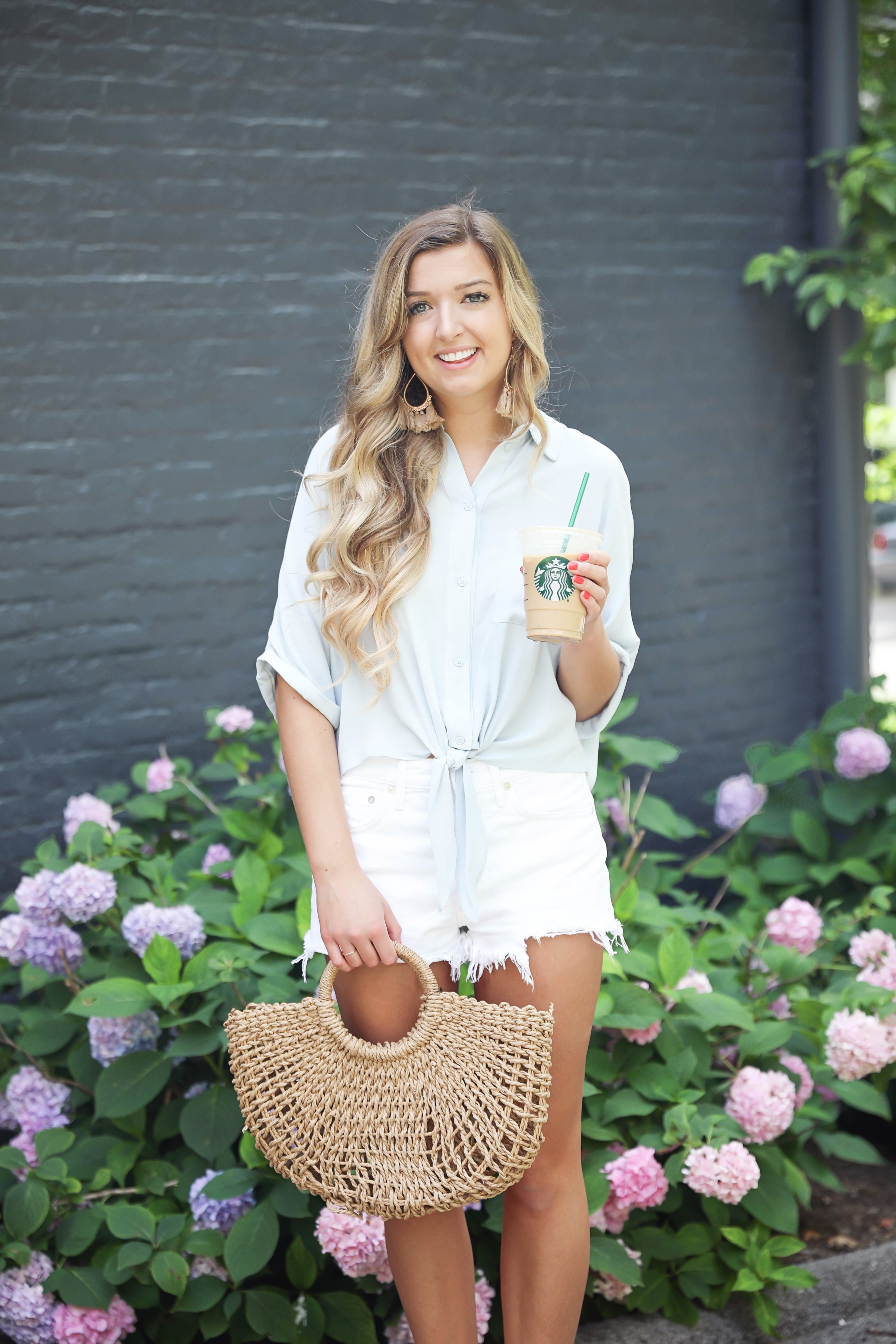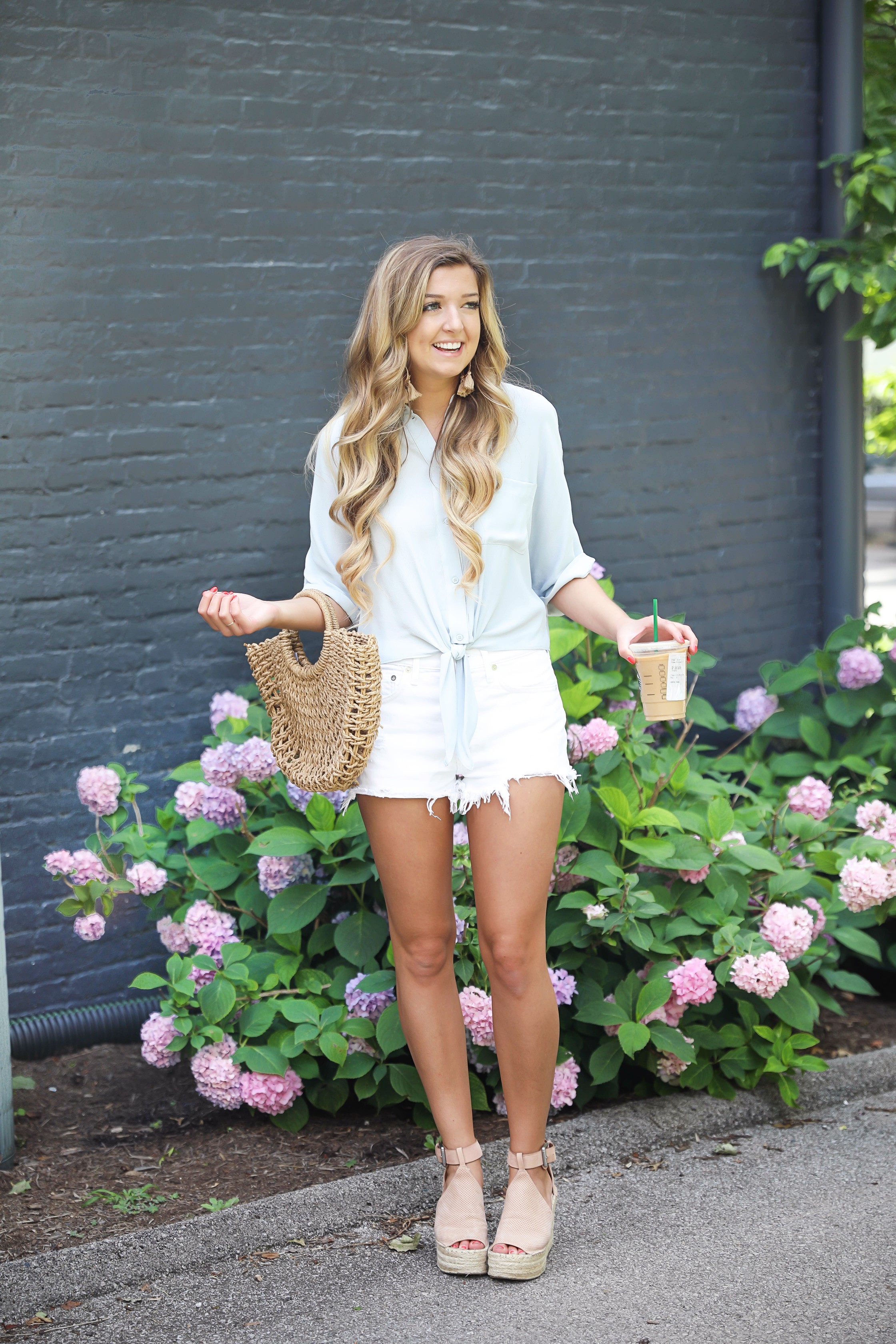 Now for this outfit, I shot this the other day in Lexington and I am in love with it! First of all, the location was so pretty! Downtown Lexington has all these beautiful historic homes and I found this on the side of a house that had turned into a business (so I didn't feel bad shooting there haha). I am a total sucker for hydrangeas so I knew I needed photos there when I saw it!
I was wearing this adorable, light weight tied top and my favorite white denim shorts. I've talked about these shorts quite a few times and they are the same pair (these are just denim)! I think they fit so well. Size down though because they run big! When I was out and about this day I was actually wearing my Tory Burch sandals, and if you follow me on Instagram you would have seen my story about how I FORGOT THEM on the side of the road! I had switched to these wedges to shoot and just completely left them. Luckily I went back hours later and they were still there!
I hope you guys have a kick ass Monday! I have a class that starts today in my college town and it runs until the end of July so it's about to be a crazy month.
xoxo,
Lauren Emily Lindmark
Copyright © 2018 dailydoseofcharm.com