My Fall Bucket List | 2017
*Photo is from one of last year's pumpkin patch posts
Waking up yesterday to 50º weather and the leaves blowing in the wind made me get in the ultimate fall mood. As I am typing this the window is open and I am snuggled in a comfy cardigan! Lately I have been trying to live my life to the fullest and not just go through the motions of everyday life. The other day my friend and I randomly went to a Kansas City winery and did a wine tasting and drank apple cider and sangria wine slushies – it was SO FUN!
It made me think back to the summers I was in middle school when I would make bucket lists every summer. That was such a fun time in life because I spent so much time just focusing on the fun things in life! Obviously I am older now and have responsibilities, but that doesn't mean I can't still make time for things that make me happy! I decided to write down everything I want to do this fall and try to finish the whole list. Winter starts December 21st so technically I have awhile, but to me fall ends on thanksgiving. Let me know if you have anymore suggestions I can add to my list!
I put a checkmark by the ones I have done so far!
Fall Bucket List
Go to the pumpkin patch ✔︎
Go to a scary movie
Make spiked cider
Make pumpkin bread
Go to a bonfire
Carve pumpkins
Go on a hike
Make apple desserts
Make fall crafts
Take fall photos in the leaves
Go to a fall festival ✔︎
Dress up for halloween
Eat halloween candy
Go to a corn maze ✔︎
Make chili ✔︎
Get a pumpkin spice latte
Burn fall candles ✔︎
Get up early enough to take a walk in the fog
Watch Halloweentown movies
Go to a Halloween party
Pin this bucket list on Pinterest for your friends!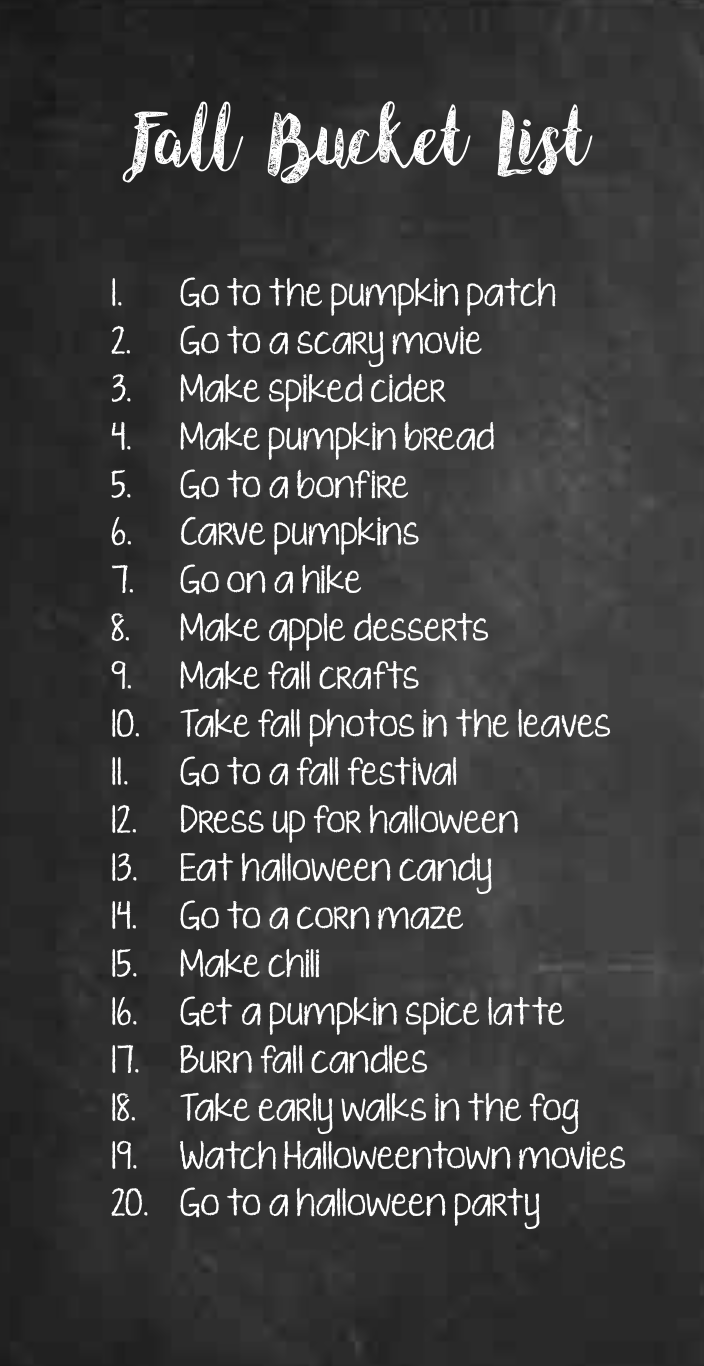 xoxo,
Lauren Emily Lindmark
Copyright © 2017 dailydoseofcharm.com