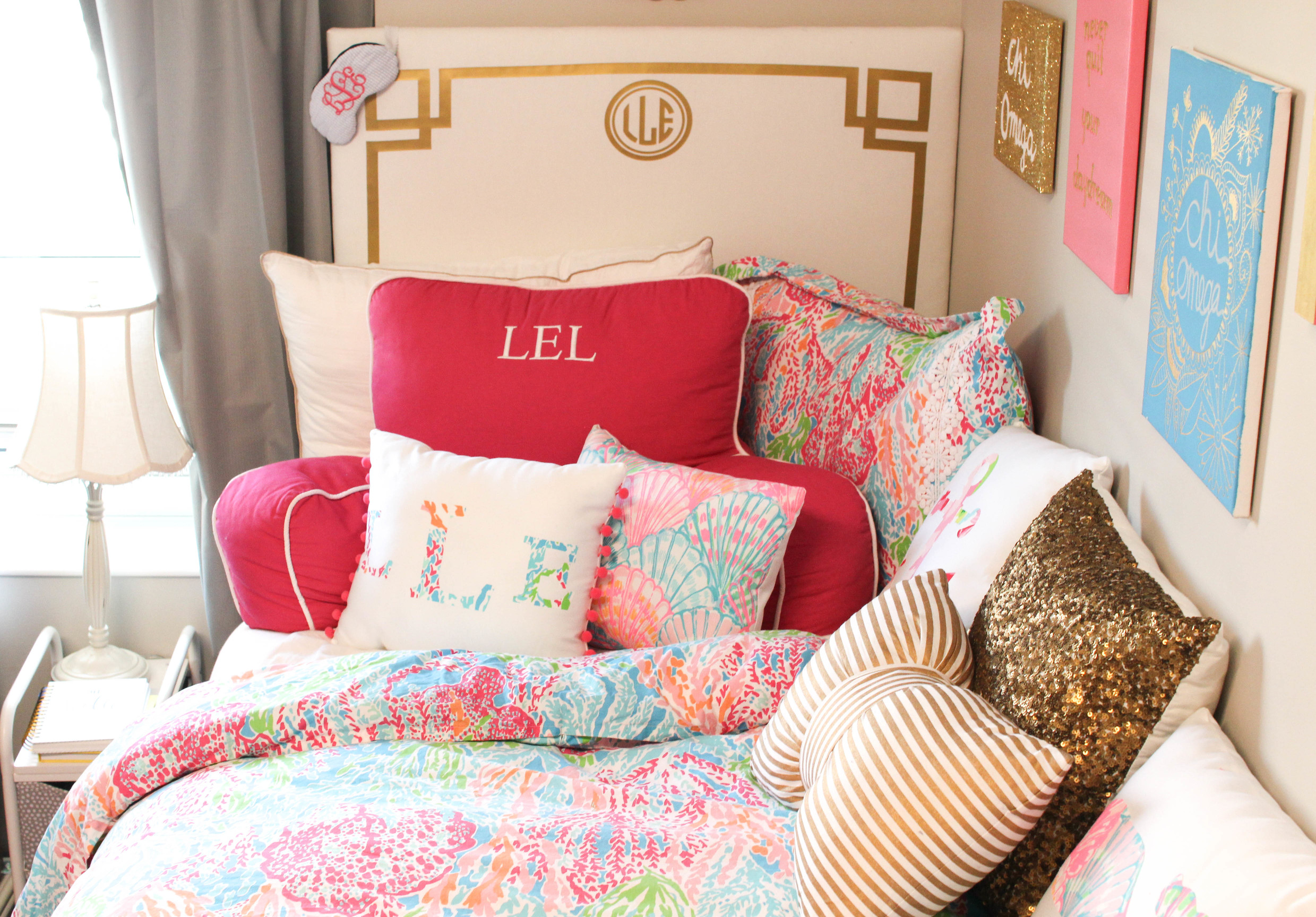 MY FRESHMAN YEAR DORM ROOM | + Giveaway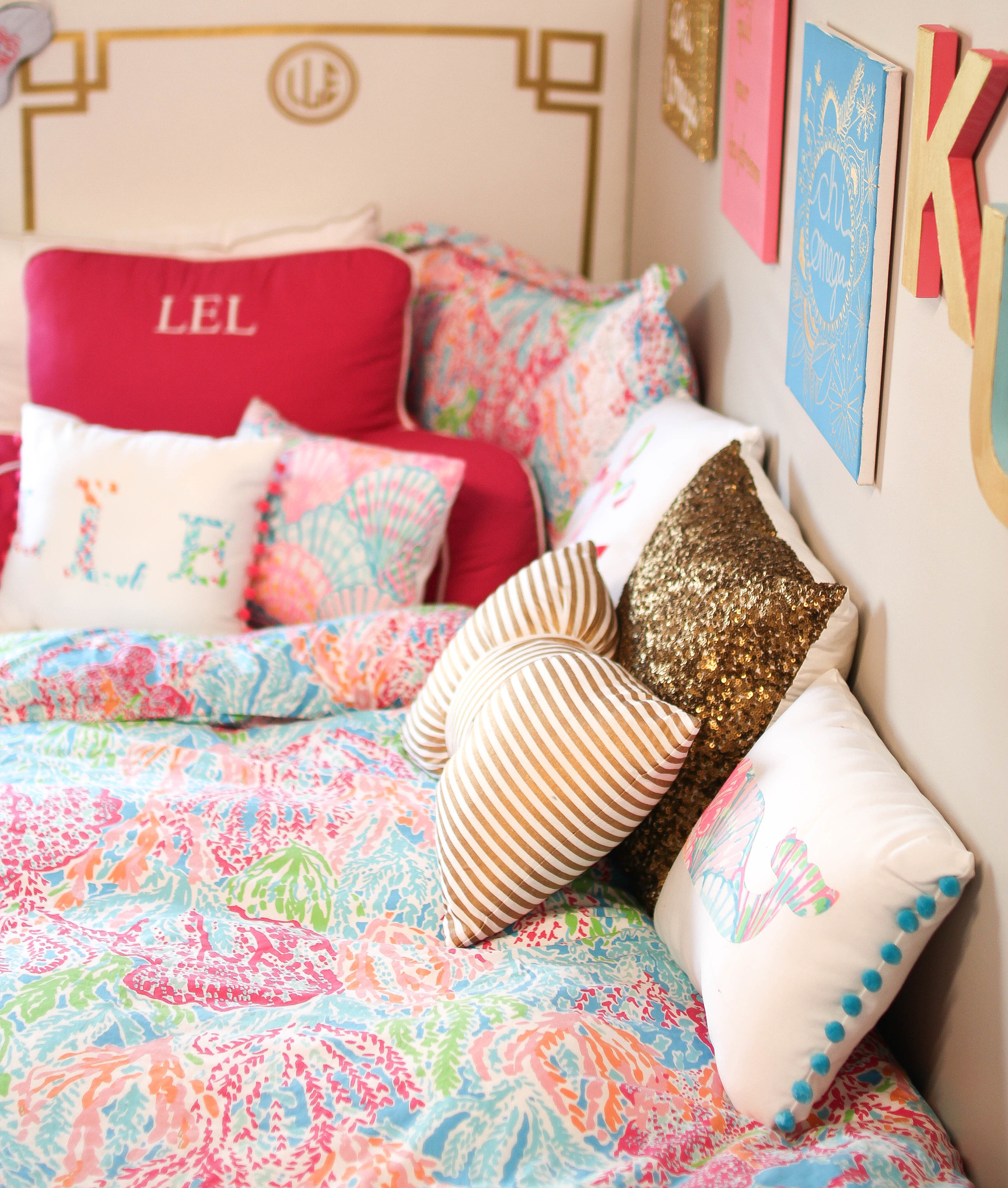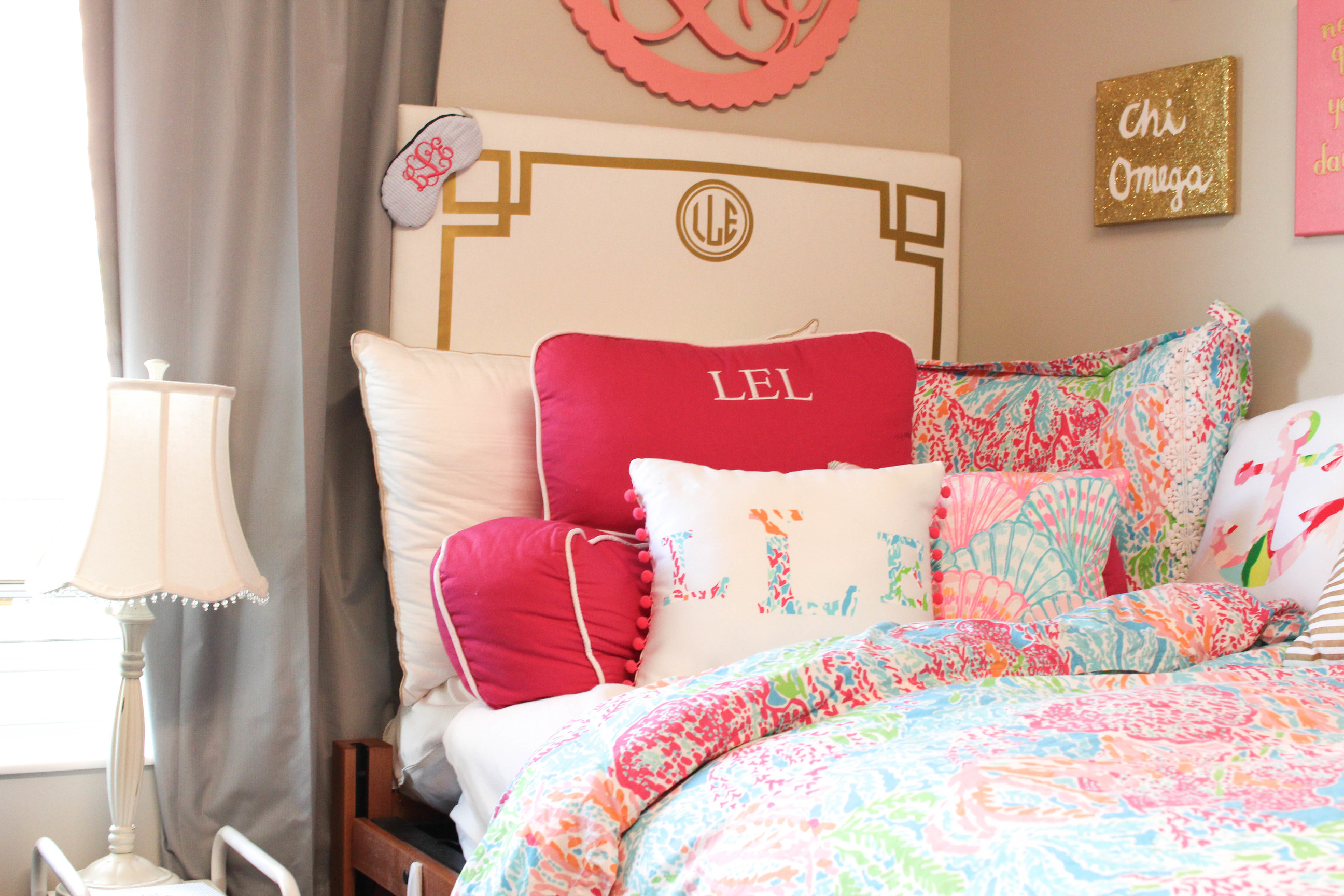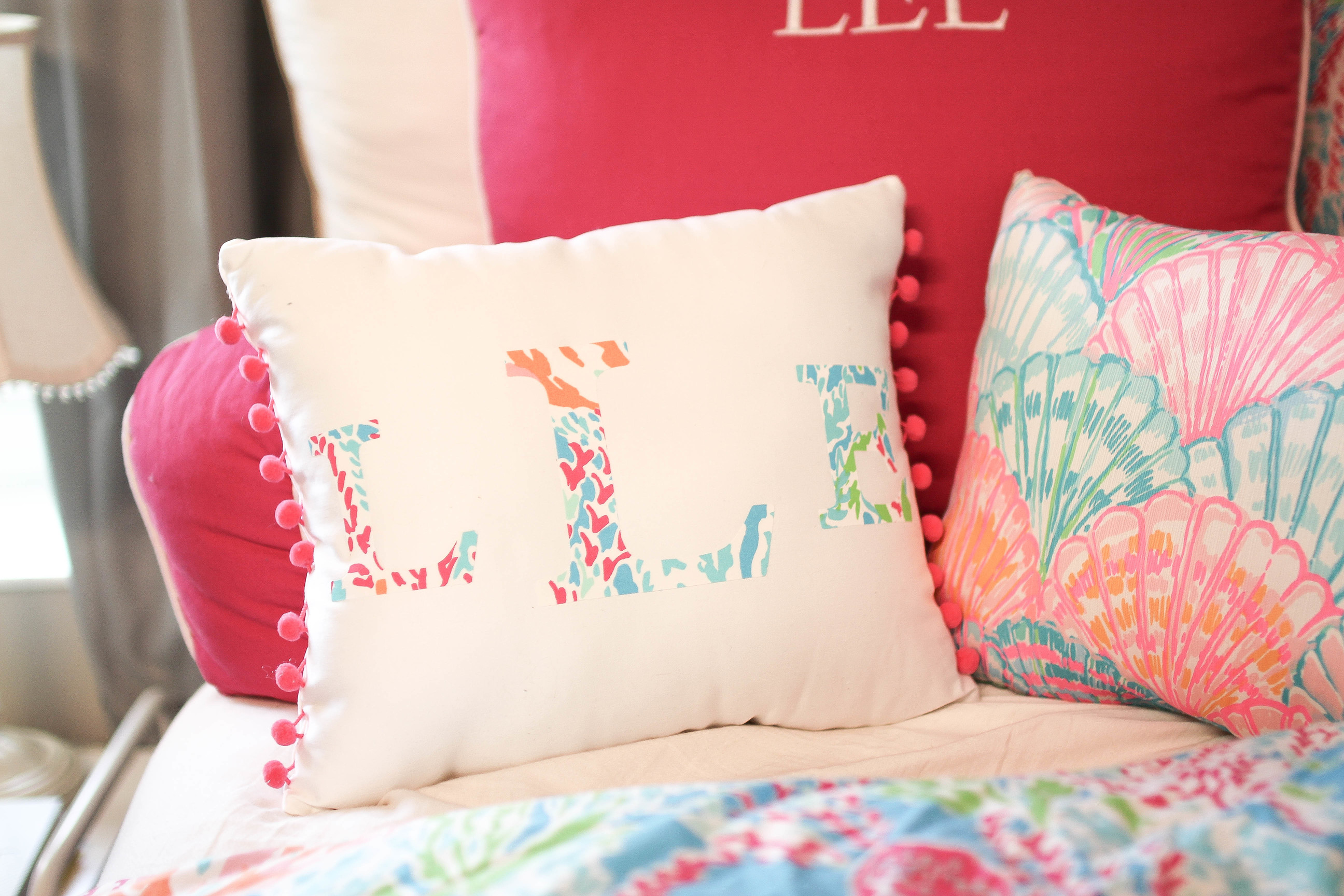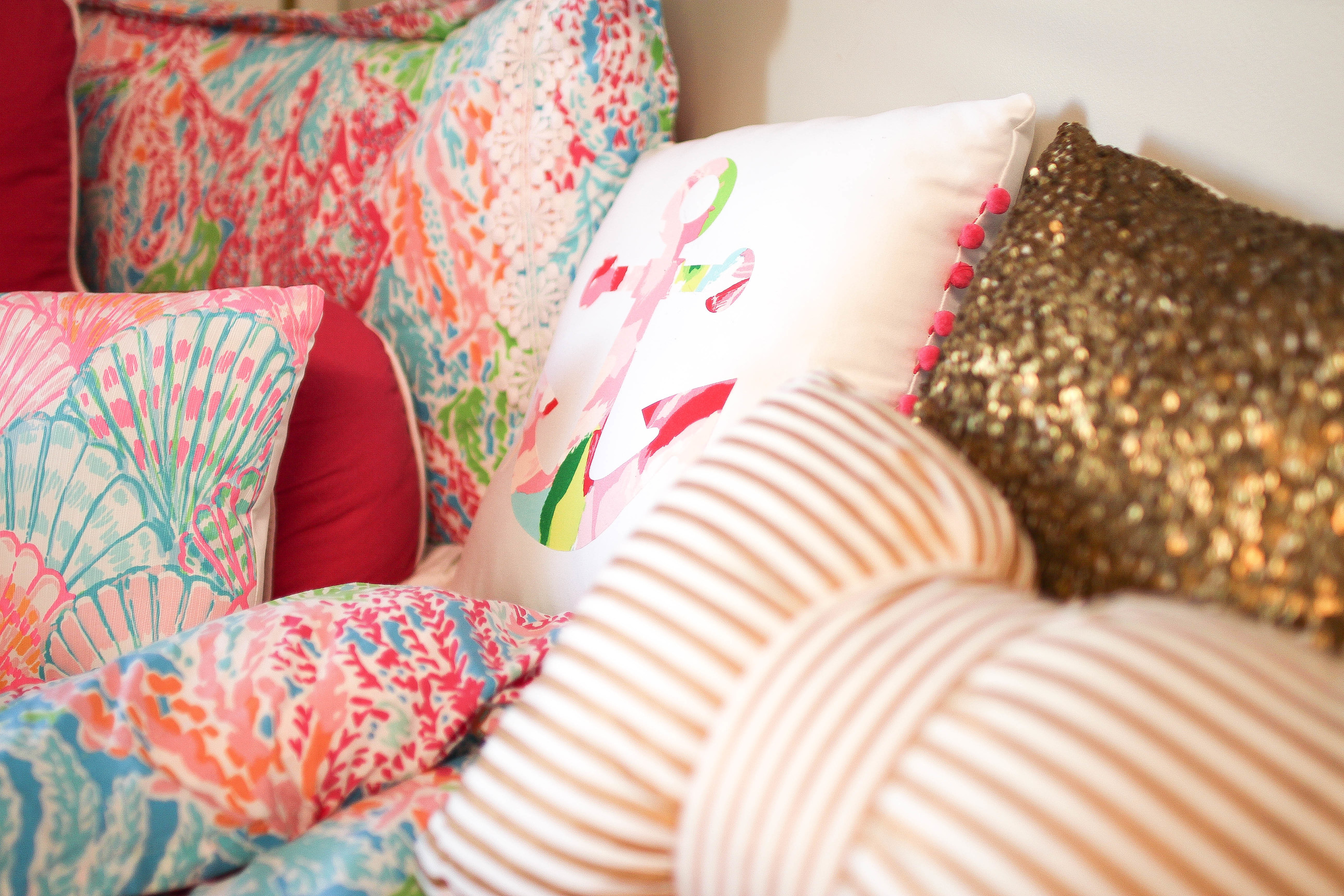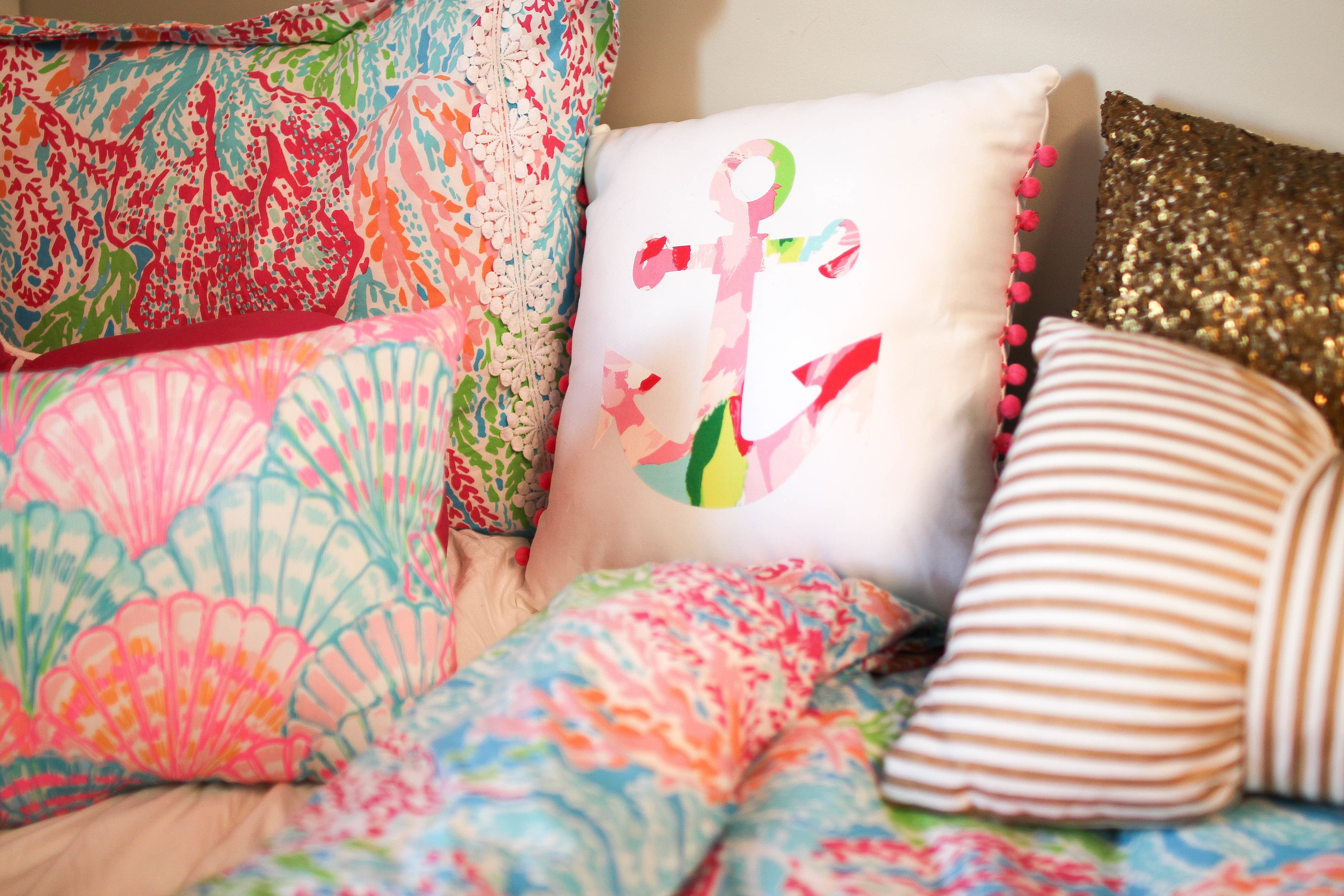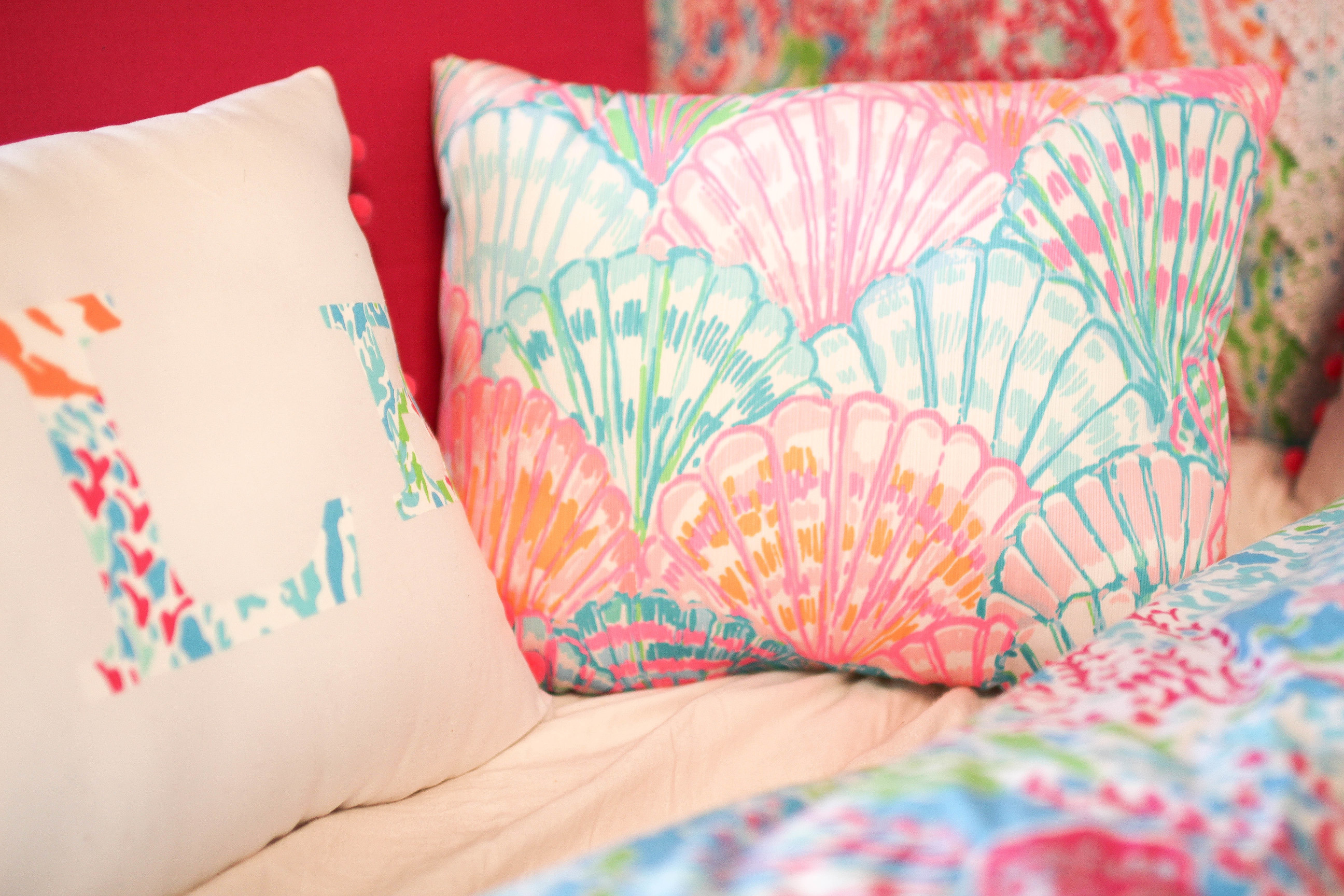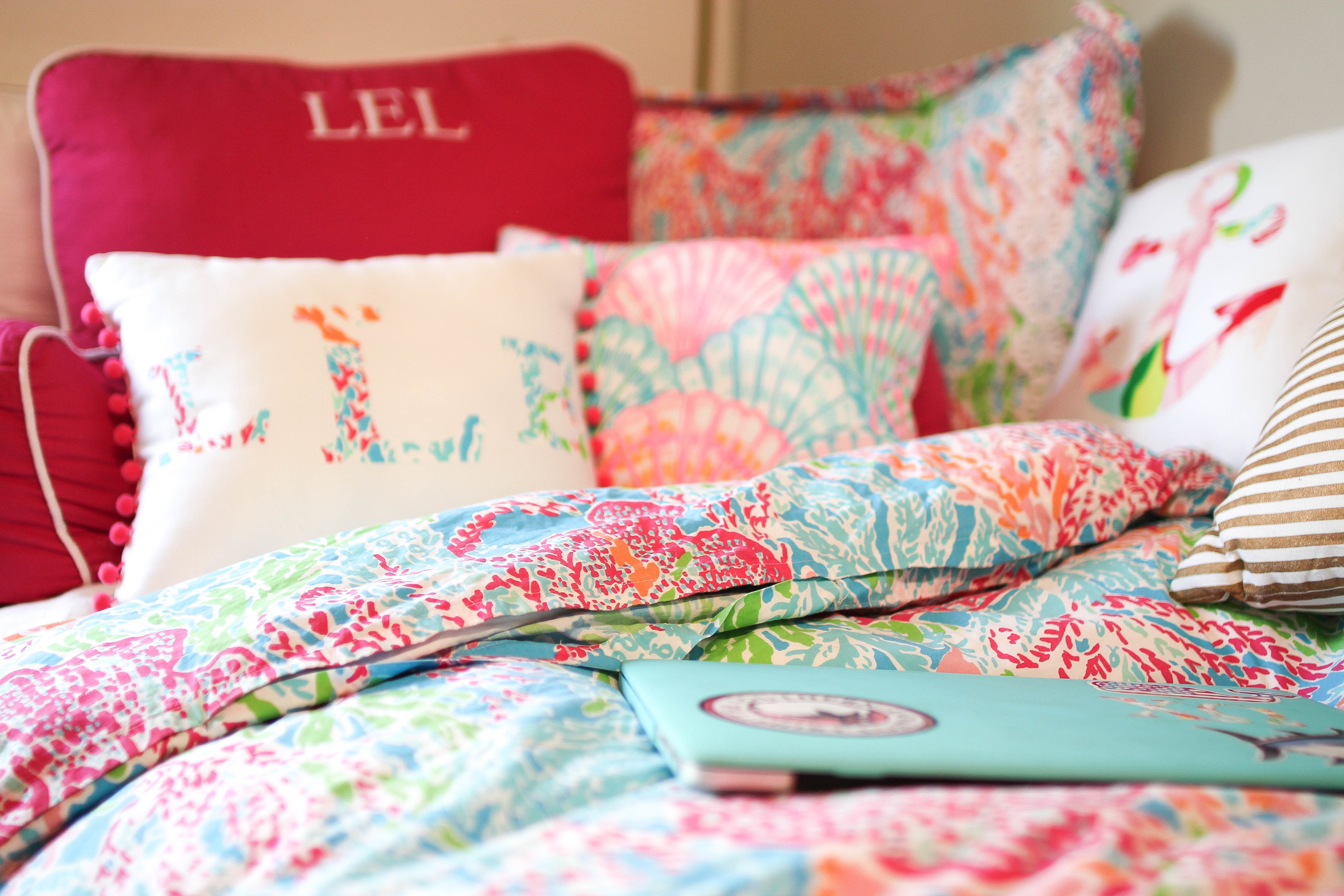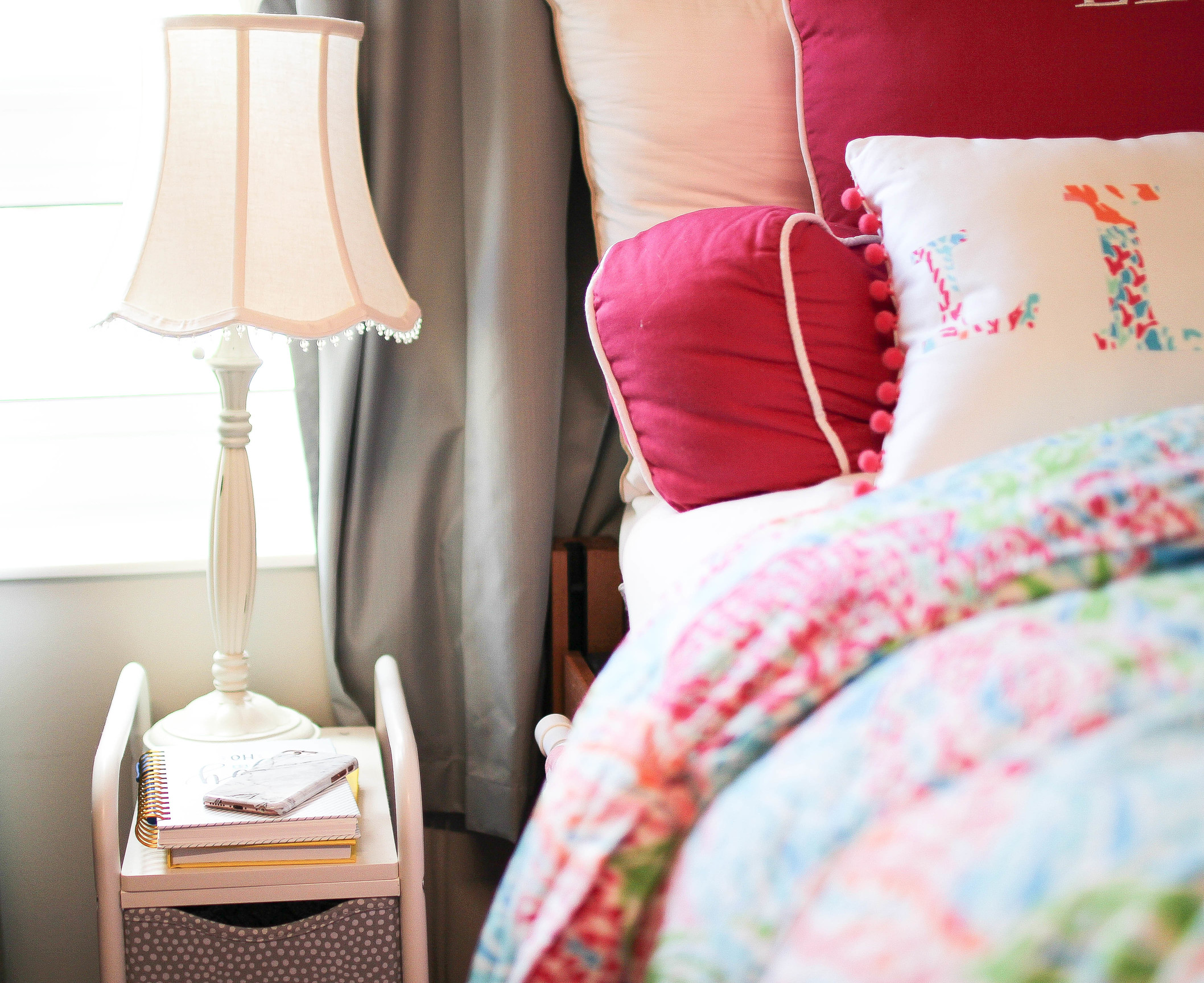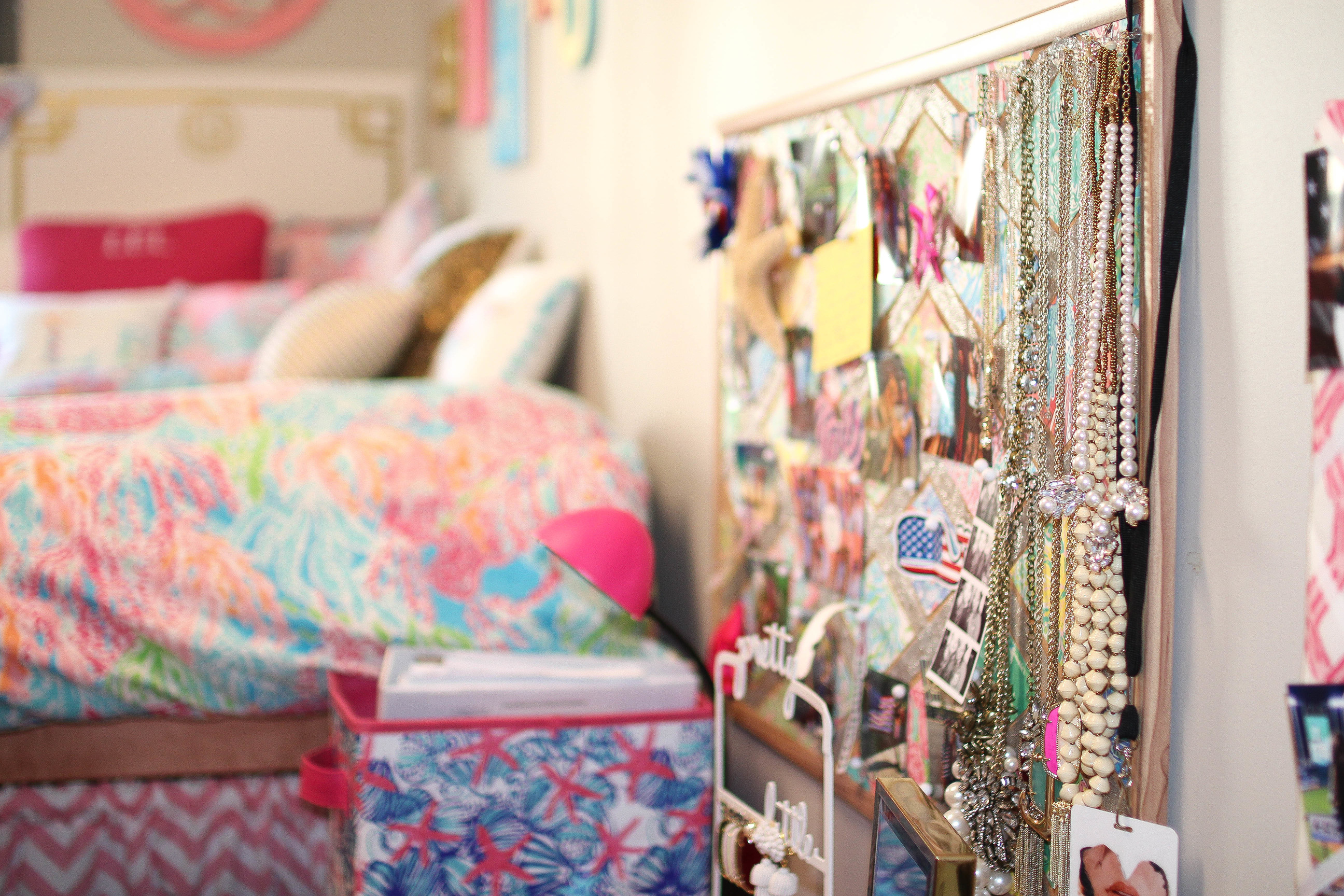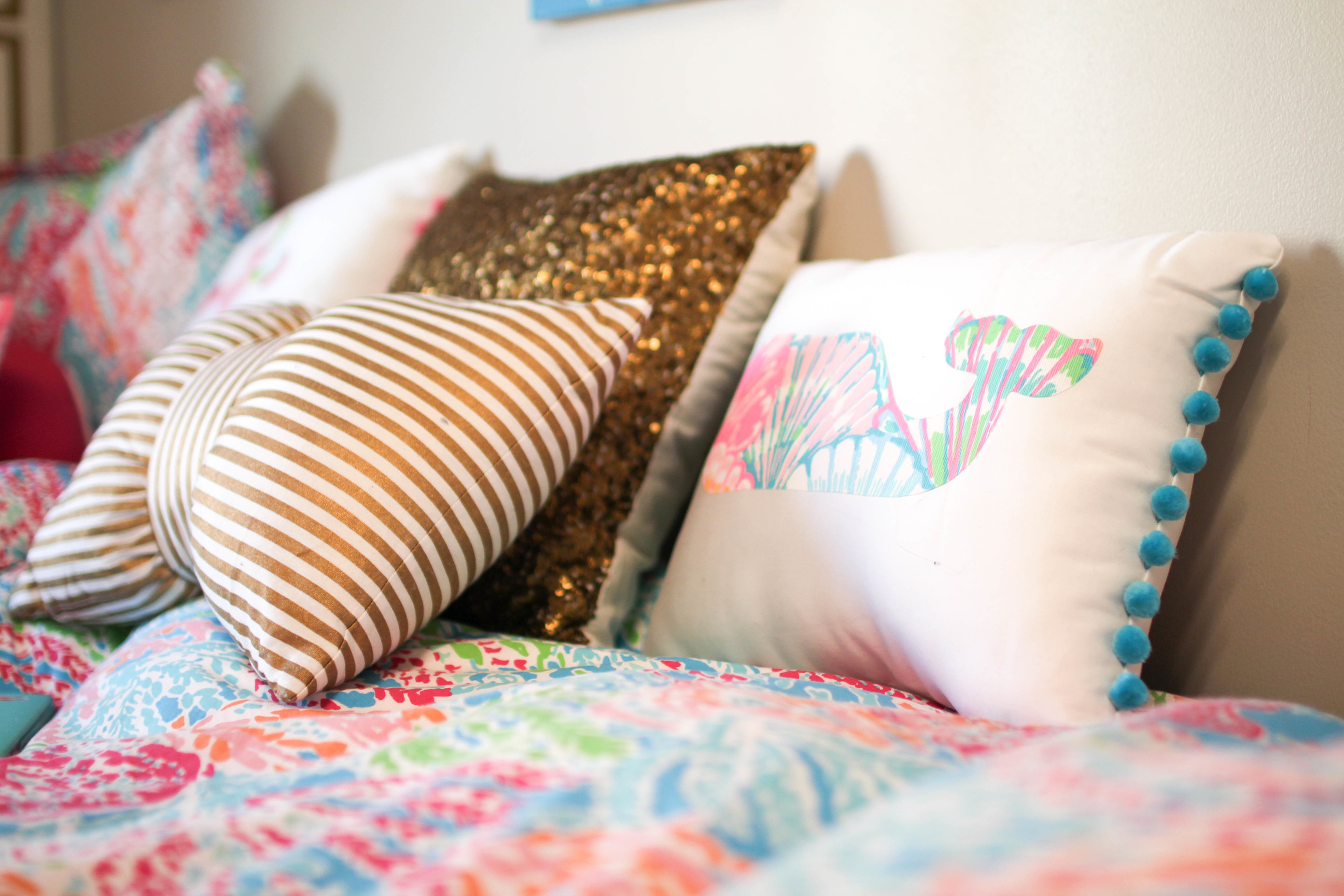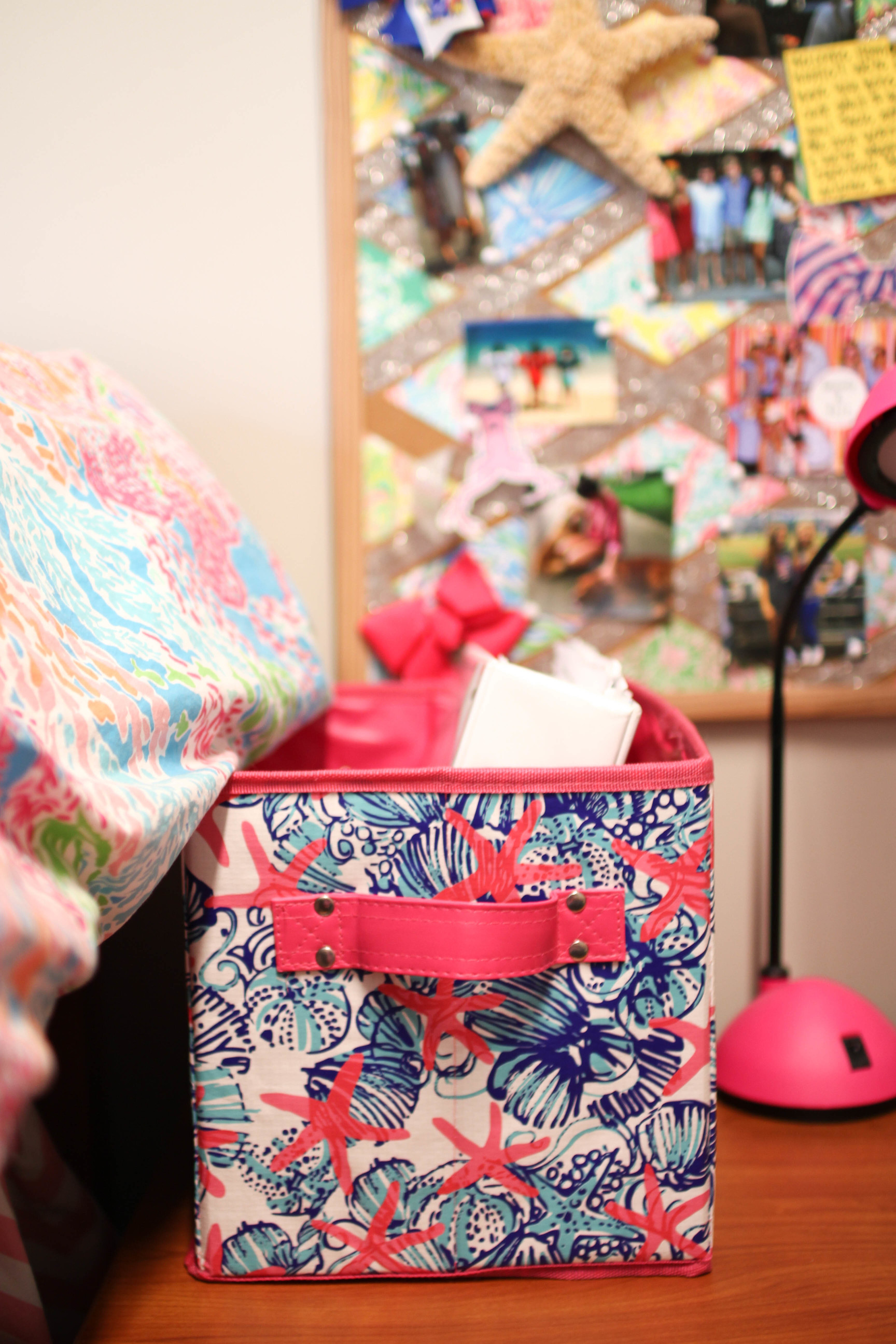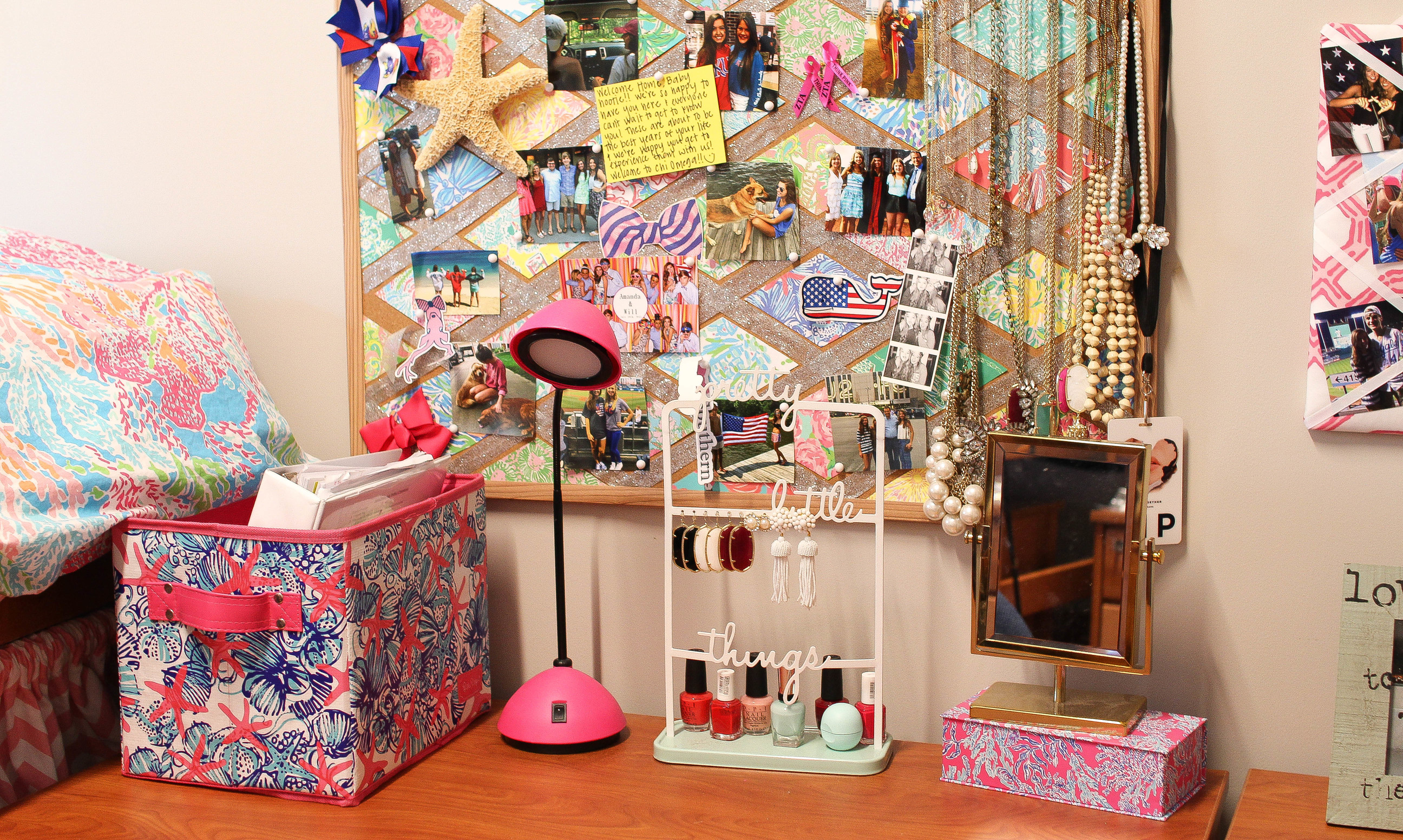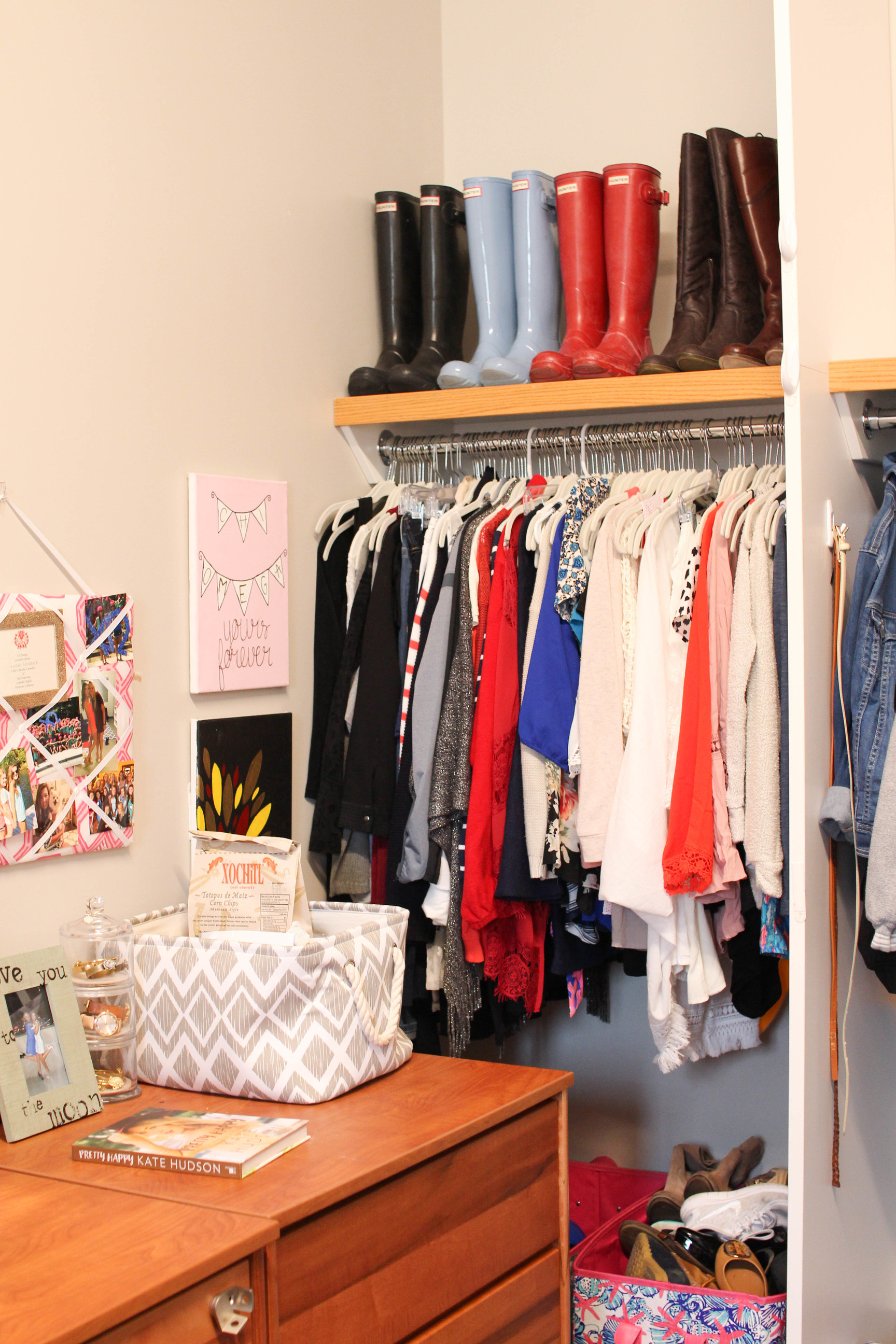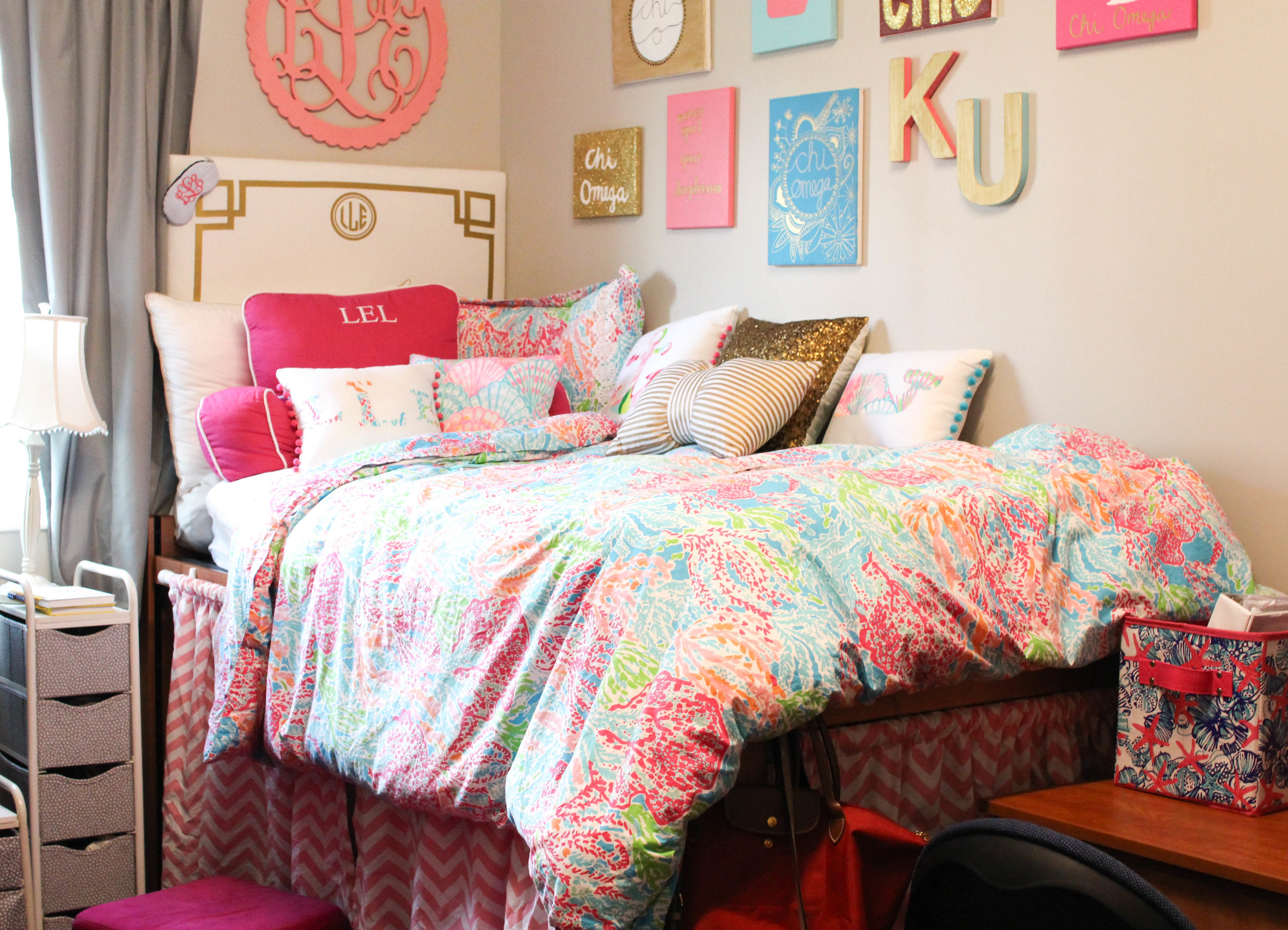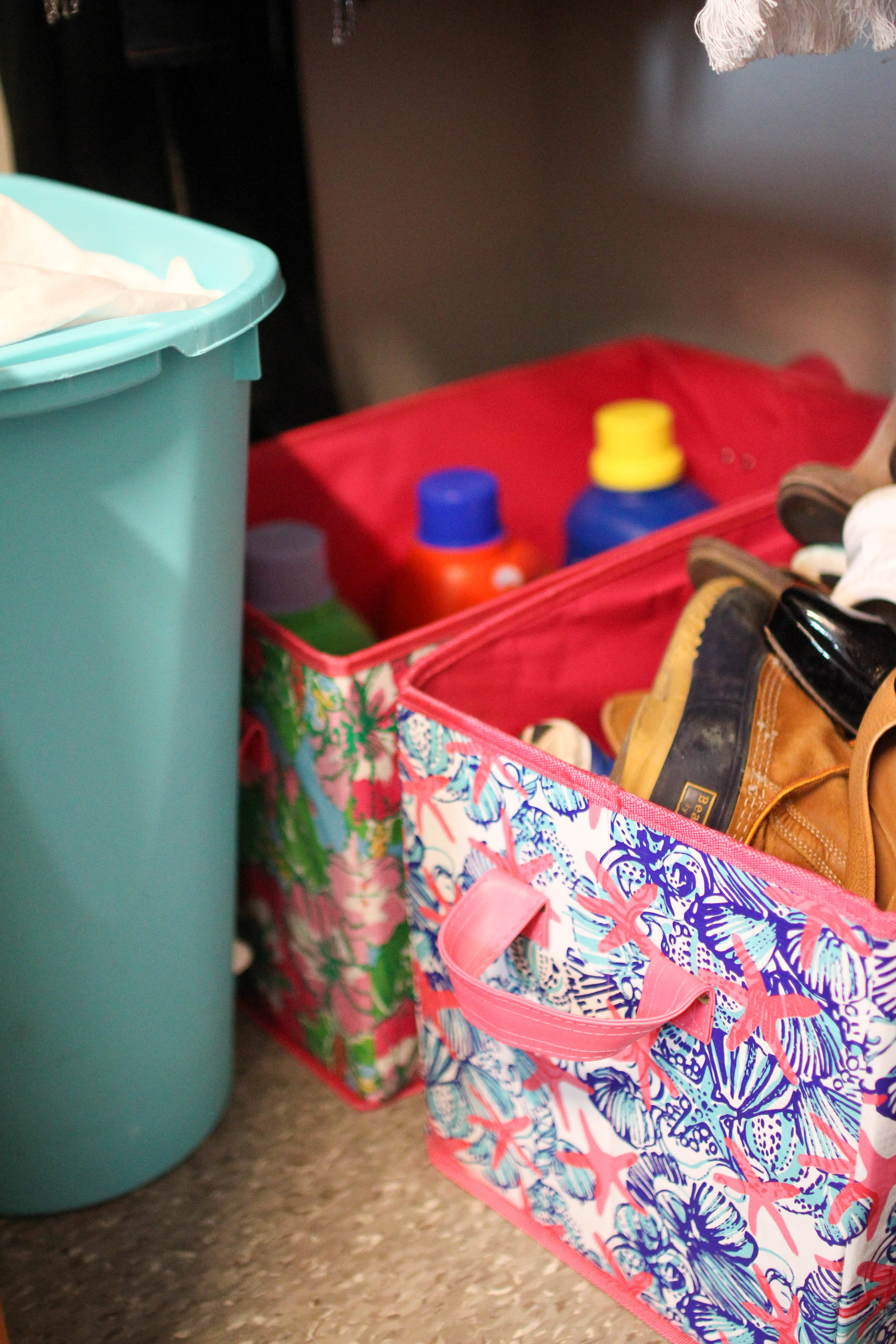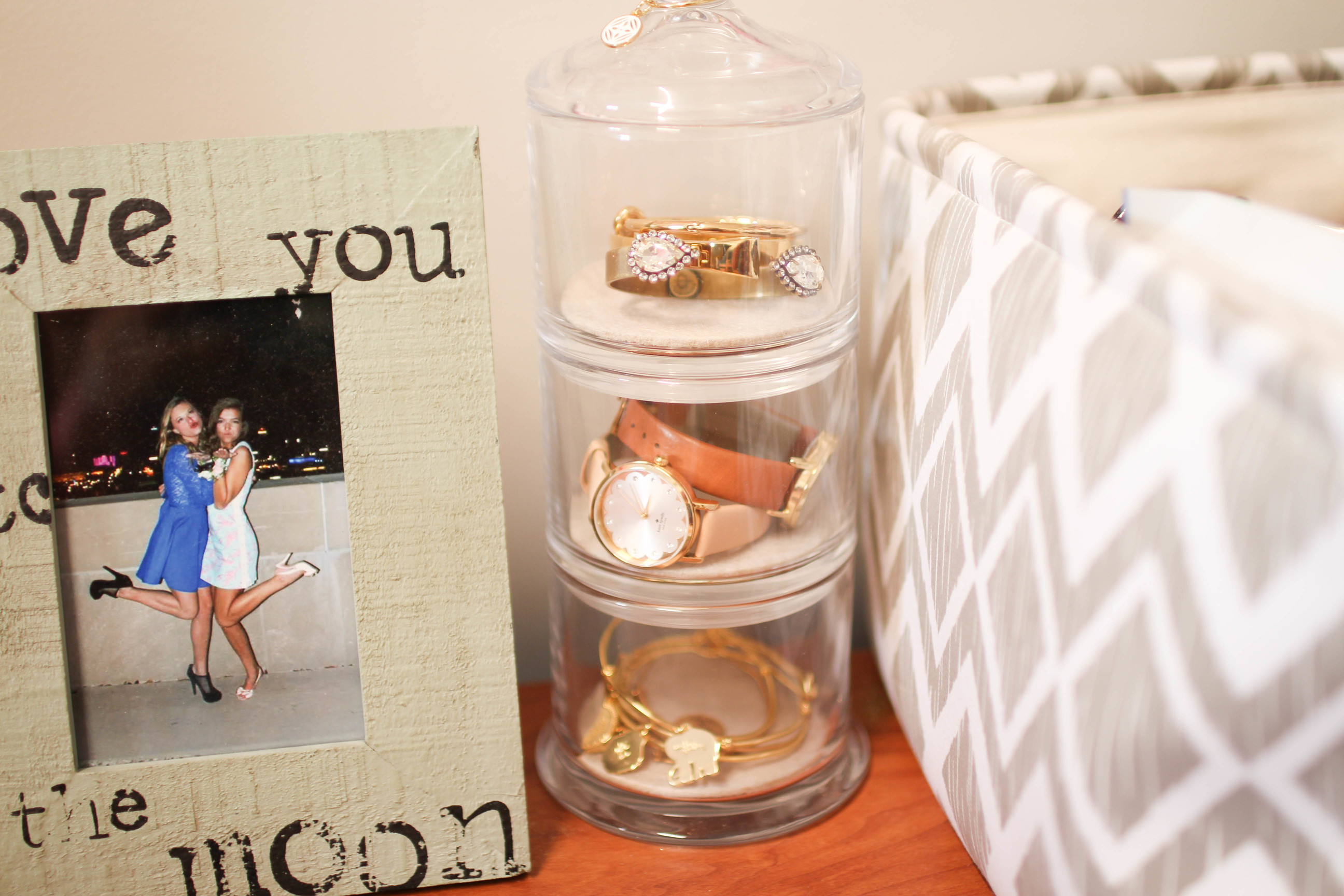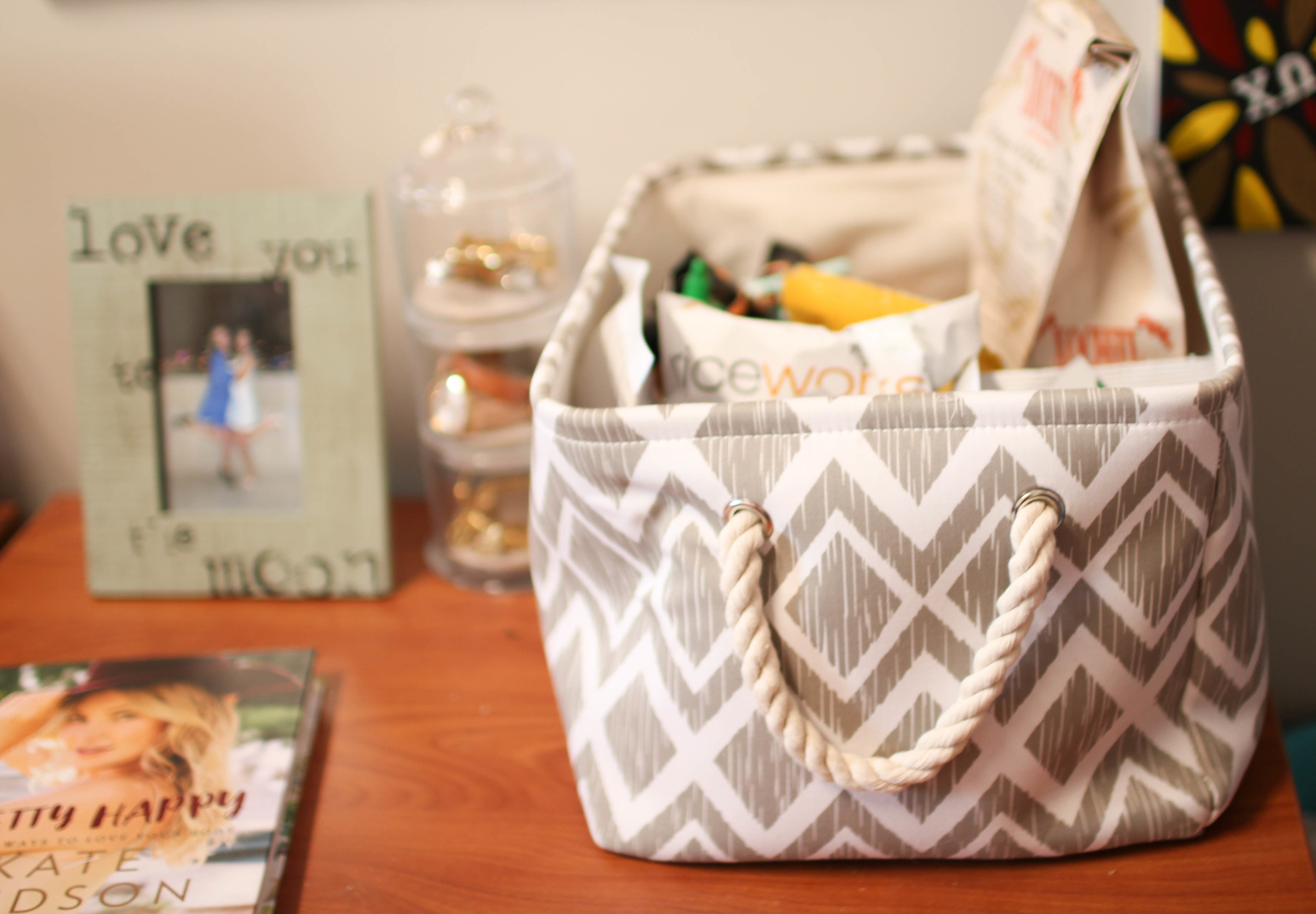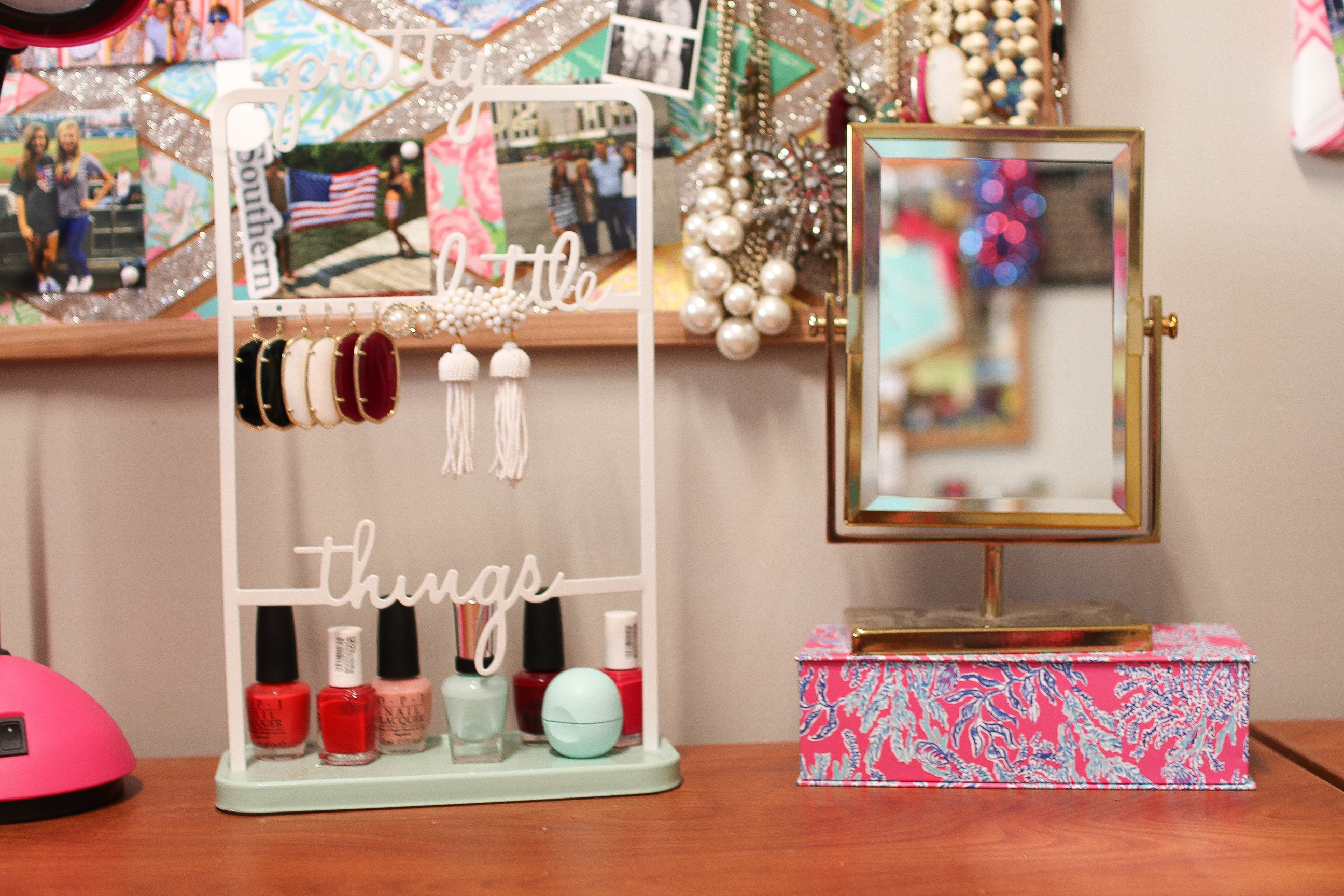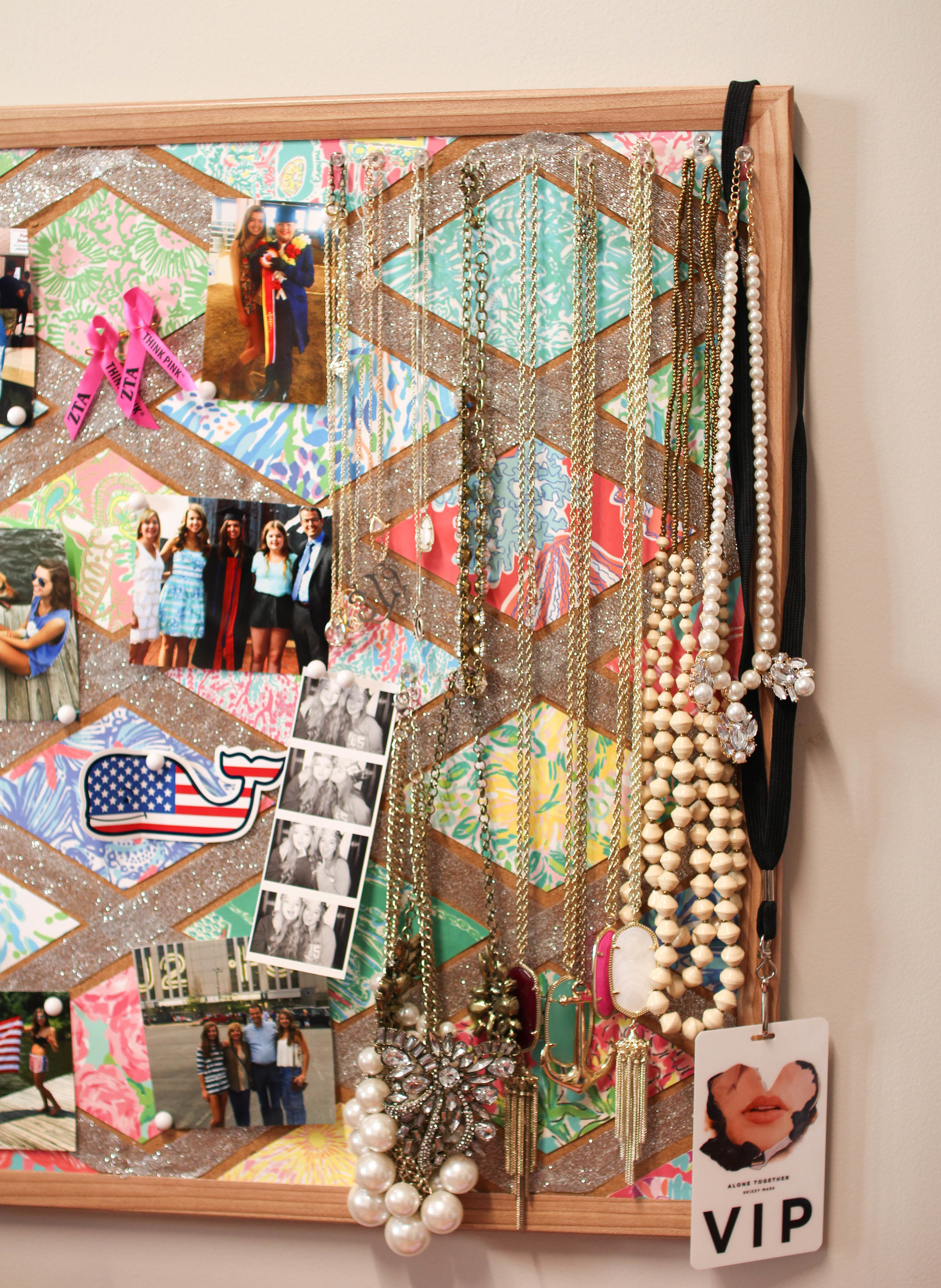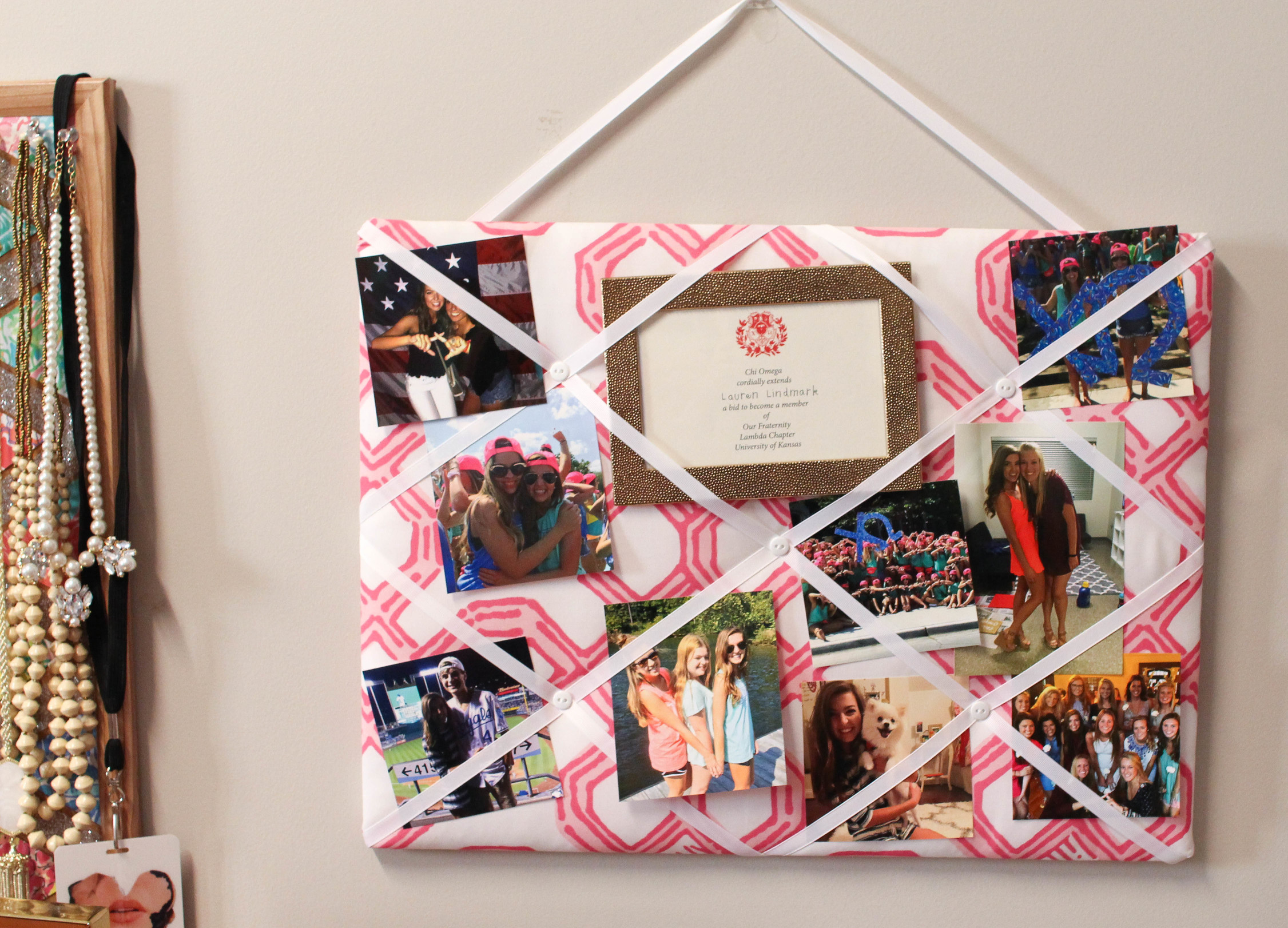 With only a few days left of my freshman year of college I finally have my dorm decor post done! Cleaning my room and taking these photos were a great distraction from studying, but it's hitting me that my freshman year is coming to an end.
On a happier note, I LOVE decorating so planning out my dorm was a blast! I decided to go with a Lilly Pulitzer theme this year and I loved coming home to a happy, colorful dorm everyday! My favorite Lilly Pulitzer accessories for my room were definitely my adorable pillows from My Pink and Green Garden on Etsy! She also made the cute pink Memo Board that I kept my photos and Chi Omega bid day card on! It was so hard choosing which of her pillows were my favorites but I had to get the Let's Cha Cha Monogram one (because it matches my bedding perfectly)! I also loved the ones with whales and anchors on them so I decided to get the Oh Shello Whale Pillow and First Impressions Anchor Pillow because that one will match my bedding at home too! The last pillow I picked out was the Solid Oh Shello Pillow because that's my favorite print right now!
My favorite place I shopped for my dorm was Etsy because you can find unique stuff that no one else has! I didn't meet anyone else with the same Lilly Pulitzer pillows as me so I loved telling people about the Etsy shop I got it from!
To plan out my room, I made a word document around this time last year and started pulling photos of different decor and storage from online (and saving the links to go with them) then after I found everything I weeded out what I didn't need and want. It was a great way to plan out my door and be able to have a vision of how everything would go together!
Below are links to my decor and storage I used this year, not all of it is pictured and I plan to do a more in depth post on what to bring to college but here is what I did!
Decor:
Bedding:
Lilly Pulitzer for Garnet Hill
Headboard:
Decor 2 ur Door
Gold Pillows:
Gold Sequins // Striped Gold Bow // More here and here
My Pink and Green Garden Lilly Pulitzer pillows:
Oh Shello Solid Print // Let's Cha Cha Monogram // Oh Shello Whale // First Impressions Anchor
Pink Lounge Pillow:
PB-Teen (on sale!)
Desk Supplies:
Gold stapler
Gold Scissors
Hot Pink Desk Lamp
Bed Skirt:
Decor 2 ur Door
Coffee Mugs:
Konfetti
My Favorite Soft Blankets:
Target
Gold mirror:
Target
Hanging Monogram:
Etsy
Pink photo memo board:
MyPinkAndGreenGarden
Cork Board:
How to make Lilly Pulitzer cork boards

Storage:
Elfa Custom drawers:
Container Store
Drawer Organizers:
Container Store
Grey Drawers:
Pbteen
Hot Pink Storage Cubes:
Wayfair
Lilly Pulitzer market bags:
Swoozies
Chevron laundry bag:
An Orange Blossom Bag
Jewelry Stand:
Target
HOW TO ENTER THE GIVEAWAY
To win an adorable pillow
1. Follow my blog Daily Dose of Charm
2. Comment below and say "done"
**GIVEAWAY ENDED, ANNOUNCED ON @MYPINKANDGREENGARDEN's INSTAGRAM, THANKS FOR ENTERING!
xoxo,
Lauren Emily Lindmark