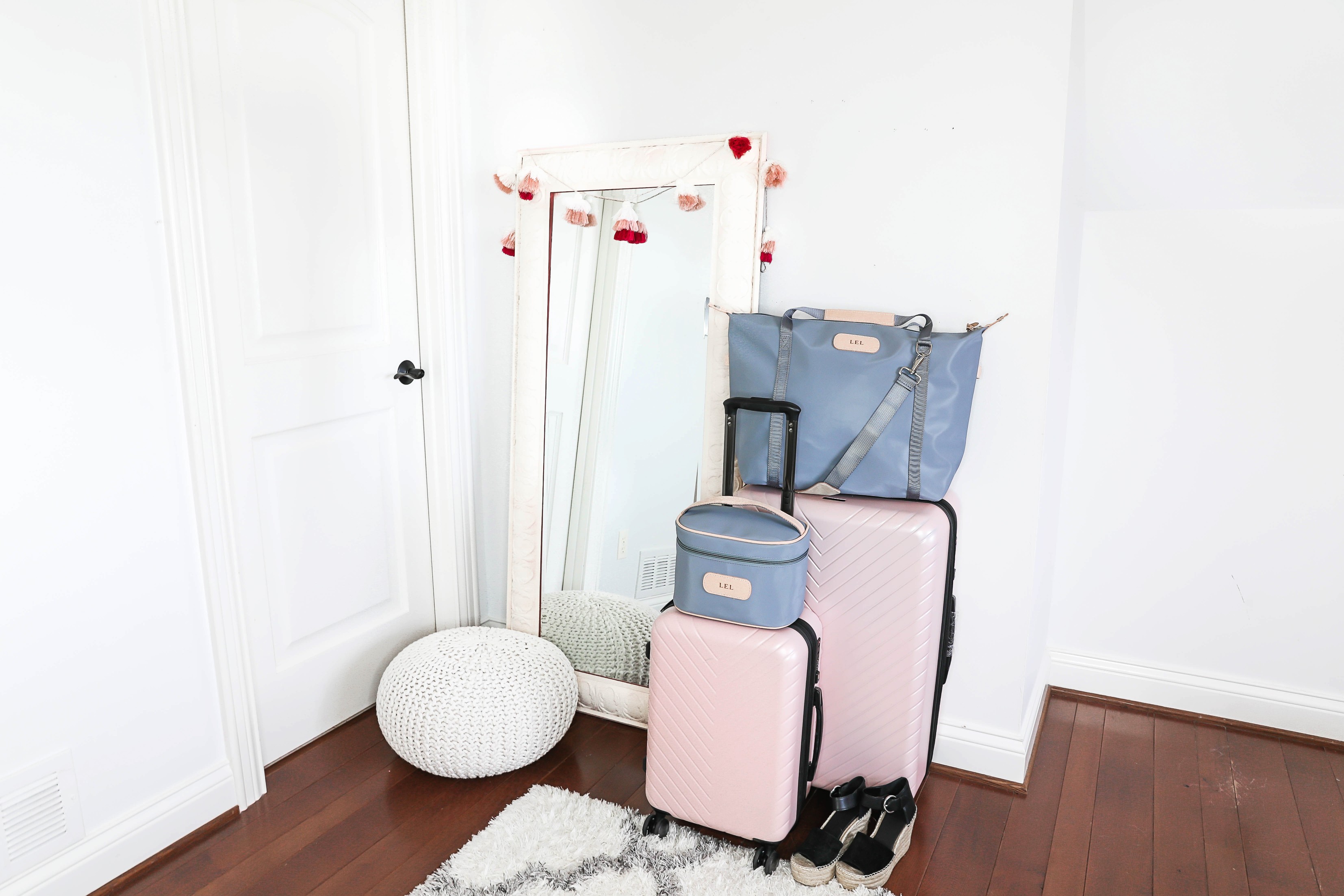 Packing Tips for the Over-Packer | Scottsdale, AZ
Hello from Scottsdale, Arizona! I can't believe I missed posting my blogpost last Friday for the first time this year! This post was supposed to go up that day, but my boyfriend and I arrived in Arizona on Thursday and I just wanted to take the weekend off to relax and have fun with him, friends, and family!
As I was packing for Arizona I wanted to snap some cute pics of my new bags, but then I started thinking… I am such an over-packer. I mean, I always have been, but why do I keep doing it? I thought about it, and the answer is – I am good at it haha! So I thought I would tell you guys my tips about how I "successfully" overpack.
I want to give a shout out to my mom for buying me these suitcases last year and Jon Hart for sending me the new bags! Jon Hart and I are doing a giveaway soon so make sure you are following me on my Instagram for that!
Scroll now for the tips!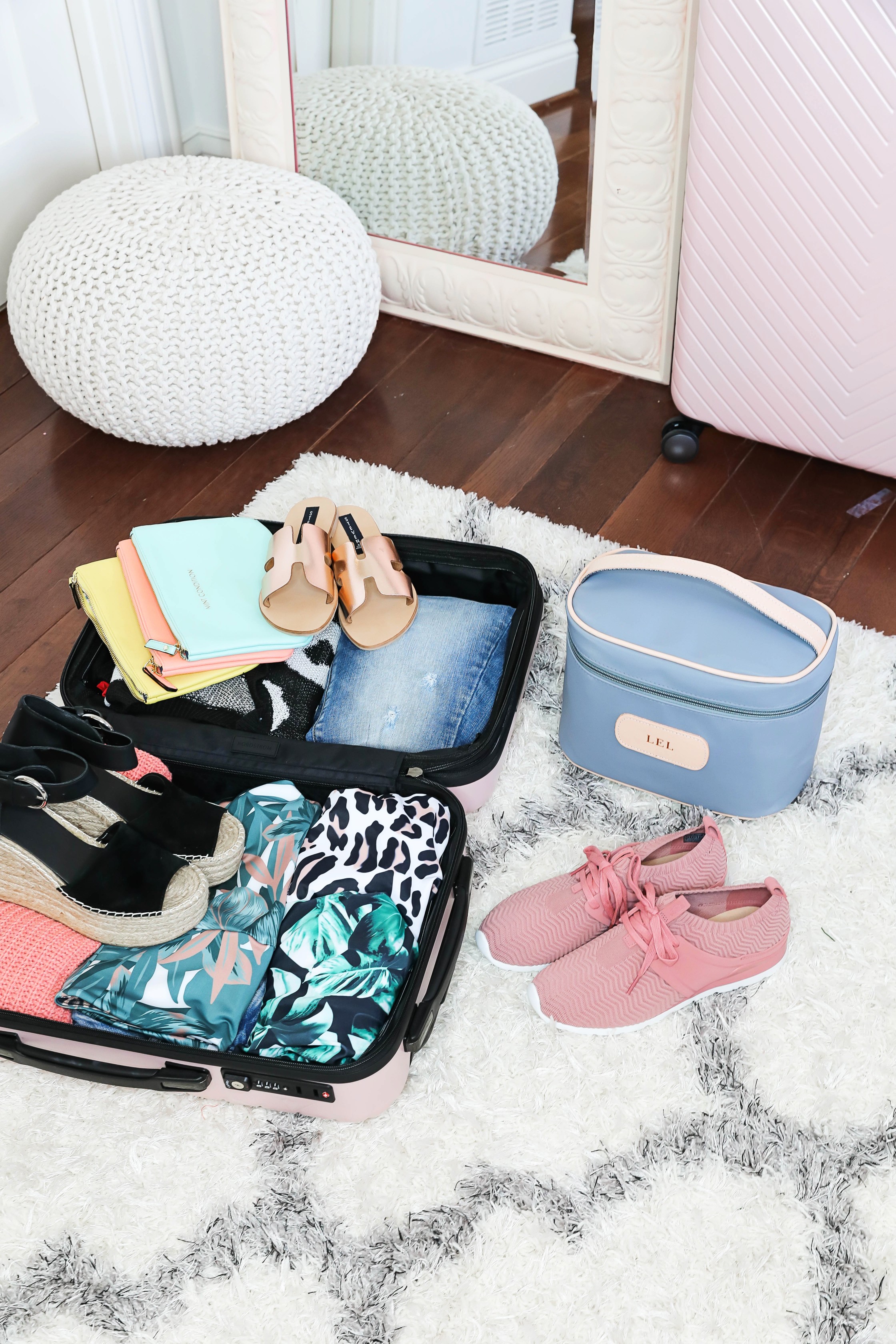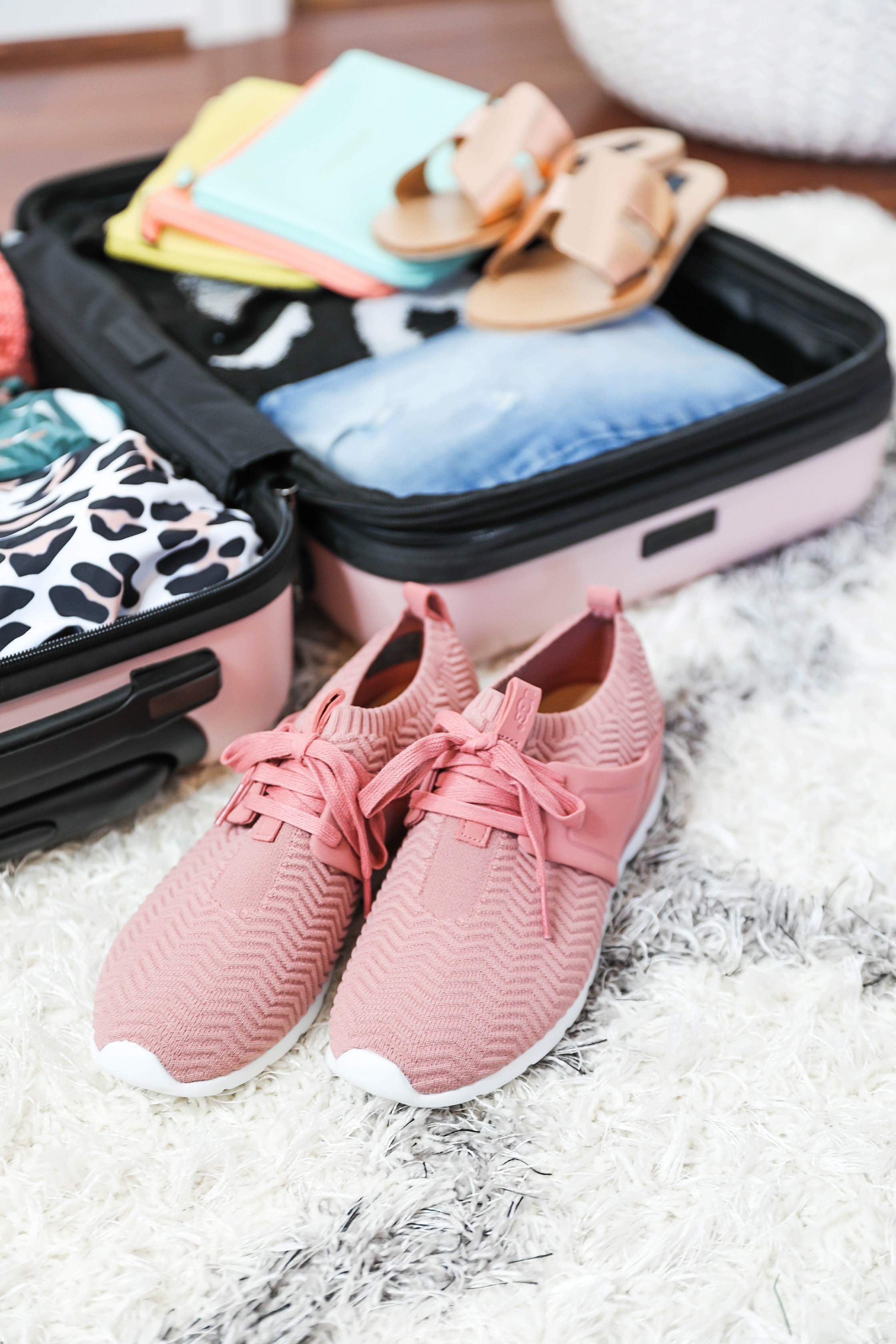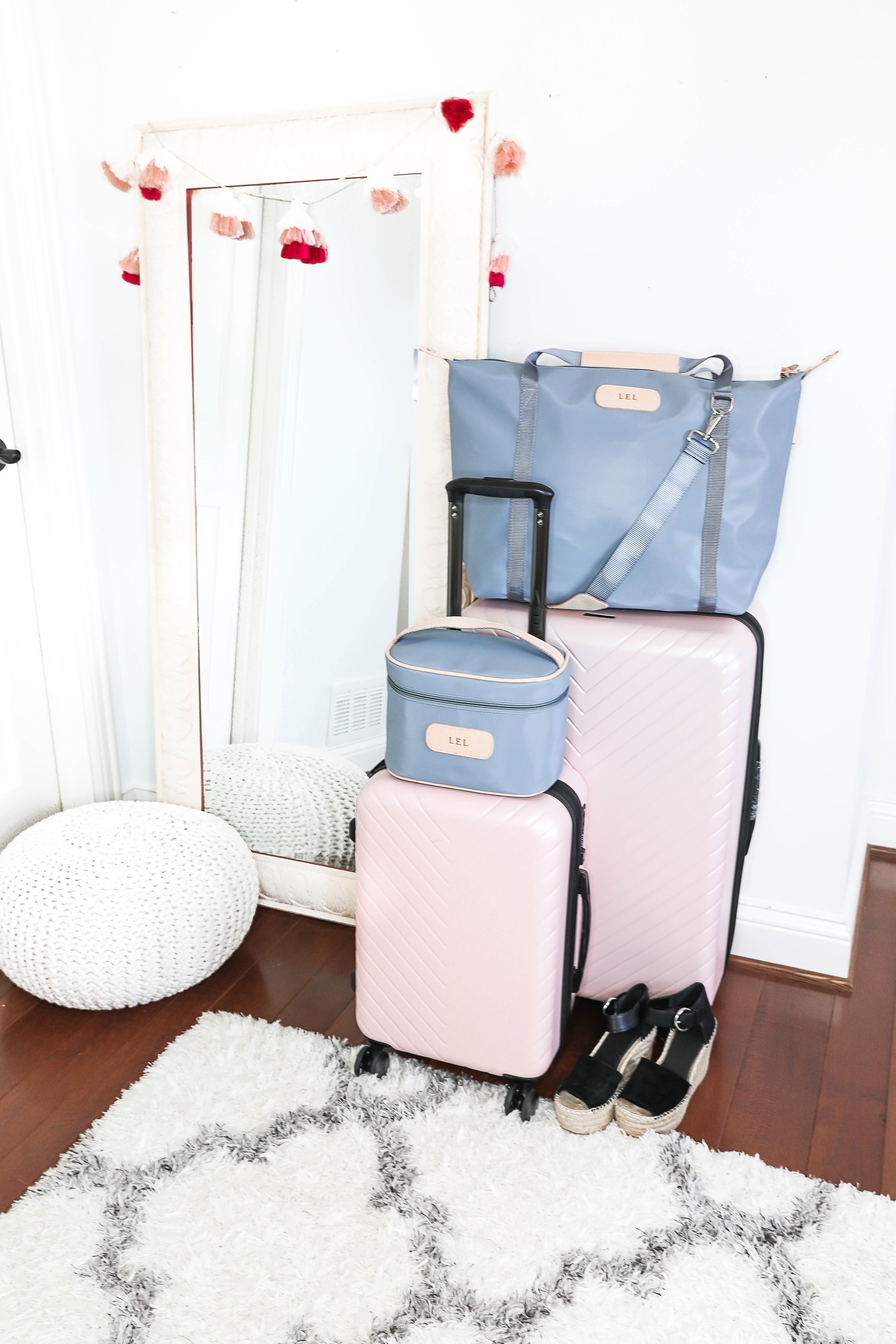 How to Be a Good Over-Packer
If you are like me, you like to be prepared. Which is why I overpack so much! I wanted to give you my tips on how to do so successfully! Let me know in the comments if you have anything to add!
1.  Buy a Luggage Weigher
First and foremost, ain't no one got time for that $75 over-weight luggage charge. Okay…that's a lie because I have definitely paid it a time or two (like this tip hehe), but it's super easy to avoid! You can buy inexpensive luggage weighers that are handheld from Amazon! We have one as a family and it has been a life saver. I will link a few here!

2. Roll your Clothing
This tip has saved me so much space over the years! For whatever reason, you can fit way more in your bag if you roll your luggage vs. folding it. This is the only way I pack now!
3. Plan your Outfits & Try Them On
I know what you are thinking… duh, Lauren? Everyone plans their outfits? However, I am talking reaaaally planning them. I always write out every day I am going to be gone and label each outfit I will need (such as travel outfit, pool outfit, dinner outfit, etc.). I then try on the outfit and completely accessorize it. When I am happy with it, I snap a pick and pack! This has saved me a ton because I don't end up packing a million unnecessary tops, accessories, shoes, or outfits all together!
4. Keep Travel Size Beauty Products on Hand
Finding travel size shampoo and conditioner is easy, but as I have started traveling more I have made sure to buy my favorite beauty items on hand in travel size so I don't pack the full-size version! I make sure to always have things such as my dry shampoo, face wash, lotions, etc. on hand. For the items that don't come in travel-sizes, I buy the empty travel bottles from Target and use those! Sometimes I underestimate how much beauty products weigh and how much room they take up so this is a lifesaver!

5. Keep a Personal Packing List Template
I have done this for YEARS. Whenever I am packing for a trip I find my previous trip's packing list and go off of that one. Not only does this help me not forget anything (because the list has been used for countless trips), but I can also tweak it and think about things I packed in the past that I did not use! This helps me from packing unnecessary items.
6. Use Packing Accessories
Vacuum bags were my best friend on my month long abroad trip! I still use them sometimes on longer trips or trips I am packing heavier items, like sweaters, that take up a lot of room! I have also heard amazing things about packing cubes to help you stay organized!

7. Pack a lot of Basics
This trip I packed a lot of items I can wear over-and-over again and re-accessorize! I have already worn my jean jacket a few times as well as my cardigan!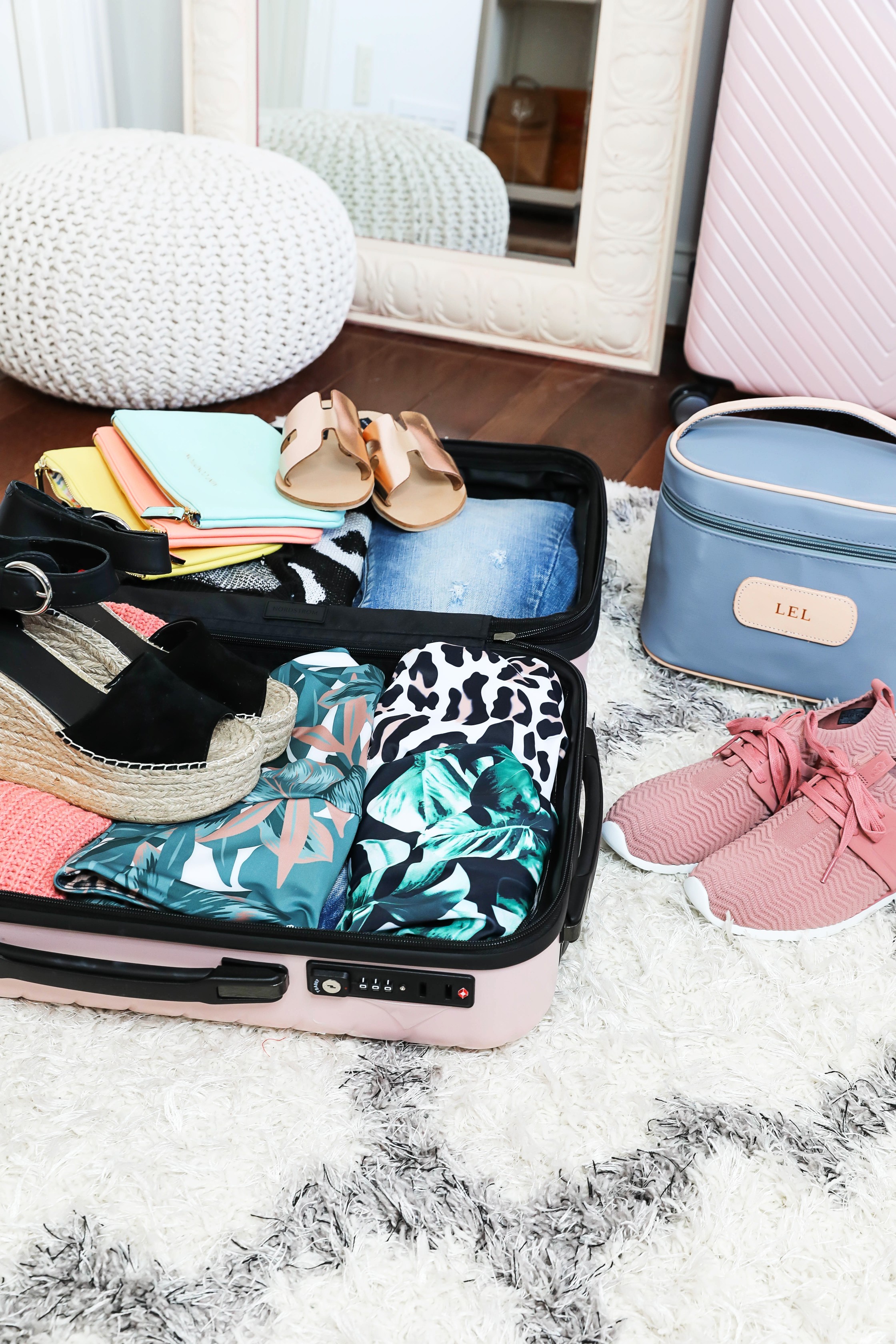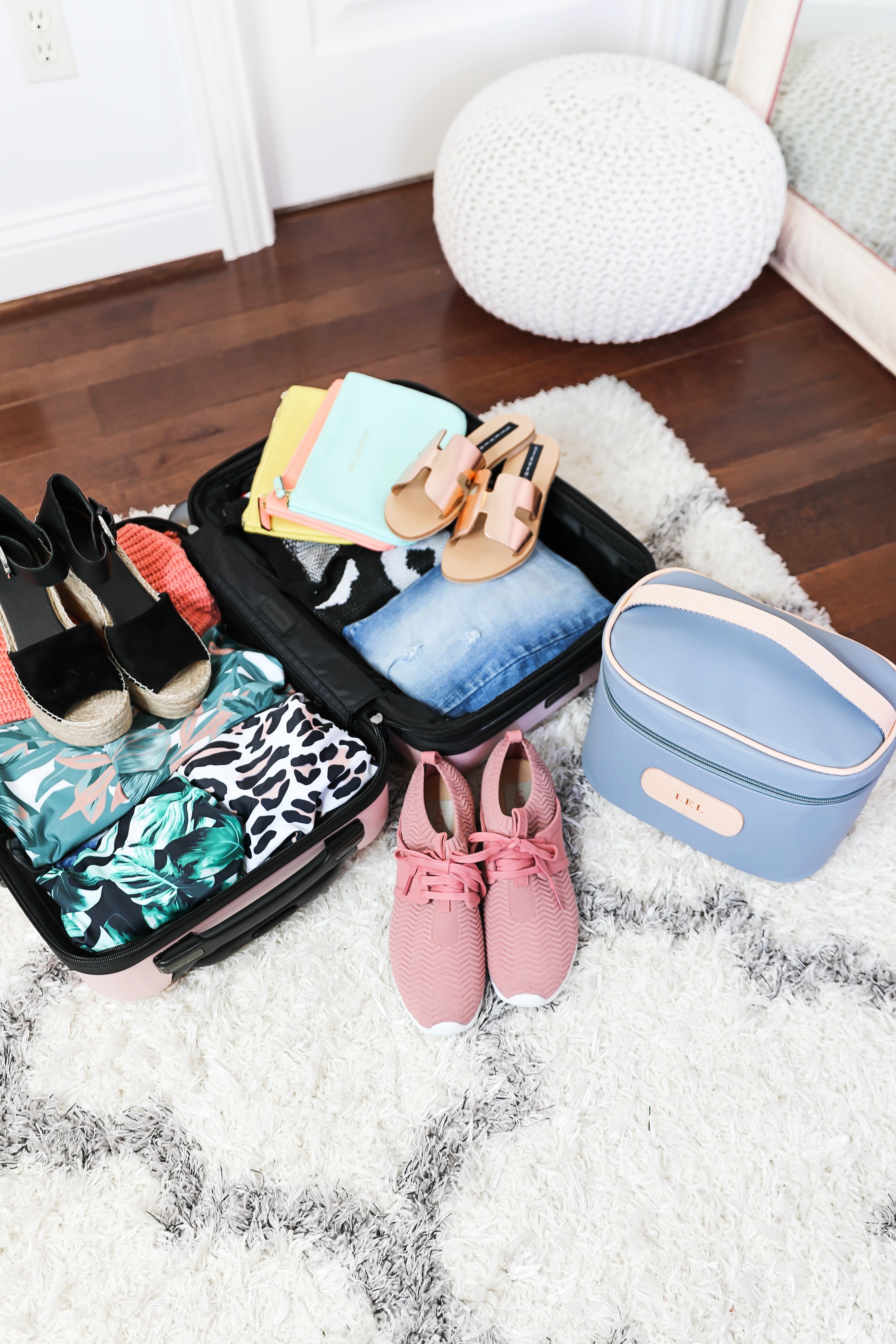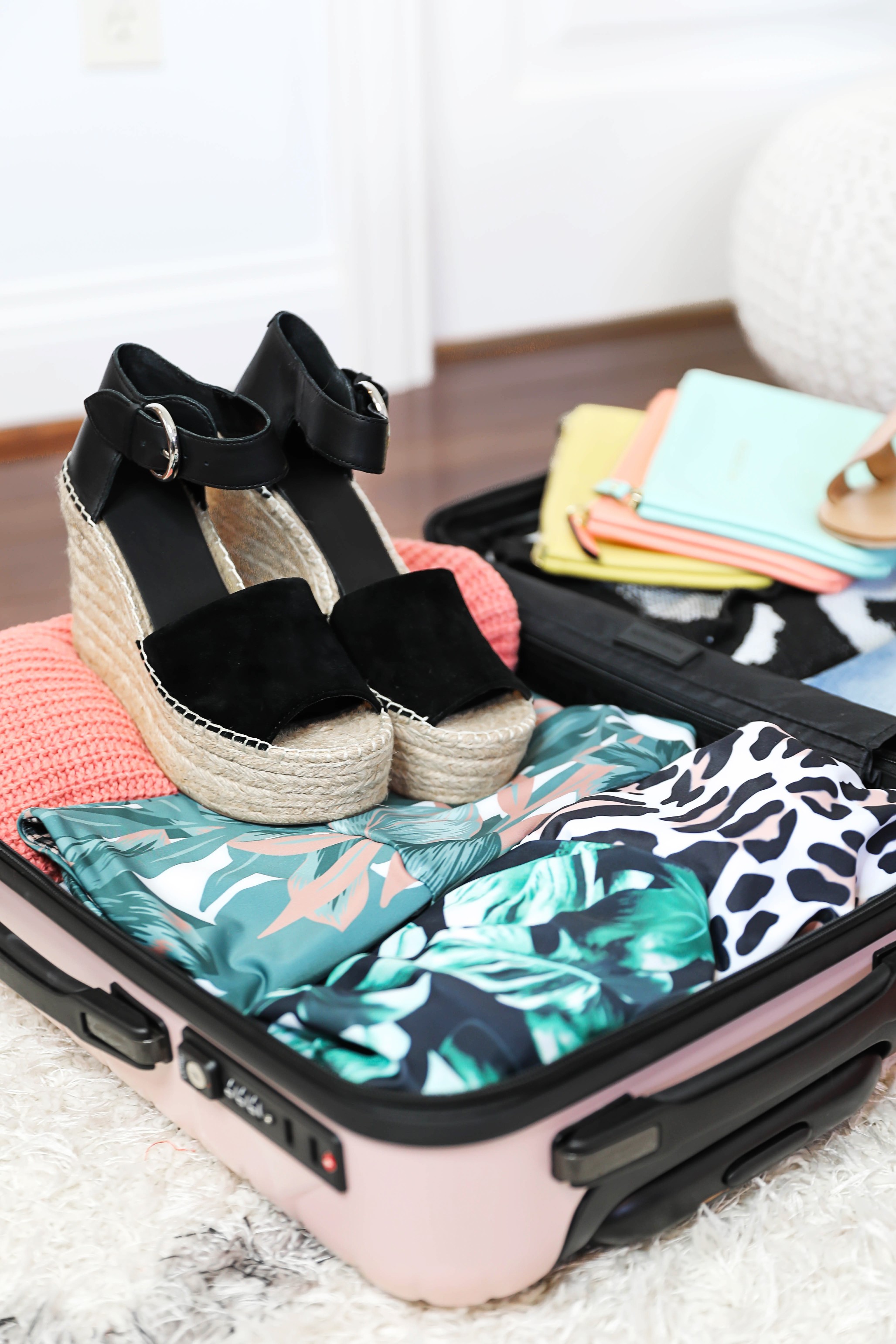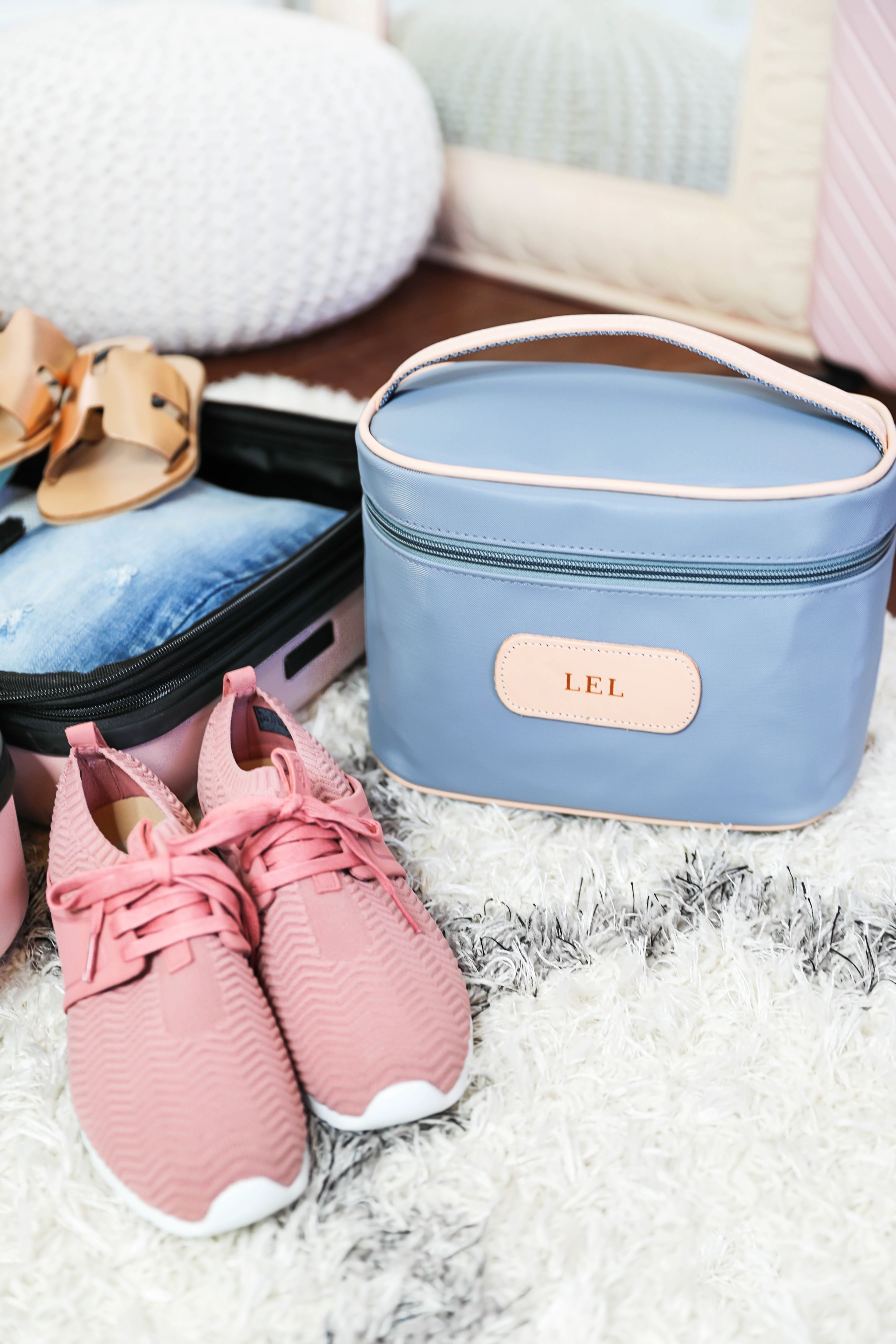 | 29″ Pink Suitcase (ON SALE and comes in more colors) | 18″ Pink Suitcase (comes in more colors) | Jon Hart Daytripper Bag (mine is the colors "slate" + comes in more colors c/o) | Jon Hart Makeup Case (mine is the colors "slate" + comes in more colors c/o) | Pink Sneakers (comes in four colors) | Black Marc Fisher Wedges (comes in ten colors and super comfy) |
I am going to be honest… the only tip I didn't follow for this trip was the "weighing my luggage" one. I honestly thought that I had packed less than usual and didn't even think about weighing it! Guess how overweight my bag was (the limit is 50). TWELVE POUNDS! Yup, 62 lbs of luggage… how embarrassing haha!
Have the best week you guys!
xoxo,
Lauren Emily Lindmark
*C/O stands for "courtesy of." Jon Hart was nice enough to send me the bags, however, all opinions are always my own and I do not post items I don't 100% love.
Copyright © 2019 dailydoseofcharm.com