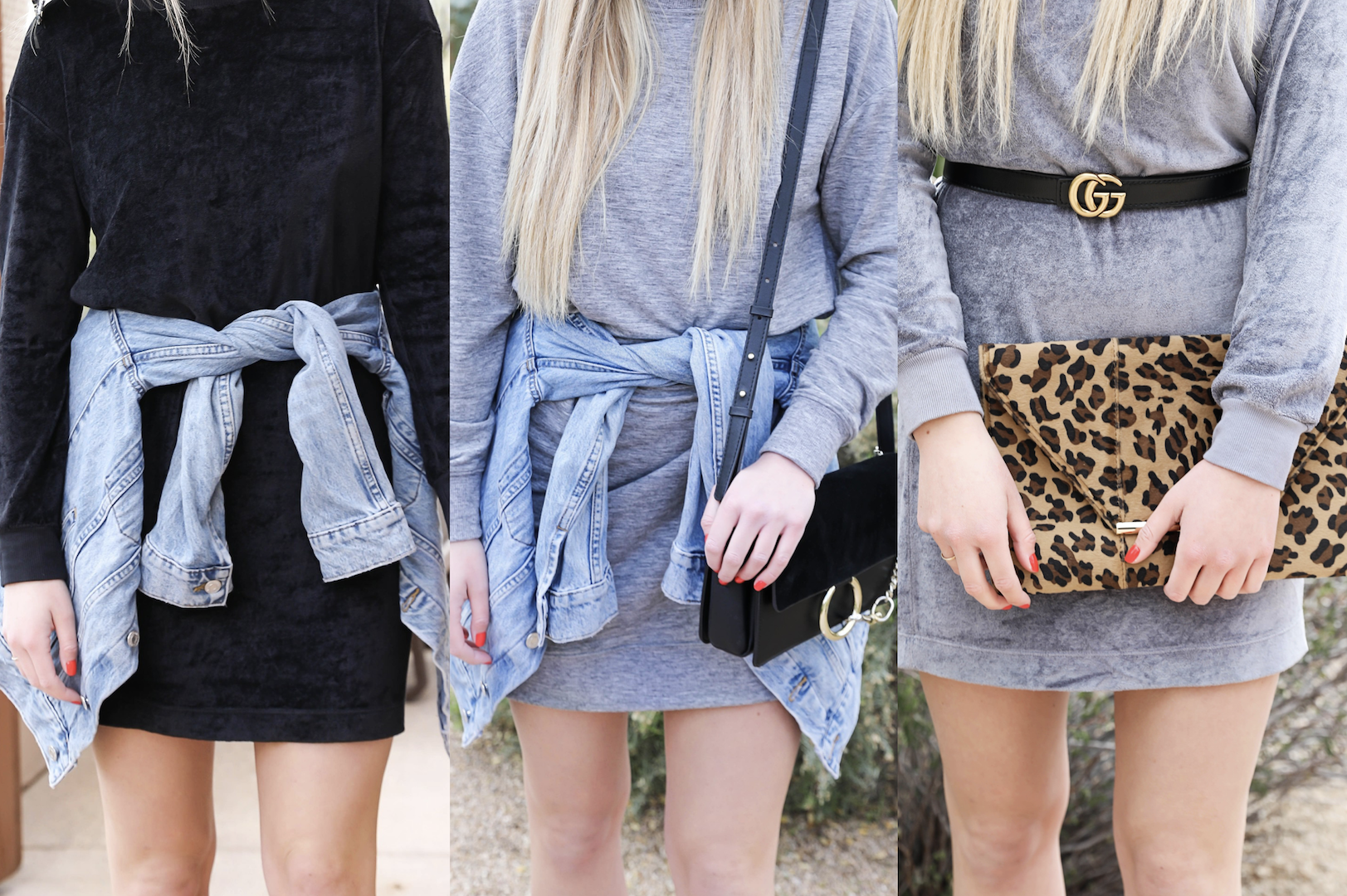 Three Ways to Style Sweatshirt Dresses | Causal, Semi-Casual, and Dressy
I can't believe it's Wednesday! This week has flown by! I arrived home from Arizona last night around 1:00 a.m. – but I made the mistake of working on my boutique on the car ride home. Working on it gets me so excited! So, of course, once I finally got in bed I couldn't fall asleep since my mind was spinning with ideas! That meant this morning I accidentally slept in and it just sort of threw my whole day off! I did, however, spend a few hours working on my boutique again this afternoon and I have made so much progress! I can't wait to share more with you guys!
If you guys are wondering about the boutique process I would love to share more info. Today I was finalizing a lot of my start-up costs. It's insane all that goes into starting a business! I am working really hard to make sure I do everything right. I have a meeting with my lawyer next week and after that I should be set to share the name! I am so excited!!
One thing I can't wait to sell at my boutique is versatile dresses like the ones in this post! I want to do a lot more posts about how to style certain pieces so you guys can feel confident when buying an item (because believe me, I am a total outfit repeater and love finding new ways to wear things). I bought these three dresses before Scottsdale and ended up styling them all way differently – so I thought I would share!
Casual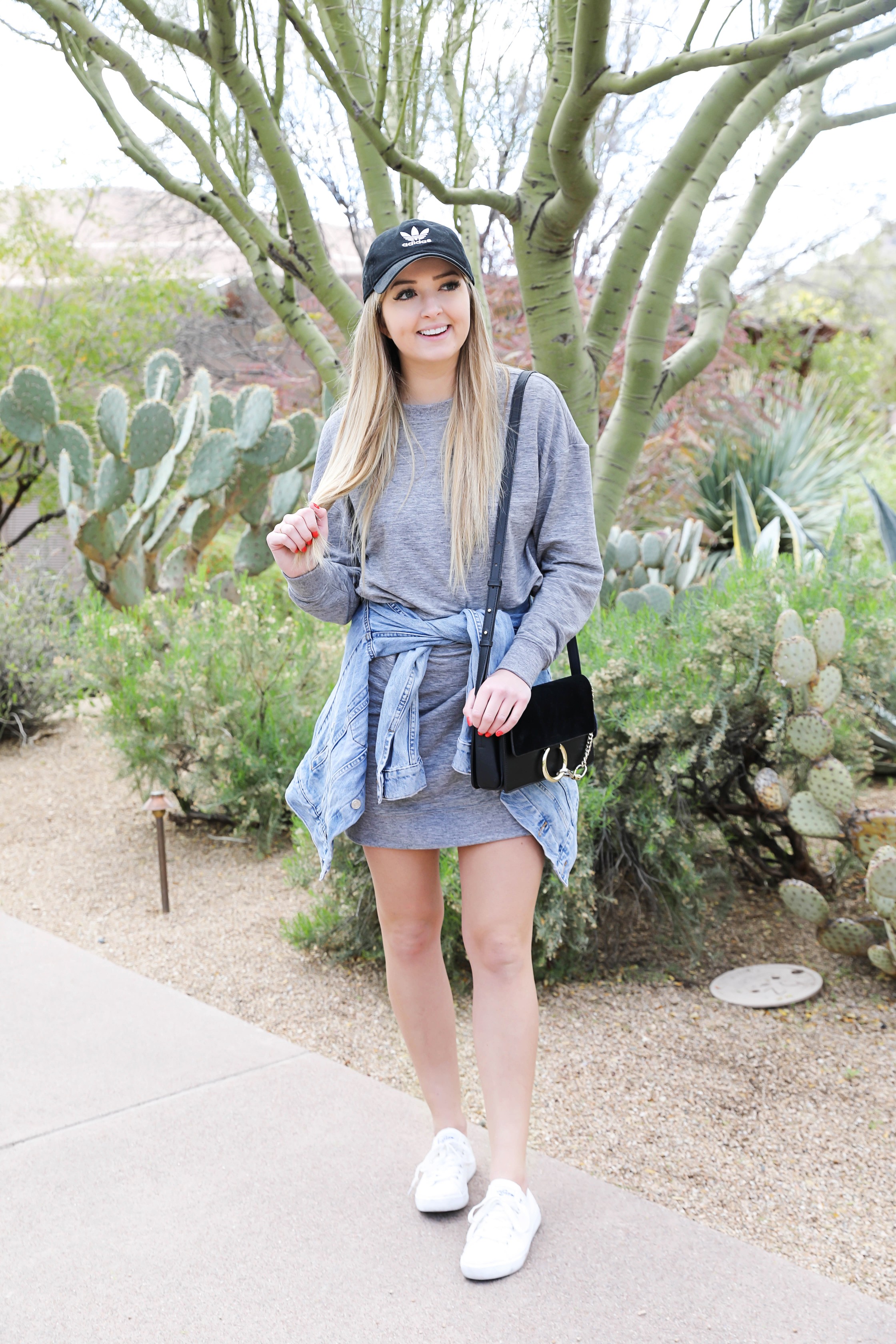 | Sweatshirt Dress (SALE $43 I am wearing an extra-small & it comes in black) | Denim Jacket ($35 super similar to mine) | White Sneakers ($33) | Black Purse ($56 and comes in more colors) | Adidas Hat ($24 comes in more colors) |
Dresses can totally be styled for lounging around! This cute sweatshirt dress is so comfy. I wore it twice in Scottsdale! My boyfriend and I met up with two of our friends in Old Town for Mexican food and drinks! It was the perfect outfit to walk around in all day (plus eat a lot of tacos haha)!

Semi-Casual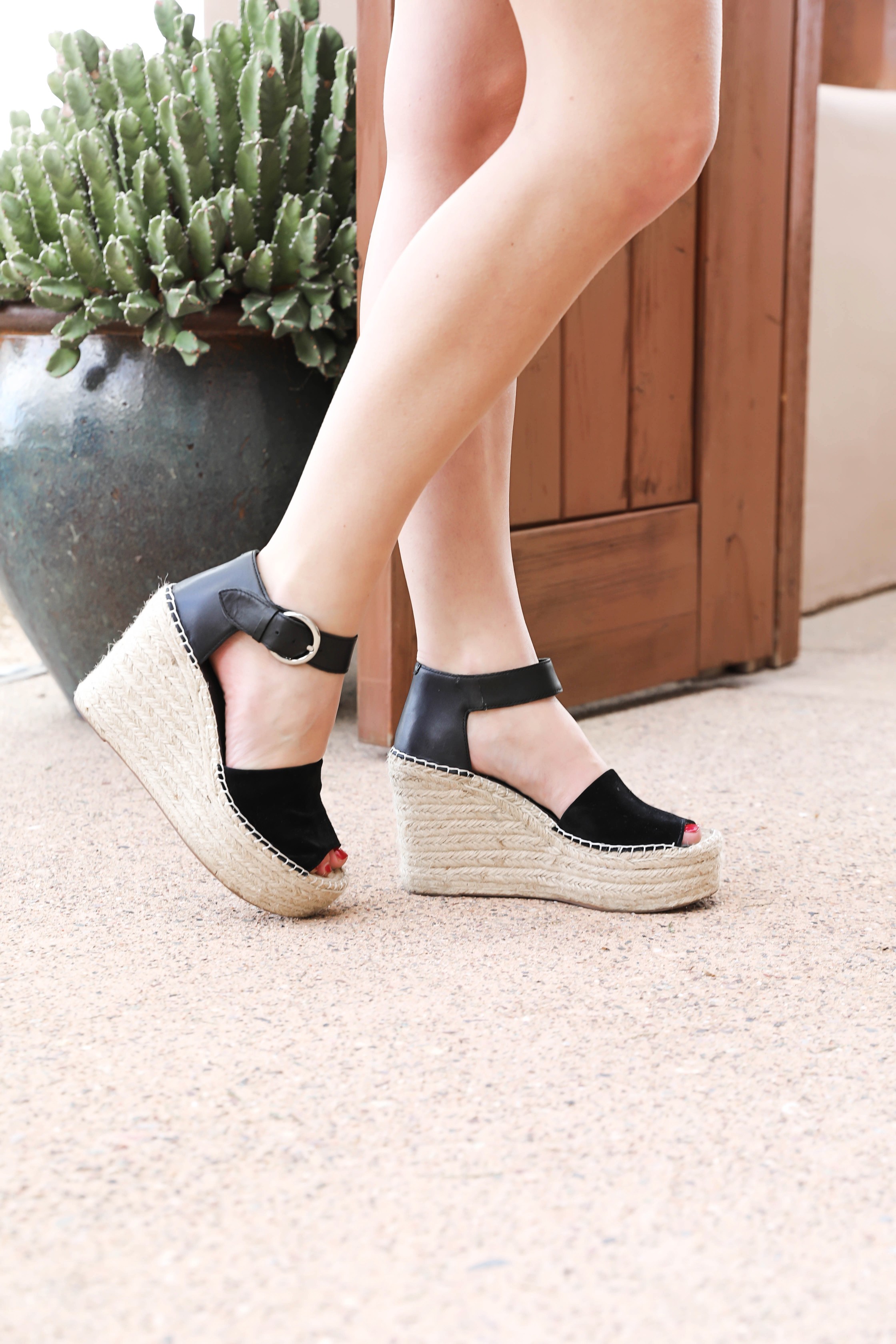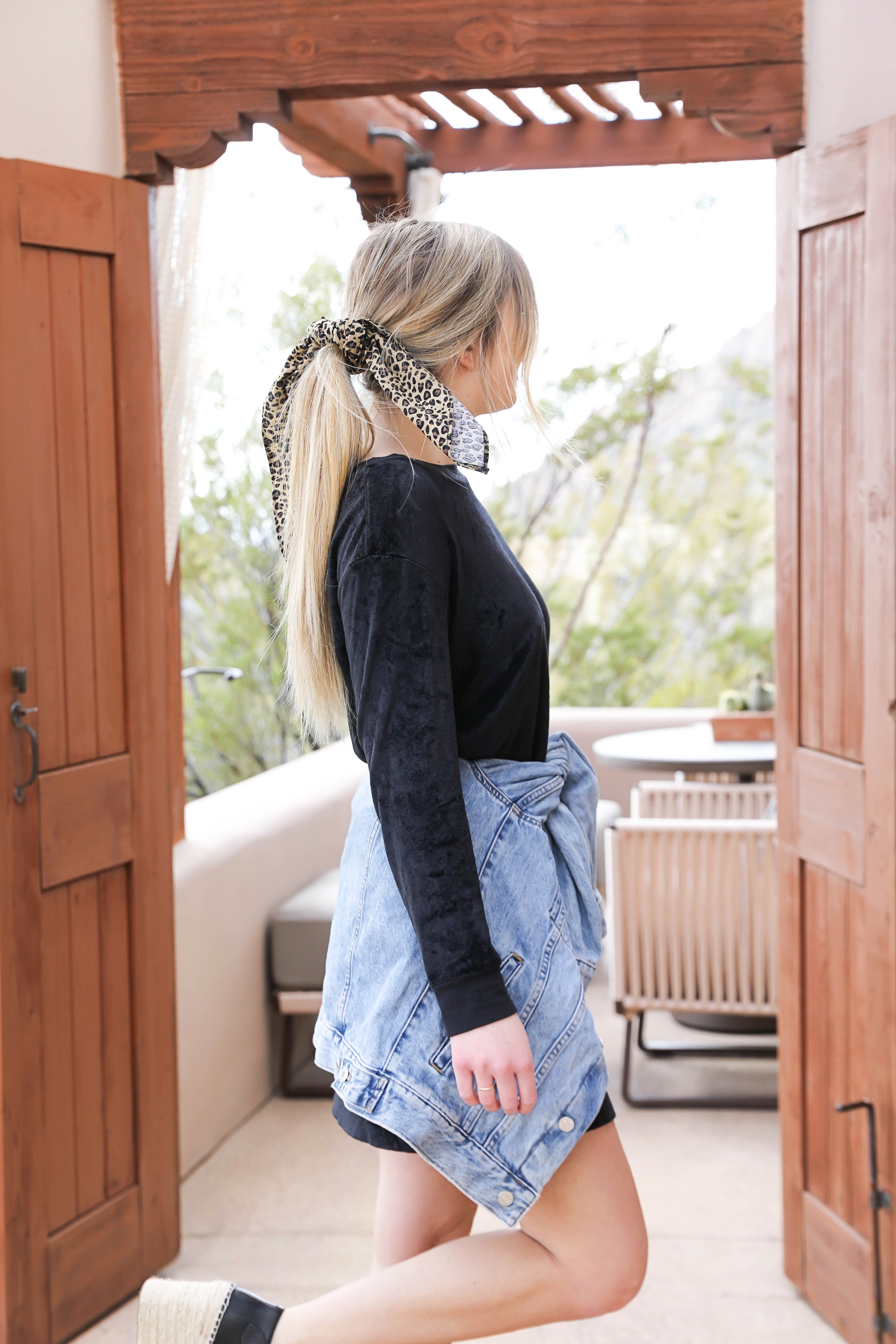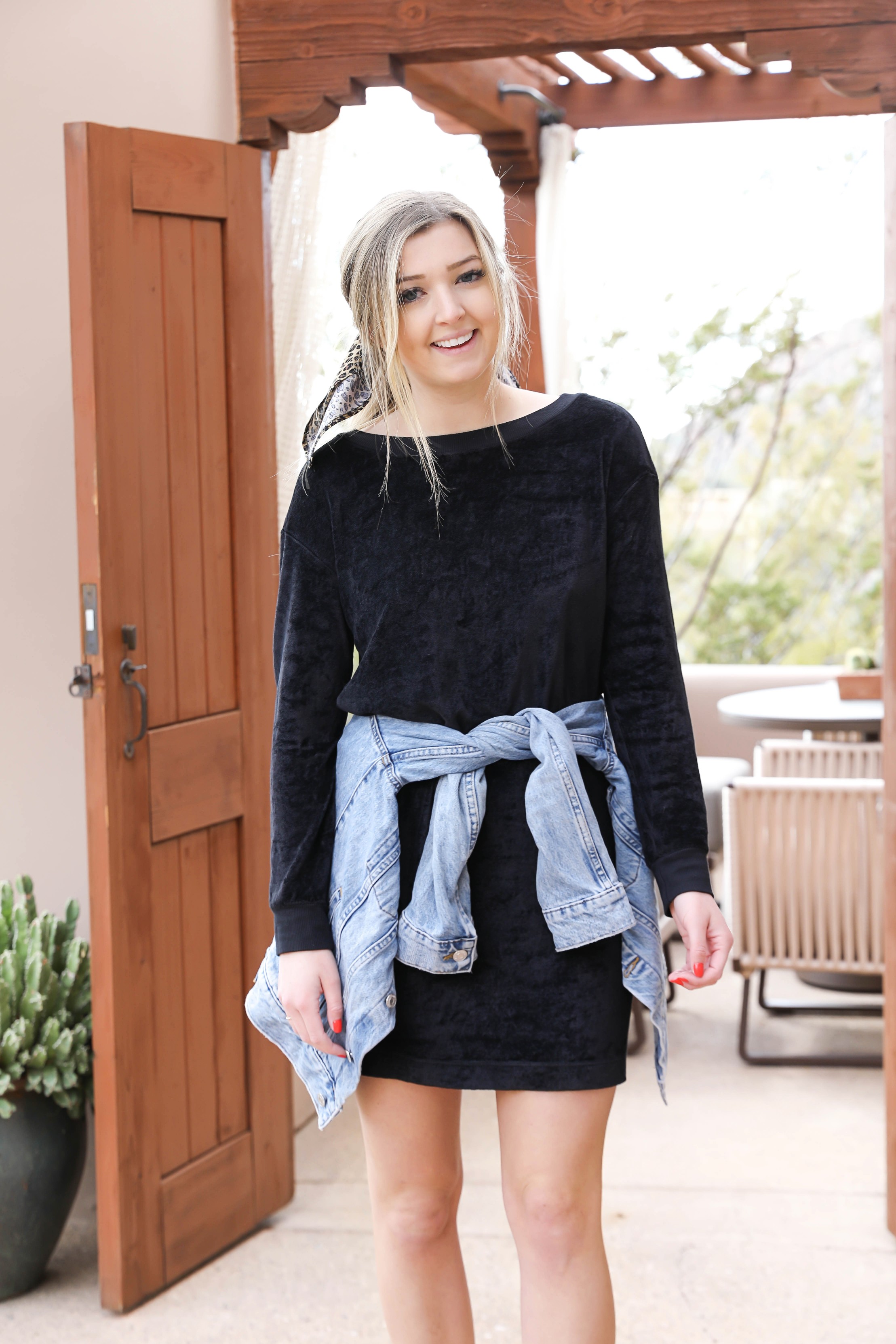 | Velour Sweatshirt Dress (I am wearing a size small) | Denim Jacket ($35 super similar to mine) | Wedges (come in more colors & so comfy) | Hair Scarf (come in more patterns) |
My favorite way to style these dresses are with denim jackets. So I wanted to show you guys how to style it a bit more dressy while still wearing the denim! For this look I added a cute hair scarf and my new favorite wedges! YOU GUYS! These shoes are so comfy! Which is a total plus, because no one wants uncomfortable shoes. I wore this the first day we were there! You can see it on my instagram!

Dressy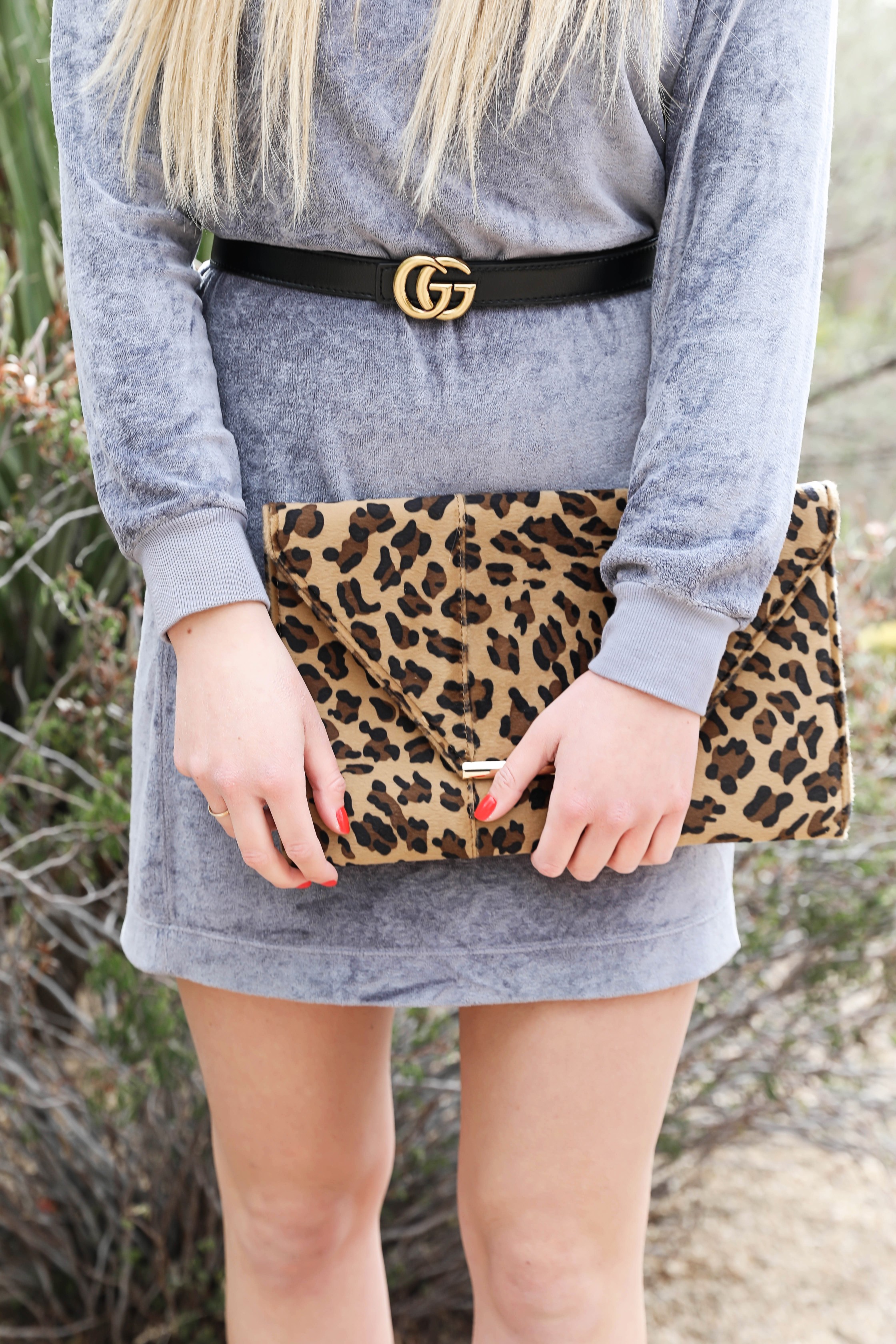 | Velour Sweatshirt Dress (I am wearing an x-small) | Leopard Clutch ($35) | Faux Gucci Belt ($22 – not my exact one) |
Bummed this is the only good pic I got of this outfit, but at least it shows the details! This is the same velour dress as the black one, but I think this color is so cute! The fun part is any of these dresses can be swapped out and dressed up or down! I though this would looked really cute with a skinny belt and leopard clutch! I paired it with some nude heels for dinner!

Let me know if you guys like this post and tell me what I should style next!
xoxo,
Lauren Emily Lindmark
Copyright © 2019 dailydoseofcharm.com