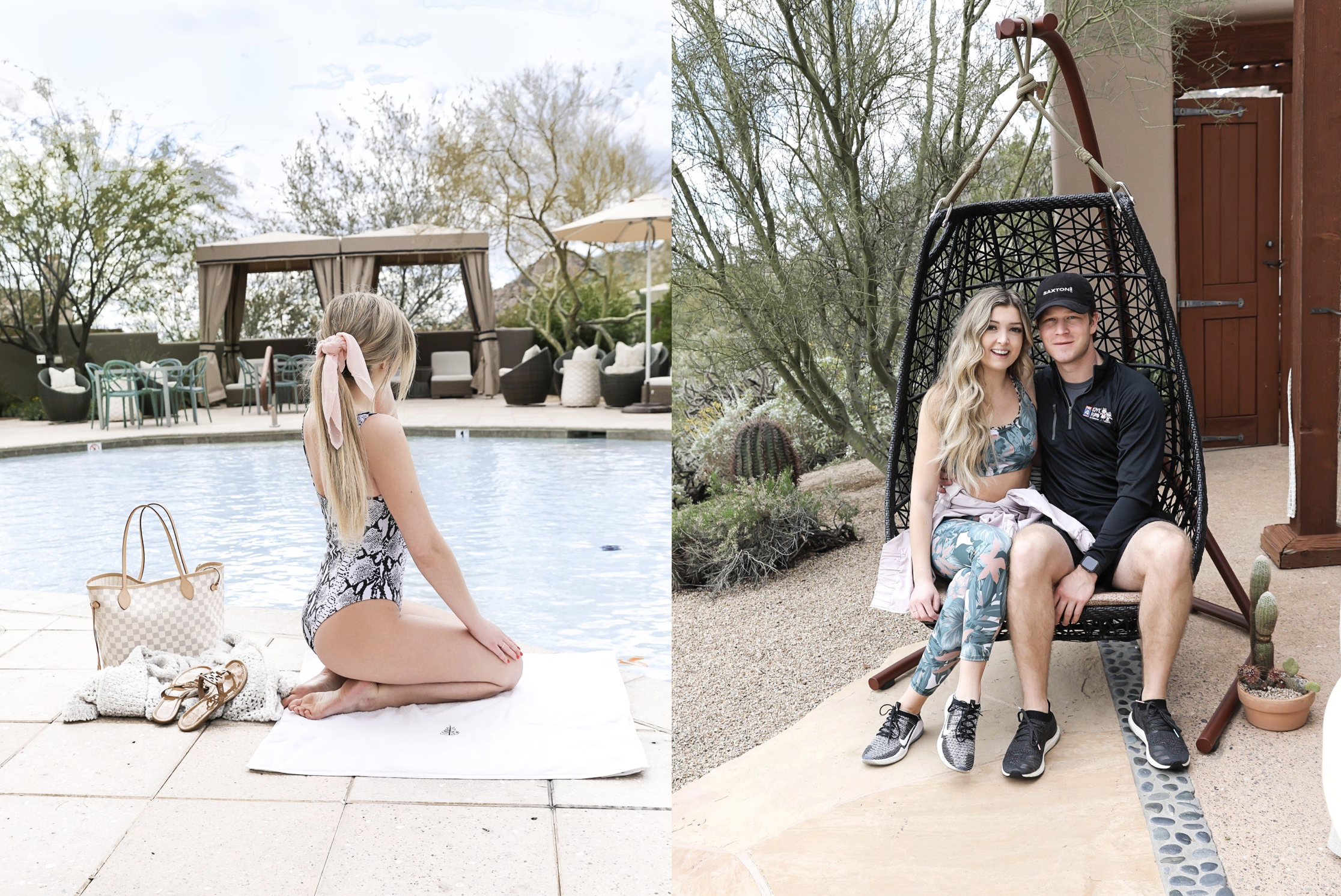 What I Wore in Scottsdale, Arizona | Recap
Finally home from Scottsdale! I had such a fun time while I was there. We go to Scottsdale, Arizona every year for my little sister's horse show (she rides Arabians)! We usually just stay at any hotel we have points at, but this year my parents were extra amazing and got us a room at the Four Seasons! It was totally unexpected, but so fun! I decided to buy Cam plane tickets to come as birthday present (and I selfishly wanted to travel with him since we had so much fun in Vail last year)!
Day 1
We arrived on Valentine's Day and spent the afternoon exploring the hotel and eating at one of their little restaurants, Proof. The food there was DELICIOUS! We split the burger that afternoon then for dinner Cam took me to one of his favorite childhood restaurants called the Horny Toad! It was really good bar food! We have made it a tradition to go to casual places for v-day and I love it! The first day there I wore a super comfy black sweatshirt dress with a denim jacket.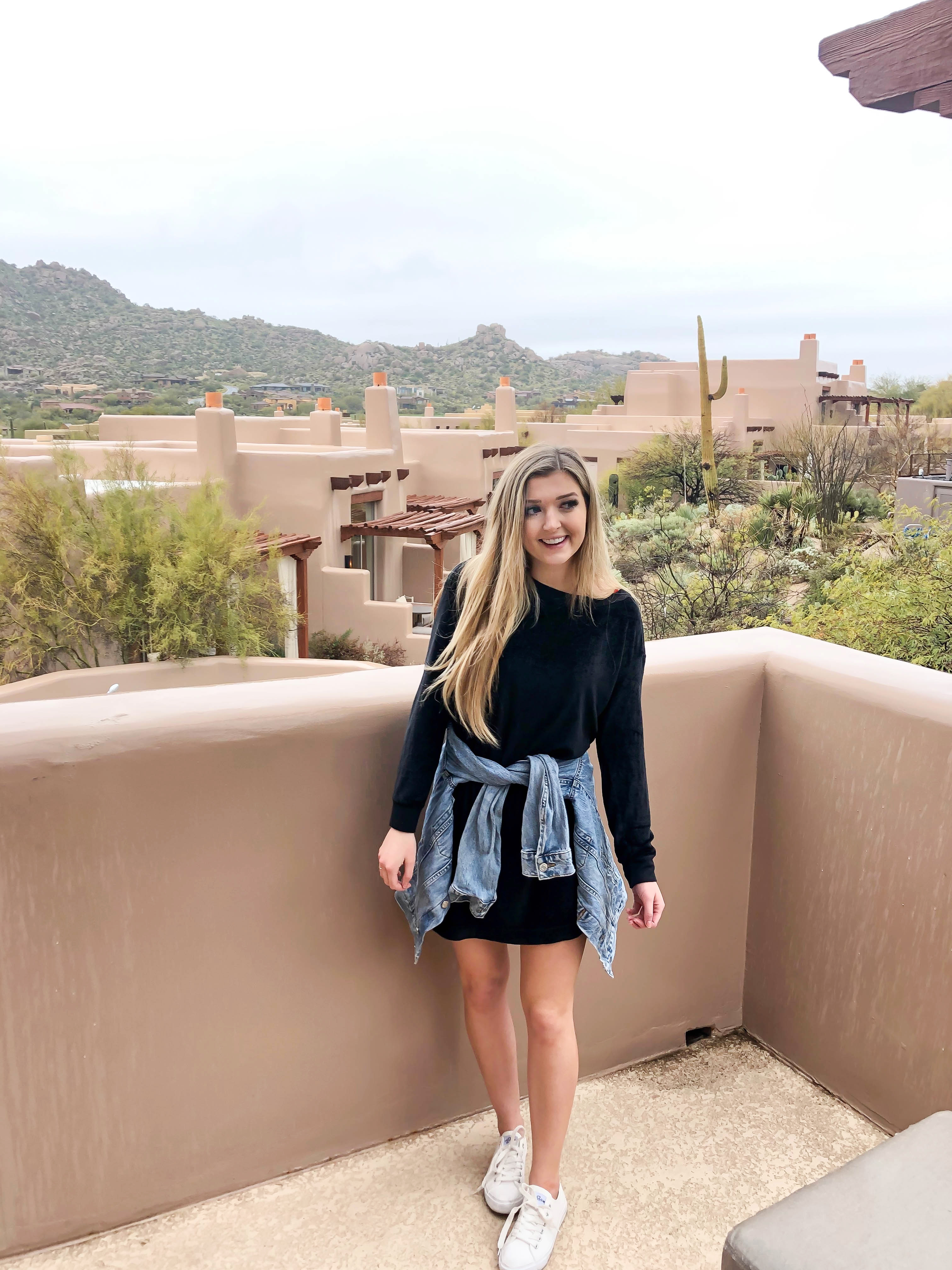 | Velour Sweatshirt Dress (I am wearing a size small) | Denim Jacket ($35 super similar to mine) | White Sneakers ($33) |
Day 2
Day two Cameron got up early to go golf with one of his buddies, so I got up, got ready, and worked for awhile. This day was the warmest so my mom and I went to the pool to hangout! They had the yummiest drinks, my go-to was their "Retox" drink! It was a pineapple, ginger margarita and it was so yummy! I wore the cutest suit at the pool this day!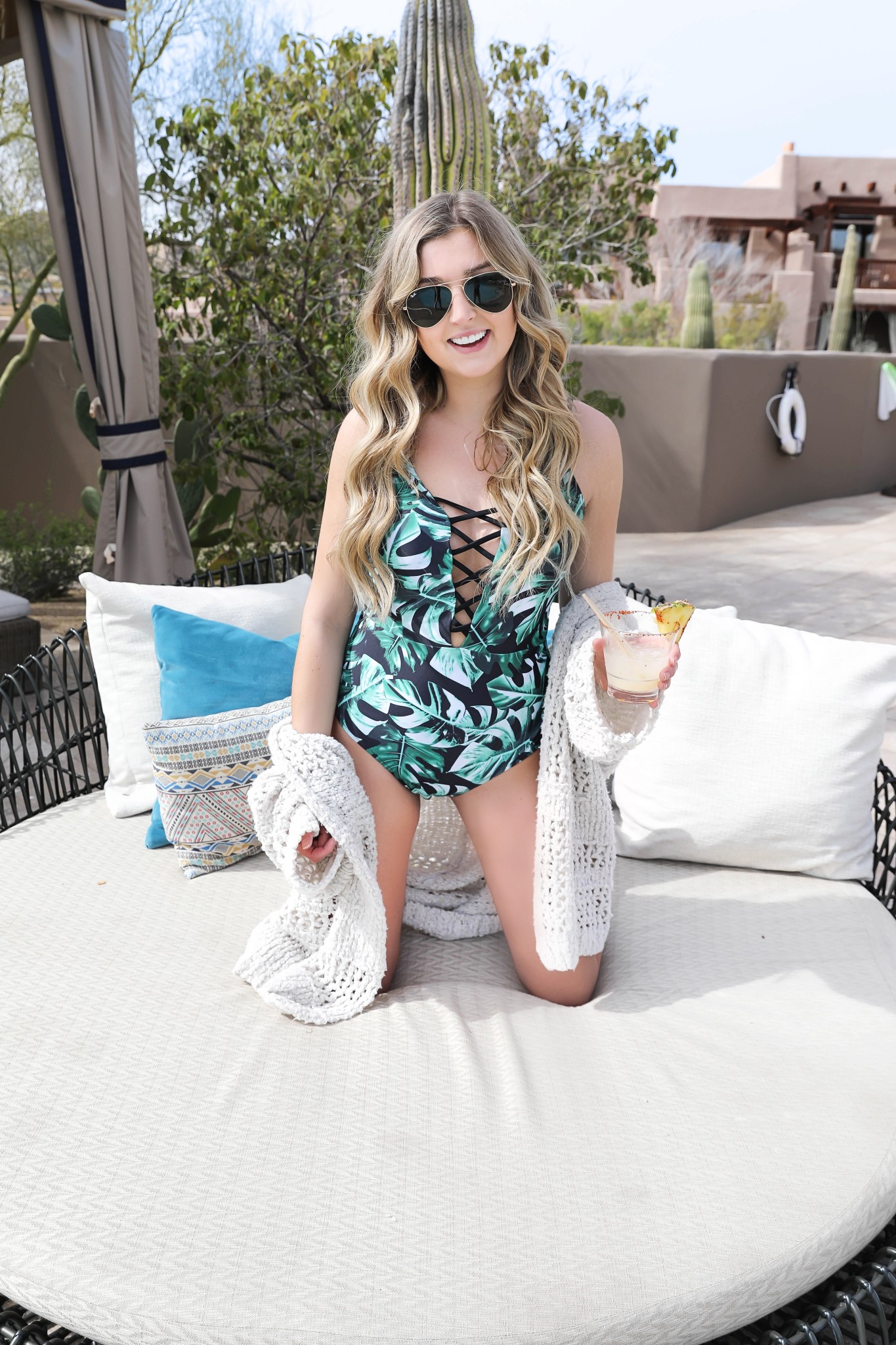 | Palm Criss-Cross Suit ($19, size up – I am wearing a medium & comes in more colors)| Knit Cardigan (similar) |
Then me and my life-long bestie, Emily, (who lives in Tempe) met up with Cam and his friend and we all had Tacos and went to a few bars that afternoon! Cam, Emily and I went to the hotel for dinner that evening then all passed out early! That night for dinner I wore something really exciting… a sweatshirt that will be sold on my online boutique (see below) ! I was so excited to share it with you guys on Instagram!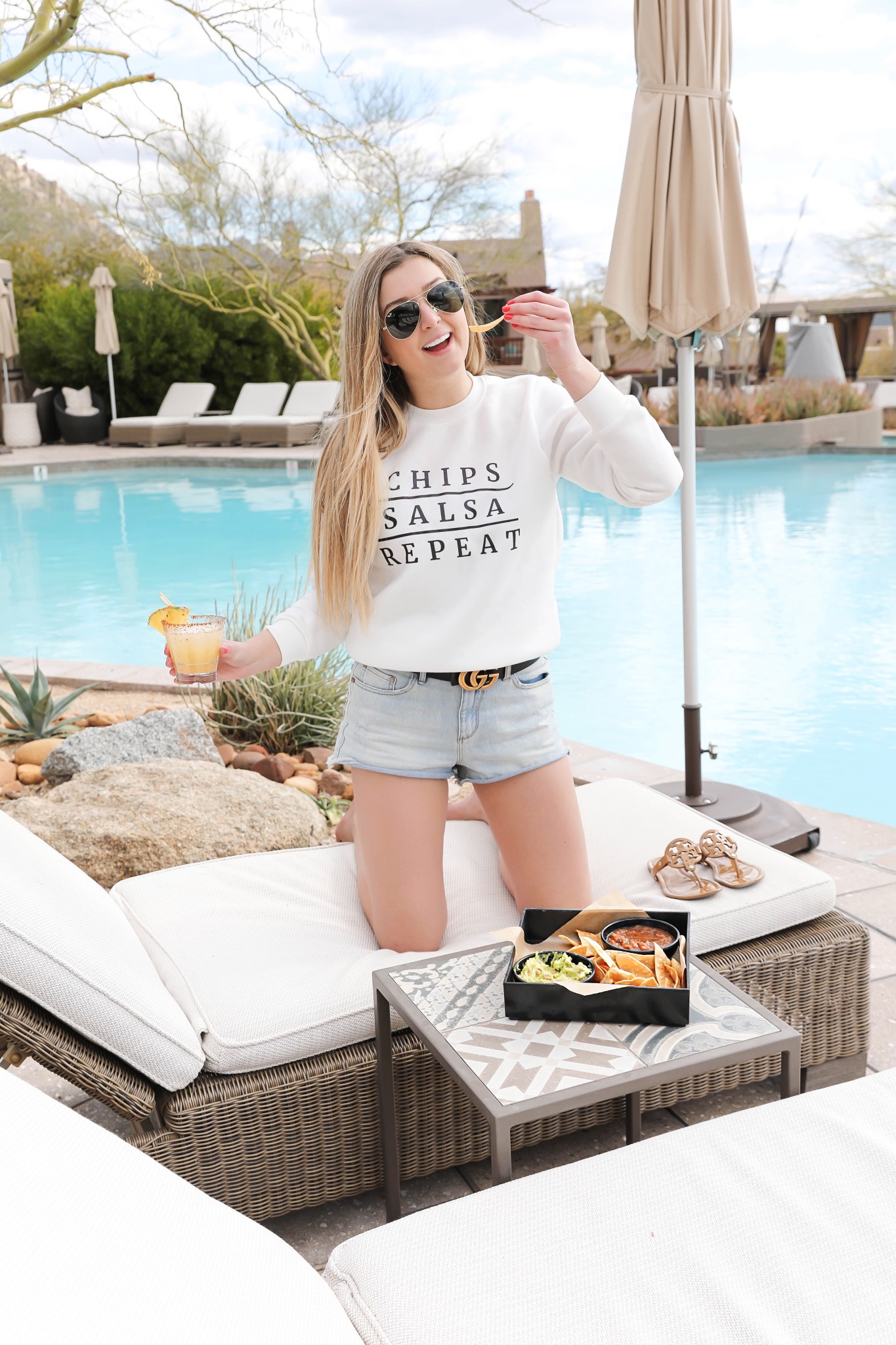 Day 3
We woke up the next day and had breakfast at Proof then Cam and I went on a hike with my mom up Pinnacle Peak! It was a really cool view! I wore the cutest workout set that I felt was pretty fitting for Scottsdale (since it's covered in plants haha)!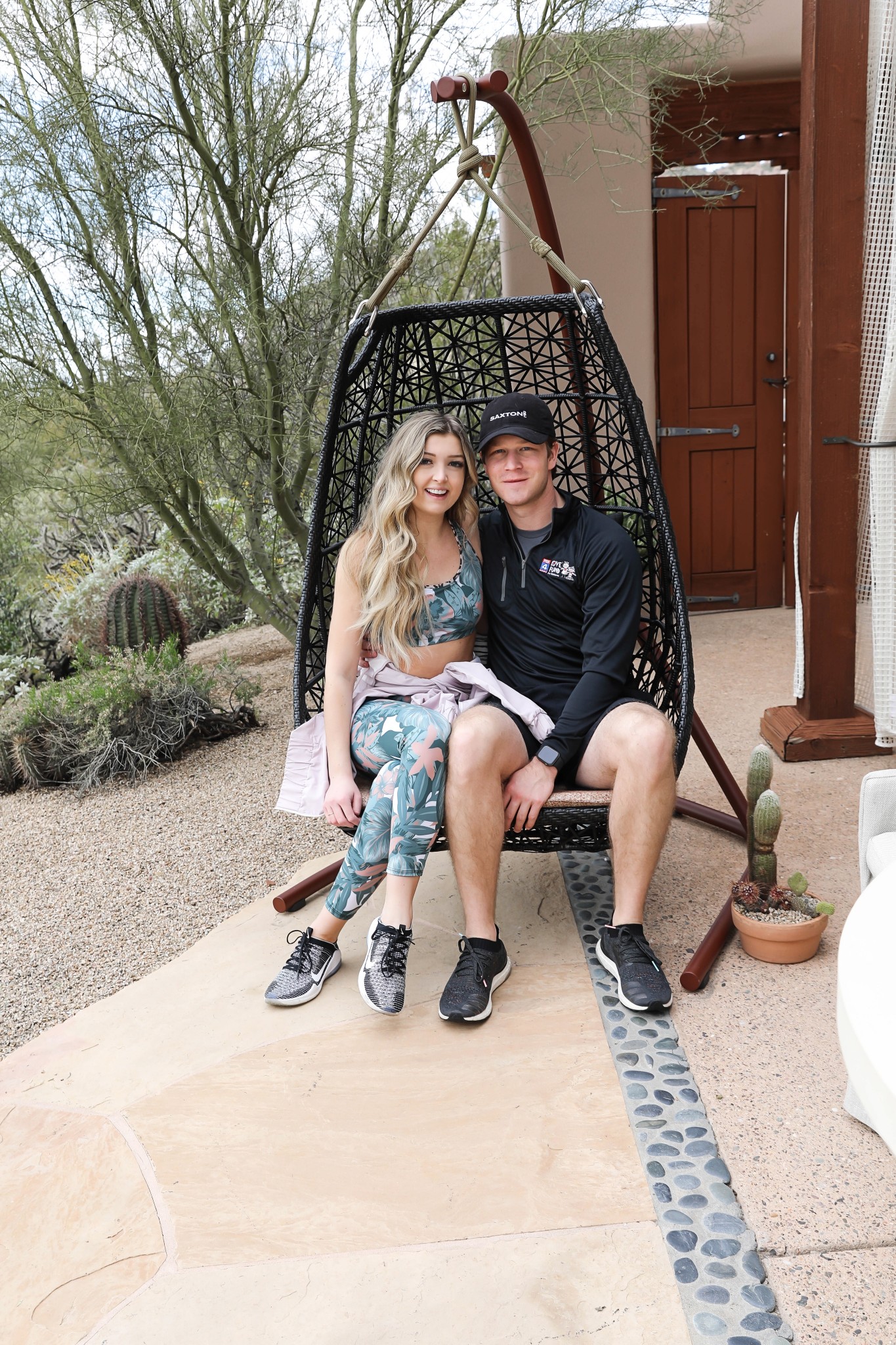 | Palm Leaf Sports Bra (I got size M/L) because I like it to fit less tight | Palm Leaf Leggings (size medium) | Wind Breaker Jacket (I am wearing a size medium) | Sneakers (TTS and comes in more colors) |
After the hike we went to see my little sister's horses! She showed three horses while were there and one two first place medals and quite a few reserves and top tens! I wore the cutest jumpsuit there that I have been OBSESSED with! It also comes in grey! I also wore it again on Monday (which was National Drink Wine Day)!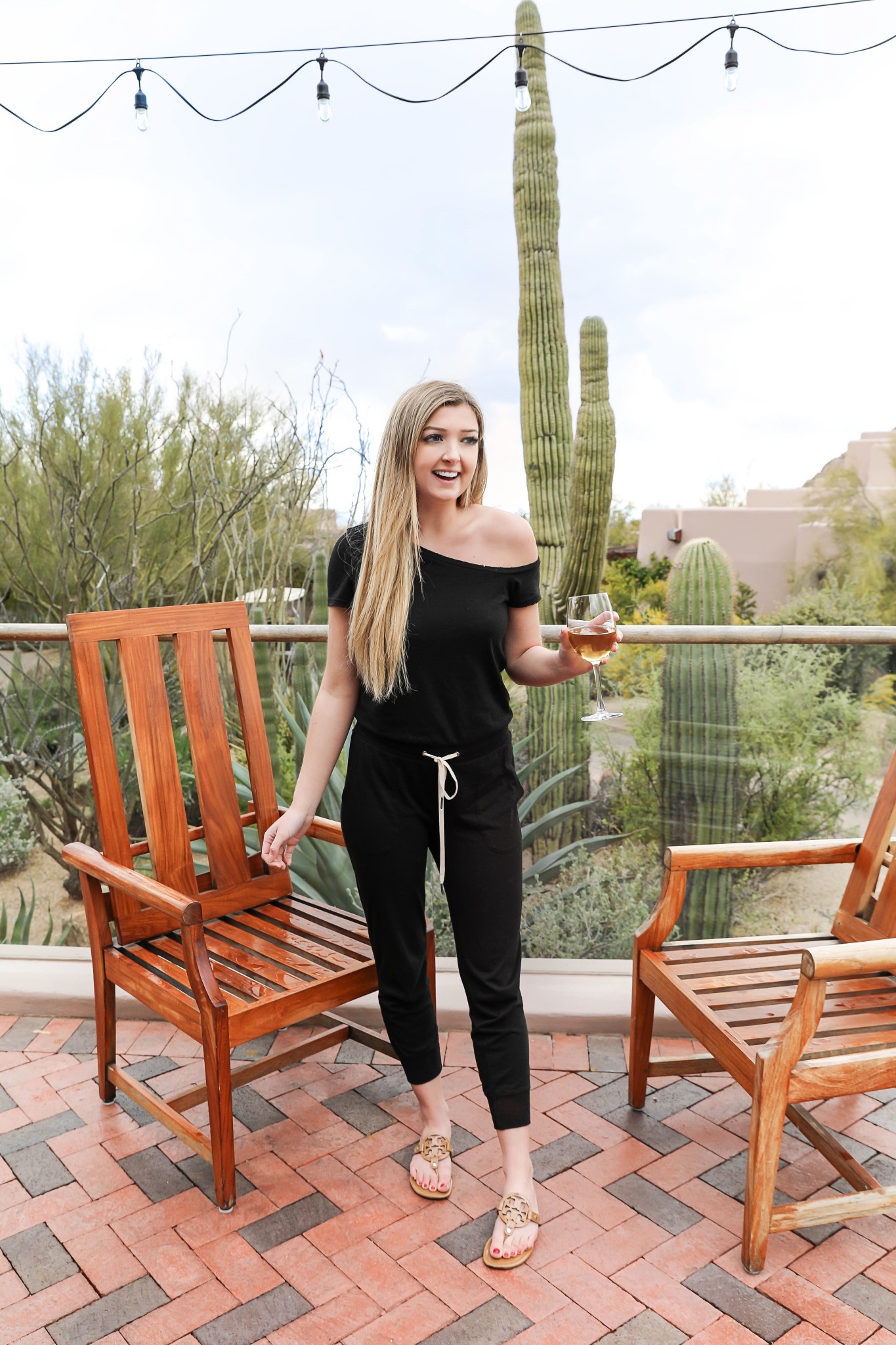 | Casual Jumpsuit (also comes in grey, I am wearing a size small) | Tory Burch Miller Sandals (TTS and comes in more colors) |
We sat by the pool for awhile that afternoon then went to Maestros for dinner. They have the best desserts IN THE WORLD. I am still craving their butter cake! After dinner we all played some shuffleboard then Cameron and I went to the hot tub!
Day 4
Sunday was Cam's last day there which sucked! We went to breakfast at a really yummy restaurant called the Local Bistro then sat by the pool all day! It was a perfect, relaxing, last day. I drove him to the airport that night then went back to the hotel to work!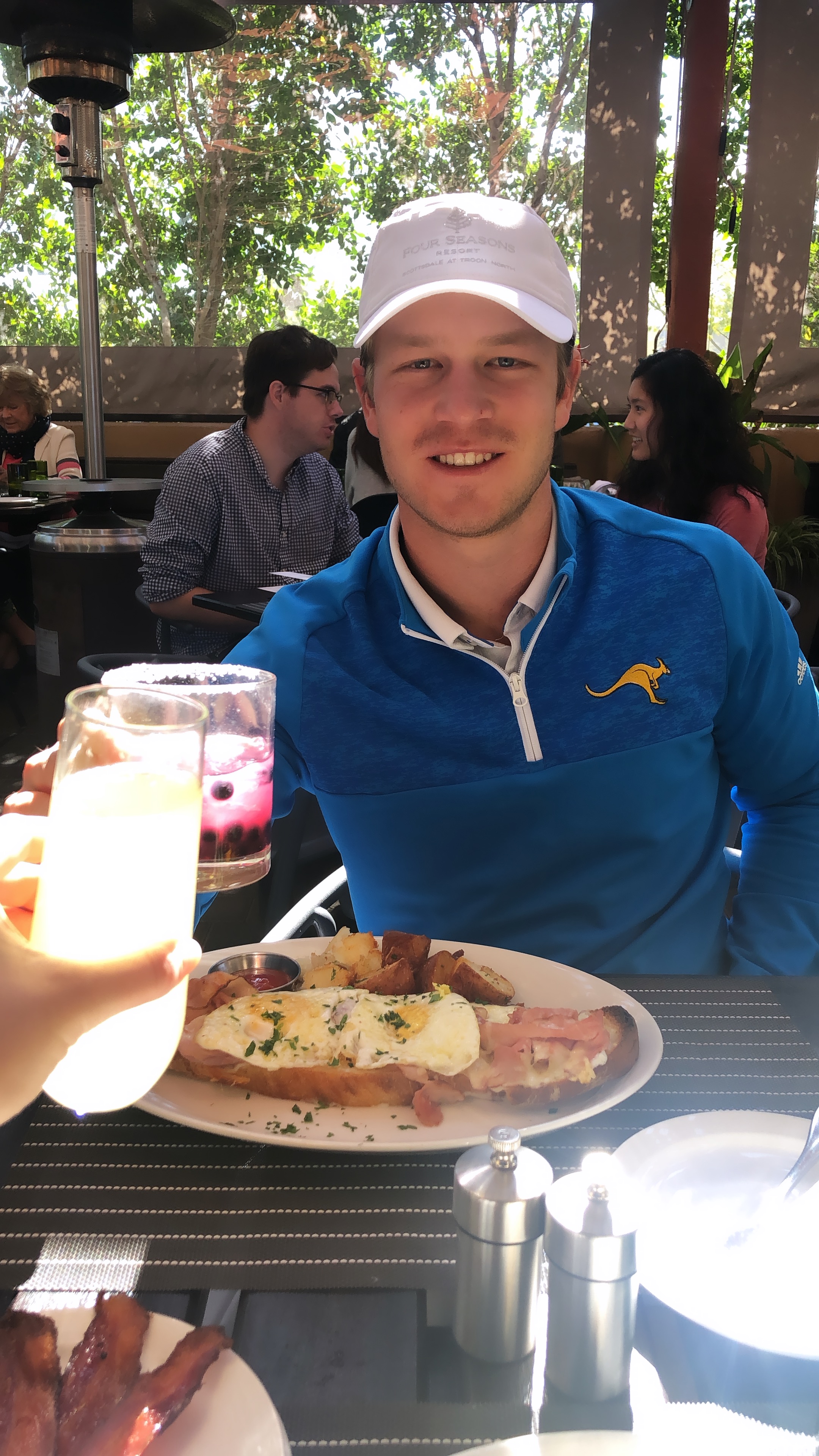 That day I wore the grey dress that you can see in this post! I did a post all about how to style Sweatshirt dresses while I was in Scottsdale. Definitely check it out if you like casual dresses!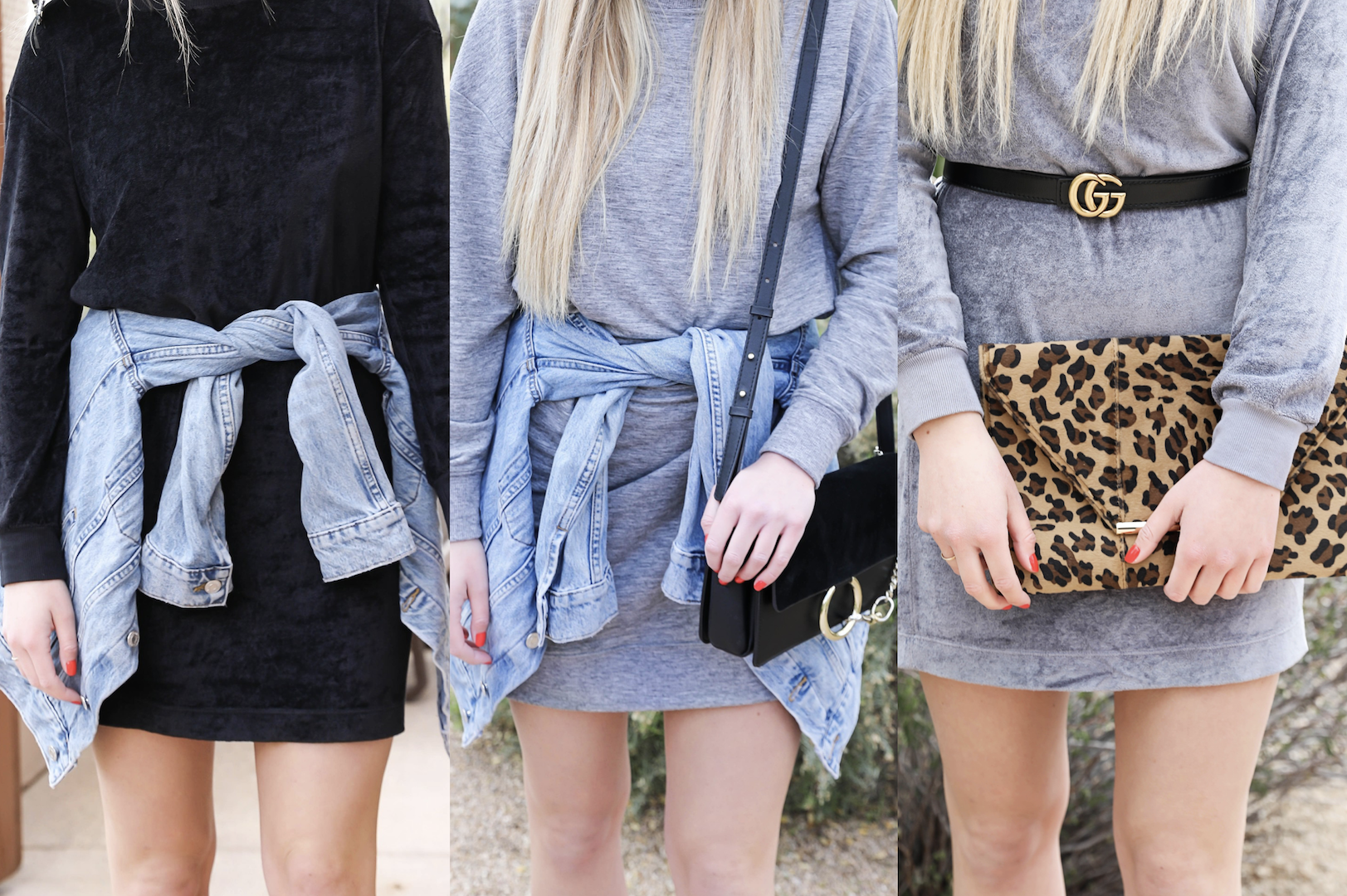 Day 5 & 6
I am going to mush these two days together because, honestly, I just worked, shot photos, ate, and went to the horse show haha! I did spend some time by the pool though which was nice! You can see the outfits I wore below!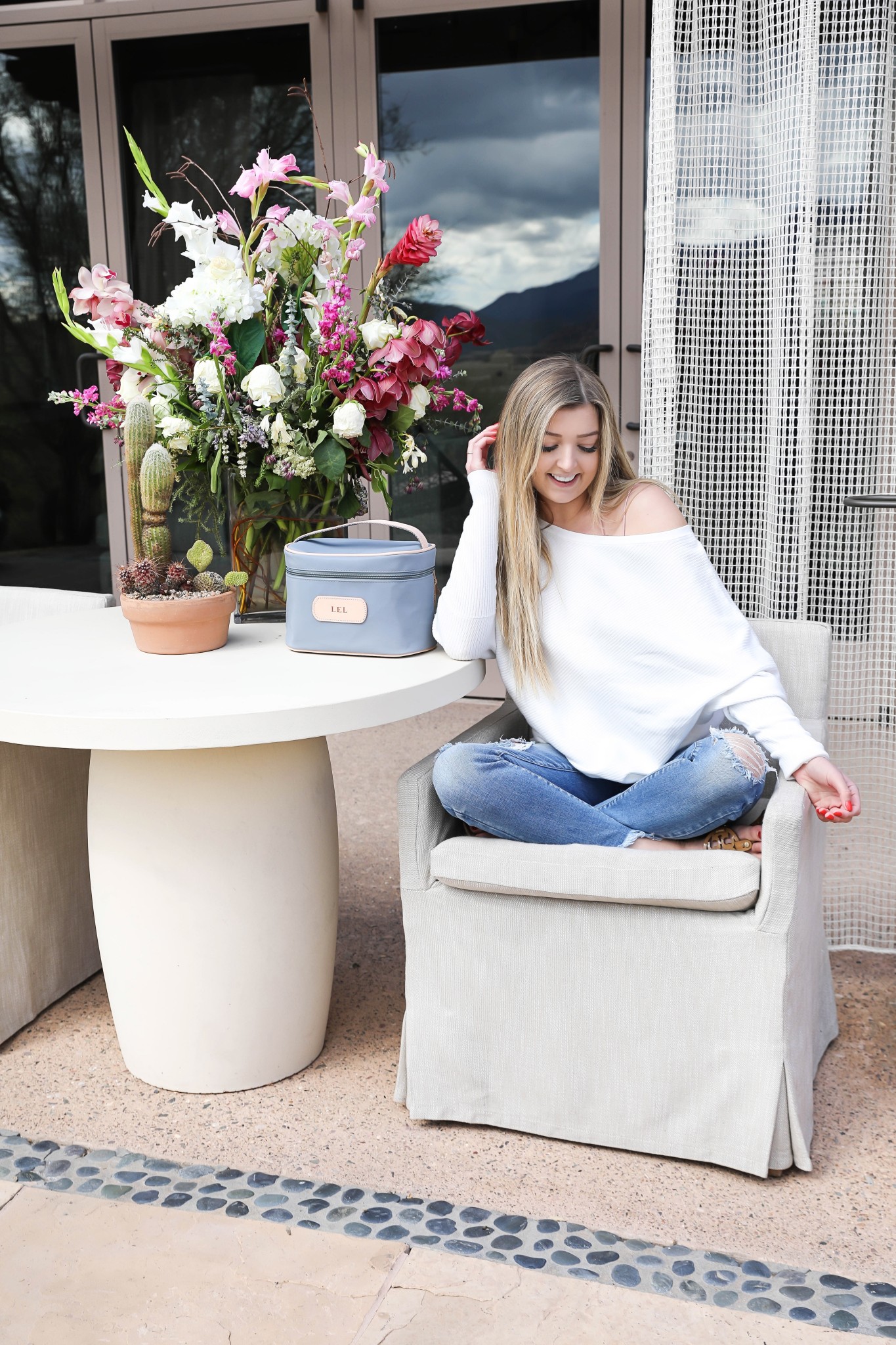 | Slouchy Sweater ($20 on Amazon Prime – comes in 10 colors & I am wearing a small) | Distressed Denim Jeans | Makeup Bag (c/o) |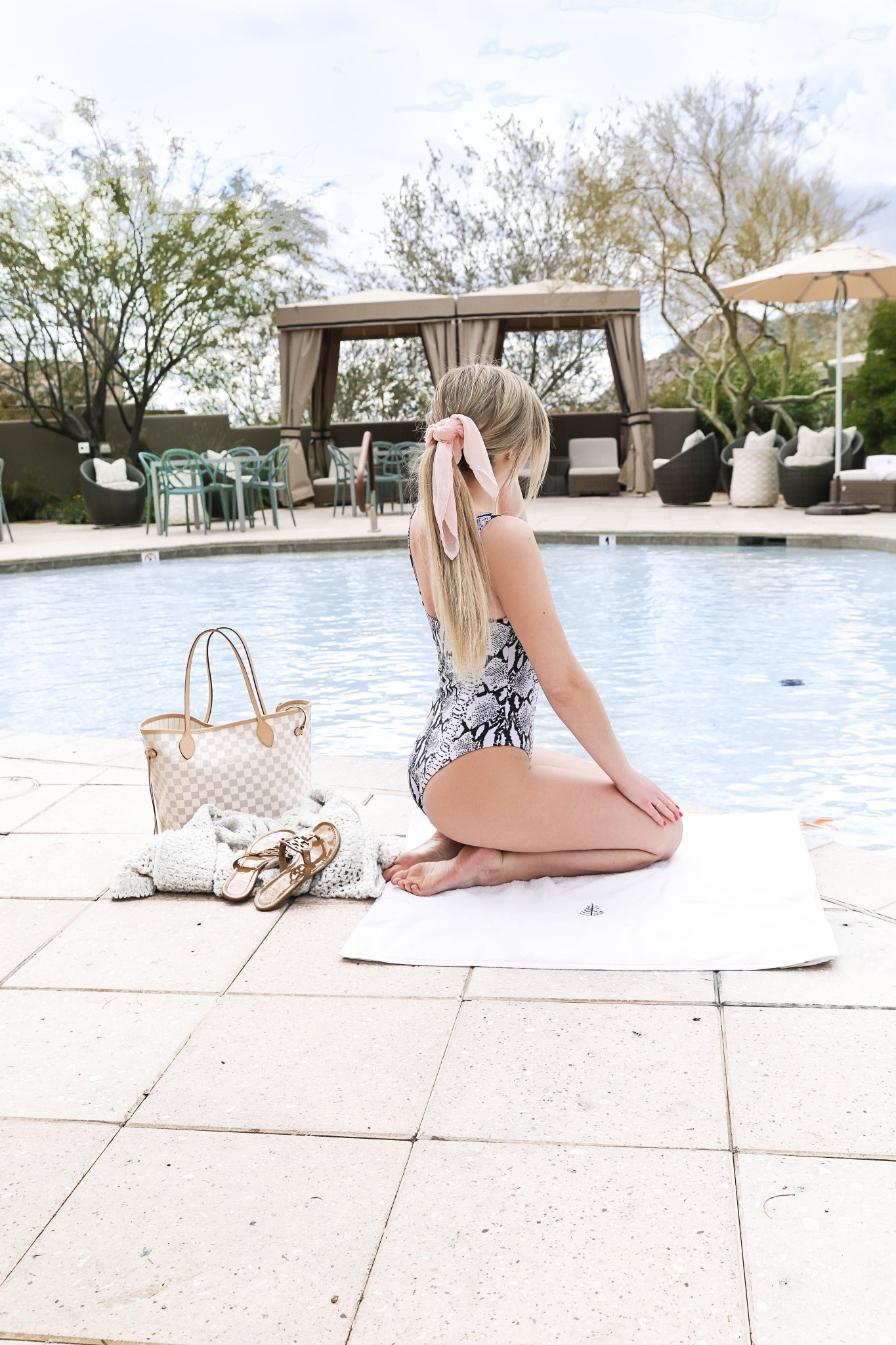 | Snake Skin Swimsuit ($22 on Amazon Prime, size up) | Hair Scarf | Louis Vuitton Neverfull MM | Tory Burch Miller Sandals (TTS and comes in more colors) |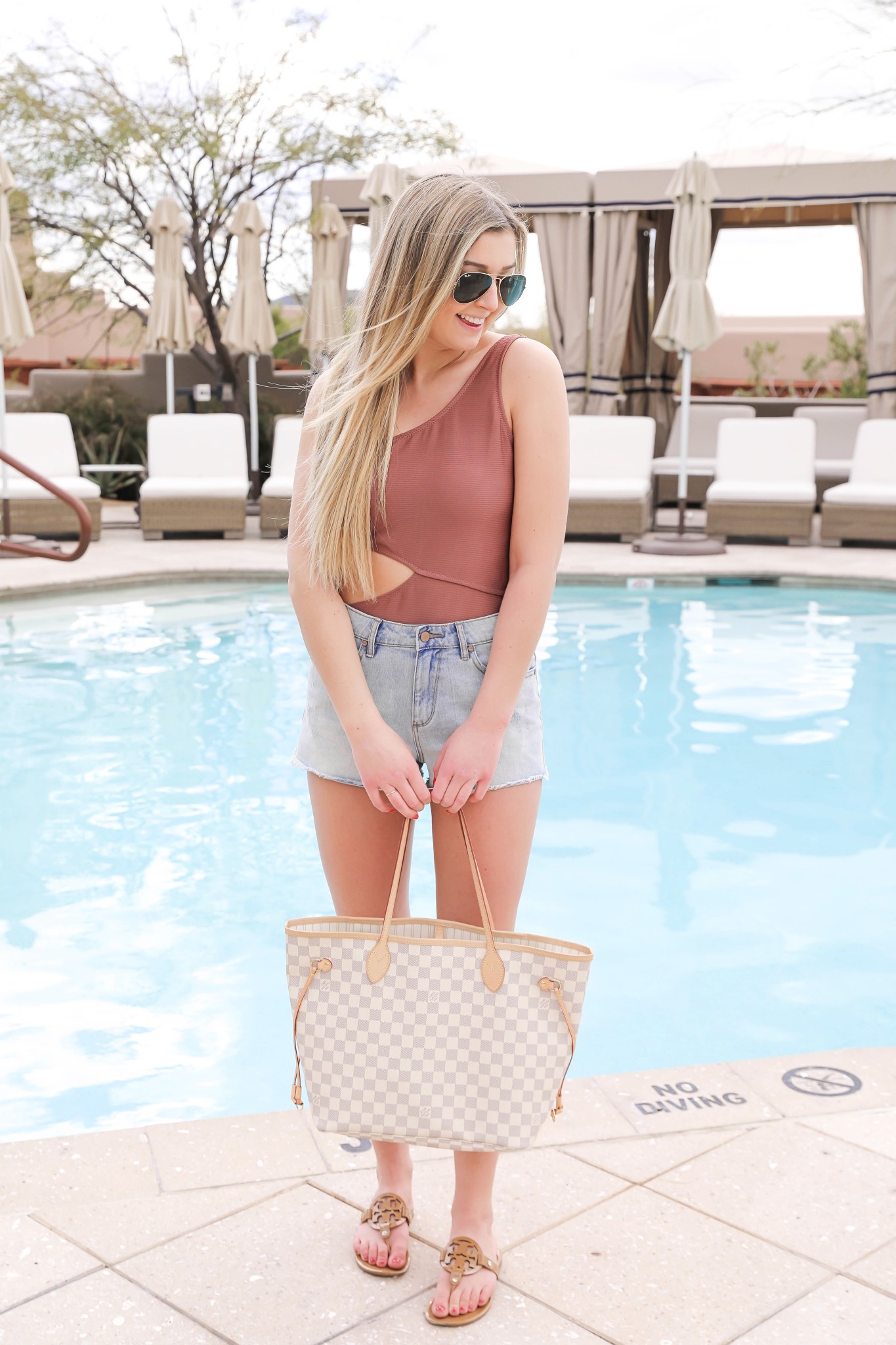 | Cutout Swimsuit ($29 wearing a size medium – size up) | Louis Vuitton Neverfull MM | Tory Burch Miller Sandals (TTS and comes in more colors) |
We had SO much fun! I hope you guys enjoyed this little recap of my trip! I leave again TWO WEEKS for another one! So let me know what you want to see while I am there!
xoxo,
Lauren Emily Lindmark
Copyright © 2019 dailydoseofcharm.com