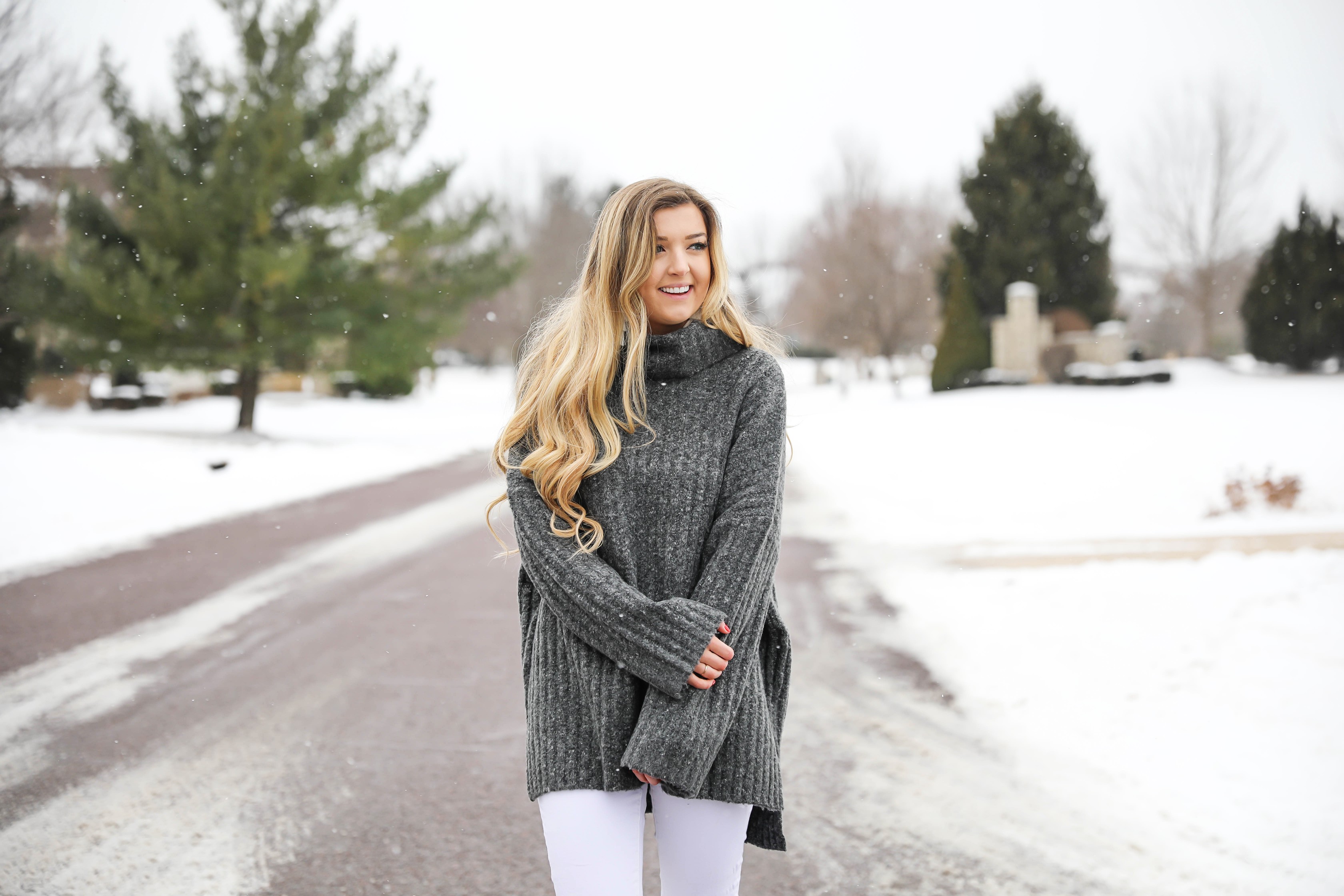 Snowy Sweater & Pink Sneakers | OOTD + EVERY TV Show I Have Watched & Love
Okay… I wanted to make this post all about my favorite TV shows for two reasons, one I am not sure what to write about and I NEVER get writers block…so TV shows are easy to talk about haha! And also, I do not have "a show" I am watching right now and I hate it. I am such a sucker for TV, I love having it on for background noise, but it's also my way of unwinding at the end of the day and having some normalcy to everyday. I don't know if that makes sense – but no matter what is going on in life it's nice to have "a show" that is familiar and a way to just get your mind off of things and relax! Although there are a million ways to do that, things like books end too quickly so I like to have long TV shows I can watch.
So, not only should you check out these shows I am about to mention, but also pleaaasssee suggest some good shows for me to watch! Okay let's get into it! Sorry this is going to be such a long list, I am hoping I don't forget anything.
*These aren't in any specific order, just going through my Hulu Netflix accounts to remember!*
*This is a list SINCE MIDDLE SCHOOl haha! I am now a junior in college, so I promise I am not that crazy into TV.*
My favorite TV Shows
1. Gossip Girl
I feel like this one needs to go first because I think it is what got me hooked on binge watching TV shows. My best friends and I in middle school and high school would hang out every weekend and watch GG. It's funny hanging out with them now and hearing them reference all the episodes. It makes me nostalgic to think about, but I still sometime watch episodes every one in awhile.
2. 90210
I think this was the second show I binge watched on Netflix. I remember watching it with my best friend Emily and we would always talk about how the drama in the show lined up with our lives haha. So funny to look back and think about our "high school drama!" It's such a good show though!
3. The Office
This on is such a feel good show, but I also love that you don't have to really watch them in order. There are some story lines, but for the most part every episode is different and hilarious! I am listening to this right now in the KU Business school while my friend studies and I write this post.
4. Friends
I actually just watched this last fall ( I was a little behind), it was as good as everyone said it was! They need a reunion show!!
5. Jane the Virgin
My other best friend named Emily (this one I met in college) and I started watching this freshman year and it is our show now that we watch whenever we are together! For some reason whenever I tell people about this show they tell me they weren't a fan when they tried to watch it, but I love it! Something huge happened last season though and we haven't been able to watch since…
6. Modern Family
We always watch this as a family at our lake house and it is such a funny show! If you need a happy show to binge watch I 100% recommend this one!
7. Parks & Recreation
This show is a lot like The Office! It is SO funny and there is a plot line, but you can also just watch random episodes and not really miss anything. Amy Poehler and so many other hilarious actors are in it!
8. Law & Order SVU
I LOVE crime shows. I like watching True Crime videos on YouTube – Danelle Hallan, Bella Fiori, Kendall Rae, Kennie Kaye, and Michelle Platti are my favorites. I also just found Eleanor Neale and hers are really good! I can do a full other post on my favorite YouTubers if you want! But for crime shows, this one is definitely my favorite! I am so emotionally attached to the main characters, they kick ass!
9. The Fosters
I talked about this one the other day in a blog post and this is what I said, "it deals with real issues and not just petty high school drama. The episode I am on is talking all about immigration and it made me think about how there aren't many shows like this. They touch on things such as drug abuse, loss, gender roles, sex, relationships, sexual orientation, mental health, personal values and more. I totally recommend it!" I love that it is so different. I didn't know much about the foster system, and although it is a fictional show it seems like they try to do a really good job to depict things accurately (but also with some good drama).
10. Black Mirror
Okay this show is SO WEIRD (I think it is a Netflix Original). Every episode is different and they are not connected at all. They are sort of futuristic and remind me a little bit of Utopian/Dystopian societies. I thought it was really weird when I first saw it at someone's house, but after a few episodes I had to watch the rest. There are only 5 or so episodes in each season, but I think they all have weird hidden meanings so if you are into that kind of stuff check it out!
11. How to Get Away With Murder
I used to watch this with my ex (lol) so I haven't watched it in awhile and I need to catch up! It was another show that was super suspenseful and really made you think. If you are really into law you should watch this one!!
12. Designated Survivor
This is another one I started with my ex and need to catch up on! I LOVE this show! It's about this "designated survivor" that is picked in the government to not go to all the huge government gatherings (such as the State of the Union). The main character is chosen and the capital building ends up getting bombed so he becomes the new president. He then has to figure out how to rebuild the government on his own and win over America, while also dealing with some sketchy stuff going on surrounding the bombing. Don't worry this all happens in the first episode so I didn't give it away! It is so suspenseful!
13. CSI Miami
I haven't watched this since high school, but it was another crime show I loved! It was a bit gory if I remember correctly, but I loved solving the crimes "with the team" haha!
14. Orange is the New Black
I really liked this at first, but to be honest the last two seasons I haven't fully paid attention to it. It aires every summer and I always end up forgetting what happened the summer before so I feel like that's why I didn't pay as much as attention the last two seasons. I still love it thought because it is such a "different" show!
15. Shameless
This show was HILARIOUS! My neighbors told me about this and the way they described I didn't think I would like it haha. They said something like, "the dad is an alcoholic and he has a ton of kids who are also all really messed up." So I decided to give it a shot and LOVED it! It kind of is exactly how they described it, but it is so funny!
16. Blindpost
I am currently watching this on TV and I love it! I love suspensiful shows like this that make you think (if you can't tell haha)! Plus I love all the characters. The show starts out by the FBI finding this girl covered in tattoos unconscious in NYC. She didn't remember anything and her tattoos are basically all different clues! It is so good!
Favorite Reality Shows
1. The Bachelor
I watch this every few seasons, I like the Bachelor more than the Bachelorette for some reason. I think it's because there is more drama with girls haha! Although, I do like having all the guys chase one girl (that's how it should be 😉 ). I am not sure how I feel about this season, usually there is one or two girls I really like in the beginning, but not this season. Arie is cute, but kind of dull haha!
2. Big Brother
My FAVORITE summer show. Hands down. My extended family got me hooked on this and it is always a huge topic of conversation while we are at the lake during the summer! They put 20ish contestants into a house every summer and they are watched 24/7. It aires three times a week plus there are live feeds you can pay for to watch the contestants at all times. They play games and vote each other out and there ends up with one winner. It takes a little while to learn the rules, but so worth it. Since it aires so much I always end up getting behind (I don't watch the live feeds), but you will get addicted!
3. Keeping up with the Kardashians
I am actually a few seasons behind on this show, but I started watching this in middle school and I love (don't hate me I know it's trashy haha). Now that Kylie has announced her baby I need to catch up! I never watched her show either, but I usually like the little spin offs!
Dumb Shows I Love
So I am a college student and I enjoy getting drunk (shocker haha). So freshman year I start watching some of these dumb shows. Honestly, I blame dating a fraternity boy, we used to hang out and just watch these and drink – but they are actually kind of good! They are all so full off nonsense and just hilarious. You don't have to pay attention, watch them in order, or even really care what is going on. I still turn these on when I come home on the weekends!
1. Brickleberry
2. Family Guy
3. American Dad
4. Bob's Burgers
Things I Have Watched Sporadically
1. Dance Moms
I watch this with my little sister every once in awhile and the drama is hilarious (and so fake)! Plus it makes me want to be dancer! Every show on this "sporadic" list can just be watched randomly and not in order!
2. Baby Daddy
Love this for background noise, another one my little sister introduced me to and we watch this when we have sleepovers at the lake!
3. Blackish
Really funny family show! Reminds me a lot of Modern Family because all the characters are hilarious!
4. American Ninja Worries
My little cousins that I babysit love this show and they got me hooked! Sometimes I seriously get anxiety from it though because I clinch my stomach while they are doing the courses. Such a nail biter, but I love the contestant's stories!
Things I started along the years and didn't finish, but would be willing to watch again:
1. New Girl
2. Once Upon A Time
3. Glee
4. Stranger Things
I was sort of the same as Orange is the New Black with this show, I loved the first season and still have not finished the second. I need to get on that because everyone said it was so good, but I just got distracted!
5. Weeds
I don't even really remember this show, I just remember sort of watching it in high school and liking but just stopping it.
6. Breaking Bad
7. Fuller House
So I watched this while I had the flu two years ago and was running such a high fever I barely remember it haha! I need to try to watch it again.
8. American Horror Story
I loved the first season, but didn't finish the second. I've heard some seasons are better than others.
9. Pretty Little Liars
I haven't watched the newer seasons because it got sooo confusing, maybe I should rewatch it!
10. Walking Dead
Another show I just sort of stopped paying attention to, but I liked it at first!
11. Homeland
I stopped watching this after a certain character died (I won't give it away), but it was really good before that! It is probably good all the way through, I just hate when shows kill off character.
Currently *Trying* to Watch, but Not Too Attached
1. Gilmore Girls
I am only on the first season so I am not attached to the characters and it's sort of an old show right now so I feel like I need to give it more of a chance! My mom was so excited when I started watching this thought because she LOVES it!
2. Vampire Diaries
I started this and I don't know I am just not super into it. Should I give it more of a try?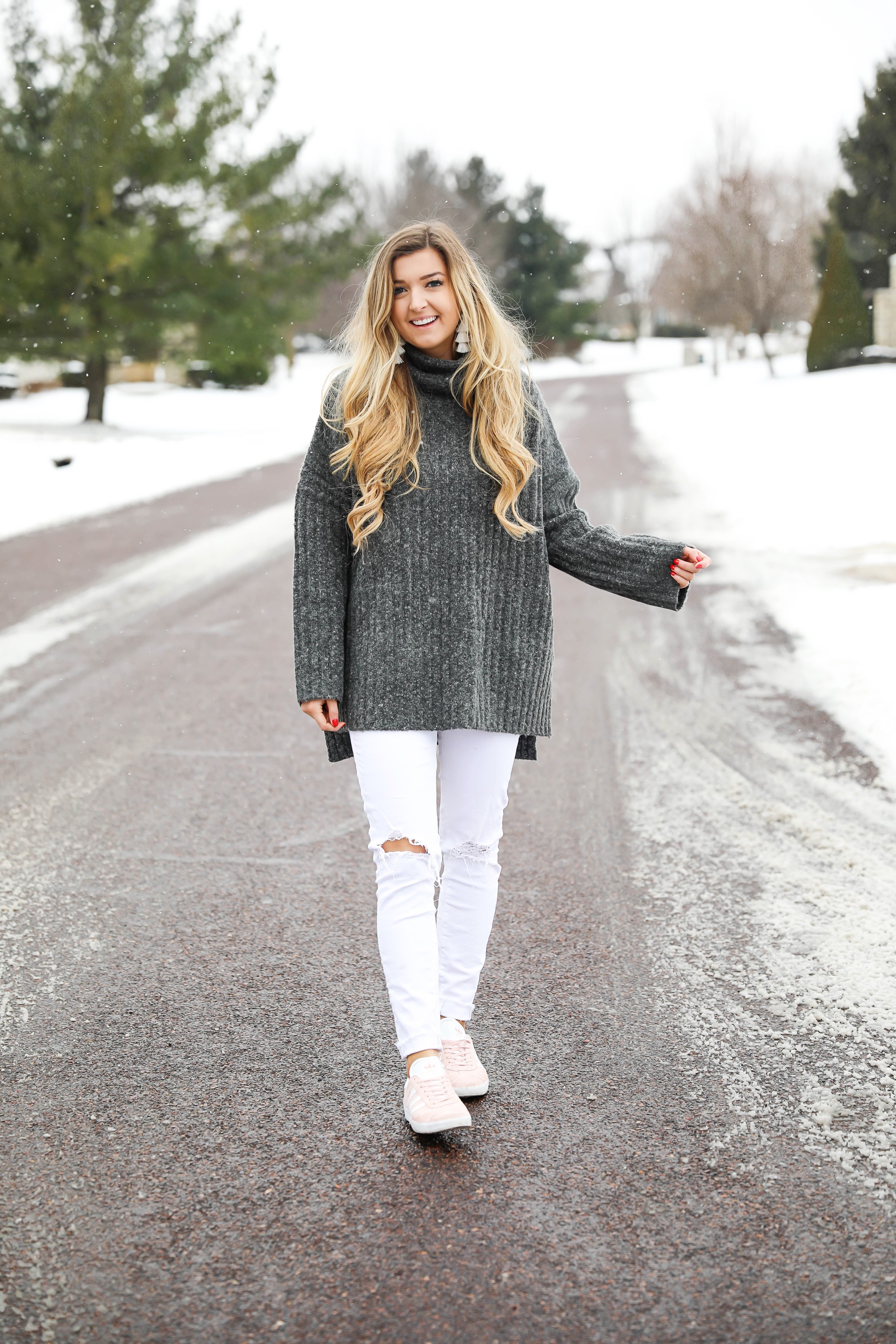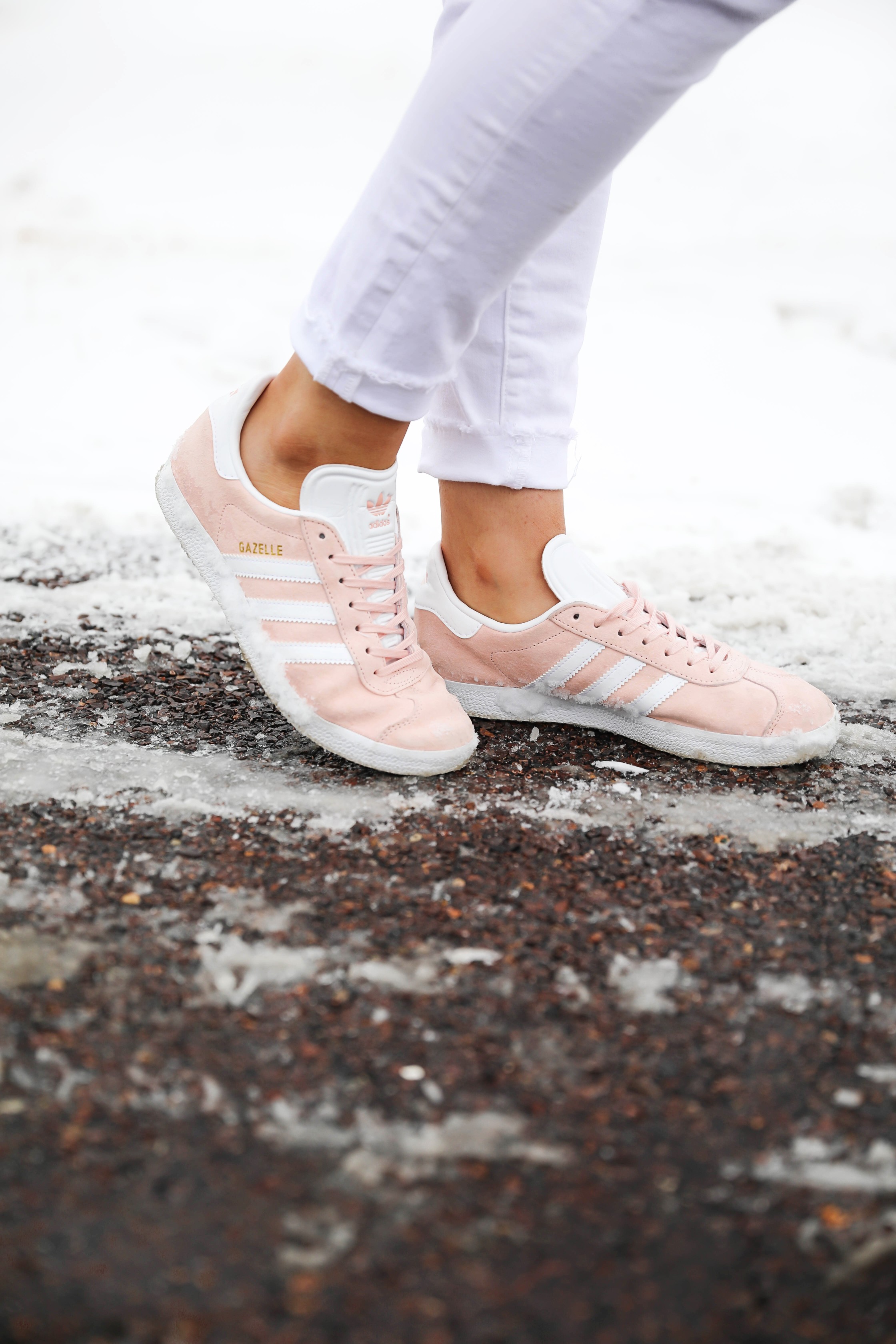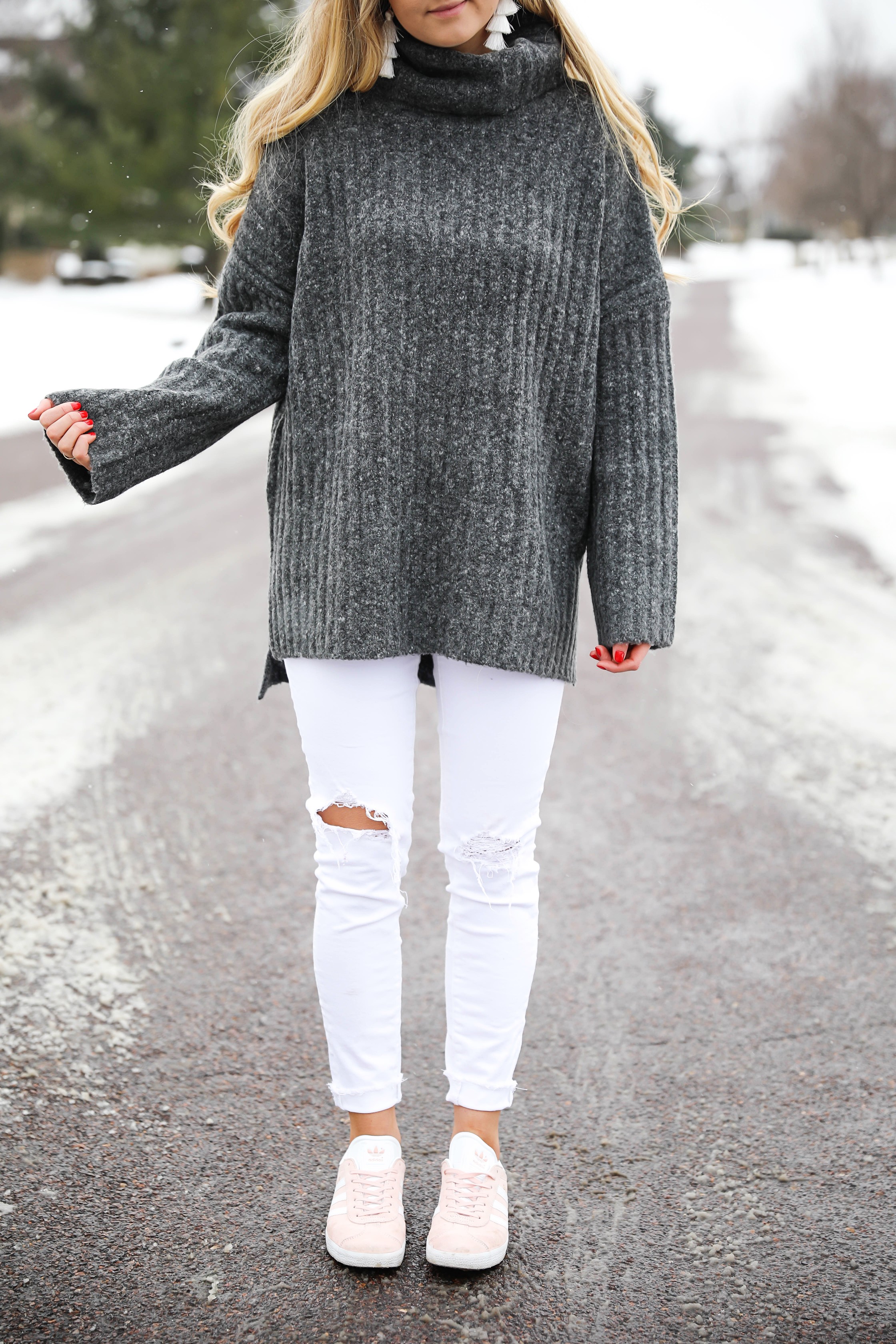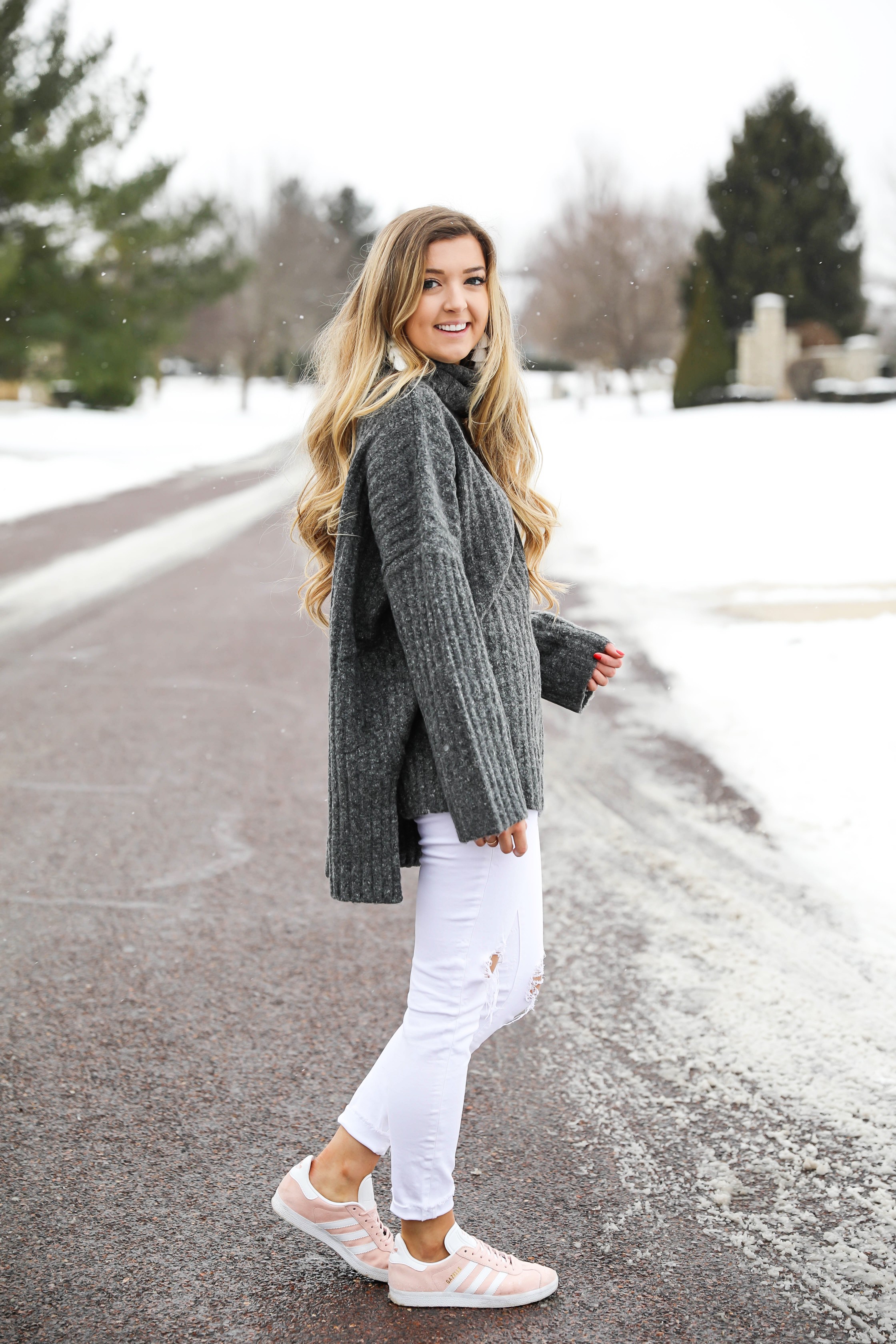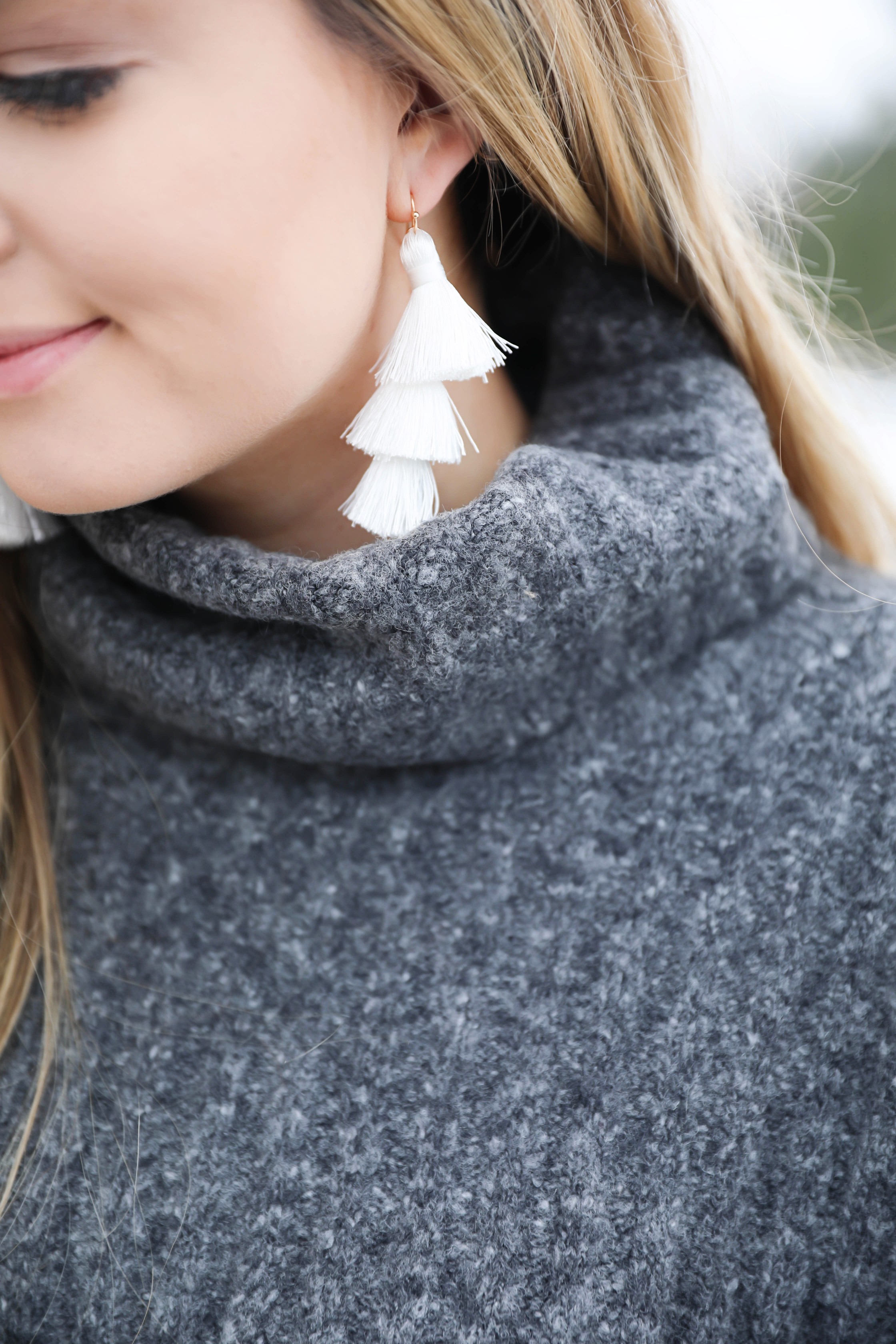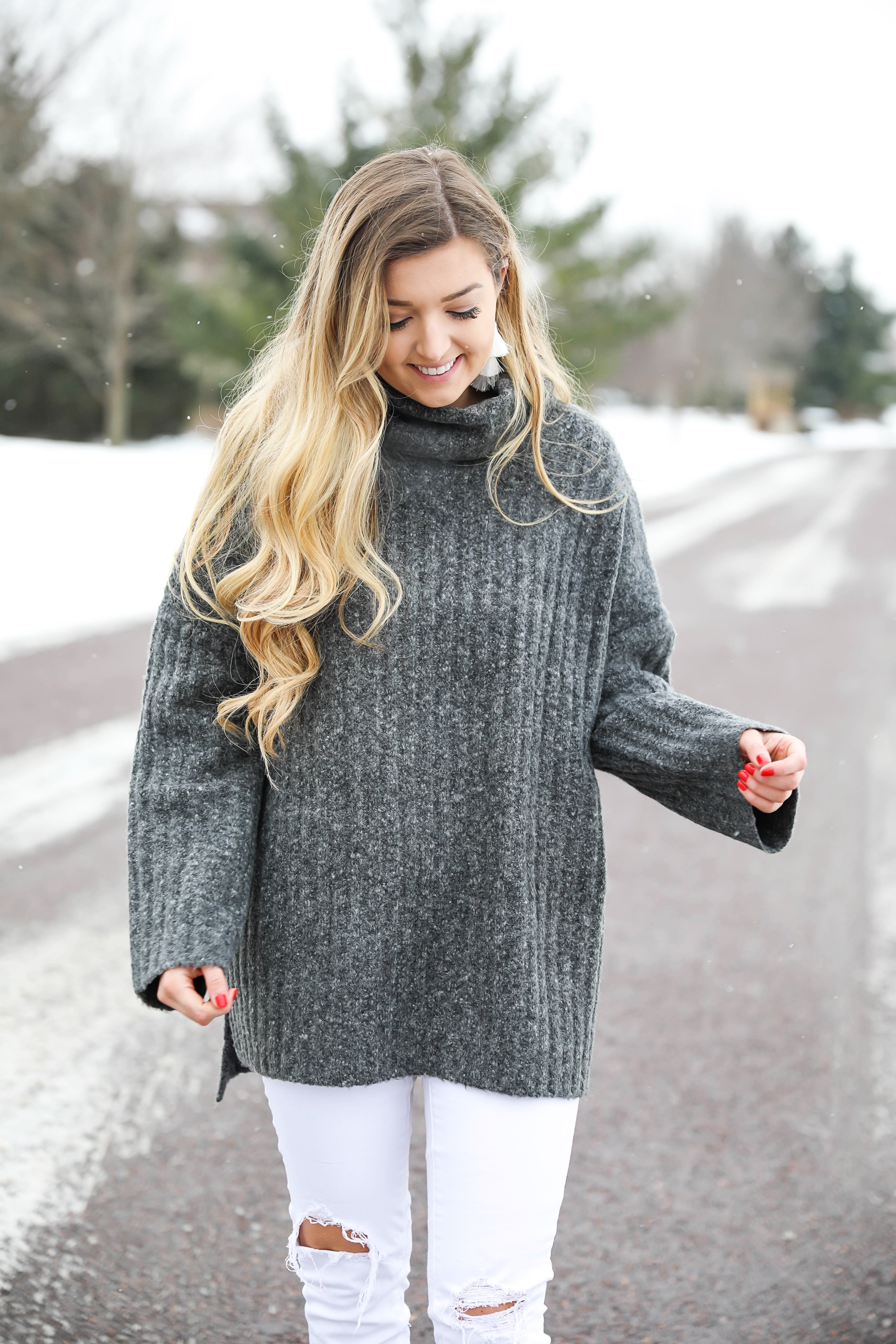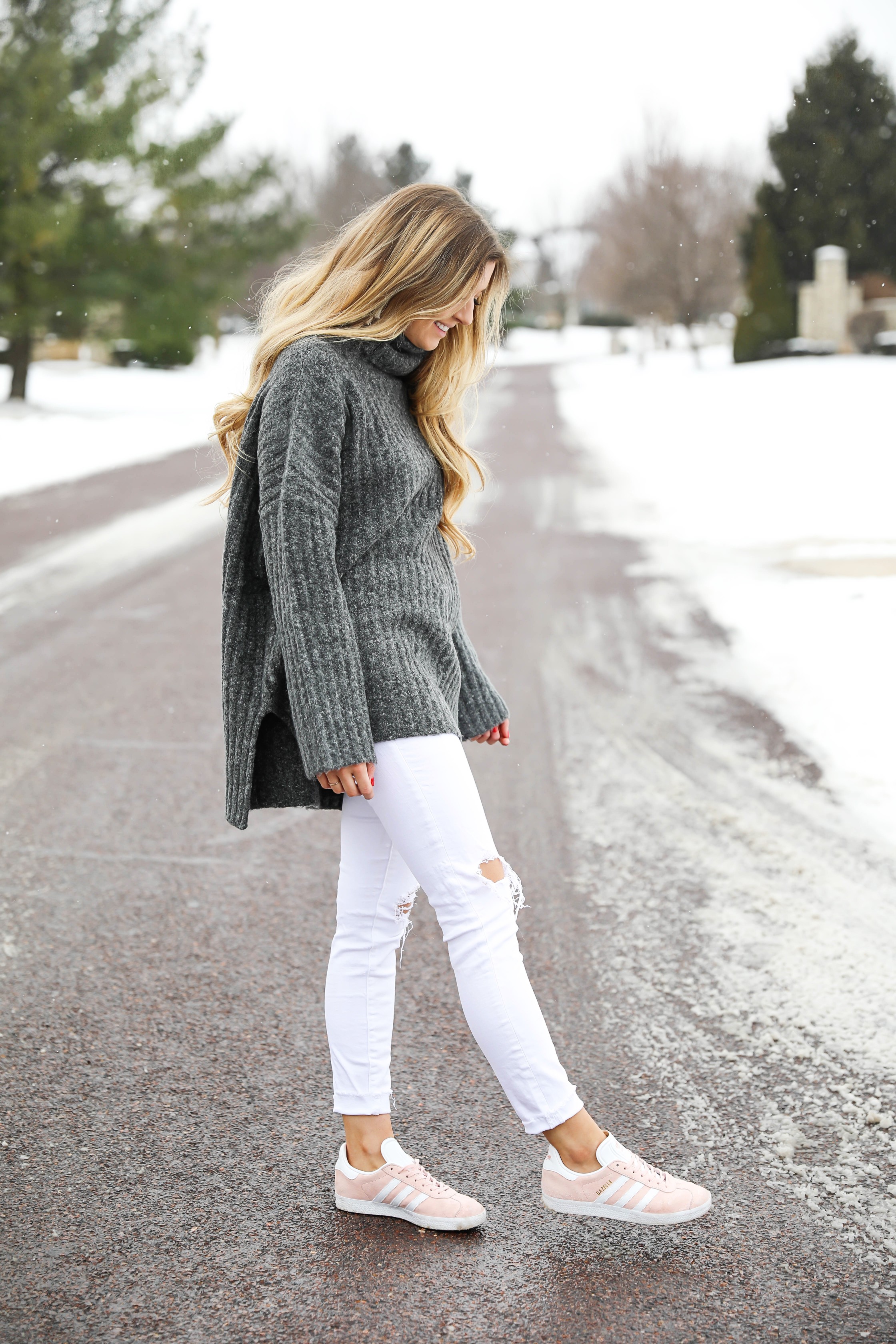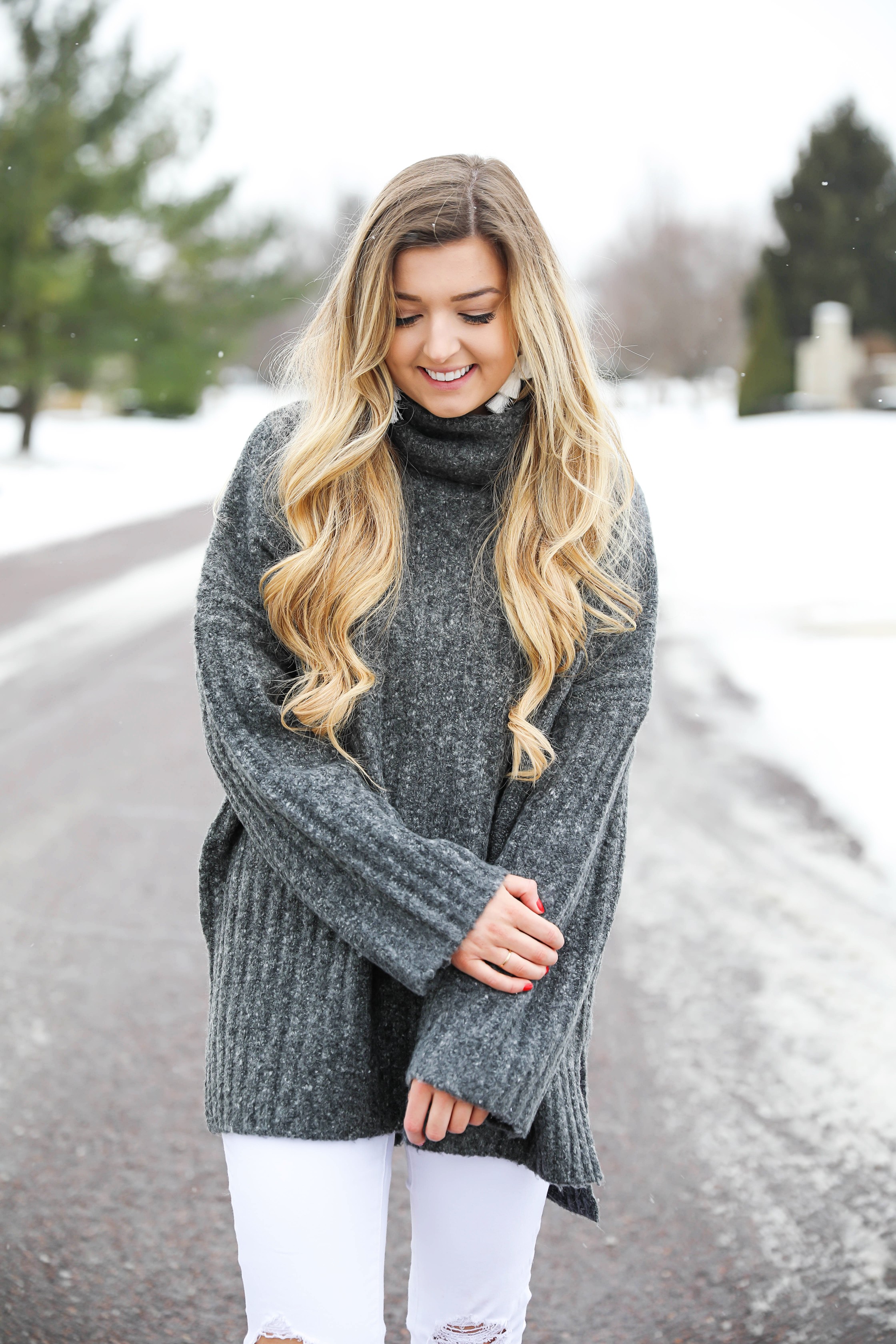 Okay… now that I have written 2000+ words about TV shows (I have a problem…) time to talk about this outfit! I love anything oversized if you haven't noticed, so when I saw this online I fell in love! It is sold out right now, but sometimes Nordstrom restocks popular items! I found it in white on Amazon too, I linked the size small (that I am wearing) because I feel like it is huge, but if you want a larger size I also think Amazon had a medium!
I paired it with white jeans and went a little different and threw on some sneakers. I love these pink Adidas sneakers! I don't wear them enough because I don't want them to get dirty, but they are so adorable. They come in a ton of colors and I also love the mint!
God bless my momma who went out in the cold with me to take these photos while it was snowing! We were freezing, it wasn't even supposed to snow but when we showed up to this street to take pics it started! I threw this sweater on after I did my hair and totally should have brushed it because it is crazy and frizzy, but you get what you get with me haha!
xoxo,
Lauren Emily Lindmark
Copyright © 2018 dailydoseofcharm.com