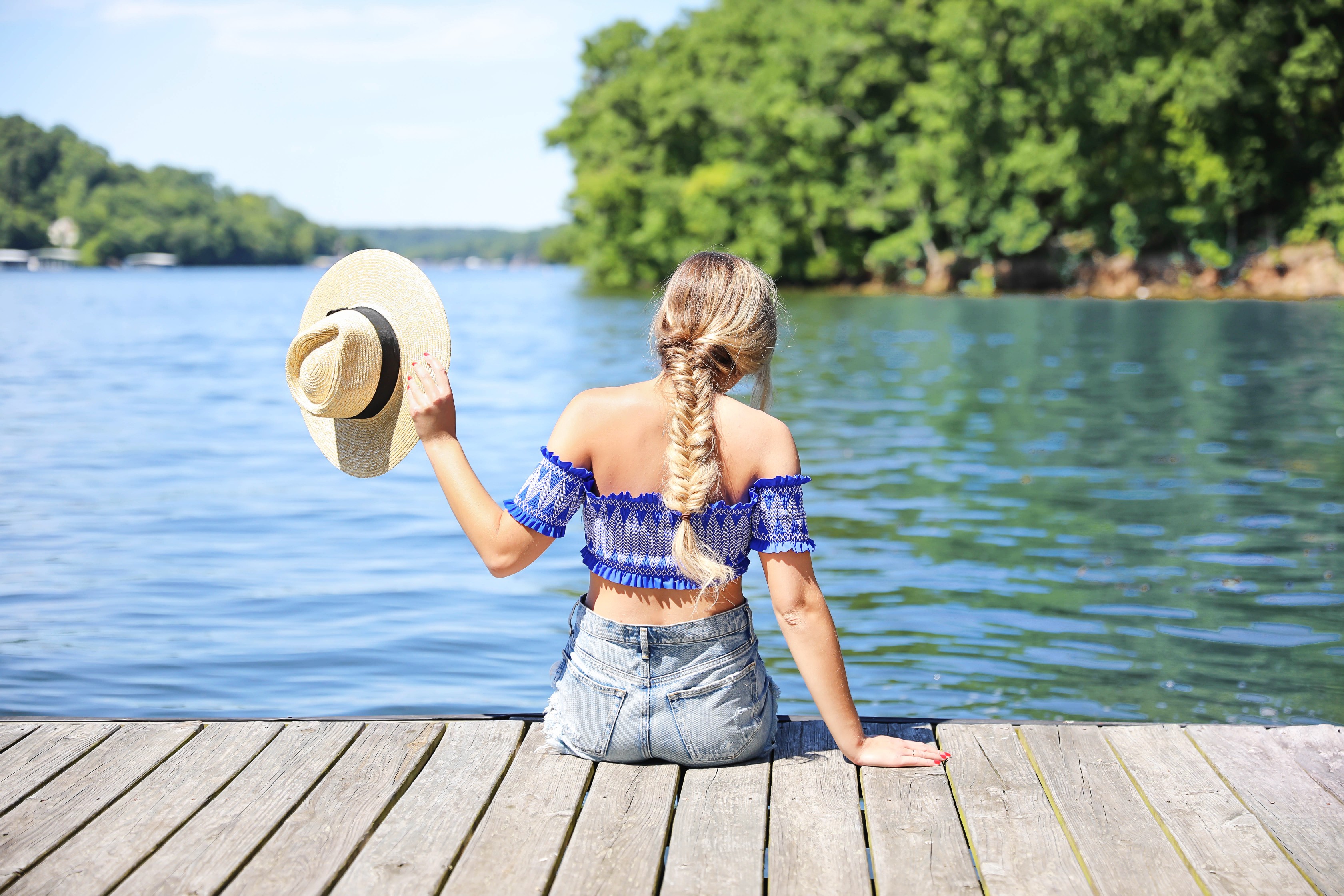 Summer Hair Necessities | OOTD + My Favorite Summer Hair Products
Happy Monday y'all! This week is about to be INSANE for me. First of all, it's the Nordstrom Sale – which is one of the biggest sales of the year! Definitely keeps us bloggers super busy! Be on the lookout for some fun shop with me posts and more. Then the rest of the week will be crazy with school, if you have followed my blog awhile you would know I am not a school person. Never have been! So being in three classes that are compact because of the summer is making me crazy. I have no time for anything else. I was supposed to go to the Kenny Chesney concert this next weekend and I decided not to buy tickers. I know I am going to want to just have a chill night with how busy my week will be!
I did luck out this weekend and get a beautiful few days at the lake! I spent half of it inside working, but I also got to lay out on the dock, eat some yummy home-cooked meals, and spend time with my family and extended family! The last day I shot these photos and I am really excited I get to share this suit with you guys! Keep reading for details!
Also, keep reading below to see all my hair-care tips and secrets for the summer!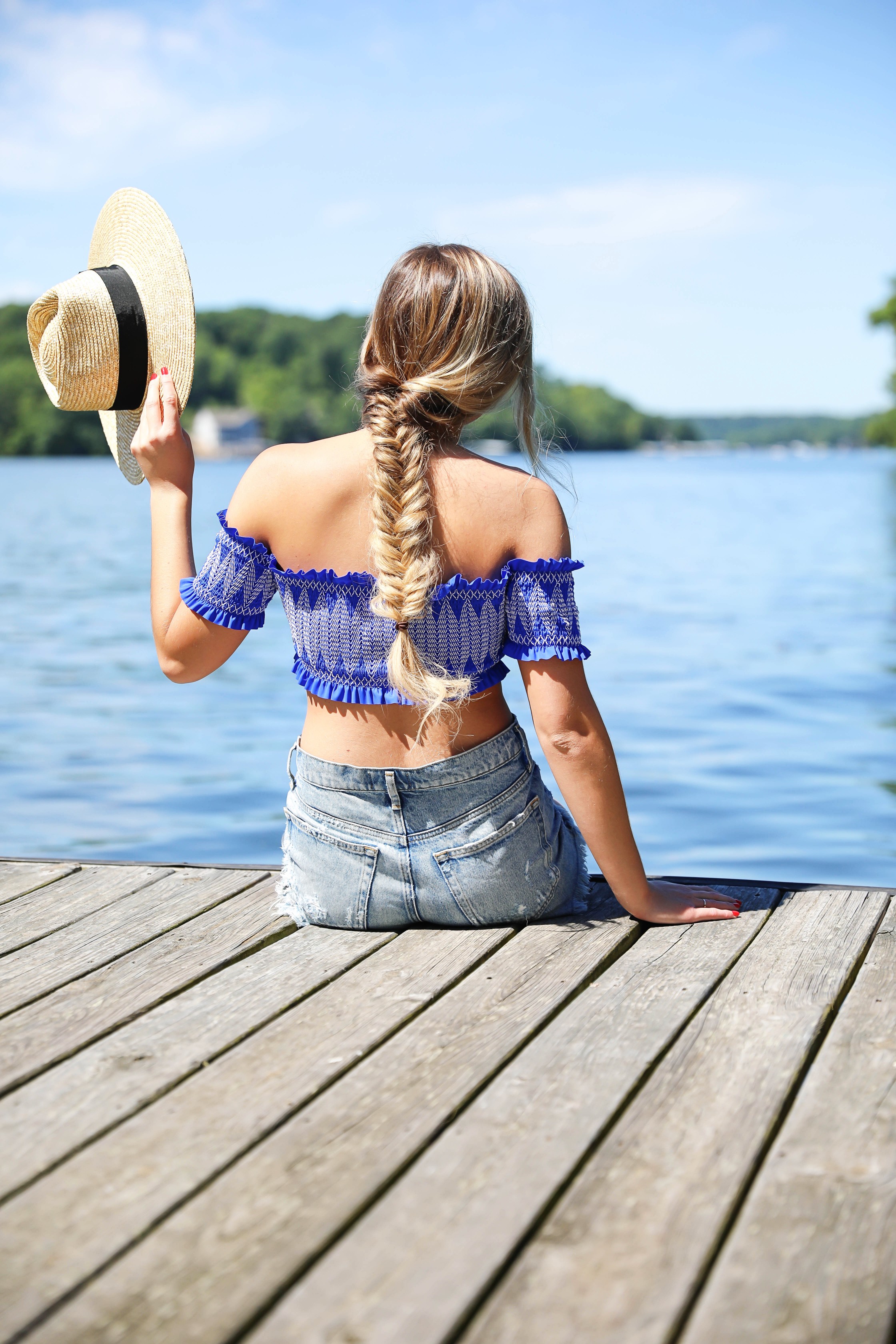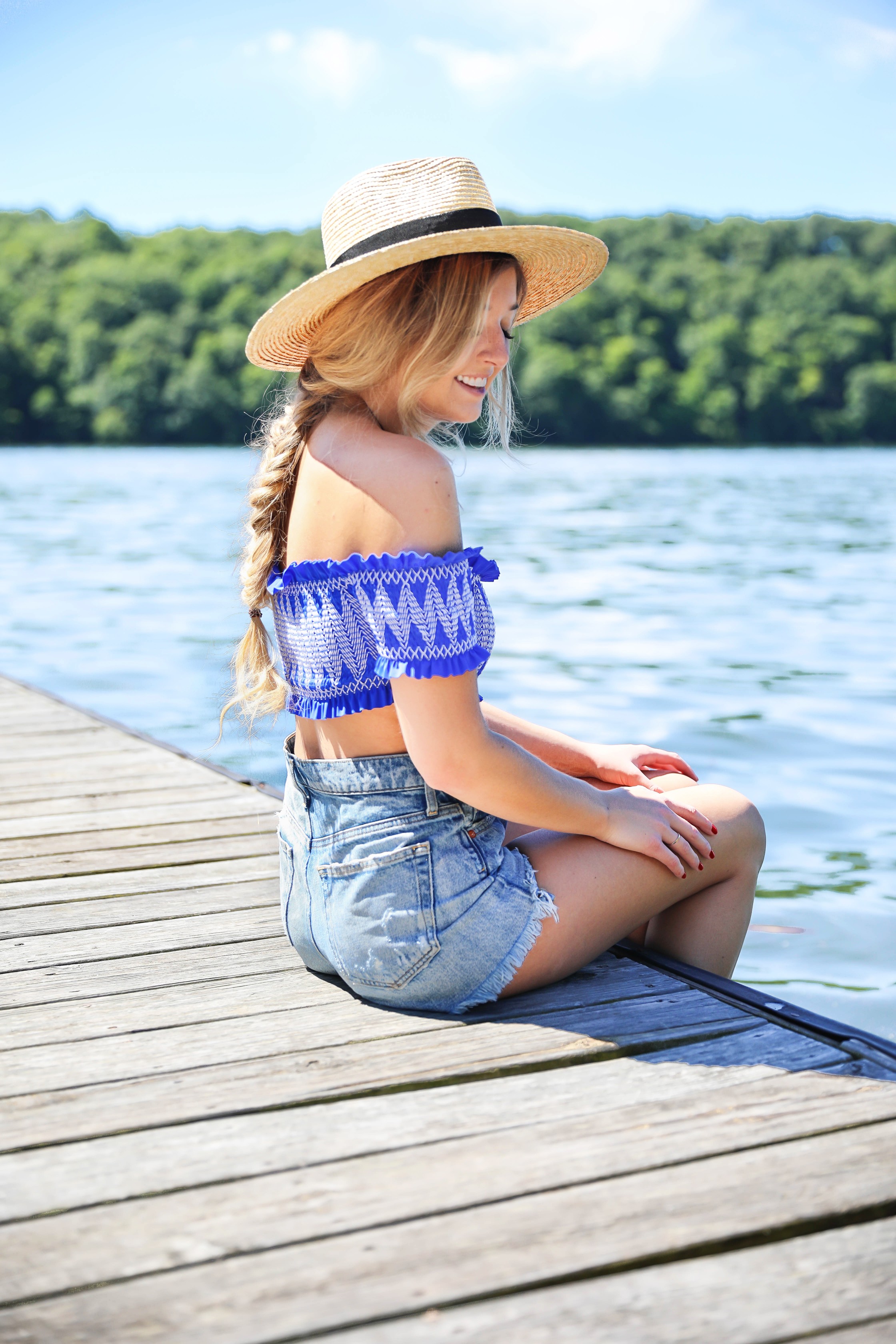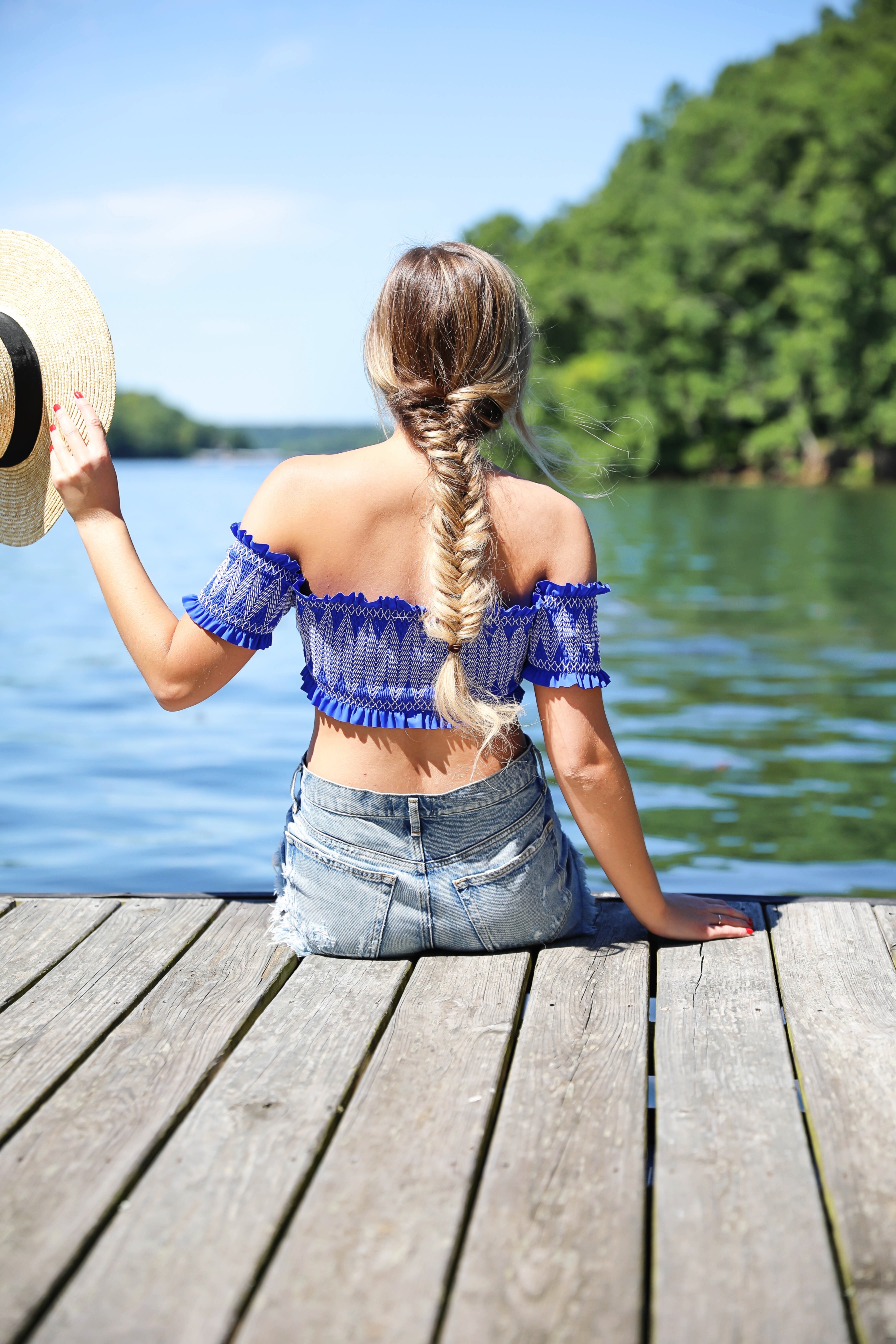 I bought this swimsuit for the Fourth and didn't even end up wearing it! I wore this red one instead that I have been obsessed with all summer. I decided to wear this one this weekend instead. I think it is so cute! I love that it's off the shoulders and the royal blue color is so pretty. I grew up in Kansas City so I have always loved this color because of our baseball team (the Royals) and now I go to KU and it's also in our colors!
I wish I would have gotten more photos, but the lighting was so harsh! Shooting in direct sunlight is super hard. I always prefer overcast days or finding shadowy places to shoot on content days. I would love to do a post on how I prepare for blog shoots if you are interested!
For now, keep reading below to see my favorite summer hair products!
My Favorite Summer Hair Products & Accessories!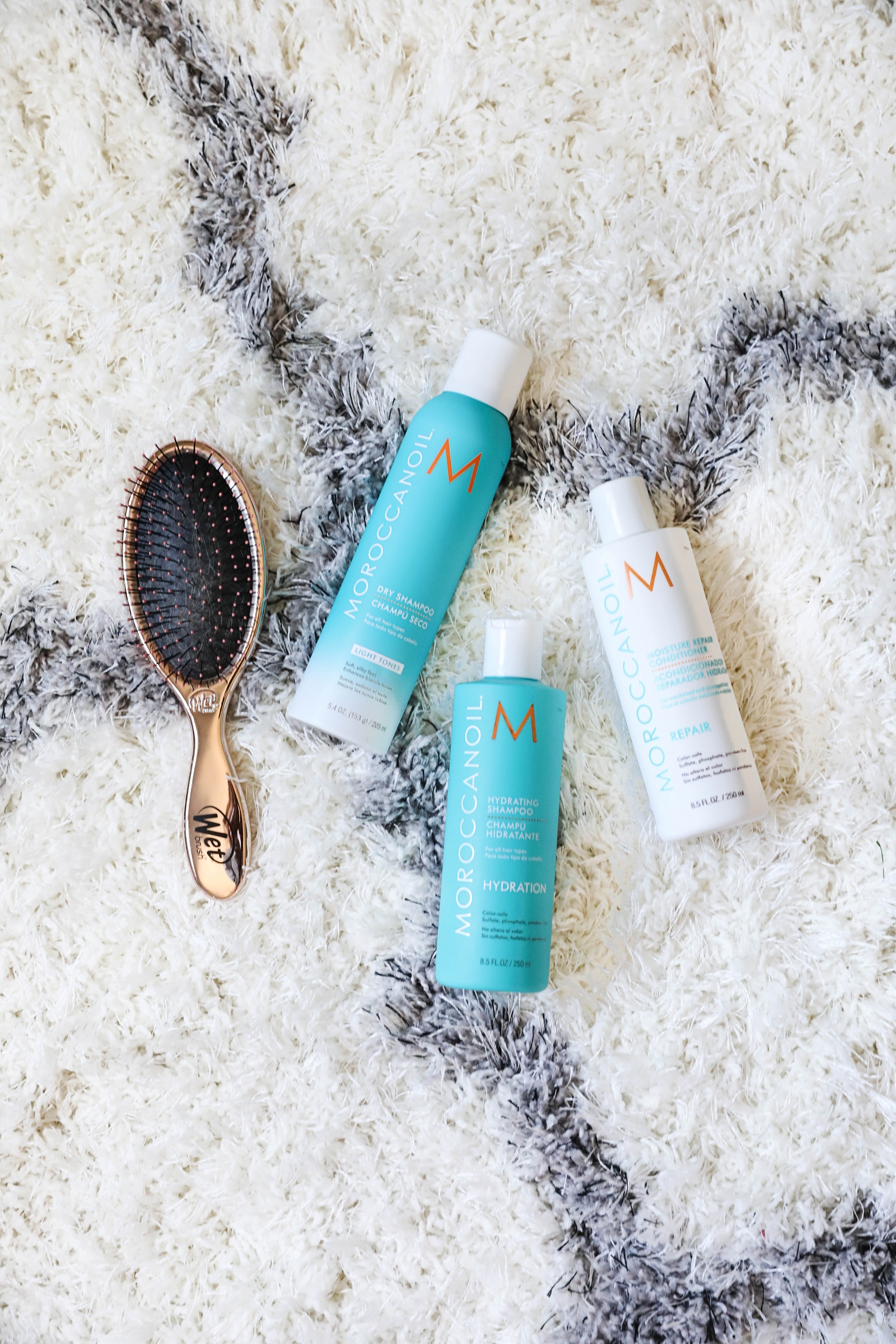 1. Moroccan Oil Shampoo & Conditioner
You are going to notice most of these products are by Moroccan Oil – not sponsored, although, I wish it was because they are my FAVORITE hair brand haha! Their products smell amazing and they are so moisturizing, which is great for my curly hair. The moisturizing aspect is also great for summer hair! We spend so much time in pools with harsh chemicals, saltwater, and the heat that it really does a number on our hair!

2. Wet Brush
I have been using these since high school and I have never found a brush I like better! These are amazing because they are easy to brush through tangles, but they don't rip your hair! Plus they come in some cute colors!

3. Moroccan Oil Treatment Oil
I love putting this on my ends after I shower or if I don't have time to shower after a pool day I will put it in my hair to moisturize it! Plus, like I said above, it smells amazing!

4. Moroccan Oil Hair Mask
Okay so we have covered the fact that these products are moisturizing smell good, but this one is awesome if you hair really needs that extra love! I will either sleep in this or put it in for 30 minutes! Makes your hair unbelievably soft!

5. Chi Shine Infusion Silk Spray
So all this does is add shine! It's amazing, I love adding it to curls or a little on the top of my head on frizzy days! I left this at my apartment and haven't gone back to get it so my hair has bene so frizzy. I need to go get it or buy more because it's a lifesaver!

6. Aveda "Dry" Conditioner
So you've heard of leave in shampoo? Well you NEED to try leave in conditioner! On days I use dry shampoo I always use a little bit of this on my ends to add some shine. It also helps your ends look healthier if you're like me and desperately need a hair cut haha!

7. Batise Dry Shampoo
Speaking of dry shampoo, this kind is one of my favorites because you can buy it at any drug store – and if you're anything like me you run out of dry shampoo all the time! It comes in a ton of scents that smell really good. I have also tried the Moroccan Oil Dry Shampoo (surprise-suprise haha) and I love it! It's just more expensive.

8. Redkin Wave Spray
I have been using this since high school and it adds such a cute, beachy look to your hair! You can either spray it in damp or dry hair and just scrunch it until it dries! It makes your hair a bit textured so I would add some Moroccan Oil in too!

I won't add this as a favorite, because I have never tried it, but I have heard of Hair SPF and it's really good for your hair when you are out in the sun! I want to try it! Check out some of the cute hair accessories below too!
xoxo,
Lauren Emily Lindmark
Copyright © 2018 dailydoseofcharm.com