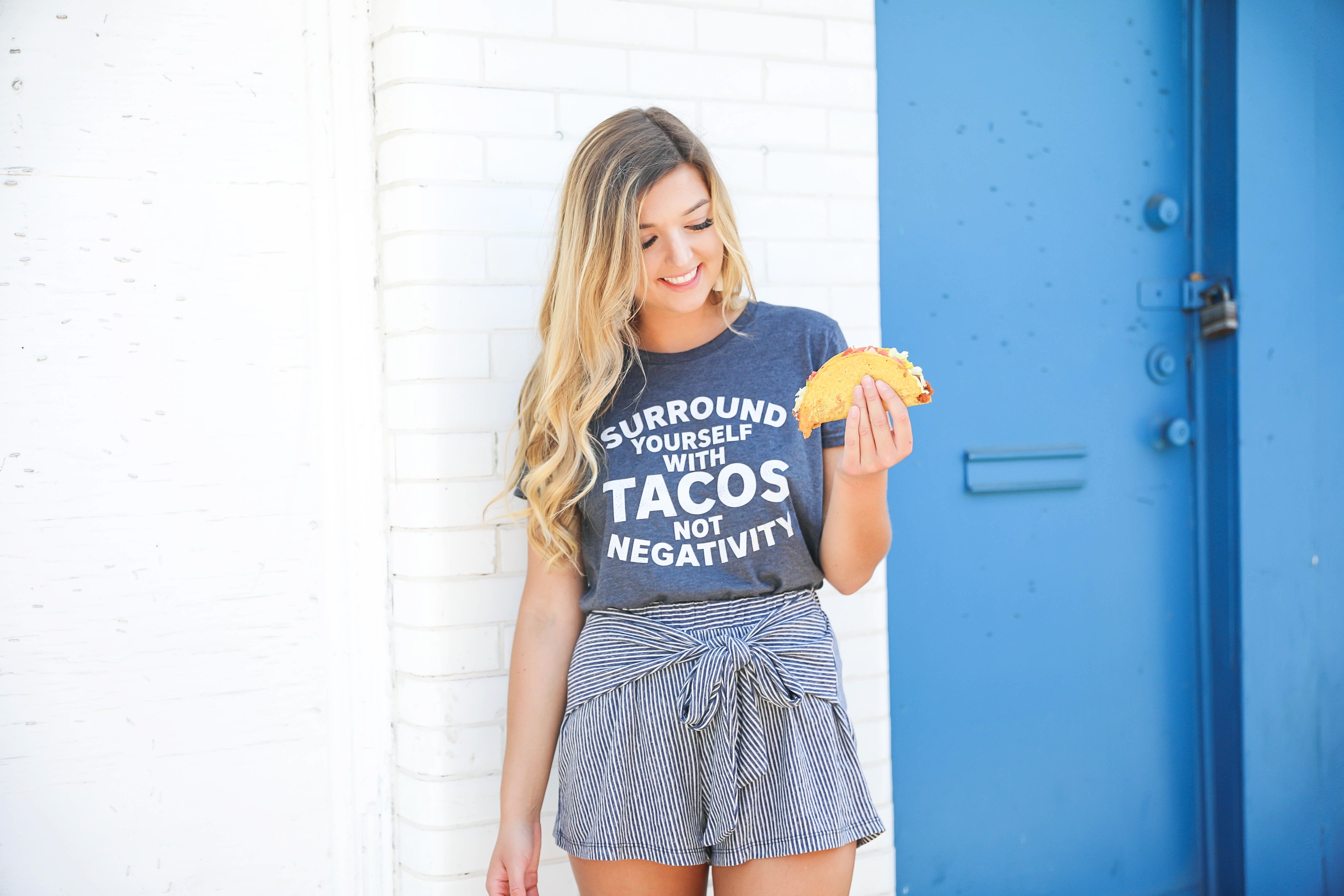 Surround Yourself With Tacos Not Negativity T-Shirt | OOTD + My Diet for my Sensitive Stomach
I am always – and I mean ALWAYS – craving tacos. Mexican food is 100% my favorite food. I could eat it everyday for every meal, it's actually a problem. I love salsa, cheese dip, guacamole, burritos, chimichangas, and of course, TACOS! So when I saw this t-shirt I fell in love. It brings together two of my favorite things: positivity and tacos. I think the saying is so funny! We should all be surrounding ourselves with tacos and not negativity!
If only I could actually eat Mexican food everyday, but I can't. Not only is that insanely unhealthy haha, but I have had stomach issues since around puberty. I've been to countless doctors and have had countless tests, however, the only thing they have been able to tell me for sure is that I am lactose intolerant. Funny story, I actually cried HAPPY tears on the phone with the nurse when she called and told me my results, I had had stomach issues for so long I though I had found the answer (but sadly it really only helped a little to cut out dairy). I was supposed to get a hydrogen breath test and colonoscopy two years ago, but I got so sick from the prep drink that I couldn't finish it the night before (if you don't know what I am talking about just google colonoscopies, it's gross). I have been putting both off ever since. Other than that, my stomach issues are a mystery!
For the most part I try to stay away from dairy, but because my stomach is so sensitive and unpredictable, I really never know what food is going to set it off. My stomach will hurt most days, but the worst is the bloating! I can wake up one day with a perfectly flat stomach then go to lunch and have broccoli and I look 3 months pregnant haha! Sometimes I just go ahead and eat dairy because I know my stomach will be messed up anyways, but I try to keep that to the weekends if I do.
Because of my stomach I actually eat a pretty bland diet. I can't tolerate preservatives very well so I don't eat a lot of junk food. If I am at a restaurant or out with friends I won't limit myself, but at home I eat a lot of boiled chicken (I will put it with some buffalo sauce – spicy food weirdly doesn't upset my stomach – or put it in something else so it isn't plain). I also love brown rice and black beans, although the beans can either go down fine or make me feel sick. Green beans, peppers, avocados, and salads are always safe and I love smoothie bowls! Other than that I have been eating PB&Js recently and I love chips and salsa as a snack. Kind of a weird range of food, but I know it works!
Just because I know some of you who know about stomach issues may comment, I have had doctors mention IBS. However, even when patients have IBS there is usually some consistency. They are usually either IBS-C or IBS-D…I don't want to be TMI so google this if you don't understand. But I have neither consistently. I have also had doctors mention gluten allergies or intolerances, but my blood work has never shown anything so I would have to get a colonoscopy for that. I have also been tested for a wide range of food allergies and auto-immune diseases since those run in my family – all negative. So right now I just live with it and try to eat bland when I can!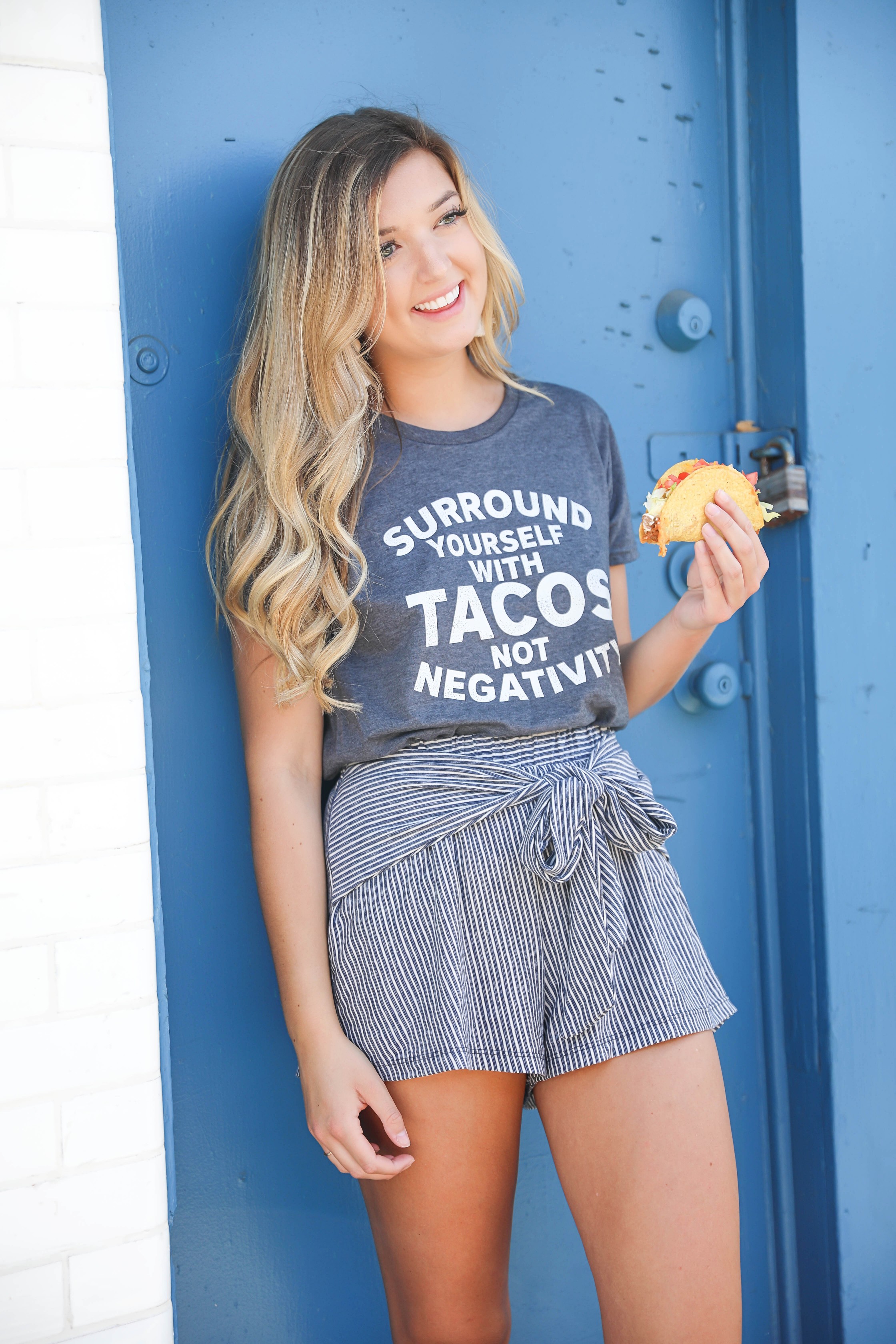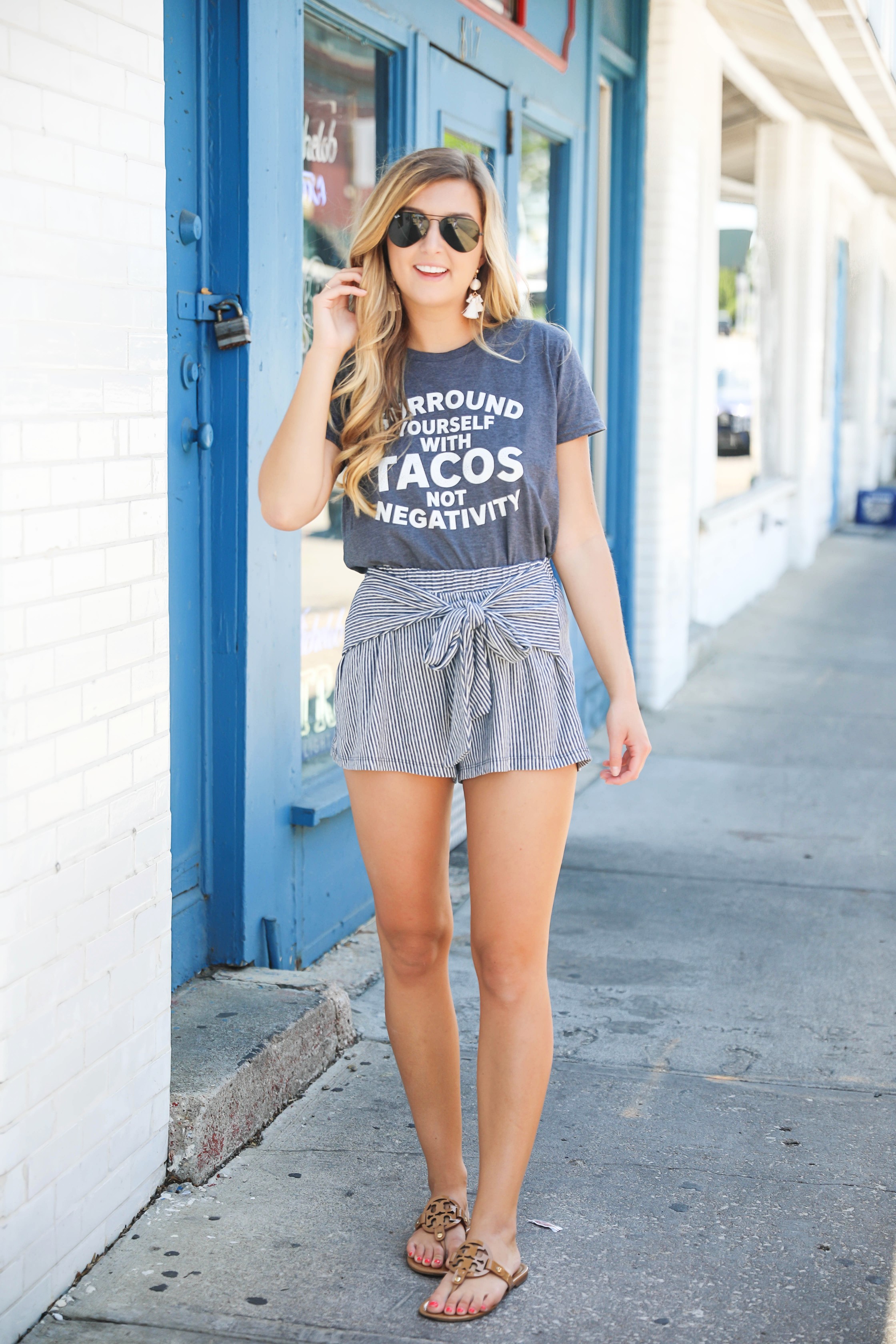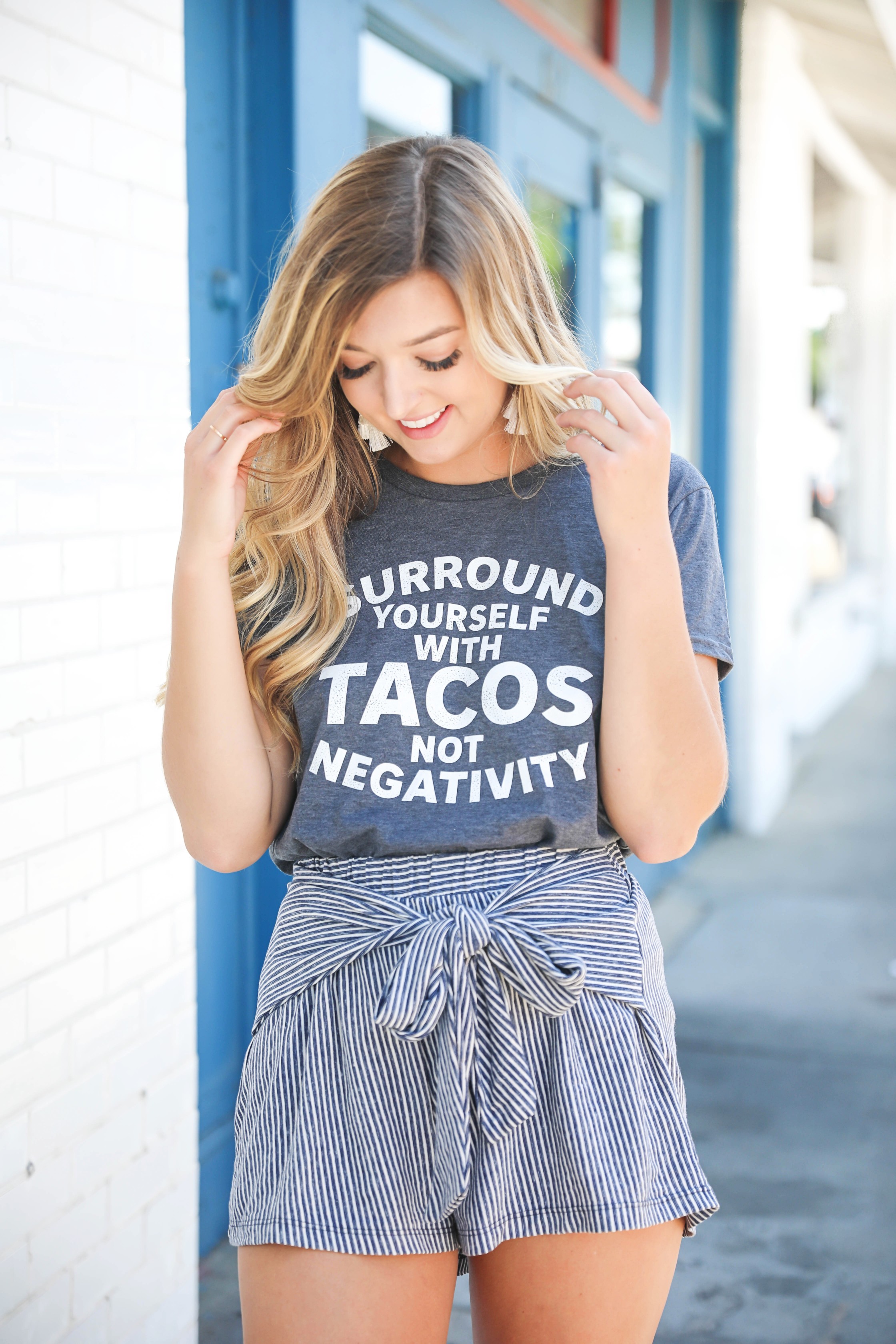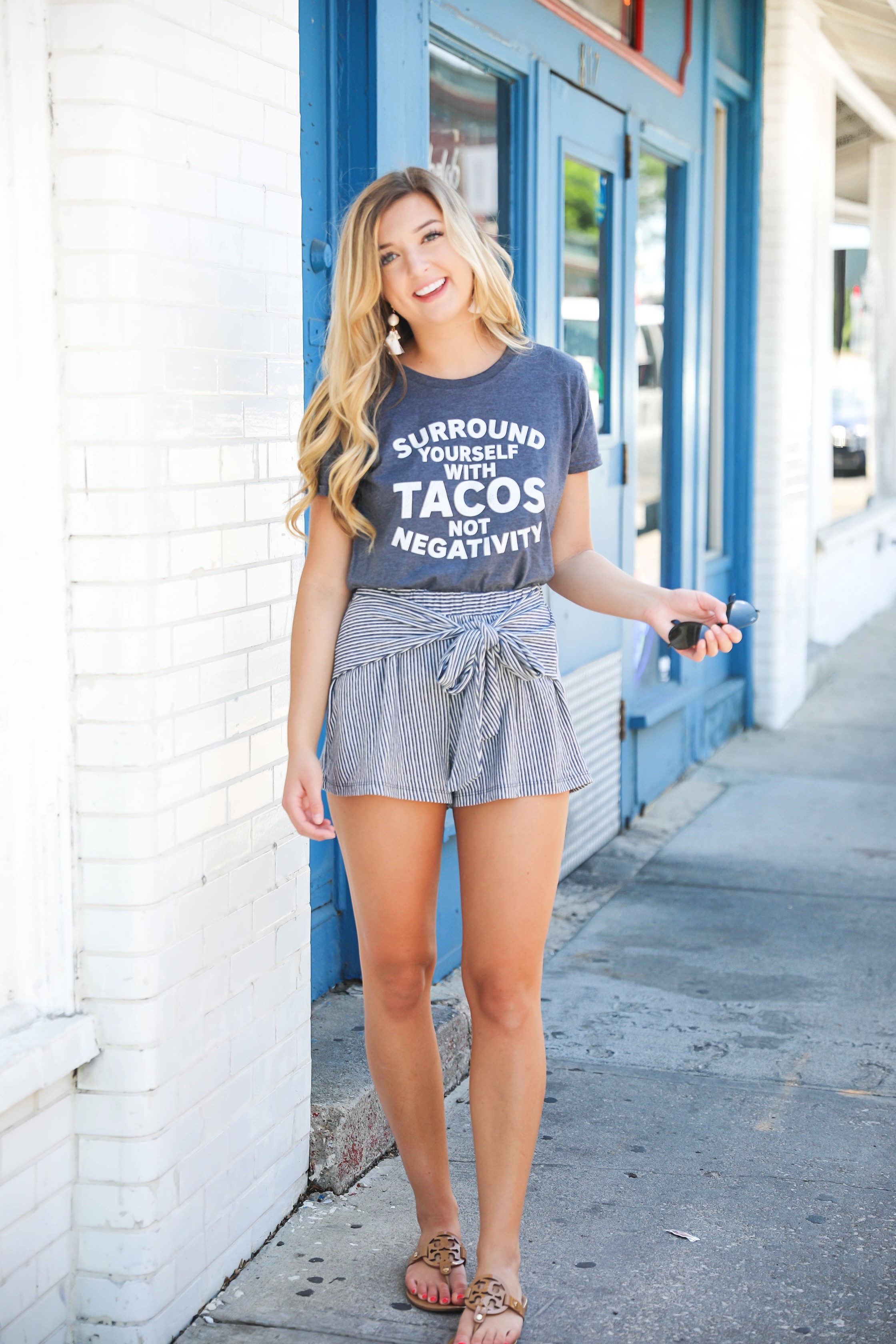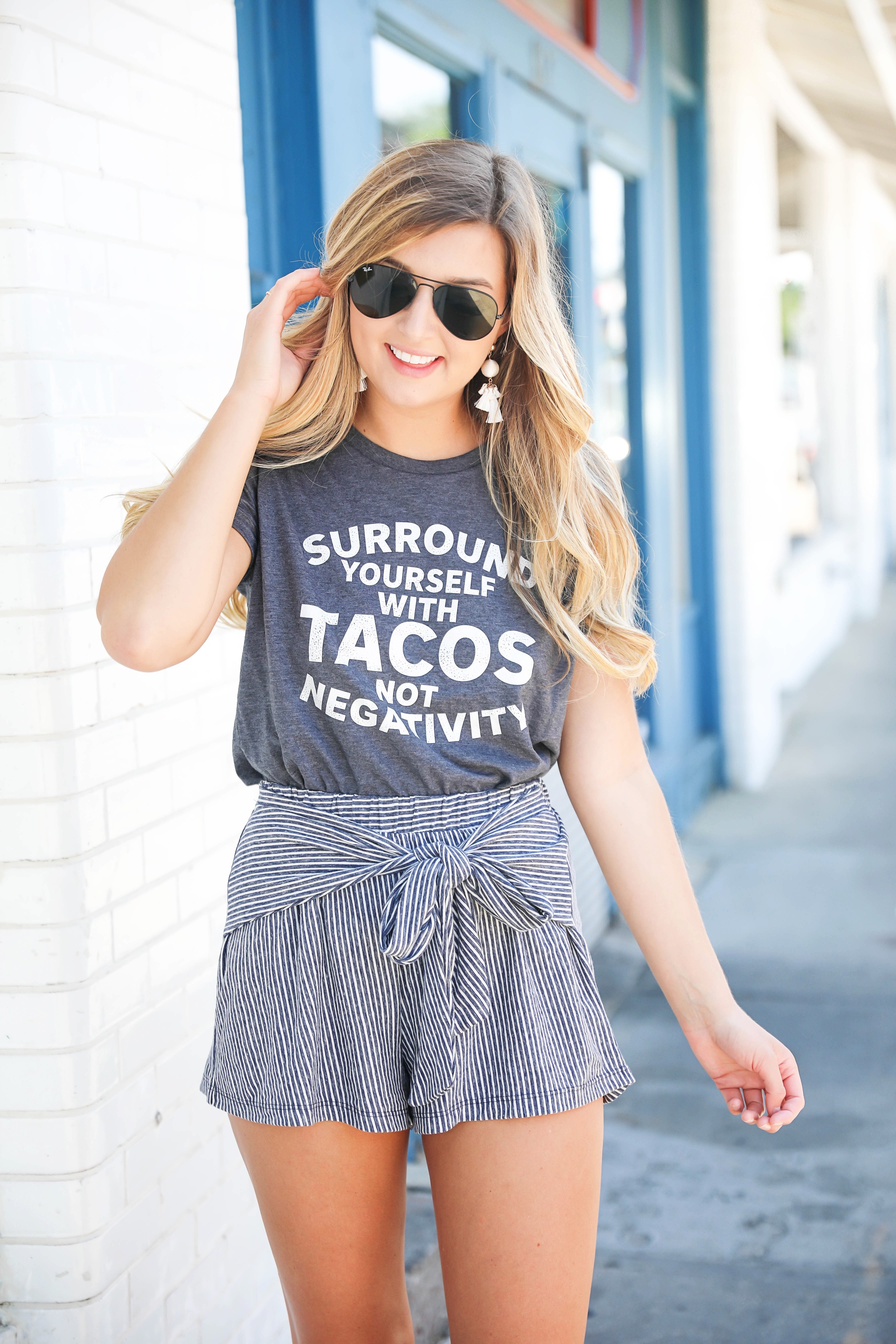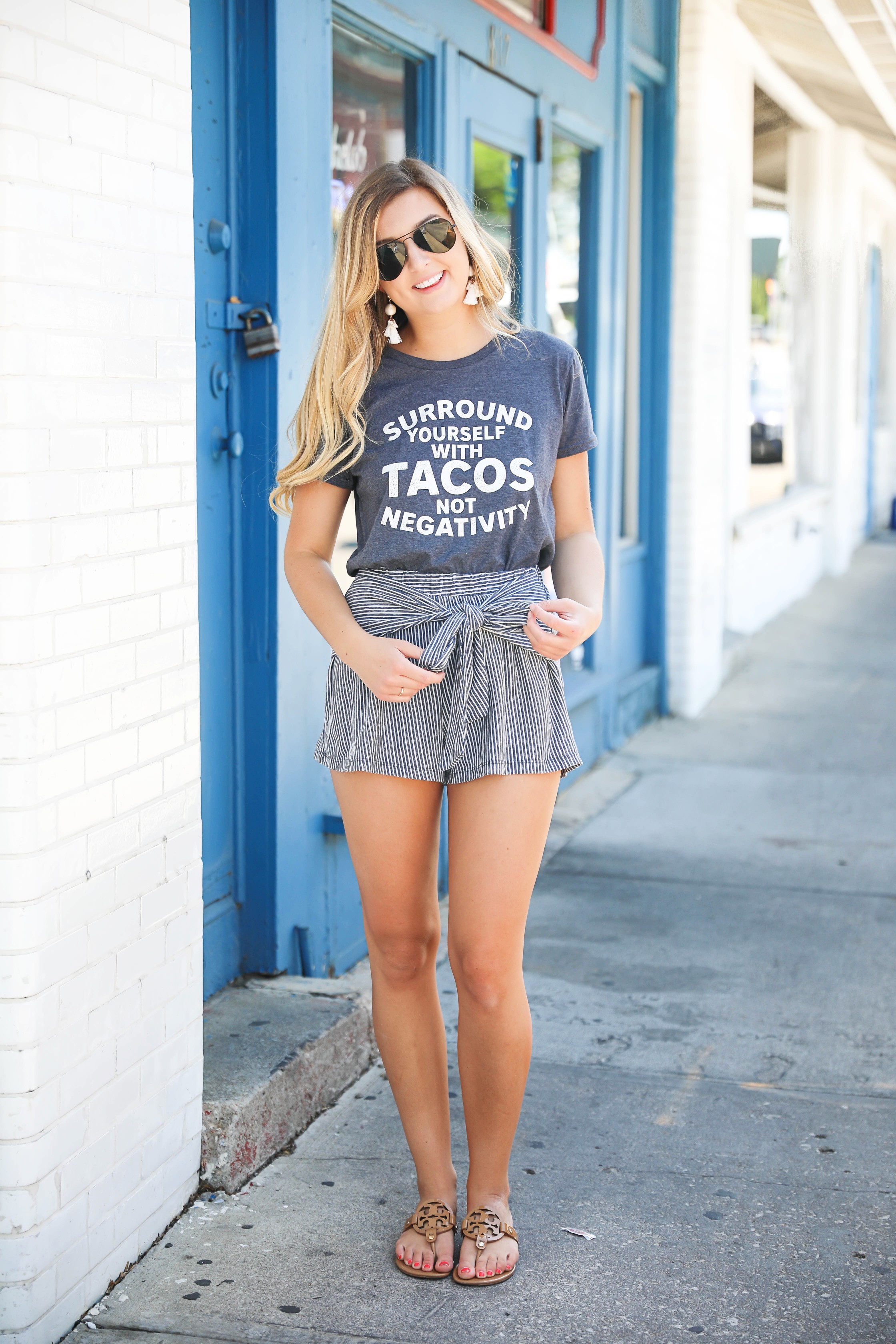 Now that I have bored you all with my stomach issues story, let's talk about this outfit! These shorts are about to be my most worn shorts of the summer. I am all about cute outfits that also incorporate comfort – so these are perfect! I love how they tie plus they are a reasonable price! I thought it looked so good with this t-shirt! I also threw on my white tassel earrings that I have been wearing all the time! Shout out to my mom for buying me Taco Bell to shoot with this outfit (definitely did not eat it haha)!
Shop this post + more taco tees!

xoxo,
Lauren Emily Lindmark
Copyright © 2018 dailydoseofcharm.com