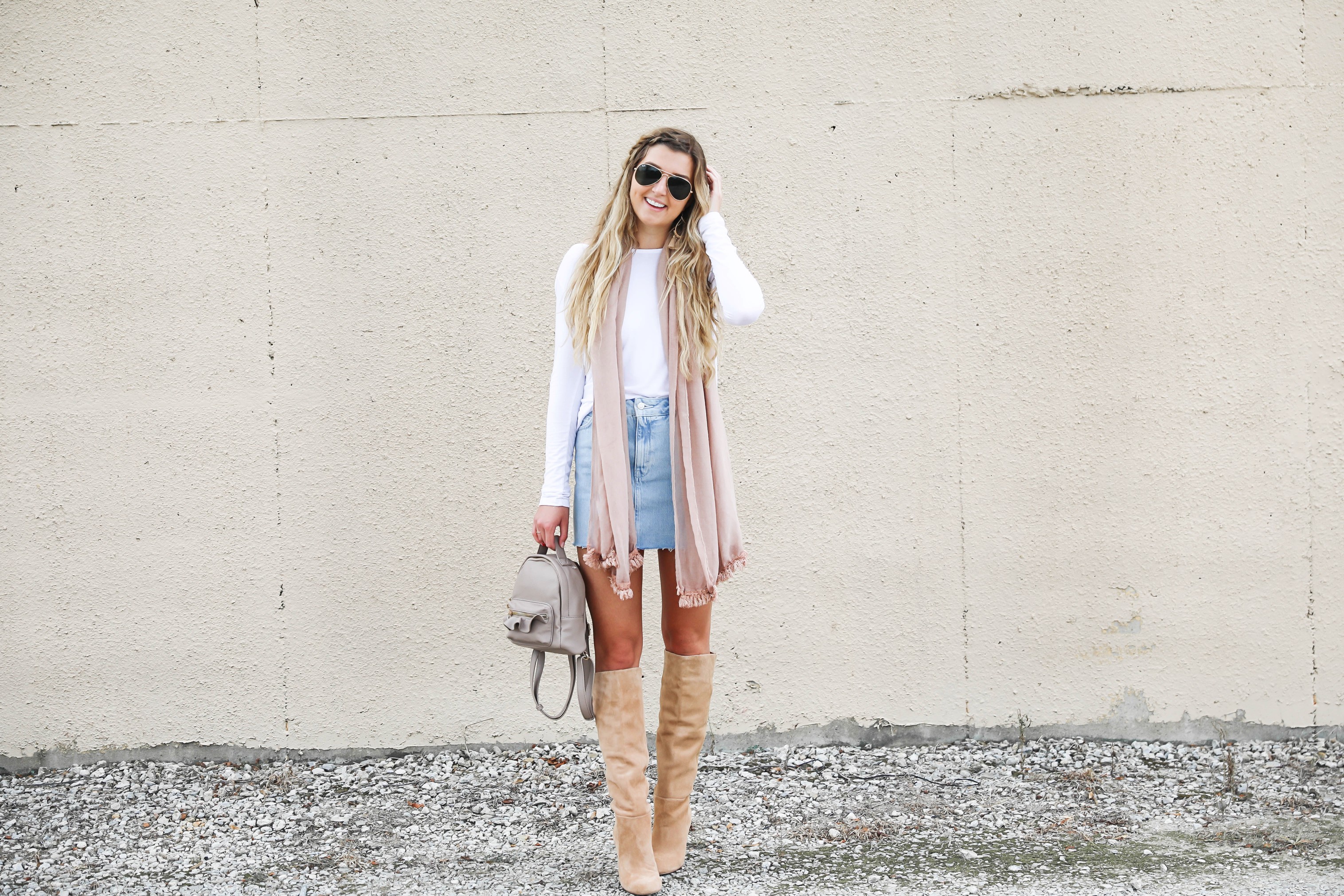 The Best Fringe Scarf for Fall under $40 | OOTD
Happy Wednesday! I was about to say this week has already flown by already, but since it was a three day weekend I guess that explains it haha! I was supposed to start moving into my new apartment yesterday, but last minute decided they needed to get a third party inspection on the driveway so weren't able to. I am so clueless when it comes that world so I don't know why they needed another inspection… but it definitely bummed us out. School technically stated mid-August and we knew our move in date was September 1st, but now that it's being pushed back even further we are getting antsy!
I originally had a plan last night to go clean my apartment and move in some of my stuff, my boyfriend was going to come up and help me move some of my bigger stuff then I was going to take him to my favorite restaurant in Lawrence, Dempsey's! We started dating beginning of this year and I still haven't taken him, it's the best though! Since I didn't move in I spent the afternoon working and still had a fun dinner with my boyfriend here in town. It was so nice to unwind and be with him after a bit of an annoying day! I try not to let things get to me, I am just so excited to move in!
I am definitely doing a room tour in my new place. This is my third apartment and I have never done an official room tour for one! This room is going to be grey and white. My mom bought me the cutest bedding and I can't wait to show you guys!
Okay enough rambling about my life… scroll down to see this outfit!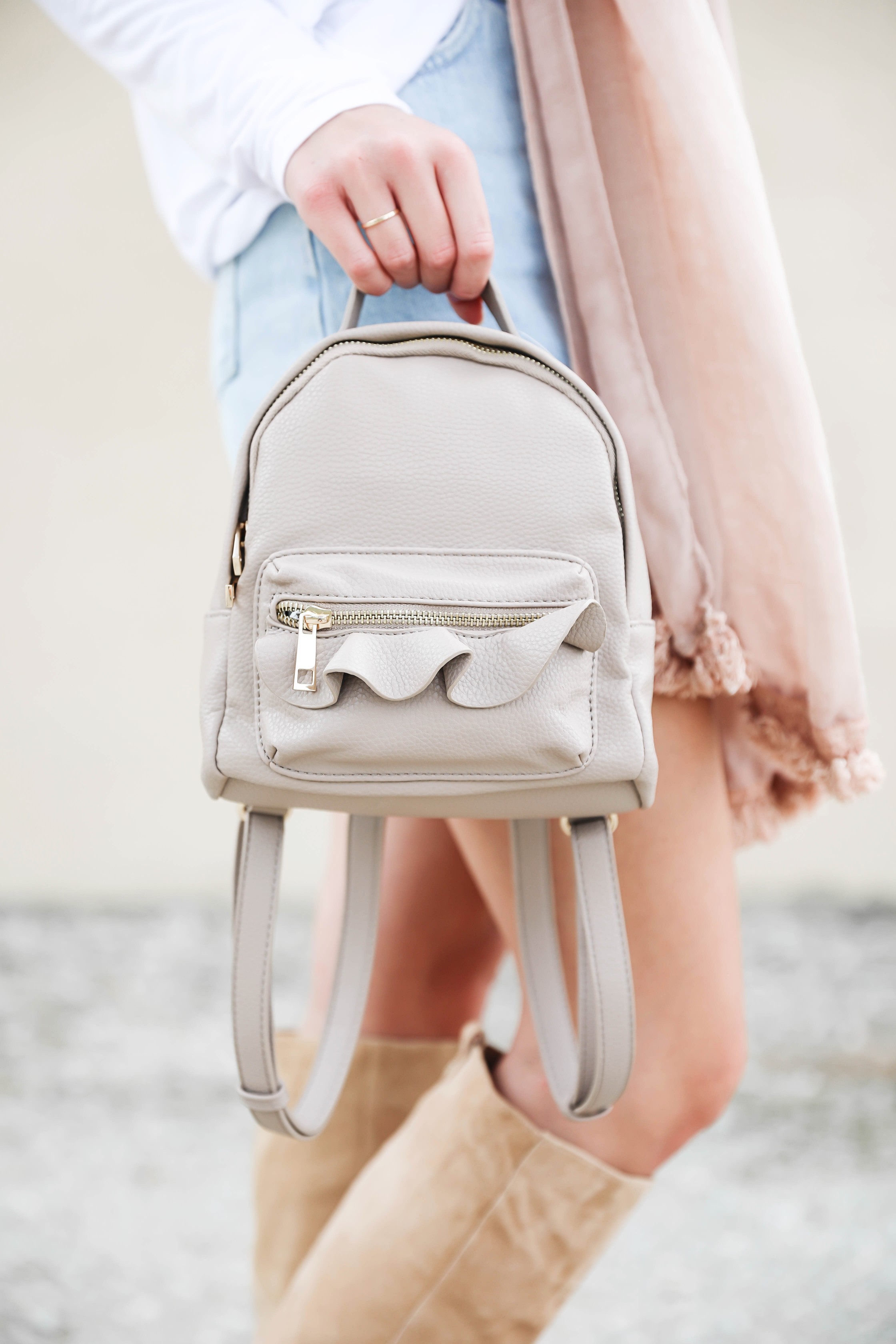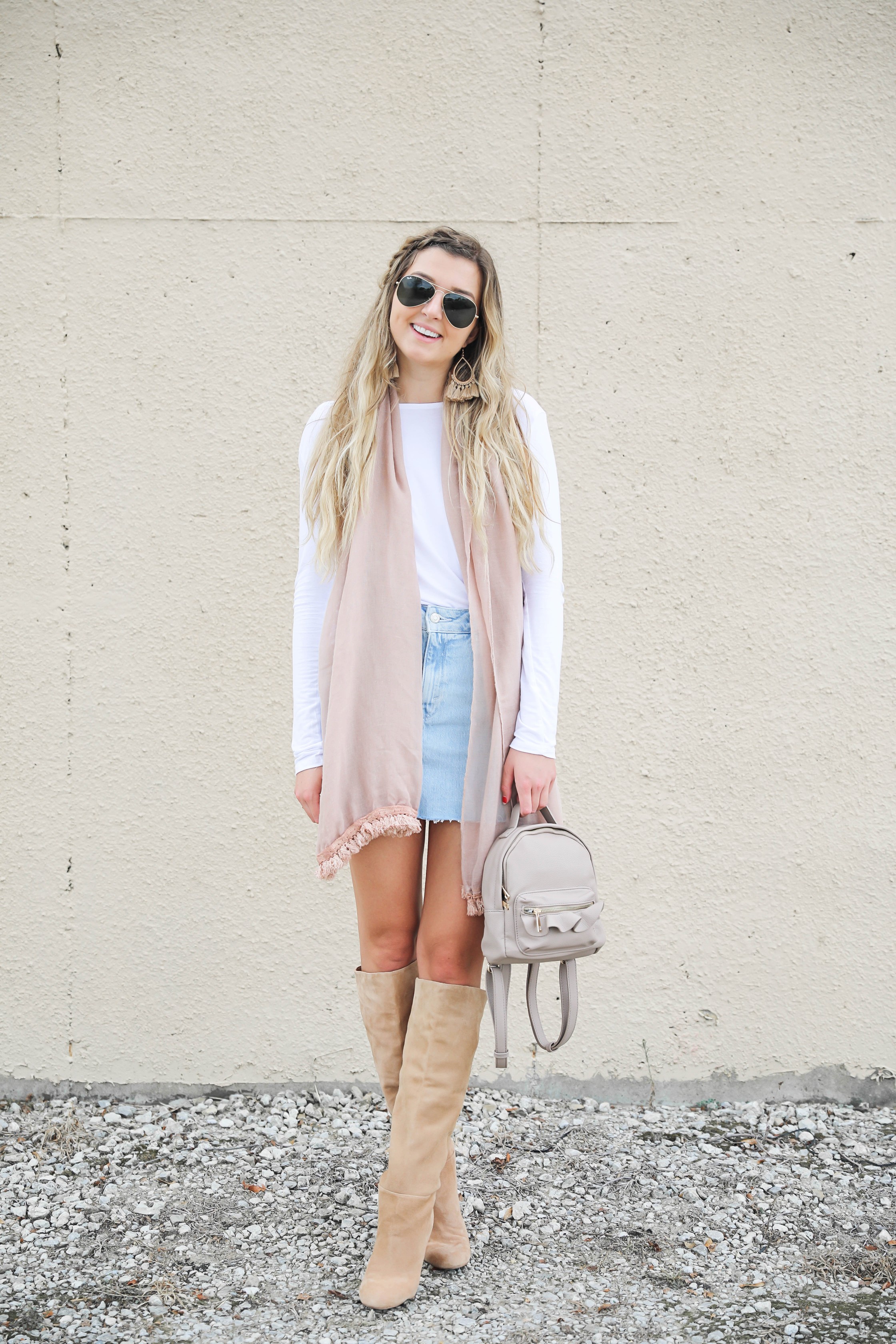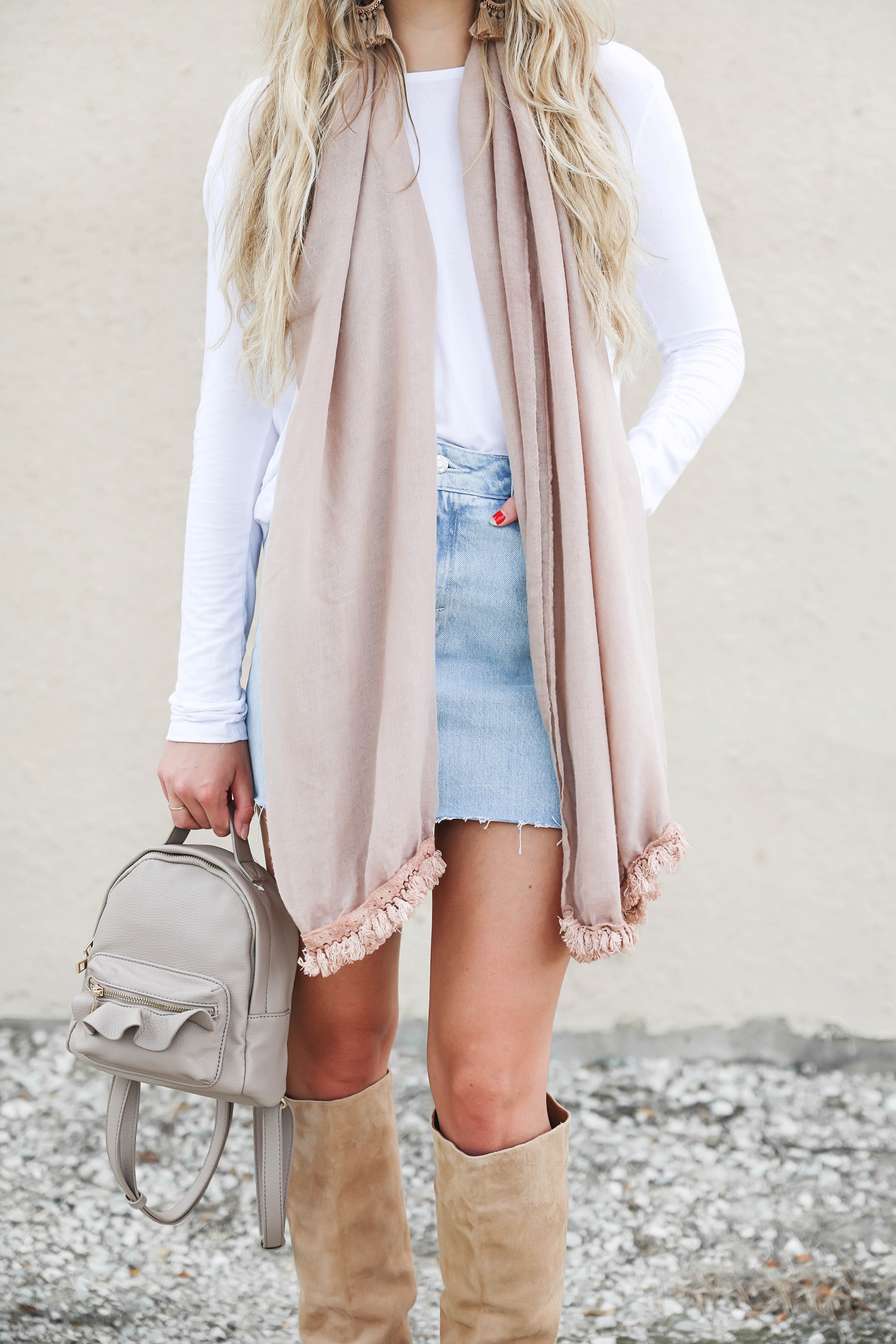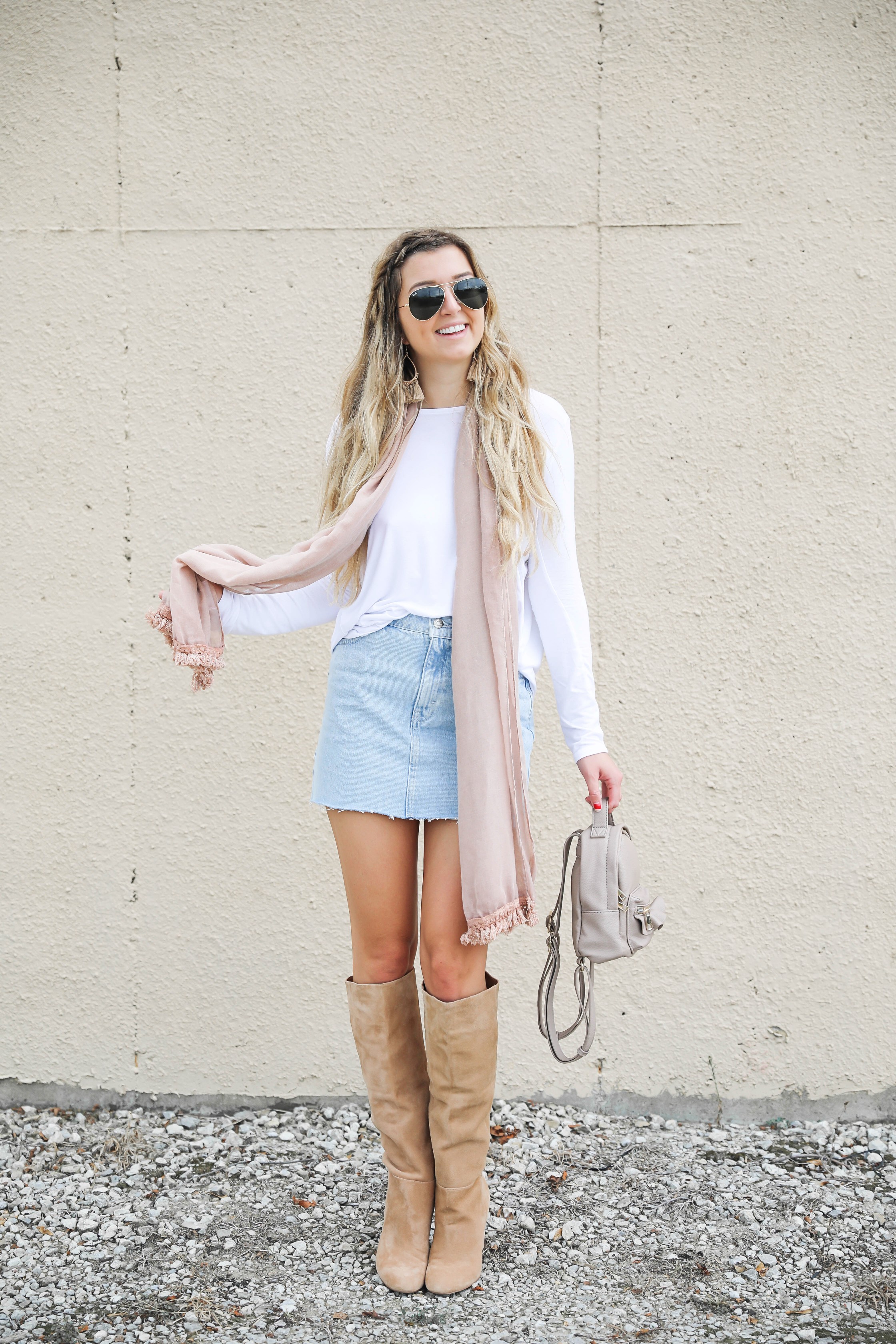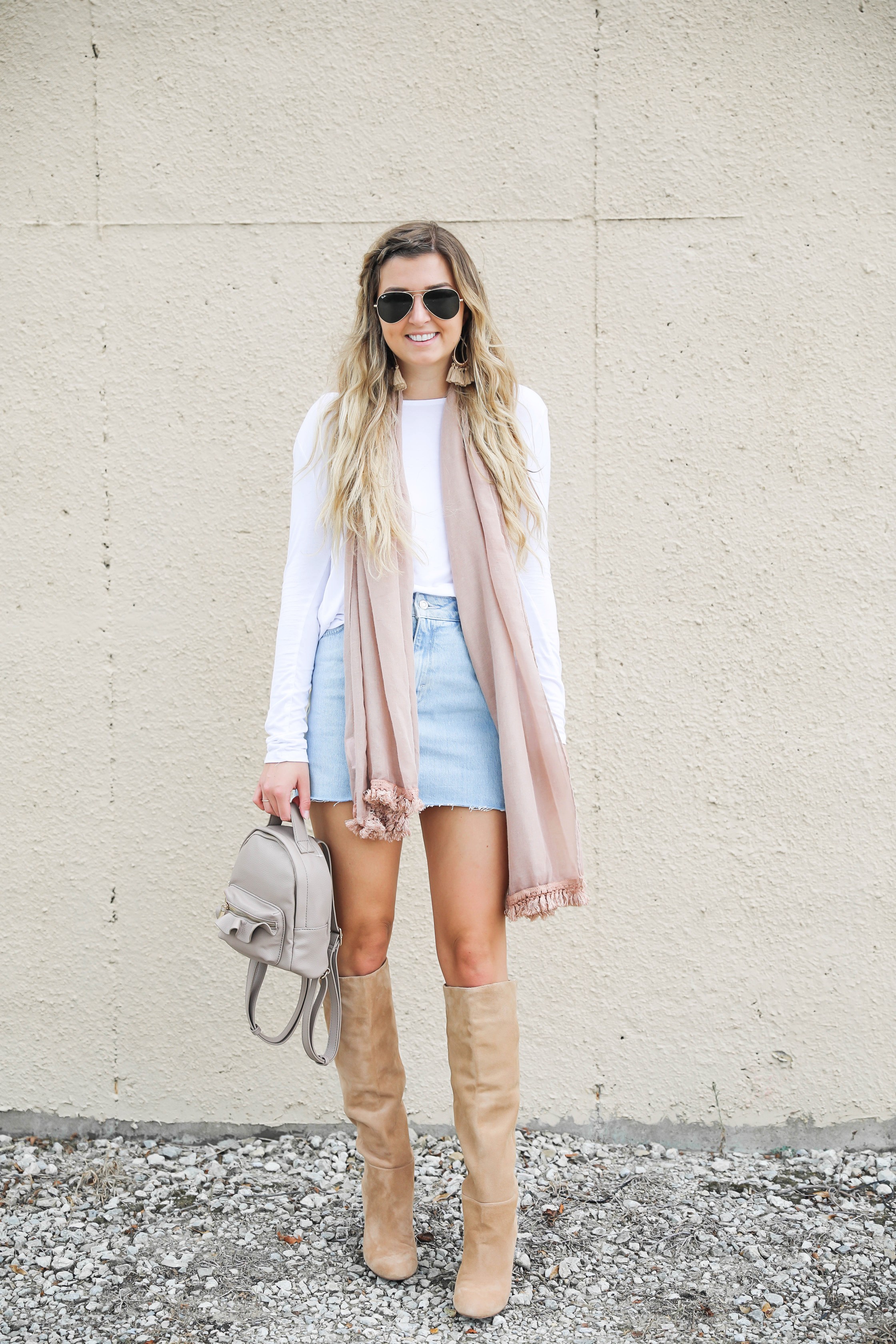 | White Open Back Top (see photos of the back here – comes in five colors and only $15 – I am wearing a size small) | Fringe Scarf ($35 and comes in light pink and grey) | Light Denim Skirt ($55 and I am wearing a size 4) | Earrings ($12) | Sunglasses | Small Backpack (similar, more linked below) | Tan Knee High Boots |
So I wish I could give credit to who inspired this outfit, but I can't remember! I was scrolling through instagram the other day and saw a cute gal wearing a jean skirt with a scarf and I was like "OMG I LOVE THIS" haha! I know it's not super original, but it was one of those moments I needed to throw on an outfit like hers. That's why I love the blogging community – constantly being inspired! I paired mine with my favorite boots for fall and this adorable fringe scarf.
I am so happy I found this scarf in stock! It is just too dang cute, and also comes in grey! This skirt fits like a glove and looks really cute with this open back top! Outfits like this just make me so ready for fall!
Shop the Post!

xoxo,
Lauren Emily Lindmark
Copyright © 2018 dailydoseofcharm.com