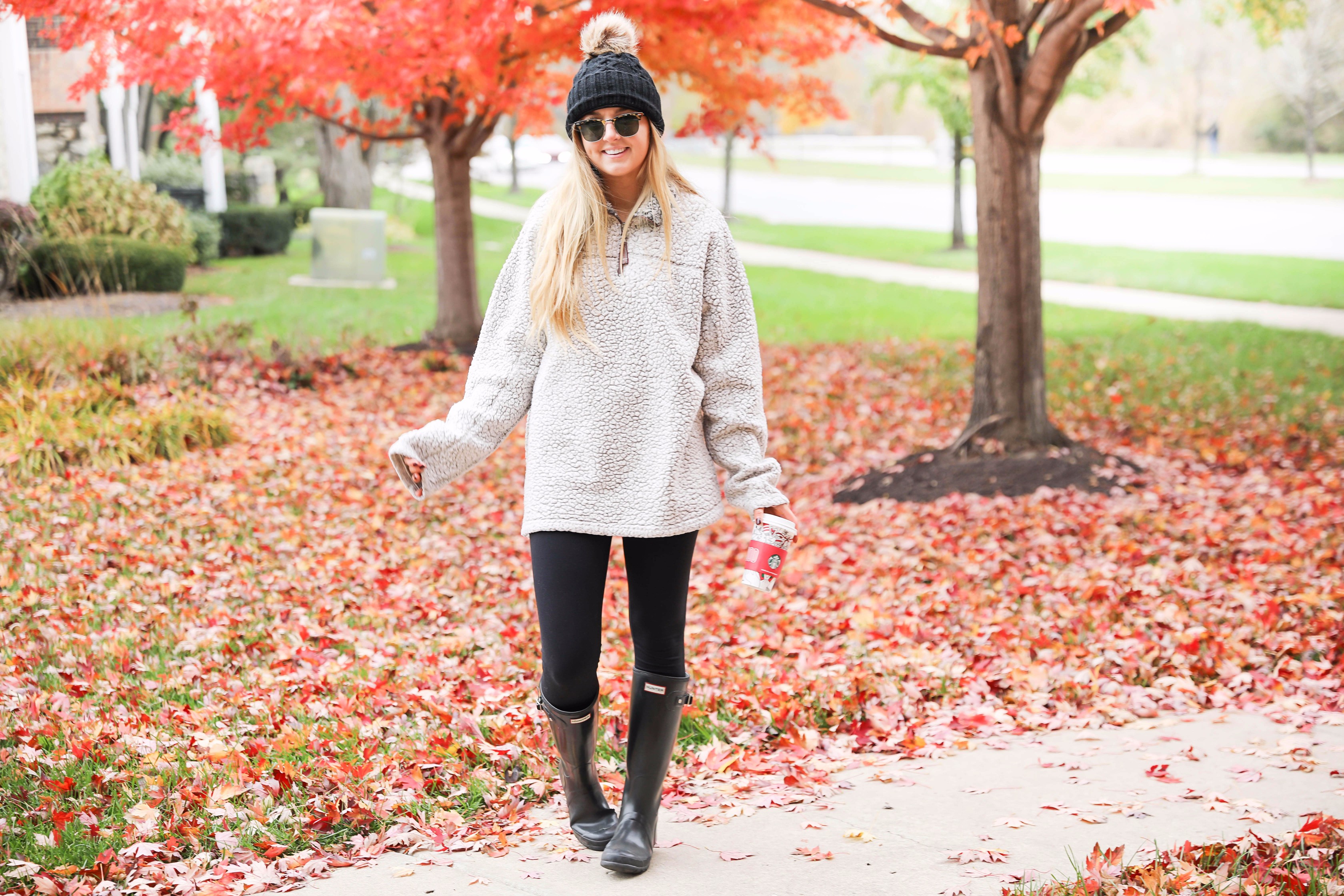 The Coziest Sweatshirt for Chilly Days | OOTD
I swear this sweatshirt really is as cozy as it looks! I got it last year for Christmas, but luckily it's still available this year! I love it because it's such a casual look, but not as casual as just a sweatshirt. I feel like you can wear this in more settings! Every time I wear it I get so many compliments and so many people asking where I purchased it. There are a few different online stores that sell them, but most of them start getting sold out around this time of year because of Christmas so if you want it I would act fast! This is definitely something to put on your Christmas list if you ask me! Both of my sisters have them too.
I paired it with some casual leggings and Hunter Boots – which my hairstylist the other day told me her friend calls those goulashes, anyone else call them that haha?! I also got out all of my beanies the other day and I am so happy to be wearing them again! I have been wearing non-stop on walks. I love how cute they look on, but they also keep your hair tamed and ears warm!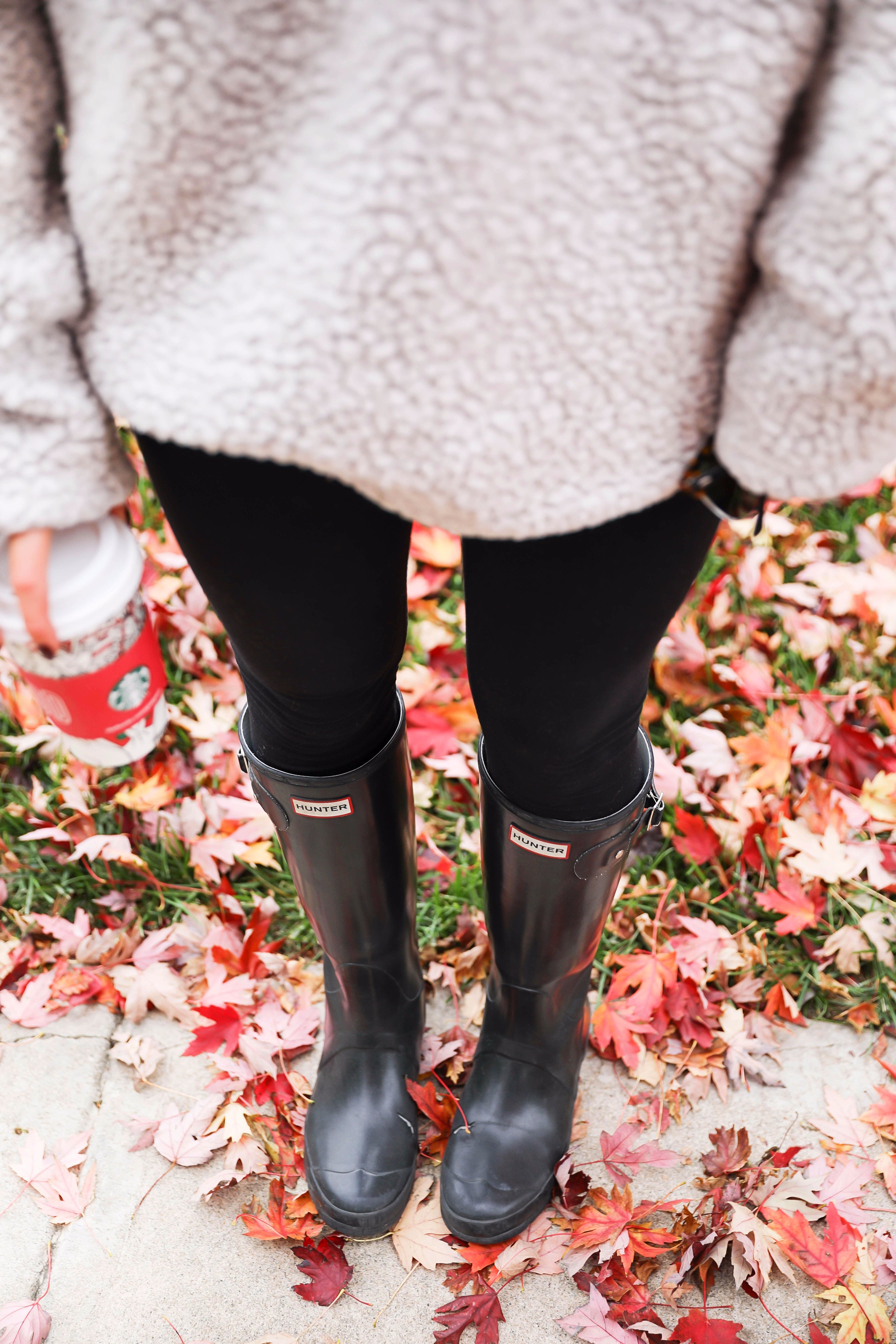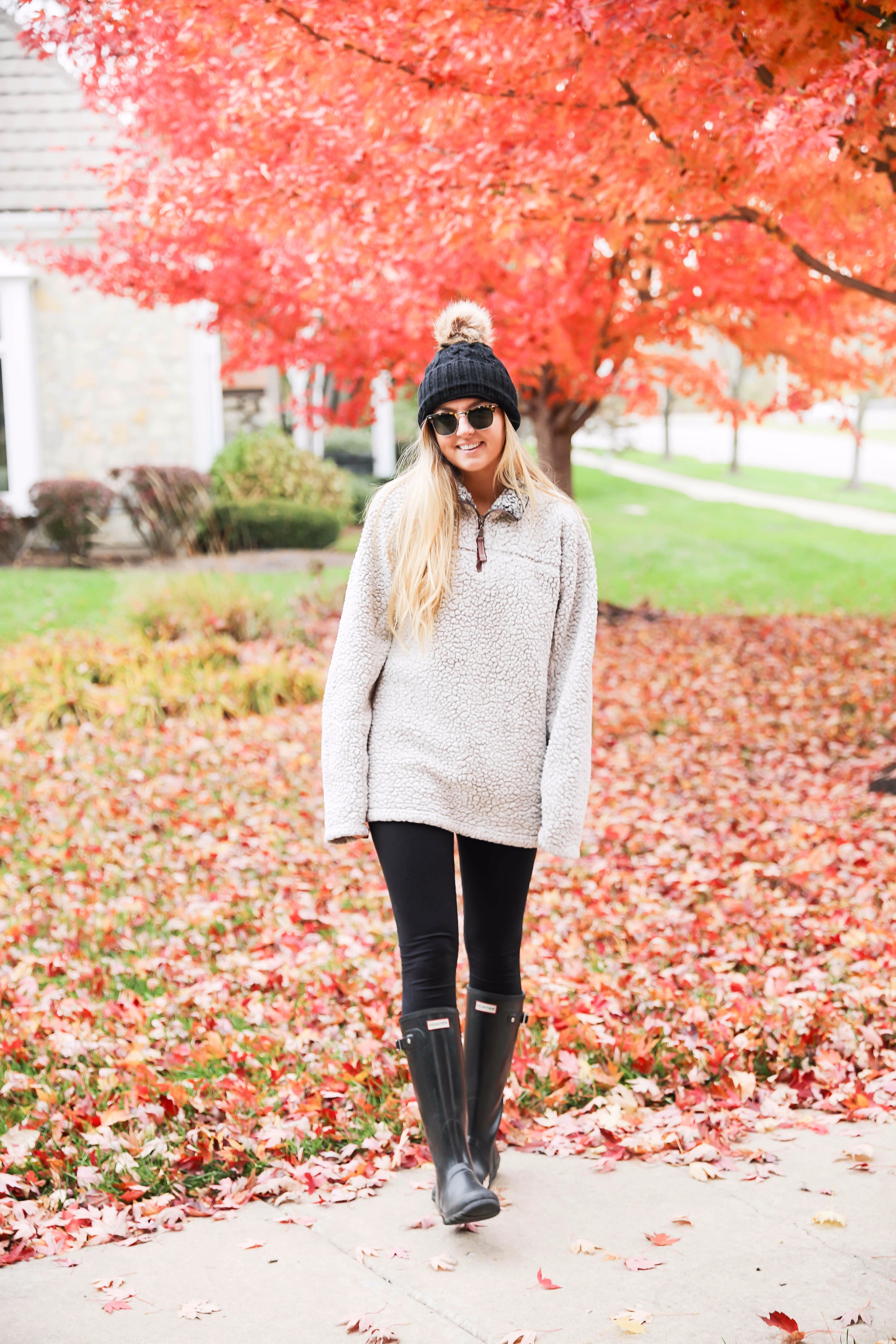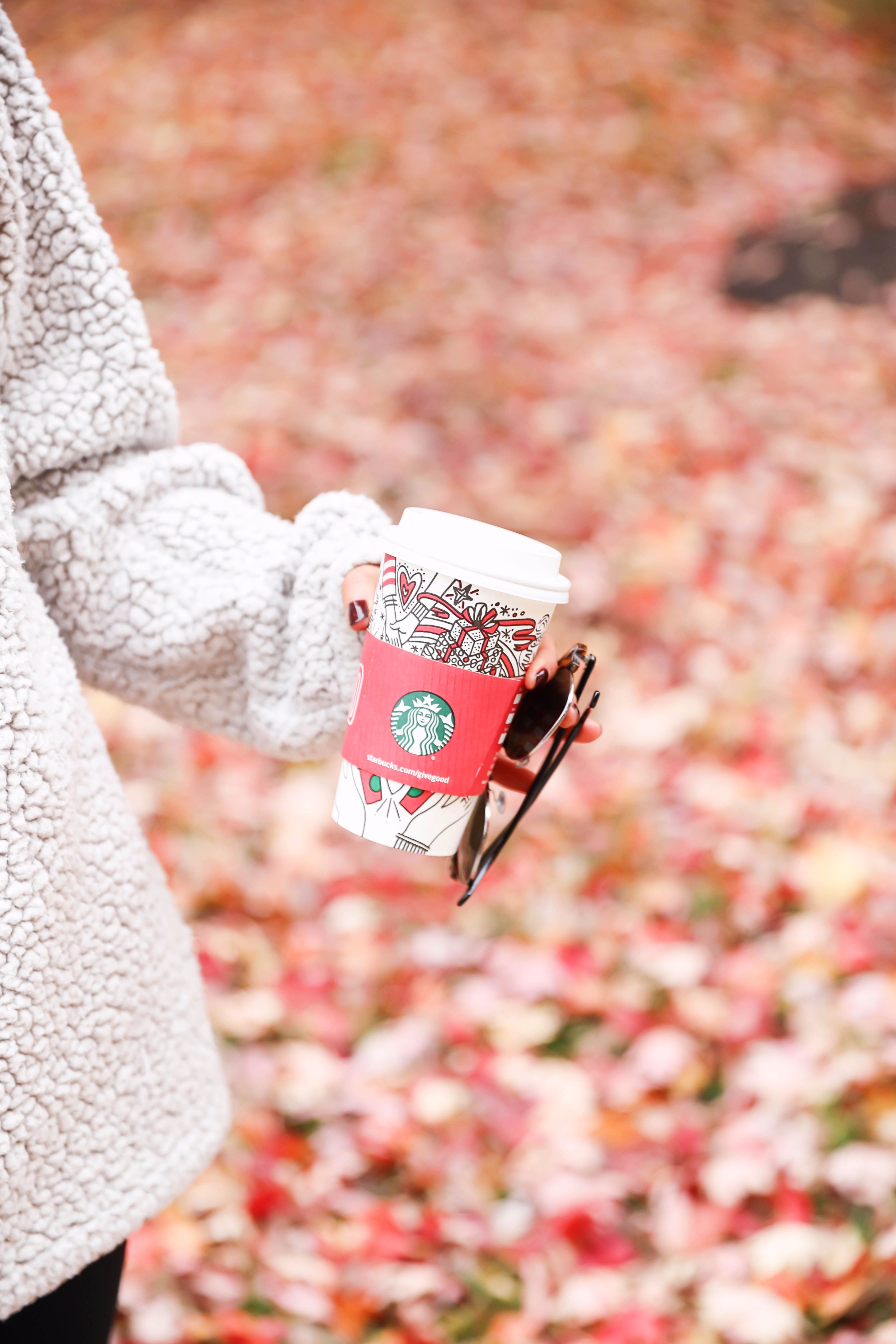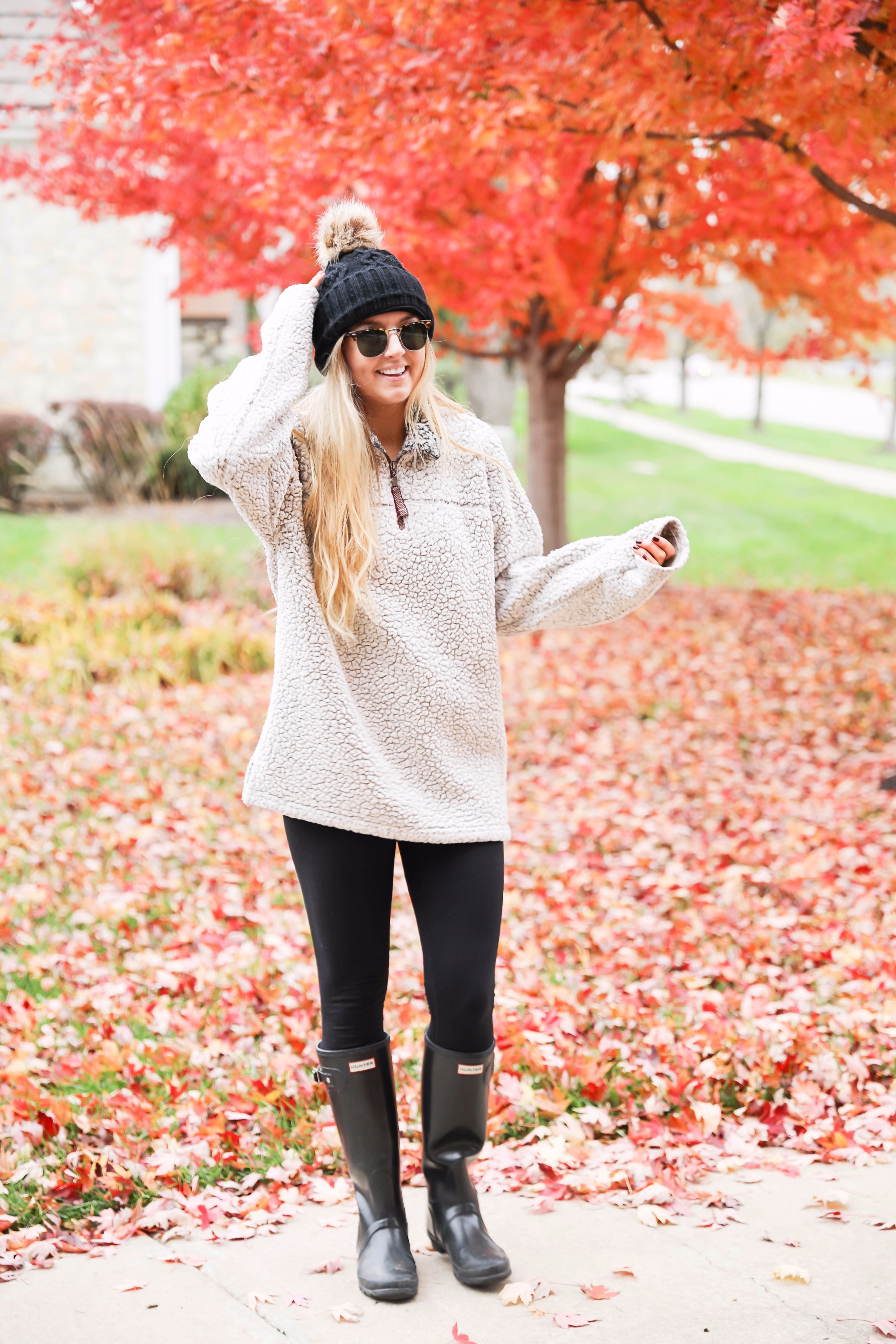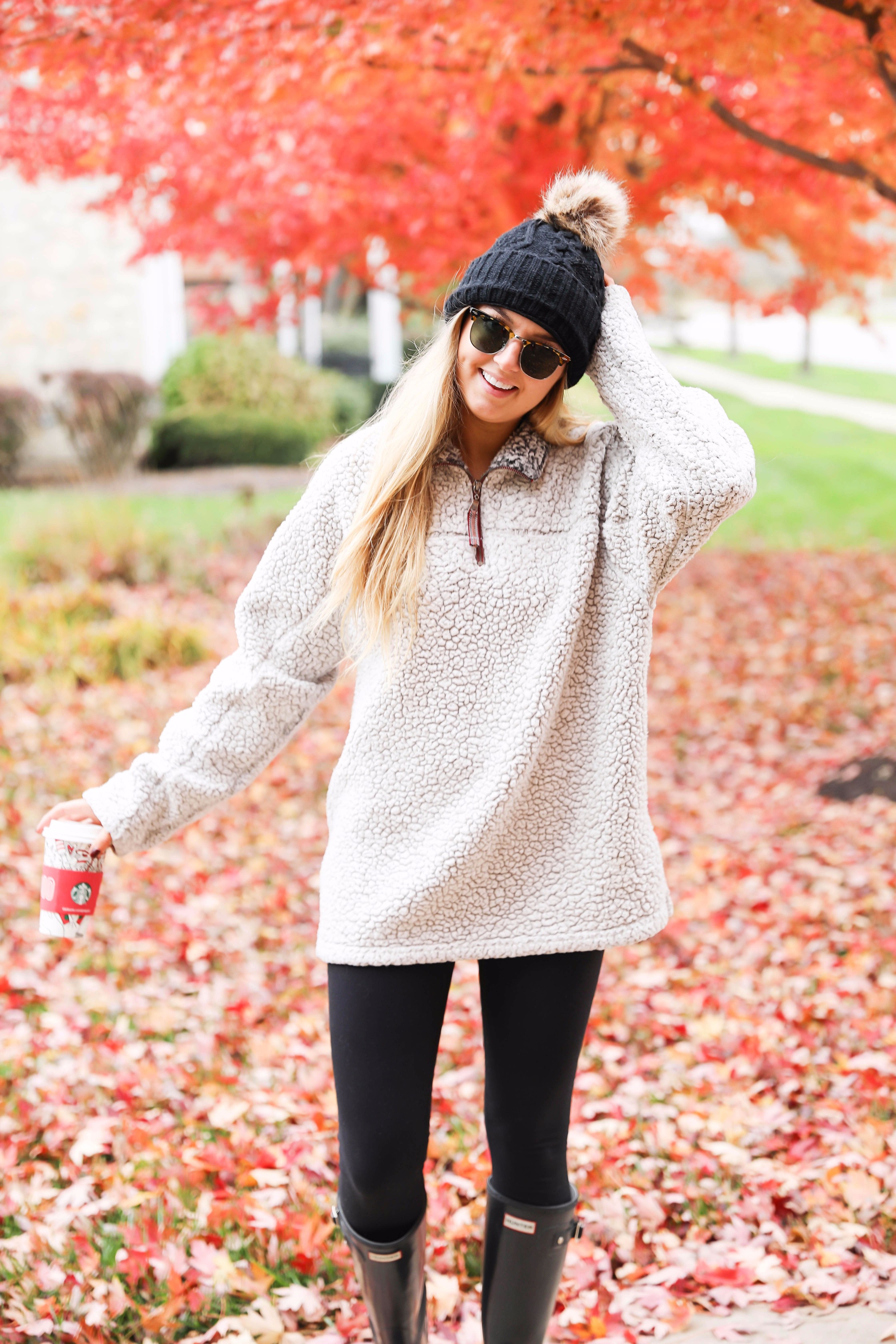 I feel like my face looks all red in these photos because of all the red leaves that were around me. I couldn't fix it much during editing so I decided to just deal with it! That's the price I pay for getting to shoot in these pretty leaves! As you may have noticed from my posts recently, fall has really hit Kansas City and we are in full swing. Everyday I feel like there is a new area that is changing colors! I don't want it to end, this is always such a pretty time of the year. I have already started scouting out places to take photos in the winter because that is way harder. Not only is it freezing, but everything is so dead that the photos can look dull! My dad and I just talked about taking a trip to NYC around the holidays so hopefully that will work out, much more places to shoot there!
So let's talk about the new iPhone, has anyone purchased or gone to check out the iPhone X? I thought it honestly felt kid of cheap compared to my iPhone 7… Almost how the iPhone C used to feel – like plastic? I wasn't planning on getting the new one, but the actual iPhone X screen is super cool. I like that it is so big on the phone! I compared it to my plus and the actual phone is smaller in size, but the screen is the same size! The only reason why I am bringing this up is because my phone has been acting so weird and dying super fast ever since the new one came out. I 100% believe it is a conspiracy to get people to buy the new iPhones haha. If that is the case, it worked. I really do want a new one now!
In other news, it's officially red cup season! I think that means it's officially winter, right? Totally a fake blogger move, but I haven't actually gotten Starbucks all season…this is my mom's cup I am holding haha! I am trying to eat healthier and I don't like getting my calories from drinks so I just haven't stopped by yet. I will have to this weekend on my cheat days! I am trying to deicide which drink to get. I haven't had a PSL yet, but maybe the caramel brûlée latte! Chestnut Praline lattes are also super good. Comment below your favorite seasonal drink!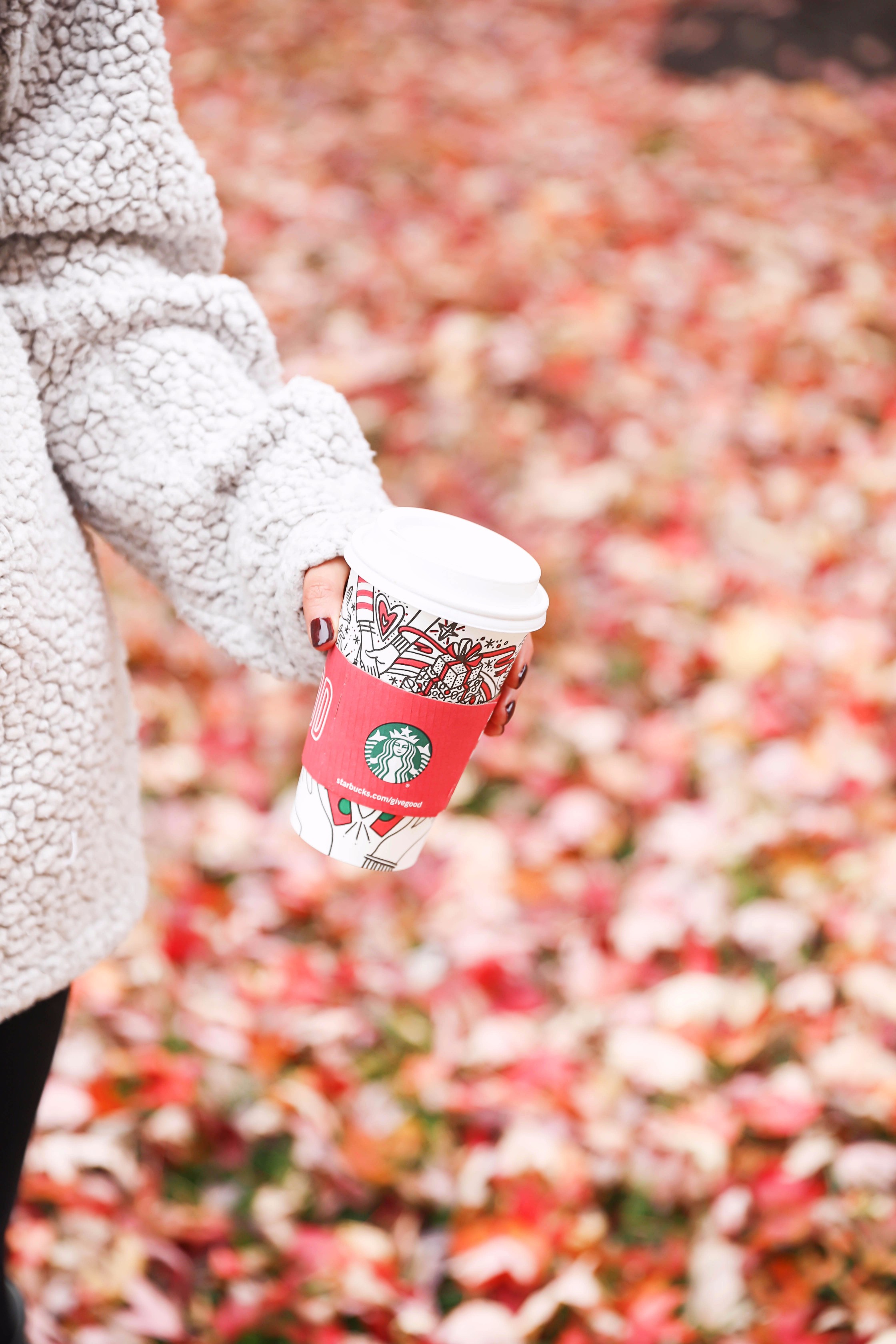 ---
Also, I put this photo below on my Instagram and a lot of you were asking for an exact link to the cable knit socks because the LIKEtoKNOW.it ones were just similar, I purchased them from Amazon for only $15 and they come in 6 colors! I cut off the ties because I didn't like them as much but they are super cozy! I definitely recommend them! Here is the exact link!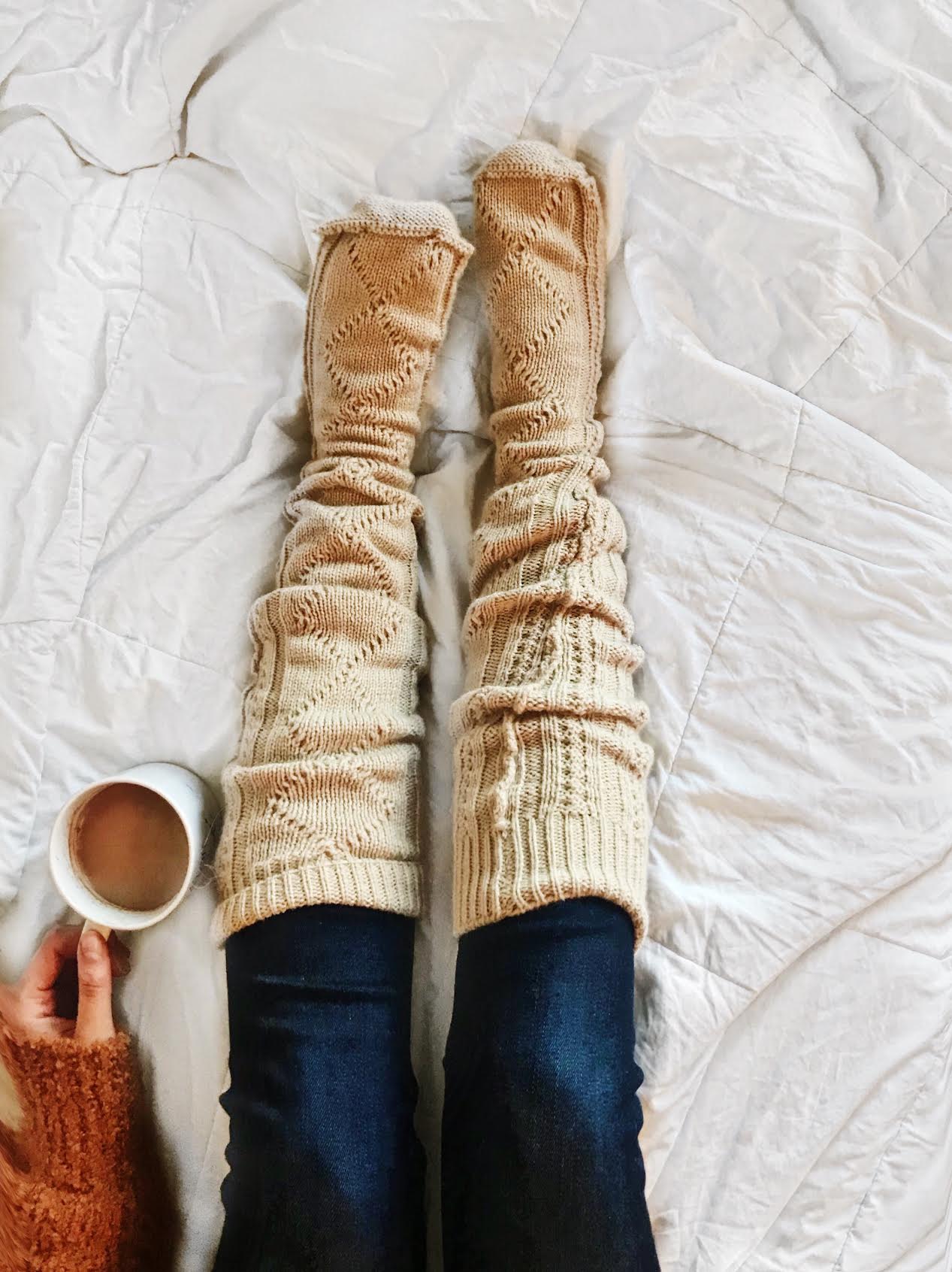 xoxo,
Lauren Emily Lindmark
Copyright © 2017 dailydoseofcharm.com