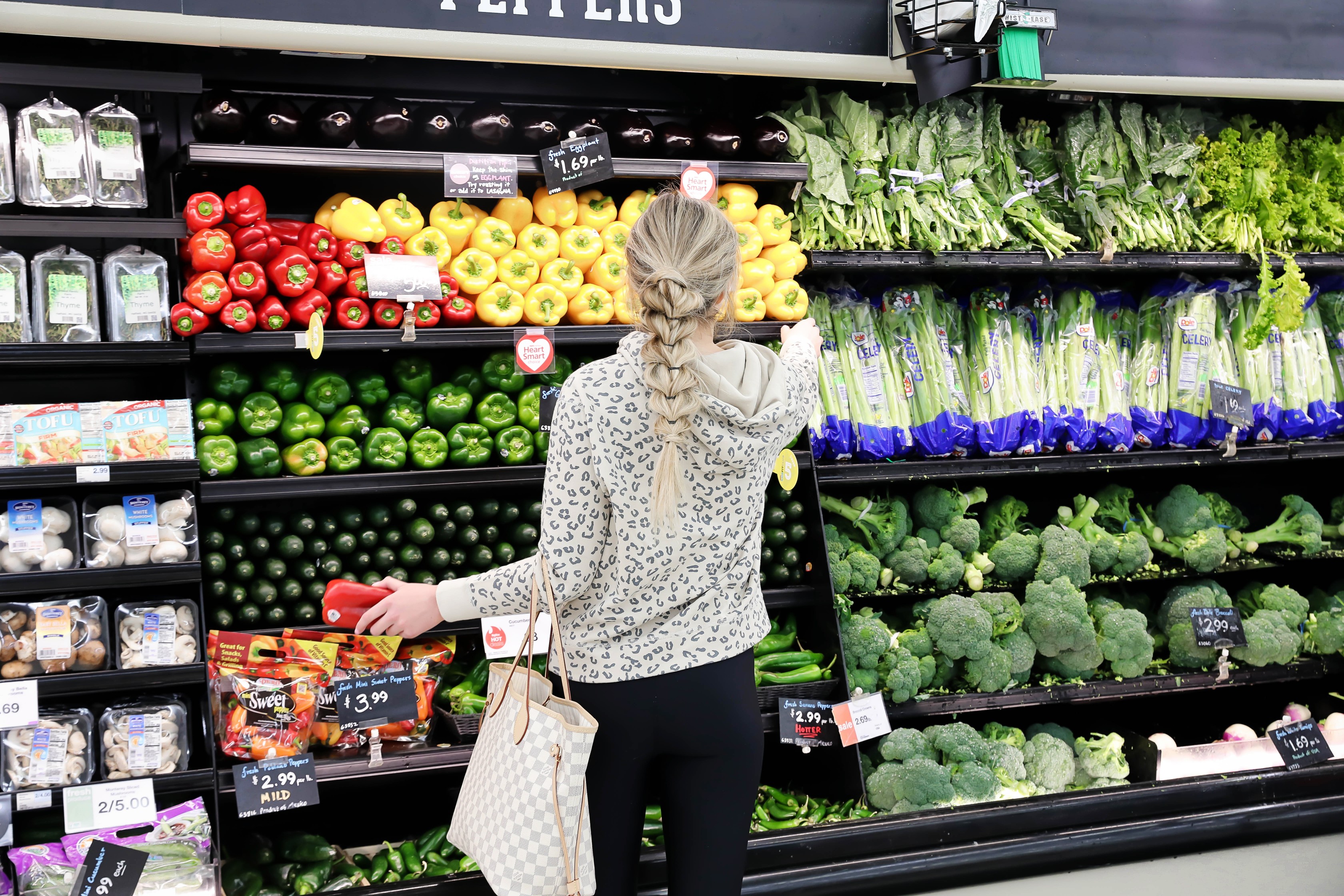 What I Eat in a Day | Dairy Free & Enough for Leftovers
Happy Wednesday! We've made it halfway through the week! I love posting what food I am making each day on my Instagram story. Last time I posted my meal someone messaged me that I should do an updated "What I Eat I'm a Day" post! I have done two of these before, both also dairy free, if you want to check them out. Lately I have been trying not to eat out on the week days so I have been making a lot of new recipes! Here are some of my favorites!
The thing I love about these recipes is they make a lot of leftovers so you can eat them for a few days! I started off my day by grabbing a latte from Starbucks and hitting the grocery store.
grocery list
– Chicken 
– Zucchini Mixture
– Red Pepper
– Red Onion
– White Onion
– Spinach
– Sweet Potatoes
– Turkey Sausage
– Ham
– Unsweetened Almond Milk
– Eggs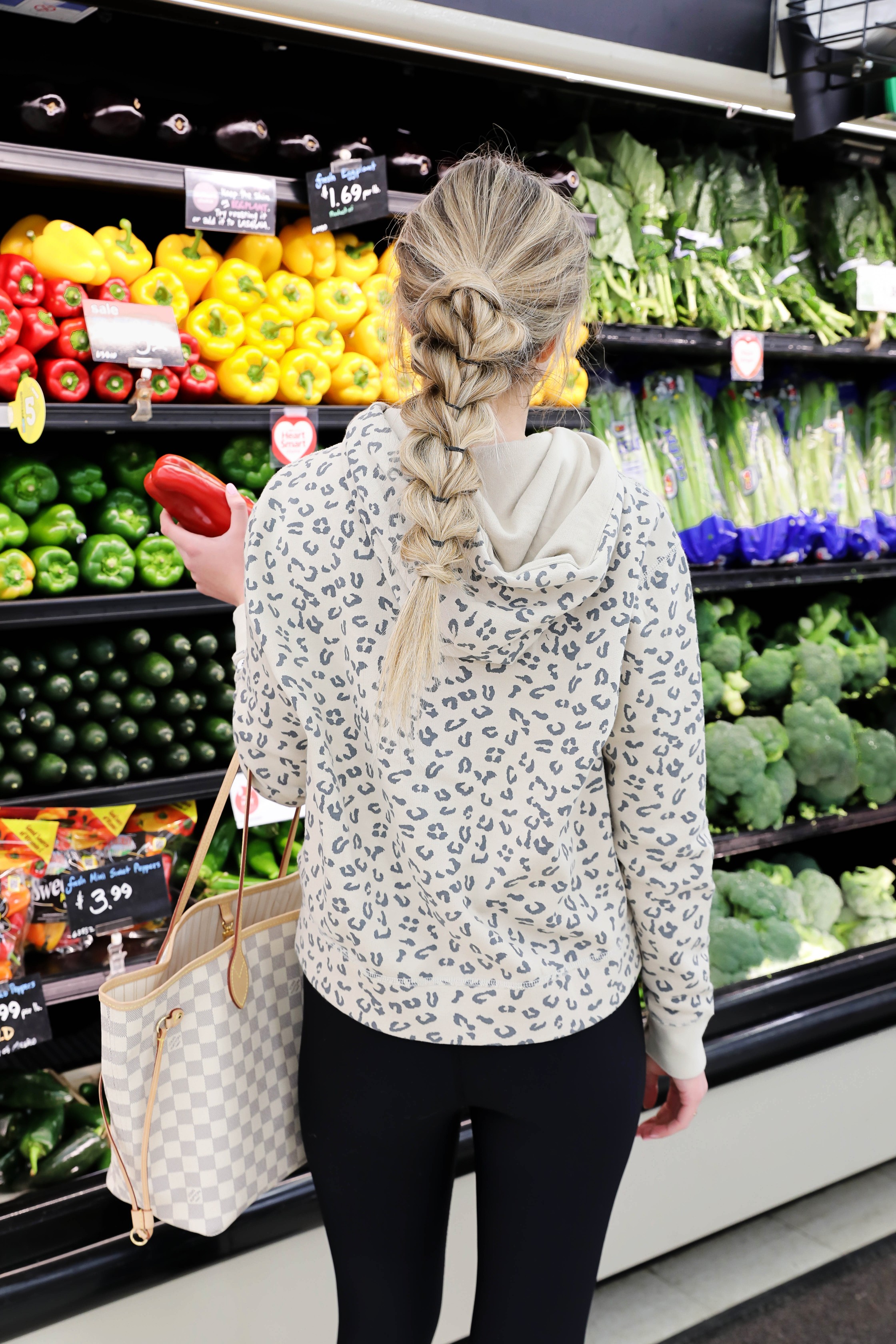 | Leopard Pullover (I am wearing a size small) | Alo Leggings (New favorites! I am wearing a size small) | Sneakers | Louis Vuitton Neverfull MM |
Then it was time to get home and get cooking! I made the breakfast and dinner at the same time because both could be saved for later and I get busy in the evenings! Each recipe is super easy and quick to make, which I love!
breakfast – egg cups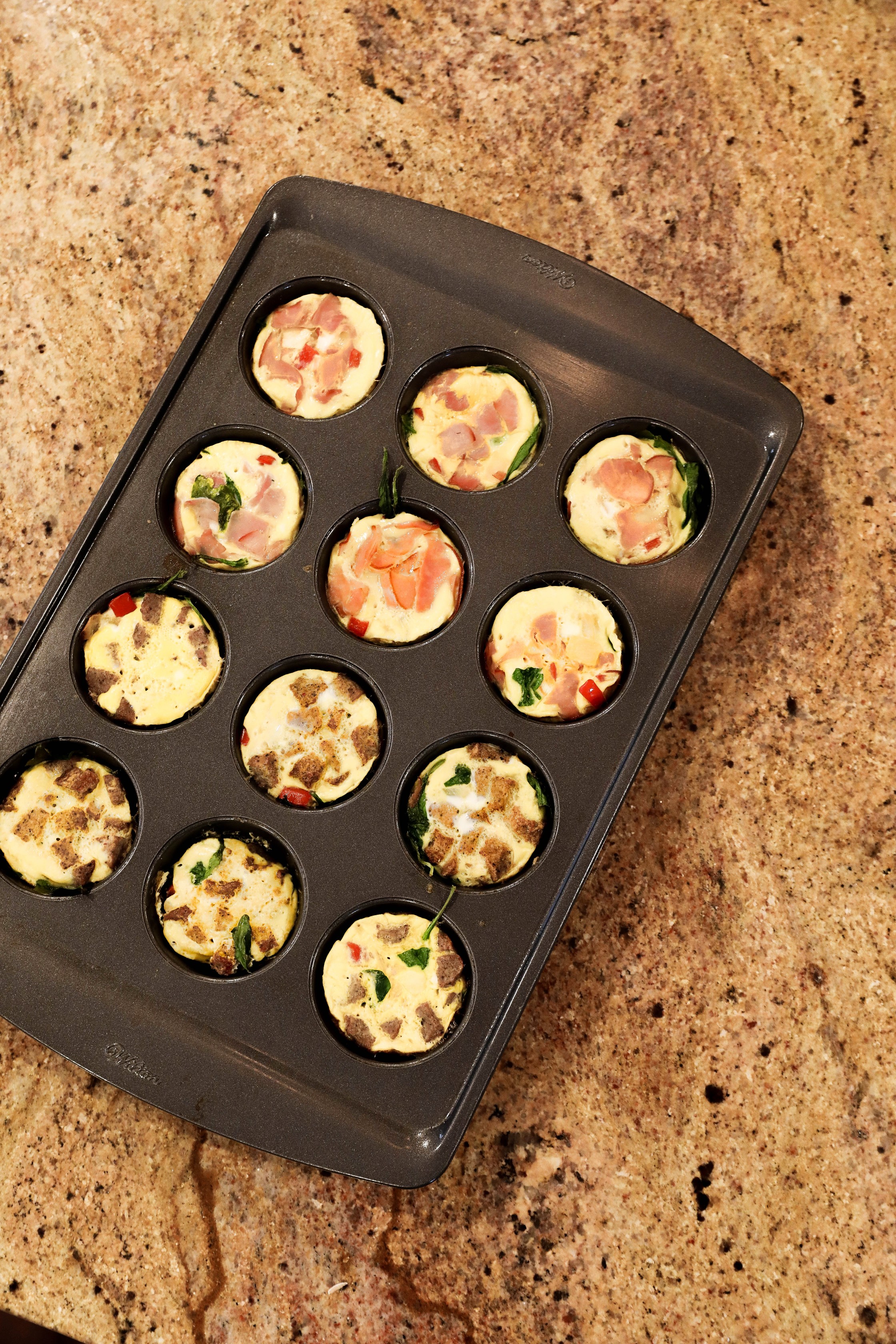 When I am hungry in the morning I will have an egg, smoothie, or oatmeal! As you can tell by this post, I am loving egg recipes right now. I actually don't eat breakfast most days – but I am trying to change that so these will be great to just grab on the go! These were so simple to make!
Ingredients:
– 1 tablespoon of Olive Oil
– 1/3 cup Chopped Red Pepper
– 1/3 cup Chopped White Onion
– Handful of Spinach
– Meat of Choice (I did ham and turkey sausage)
– 6 Eggs
– 1/2 cup of Almond Milk
Directions:
1. Preheat oven to 350º
2. Heat olive oil in a pan and sauté veggies and meat of choice.
3. Spray a muffin pan and line each tin with spinach.
4. Add in the sautéed veggies and meat.
5. Whisk the milk and eggs together and evenly distribute among the 12 cups.
6. Cook for 15-20 minutes and enjoy or save for later!
lunch – sweet potato scramble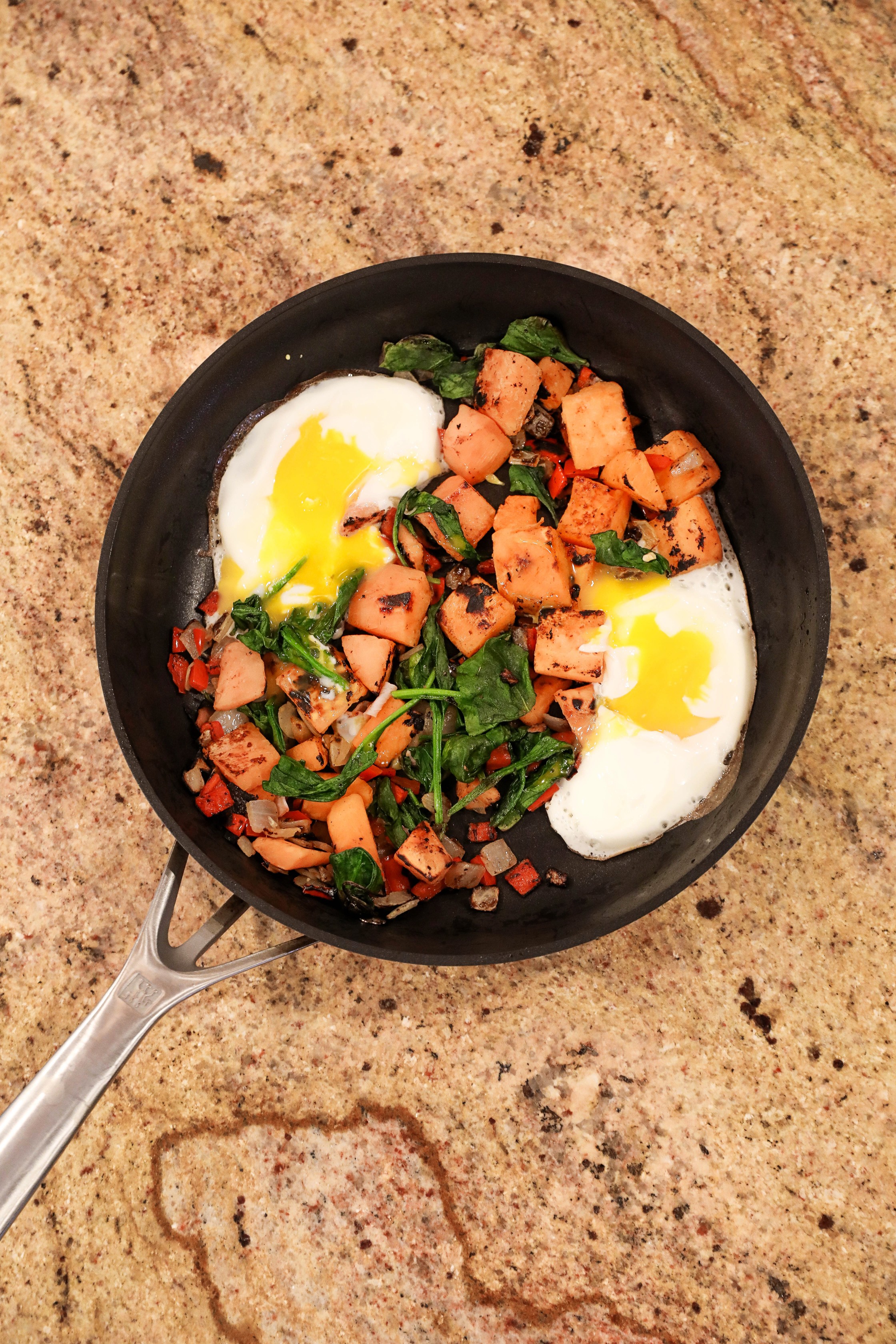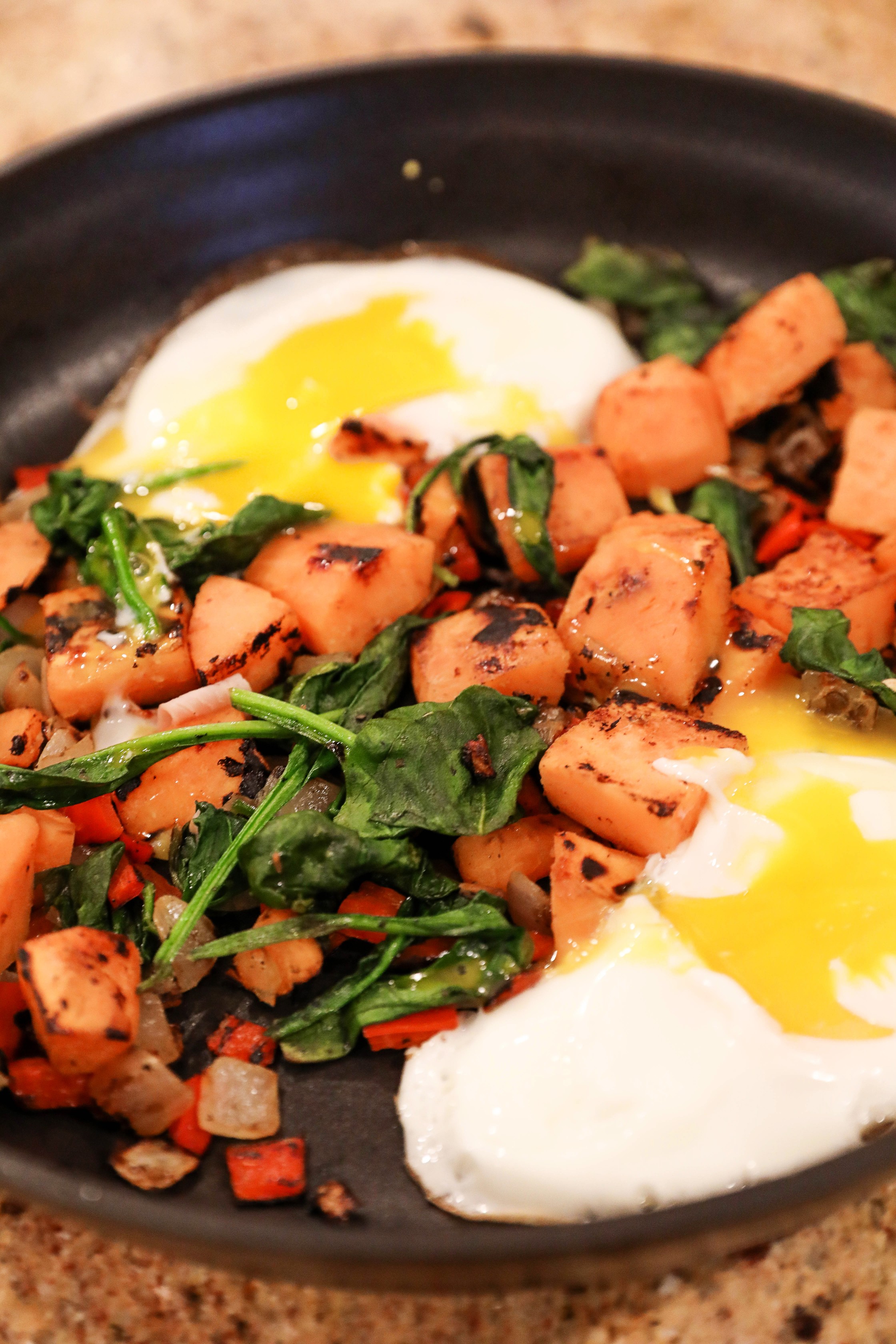 This has been a go-to meal for me! Like I said, I have been loving eggs (I mean, who doesn't want breakfast for every meal?) so lunch was no different today! I took the same veggies from the breakfast cups and scrambled them with some sweet potatoes and sunny side up eggs! Side note, I didn't eat everything in these photos haha! I made a larger portion for the pics. This is pretty filling!
Ingredients:
– 1 tablespoon of Olive Oil
– Handful of chopped sweet potatoes
– Handful of Chopped Red Pepper
– Handful of Chopped White Onion
– Handful of Spinach
– 2 Eggs
Directions:
1. Heat olive oil in a pan and begin sautéing sweet potatoes (cover pan to cook thoroughly).
2. When the potatoes are half cooked add in the veggies and cook until satisfied.
4. Crack 1-2 eggs on top and cover to cook until done.
5. Enjoy!
snack – smoothies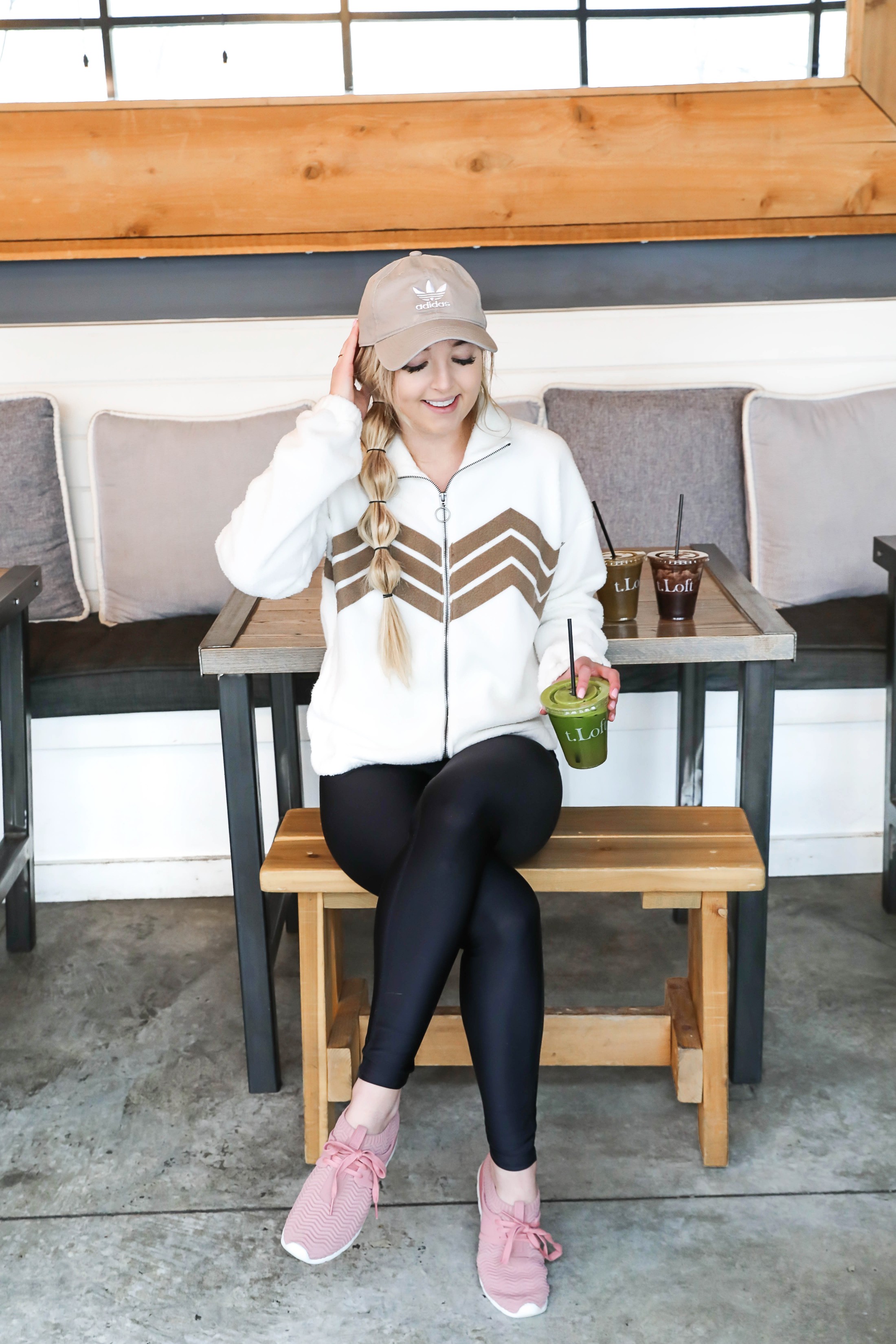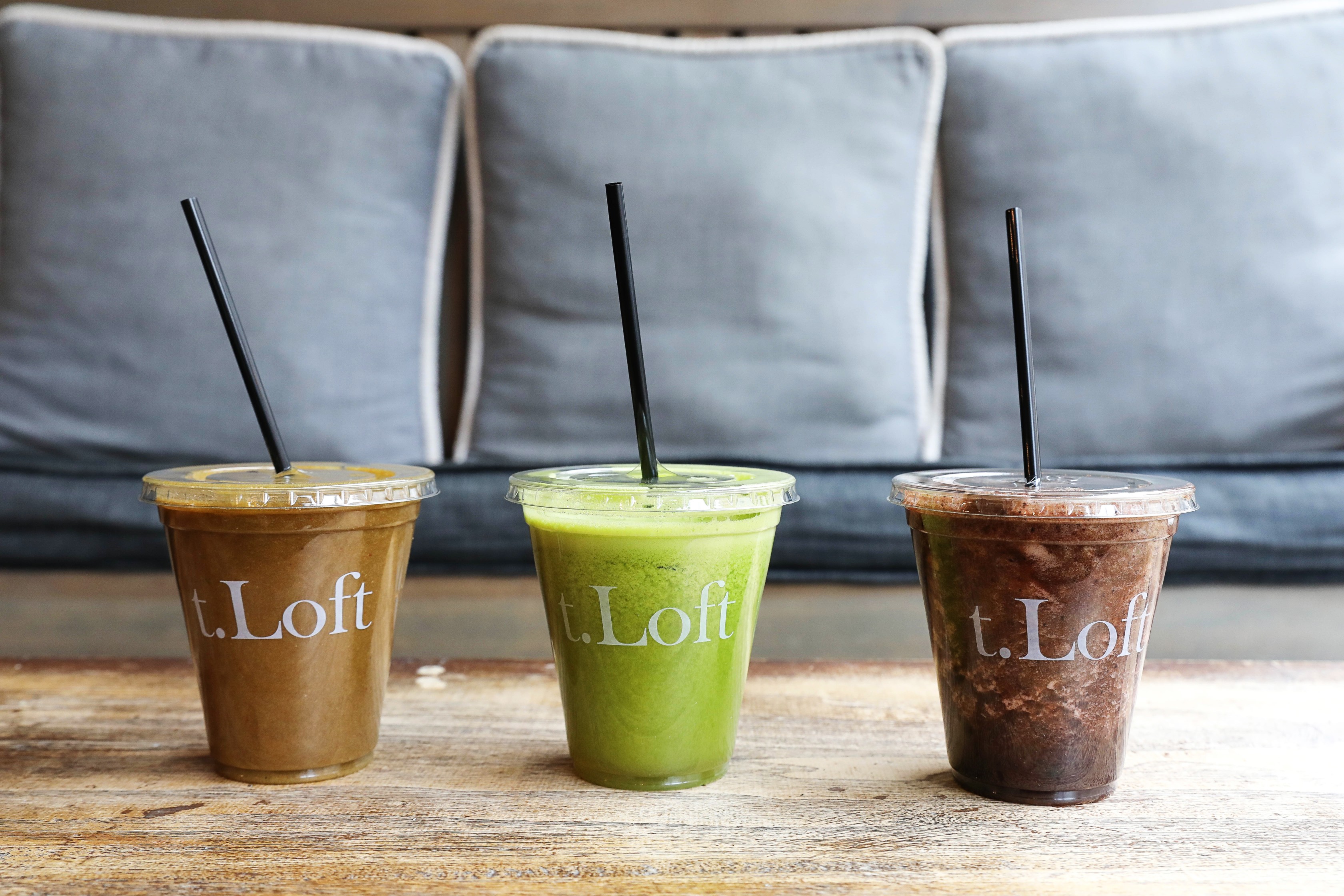 | Chevron Zip-Up (ON SALE – I am wearing a size small) | Alo Leggings (New favorites! I am wearing a size small) | UGG Sneakers (TTS & comes in four colors) | Adidas Tan Hat (Amazon Prime + comes in more colors) |
For snacks I usually grab a bowl of chips, handful of almonds, fruit, chips and salsa, or a smoothie! Today I went to T.Loft with my mom and got a strawberry, banana, spinach, coconut water smoothie! I love T.Loft, if you are from KC you need to try it! P.S. yes I change into multiple outfits per day haha!
dinner – chicken and veggie sheet pan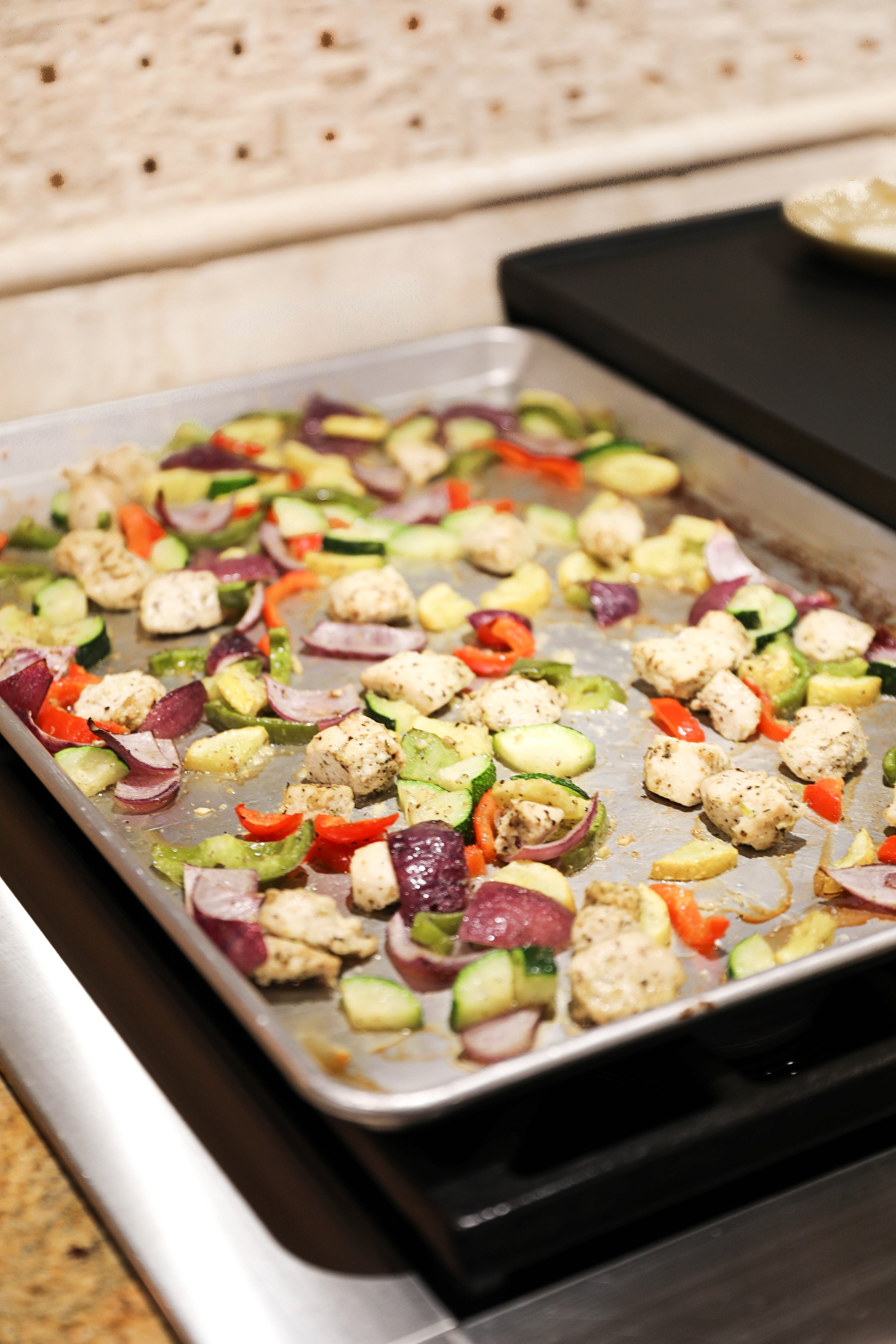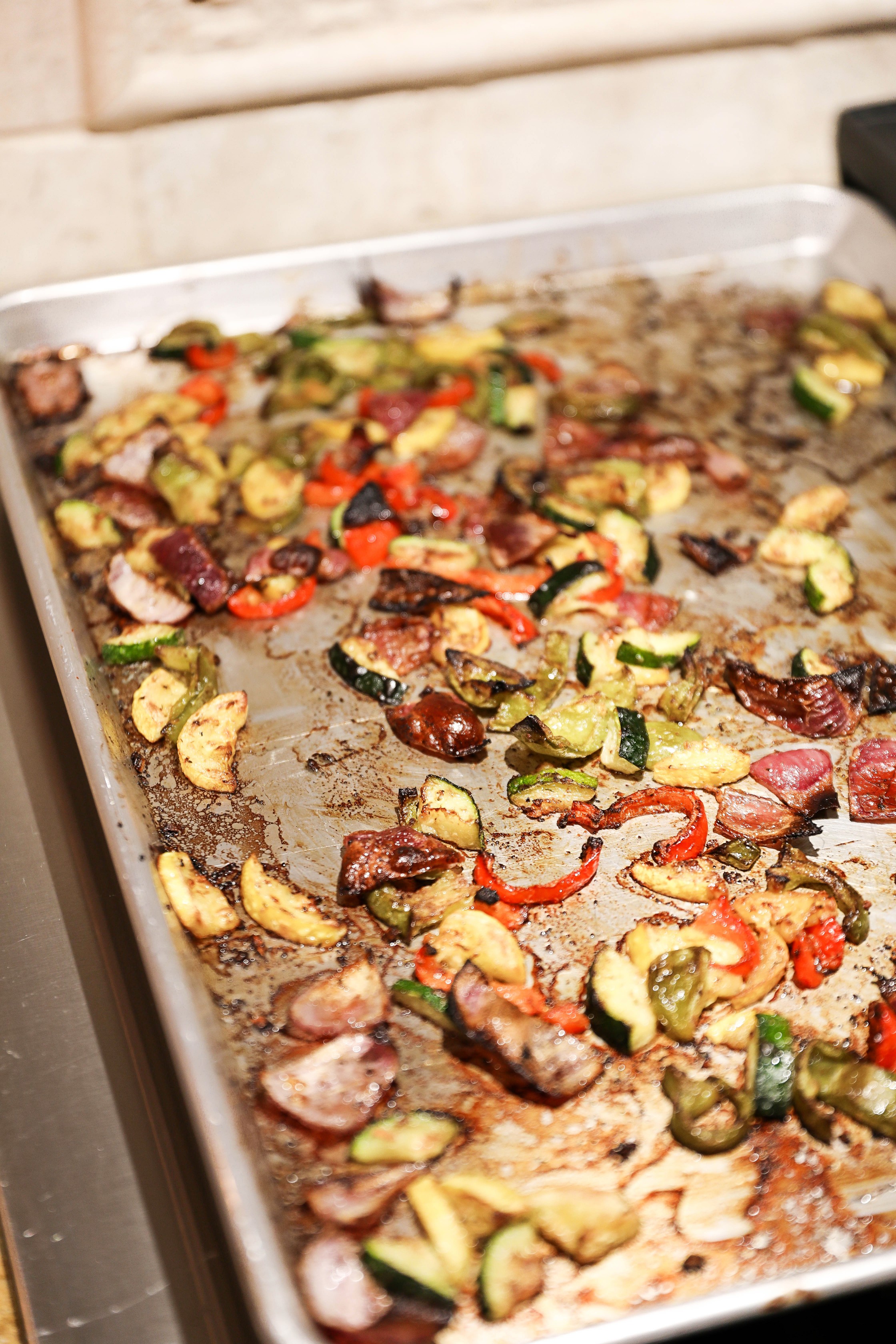 I love sheet pan dinners because they are SO easy to make! I just threw some veggies and chicken on a sheet then cooked until it was done! You'll notice in the photo above that I actually removed the chicken after it was done cooking and cooked the veggies a little longer at a higher temp (450º). If you enjoy crispier veggies you can add in this step!
Ingredients:
– 1/4 cup of olive oil
– 3 cloves of Minced Garlic
– Seasoning minute (I did Garlic & Herb Mrs. Dash + Garlic powder + Italian Seasoning)
– Chopped Zucchini
– Chopped Yellow Squash
– Chopped Red Pepper
– Chopped Red Onion
– 2 Chicken Breasts (evenly cubed)
Directions:
1. Pre-heat oven to 400º
2. In a large mixing bowl combine olive oil, seasonings, and minced garlic.
3. Chop veggies and add to seasoning mix, combine well.
4. Evenly cube chicken so it cooks consistently. Add to veggie and seasoning mixture.
5. Evenly spread on a baking sheet and bake for 10 minutes.
6. Remove pan and stir, re-spread evenly and bake for 10 more minutes.
7. Remove and enjoy! If you like your veggies crispier you can remove the chicken from the pan and cook for a few more minutes at 450º. You can also cook at a higher temperature from the beginning, but the chicken stays juicer the way I did it!
I hope you guys enjoyed this post! I love cooking and sharing my recipes with you all!
xoxo,
Lauren Emily Lindmark
Copyright © 2019 dailydoseofcharm.com