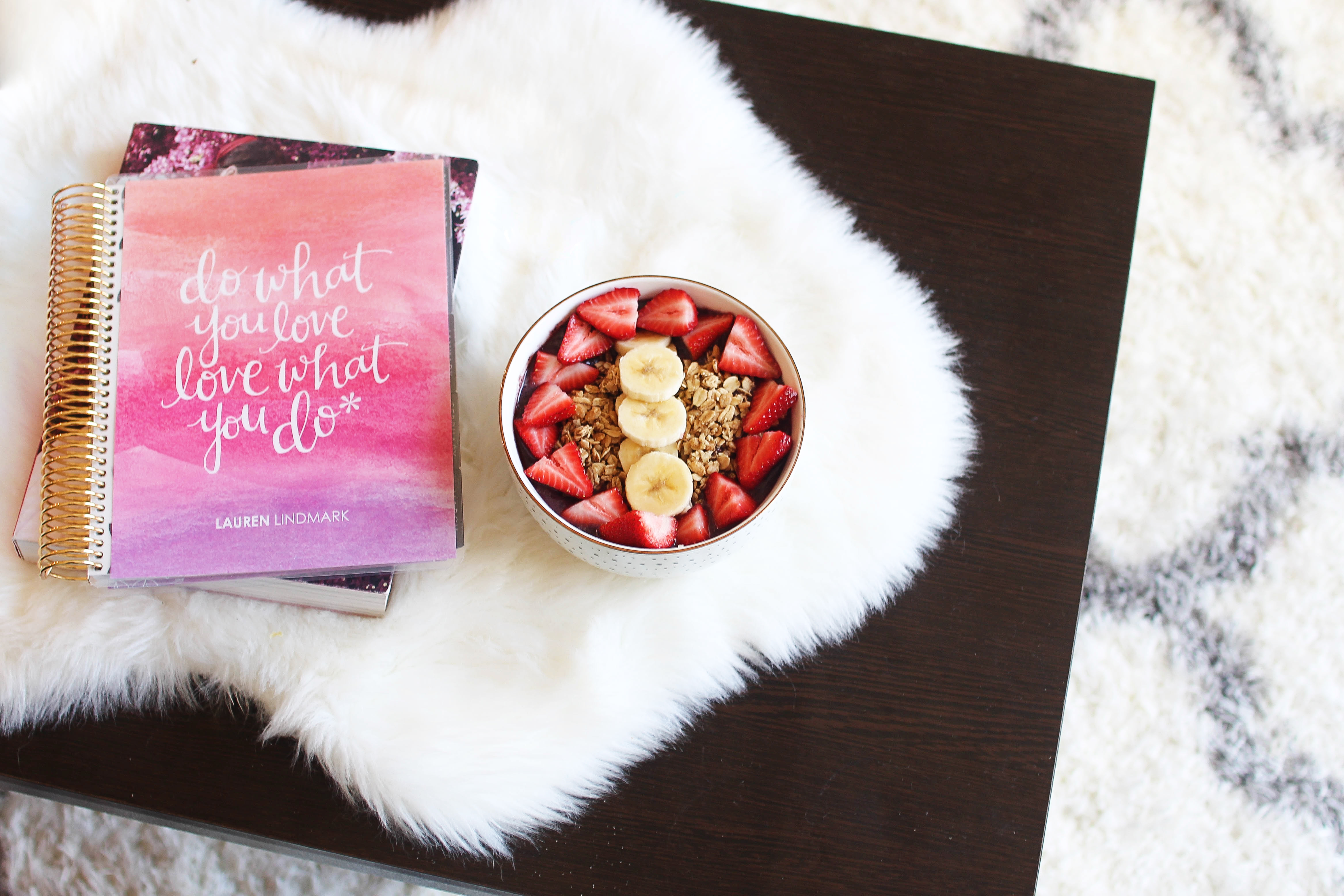 What I Eat in a Day | EASY VEGAN RECIPES
I love finding new recipes online so I decided to finally share some of my favorites in a "What I Eat in a Day" post! am attempting to eat more vegan and plant based for the month of March so these happen to be vegan, however, they can all be adapted and made with meat or cheese! I decided to try to eat "vegan" (although I don't really want to label it) mainly for health reasons, but I hope it turns into a lifestyle (wish me luck)!
Side note, I am a huge snacker so I will usually snack on whatever food I have around my apartment (such as chips and salsa or pita and hummus or any snack food). So keep that in mind when you look at my portion sizes. If you want to see another post about my snacks let me know!
Breakfast: Acai Bowl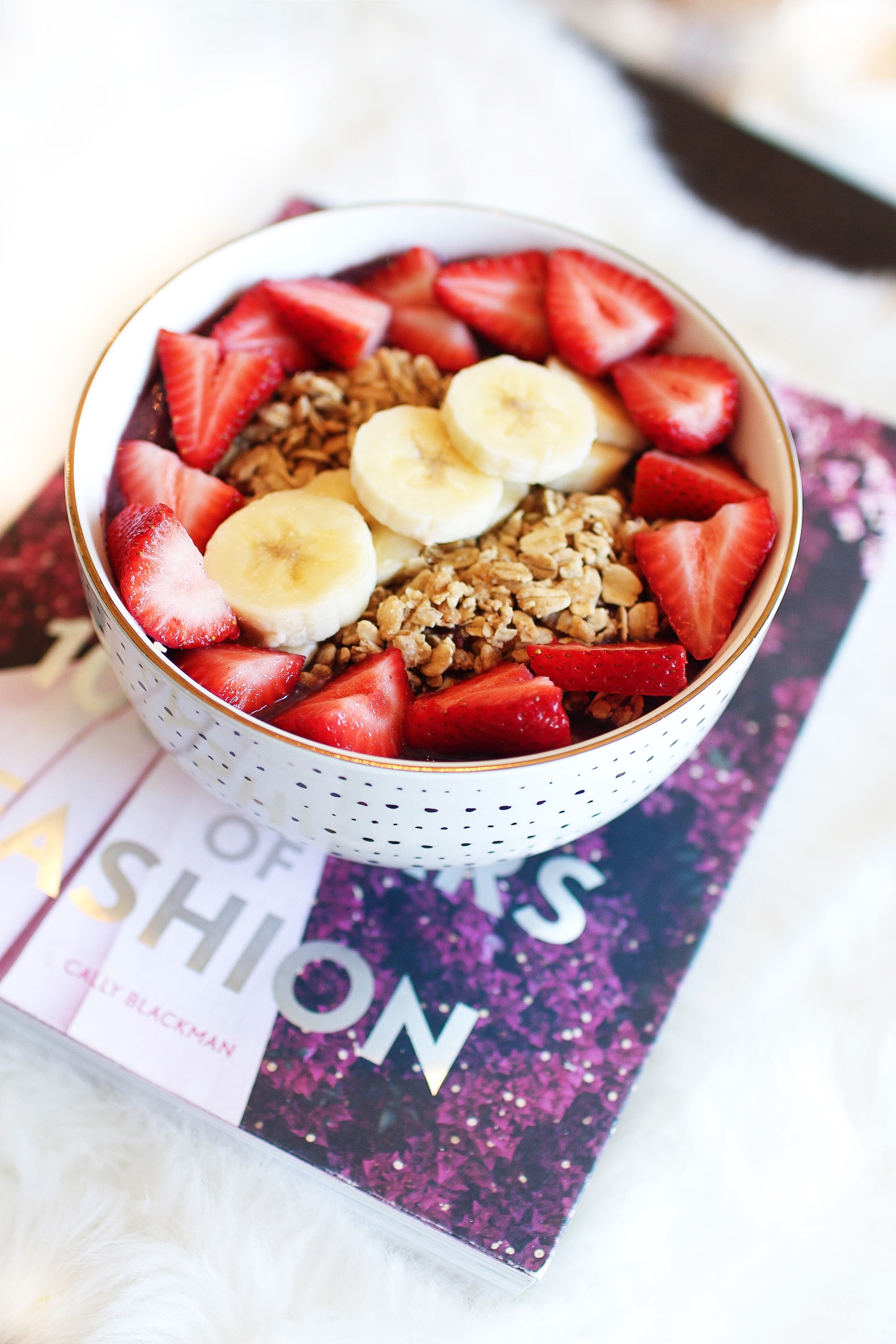 I absolutely love acai bowls! I bought frozen acai a few months ago and started eating it every once in awhile, but ever since I went to Arizona and had Nekter's bowls I have been hooked! I have them for breakfast every single day and sometimes have them as a snack in the afternoons too.
---
Ingredients:
-1.5 Bananas
-5 frozen strawberries
-3/4 cup of frozen blueberries
-Frozen acai packet
-Splash of Light Vanilla Almond Milk
-Fresh strawberries for topping
-1/2 chopped banana for topping
-Granola for topping
Recipe:
1. Run the acai packet under hot water and put the frozen fruit into the microwave for approximately 15 seconds to prepare.
2. Blend all the ingredients together. You can add more Almond Milk or ice until you reach desired consistency.
3. Top with chopped fruit and granola & enjoy!
---
Snack & Lunch: Black Bean and Corn Salsa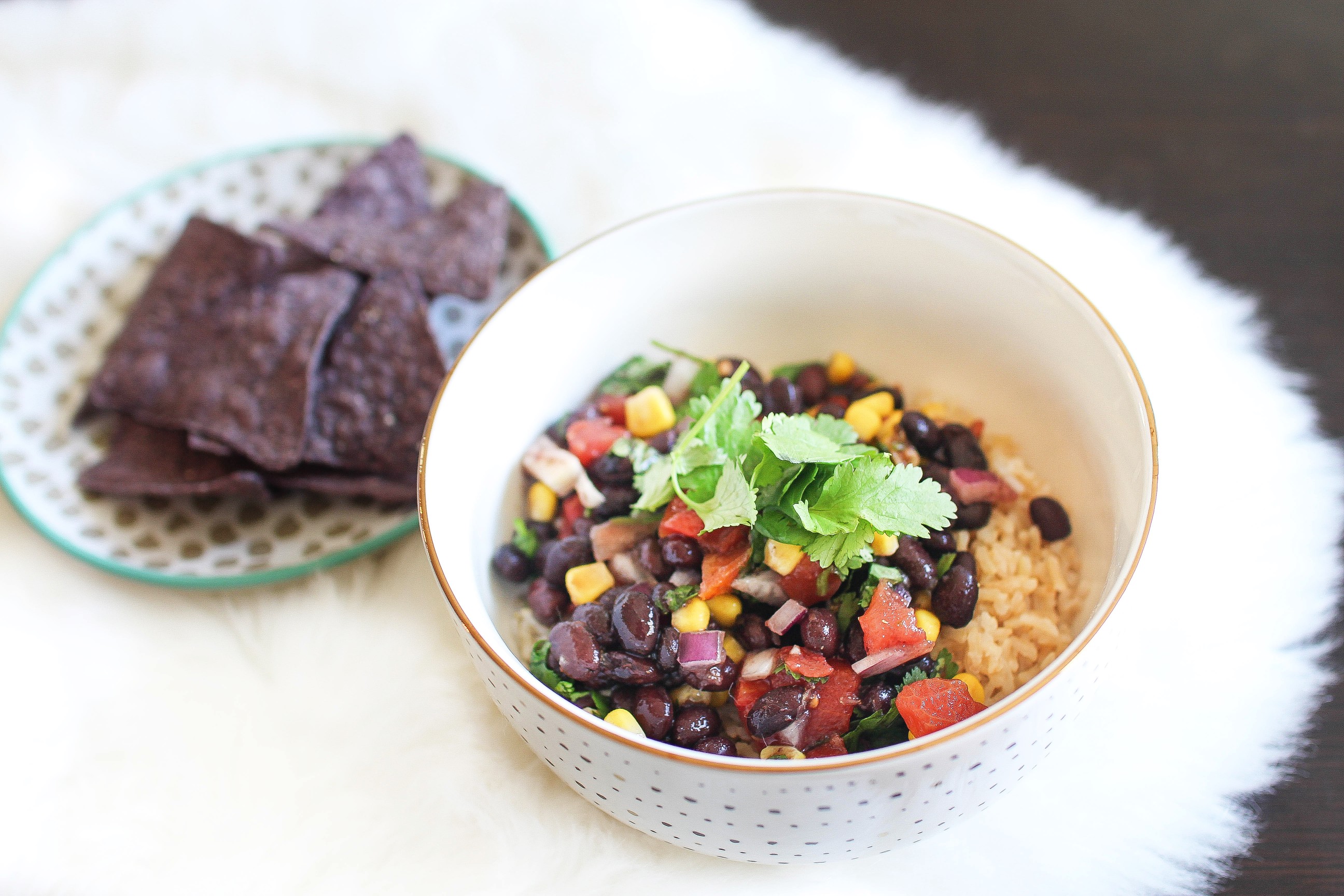 This salsa was one that my friend Abbye gave to me in high school and I have loved it ever since! Not only is it delicious, but it's so easy to make. I love eating it with blue corn chips as a snack or on top of rice for a meal! Side note, it's also delicious with chicken if you are looking for a non-vegan meal!
---
Ingredients:
-2 15oz cans of black beans, drained
-15 oz can of yellow corn, drained
-14.5 oz can of Italian diced tomatoes, drained
-1 small red onion, chopped
-1/4 cup odd chopped cilantro
-1/2 tablespoon of minced garlic
-Rice or Chips
Recipe:
1. Combine all ingredients to make the salsa.
2. Eat with blue corn chips as a snack or prepare on top of brown rice for lunch.
---
Snack: Peanut Butter Chocolate Chip Apples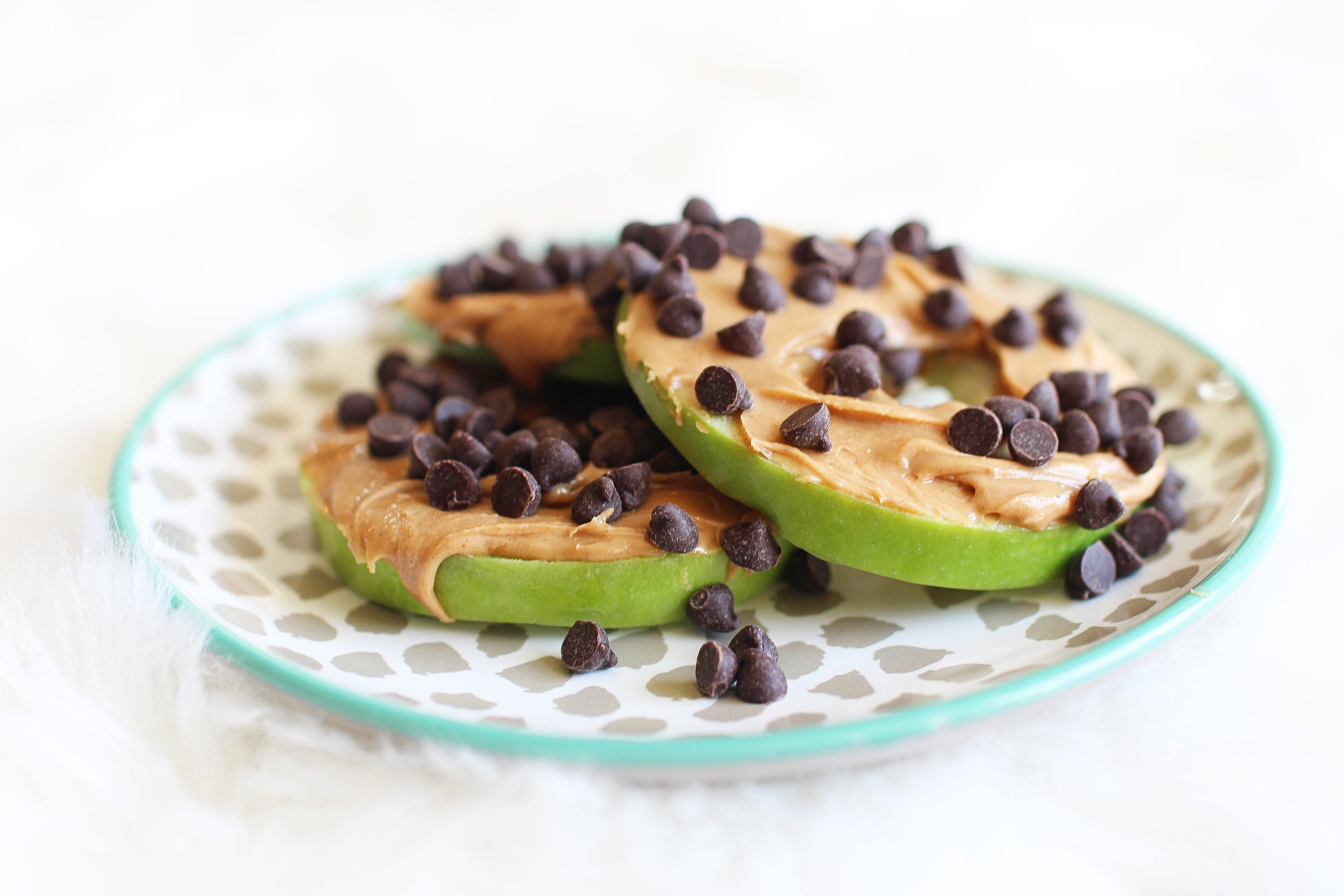 This is one of my favorite quick snacks. I love apples and peanut butter and together they are delicious! Another way I make this is by melting the peanut butter in the microwave and dipping the apples in.
---
Ingredients:
-Granny Smith apple
-Peanut butter
-Mini chocolate chips (dark chocolate can be vegan sometimes, if not buy a specific vegan brand)
Recipe:
1. Slice apple.
2. Spread on peanut butter and sprinkle with chocolate chips.
---
Dinner: Potatoes and Veggies with Sriracha Aioli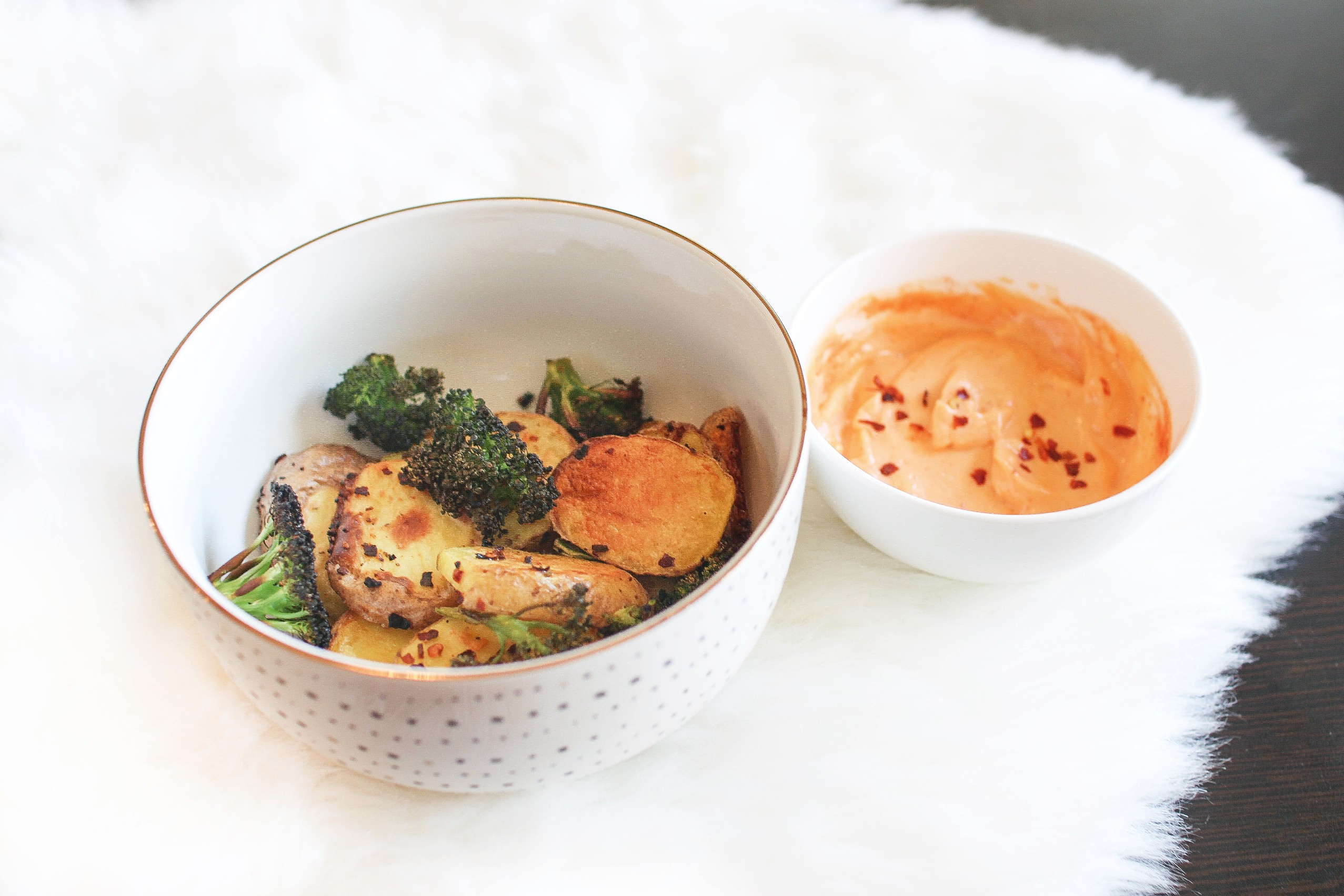 This meal isn't the prettiest, but it's one of my favorites! I have really bad stomach problems. I've been to so many doctors, yet all we have discovered is that I am lactose intolerant. Bland meals like this one are really good for me, especially at the end of the day! They can be made with so many different veggies and other sides! Also, this dipping sauce is my favorite!!
---
Ingredients:
-2 golden potatoes
-Broccoli
-Olive oil
-Spicy Mrs. Dash
-Red pepper flakes
-Vegan Mayo
-Sriracha sauce
Recipe:
1. Preheat oven to 425º.
2. Slice potatoes and broccoli into thin slices and cover in olive oil. Season with Spicy Mrs. Dash and red pepper flakes. Bake for 20-25 minutes or until golden brown.
3. While potatoes and broccoli cook, mix vegan mayonnaise with Sriracha sauce for dipping. Begin with a little Sriracha and mix until you are happy with the consistency.
---
Pin on Pinterest for Later!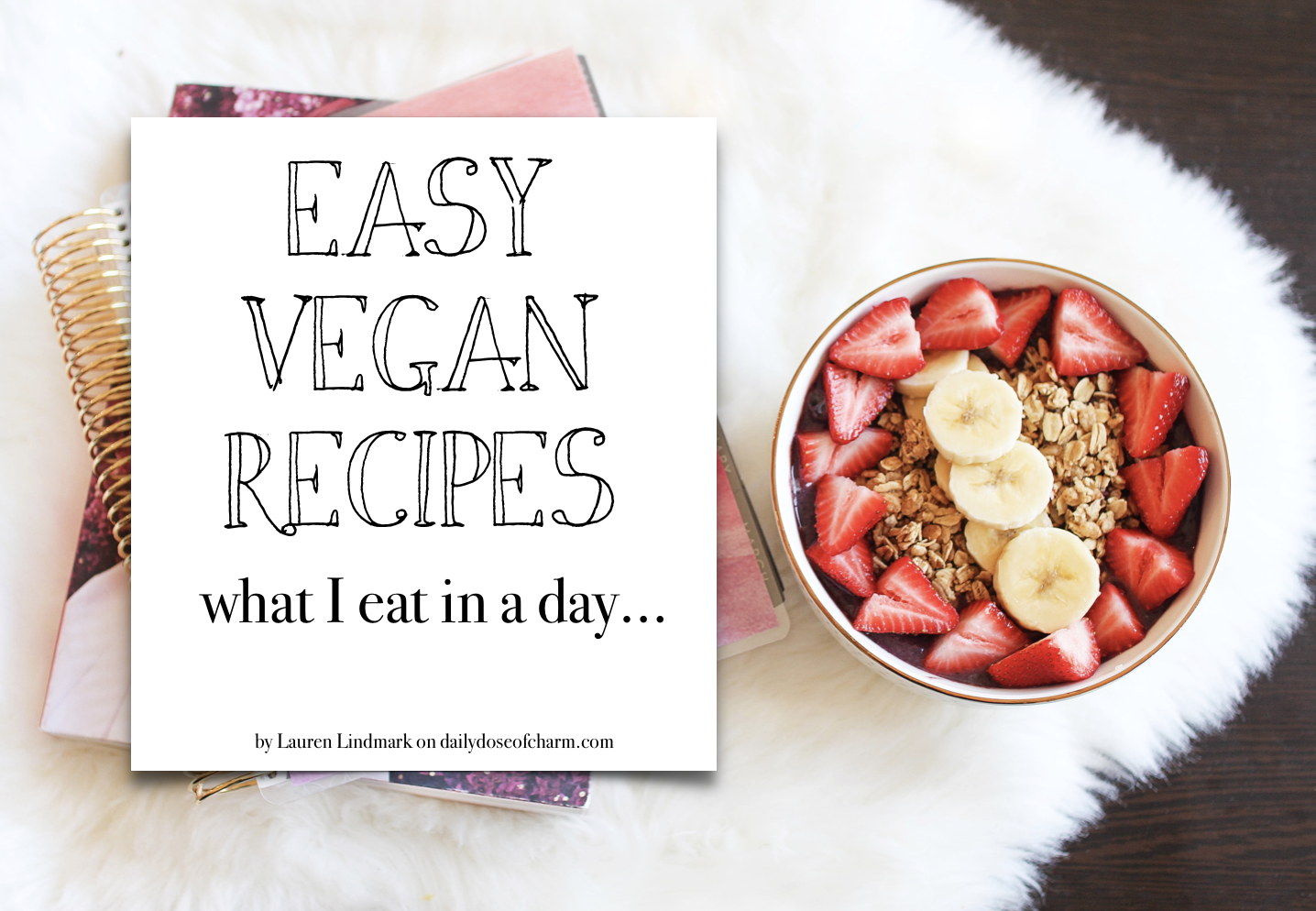 xoxo,
Lauren Emily Lindmark
Copyright © 2017 dailydoseofcharm.com