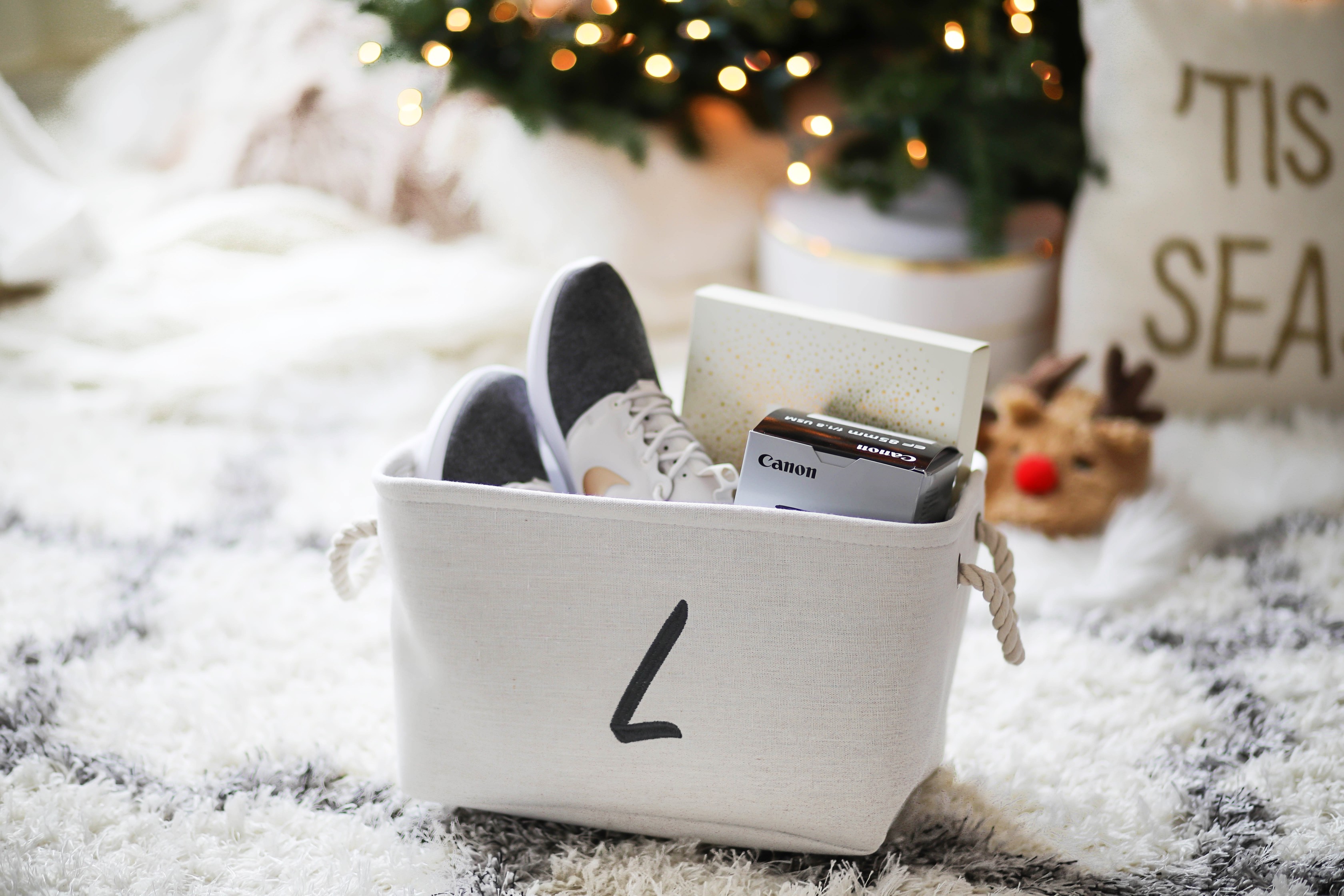 What I got for Christmas 2017 + My Favorite After Christmas Sales
Disclaimer, I am only posting this for three reasons:
1. I love reading other people's posts like this so I wanted to make one too!
2. I wanted to give you ideas on future Christmas (or birthday) lists and ideas on what to spend Christmas money on.
3. I love having these as memories. I have done this the last two years (2015's post & 2016's post) and I look back on them to remember gifts and get ideas for other people!
So no, I am not trying to brag (so if you're here to hate on these types of posts just close out). I hope you all enjoy this, and if you are a blogger and also did a post like this post a link below! I want to read more! Also, I totally meant to post this yesterday (I don't know how people post these on the day of Christmas, but I was at least shooting to get it up by the end of the 26th.), however, I was so busy with my family I didn't have time. So hopefully you haven't gotten tired of these yet! Let's just get into the post now!
*NOTE finally finished this post in the middle of the night, excuse any grammatical or spelling mistakes – I am so sleepy!
ALSO! I posted a roundup of my FAVORITE after Christmas sales on my Instagram story!
1. Tripod & New Lens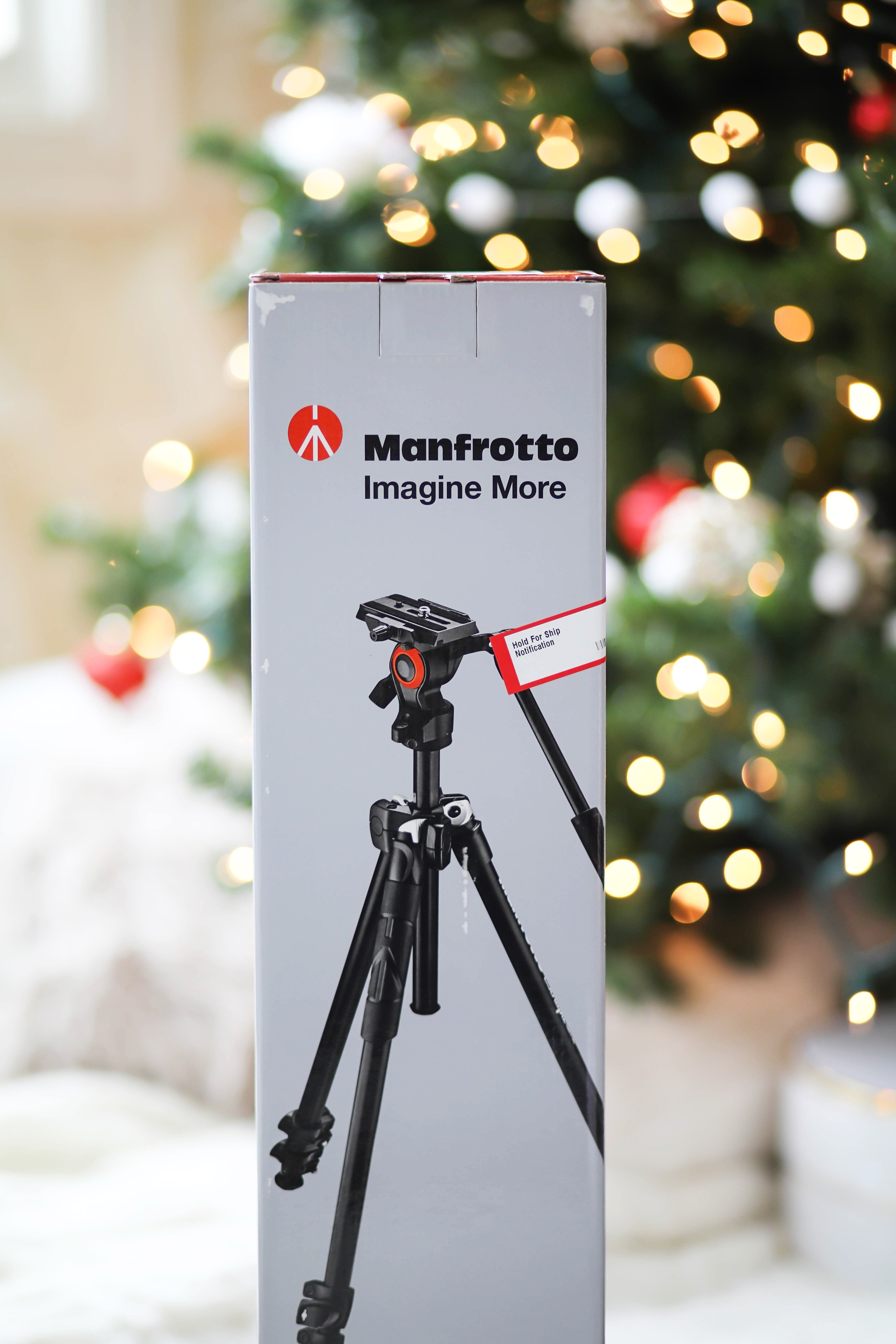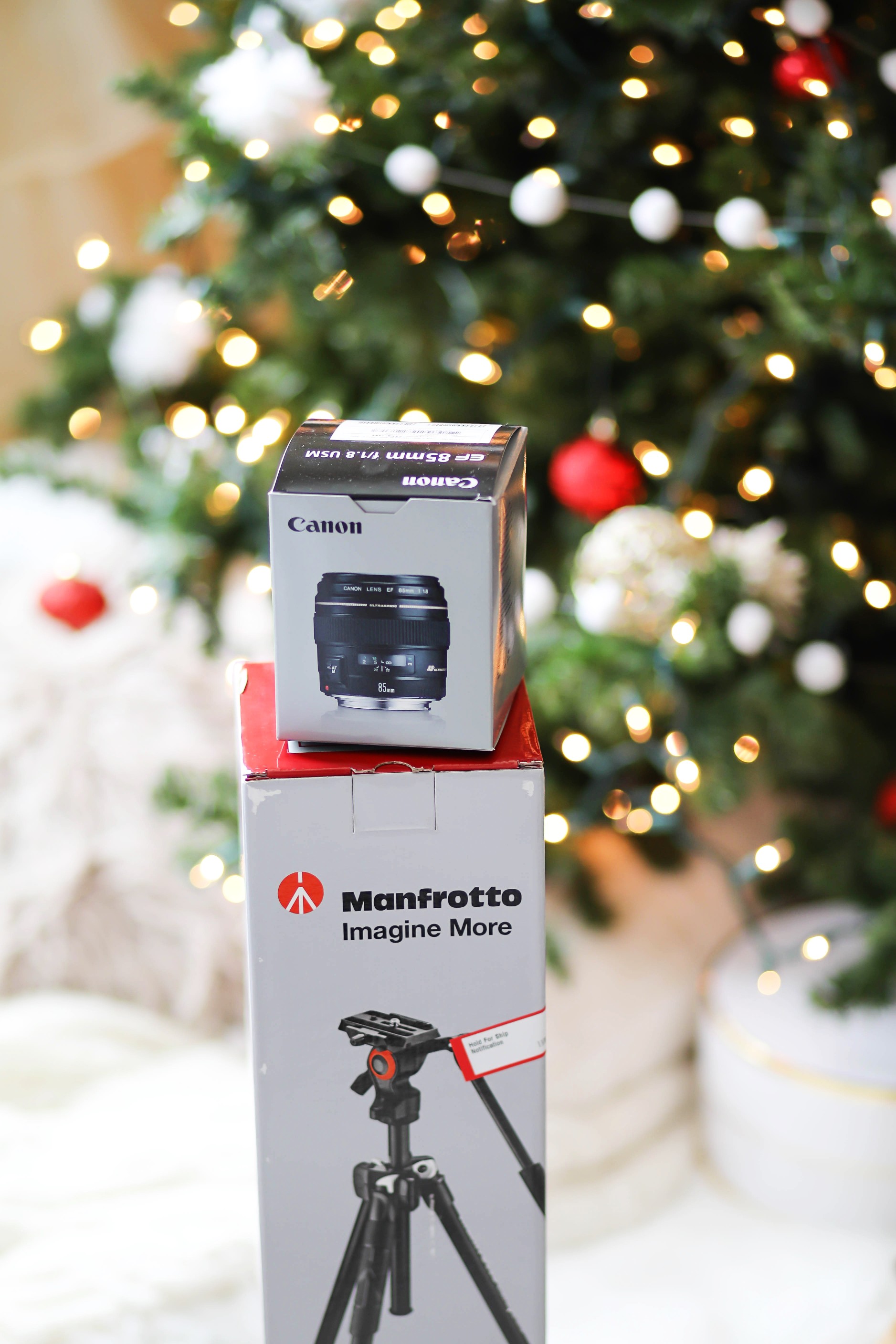 I was in DESPERATE need of a new tripod. A few years ago when I got really into photography and blogging I borrowed my mom's cheap tripod and never gave it back (oops). It was amazing for a little while, but is on its last leg now (no pun intended). It seriously would barely hold up my new camera since it's heavier. All of the joints would start to unscrew and I was worried for the safety of my camera haha! So after a little research I decided to go with this Manfrotto 290 Tripod. I liked that it was sturdy, had pretty good reviews in the camera community, and had a Fluid Video Head if I ever need to do a quick panning shot. It is also a well known brand! I will keep you all updated with how I like it!
The other really exciting photography present I received was a new lens!!! This was definitely my "big present" and I was so excited when I unwrapped it! Back story, this spring I got a new camera. It's a "full frame" camera and although my old lenses were compatible, they were cropped differently because of the specs of my new camera (read about full frame caroms here if you are interested). Because of that, I purchased a new lens at the same time I purchased my camera (the Canon EF 24-70mm f/2.8L II USM) and I have loved it! However, I was really missing having a lens with a lower number aperture because it makes the background more blurry. I had a Sigma Art lens that was a 30mm 1.4, but I didn't like how the 30mm looked on my new camera. I also had the Canon 50mm 1.8, but it was inexpensive and still wasn't exactly perfect for my bigger frame so I gave it to my sister.
So, I did some research and finally landed on the Canon 85mm f/1.8. I had heard it was an amazing price for the quality and it has already lived up to that! I am SO happy with it! I know there are "better" lenses out there, but I wanted to try an inexpensive one first to see how much I use it before I ever upgrade. I took all the photos in this post with it. The background is so good and really makes the products look crisp. Sorry if you don't know anything or care about photography because these paragraphs probably bored you haha!
P.S. I am selling my Sigma Art lens 30mm 1.4 for $300 (which is $200 cheaper than I bought it). If you are interested please email me lauren@dailydoseofcharm.com. I can send you photos of it and give you more info, it is in amazing shape and is compatible with a lot of cameras (including the canon rebel cameras). Just doesn't work with my full frame.
2. Jouer Highlighter Trio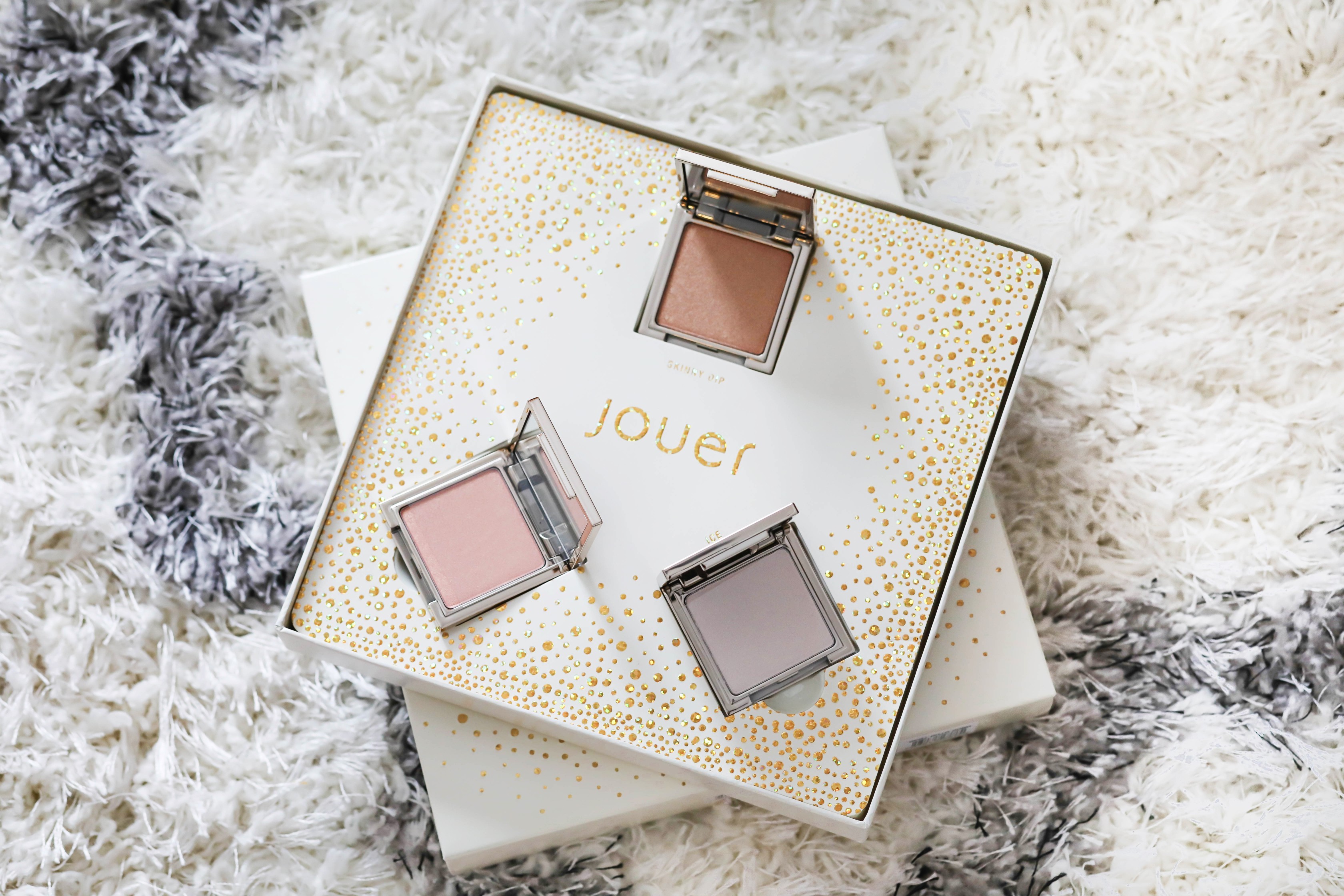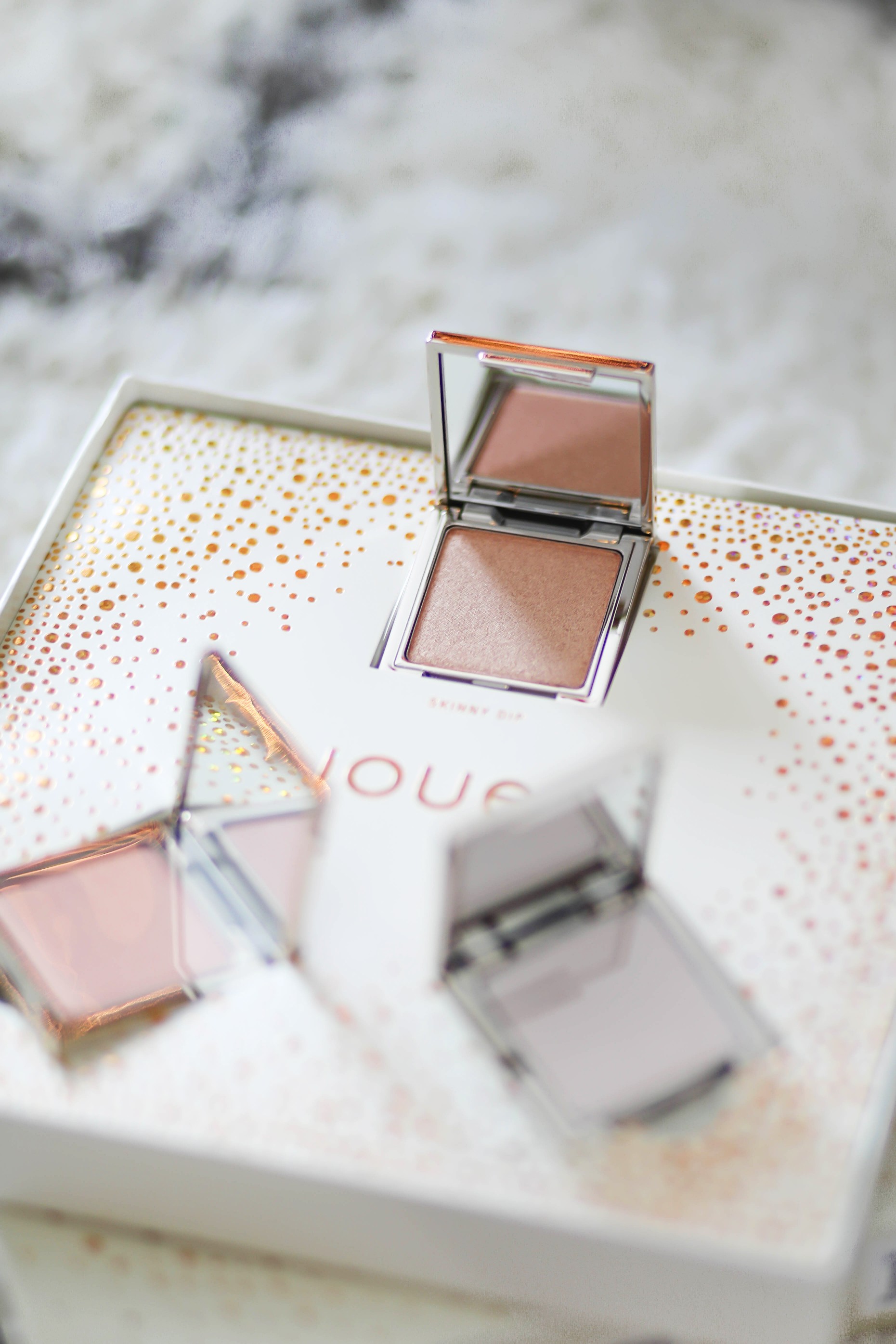 A few months ago I purchased a full compact of Becca Champagne Pop highlighter. I had purchased a compact that was half champagne pop and half blush earlier this year and I barely had any left so I wanted to re-buy it in a full size. A few weeks after I bought it I accidentally dropped it and it shattered EVERYWHERE. I was so bummed. I continued to just use the half compact until it ran out. So I was really excited to receive this Jouer Citrine, Topaz & Rose Quartz Powder Highlighter Trio for Christmas! I guess Santa saw me drop it haha 😉 I haven't tried it yet, but I will keep y'all updated!
3. Lipgloss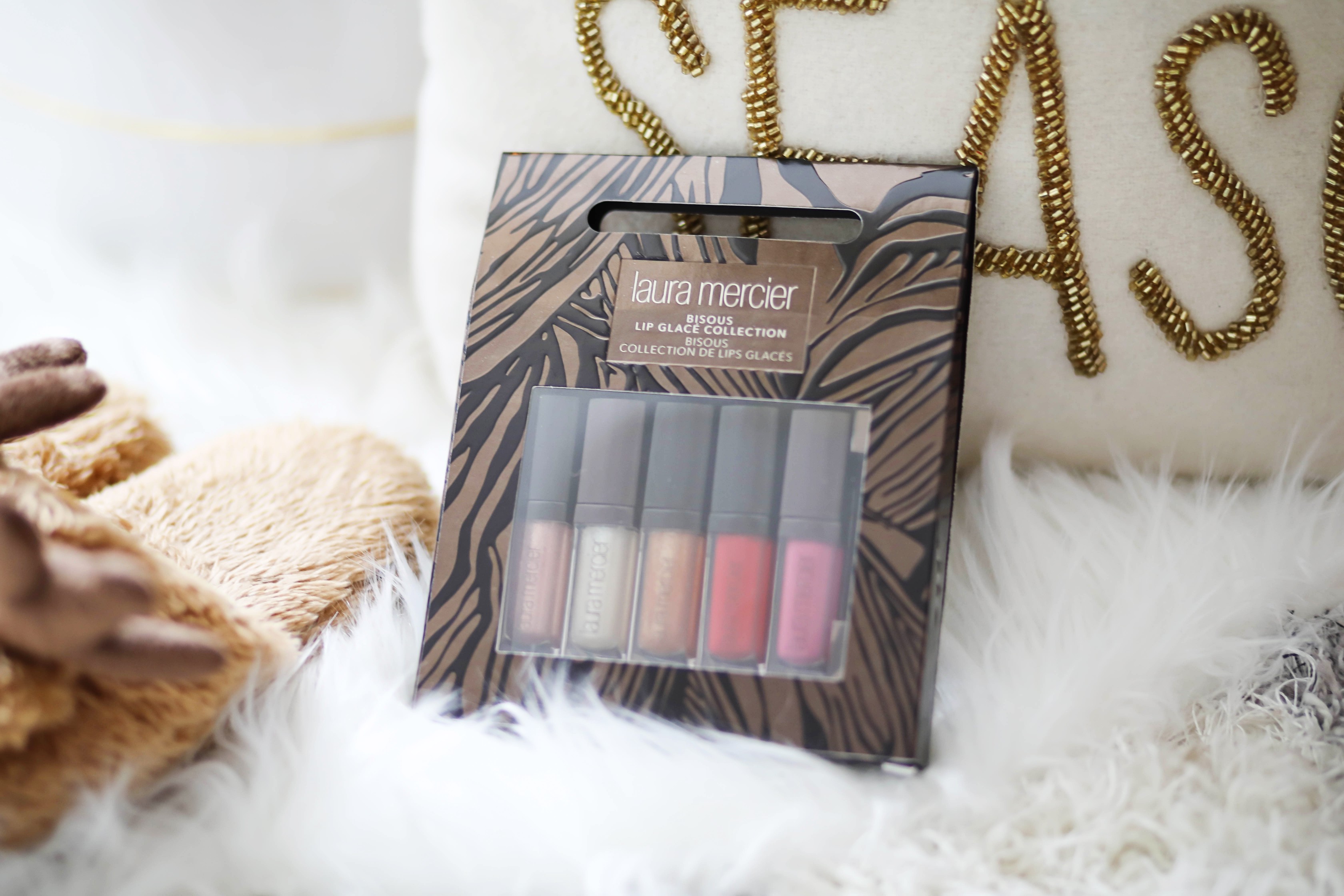 I was telling my mom the other day how I am trying to wear more lip colors. I have this horrible habit of doing a full face of make up and just putting chapstick on my lips haha! I think I look so good in lipstick or lipgloss (if I do say so myself) and I always look more polished and finished. So I am trying to use it more. I was super excited to receive this Laura Mercier Bisous Lip Glacé Collection set from Santa this year! I think the colors are beautiful! Make I will try them all on for you in an Instagram story soon!
4. Silk Pillowcase & Glasses/Sunglasses Case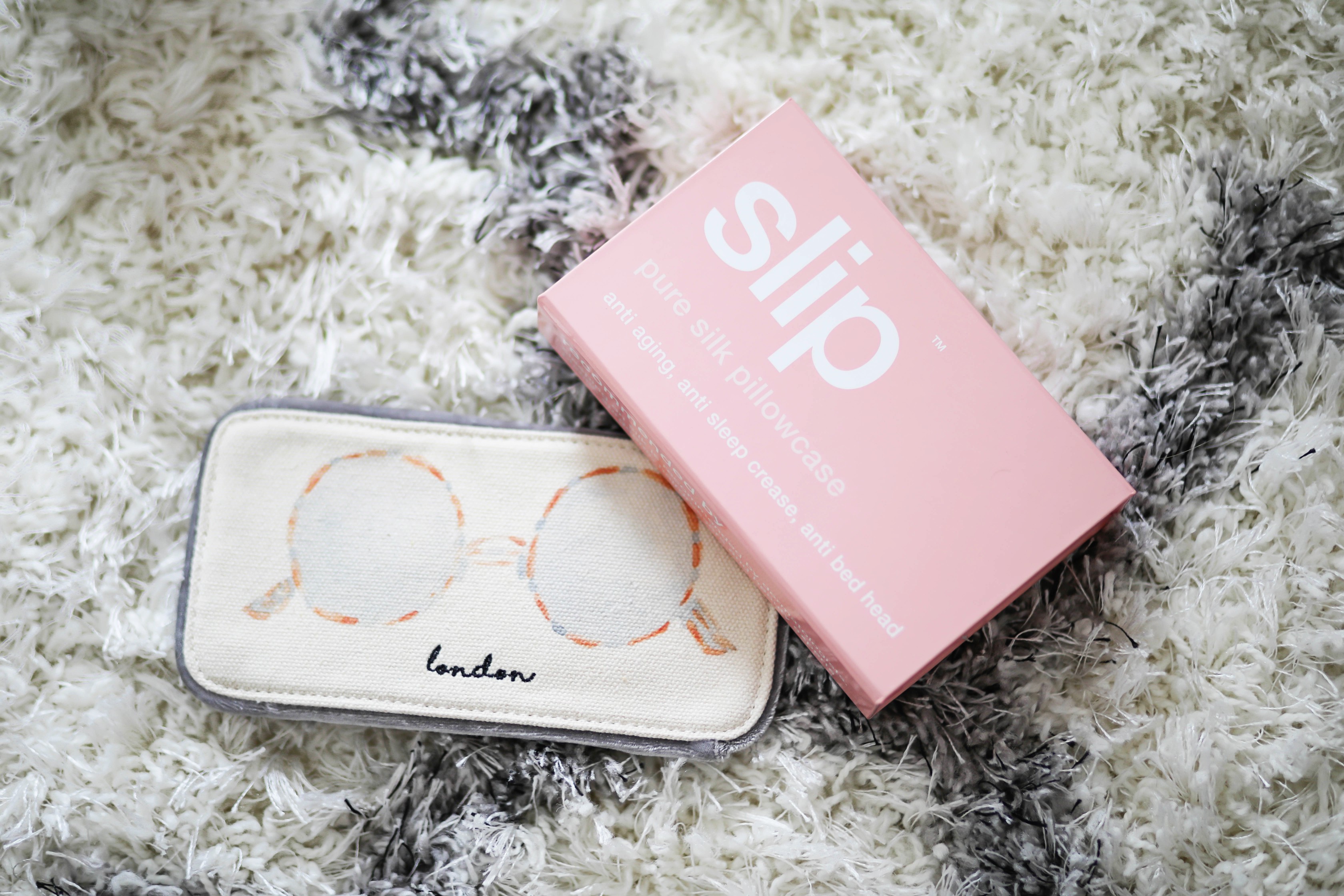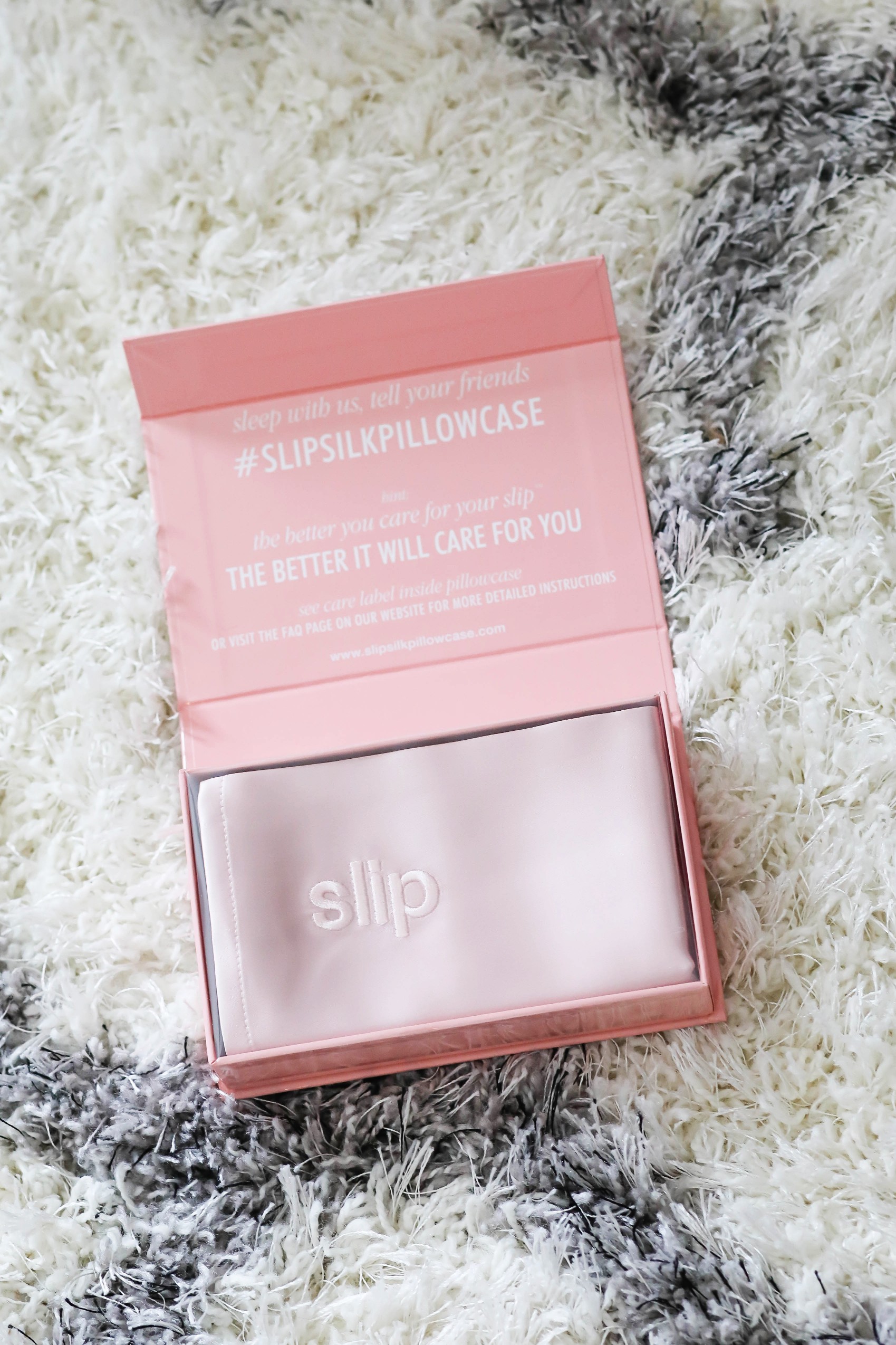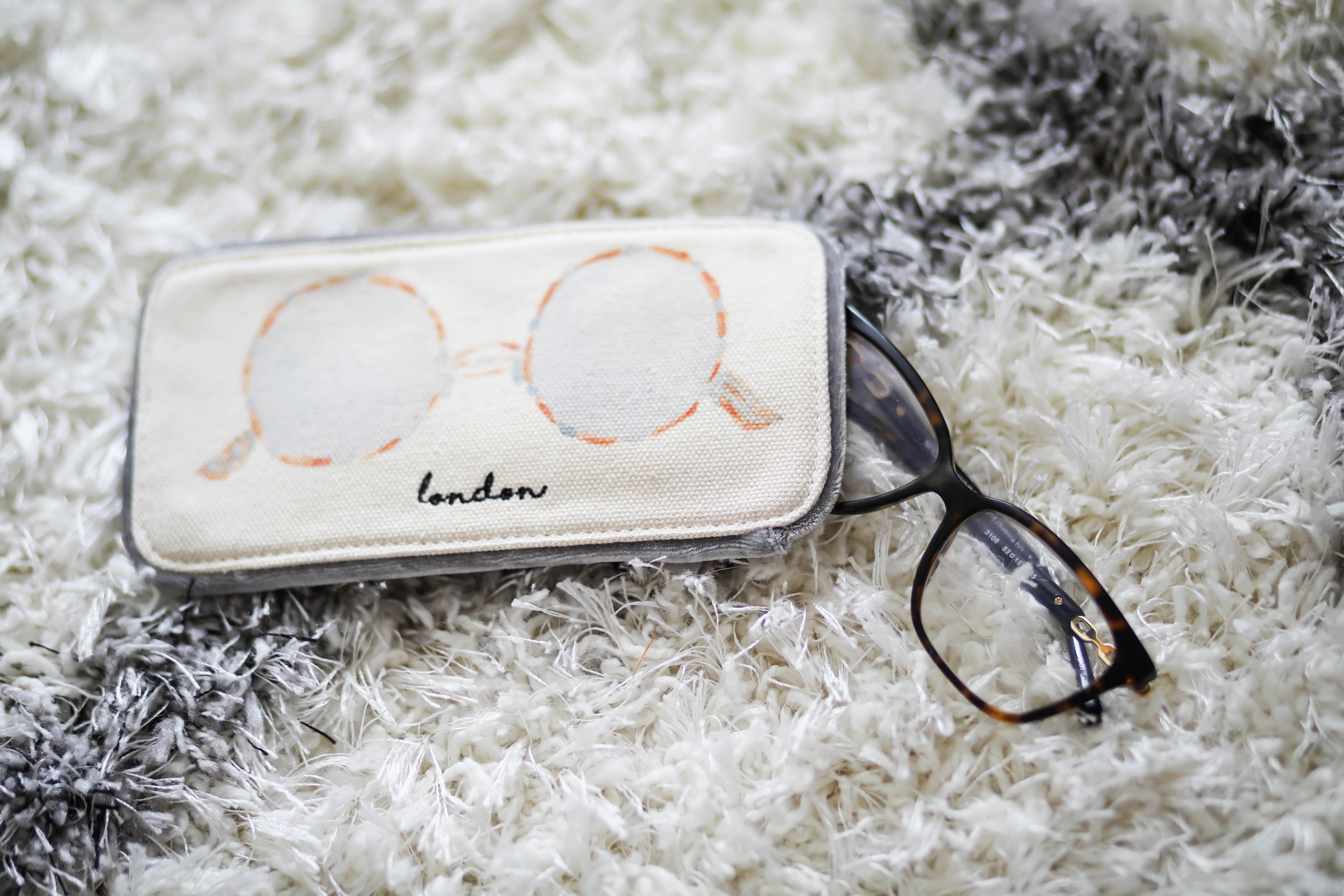 I had heard of these silk pillow cases a million times and actually purchased a cheap version of them on Amazon, but I got totally ripped off so I never used them. I put these Slip Beauty Sleep Pure Silk Pillowcases on one of my Christmas Gift Guides this year as an idea and Santa must have checked it out because my sisters and I got them as a gift! I am super excited, they are supposed to be really good for your skin and hair. Read about them here! Note: it comes in a ton of colors and different sizes for each pillow!
Another gift I received that I had put on my gift guides was this London eyeglass case! I am going to be honest. I am not a careful person. I throw my sunglasses in purses without a case and at night sometimes I just throw my glasses on the ground… sorry mom. So I am determined to take better care of my glasses now that I have this adorable London City-Themed Glasses Case! I want to buy one of the other cities Anthropologie sells to use as a sunglasses case too! I mean they are just too cute!
5. Dog TeePee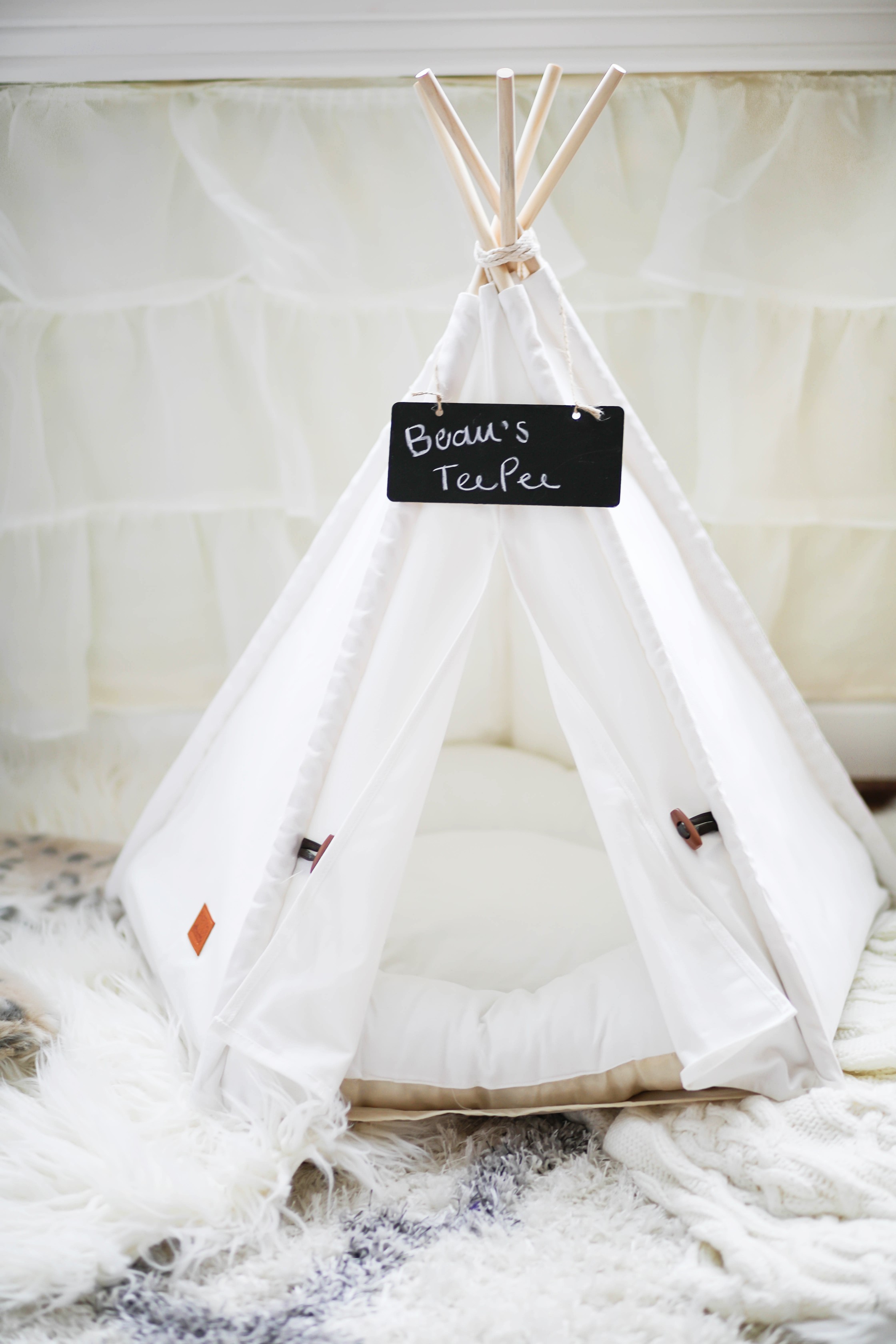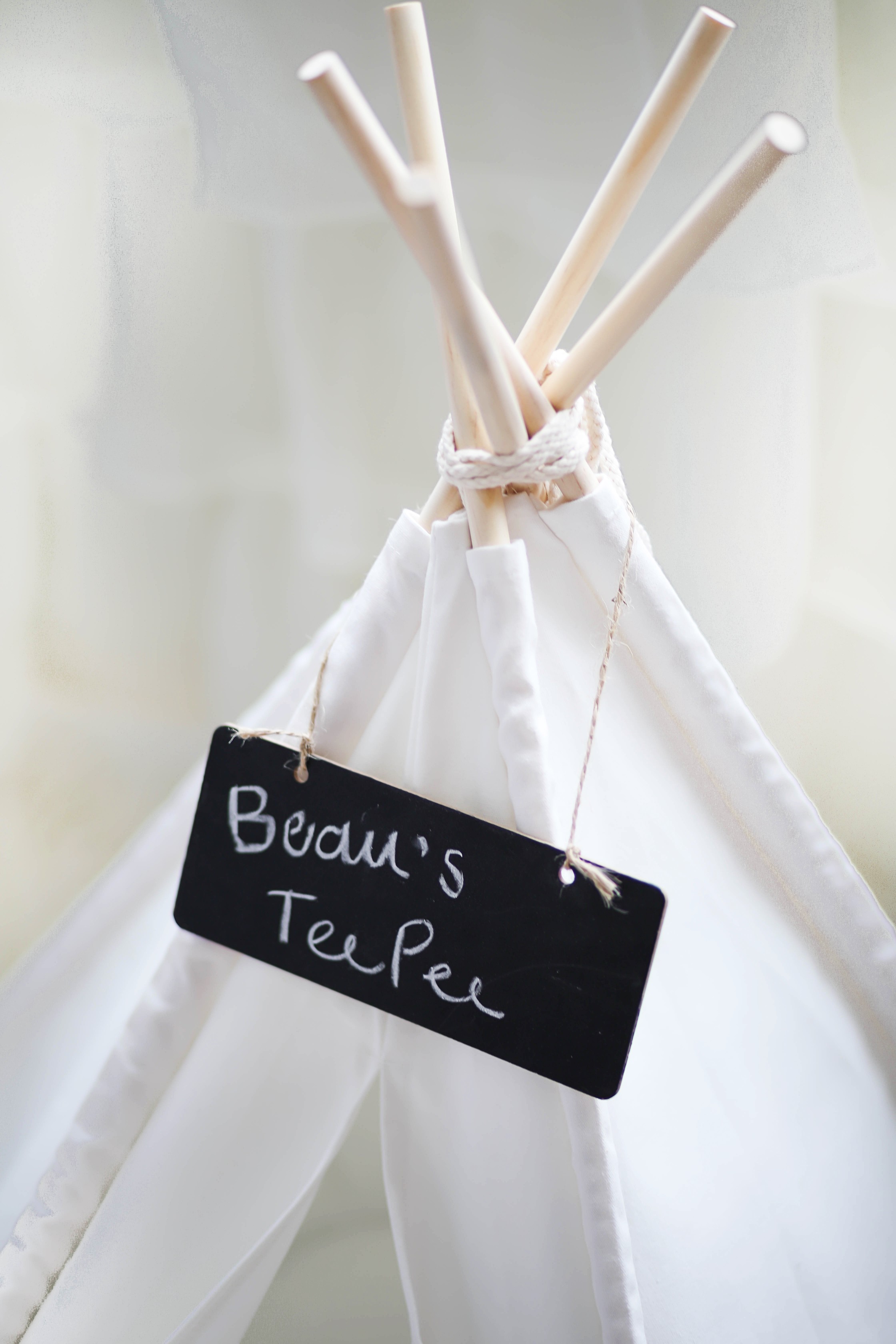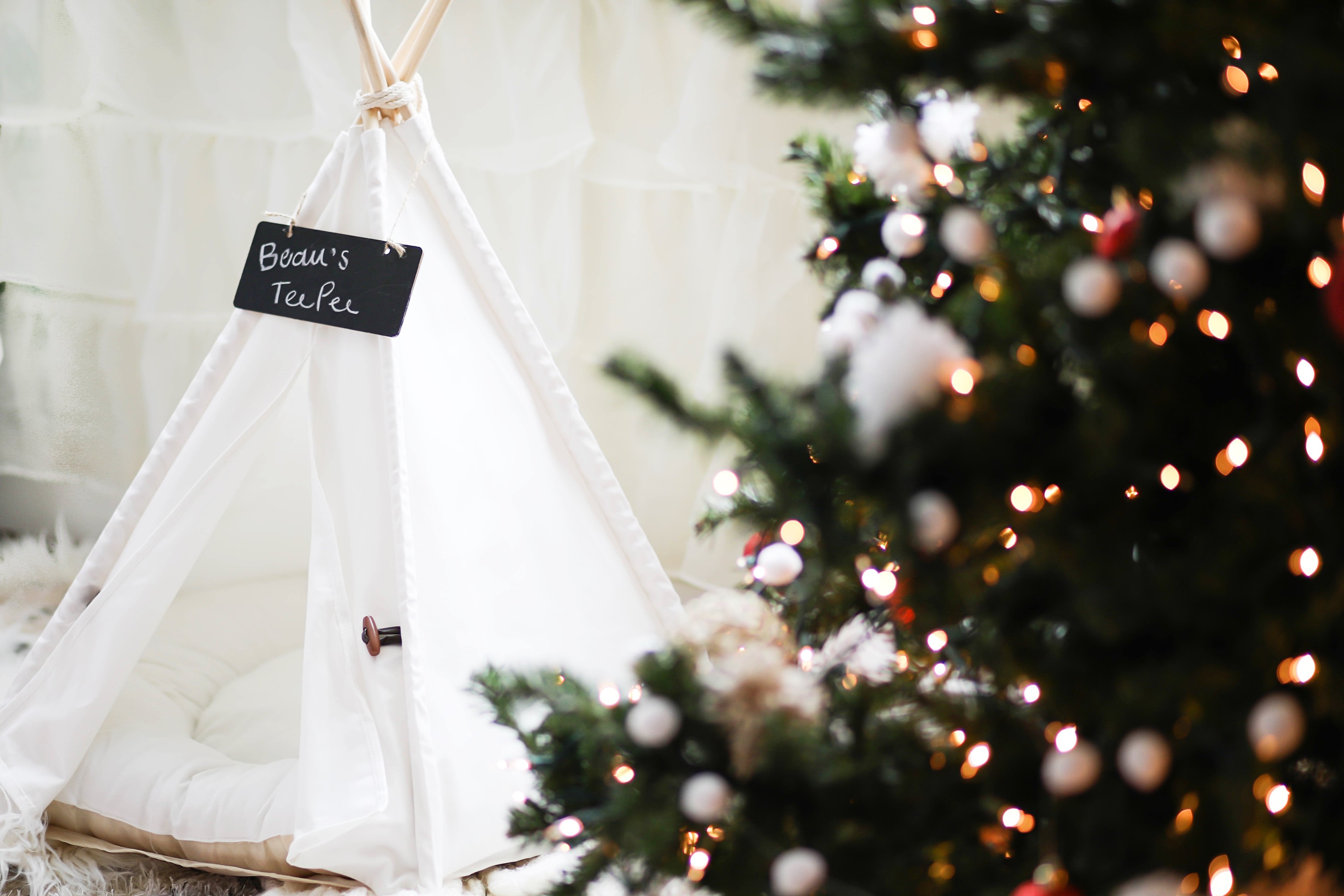 Oh. My. Gosh. YOU GUYS. I had no idea what my older sister had purchased me for Christmas, the box was tall and skinny and I was trying to figure it out – but when I opened it I FREAKED OUT! How adorable is this?! I always see these cute little teepees on mommy blogger's Instagram's and I think, "I can't wait to have a little one someday and buy him or her a cute little teepee to use as a fort!" If you know me, you know my dog is my child so this Dog TeePee was very fitting. It looks adorable in my room and I am determined to get my pup to love it so it can be his little safe place! I have already started giving him little treats in there so I am hoping he warms up to it. AHH it is so cute!!
6. Electric Toothbrush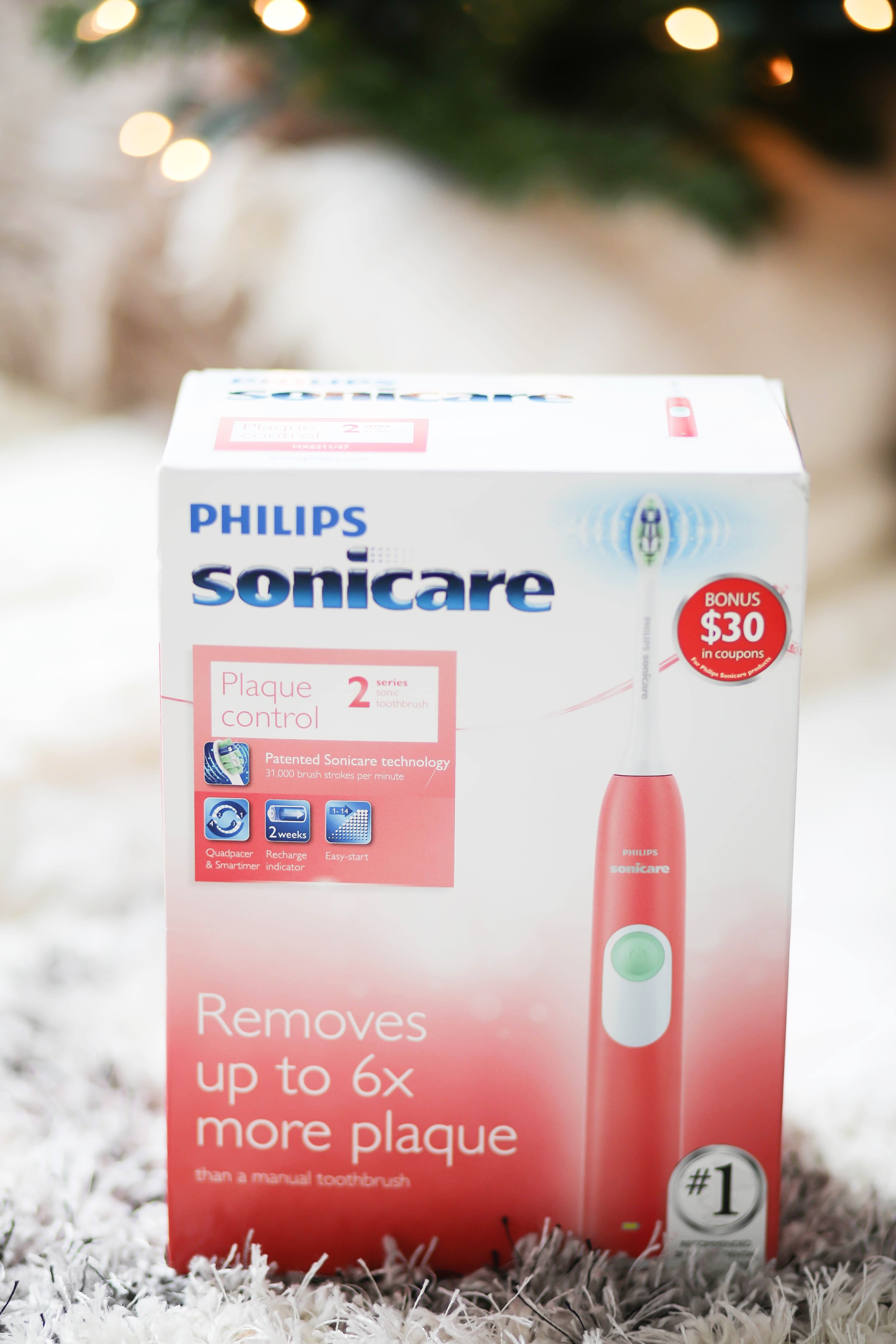 Ugh yes, I am officially an adult because I asked for this… I was at Target a month ago with my mom and we were on the toothbrush aisle. I told her how I had been thinking about getting a nice toothbrush and I pointed out the pink one they had in store. I used to have a really nice one a looong time ago, but I stopped using it pretty quickly because I thought the vibration felt weird in my mouth haha. So I have been using these disposable electric toothbrushes for the last few years and figured it was finally time to upgrade! So she told me I should ask for it for Christmas (classic mom move around the holidays) and I found this adorable Coral Philips Sonicare – 2 Series Rechargeable Toothbrush online and asked for it! It comes in a few cute colors too!
7. Makeup Mirror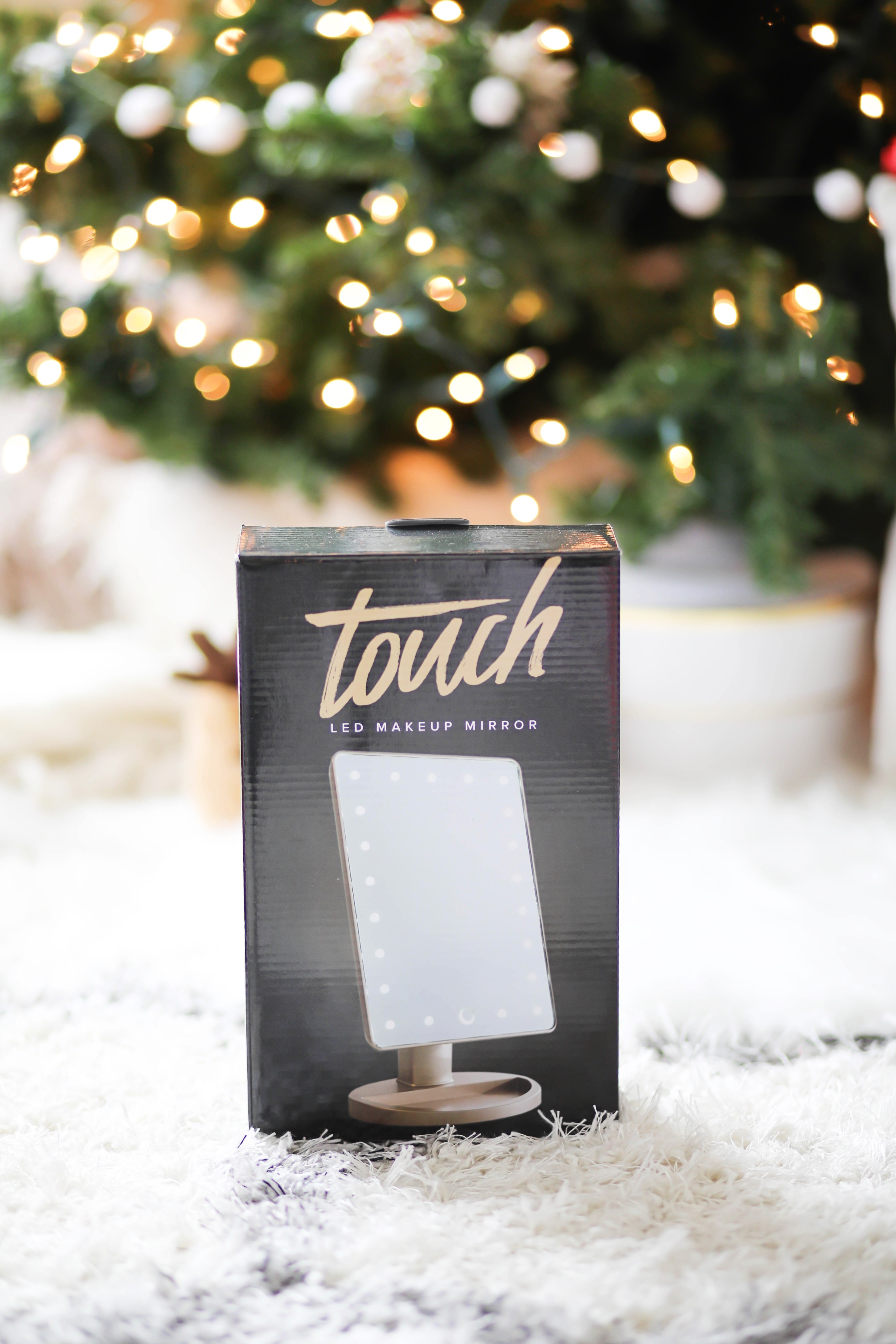 I don't know how I didn't own a light up mirror before this one. I always used to go to my mom's room to do my brows, but every once in awhile I did all my makeup in her mirror and loved how it lit up! So I asked for this Gold Touch 2.0 Dimmable LED Vanity Mirror for Christmas because I had seen it on a few blogs and thought it was so cute! I used it on Christmas Day and I am already in love!
8. Kate Spade Candle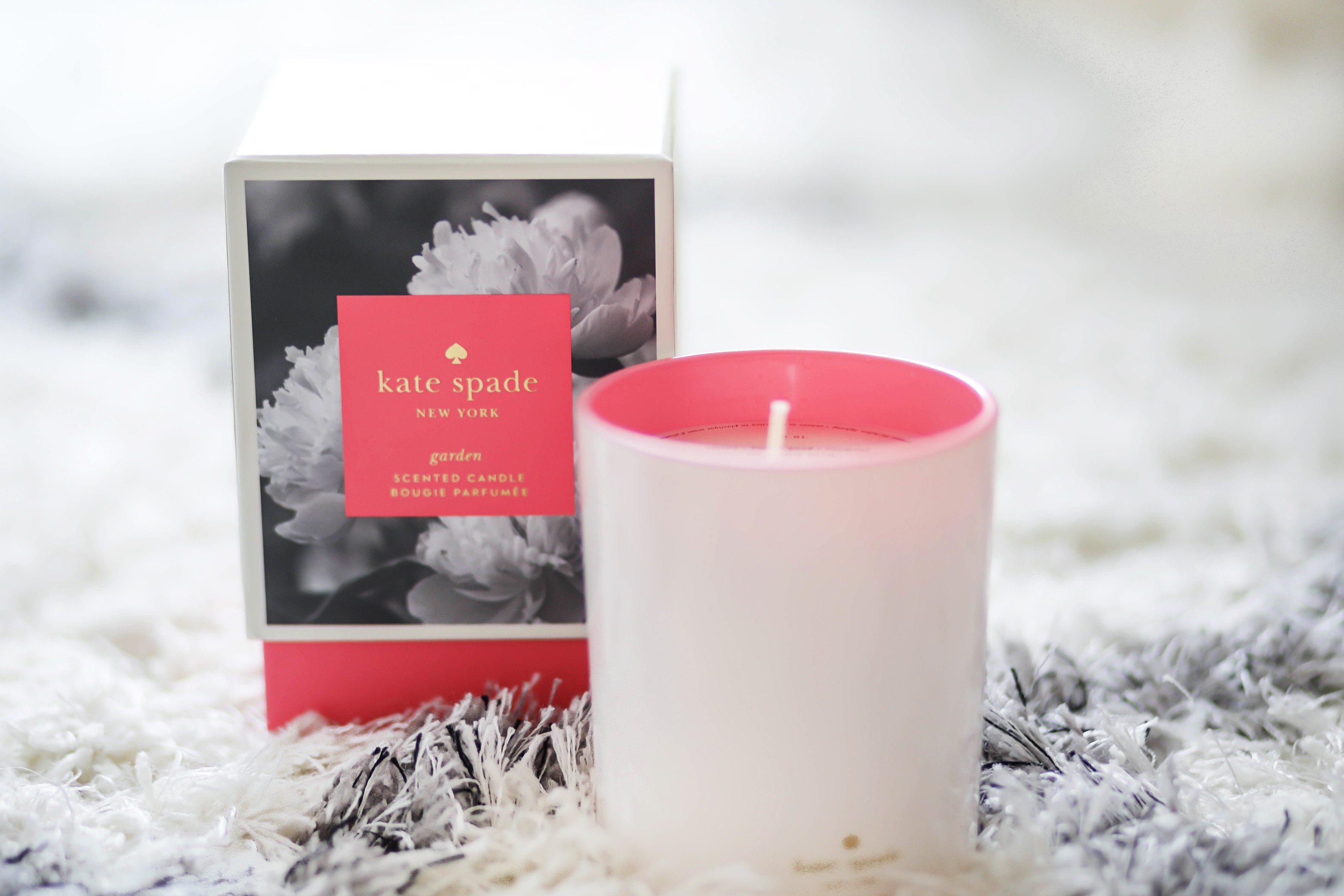 You can never have too many candles! I was really excited to receive this gift because it's a Kate Spade Candle and I LOVE Kate Spade! I had no idea they even made candles, but this smells amazing! Plus it's pink, which makes everything one million times better! I also love Kate Spade's packaging, I am going to be such a hoarder and keep the box for awhile because I think it's cute haha! This one is garden scent which will be perfect for spring! They also sell a few other scents linked above!
9. Aromatherapy Diffuser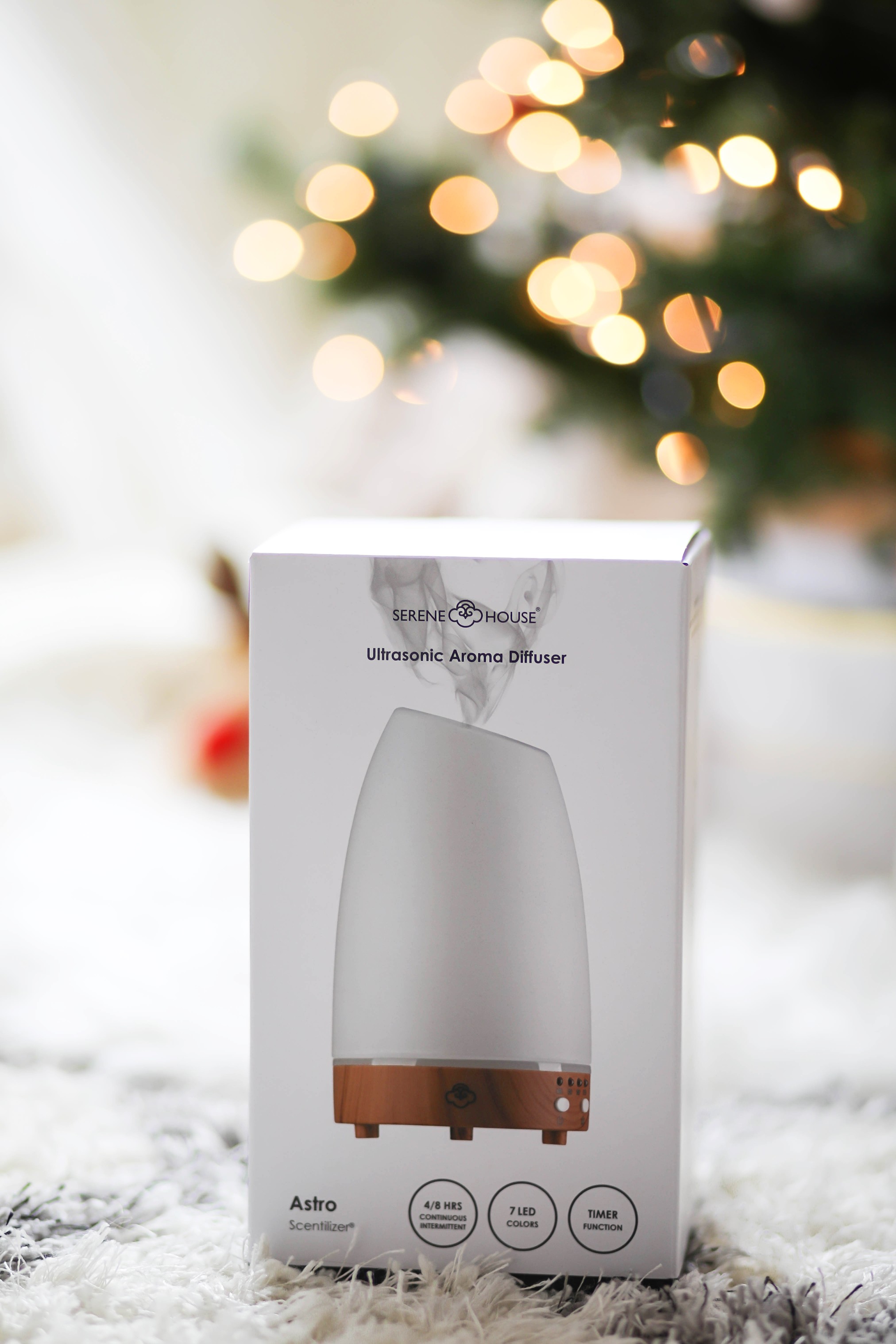 So a quick story, a few months ago I got sick. It was one of those congested, runny nose type of sicknesses. I was miserable and when I was laying in bed my mom brought me in her aromatherapy diffuser. I had no idea she even had one, but she put eucalyptus in it for me and it really opened me up and relaxed me! I fell right asleep! So I have wanted one ever since! Lucky for me, for Christmas I got this adorable Serene House Aura Ultrasonic Aromatherapy Diffuser and a few scents! I am really excited to use this every day, I think it's really good for your mind, body, and soul. I am a huge believer in essential oils! This one is cool because it can go consecutively for 4 hours or on and off for 8. It also has LED colors and a time!
10. Sneakers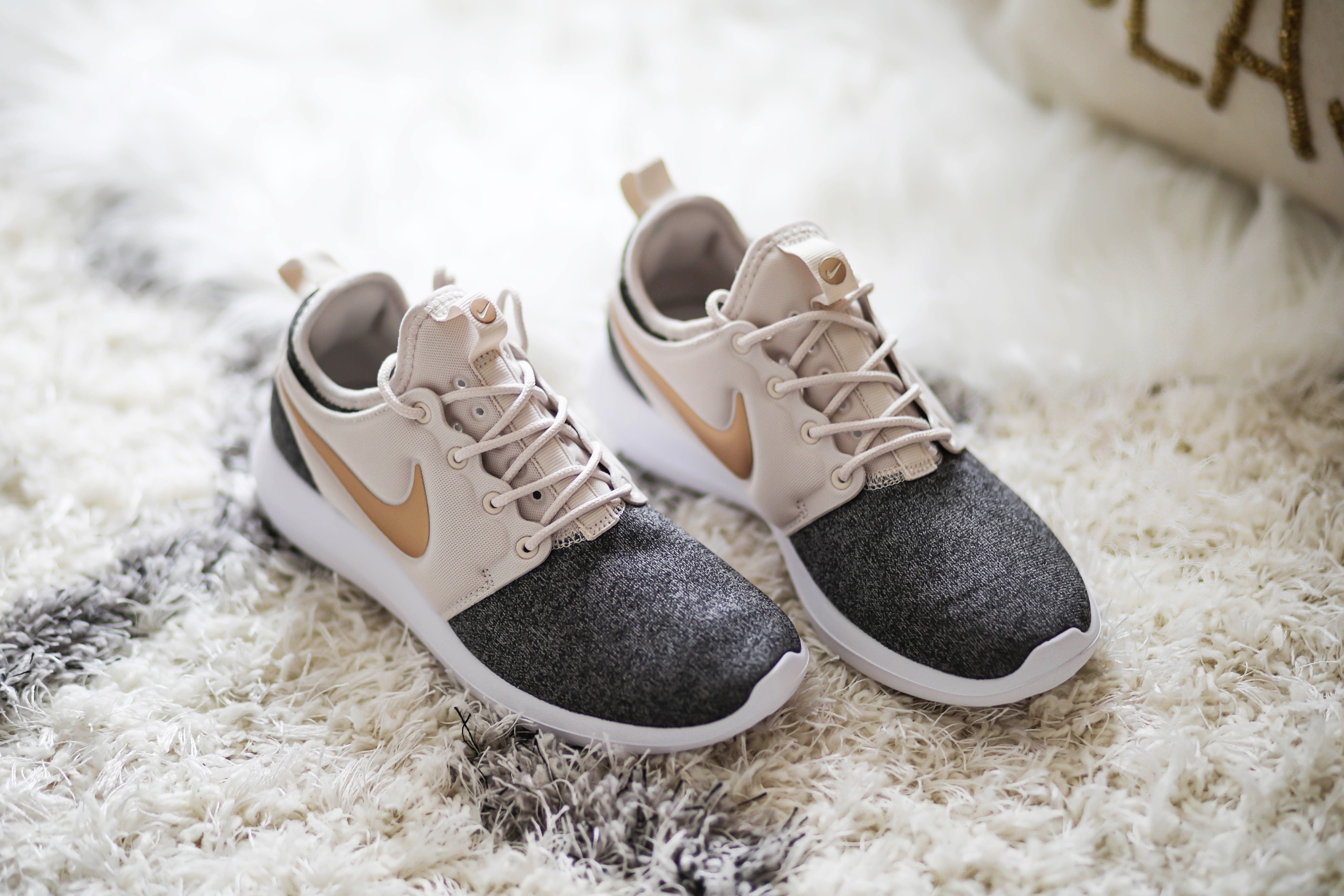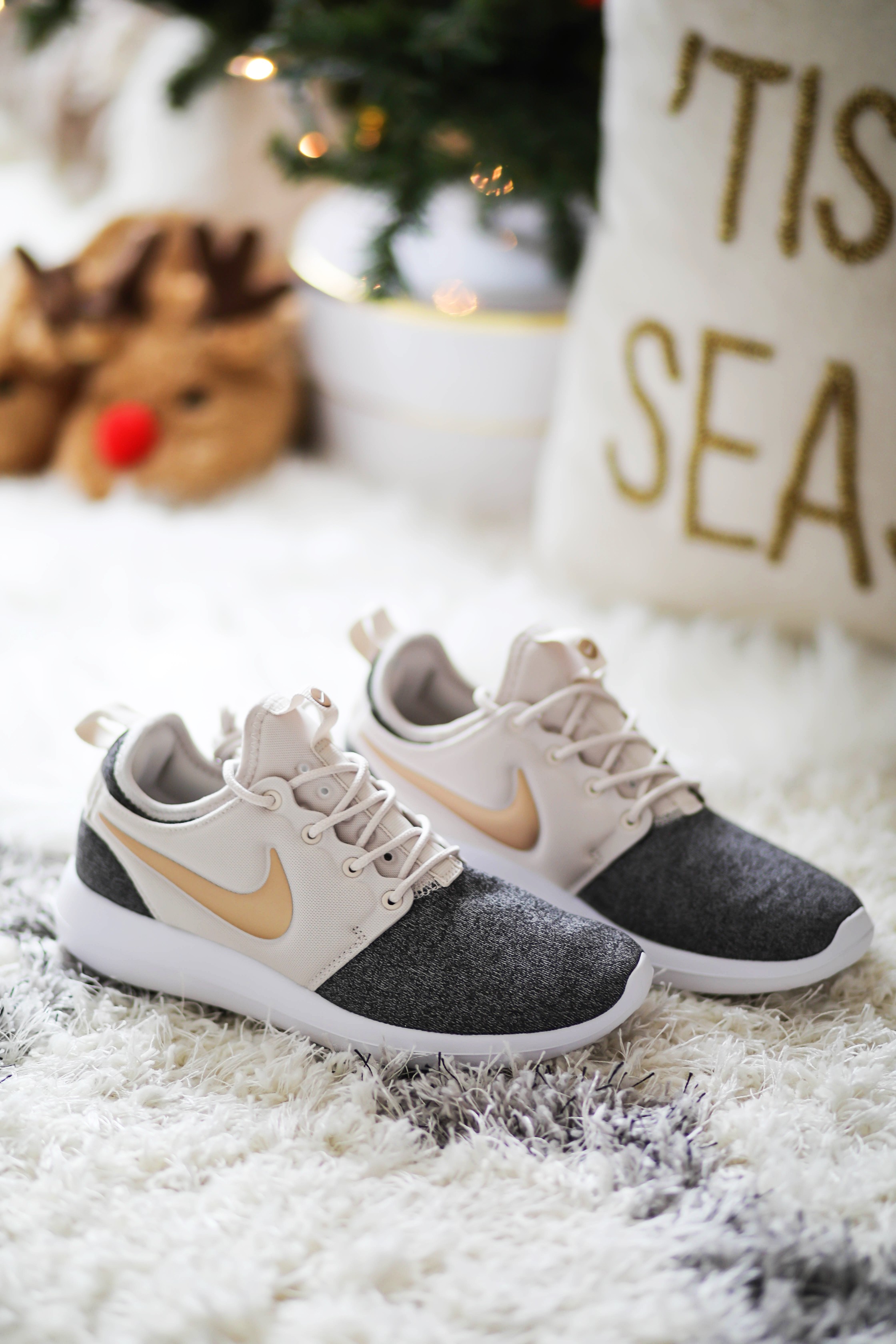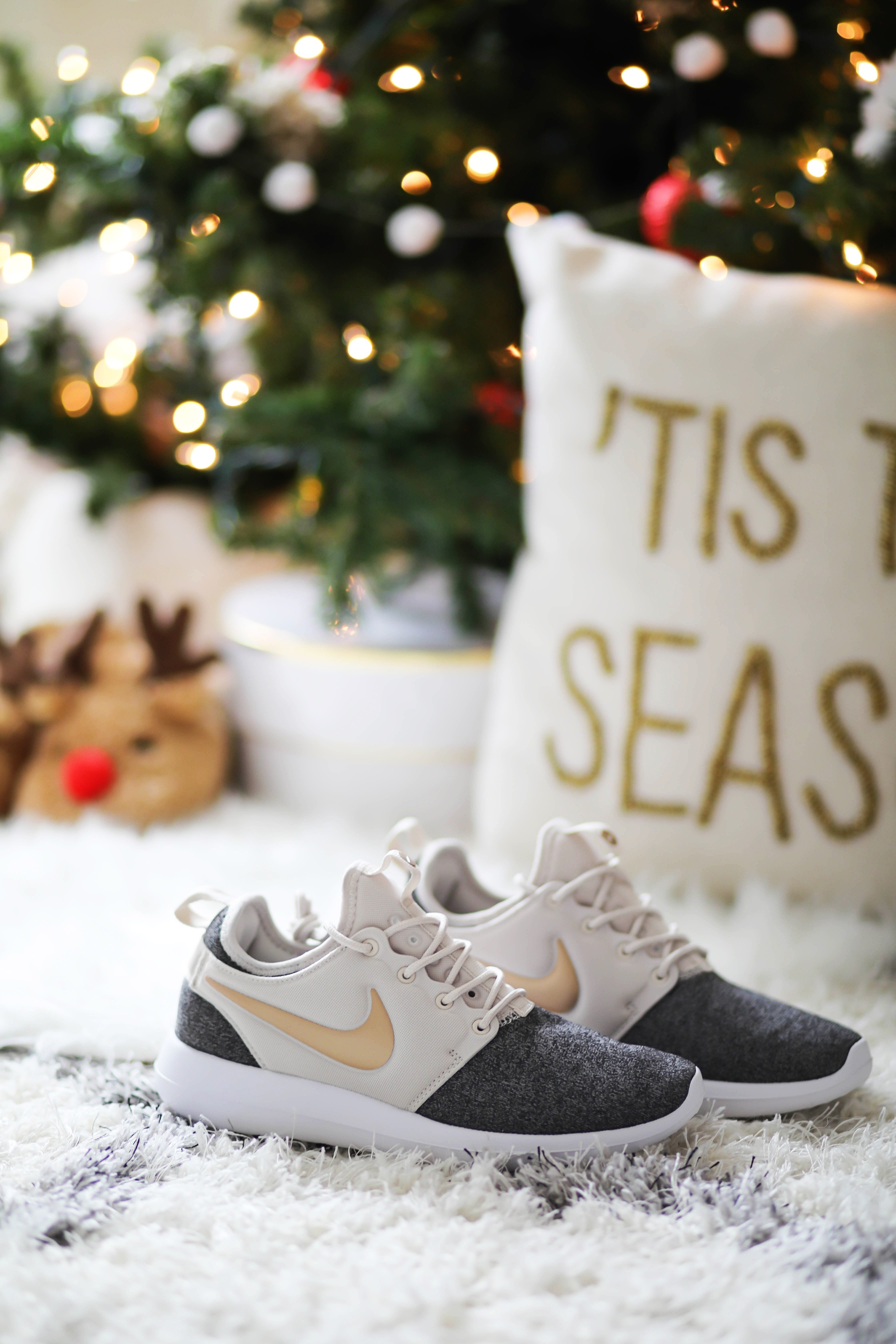 I feel like I probably ask for at least one pair of shoes every year for Christmas. I came across this ADORABLE pair of Nike Roshe Two Knit sneakers a few weeks before Christmas and was so ecstatic when I opened them Christmas morning! I love the two tone and the gold logo. These are 100% my new favorite shoes I own! I linked a few other colors above as well! They will look so cute on casual days with some leggings!
11. Initial Basket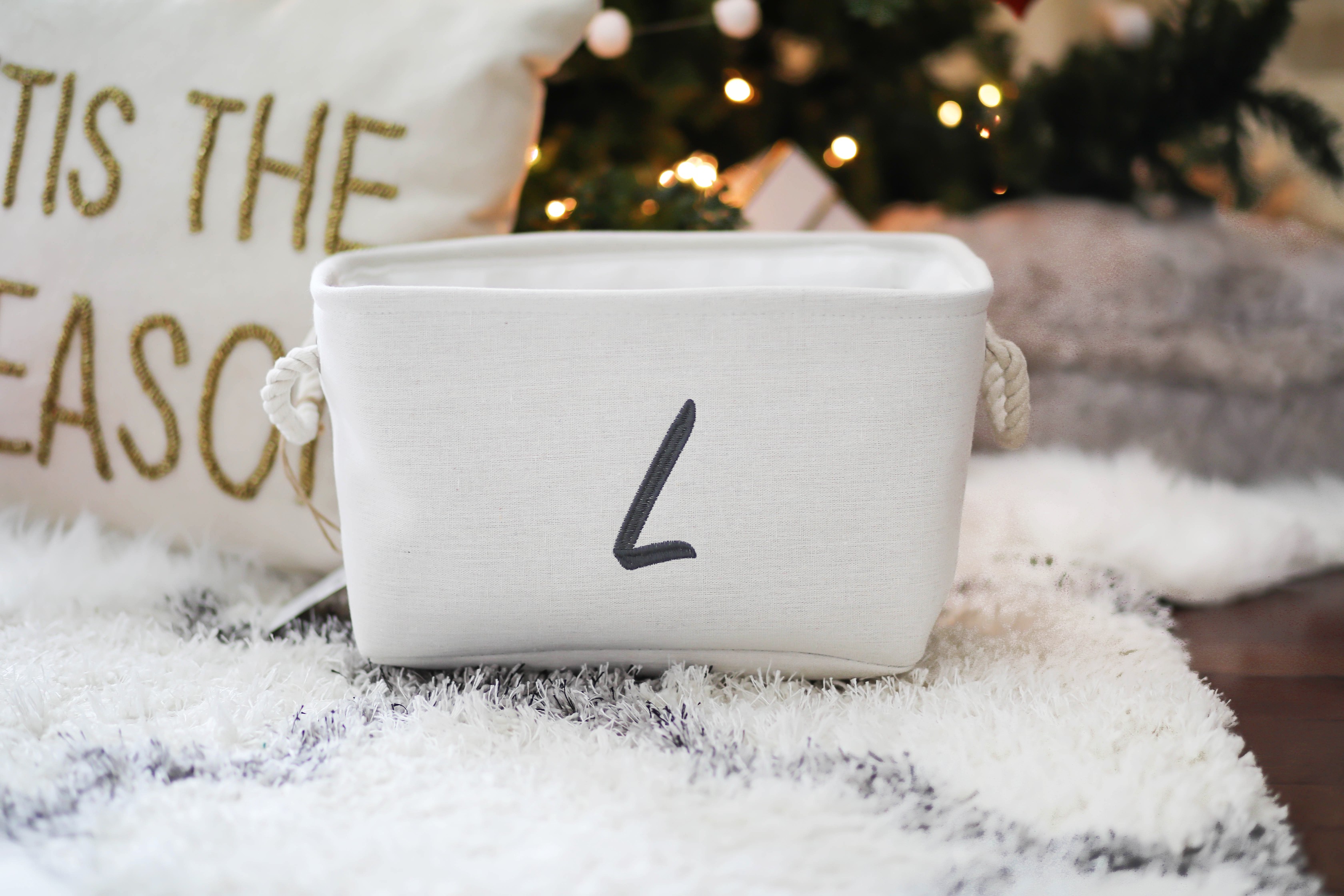 Christmas morning we woke up and had a few little stocking stuffers in these Levtex Initial Monogram Baskets! I thought it was super  cute so I wanted to share. It was a super cute way to share a gift, plus will look so cute in my room! I am thinking I will use it in my closet!
12. Winky Lux Gift Set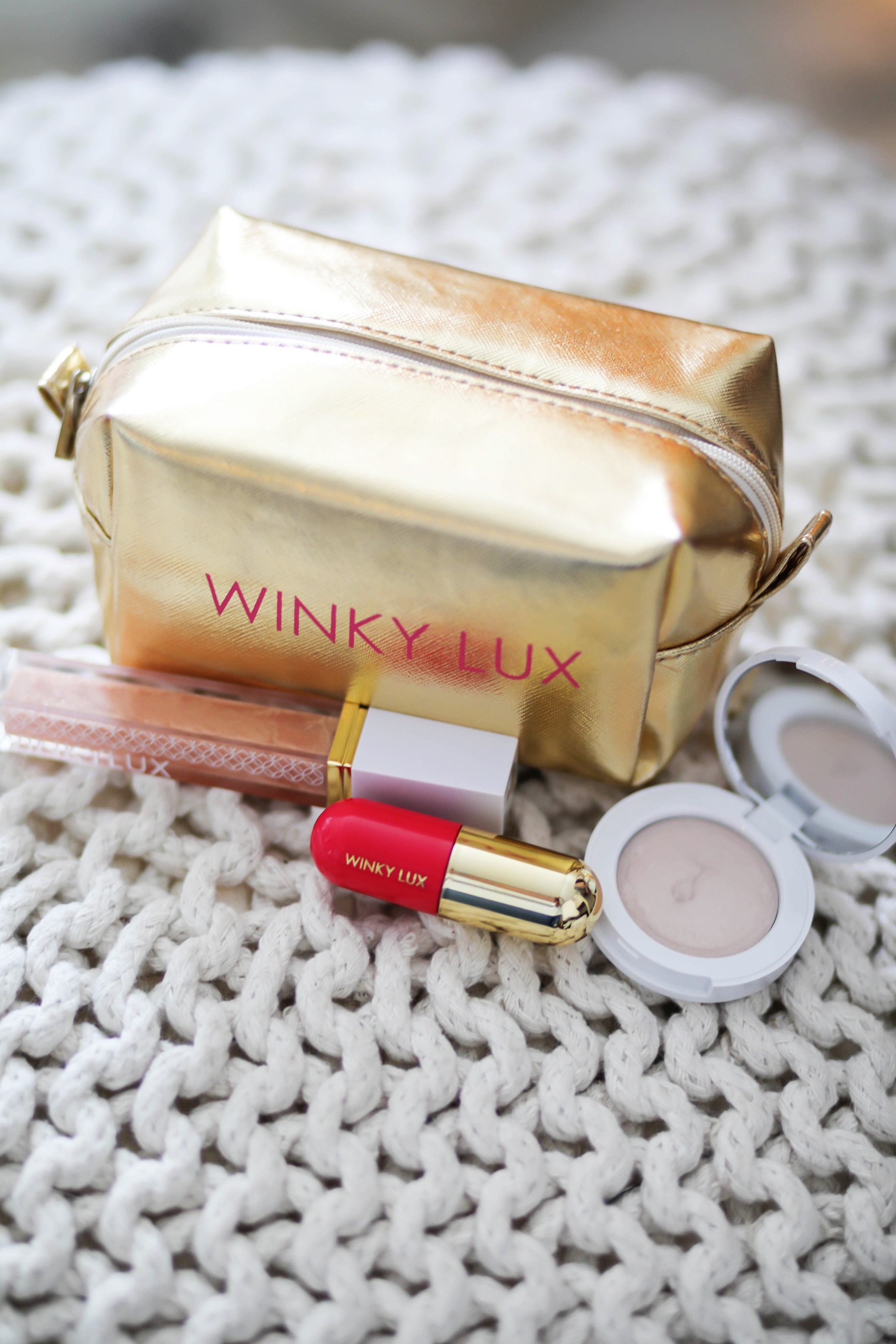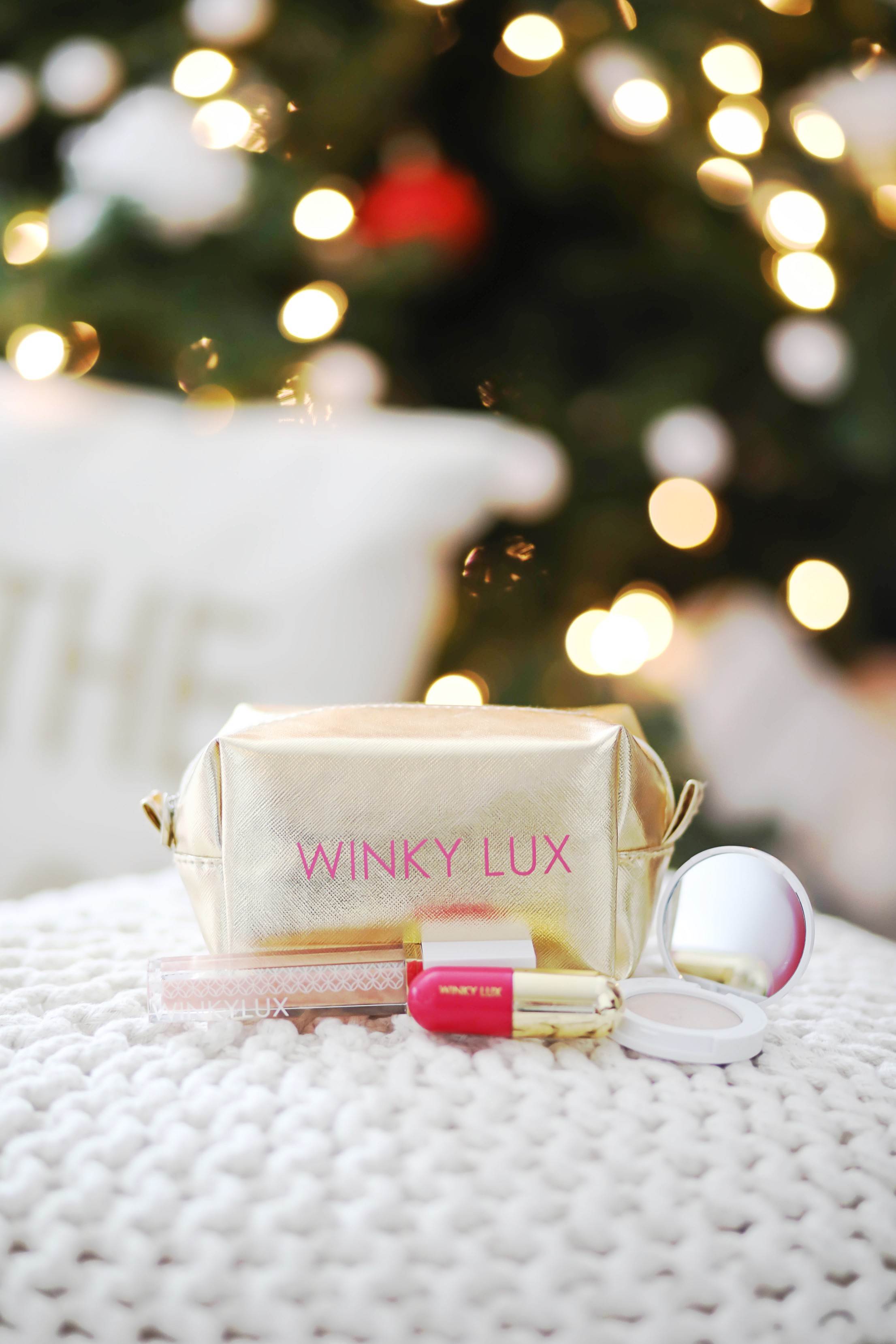 I talked about this brand during the Nordstrom Anniversary sale this year, this brand is super cool because they have lipsticks that are clear and have little flowers inside! They show up pink when you put then on which is really cool! My sisters and I got this adorable Winky Lux All That Glitters Kit in our stocking and I was super excited! When I was shooting these photos my pup actually chewed up the little lipstick haha! He is four years old and hardly ever chews up things he shouldn't, but I guess he was feeling ornery… Oh well though, it still works and I am excited to wear it!
I hope you all enjoyed this post and had a Merry Christmas and have a Happy Holidays!
Lauren Emily Lindmark
Copyright © 2017 dailydoseofcharm.com